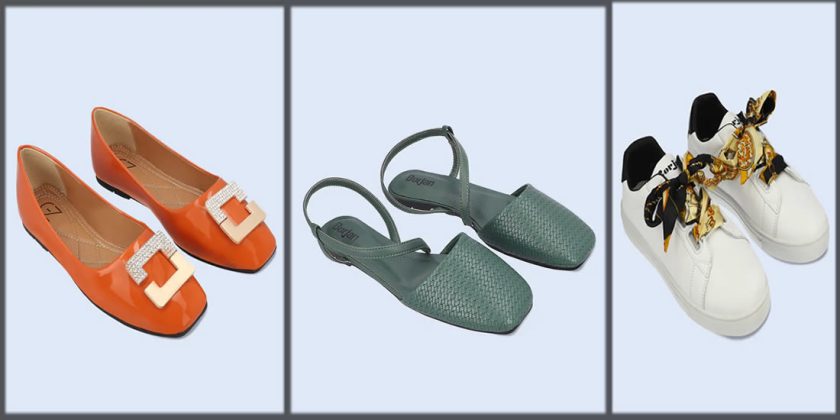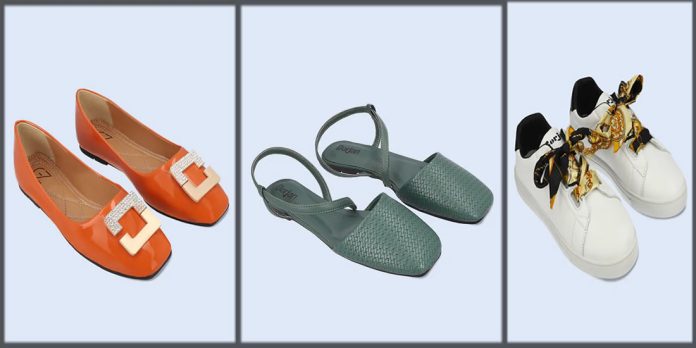 Women always look for footwear that is much more durable and reasonable. Generally, fancy clothing needs stylish footwear to make a complete and polished look. But, winters require an easy and comfortable shoe that provides enough warmth and comfort. Hence, many shoe brands are offering long-lasting variety at affordable costs but no one can beat the Borjan shoes winter collection. This season, Borjan offers the most comfiest and most durable shoes for women of all ages. 
Borjan shoe's winter collection has been launched with the arrival of the winter season. The collection contains a variety of captivating and comfortable footwear. Plus, it has a wide variety of formal footwear too. Take a deep breath and explore the fascinating shoes above and pick the best one for yourself to enjoy the chilly winter.
Well, the winter collection comes in a variety of styles. Women prefer soft and comfortable shoes. Teen girls looking for pumps and sports shoes to rock their season. Borjan always fulfills and meets all the essential needs of its customers. Therefore, Borjan offers all sorts of footwear, it comes up with a wide variety of footwear with unique designs as you can see below. 
About the Trademark
The Borjan brand was established to help its customer look smart by wearing comfortable and classic footwear. Zahid Hussain is the owner of the Borjan brand whose basic mission is to provide diversity in footwear. It has 123 outlets across 70 cities in Pakistan. Today it is known as the topmost brand of Pakistan because of its good quality shoes that not only look great but are also convenient and calm to wear.
Comfortable Footwear by Borjan Winter Collection
Are you looking for winter footwear? Do you want to make your winter vibe memorable? Indeed, the following collection will aid you in getting a chic variety. Let's extract some time to give a thought to the next group of shoes.
Several brands are busy in launching comfortable winter shoes for women. They might create hype among the public to rush immediately towards the markets before the shortage. Therefore, Borjan facilitates its valuable customers by providing an online shopping facility. You can select and buy your favorites online. 
The latest Borajn shoes winter collection includes:
Flat pumps

Open-back mules

Comfortable moccs

Court shoes

Fancy Shoes

Sports shoes for girls

Khussa collection
1- Sporty Borjan Shoes Winter Collection
Are you looking for footwear for running on a treadmill? Do you want to have a comfortable and optimum pair of shoes for climbing mountains? Probably, such activities require a constant support system for optimum balance. Here we have a couple of styles that will aid you in your routine activities.
Invest your money in easy-going sporty shoes for maintaining health and texture. Plus, they hold your feet nicely in place for fast running and climbing. Be adventurous and explore more variety by the Metro footwear collection. Well, get your favorite sporty shoes below at a reasonable price.
2- Easy-Going Moccs for Winters
Do you want to boost your step count? Or you are looking for a shoe that can aid in racking up the miles? Indeed, moccs are the best choice for this purpose. The comfortable moccs are covered from all sides and hold your foot in place tightly. Also, they are appropriate to wear as business shoes in the workplace.
Usually, women who face orthopedic issues need such comfortable shoes. Plus, the doctors highly recommend them as well. So, seek the trendy kicks and make your season enjoyable by the following variety of moccs.
3- Traditional Khussa Shoes
Khussa is the most traditional footwear among Asian women. Generally, the brides prefer these khussa at their mehndi event. Plus, the beauty of bridal mehndi dresses requires such stunning footwear to complete the bridal look. Therefore, Borjan offers a wide variety of khussa collections at reasonable costs.
Explore the glittery collection here. It contains a variety of styles, from simple and multi-colored to decorated designs. Each type has its exquisite beauty and elegance, with some grace in proportion. So, rock your mehndi event by choosing beautiful footwear from the latest collection of Borjan.
4- Back Open Mules for Winters
Ideally, every woman wants to have enough collection of footwear in her closet. Everyone looks for up-to-date and latest styles in each season. Therefore, Borjan comes up with a wide variety of shoes. Here is a collection of back-open mules for you. The categories range from simple and block style to fancy wear.
You might have explored the comfortable footwear of the Stylo winter collection already. But, to give the best of the best, Borjan offers decent mules for women. Usually, women look for a style that is quite easy to wear. Here we are showcasing such effortless styles for you. So, discover the most comfortable collection below.
5- Winter Court Shoes for Ladies
Whatever you are wearing brings a magnificent impact on your personality. Therefore, women always want to have a wonderful assortment to make their events memorable. Plus, you leave footprints of your to outclass outfit and personality. So, get the classic collection of court shoes for winter below.
Your arch is the most significant impact whenever you are walking. So, always choose footwear that holds your feet nicely in place. Plus, they must tighten up well to give comfort. Explore the fashionable and modern heels by Borjan's latest collection. I hope the tasteful heels will bring tremendous looks to your personality.
6- Stylish Pumps by Borjan Shoes Winter Collection
Which footwear is more comfortable? Probably, women feel that flat pumps are a versatile choice. They believe that pumps go well with all clothing styles. Therefore, they buy the best walking shoes for their closets. You can have a variety of pumps from black and bow-style to strapped ones. Have a look at some categories below.
Are you looking for formal yet, graceful footwear? Do you want to wear something unique to look different? Indeed, below pump shoes will be a great option. So, have a look at the following images to get your desired one.
Perhaps, you might be obsessed with the latest outlook. Women who are fond of hangouts and outings look for stylish footwear. Here, we have an excellent recommendation for them. The following pumps in strap styles will add enough grace to their personality. Plus, easy-going shoes are best for winter. Combine your outfit with an incredible pair of shoes for an entirely gorgeous look.
7- Elegant Fancy Winter Shoes for Women
Asian culture is full of traditional events. Usually, Pakistani weddings take place in mildly cold weather. Therefore, people opt for seasonal fancy shoes. There is an incredible variety of bridal wedding shoes, but women look for fancy footwear as a guest. Discover the beautifully fancy shoes below to make your winter events and formal parties rocking.
Are you looking for footwear that may feel comfy to you? Possibly, these are versatile shoes that can be worn in both summer and winter. Plus, these styles are an excellent option for mild to intense cold weather. Also, you can wear them in the summer season too. Want some more summer collections? Check out the Insignia shoe summer collection for the most captivating designs.
Like clothing, footwear is of great significance as well. As you know, winter is just around the bend. Therefore, several brands are launching their winter shoe collection with some advancements. Here, you can have the latest Borjan shoes winter collection that offers classical shoes for women of all ages with prices.