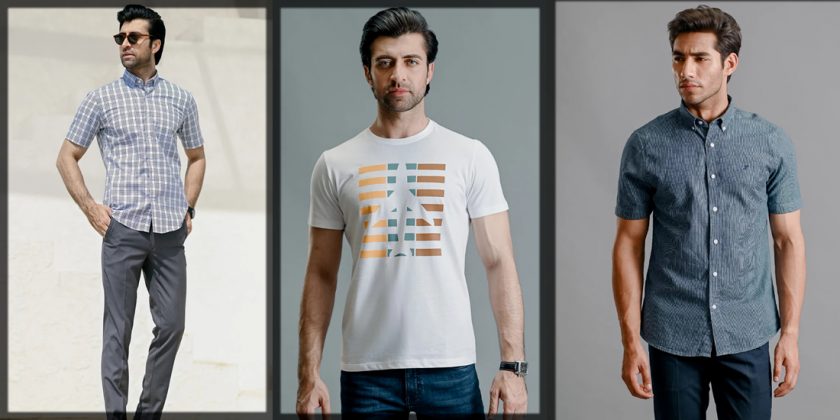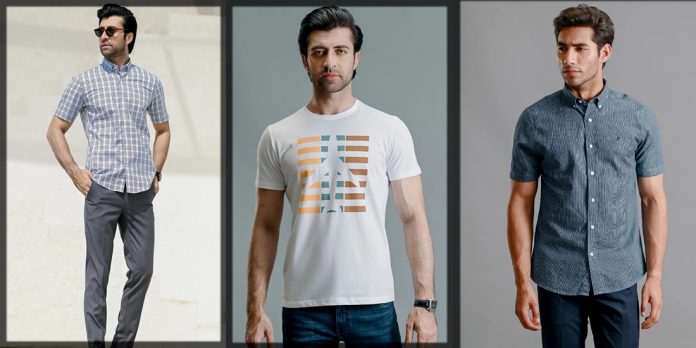 Like women, men also desire to resemble classy and handsome. In this manner, an impressive suit helps them to look more stunning and dashing. Therefore, all notable brands of Pakistan each season offers dazzling attires for men of all ages. Here is a beautiful Cambridge summer collection for men that contains polo shirts, tees, shorts, pants, and much more.
Clothing is an everyday essential for us. Therefore, Cambridge always offers some phenomenal outfits for men. Some prefer to wear formal attire. However, some think that being easy is more important. Hence Cambridge each season provides easy and comfortable attires for its clients.
It feels so good when you hear something good for yourself. What outfit you are wearing reflects your good dressing sense. Hence, everyone wants to buy a fabulous and magnificant outfit to look impressive and stunning on any occasion. Read this blog towards the end to explore the latest summer attires of Cambridge.
Latest Cambridge Summer Collection – Formal and Casual Wears

Summer is the hottest season among the four temperate seasons in Pakistan. Therefore, people cannot wear thick fabrics in summers. They always look for delicate and soft texture clothes to freely enjoy all summer events. The latest Cambridge summer collection contains impressive yet reliable texture clothes that indeed keep you safe from the melting summer days. They used the lawn and cotton texture to make its summer attires more classy and trustworthy. They both are considered the most valuable texture for the summer season. 
You can wear these dresses at any casual, formal, social, and even wedding events to look more agreeable and appealing. Everyone owns a distinct dressing sense of fashion. Therefore, the Cambridge summer collection provides a variety of outfits. The categories include:
Formal wear shirts

Casual shirts

Polos and tees

Trousers and shorts
1- Formal Outfits for Summer Season

Pakistan is a country having a variety of cultures. Therefore, for men who want to get a formal look at formal and social events, this Cambridge summer collection is the best. It has a variety of dresses in formal wear. Moreover, the diversification of hues and styles adds more grace and charm to its formal collection. Furthermore, the categories of formal summer shirts include:
Dotted Formal Shirt for Men

Checks and Stripes Formal Shirt

Cambridge White Shirt for Men
Dotted Formal Shirt for Men
Men are always looking for something unique and impressive for their formal outfits. Therefore, they prefer such shirts having a collar and pocket near the shoulder. The below-dotted shirt is an excellent choice to wear to make your formal look more classy. Moreover, the shirts have full sleeves with cuffs that add more appeal to this shirt. Pair this classical shirt with the fitting chinos and make all of your jazzier and noteworthy looks.
Checks and Stripes Formal Shirt
The stripes shirts are among the classic wear of menswear. Therefore, they come in great variety and colors. Some stripe shirts are inlining. However, some may come up with block prints. Take a look at the following stripe shirt of Cambridge that indeed renew your formal look and make it more dazzling. Match it with blue chinos or jeans as you like to make your formal look more alluring. If you want some eastern outfits, then try J. kurta designs for men.
Cambridge White Shirt for Men
The white color has deep associations with innocence and purity. Therefore, it is the most liked color by men and women. Men who want to modify their personality always look up for formal wear in white. Therefore, the below Cambridge white shirt is a perfect option for them. Pair it with the plain white chinos and get an impressive look at any formal and social events.  Cambridge Eid collection is also available in stores. 
2- Casual Cambridge Summer Collection
Men are always busy at their respective jobs. Some are in offices, while others remain busy in fieldwork. Therefore, they need a casual and comfortable look, typically in summers. In the latest Cambridge summer collection, you will get a variety of casual summer dresses for men that includes:
Solid Casual Shirt

Classic Half Sleeve Shirts for Men

Semi-Casual Shirt for Men
Men always look for something unique to wear. Many of them prefer plain shirts for a more impressive look. In the summer season, men are looking for something comfortable to wear. Consequently, they go for the half-sleeve shirt to protect themselves from hot weather.
Look down at the plain blue casual shirt that is available in half-sleeves. You can match it with any dark-shaded pants to look more graceful and stunning. Likewise, you can wear this cool shirt at any formal gathering by pairing it with blue chinos, formal footwear, and a classy wristwatch.
Classic Half Sleeve Shirts for Men
Lining shirts always remain in trend. The young generation today prefer it for the sparkle in their outfit. However, some professional men also wear these styles for a distinct look. The summer season implies mostly wearing an outfit having half-sleeves. Hence, Cambridge offers a wide variety of casual shirts in half sleeves. The coming up next is the perfect lining shirt to look more modest and smart. Pair it with any shorts and pant you like. Likewise, you can wear this half sleeves shirt at any wedding event by pairing it with the full sleeves waistcoat.
Semi-Casual Shirt for Men
The Cambridge summer collection provides you a variety of summer dresses for men. Gents who always look to have a semi-formal outfit can look at the following shirt. The fantastic check and stripe shirts with unique summer shades look perfect in any casual event and gathering. 
3- Polo Shirts and Tees for Summer Season



Youth does not prefer to wear formal full sleeves shirts. Instead, they look for something easy and comfortable. Therefore, they prefer casual wear t-shirts in summer to obscure sweating. Let's explore the latest summer tees and polo shirts by Cambridge that contains:
Colorful Striped Tees for Men

Plain Red Polo Shirts for Men

Casual Summer Tees
Colorful Striped Tees for Men
The young generation wants to add colors to their outfit by wearing colorful attires. Therefore, we are presenting this fantastic tee from the Cambridge collection. One of the best lightweight shirts for the summer season that have half sleeves. Pair it with any casual shorts or pant to get a distinctive look.
Plain Red Polo Shirts for Men
The below plain red shirt is the best for those who want to wear basic attire. One of the best polo shirt for the summer beach party to make all of your comfy and handsome looks. You can also wear this dashing shirt at any casual gathering to make your summer look more cool and jazzier.
If you are scanning for something casual and classy? At that point, grab this grey tee from the Cambridge store and enhance your personality well. Pair it with the sleek black casual pant and make your casual look more handsome and splendid.
4- Cambridge Summer Collection of Pants and Shorts
Pant is an item of outer clothing that men wear on the lower body. Take a look at the chic pants collection by Cambridge that indeed add more appeal to your character. Moreover, this season Cambridge offers the following styles of pants for men.
Wrinkle-Free Pants

Khaki Pants for Summer

Summer Shorts for Young Boys
The wrinkle-free pants are usually of low cost. These are the straight pants for semi-formal wear. The below wrinkle free pant is the best for formal events. However, you can match graceful shoes and formal short with it to bring a wonderful look.
The dress khaki pants are of high cost and fantastic fabric. They are preferred for a wedding or by men who have to attend seminars, etc. You can likewise wear this khaki pant at casual events by pairing it with the casaul tees and polo shirt.
Summer Shorts for Young Boys

Most men who proceed to the gym or on a morning walk prefer to wear a comfortable outfit like shorts. Hence, Cambridge includes a wide variety of shorts in its latest summer collection. You can match your shirt with any polo shirt to get the casaul yet classical look.
More Collection..!!



As the summer is a sweltering season in Pakistan, therefore, men look for comfortable clothes. The following summer collection by Cambridge will surely aid you from the hot summer season and keep your calm and relaxed look. All you require is to grab the right attire as per the occasion, body size, shape, and choice to make all of your handsome and striking looks. Further, explore the Juanid jamshed men summer collection.
Men today always want to look equally graceful, like women. Therefore, this article will aid them in choosing extraordinary attires for them. Their prices are also considered for your satisfaction so that you can quickly grab your favorite outfit according to your personality. You can likewise get your dress at your doorstep with a single click by online order.