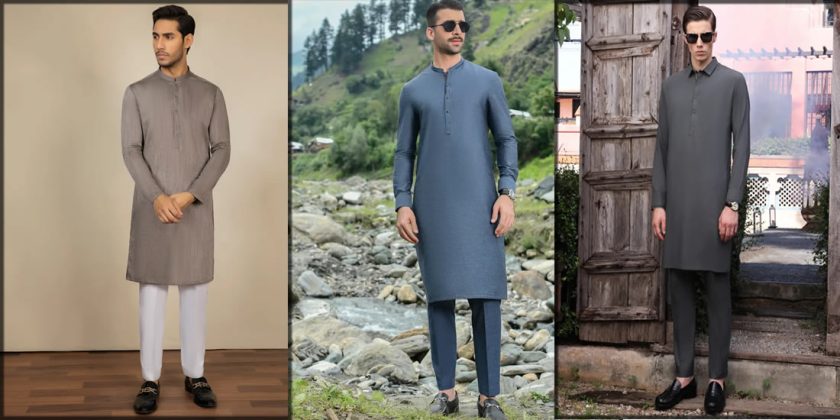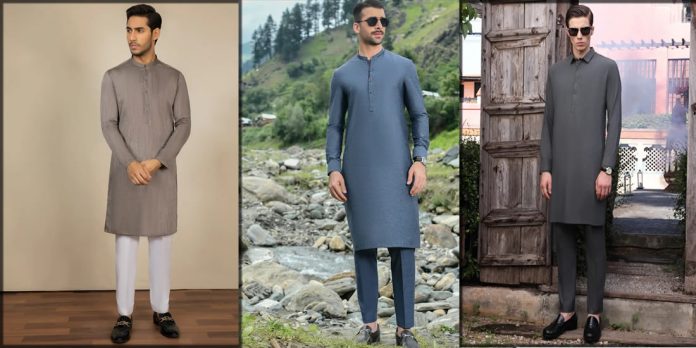 J. men winter collection is offering absolute outfits for men this season. So, make your reputation well by getting the outfit from Junaid Jamshed. The versatile structures will bring lots of attention to you. So, go and grab the elegant attire for captivating looks. These styles will help you stand out among the public.
You can get every kind of assortment for winter. Usually, the collection offers modest and straightforward dresses for men. But men today look for fabulous outfits to stand out like women. Therefore, the latest portfolio has launched well-decorative outfits for men. Indeed, it will enhance the grace and charm of your personality.
This brand offers seasonal clothing for both men and women. Plus, it got famous due to its accessories and men collection as well. Look at the latest winter collection below and get your desired outfit from any retail store or online.
 About the Brand…!!
The famous brand was launched in 2002. But, with continuous hard work and struggle, it runs successfully globally. Currently, the brand has 100+ retail stores running nationwide. Plus, it has 20 outlets in the UK, Canada, Australia, UAE, Qatar, and New Zealand, etc., with exclusive variety.
Latest J. Junaid Jamshed Men Winter Collection 
As the weather is changing rapidly, so several men's clothing brands are launching their winter collections. The clothing line of any brand reflects the modern trends in fashion. Therefore, designers focus on the subtle detailing of prettifying clothes. The inspirational artwork propels the public to go for Junaid Jamshed's clothing.
Junaid Jamshed is a complete apparel brand offering its customers many products. The most common categories are:
Women's wear.

Men's wear.

Jewelry.

Cosmetics.

Fragrance.

Footwear.
Well, the changing weather implies searching for warm winter outfits. Indeed, you will like all the stuff. Explore the J. men's winter collection below with prices.
1- Men Kurta Designs in J. Men Winter Collection
This leading brand offers a comprehensive kurta collection for men. The portfolio contains a variety of semi-formal and formal designs. The spirited brand is working to provide high-quality fabric for winter. You need to bring a positive connotation by wearing the unique costumes below.
You might be well aware of the kurta designs for men, but choosing a decent attire that enhances your personality is difficult. Here you can get all the desired stuff to rock your season. It offers primary and light kurtas along with a fascinating youthful collection. It will help you to get your favorite style.
Basic Unstitched Light Kurtas for Boys
J. men's winter collection offers a beautiful variety of kurtas. Everyone who is craving for a fantastic wardrobe can view this portfolio. Indeed, it will help you to get the most wanted styles and fabrics for comfort.
Get your winter stuff from the following J. kurta collection for men for incredible looks. The primary light kurtas will appeal to your character. The beautiful fabric and styles will make your season more memorable.
Youthful Blended Kurta Pajama Collection for Winters
Bright colors are usually rare in men. But, the modern era propels people to get the most modest attires. Therefore, men equally design and choose their outfits like women. Check the polished Cambridge kurta collection for pro tips and styles.
A man of personality always tries to formulate new ideas. Therefore, be the number one to achieve this fantastic idea of being inspirational. Try the following colorful and youthful kurtas for defined looks.
Fascinating Winter Cotton Kurta Pajama

Self-printing on clothes is a fascinating design. Plus, it distinguishes one from the public at large. Usually, teen boys prefer such colors and styles over others. Try the unique cotton kurta pajama below for a distinctive appearance.
Amir Adnan's kurta collection has also gathered broad appreciation from men. Notable brands need help to meet the desires of their valuable customers. Combine your chic kurta with classic accessories for an entirely graceful look.
2- Absolute J. Men Winter Waistcoat Collection
In the world of individuals, a man with a personality always stands out. The dressing sense also impacts your personality. Plus, wearing an elegant outfit improves the appearance of a human. So, discover the charming winter waistcoat designs below. The portfolio offers an exceptional design and style for winter vibes.
A waistcoat is a sleeveless upper-body garment. Usually, people who want to bring a more formal look should wear this for formal events. You can also grab the latest waistcoat designs from the Edenrobe waistcoat collection for a refreshing winter look. Indeed, the classy articles of Edenrobe will rock your season. 
Antique Light Shaded Waist Coats
Your style should always match your ambition. Therefore, choose a color and design that reflects your personality and character. A handsome man with a charming personality probably turns the heads of a crowd of people.
So, go and get the delightful light-shaded waistcoats below. The stylish designs will bring refreshing looks to your personality. However, these articles' cost is generally high compared to other ordinary clothing.
Dark Shaded Waistcoat Collection
Apart from integrity and intelligence, men should be graceful and up-to-date. Therefore, a man should always opt for an optimum outfit and shoes because they bring enough grace to his personality. Plus, grooming is the secret of elegance and charm.
The best clothes bring the most glamorous style to your personality. Indeed, it will sleek your character. A couple of men prefer dark shades. So, have a look at the seductive collection of dark-shaded waistcoats below.
3- Traditional Shalwar Kameez Collection
Shalwar Kameez is a conventional outfit that is worn by the majority in South Asian states. This baggy style is a part of an eastern culture that covers the entire Asia. Usually, women wear this style to represent their cultural heritage. 
You can see various designs in the Eden robe shalwar kameez collection. Generally, men wear shalwar kameez for the sake of comfort and ease. But, winters require an independent assortment for men. Therefore, Junaid Jamshed offers an extensive collection in all possible shades. You can explore that the categories range from beige and white to primary dark colors. Let's have a look below.
Essential Beige and Off-White Collection
There is a variety of light tints for men in the latest J. men winter collection. Usually, men look for light shades for graceful looks. Indeed, the grace you own has more effect than the attitude to have. So, always choose a refined outfit that appeals to your character.
The following are the beige and off-white shalwar kameez dresses for you. So, let's go for mesmerizing shalwar kameez to add grace to your personality. Combine your attire with fantastic footwear for polished looks.
Essential White Shalwar Kameez Collection
Men today prefer white attire on Friday. Plus, they also like to wear this dress to add charm to their outlook. Therefore, they prefer white color over others. It has a deep association with purity. Plus, the versatility propels men to go for this color.
Following is a classic variety of white shalwar kameez from the J. men winter collection. You may explore the Gul Ahmed shalwar kameez collection for more white suits. Combine your traditional white outfit with stylish accessories for an entire seasonal look.
Exclusive Dark Attires for Men
Grace always impresses and stuns the public. So, always go for a chic style to stand out. Plus, this will help to have a distinctive look from ordinary everyday life. Combine formal shoes with them for classic looks. Try the exclusive collection of dark attires below.
Have a look at the popular colors below. Well, the collection of these outfits is enough to have a traditional yet enchanted look. Plus, the variety is so enhancing that it will engage in buying such tasteful designs. Let's give it a thought.
Pakistan is a country having people of diverse cultures. People prefer certain types of clothing according to their generation and styles. Junaid Jamshed has revived this country's cultural heritage by introducing a unique shalwar kameez and kurta collection. Look above and get all updated dresses with prices.