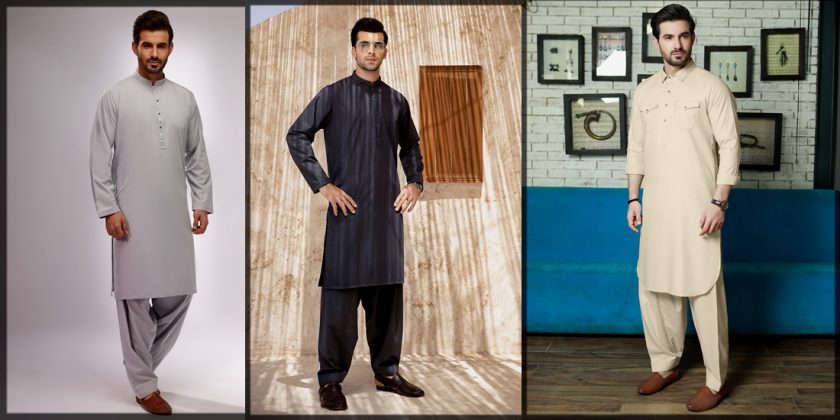 EdenRobe is one of the famous Pakistani brands that was founded in 1988. The primary mission of this brand is to fascinate its customers with distinctive and exquisite designs of clothing. Edenrobe shalwar kameez variety is famous for its comfortable fabric.
Nowadays, men are conscious of their outfits like women. Men today are trying to come over the level of women in dressing. Therefore, they choose the best gear for them for every event. Usually, men prefer the shalwar kameez for the comfy look. Hence, each season Edenrobe offers a variety of casual and formal suits for men.
Men today do not prefer only black and white colors as before. They desire to wear salwar and kameez of distinct hues. Therefore, they favor the Edenrobe men collection that each season offers the impressive and appealing shalwar kameez in all vibrant and vivid tones for men to look graceful.
Latest Edenrobe Shalwar Kameez Collection with Latest Designs

Shalwar and Kameez is Pakistan's national dress for both men as well as women. Therefore, men prefer to wear it formally and casually. Pakistan is a mixture of several cultures with different dressing senses but mostly agrees on having shalwar and kameez as the most comfortable outfits. 
Therefore, all notable brands render the various structures of shalwar kameez by utilizing all lovely shades to satisfy their customers. Edenrobe is one of them. In the latest Edenrobe collection, you will get the following types of clothing for men of all ages. 
Light Shades of Shalwar and Kameez

Dark Shades of Shalwar and Kameez

Festive Formal Collection of EdenRobe

Safeer Unstitched Collection of Eden Robe
For more variety, visit the Gul Ahmed shalwar kameez collection.
1- Light Shades of Shalwar and Kameez
Light colors are always unique and decent in appearance. However, there is not a single light shade for men to wear. Likewise, men today have a great variety of clothing with several striking hues. Take a look at the following light-shaded outfits of Edenrobe that will look much graceful when you wear them with dark footwear. You will find all lovely and light shades here that indeed add more elegance and appeal to your solid personality. For more summer dresses, explore the Junaid Jamshed men summer collection.
Beige Shaded Suit for Men

Beige is typically a pale sandy and fawn color having a yellowish touch. It perfectly pairs with brown color in contrast. Therefore, you can wear brown shoes with a beige outfit. Wearing a costume of this color brings charming looks to your ultimate outfit. Therefore, most of the men prefer to wear this creamy color for their considerate looks.
Slate Blue Shalwar and Kameez
The slate blue color reflects the shade of slate primarily. However, there are several shades of blue color, of which slate blue is universal. Wearing a slate blue hue reflects neutrality in your character. Therefore, men who are conscious of their looks wear slate blue to look handsome and smart.
Splendid Light Pink Eden Robe Outfit
The light pink color looks much peaceful. You can grab this lovely shade to make your look more graceful and breathtaking. Light shades always look fantastic, with dark colors in contrast. Therefore prefer to wear tan shoes with this fabulous attire to look more classical and captivating.
2- Dark Shades of Shalwar and Kameez
Dark colors always represent wealth and anonymity. Wearing such dark shades look unique and stylish for men. Therefore, most men today like to wear dark and bright colors. There is a wide variety of dark tones for men in the latest collection of ER. Let's take a look at the following Eden Robe's collection of darker shades. You can wear these dark-shaded attires at any formal event to make all of your jazzier and breathtaking looks. Also, explore the Nishat Linen Naqsh men collection that also contains various stunning outfits in dark hues.
The dark teal color represents energy and nurturing quality. Therefore, men who want to bring energetic reflection to their personality prefer to wear this hue. You can carry this cool dark teal outfit at any casual and formal events to make your look more smart and chic.
The navy blue is a darker tone of blue color. Wearing an outfit of this shade reflects unity and stability in personality. Moreover, it carries a sense of sophistication and elegance. Therefore, men wear a suit of this color formally. However, this color is easily reminiscent of the deep, blue ocean and space. If you do not prefer kameez, you can check out Kurta designs for men collection.
The charcoal is a darker tone of a brown hue. It usually evokes wisdom and compassion for humanity. Wearing an outfit of this color looks much graceful and unique. If you are going for your annual university function and you want to make your look more classy at that point, the below charcoal outfit is the best to look smarter. You can wear the light-shaded waistcoat over it to look more dashing. 
3- Festive Formal Collection of EdenRobe



Pakistan is a country with a diverse culture. There are several events of different kinds. Therefore, men always look for some premium collection to wear occasionally. Edenrobe presents a festive collection for men to wear on certain occasions accordingly. Moreover, the colors and premium stuff adds much grace and elegance to your ultimate attire. You can likewise wear these stunning and impressive attires at wedding events to make your look more handsome and noteworthy.
With your formal outfit, wear the dashing footwear and wristwatch to look more killer and handsome. Plus, wear sunglasses to beat the summer heat and likewise keep your eyes protected. Furthermore, style your hair in a stunning hairstyle, and your dashing look is completed. For more comfy summer dresses, visit the Cambridge men's summer collection.
4- Safeer Unstitched Collection of Eden Robe



Let's discover a unique collection of Safeer at Edenrobe. The supreme unstitched collection purely gives a cultural vibe. Moreover, the versatile outfits meet the demands of customers. The fabric possesses an enduring quality that is much durable. Take a look at the following two categories of the Safeer collection by Edenrobe:
Blended Suits

Cotton Collection
Men Unstitched Blended Suits
The blended stuff of Safeer has exquisite grace. Therefore, men wear such summer dresses for their enduring quality. The following outfits by Eden robe look amazingly fantastic. You can wear these blended texture clothes at any social and wedding events to grab the handsome and graceful look. All you necessitate is to pair your outfit with the dark-shaded footwear to look more classy. 
Unstitched Cotton Collection
In summer, the first priority of men is cotton clothes. Cotton is considered the comfiest and incredible texture for the summer season. That not only normalizes your look also keeps you secure and safe from the sun's hot beams. You can wear these cotton attires at any seasonal events to make your look more aggregable and noteworthy.
Edenrobe Shalwar Kameez for Men – Full Catalog
Today's common men wonder that the ultimate grace is in wearing light and decent colors. Therefore, they wear dull shaded attires. Take a look at the following Edenrobe outfits that are light in colors yet looking elegant. While on the other hand, the young generation of the modern era wants to look dazzling in their outfits. Therefore, they wear dark colors for their bright personality. Hence, Edenrobe also offers a wide variety of dark-shaded suits that are incredibly impressive, as you can see below.
You can combine these light and dark shaded dresses with a waistcoat to look graceful. A waistcoat is a sleeveless upper-body garment that men wear over shalwar and kameez. Men also wear it below the coat for a formal outfit. Therefore, men who want to add a dressy look wearing a waistcoat over it. For making your looks more incredible, pair the waistcoat with the color of your shalwar and kameez. Have a look at the Edenrobe men's waistcoat designs  that contains a wide variety of waistcoats for men of all ages.
Men are always conscious of their outfit as it reflects their good fashion sense. Therefore, the fashion industry of Pakistan focuses on clothing for men equally as women. Keeping this in view, Edenrobe brings a variety of collections for men at a reasonable price. Moreover, the unique and extravagant outfits of distinctive colors catch the attention of customers. Also, it provides an online shopping facility to its potential customers. However, you can also grab your outfits at their retail stores in various cities of Pakistan.