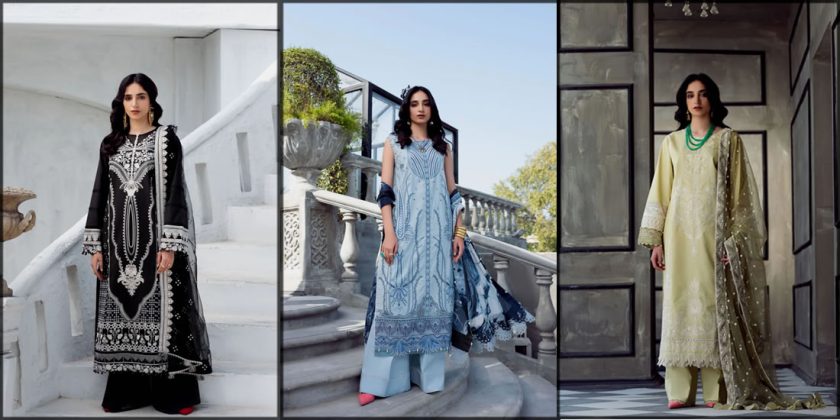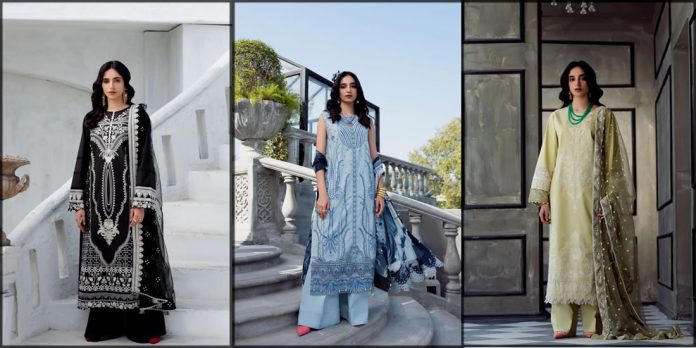 Undoubtedly, the arrival of summer is a sign of colors and beauty. Everyone struggles to get fascinating styles for this memorable season. Meanwhile, the fashion designers of Pakistan work day and night to craft engaging dresses. You will be glad to know that the latest Erum Khan lawn collection is offering enchanted dresses for women.
Delve into opulence and become a part of the iconic summer collection of Erum Khan this summer. Indeed, you will love the iconic blend of fantastic hues to create a splendid summer look. Enter into the refined luxe collection to make your summer season colorful and unforgettable.
Every season has its own charm and joy, but summer is the season to celebrate with delightful hues. Thus, Erum Khan used all trendy designs and the most pleasing color palettes and combinations to make your summer look more magnificent and stylish. Further, all these dresses are made with pure lawn fabrics that indeed give you a cool and relaxed look, so please give it a thought.
Latest Erum Khan Summer Collection for Women

Erum Khan is a renowned fashion designer in the fashion industry of Pakistan who has been serving its customers since 2011. Every season Erum Khan presents statement dresses for women of all ages. Here is the recent Erum Khan lawn collection with blissful styles for you. I hope you will love the quality fabrics and artistic designs.
This season, the lawn collection is offering exquisite styles for women. The product mix strategy brings versatile designs that are ideal for every age group. Additionally, the brilliant combinations will add more glam to your personality.Also, you can explore the latest  Saira Rizwan summer collection for likewise dresses.
1- Purple Lawn Embroidered Suit with Embroidered Net Dupatta
Erum Khan wants to elevate every inch of the alchemic dream of women. Therefore, it brings you the statement dresses that aid in getting a delightful look. Undoubtedly, a purple lawn dress in summer will be the best choice for women who wanna slay.
Look at the below to seek the magic of the outfit. A classy detailed embroidery on the entire shirt will propel you to buy this artistic dress. It is paired with the plain trouser and embroidered net dupattas that add more elegance to this outfit. Get luxury dresses likewise from the latest Rang Rasiya's summer collection.
2- Booti/Spray Organza Embroidery Suit

Wherever there's a woman, there is absolutely some magic. Women always look different with a unique style that everyone possesses independently. Plus, the right choice of dress brings the next level of influence. Here is one of the most magical and vibrant summer outfits for girls who love to wear striking hues.
Take a look at the breathtaking dress below. The design is dripped in a heavy cosmos of sky blue mauve with astonishing patterns. Further, the intricate booti embroidery on the front and sleeves with contrasting dupatta looks ravishing. You can wear this sleek outfit to any formal gathering to get the adorable gaze by combining it with bronzer makeup. Check out Asim Jofa's luxury lawn collection to seek more flawless designs for your summer.
3- Shocking Pink Embroidered Lawn Suit
Here comes the time to enjoy the bliss of summer with beautiful sunshine. It's the time to wander across the sides of the street in blazing summer dresses. Undoubtedly, every woman wants to add sparkle to their looks. With the arrival of the new seasons, people love to welcome new fashion trends. So, here is a fashionable outfit for you. You can have similar dresses from the recent Taana Baana summer collection.
Look at the image gallery below to discover the shocking pink embroidered dress. Many people believe that shocking pink is an essential summer color that truly adds a sunshine look to your personality. Further, it is paired with the matching embroidered dupatta that double the grace of this outfit. So carry this appealing outfit on any summer celebrations and get the fantastic yet lovely flash. 
4- Sleek Black Erum Khan Lawn Dress
This season, go for the sleek black shade to make your summer much more fascinating. Undoubtedly, the deeper shades bring a graceful look to your personality. So enjoy the scenery of summer with the flaunting black dress below. You can get likewise dresses from the recent Manara summer collection. Indeed, it presents you with vibrant hues and fantastic combinations for your absolute look.
Below is a fantastic outfit for you to look elegant and classy. The fully embroidered lawn dress is complemented with plain black trousers. Undoubtedly, the timeless and statement dress looks glamorous with an embroidered cotton net dupatta. Indeed, the basic prints and magical embroidery will engage you to get blissful looks. Also, Ittehad Textiles summer dresses are worth buying.                         
5- Ethnic Mustard Lawn Dress with Silk Dupatta

The beautiful and soft combination of mustard, white and black is the favorite combo of most women. Look at the distinctive mustard dress below that is fully embroidered from the front and sleeves. Further, it has a contrasting black printed dupatta. However, the basic plain trouser complete the pure summer vibe. Carry this dashing outfit to any casual summer party and get the appealing flash. All you need is to combine this striking outfit with nude makeup to get the perfect look. Also, get combinations likewise from the latest Mushq luxury lawn.
Undoubtedly, fantastic weaving and sewing techniques make a dress more magnificent. However, none can slay without a perfect outfit that is exceptionally crafted. So, remember to stitch your dress carefully because the stitching designs make the outfit beautiful for women.
6- Majestic Light Green Erum Khan Lawn Collection

The women who are eager to show wisdom and courage at the same time shall go for a majestic light green dress. This rare yet dignified shade is an ideal option for young girls. You might have seen shades likewise in Limelight's summer collection. But, here is a fantastic and ideal summer outfit for all the women out to get a graceful dress.
Wear the contrasting dark green jewelry that will enhance your formal look with this cute outfit. However, you can keep yourself simple if you want. Further, wear bold makeup and high heel shoes to stand out. 
7- Nude Shaded Erum Khan Lawn Dress

Everything magical can happen in the extensive summer season. The women who want to change their looks every month always desire an ethnic dress. Indeed, an ethnic look can never be completed without wearing a vibrant color. Here is the most demanded and eye-catching embroidered lawn dress for you to wear this summer
Please take a while to explore the dramatic outfit below. The daisy floral embroidered dress is beautifully crafted in dark and light shades. Further, it has a finely blended chiffon dupatta for a contemporary look. You can elevate your look by wearing exquisite high heels and a unique hairstyle for a complete summer look. Also, visit Salitex luxury embroidered lawn collection. 
8- Impressive White Embroidered Erum Khan Lawn Suit
Everyone is lost in their busy and hectic. You need to have a charming and splendid dress to add glam to your personality. Indeed, no one wants to stay dull and deprived in the galaxy of individuals around. Instead, everyone wants to bring super dazzling looks with a timeless and statement summer outfit.
Do you want to bring back the quaint grace?  If so, then go for the impressive white dress below. It is the color that will dazzle your look. Plus, the alluring prints and embroidery are an absolute charm fest in the splendid breezy dream. For more luxury assortment, check out the recent collection of Noor by Saadia Asad, and have an epic summer.
Are you excited for the feminine combinations and statement dresses? Do you want to make your summer look much enchanted and vibrant? If so, then take a look at the following blog. It showcases a versatile collection of pastel, floral, and lively summer dresses in the pure lawn fabric. Indeed, the fantastic color palettes will make you proud of your choice.