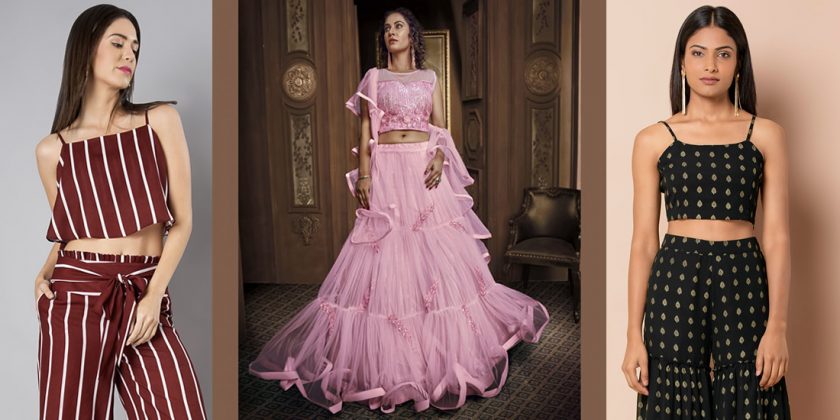 Nowadays, Pakistani teen girls and women are interested in crop top-dresses. The stylish outfit comes with either a skirt or a lehenga. Therefore, we are presenting you with a wide variety of crop top dresses with different combinations.
The modern type of dressing is very trendy nowadays. Also, it adds glamour to your personality. Everyone wants to set fashion milestones in their circle. Therefore, these fashionable wear will help to meet your desires.
The crop top is a half shirt that exposes your waist. Usually, it is paired with a lehenga. But, nowadays girls prefer to wear them with a skirt as well. The fashion trends in Pakistan changes with time. Women who follow these trends look for the latest styles. So, we are here to provide a collection of latest and trendy clothes that are emerging. Scroll down and have a look at the stylish collection of your desired clothes.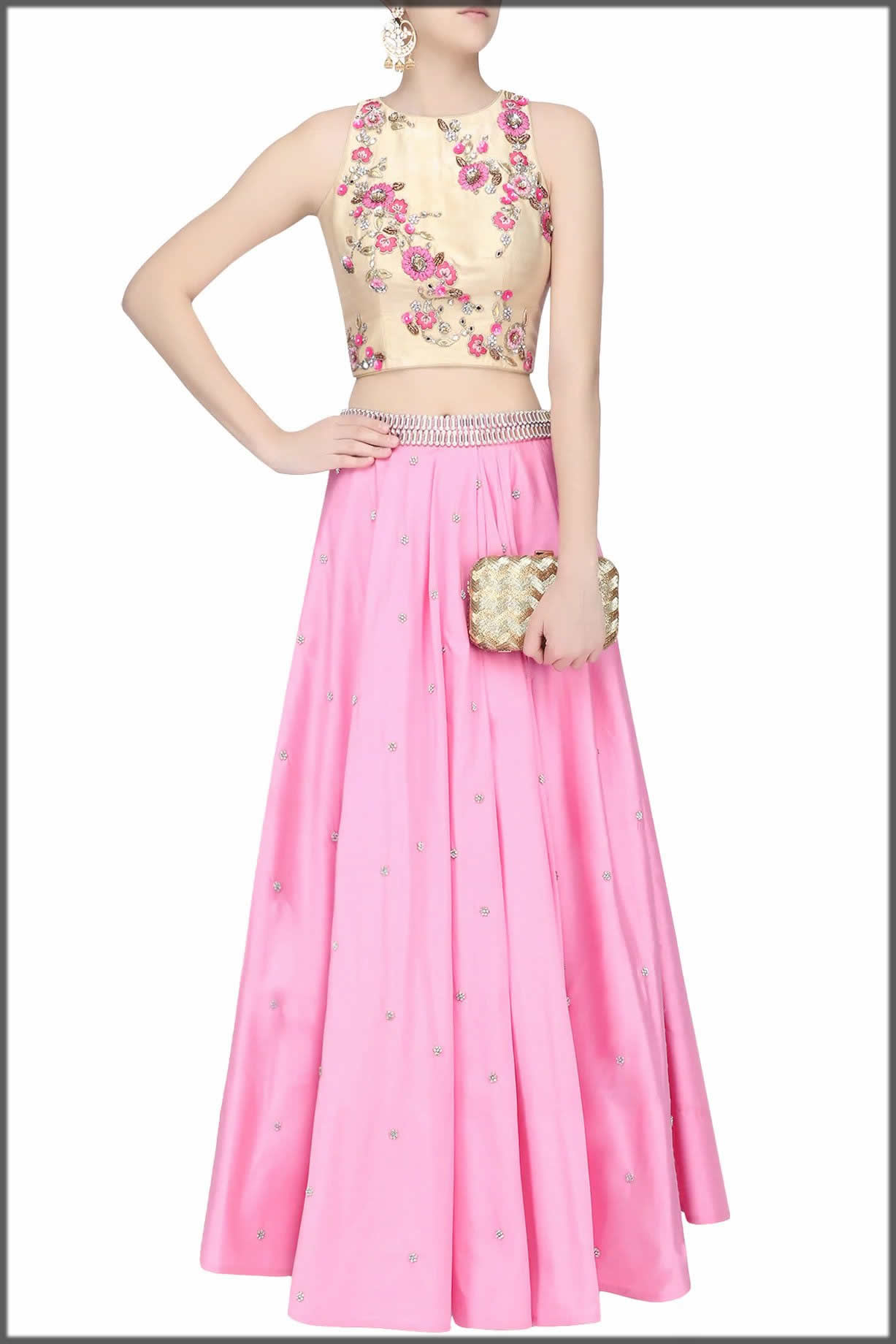 Designer Crop Top Dresses in Skirt and Lehenga Combo

We will provide a variety of crop tops to meet your fashion standards. The elegance of this wardrobe will stand you out among the crowd. Take a deep breath and have a look at the trendy collection of crop top dresses below.
Floral Pink Half Blouse with Skirt

Are you looking for a pink-shaded skirt with motifs? Here is a stylish skirt having a floral motif on edge. Also, the embroidered neckline with a motif on the blouse looks dazzling. Wearing such an incredible outfit at formal parties will definitely get you a compliment.
Check out more formal dresses here for your cocktail parties. Plus, always remember to pick the right color according to your texture and complexion. The style you wear is a reflection of your choice and class. So, never let anyone dull your shine and stay classy.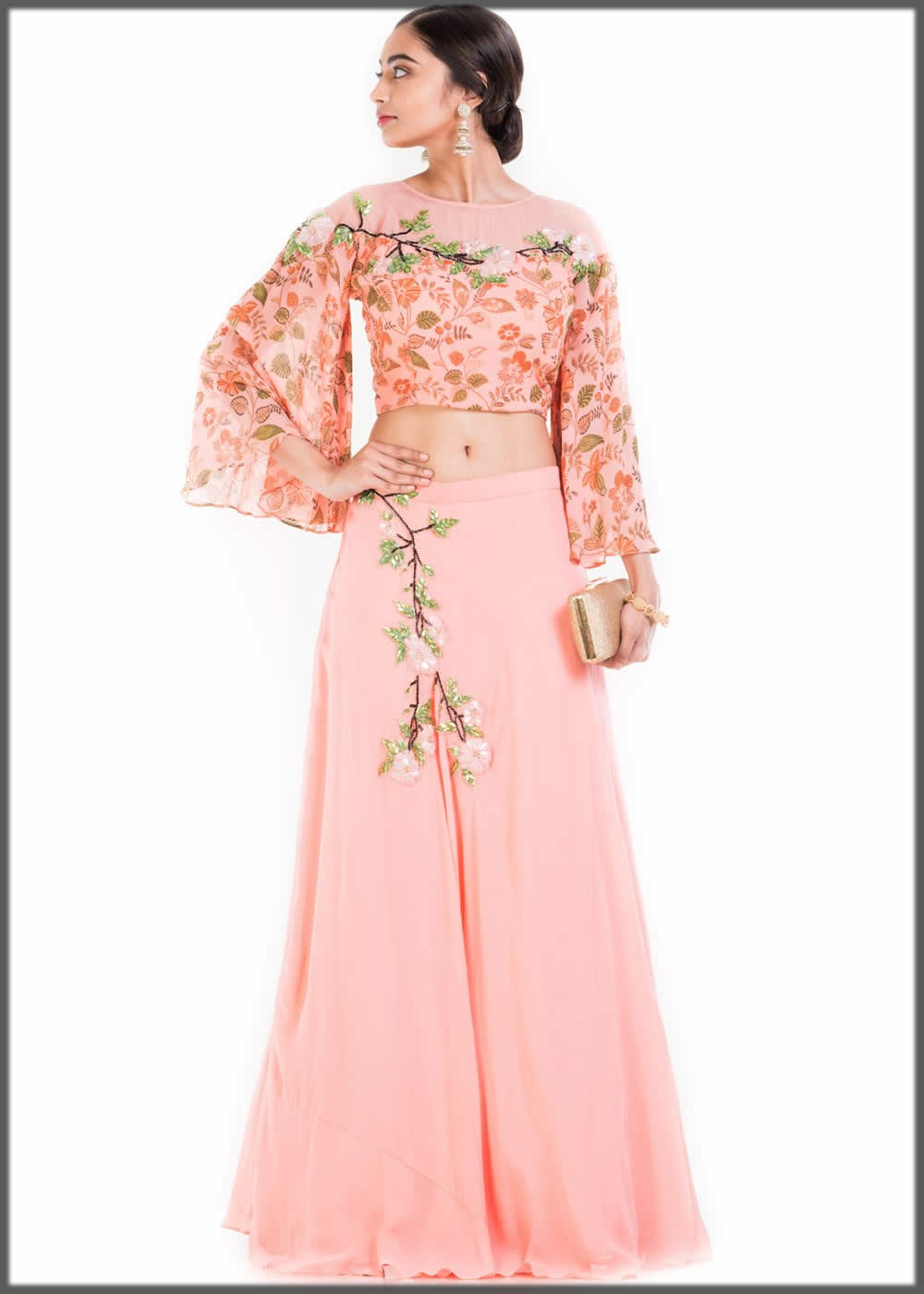 Long Open Gown with Crop Top and Skirt

Everyone wants to look unique among all. So, they look for a distinctive outfit that helps them to stand out at events. Therefore, we present you with a marvelous skirt in jet black with a nicely paired jacket-style dress.
Usually, the floor-length gowns come with pant-style dresses. But here is a unique outfit for you. The short blouse exposing the abdomen looks vigorous with black color. Moreover, the massive flare of the skirt adds an exquisite style to your entire look.

Sleeveless Short Blouse with Flared Skirt

The modish designs of clothing always come in floral prints. Therefore, girls look for exciting floral styles. Here is a stunning pink short blouse design with a massive flare of the skirt. The sleeveless top crop looks classy if you pair stylish jewelry with it.
Further, keep your hair open and give loose curls to them for a super gorgeous look. A little bit of minimal makeup will elevate your dramatic look. Undoubtedly, cayman peach and rosy pink shades look delicate when you wear them correctly.

Silk Half Blouse with Embellished Lehenga

Are you looking for a lehenga? The graceful maroon collar style blouse looks unique when you wear it with a lehenga. However, the distinctive attire makes you look different among the public. The beautiful sequins embroidery on the lehenga with some shimmer adds a flickery look. Plus, you can wear Kundan jewelry to complete the whole contemporary look.

Jeweled Crop Top Dresses with Skirt
Looking for a customized outfit? Check out the alluring jeweled crop top with a brilliant skirt here. Wearing a short blouse has become a must-have outfit in the summers. Therefore, we present you a stylish and decent attire with a jeweled waist that covers your abdomen. The skirt is beautifully adorned with pearl motifs. Plus, the elegant combination of metallic grey and tea pink is ideal for teen girls to stay modest.


Party Wear Crop Top Dresses for Women



The skin-baring tops look immensely super on girls. Therefore, they prefer to have a wonderful outfit at parties. Have a look at the best crop top dresses here for your party wear. Indeed, you will be overwhelmed with enchanting color palettes and beautiful combinations. Further, the flared and unique designs will appeal to your character.
Sleeveless Ash-Grey Crop Top Lehenga

Do you want to look blazingly classic? If so, then you must go for a unique hue to wear. Make your wardrobe classy by wearing an ash-grey party wear dress below. Also, the stunning cropped top is beautifully decorated with beads. Moreover, the skirt below has pretty artwork of sequins, bringing a dazzling look.
Fashion Tip: Make a loose and messy high-bun with the outfit to make it impressive. Also, wear pearl earrings to complete your party look.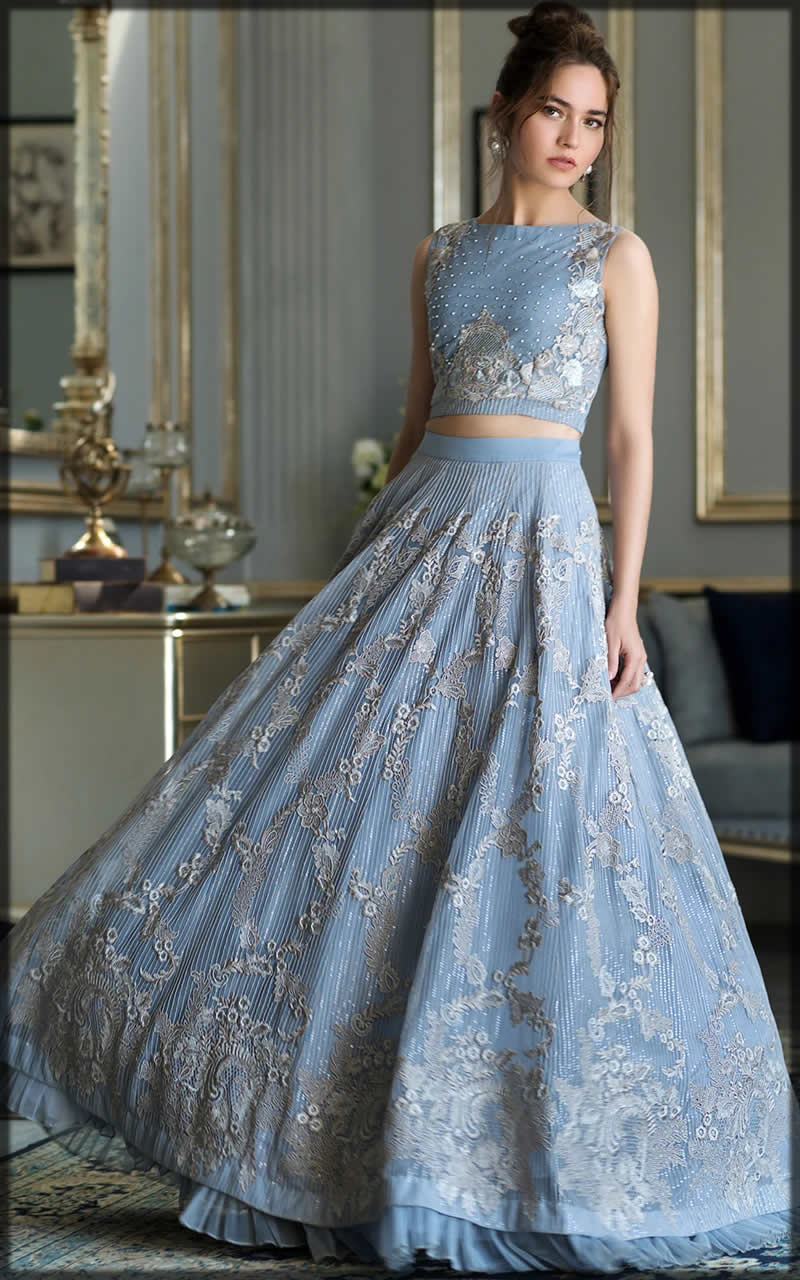 Criss-Cross Black Crop Top Outfit
The black color looks sophisticated when you wear it at parties. But, it is not always necessary to have an outfit in black. One must try different colors to look different. However, if you are looking for a black skirt, then consider the following attire. The stunning black blouse with embroidery in golden brings an outstanding contrast. Also, the pearl beaded net skirt adds shimmer to your personality. Check out Pakistani party wear frocks for more variety.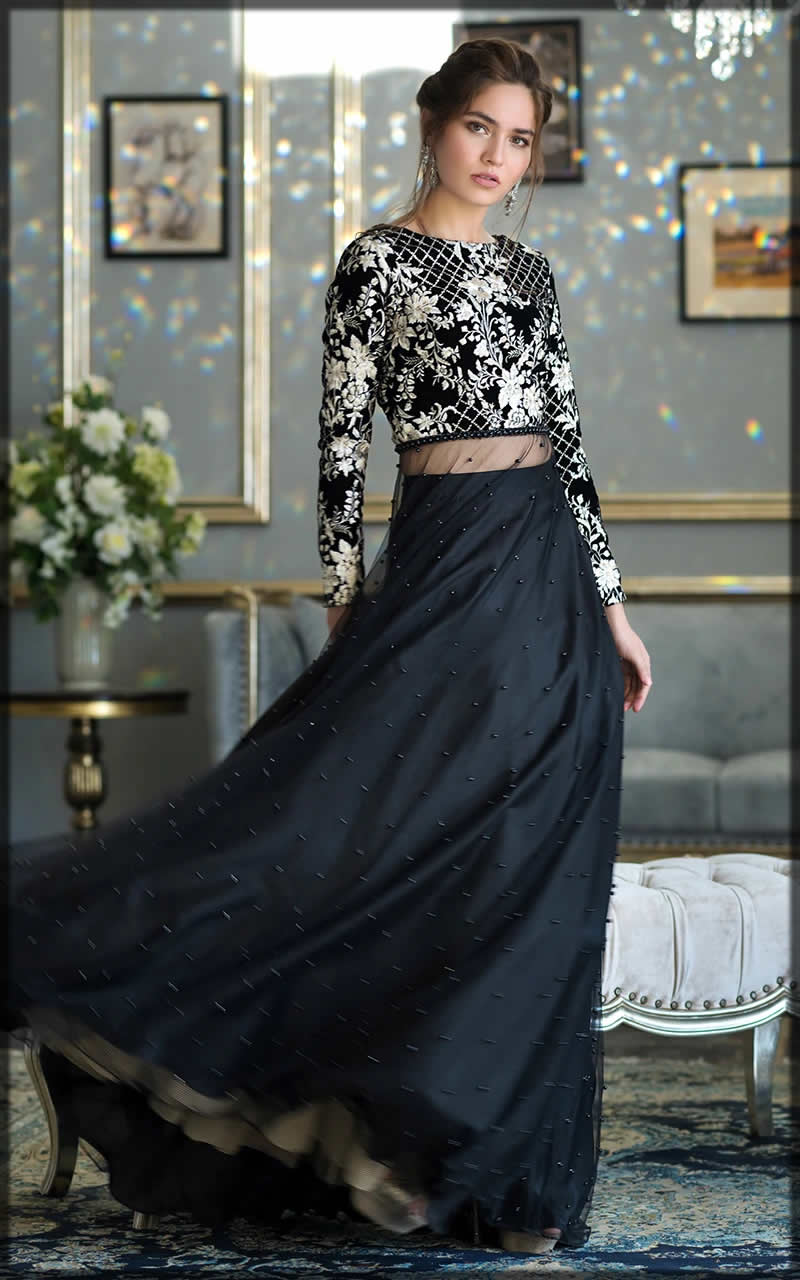 Shocking Pink Lehenga with Half Blouse

The pink color has beautiful combinations with a variety of hues. However, the shocking pink looks the best with mustard or yellow color. Here is such a cherishing combination for you to wear at parties for a traditional look. The heavily decorated shocking pink lehenga is coordinated with a mesmerizing dupatta. Plus, you can wear an ethnic khussa to complete your traditional look. Please give a thought to the following outfit for any upcoming event.

Floral Net Skirt with Half Blouse

Teen girls look for baby colors. Therefore, we have a pretty baby pink attire for them. The stylish half blouse is beautifully decorated with stones and motifs. Also, the pearl beaded net lehenga looks dazzling with it. It completely brings a youthful look whenever you wear the attire of such pretty colors. Get yourself a delicate floral net skirt with an elegant blouse below. Indeed, you will appreciate your choice if you will go for it.

Wedding Wear Crop Top Lehenga Dresses



The diverse culture of Pakistan forces the designers to produce wedding wear dresses. Therefore, the Pakistani fashion designers propel different styles of dresses. Some girls who want to have a unique wardrobe at the wedding can check out the following image gallery. It contains incredible crop top dresses for you to wear at any wedding.
Fancy Crop Tops with Lehenga
It consumes less effort to wear a flowy lehenga. Also, the massive flare has a rounded shape. Your closet must contain such comfortable attires to make your weddings memorable. So, check out the following image gallery of breathtaking lehenga with a crop top. The stunning tilla embroidery on both the shirt and lower garment looks obtrusive.


Embroidered Crop Top Dresses with Skirt
You did not have a pretty skirt yet? Then have the following gleaming skirt in your closet. Wearing a skirt with a half-blouse at weddings will catch the eyes. Also, every girl needs a compliment on how she dresses up. So, this outfit will get you a compliment surely. The stylish floral skirt with a huge flare brings a dazzle when you twirl.
Further, the decorative net dupatta looks magnificent with the blouse. You can wear a heavy necklace to complete your wedding look. Plus, keep your hair open and attach hair jewelry for dramatic vibes. I hope you will love the outstanding skirt and blouse below.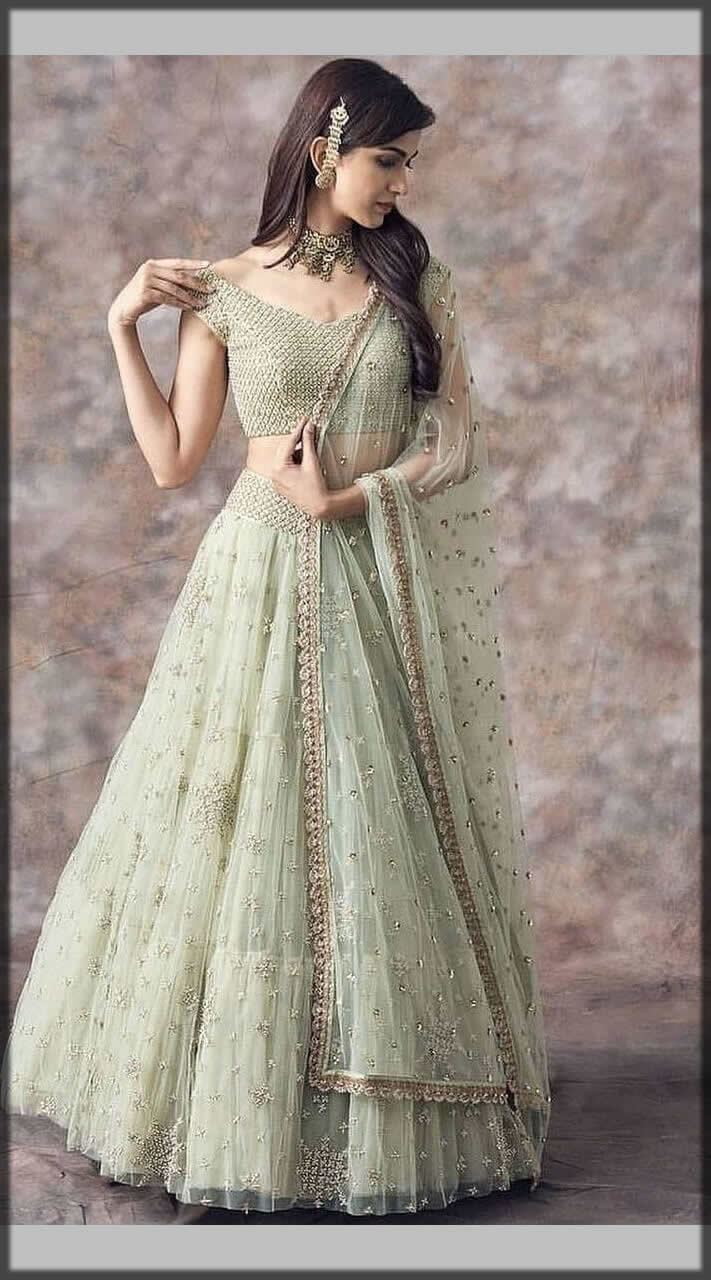 Bridal Crop Top Dresses for Mehndi, Barat and Walima



Are you worried about your bridal look? Do you want to have a trendy wardrobe on your big day? To all the brides who are up for a bridal dress, catch our latest trendy dresses. Nowadays, a top crop with lehenga is the most stylish outfit for a bride. So, here we have glaring mehndi, barat, and walima outfits for a bride.
Half Blouse Lehenga Dresses for Mehndi

The Mehendi outfits come in two familiar colors. Usually, women prefer to wear a yellow dress for their resemblances with henna. Some look for other rainbow colors for a cherishing beauty. However, it looks entirely sassier when you have a half blouse with a lehenga. Check the following bright mehndi dresses.
Fashion Tip: Attach three roses to your low-bun for a traditional look.


Maroon Barat Day Lehenga Choli

Have a look at the stupendous bridal barat dress. The top designer dresses are available online and at retail outlets. So, wanna have a remarkable look? Try the following classy outfits on your wedding day. Hira Mani looks stunning in the embellished red bridal dress below. Plus, she is wearing exquisite jewelry that completes the bridal look.
Do you want to have a classy outfit for your barat day? If so, then please give a thought to the staggering crop-top dress below. The fancy and embroidered net dupatta is looking fantastic. Wear high-heels to gain a smooth and smart look.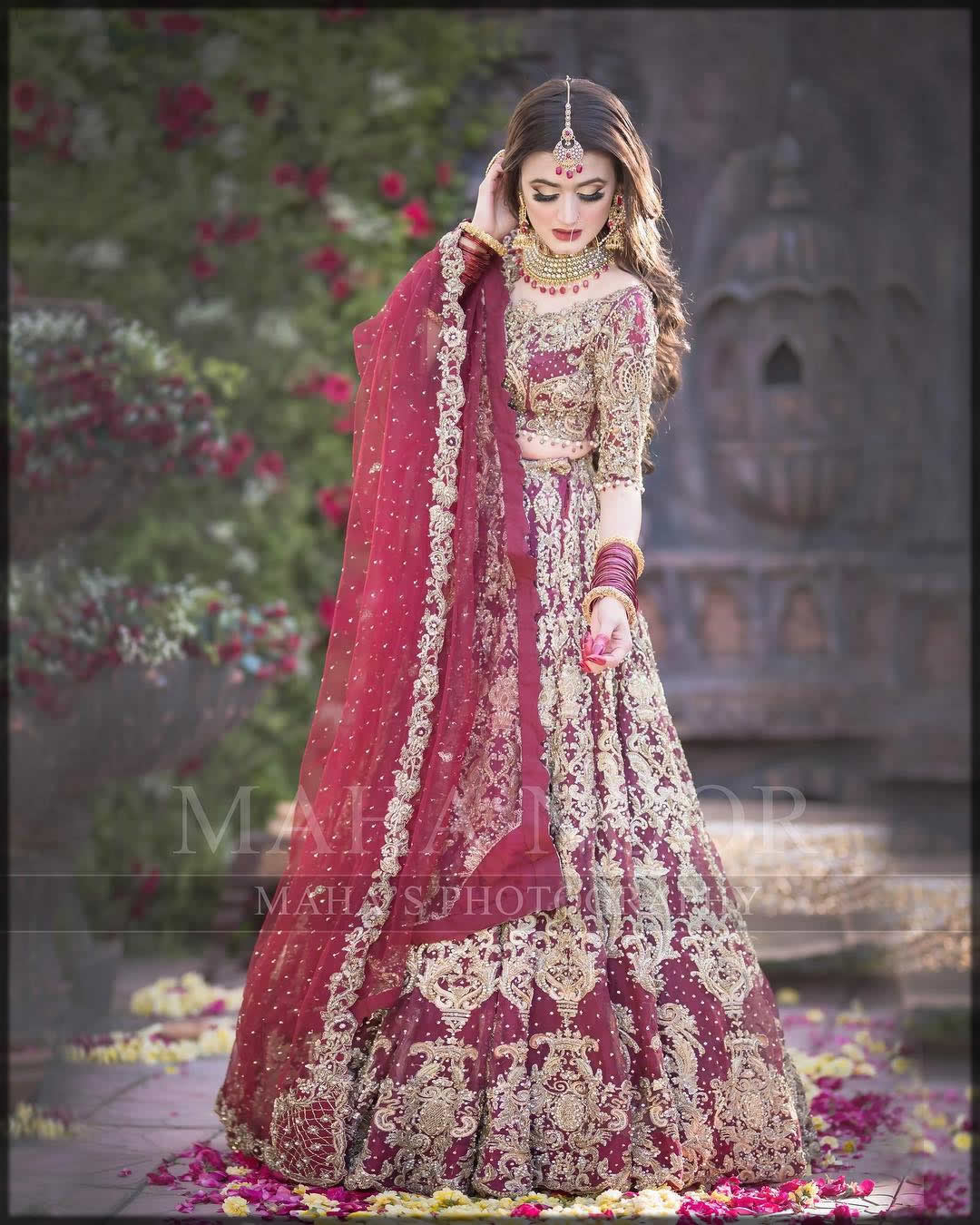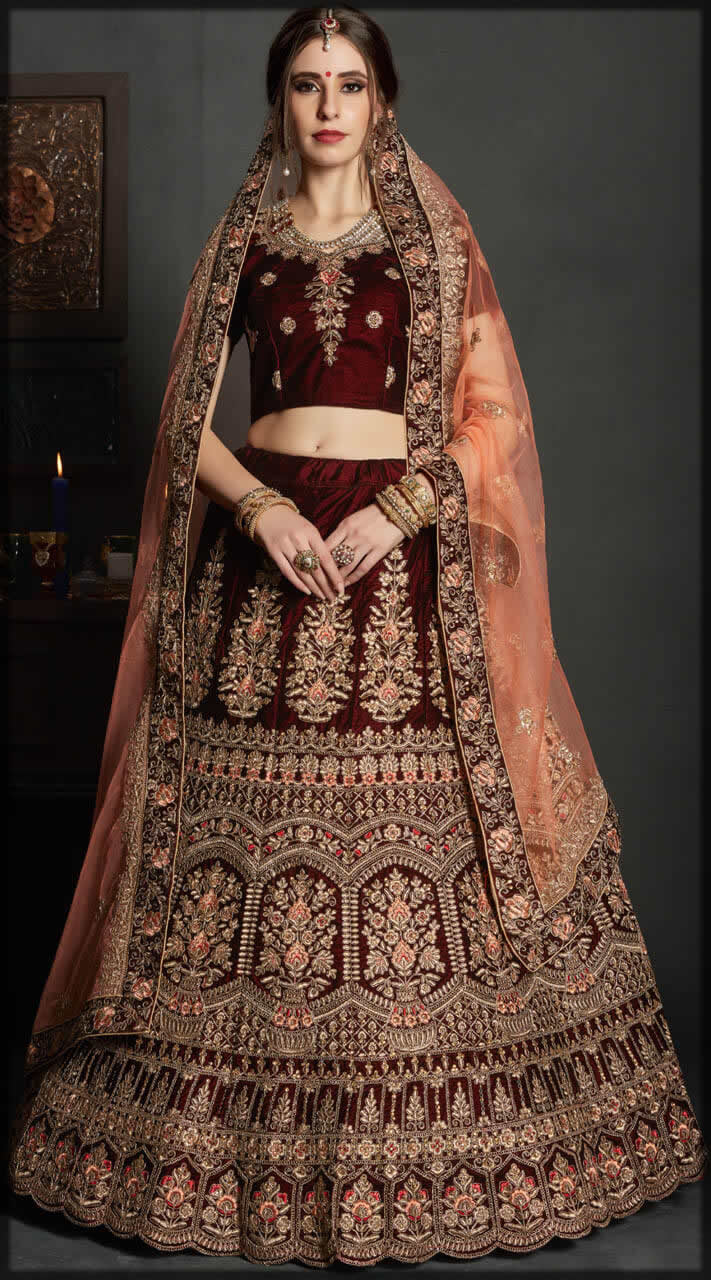 Crop Top Dresses for Walima/Reception Day

Walima day is as important as the other two wedding days are. However, color preferences slightly vary. Women likely prefer peach, pink, and other light shaded colors. Well, if you want to have a trendy crop top dress on your walima day, then check out the following collection of bridal walima dresses.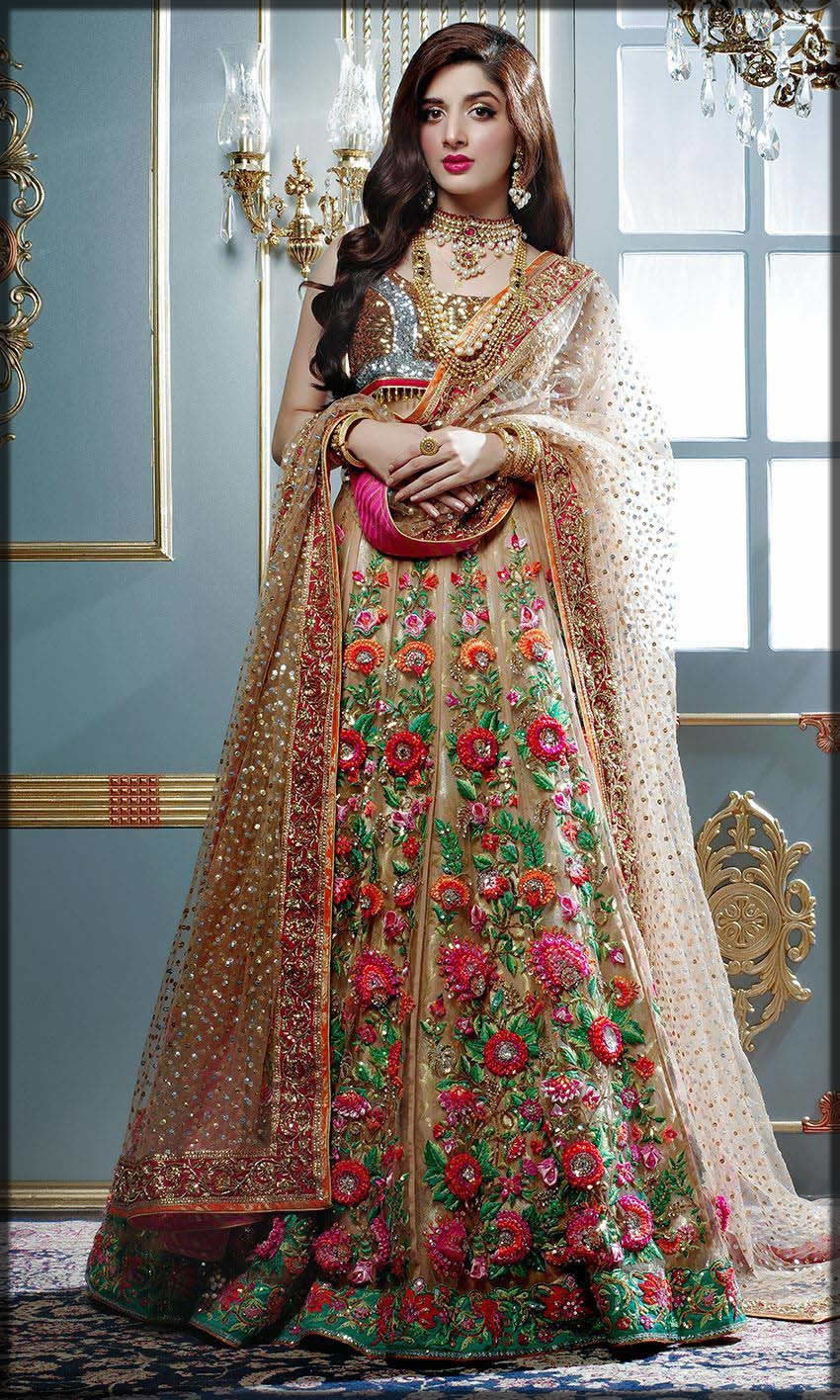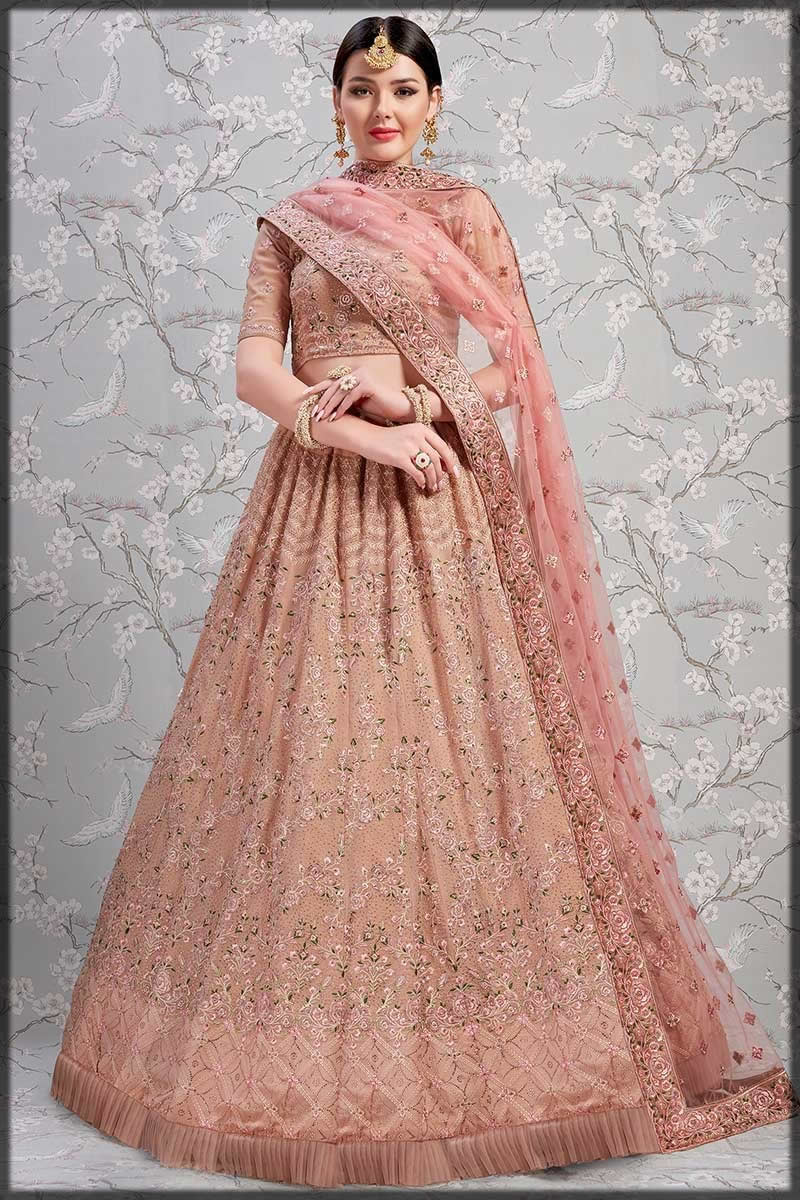 Make your closet versatile by having crop top dresses in it. Also, it makes your personality updated and stylish. I hope this collection will help you to decide which type of dress you can wear. Also, the variety of dresses is enough to make your looks phenomenal.