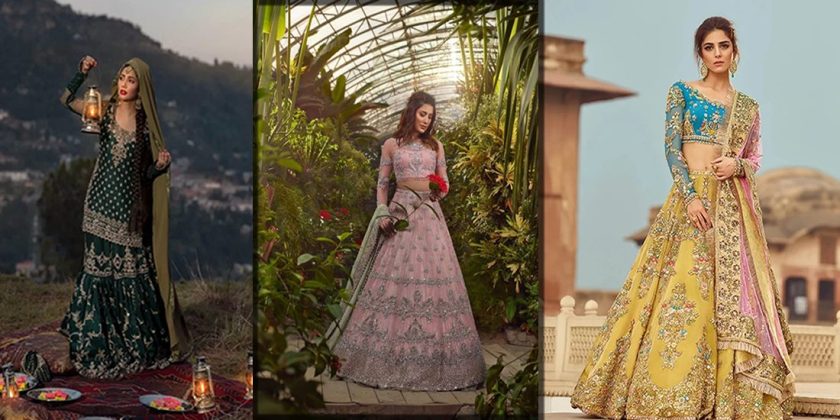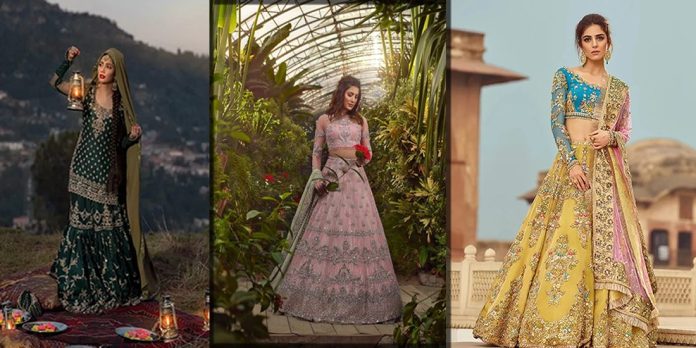 Unapologetic women are the prettiest and most powerful. Such grace can bring elegance and comfort to your looks. On the wedding day, every bride desires to get a pleasing and refreshing outfit. Faiza Saqlain bridal collection will bring you mesmerizing and anticipating wedding dresses.
Despite the troubles and hardships, a bride must escape the chaos gracefully. A woman needs to compromise on some standardized things. A beautiful dress is essential to make their wedding look attractive and impressive. Undoubtedly, fashion designers struggle to create youthful and modest bridal dresses for the upcoming brides.
Admittedly, sunshine is beautiful as it enhances the beauty of nature. Similarly, an attractive pattern on a bridal dress is exhilarating as well. Despite the busy routines and tired days, a bride never compromises on selecting her bridal dress. You will get a variety of satisfying designs from Faiza Saqlain bridal collection in our blog below.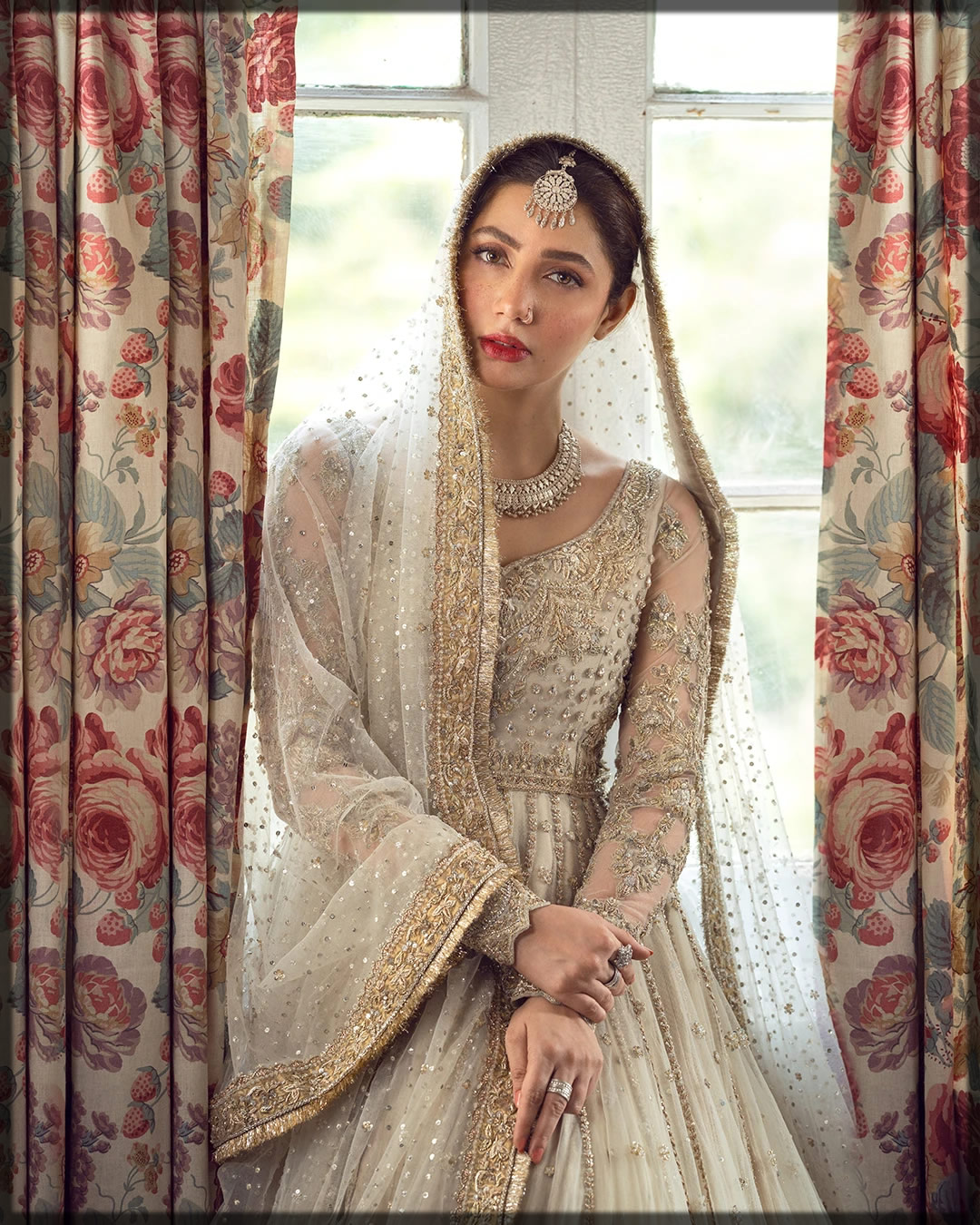 About the Creative Designer and Brand History
Faiza Saqlain entered Pakistan's fashion industry with its endearingly refined dresses. The brand was founded in 2012, in Lahore. The leading retail brand aims to provide casual and formal dresses for men and women. The highly anticipated haute couture and a luxury prêt-a-porter line is a vision of aesthetics that celebrates feminity. The designer is famous for its signature floral patterns and astounding color fusion. Here you will see the exclusive bridal clothing line of Faiza Saqlain below.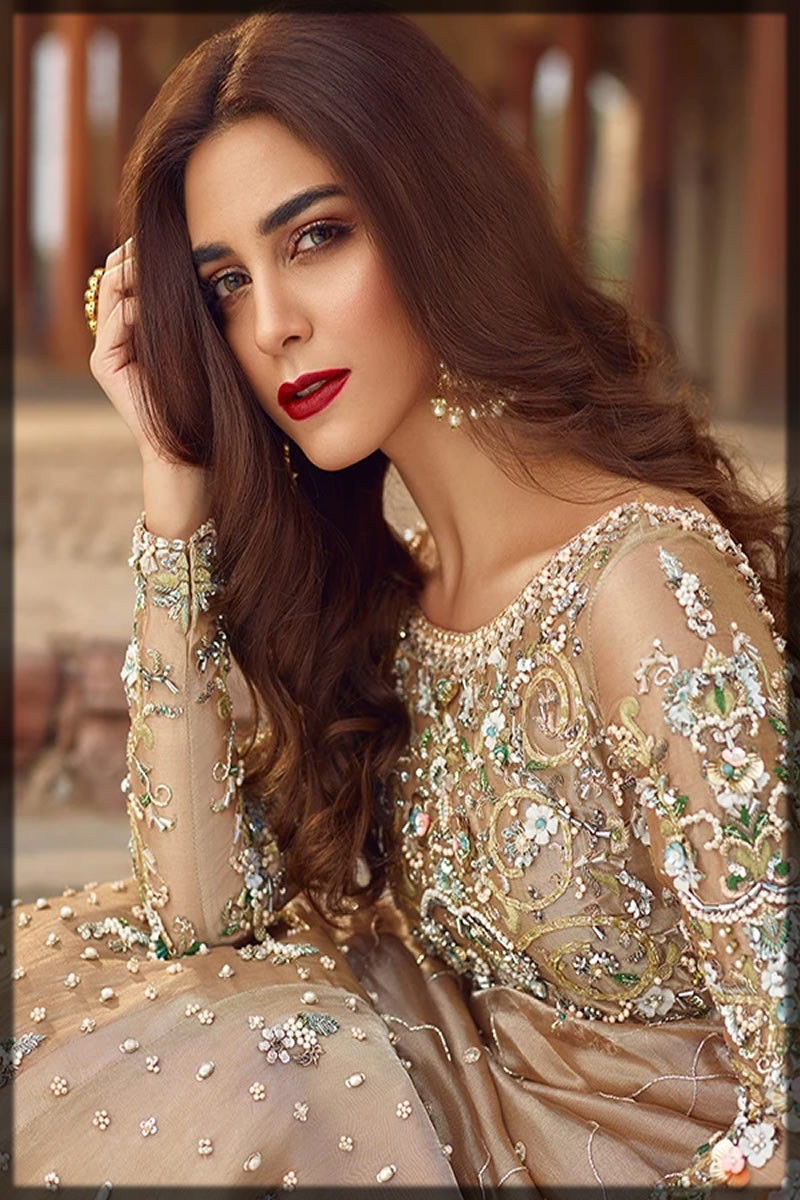 Faiza Saqlain Latest Bridal Collection for Women

Every soul has a right to dress up beautifully. Undoubtedly, a well-dressed individual, regardless of gender, is more respectful. Moreover, people admire your personality in the way you dress up. Therefore, you must be wise about your personality. Plus, you need to grab a color and style that compliments your personality and grace.
There are a lot of clothing brands in Pakistan that offer versatile and dignified bridal ensembles for women. However, I am glad to say that Faiza Saqlain stepped into the market with dynamic hues and flaunting styles. The creative designer has crafted well-decorative outfits for you. Undoubtedly, you will not be able to stop yourself without appreciating her efforts.
You can check all the bridal collections on our site and pick the finest outfit for yourself to look your best on your wedding day.
Beautiful KHURSHID Collection X Mahira Khan
Mahira Khan dominates Pakistan's fashion industry through her stellar looks. Humsafar's star is famous for her attractive looks and unique style. The lead actress was seen in a couple of blockbuster movies and dramas. Also, she was given many awards for her performance in Bin Roye, Verna, Superstar, and many others. You will currently see her as Mehreen in the drama "Hum Kahan Kay Sachy Thay" across Usman Mukhtar.
The stylish and iconic actress was seen in a couple of shoots for several clothing brands. Recently, you might have seen Mahira Khan in the debut of Elan's latest collection. Today, we are bringing you the ultimate bridal collection of Faiza Saqlain featuring your favorite Mahira Khan. The KHURSHID collection brings enchanting designs for your wedding. Would you please take a while to explore the dazzling bridal dresses below?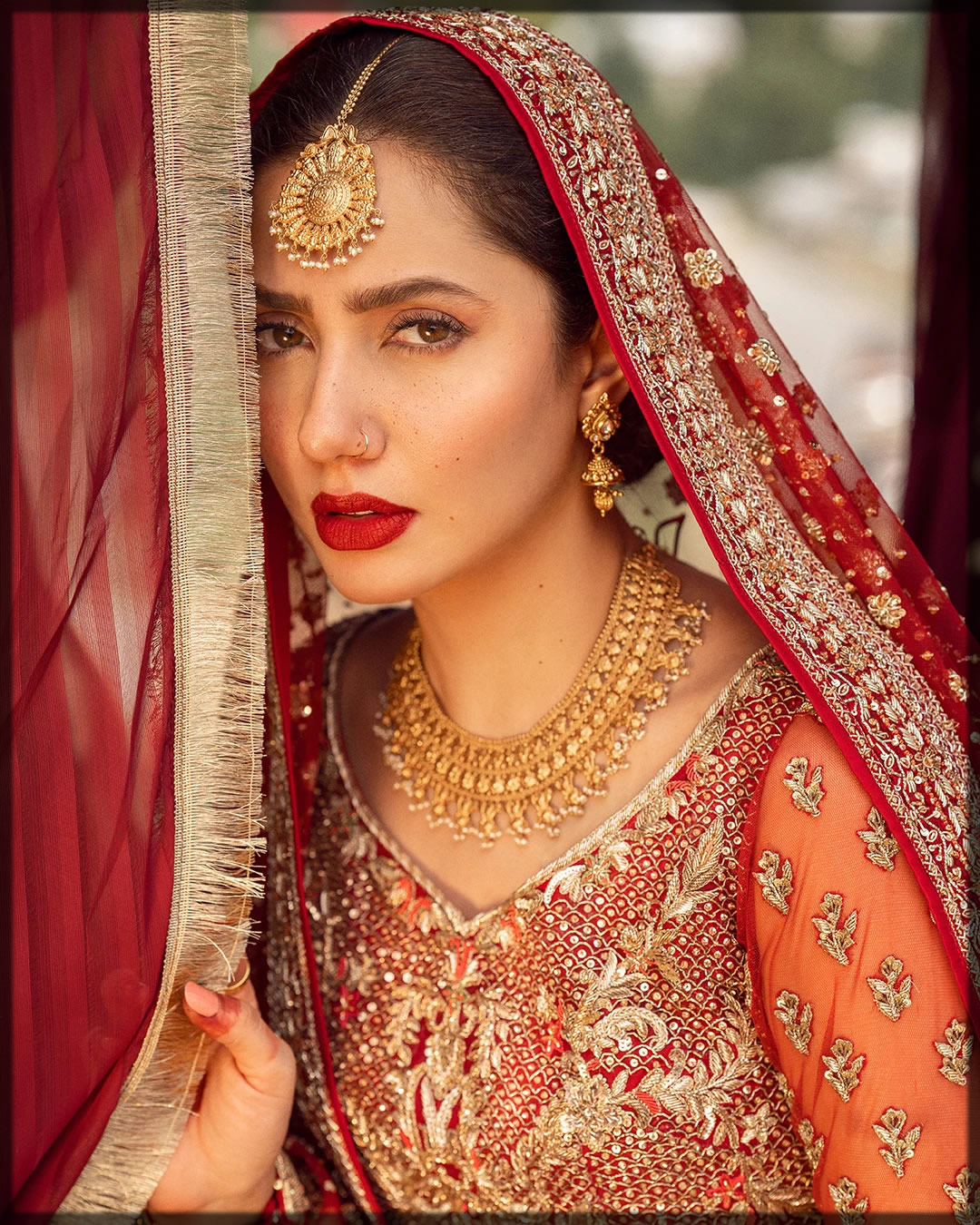 Aqua Haze Lehenga Choli for Walima
The following image presents you with the hand-crafted golden choli. The outfit comes with embroidered and embellished net sleeves. Further, the Aqua lehenga is adorned with delicate Resham florals and celestial filigree rendered. Also, you can see intricate patchwork on lehenga choli that enhances the entire look. Finally, Khaadi net embellished dupatta completes the entire look.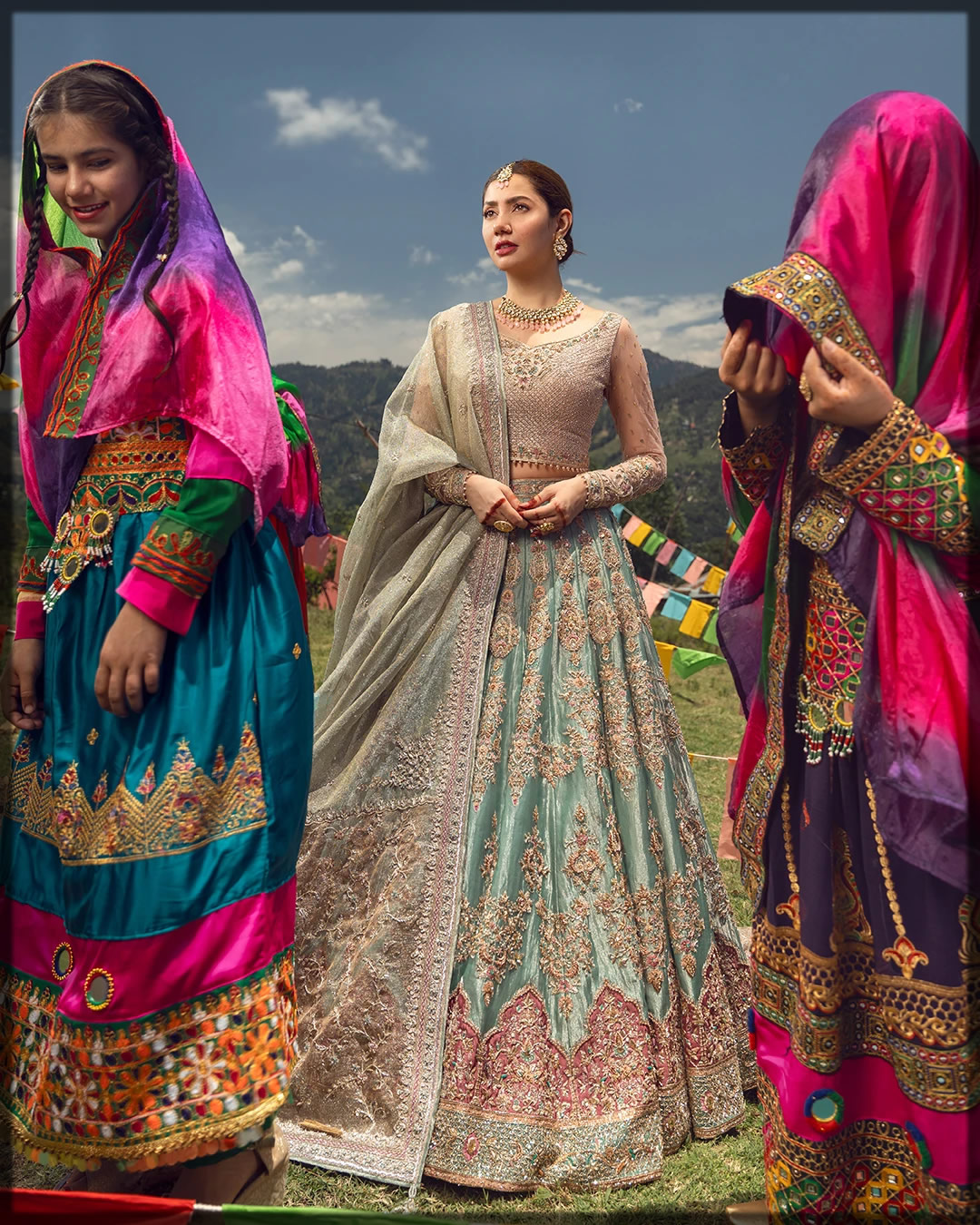 Ivory Double Layered Peshwas
The beautiful Mahira Khan dons a highly enrich and meticulously crafted ivory embellished bridal dress. Indeed, the artwork is so tastefully done that you can not refrain from it. The delicious ensemble is created with dabka, zardozi, and hand-cut sitara work for elegance. Plus, the hand-embellished dupatta completes the entire vibe of the double-layered dress.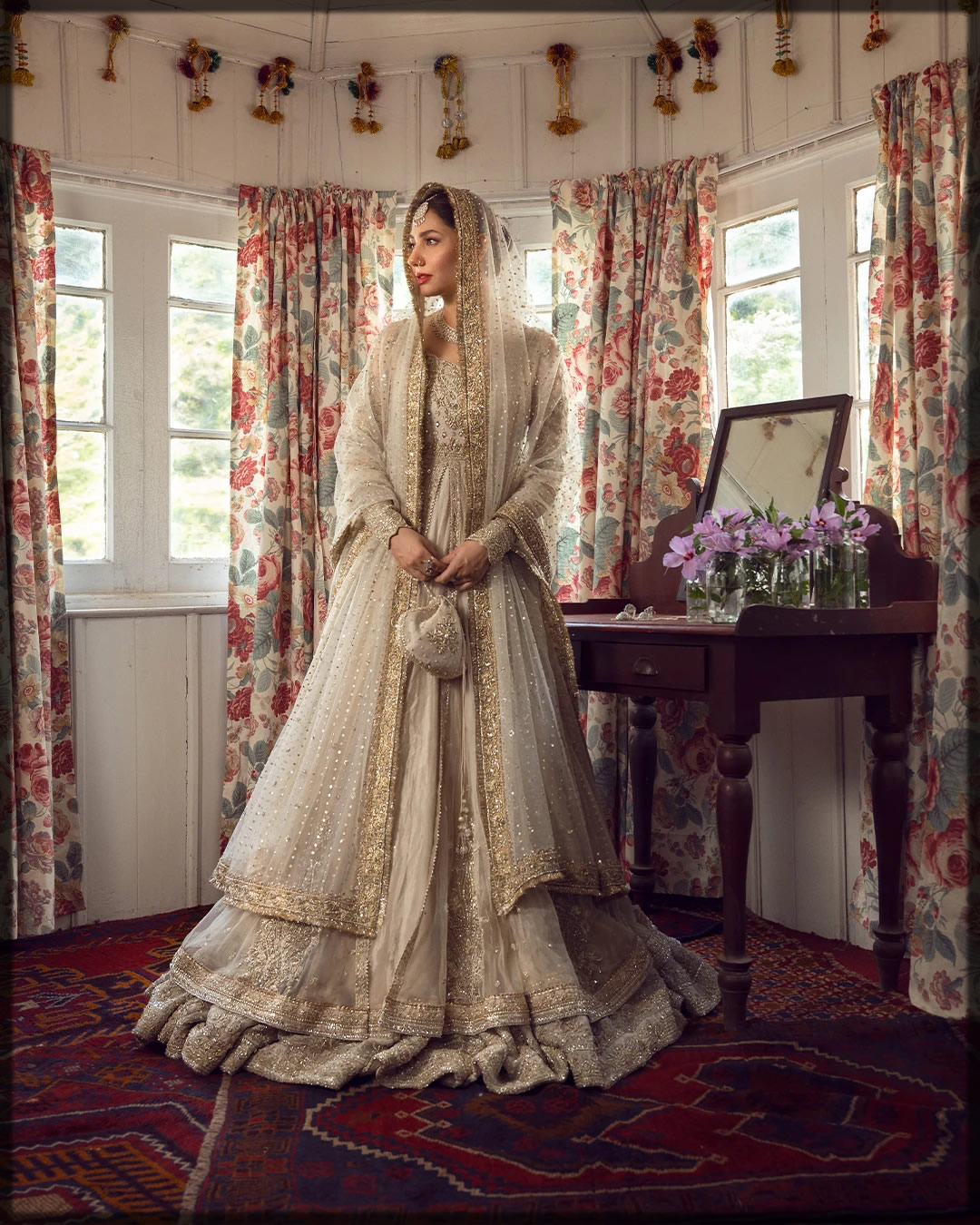 Yellow Tulle and Silk Lehenga
A pure mehndi vibe comes with a yellow outfit. You might have seen many bridal mehndi dresses before, but here is the most impressive design for you. Undoubtedly, women try to make their musical events much memorable and delightful. Therefore, they search for an optimistic attire. Here is a delicious yet graceful yellow tulle and silk lehenga choli below.
The gracious ensemble has hand embellished silk choli front and back. Further, it is coordinated with a Korean raw silk lehenga. The entire outfit features floral motifs on the entire surface of the dress. Also, you can see additional hand embroidered techniques on the dress just like Fahad Hussayn Bridal Collection had in its catalog. Please give it a thought and enjoy your event beyond expectations.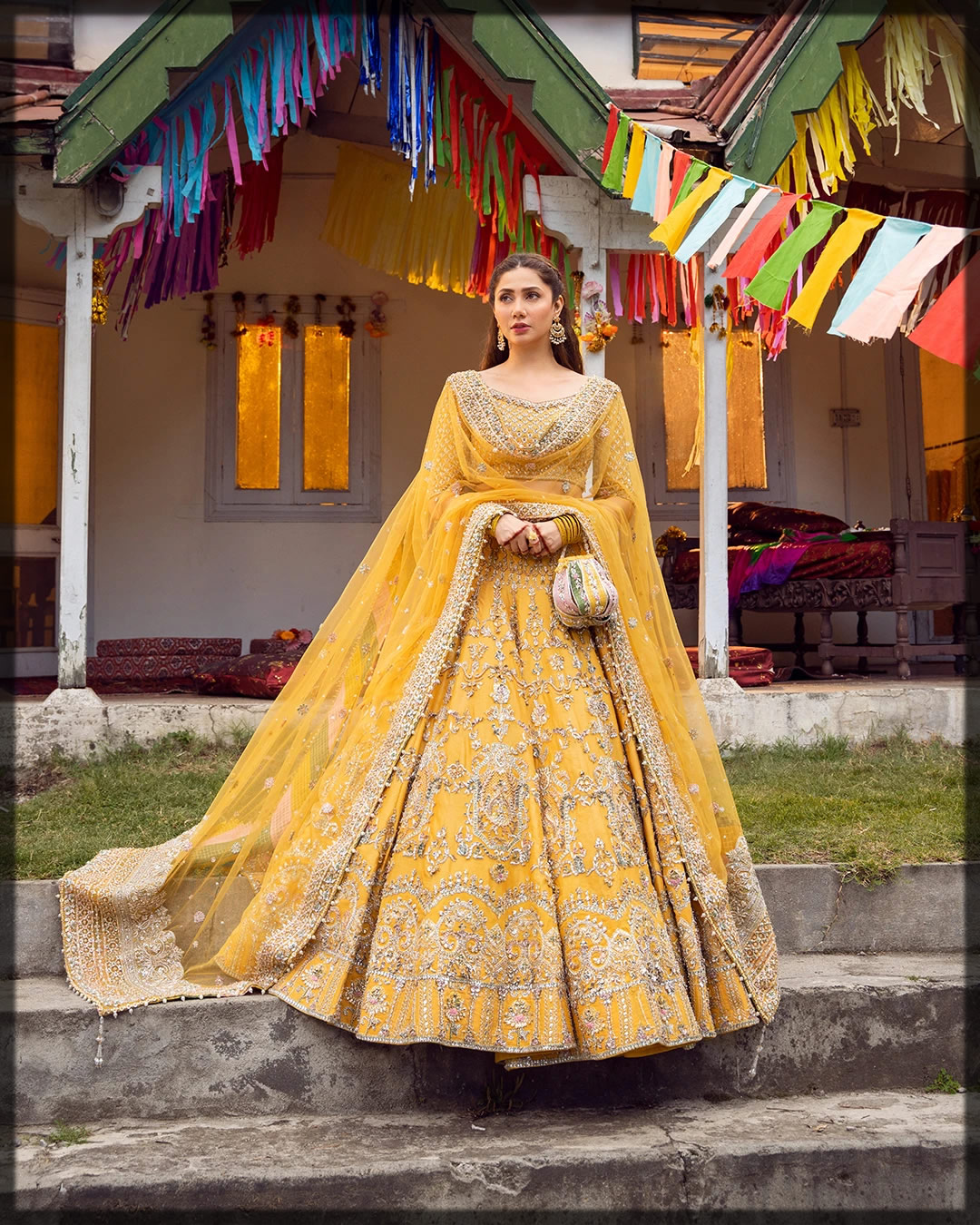 Emerald Green Bridal Gharara Dress
Bridal gharara dresses are a common trend nowadays. People always seek plenty of new and modest outfit ideas to stand dominantly. Although, if you want to be in the limelight of your wedding, opt for a unique and warm outfit. Here is another intriguing bridal gharara dress below. Look how Mahira Khan pulls off a dramatic yet gorgeous bridal look in the embellished gharara dress.
Undoubtedly, emerald green and golden colors always make a beautiful combination. Therefore, if you want to look as beautiful as Mahira, opt for the following dress. Indeed, the graceful Korean raw silk embellished dress will bring you glam. You can have a lot of options from Sadaf Fawad Khan's bridal collection too.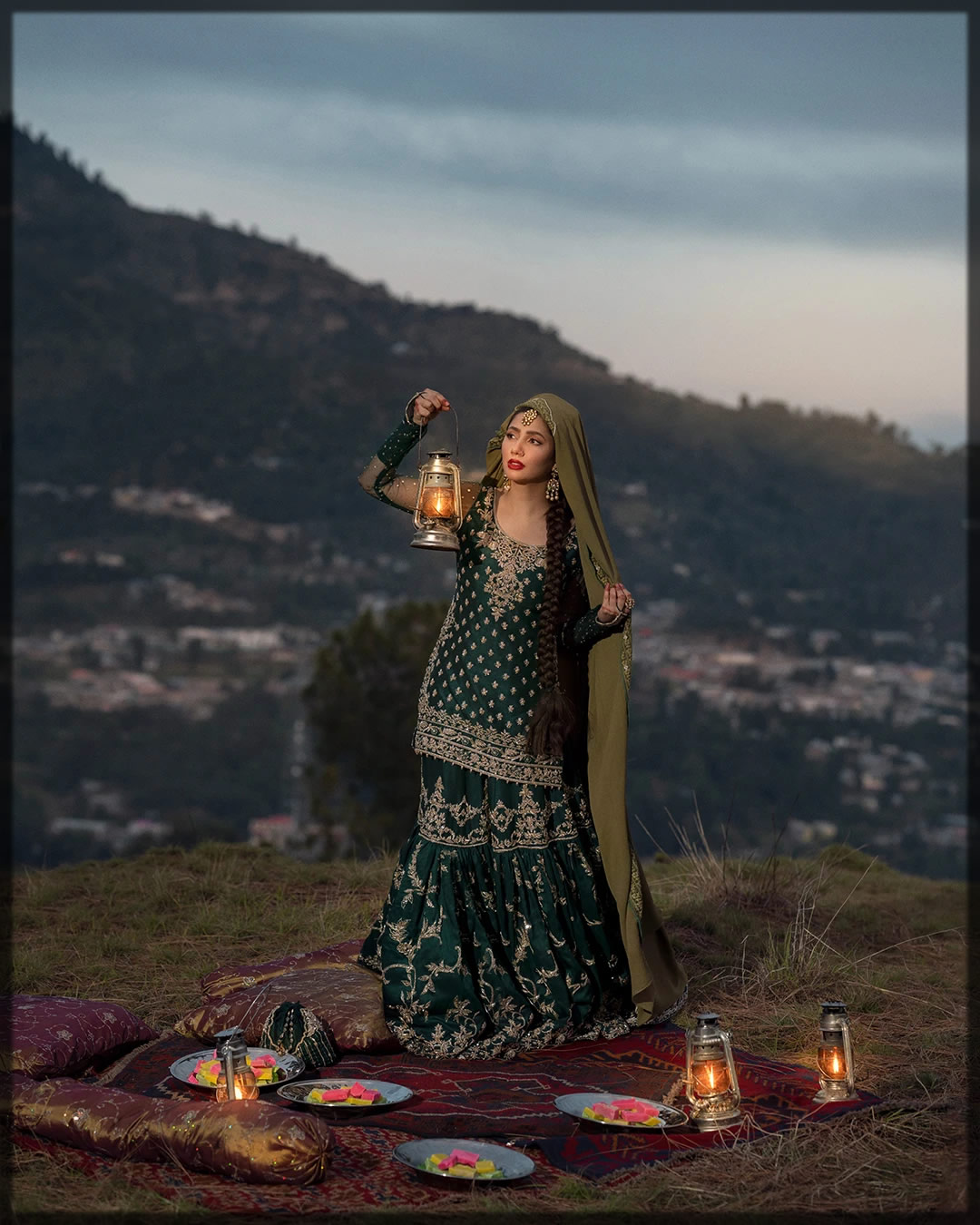 Exclusive YAAR-E-MAN Collection X Maya Ali
The "Parey Hut Love" star Maya Ali is a popular Pakistan movie and drama actress. Well, the actress is a famous former model who is certainly seen in many bridal campaigns. You might have seen her in the HSY Bridal collection as well. Here, you will see the fashion icon and gorgeous Maya Ali, a new avatar wearing exquisitely chic bridal ensembles.
Currently, Maya Ali is working on a famous project across Shehryar Munawwar in "Pehli Si Muhabbat." The twisted yet tragic love saga portrays the dominance of love and family. Faiza Saqlain's YAAR-E-MAN collection features Maya Ali in a different avatar. Would you please take a while to explore the following basic, attractive, and dynamic bridal dresses by Faiza below?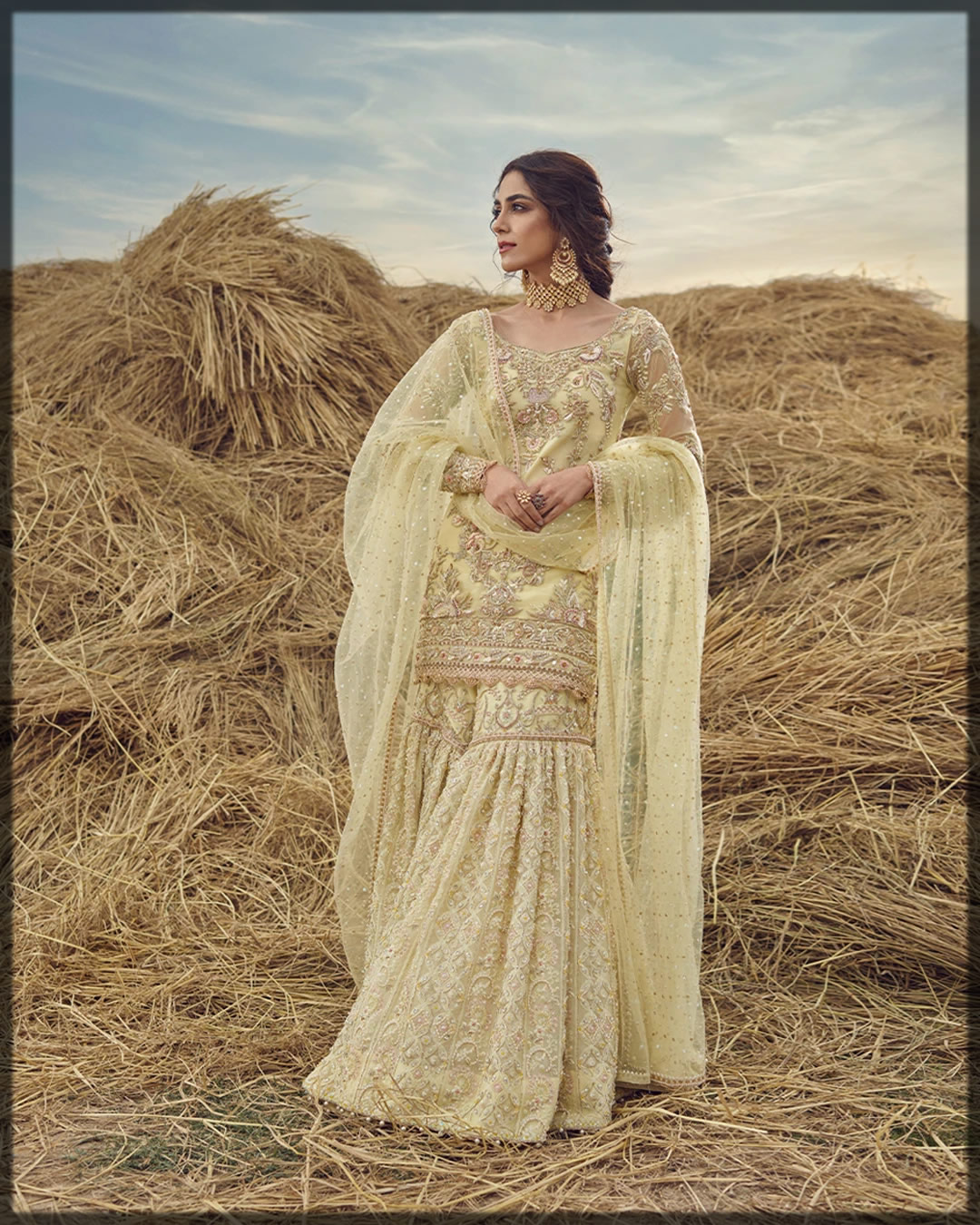 Blue Heavily Embellished Net Peshwas
Women who love to wear Peshwas on their wedding day shall think about the following one. The hand-embroidered ice-blue net peshwas is coordinated with a Korean raw silk sharara. Undoubtedly, sharara is an ideal option to wear on walima. Well, you can seek a lot of designs from bridal walima dresses as well. The meticulously created ensemble is coordinated with a net embellished dupatta.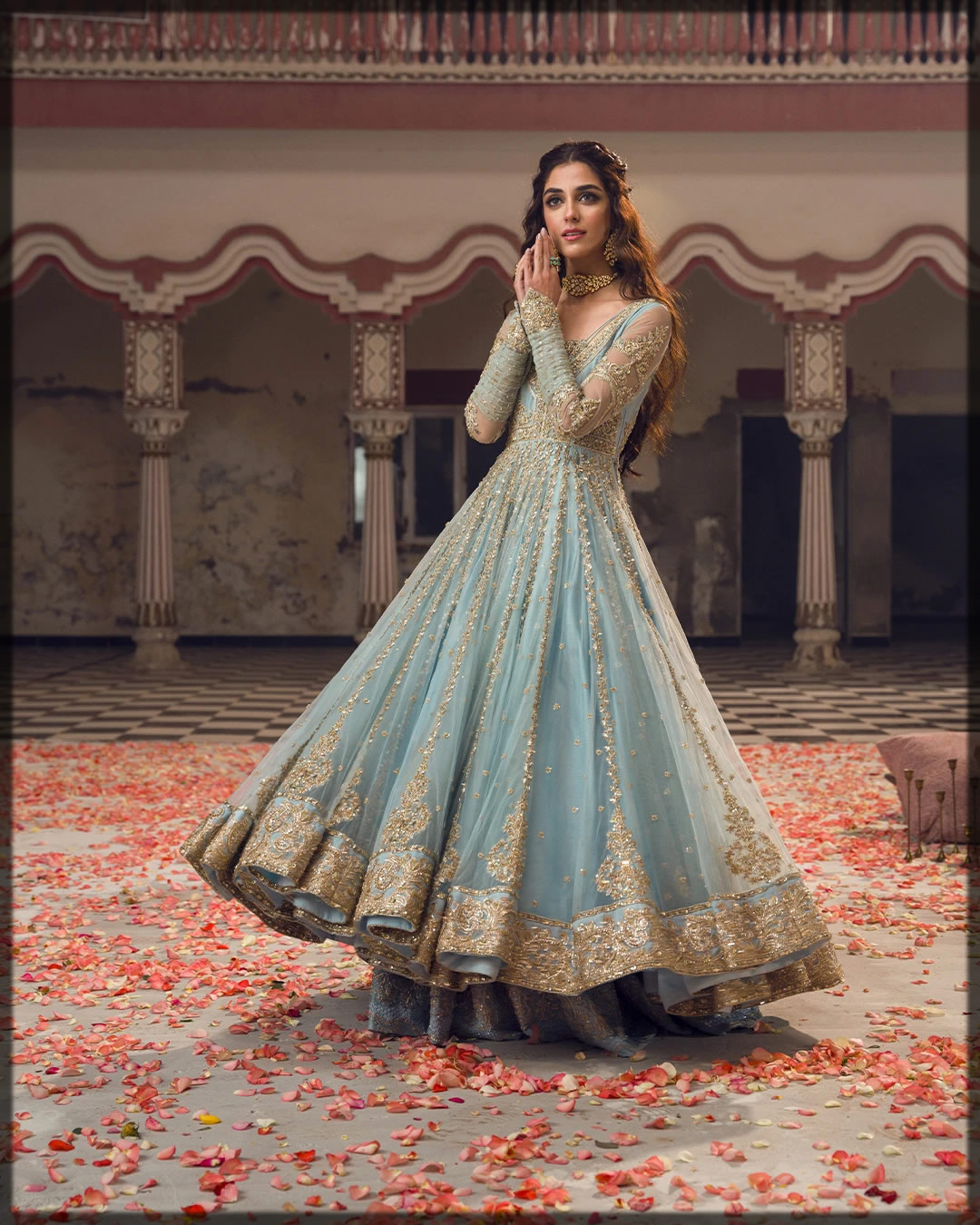 Ivory Embellished Bridal Sharara Dress
People who are obsessed with ivory shade should think about the following embellished dress. The heavily embellished chiffon dress is meticulously created to meet the desires of a bride. Further, it is coordinated with a hand-embellished zari net sharara. Nomi Ansari's bridal collection features similar designs but with different color schemes and designs, check it out too.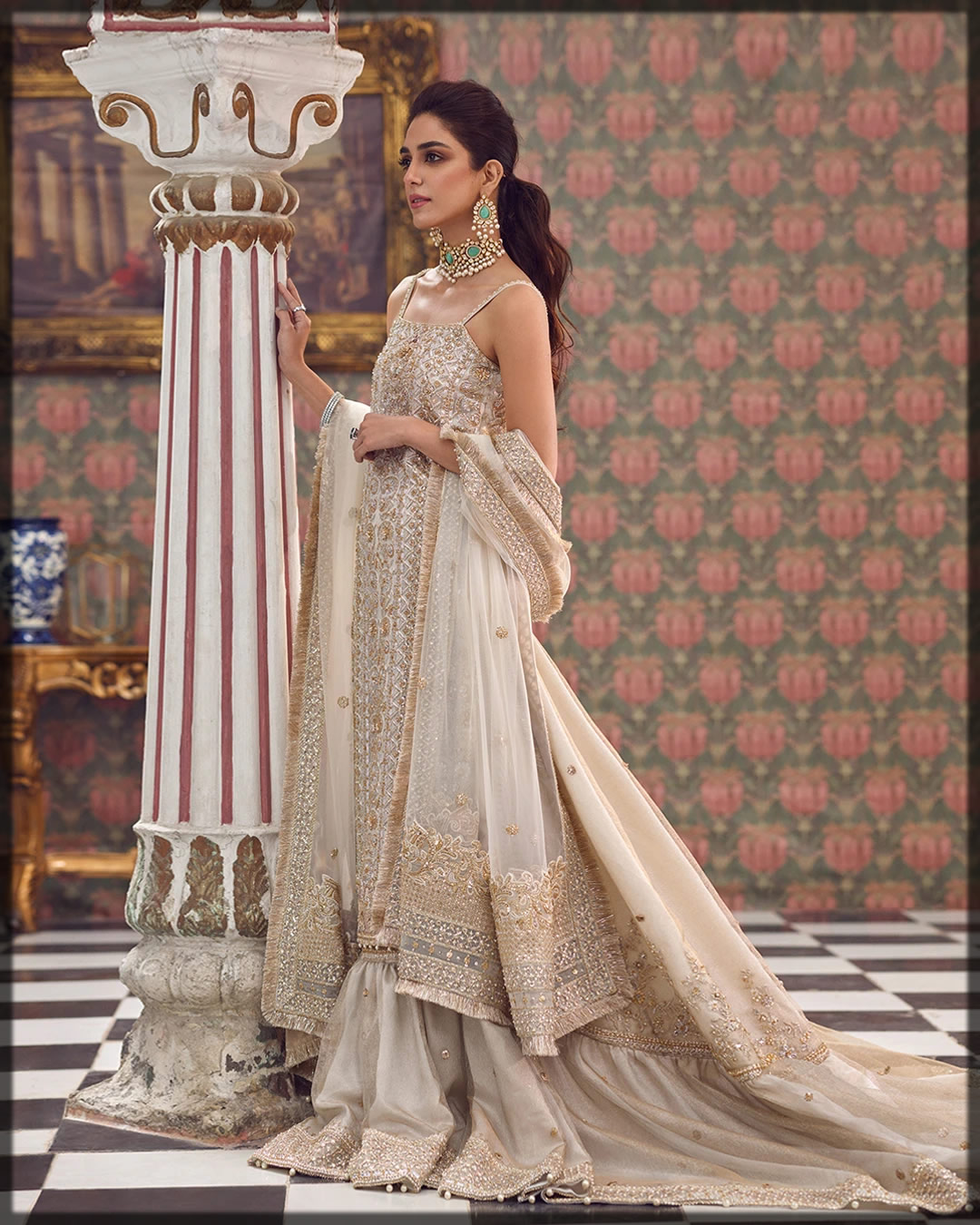 Peach Embellished Net Fish-Tail Gown
Teens who want to wear a classy off-the-shoulder dress at their wedding shall think about the following peach fish-tail gown. The heavily embellished ensemble comes with a large tail to enhance the entire look. Undoubtedly, you can glorify your looks if you opt for this dress. Plus, you can explore Saira Shakira's bridal collection for a wide variety of bridal wear.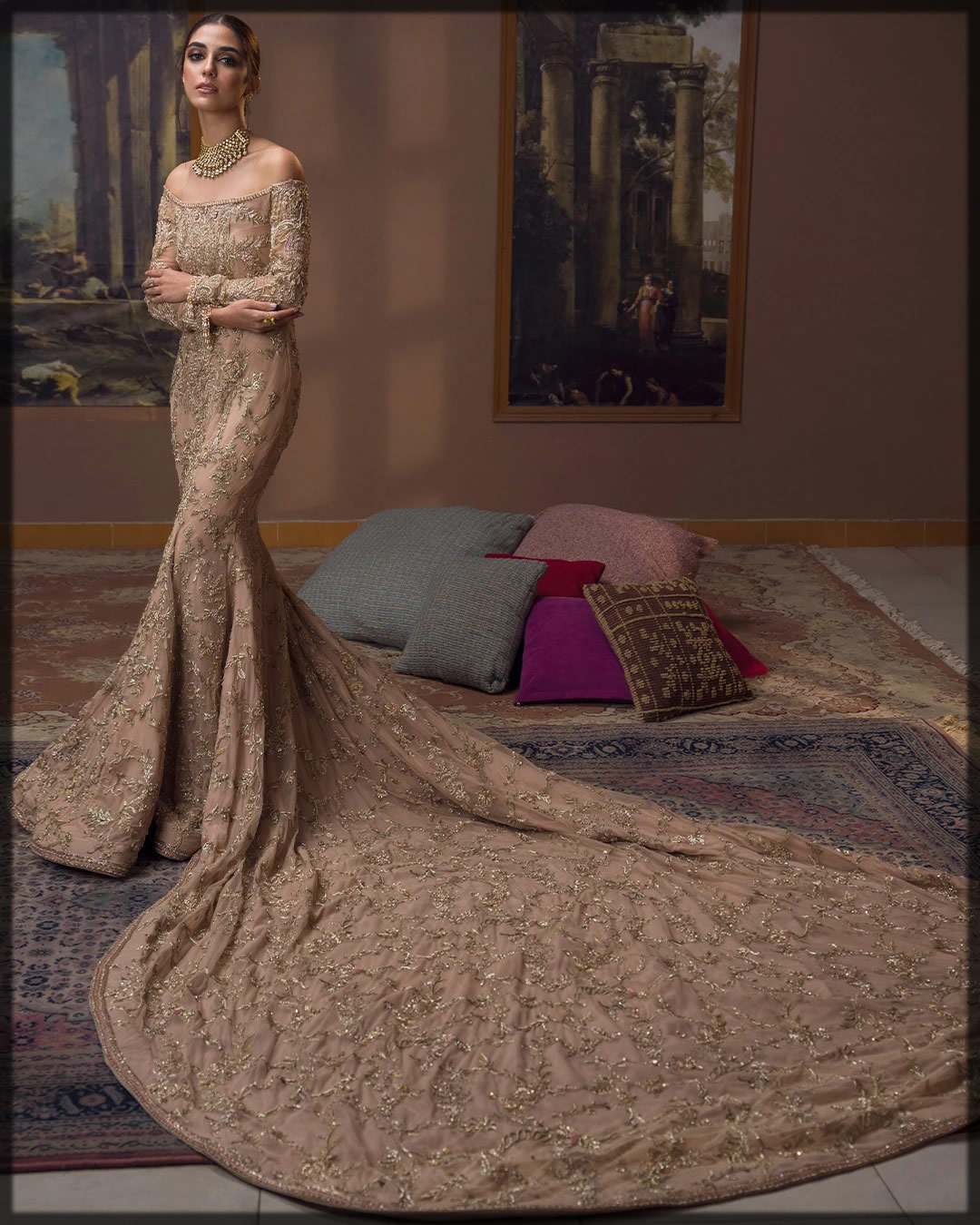 Delightful SINEM Collection X Mehwish Hayat
A careful decision is essential for a bride to dominate her wedding event. Luckily, you are in a place where you will get an entire portfolio of bridal dresses. Indeed, a bride wants to grab the attention of the guests who appear in the event. Therefore, Faiza Saqlain brings another engaging SINEM collection featuring the multi-talented Mehwish Hayat.
Mehwish Hayat is a well-known Pakistani model and actress who fame after her movie "Punjab Nahin Jaungi" across Humayun Saeed. The gorgeous actress has been given a pride of performance award by the President as well. Also, she did the latest Lux commercial that shows that she is the current top-rated actress. You will see the fashion icon in a new look in the image gallery below. Would you please take a while to explore the mesmerizing dresses here? I hope you will love the fascinating and glorious ensembles.
SHEHNAI Bridal Collection Featuring Maya Ali
Faiza Saqlain never fails to impress her lovely customers with blissful designs. Indeed, the powerhouse of fashion has sufficient outfits in her portfolio to attract the audience. Faiza Saqlain's volume SHEHNAI featuring Maya Ali brings you powerful and beguiling designs. For instance, you can explore the Mirusah bridal collection and pick a gracious outfit.
AFERIN Bridal Collection by Faiza Saqlain

Didn't get any desired dress? No need to get depressed as we have another volume for you. Faiza Saqlain's AFERIN collection brings you tasteful and energetic bridal ensembles for your wedding. Well, you can explore Deepak Perwani's bridal collection for quality dresses as well. Please have a look at the following engaging portfolio.
Traditional HEER Collection X Maya Ali
A bride always has pressure to be the most gorgeous at her event. Faiza Saqlain brings tasteful and dynamic dresses to cope with your shyness. Here is another HEER collection featuring the ever-gorgeous Maya Ali again. You can get comparable designs from Asim Jofa's bridal collection as well. So, pick a style that compliments your looks.
Vintage SOZ KESIMI Bridal Collection by Faiza Saqlain

The majority of teens and youth always welcomes vintage fashion. Therefore, Faiza Saqlain's bridal collection brings you an intriguing SOZ KESIMI collection featuring Maya Ali. It is the time to decide who we are and wipe the irrational fear. So, take a deep breath and explore the following embellished ensembles. I hope you will love the designs.
Maraasim Collection x Hania Amir
Nowadays, young brides like to carry light and bright shaded outfits on their big day. Hence Fiaza Saqlian comes with an intensive variety of bright and dim hues bridal dresses. Here is the Maraasim collection featuring the ever-gorgeous Hania Amir. In this stunning catalog, you will get the hand embellished tissue and chiffon peshwas, lehenga choli, and long shirt gharara in the most striking shades, as you can see below. 
These royal dresses are combined with the heavily embroidered dupattas that increase the overall beauty of these attires. So hurry up, grab your desired dress before the stock ends, and make your wedding day extra memorable because the luxury outfit makes your event more glamorous and adds more sparkle. You only need to wear the classical gemstones and apply some bronzer makeup with these adorable dresses to get the fantastic yet incredible flash on your special day. 
You need to extract a little time to explore the fundamental outfits above. A big shout out to the very re-known and well-established designer of the year for her endless efforts and struggle for the bridal collection. Please give it a thought! Also, let us know in the comments section below about your thoughts because we would love to hear from you!