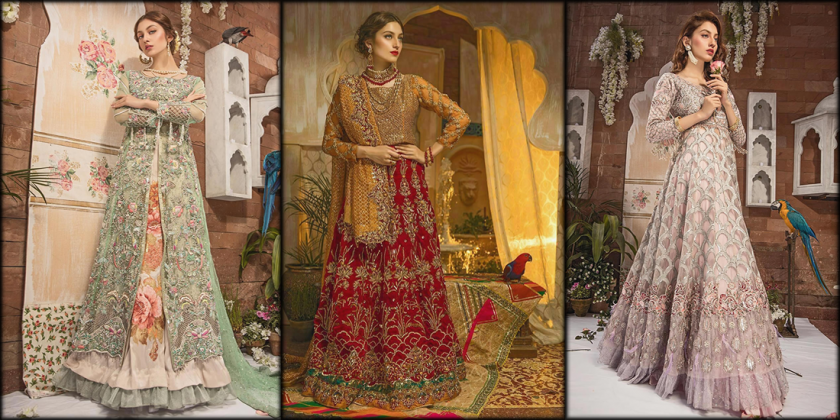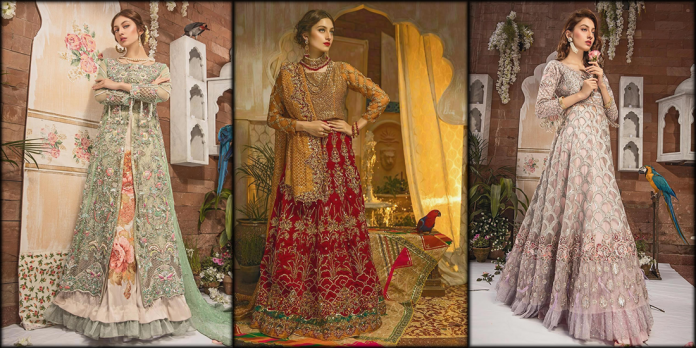 The boutique of fashion designer Zahra Ahmed was built up in 1994. Zahra Ahmad Bridal Collection is famous among the girls. She is a hard-working woman with a goal to elevate the standards of the Pakistani fashion industry. This boutique is mainly famous for creating wedding couture for Eastern brides.
She knows how to play with colors efficiently. Zahra Ahmad Bridal Collection is a mixture of western and Eastern wear dresses. Her method for animating the garments focuses on the women of Pakistan. She is working with passion and enthusiasm and continues to prove herself. She generally tries to feature her imagination in the dresses.
You need a luxurious ceremony dress, fantastic footwear, and engaging adornments. If any part is skipped, then your impressive bridal look remains deficient. Get rid of the unwanted destruction and prepare yourself to explore the fascinating bridal ensembles. We cannot assure you about the quality of the event but can offer versatile outfits for your big day.
Extravagant Zahra Ahmad Bridal Collection for All Wedding Events



If you want to wear stylish and elegant dresses on your big day, at a low price, then try Zahra Ahmad. She is working with the best color combination and patterns. You can carry attires according to the trend at a reasonable cost. Let's check some vibes of the lehengas and gowns by Zahra Ahmed bridal collection.
Red and Mustard Color Lehenga

The red color dress is the priority of every bride. Here is a fabulous Bridal Barat Dress for the bride in the red mustard color with contrast heavy lehenga choli. The mustard choli is styled with full sequined work and embellished with Adda work on sleeves. Moreover, the red lehenga in velvet is beautifully designed in a pattern. A red lehenga is heavily embellished with Adda's work. The organza dupatta is embroidered accurately with four sides in scallops. This dress is ready to wear.
Elif Kaasni Raw Silk Bridal Wear
Here we have a beautiful bridal dress in magenta and rustic orange in self-embossed raw silk. The antique Sitara work along with the panels, heavily embellished vintage brocade motifs on a front flare of the lehenga is a big thumbs up. Moreover, the hand-stitched gold tilla fringes in a zigzag pattern around beacon are bordered with exquisite diamante studded lace and embroidery. The detailed dupatta with wide lace borders, print finishing, and beaded gota Chata is all over to make it a perfect dress.
Heavily Embellished Brown Jamawar Dress
Here is a dress that you can carry at any event of the wedding. Fabulous brown gold beaded Jamawar choli with brown lehenga is available here. Lehnga in brown and gold jamawar panels with heavily embellished Adda motifs provide a multi-colored effect. The golden flowers on panel linings, digitally printed motifs, lace border, gota, and beads are enhancing the lehenga's beauty. Red organza dupatta with laces on four sides is beautifully paired with the dress. HSY Bridal Collection is also very amazing, check it out as well.
Elegant Mint Green Walima Dress
Here is the best Bridal walima gown in mint color made with the real net. This dress is heavily embellished with Adda work with pearls, beads, thread, tilla, and Naqshi. Moreover, the front is entirely embroidered and has cutwork on the border. The back of the gown is a long trail, thoroughly sprayed with pearls and stones.
Moreover, the net dupatta is decently scattered in the mint color net. The front side of the dupatta has a heavy border and three sides with a light perimeter. Raw silk with a digitally patched motif on lehnga with frill on edge, and Can-can, is adding the charm in the dress.
Elegant Pink Jamawar Lehenga Choli
Here is a beautiful Aswad fuchsia pink and multi laces lehenga with jamawar choli and golden organza sleeves. The lehenga is embellished with gota and stones on the choli. A fantastic orange organza dupatta is decorated with golden lace on four sides. The stones are sprayed all over the dupatta. Brides can carry these types of  Bridal dresses for mehndi events.
Zahra Ahmed Bridal Wear Peplum with Lehenga Collection

Three-piece ready to wear attires are also available by the Zahra Ahmad for your easiness. In the following, another fabulous dress is waiting for you with the modern style. The Purple jamawar peplum top with skin organza flare is available. Moreover, the pink lehenga is digitally printed and embellished overall. The borders are covered with multicolor beads in golden laces. A stylish green organza dupatta with four side border showing a different vibe. For more such dresses, check out Tena Durani Bridal Collection.
Multi Patchwork Blue Embroidered Lehenga
Are you worry about the attire of this function? Let's try the blue sleeveless Jamawar blouse with multi patchwork lehenga. The pink lehenga is fully embroidered and decorated with tilla laces. Moreover, the hand-stitched gold tilla fringes in a zig-zag pattern are enhancing the beauty of lehenga. The scallop lace and exquisite diamante studded lace and embroidery are all over the lehenga, making it more elegant. Moreover, the green net dupatta with gota and stones on four sides laces paired with this dress is the perfect combination. This can be a fantastic engagement dress.
Thread Embroidered Lehenga and Choli
A fully embellished dress with sequined pink choli in a zig-zag pattern with hanging crystal is here. You can't deny the simplicity and beauty of this dress. Moreover, the green velvet embroidered lehenga that is embellished in panels is paired with this choli. Front-sided embellished dupatta in shimmer Maysuri, and gold tassels on edges allow you to wear this dress on mehndi events. Moreover, you can wear this dress to other festivals and parties. Drape your dupatta with the best dupatta setting styles for a mesmerizing look.
Trendy Mustard Top and Mehndi Color Lehenga
You can see the vibes of Zahra Ahmad Dhani collection. The parrot-green top with allover Sitari Chatta and Adda work embellished motifs on the front is here. Moreover, the green velvet lehnga with thread embroidered panels is best with this choli. Lehenga is heavily decorated with tila, gota, beads, cut dana, and stones cutwork on the border in Jamawar. Green dupatta with one side embellished border is very elegant. It is a perfect mehndi wear dress for the bride to be.
Zahra Ahmad Sawan Collection for Brides
The yellow color is the sign of the Ubtan and mehndi, but now girls love to wear different colored wedding dresses. Zahra Ahmad styled a pink, green, orange, and three textures of jamawar appliqued together in lehnga. She added the beads, gota work, and embellished motifs all over the lehnga's lower layer. Moreover, the borders are adorned with two laces and finished with jamawar. A pure jamawar choli and dupatta are paired with this lehenga.
Bridal Wear Rani Haar Red Dress

Zahra Ahmad has an elegant Rani Haar red lehenga for the barat bride. A contemporary red bridal lehenga in jamawar is here. The digitally printed silk and organza with handwork Chatta all over the lehenga are applied in the best way. The well-sized red embellished regal motifs and gotta Chatta have finished adequately. Organza dupatta with wide laces is enhancing the beauty of the dress.
Bridal Rose Collection by Zahra Ahmad

Here are the vibes of the Rose collection by Zahra Ahmad. For the beautiful bride, an elegant gown in silver net with thread embroidery is here. Adda work on bodice motifs pattern with embellished stuff on the border is so classic. Moreover, the net shimmer frill under the dress and motifs on sleeves and cut dana hangings are applied in the best way. The front side of the dupatta edges is thoroughly worked in organza silver. A fantastic pink raw silk lehenga is enhancing the beauty of the dress with a frill on edge. This type of gown can be worn at a bridal shower ceremony.
Zahra Ahmad Bridal Collection is always available for you according to the season. Velvet stuff is used for the winter season collection and cambric, net, and others are used for the summer season. You can choose your wedding dresses according to your wedding dates and seasons. Have a good day. 🙂