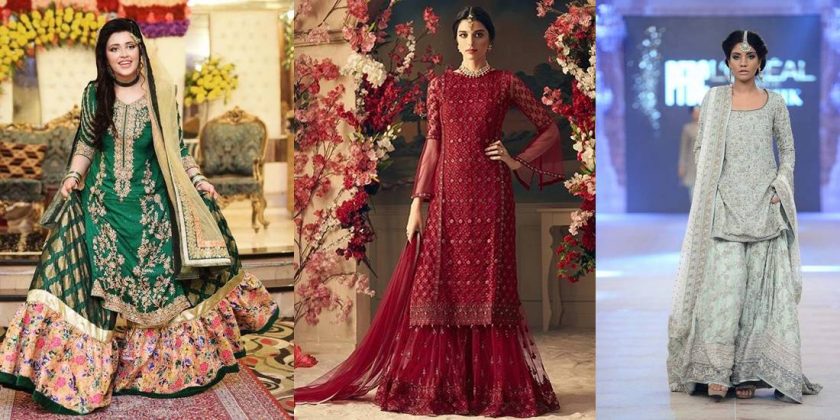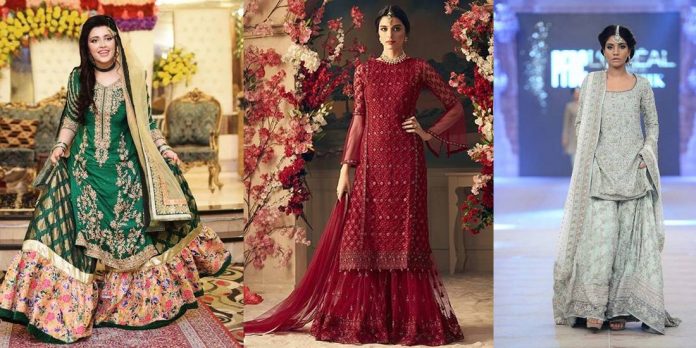 The bride deserves to look gorgeous on her special wedding events. Besides, being a girl, every girl demands the most trendy outfit for her best day. Nowadays, bridal sharara dresses are very trending for wedding occasions. These dresses enhance the stylish look and also keeps the traditional look constant.
In Pakistan, many girls prefer sharara over lehenga because it is easier to carry. However, some girls wear them with long shirts and some with short shirts. Also, girls love to wear sharara with long dresses as well as short robes.
However, many people confuse shararas with gharara as both are of the same design. But it is quite noticeable that sharara-style is the loose-pant whose flare begins from the waist while gharara is the design whose flare starts mostly from knee or below the knee.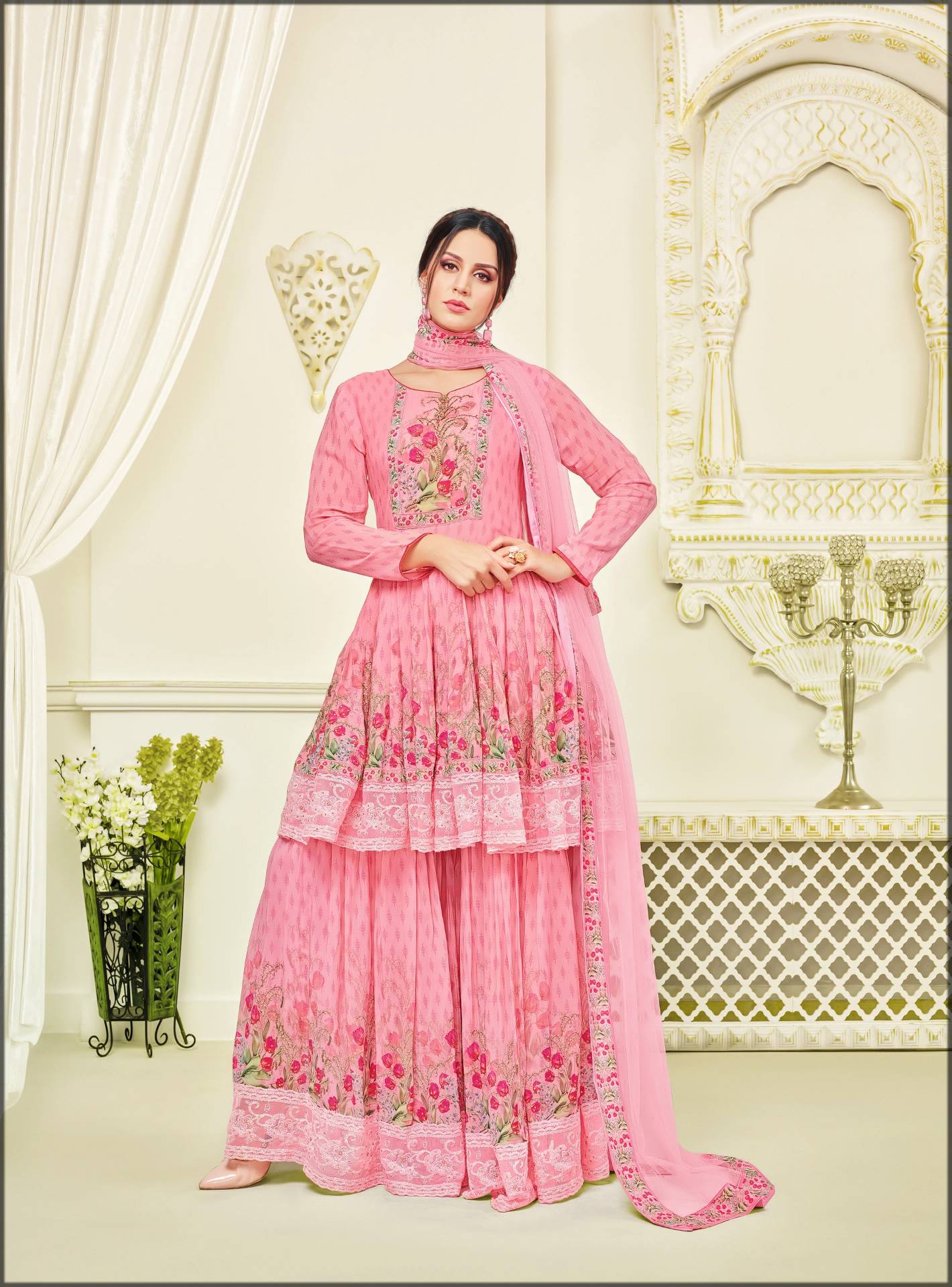 Pakistani and Indian Bridal Sharara Dresses Trend

Sharara is a pair of loose, wide-legged, and flared trousers that one can wear as a casual outfit, formal outfit, or a bridal outfit. However, the unique and stylish designs of shararas are increasing in number. Therefore, their demand is also increasing day by day.
Simple Traditional Dresses for Engagement Brides
Engagement is the function at which females prefer simplicity. To look different from others, young ladies prefer stylish engagement dresses but with little embellishments. Therefore, these simple loose pair of pants will look perfect for engagement brides.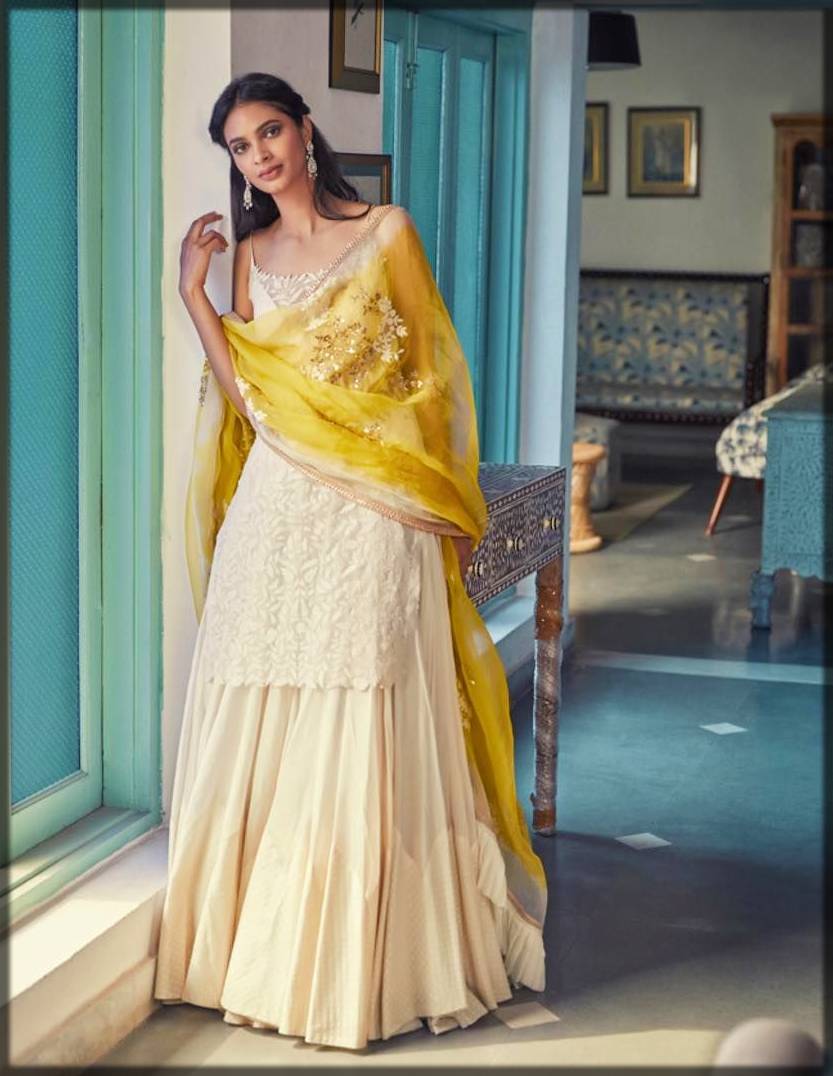 Fabulous Indian Dress with Mirror Work
Generally, mirror work is considered very delicate and traditional. Nowadays, some females desire to look ultra-modern and civilized. To have such a look, light colors with sophisticated mirror work will be admirable. Therefore, these loose-pants in bright shades with delicate mirror embellishment have a high demand. For more Indian bridal collection, check out exclusive bridal saree designs.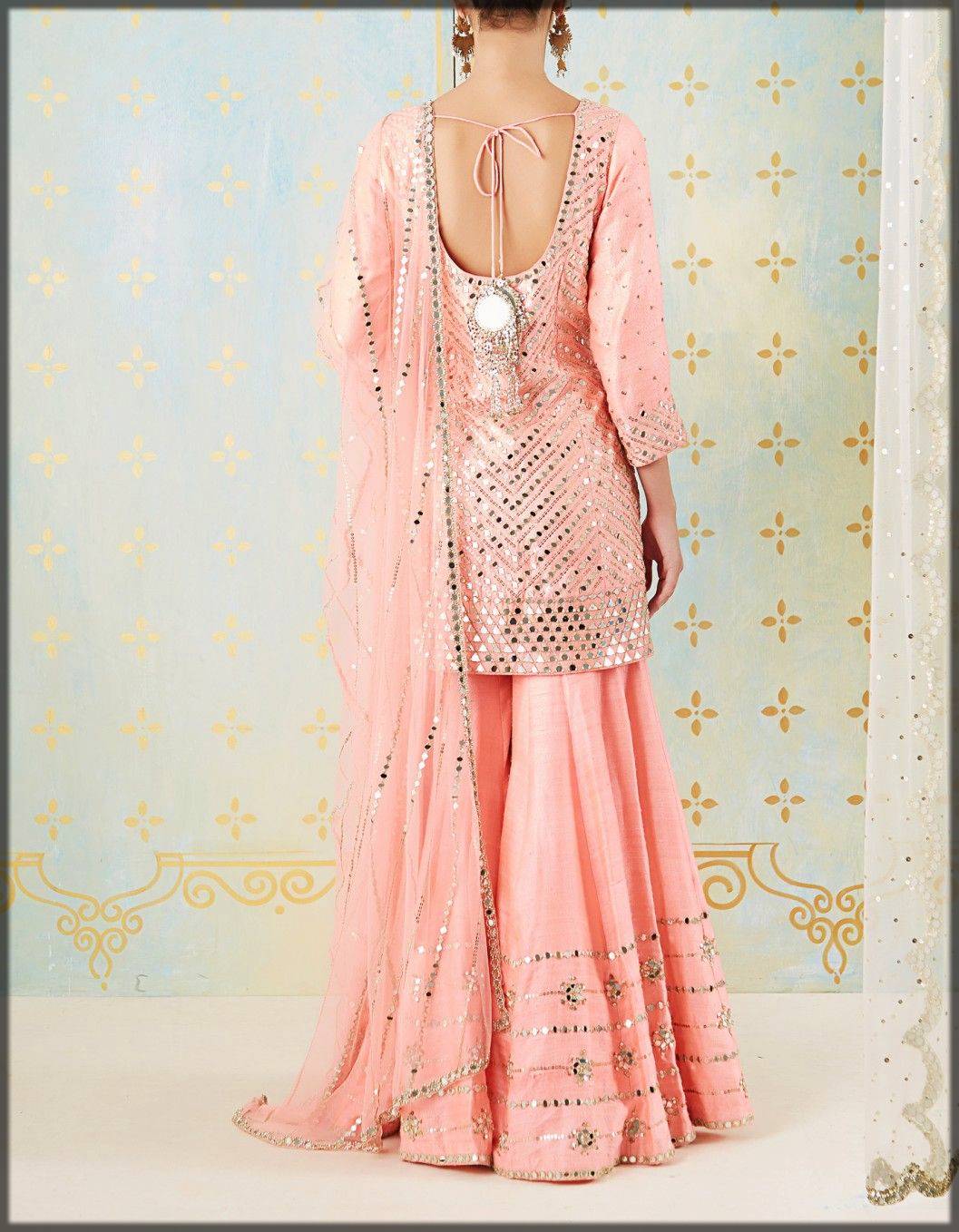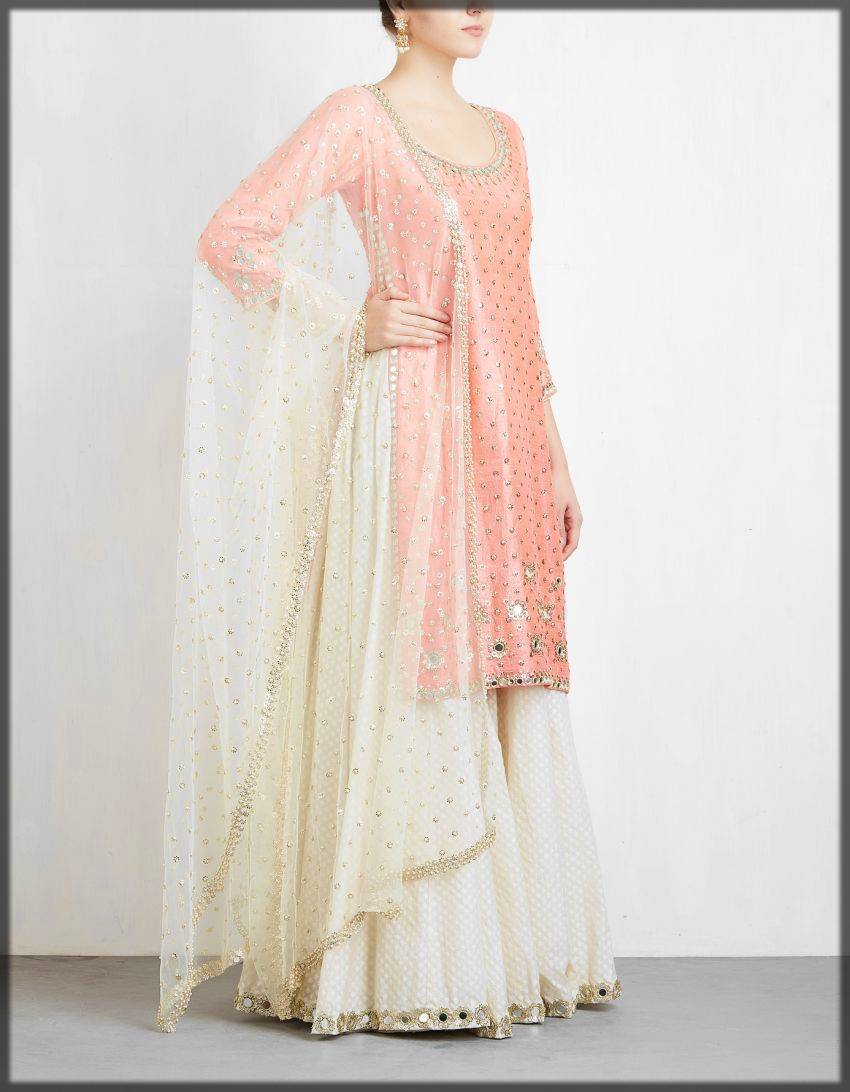 Incredible Grey Satin Net Sharara
Grey satin fabric has a high demand because of its good quality and stuff. However, these shararas are of grey satin fabric with a fantastic embroidery and color scheme. Because of this fabric, the flare gets bigger.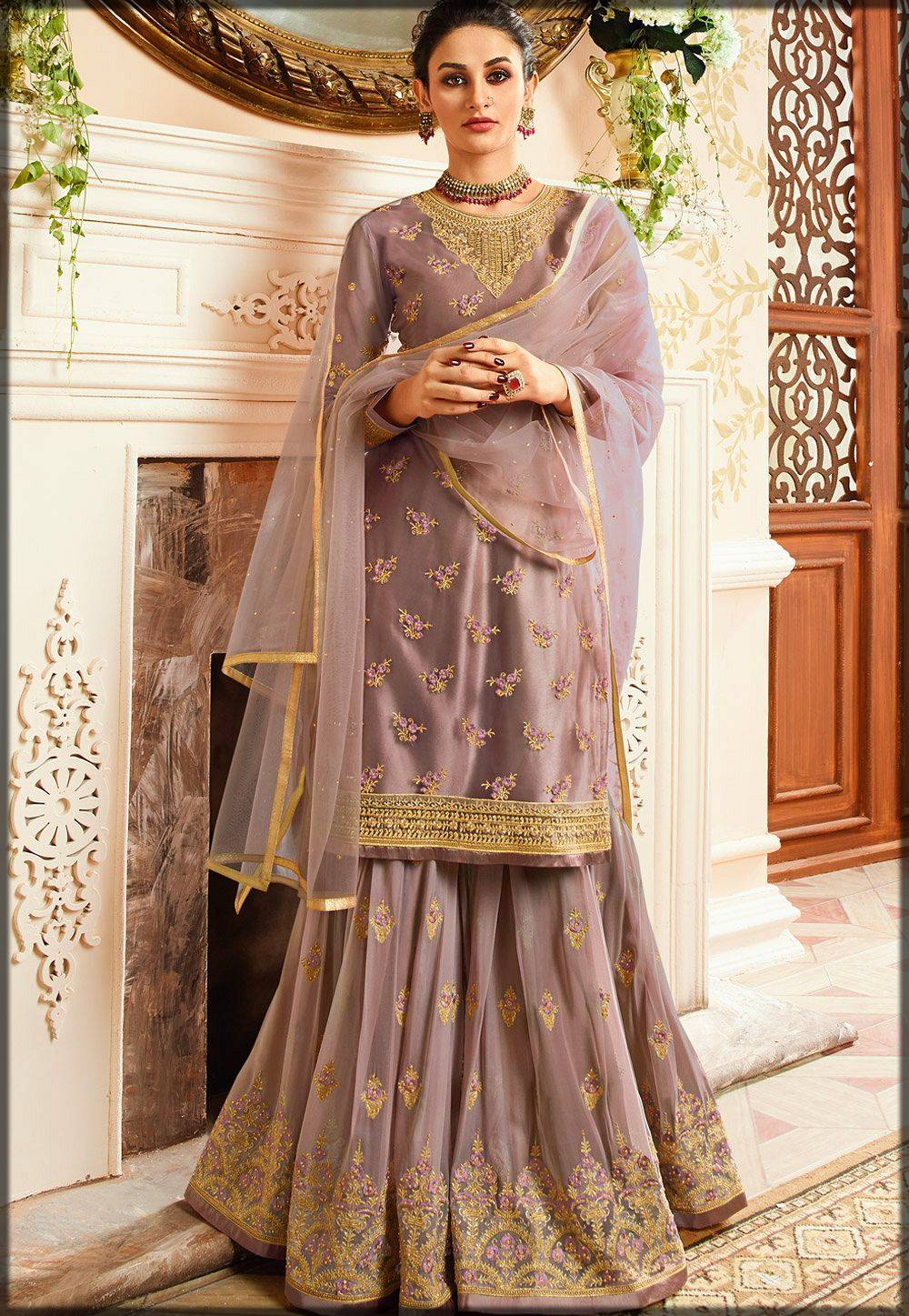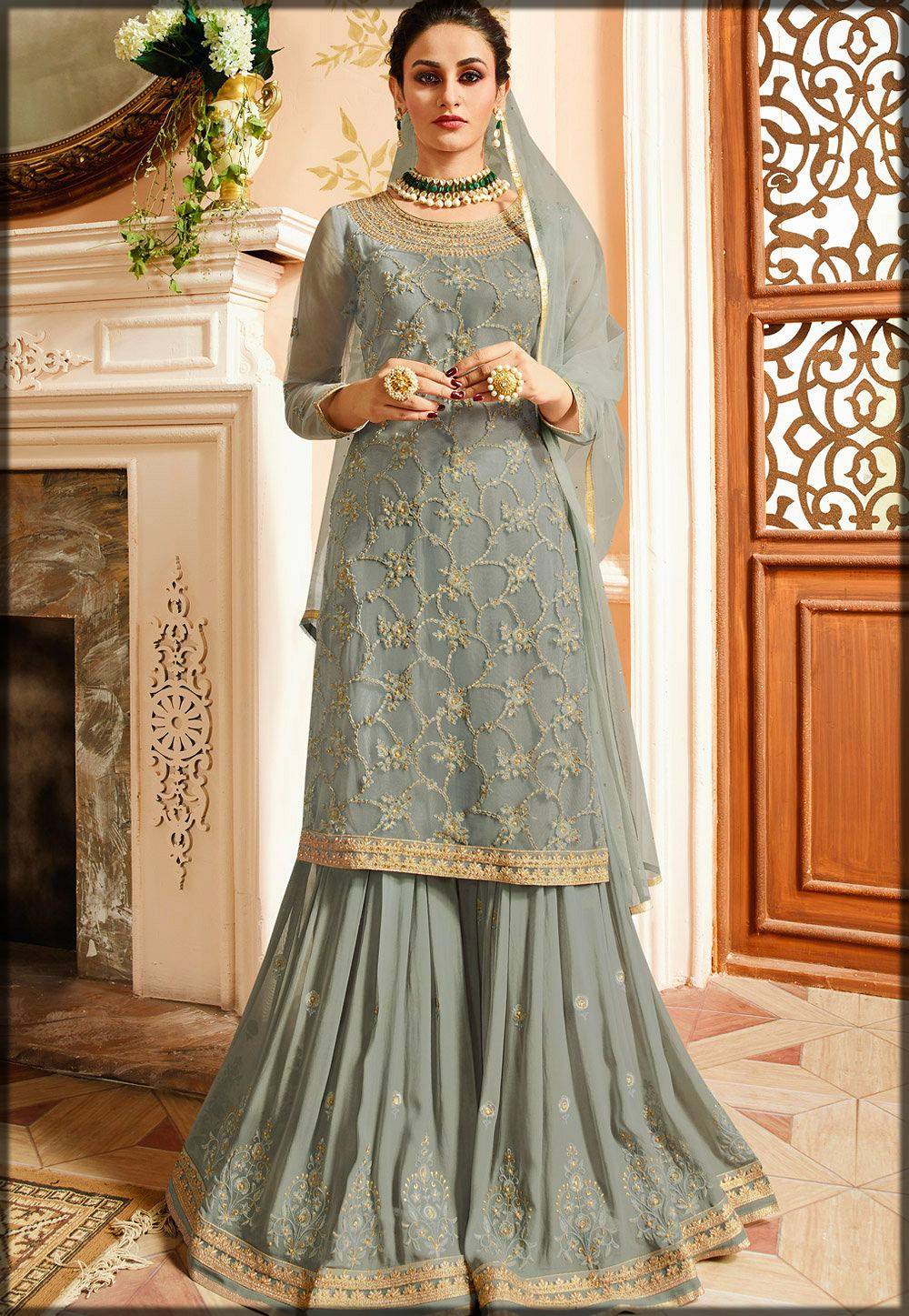 Sharara Designs for Nikkah Bride
Nowadays, the nikkah ceremony is also a significant event for a girl. However, wearing a cultural bridal nikkah outfit never goes out of the trend. Therefore, bridal sharara dresses for nikkah brides are also getting modified.
Stylish Long Open-Frock with Sharara
This fancy dress has heavy embroidery on the front. Besides, its open cut from the front makes it unique and more delicate. Moreover, its elegant stuff and color combination makes this complete outfit perfect for the nikkah ceremony.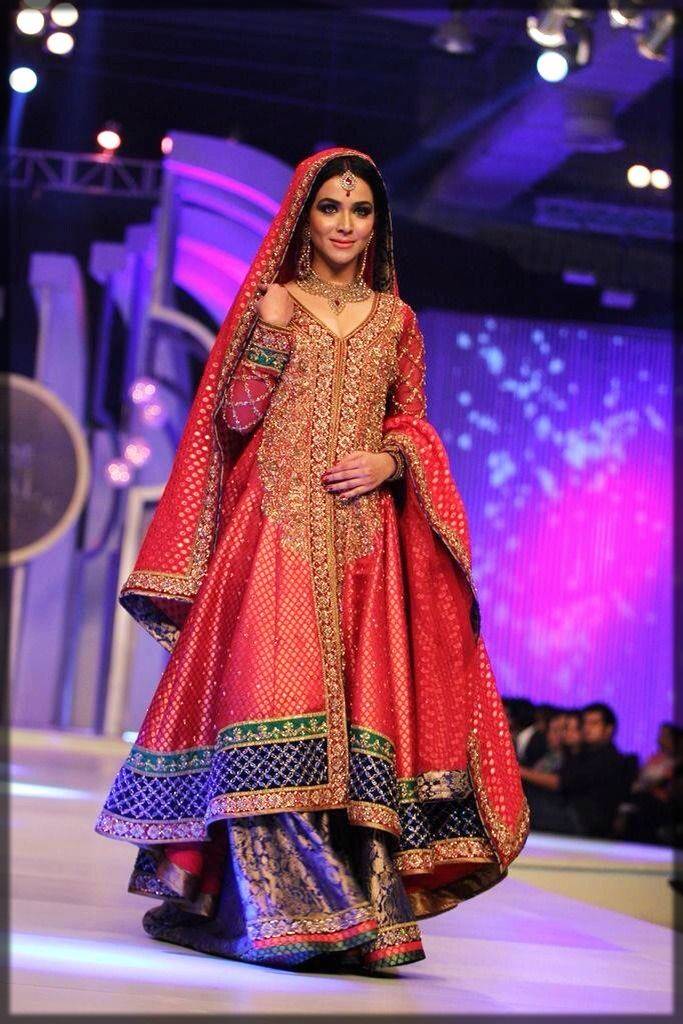 Lovely Double-Layered Sharara
Shararas has different designs, which makes it more eye-catching. This pink loose-pant has a double layer of the net and a big flare. One can wear it with a straight medium size shirt. Moreover, the sophisticated embroidery on attire with golden color makes it mesmerizing.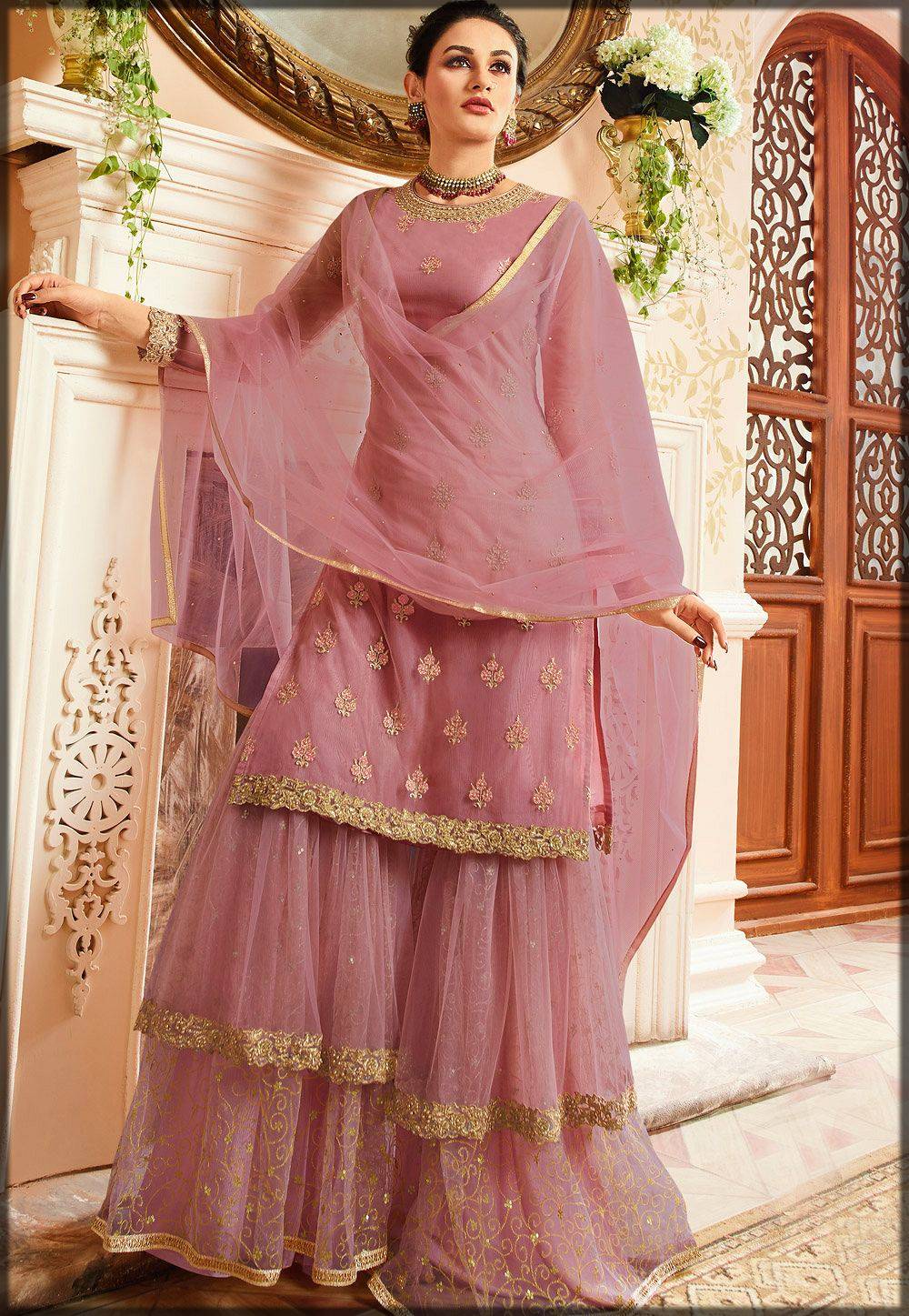 Slaying Net Sharara with peplum
Girls nowadays love the peplum style. So, wearing a loose-trouser of net embellishment with a delicate peplum makes the complete gorgeous look for a nikkah bride. Furthermore, wearing preferable jewelry and curling the hair will make the ultimate look adorable.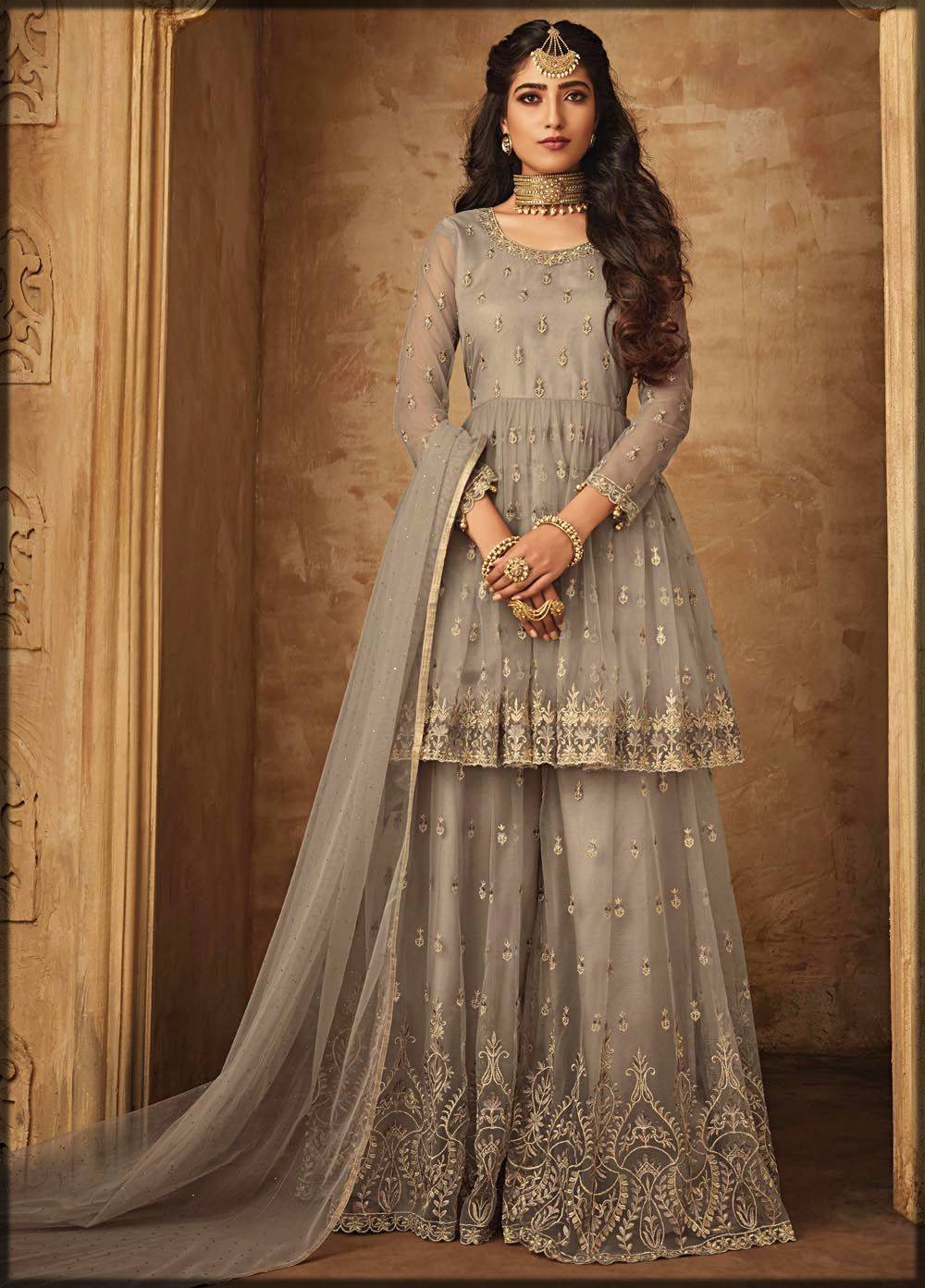 Decent Outfits with Long Shirts
Girls always like to keep their decent looks while adopting any fashion. Therefore, many girls desire to wear long shirts on a sharara because of maintaining decency and elegance. However, these long shirts with suitable embroideries and contrasts will look decent when carried well.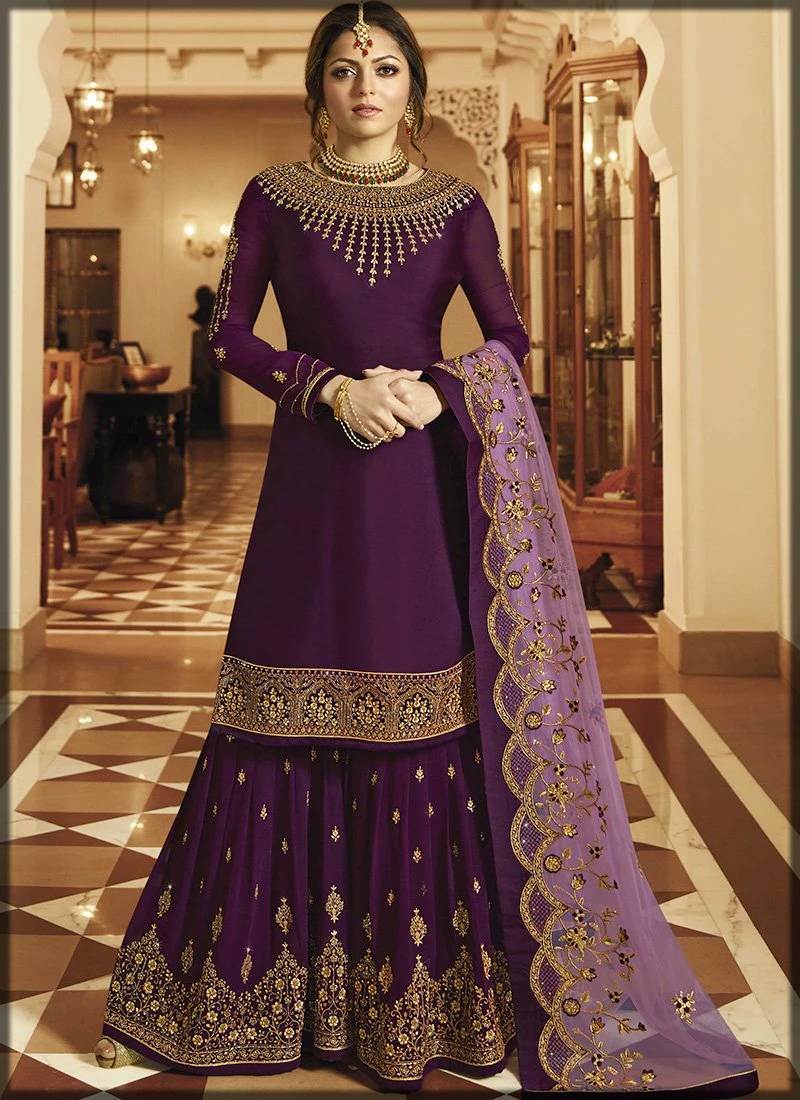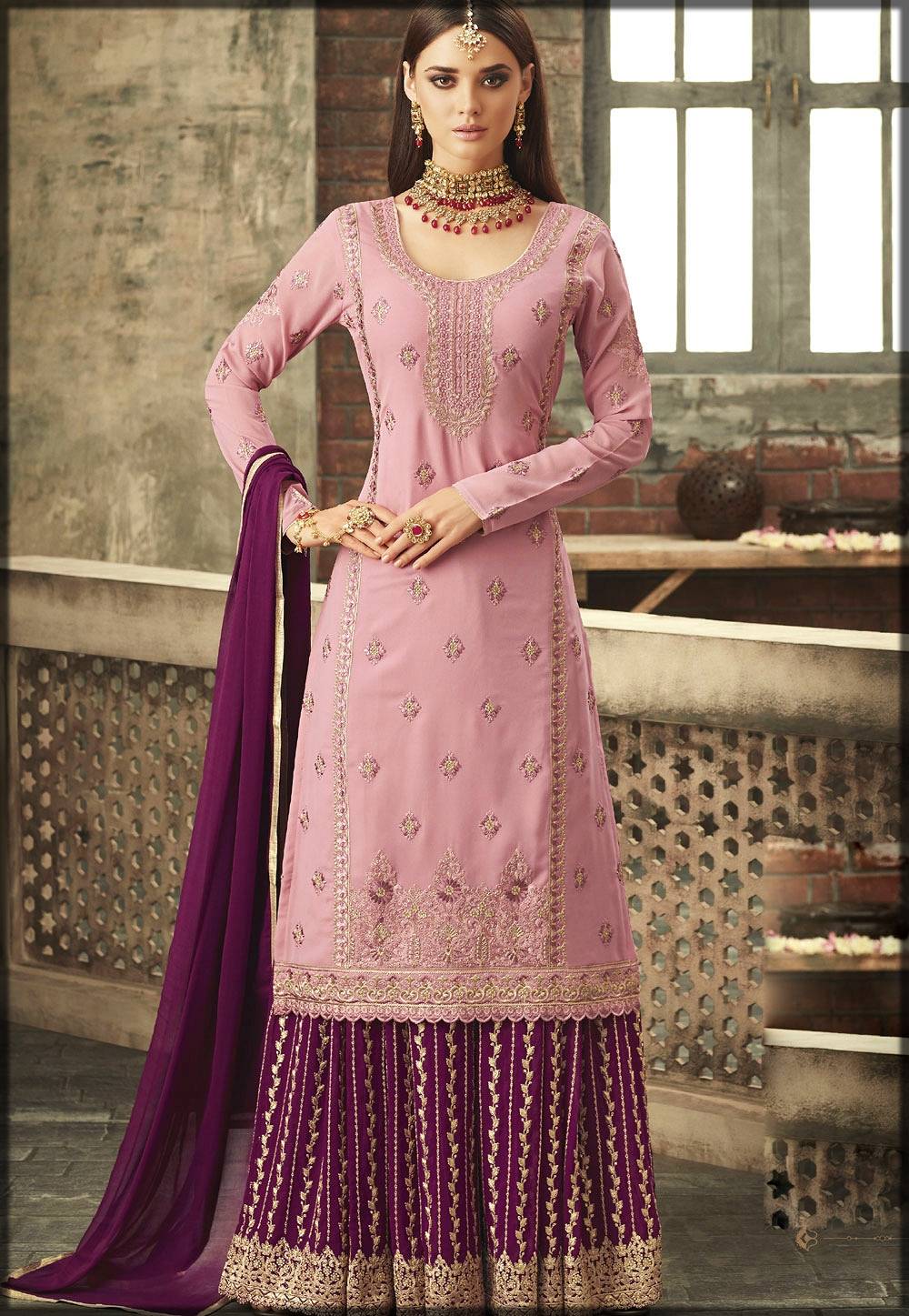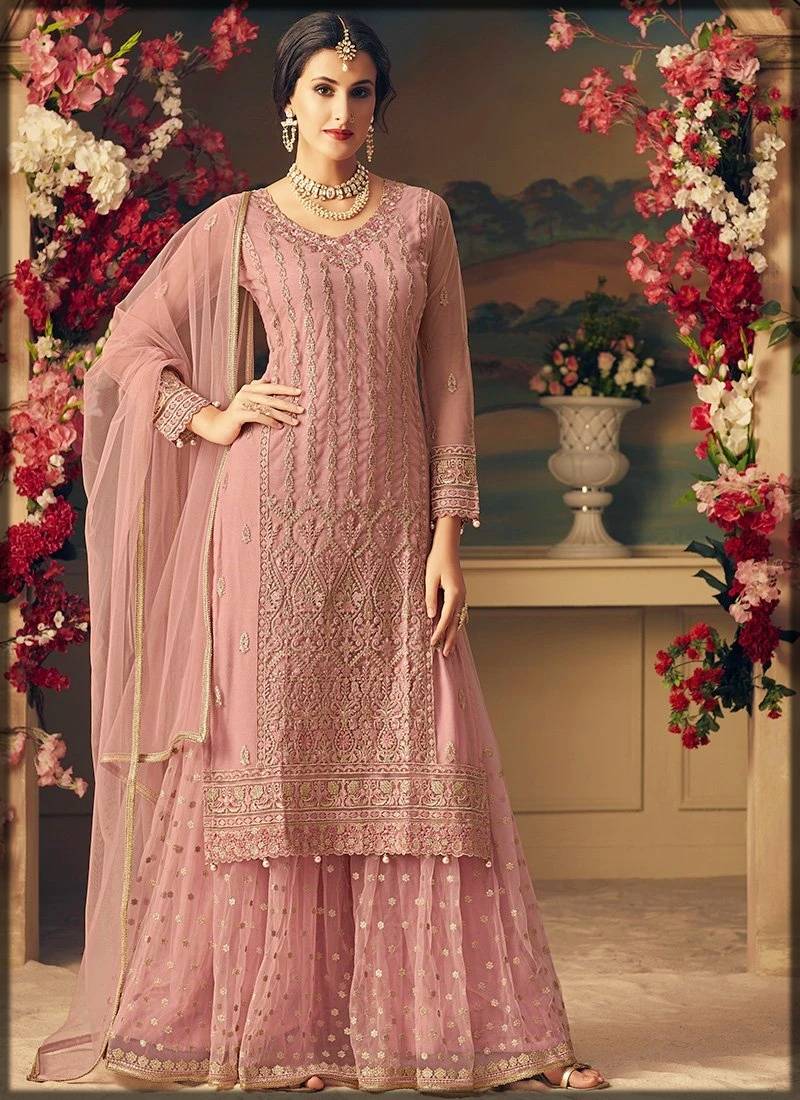 Bridal Sharara for Mayun Bride
Generally, mayun is a simple ritual in which the bride-to-be cannot do any chores or errands around the house. However, the bride-to-be has to wear a little fancy or cultural outfit. Moreover, many ladies love to wear yellow colors on mayun. These bridal dresses are simple and decent. Therefore, this full yellow color loose-pants suit will be a perfect outfit for a mayun bride.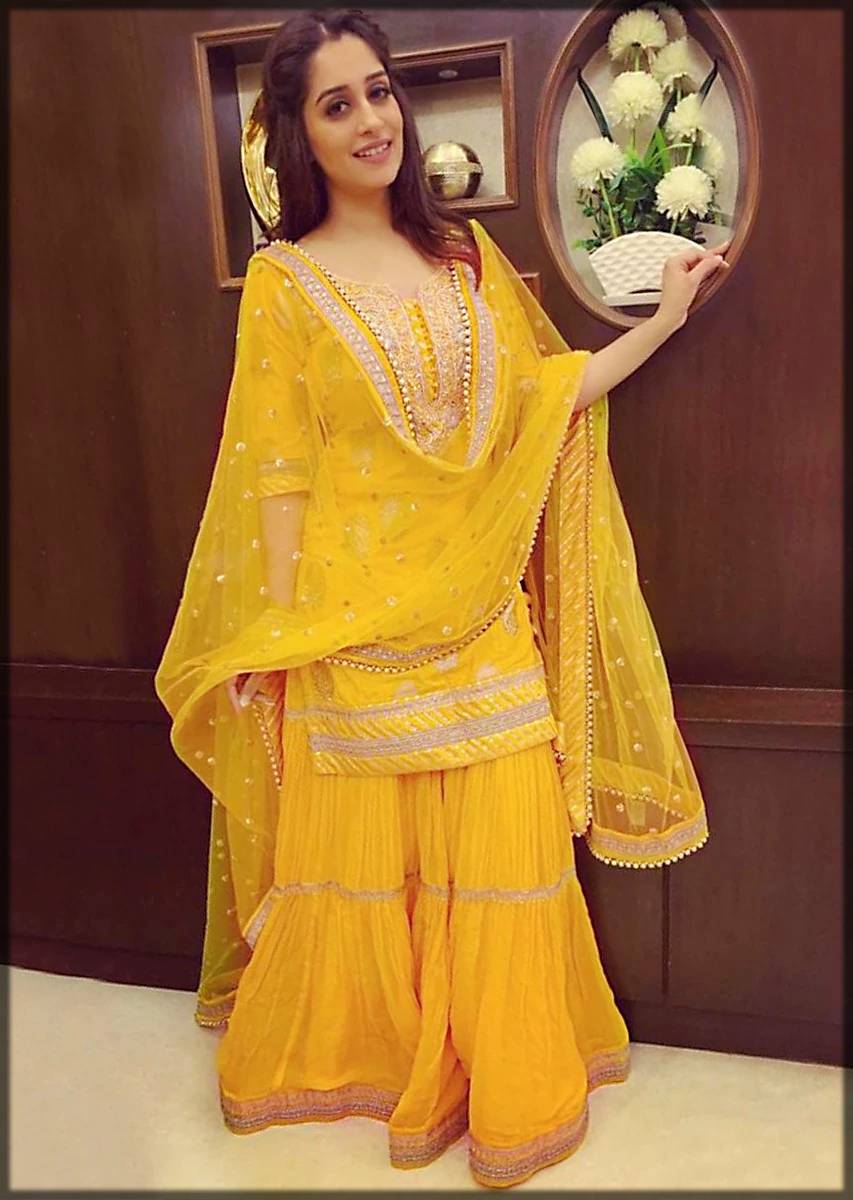 The bride-to-be can also wear this unique gharara style sharara. Besides this sharara has a big flare. However, many girls like to wear these traditional dresses on their special rituals like mayun, mehndi, etc. Check some more variety of gharara style dresses here.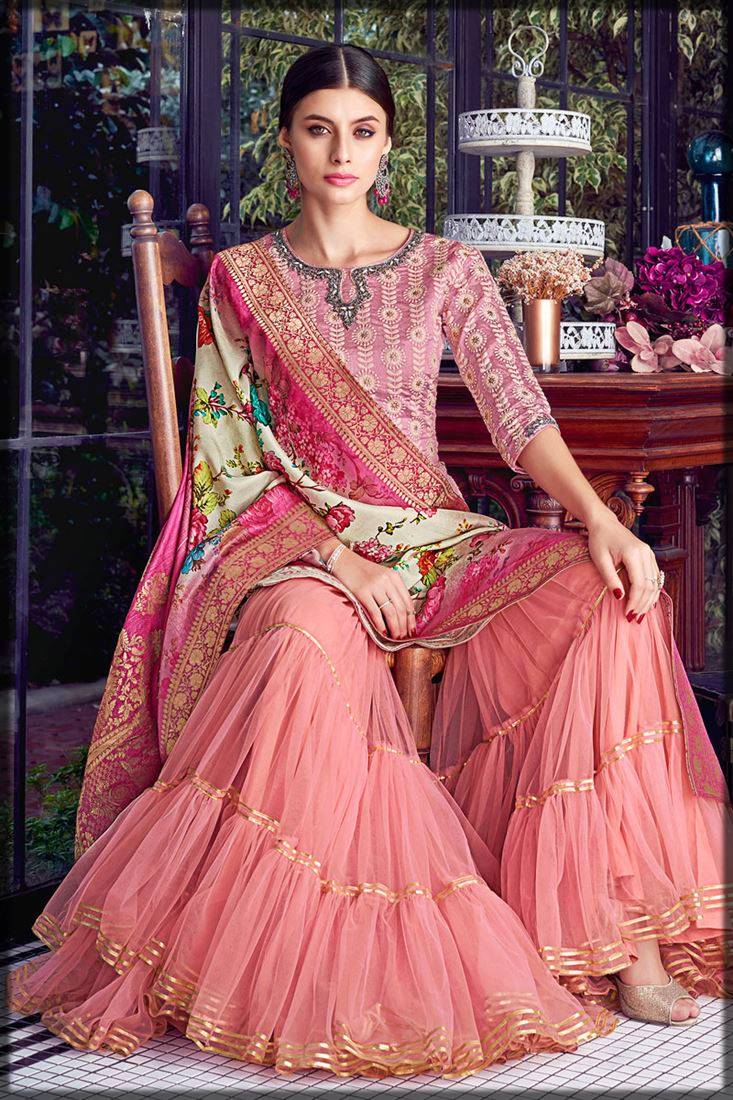 Sharara Dresses for Mehndi Bride
Sharara design is a traditional bridal mehndi outfit. Girls who like to wear cultural clothes wear this style. Most girls, however, prefer to look conventional or artistic on their mehndi functions. Therefore, these green color outfits include loose pants. Moreover, one can wear them with a long shirt with delicate embroidery. It also looks elegant with peplum and red dupatta in contrast.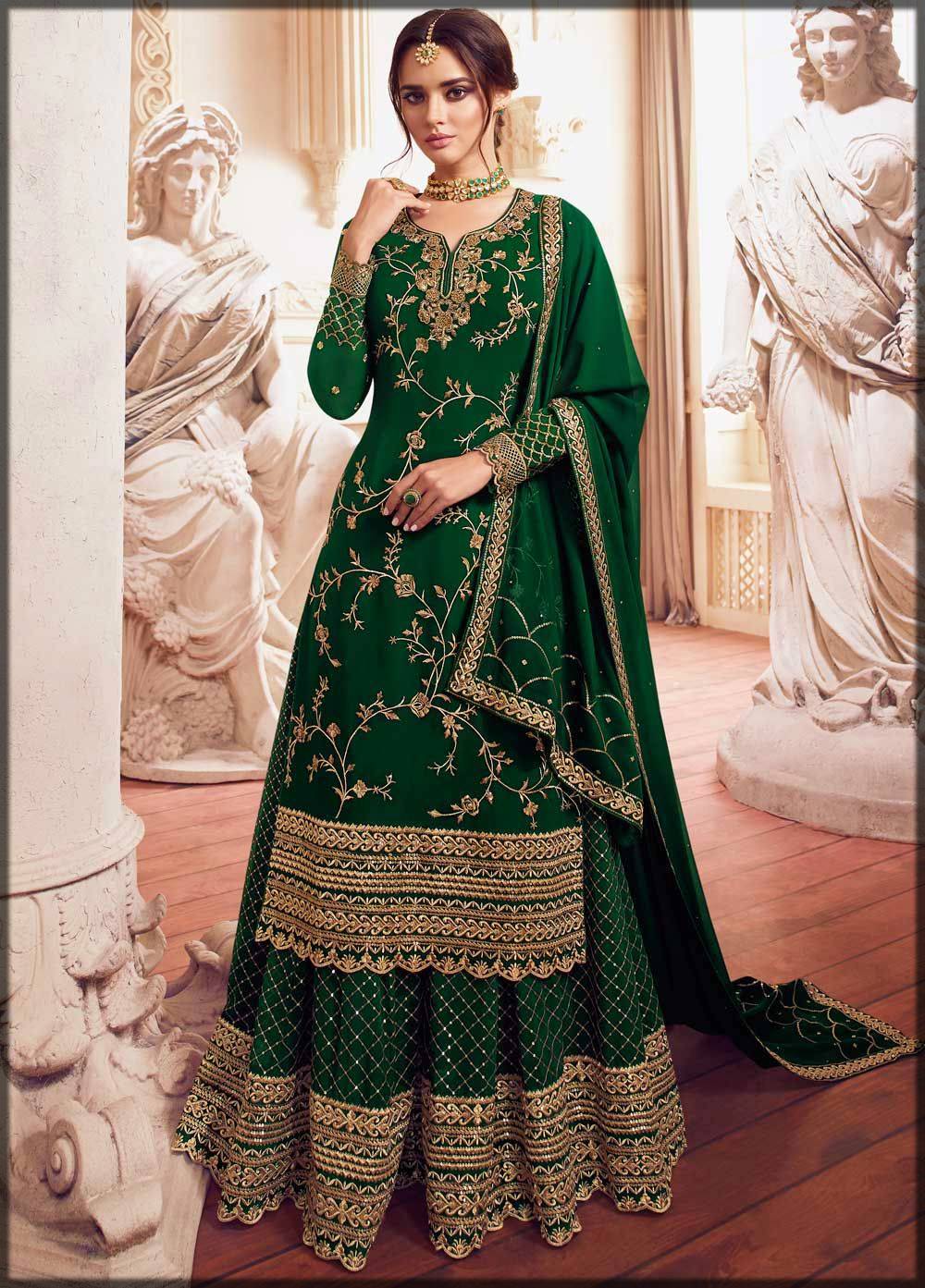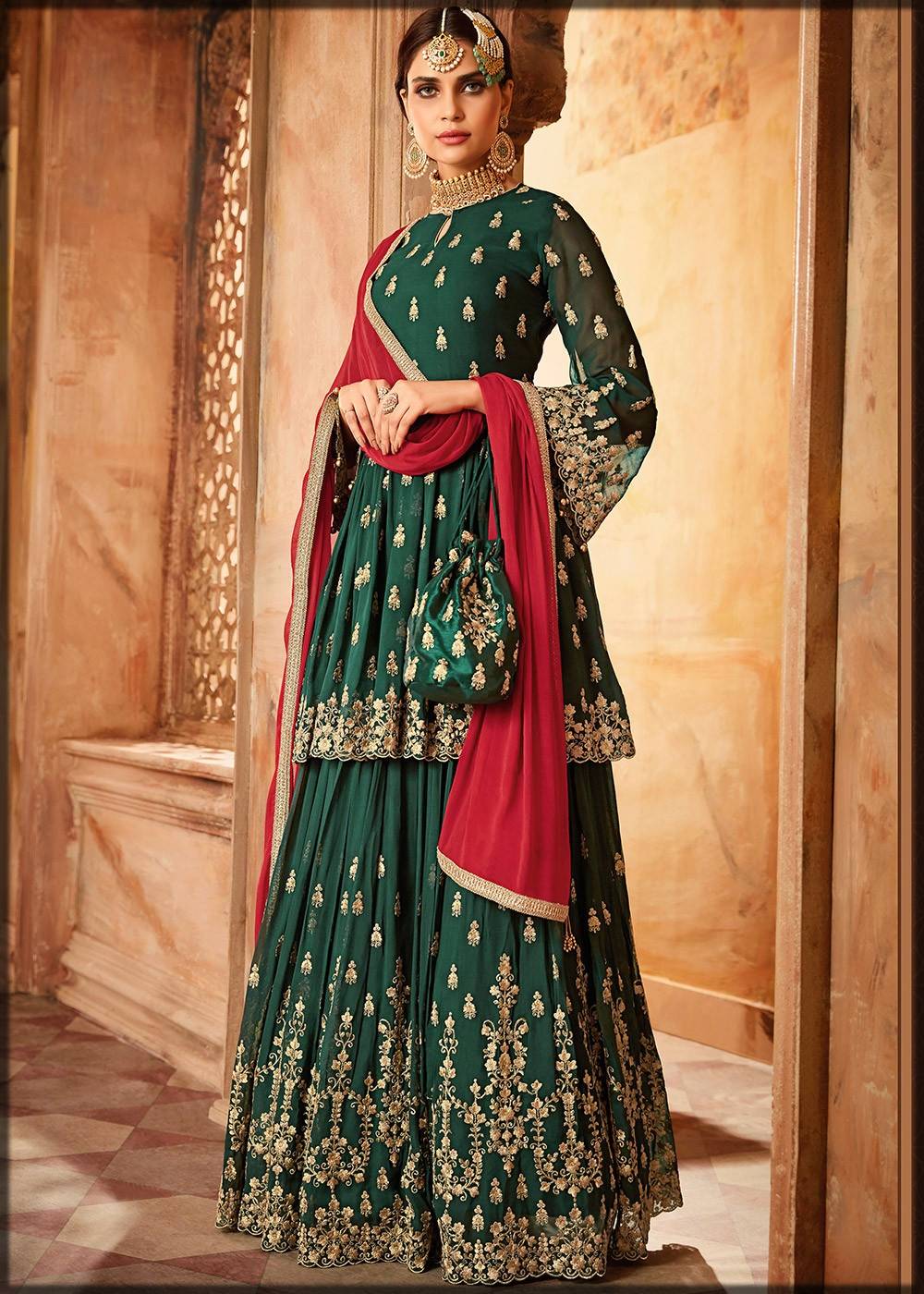 Sharara Dresses for Barat Bride
Brides for barat need a very fancy and heavy look. However, wearing a sharara helps them to have that look which they desire. Moreover, to get a complete bridal look, all you need is to wear matching heavy jewelry and beautiful bridal shoes.
Fancy Sharara with Straight-Shirts
Nowadays, wearing loose-pants with straight-shirts gives an extraordinary look. Therefore, girls love to wear such an glamorous and comfortable outfit on their special day. Moreover,  unique bridal hairstyles make the endmost look of a bride. So, making an appropriate hairstyle is also important.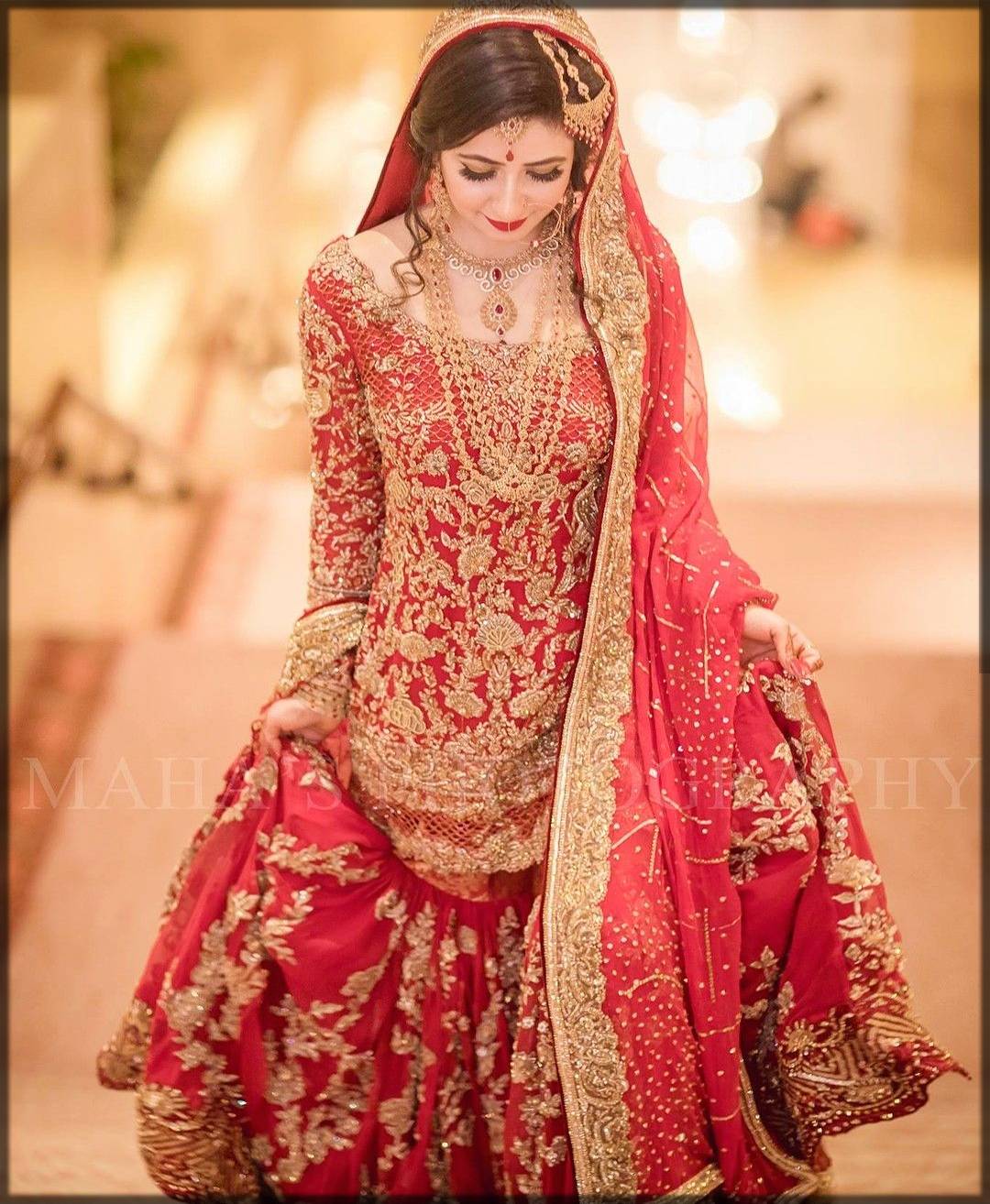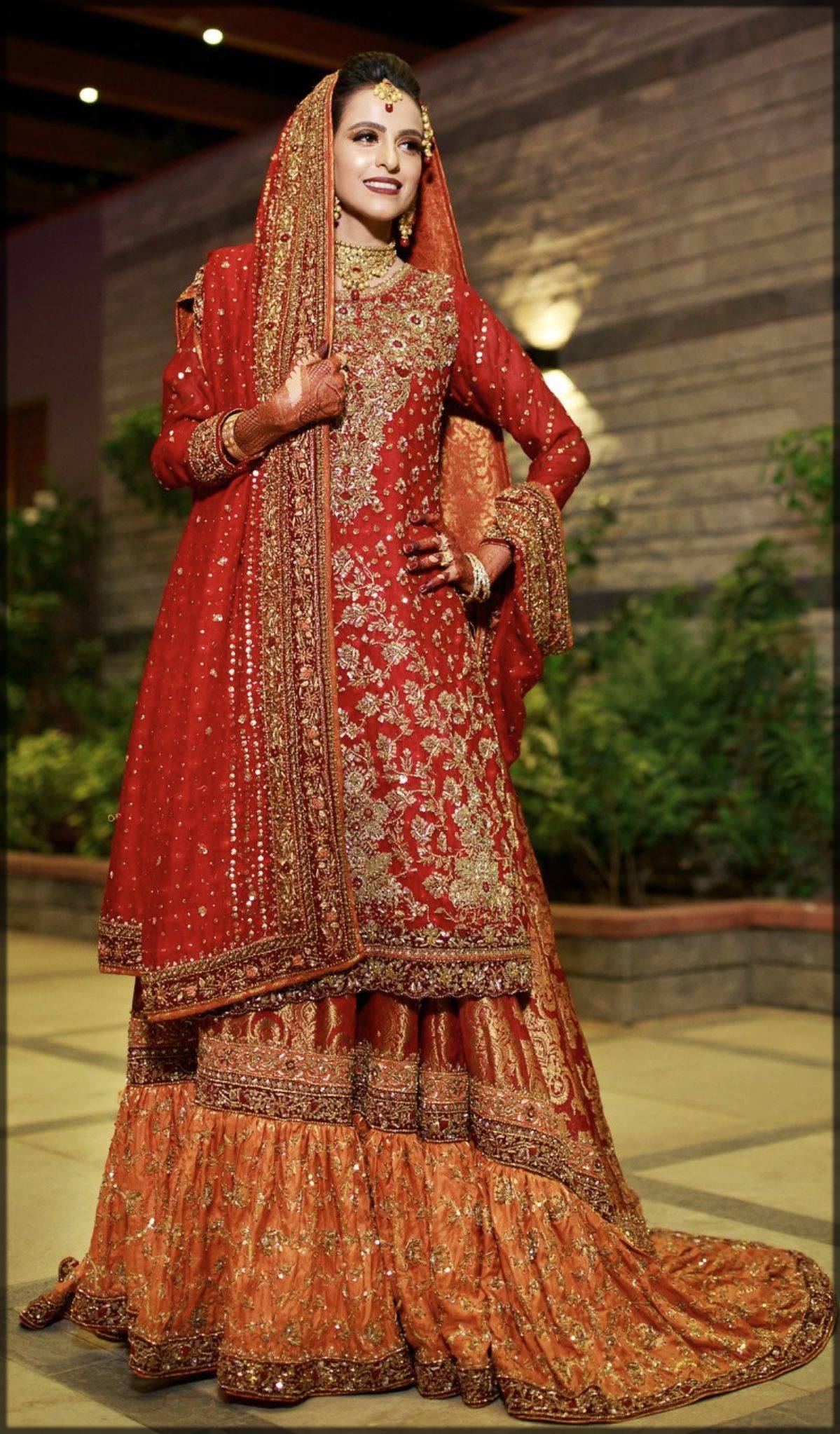 Heavily Embellished Peplum Dress

Brides can also wear peplum over loose-pants to improve their trendy look. However, beautiful allurement on the peplum makes the complete outfit perfect and worthier to wear.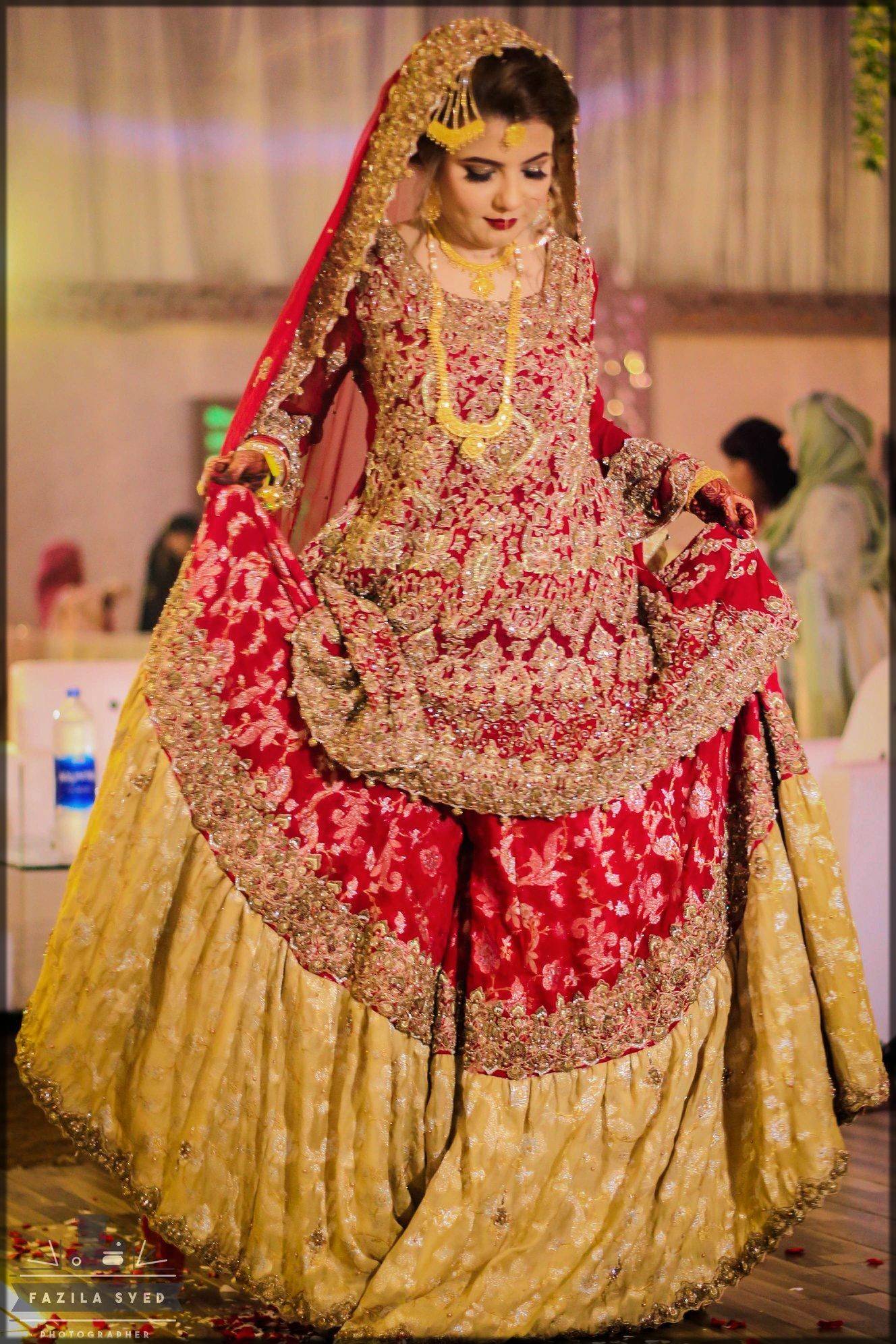 Traditional Bridal Sharara with Silk Choli
Generally, one can wear sharara with a short silk choli. Therefore, this heavy bridal dress with beautiful embellishment can be in a demanding list of any girl. Besides, the splendid embroidery of choli and fantastic work on sharara makes a perfect combination. Moreover, wearing green jewelry on this complete red outfit will look fabulous.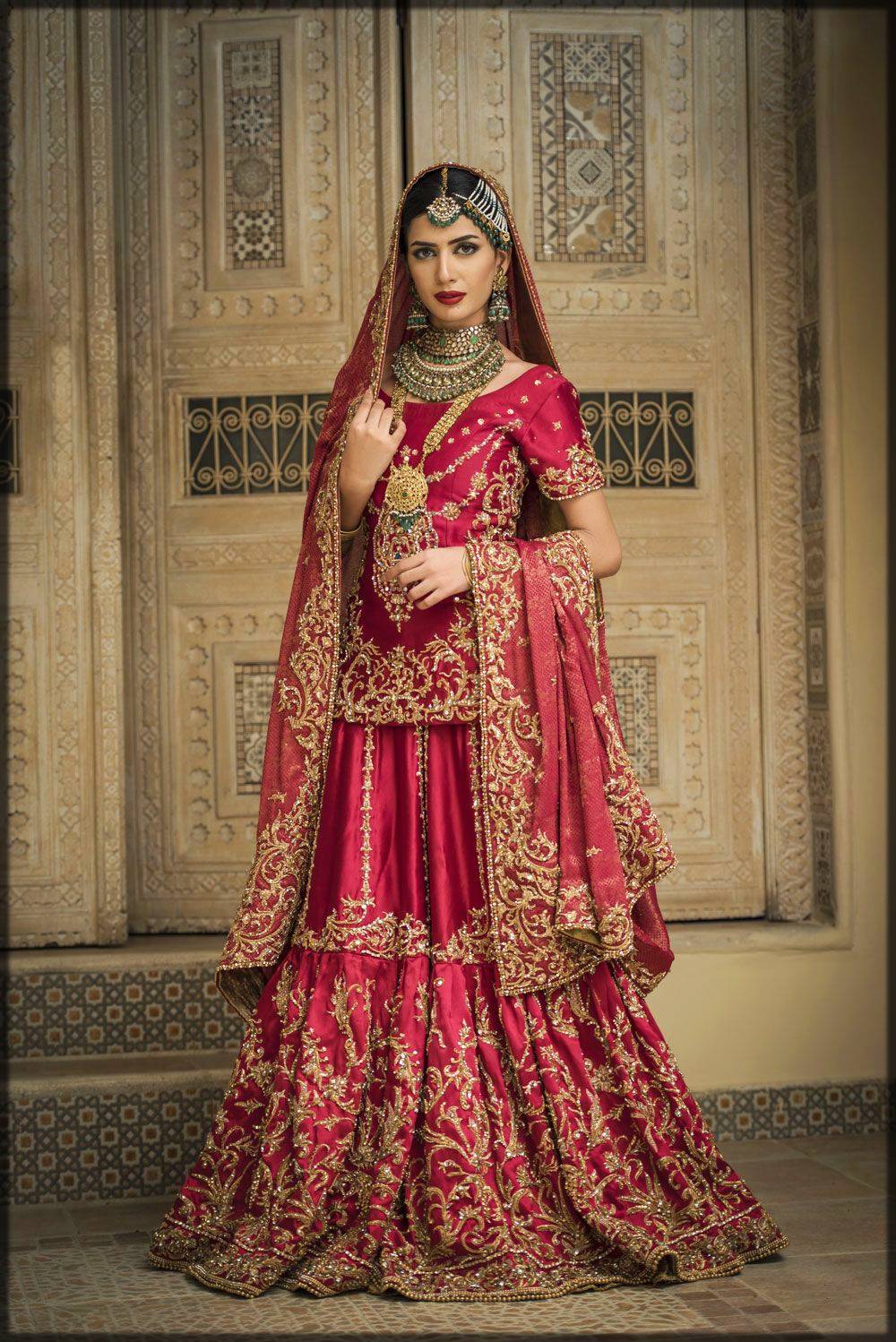 Sharara Dresses for Walima Bride
Walima is generally the third wedding event. Therefore, walima-brides prefer to get a light, fancy touch. However, this can happen by wearing light, shaded dresses. Also, putting a light makeup and delicate jewelry will complete the sophisticated walima outlook.
Fully Embroidered Walima Dresses in Light Shades
Angrakha frocks are one of the favorite styles for girls. However, wearing an angrakha style short blouse with sharara gives an adorable look to the bride.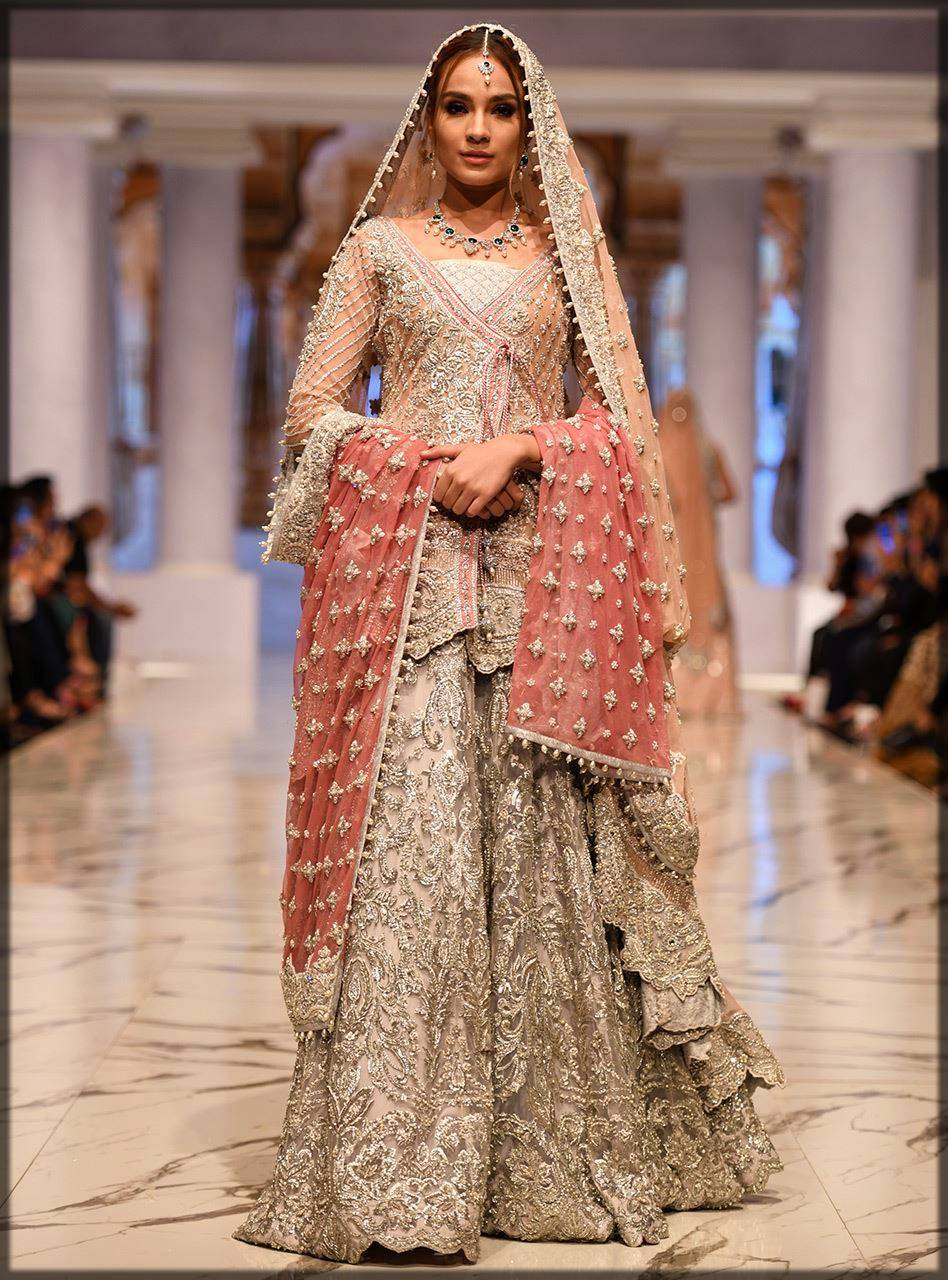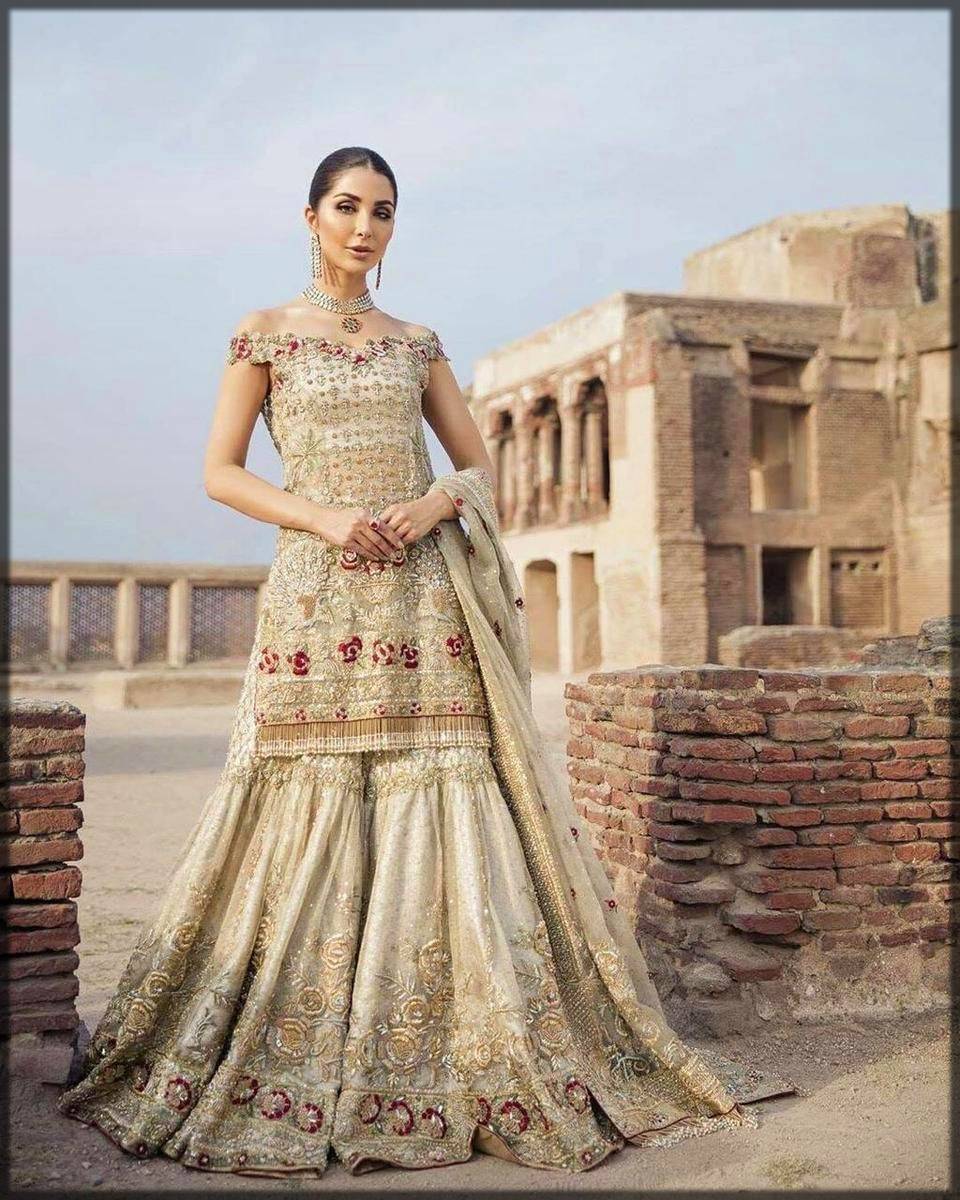 Splendid Walima Dress with Velvet Allurement
This amazing walima dress includes a lovely open shirt with a slightly extended tail from the back, a sharara, and a dupatta with heavy embroidery. Besides, the dress has embroidered velvet lace. Furthermore, to enhance the fancy look, the bride can go for exclusive bridal maxi dresses.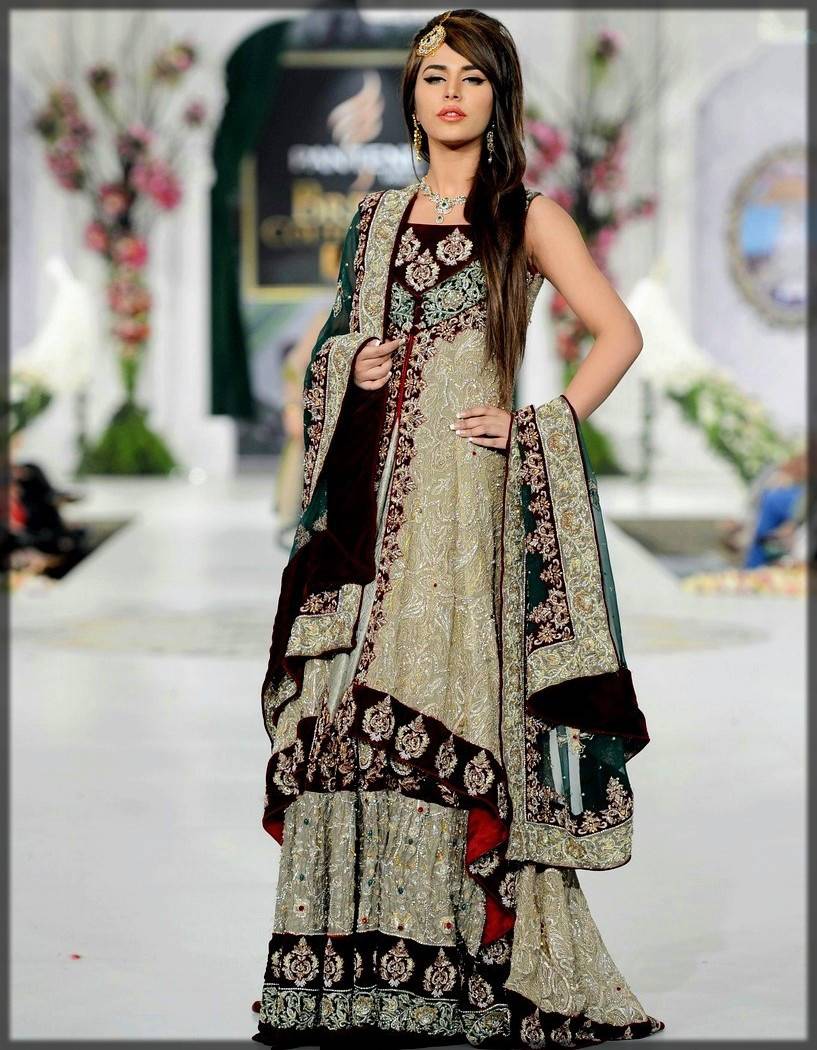 Sophisticated Light Green and Pink Contrast Dress
Generally, light shades always have girls' hearts. However, this light-shaded sharara with peplum looks adorable and elegant. Moreover, it has delicate embroidery and umbrella sleeves, which makes it worthy of wearing.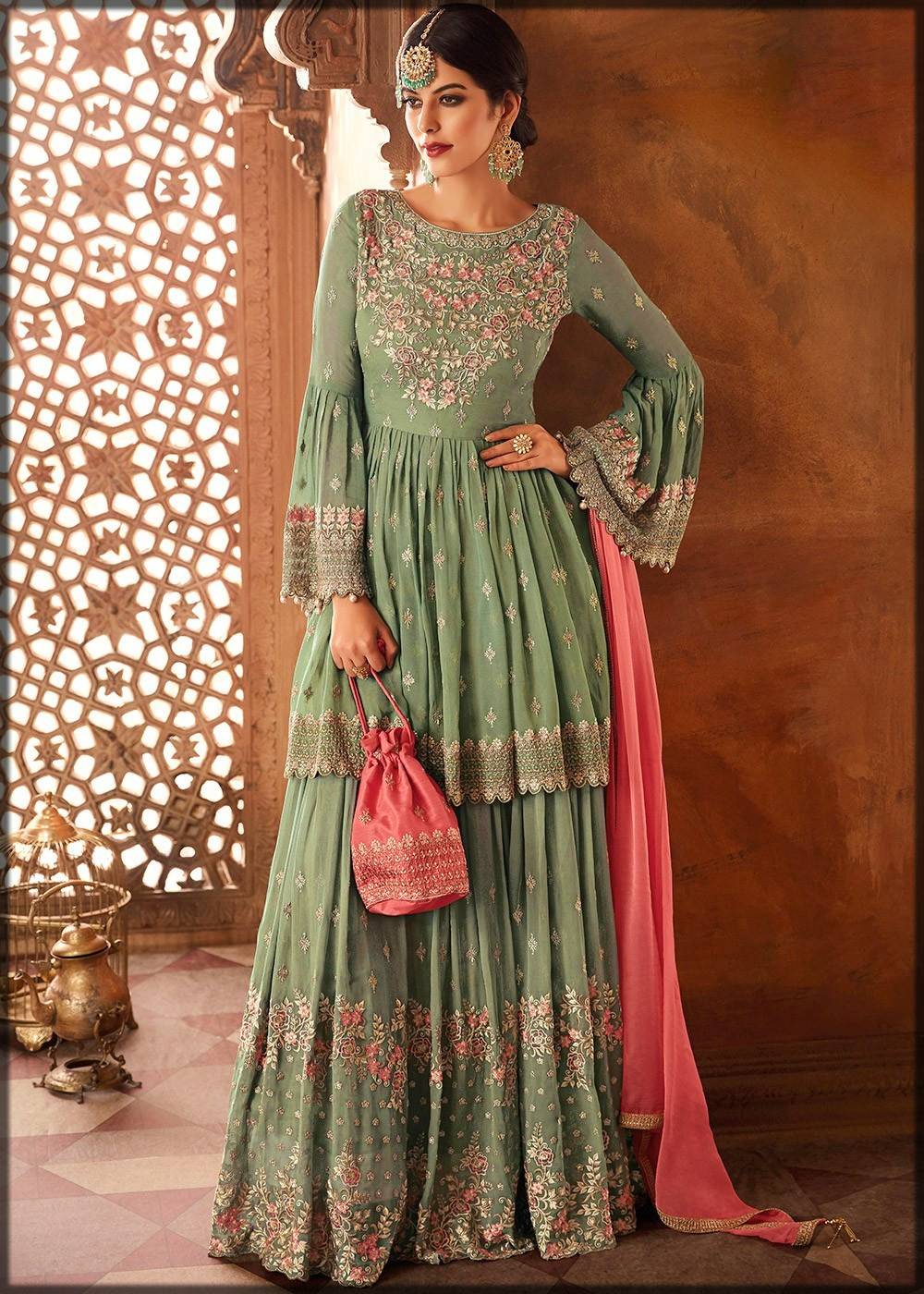 Elegant Plain Glittery Sharara with Long Frock
Wearing long frocks paired with sequined sharara and a big flare looks stylish and fancy. Besides, walima brides love to wear such outfits. Therefore, this golden dress has heavy embroidery with multi-colors to make the complete outfit glamorous. Moreover, the silky glittery sharara looks incredible with this robe.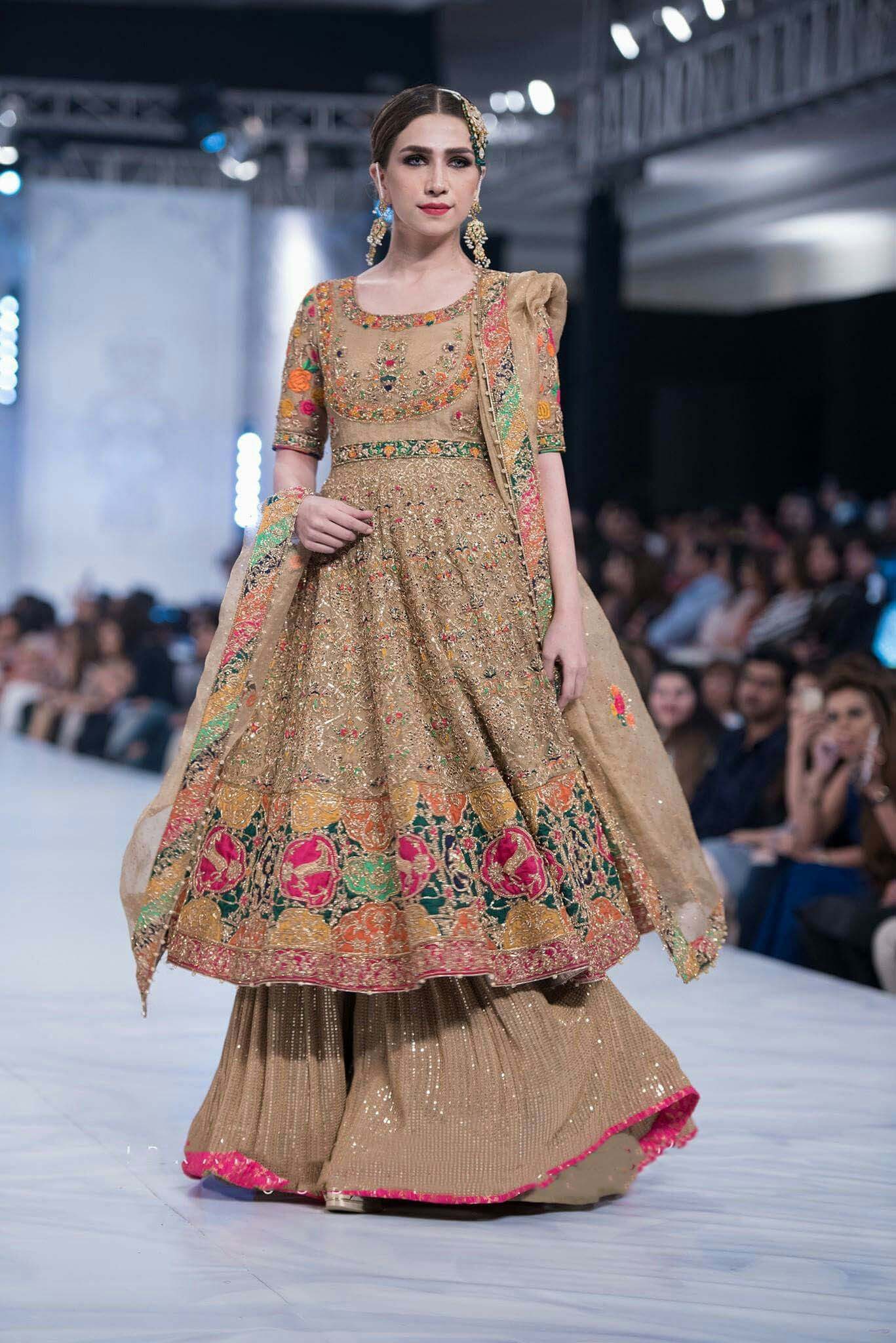 Western Style Sharara Dresses for Other Special Occasions
Nowadays, many girls love to mix up the western style costumes with the eastern style costumes. However, these western-style shararas have many girls' hearts. Girls love to wear such dresses on special occasions like the bridal shower, mayun, and many other rituals.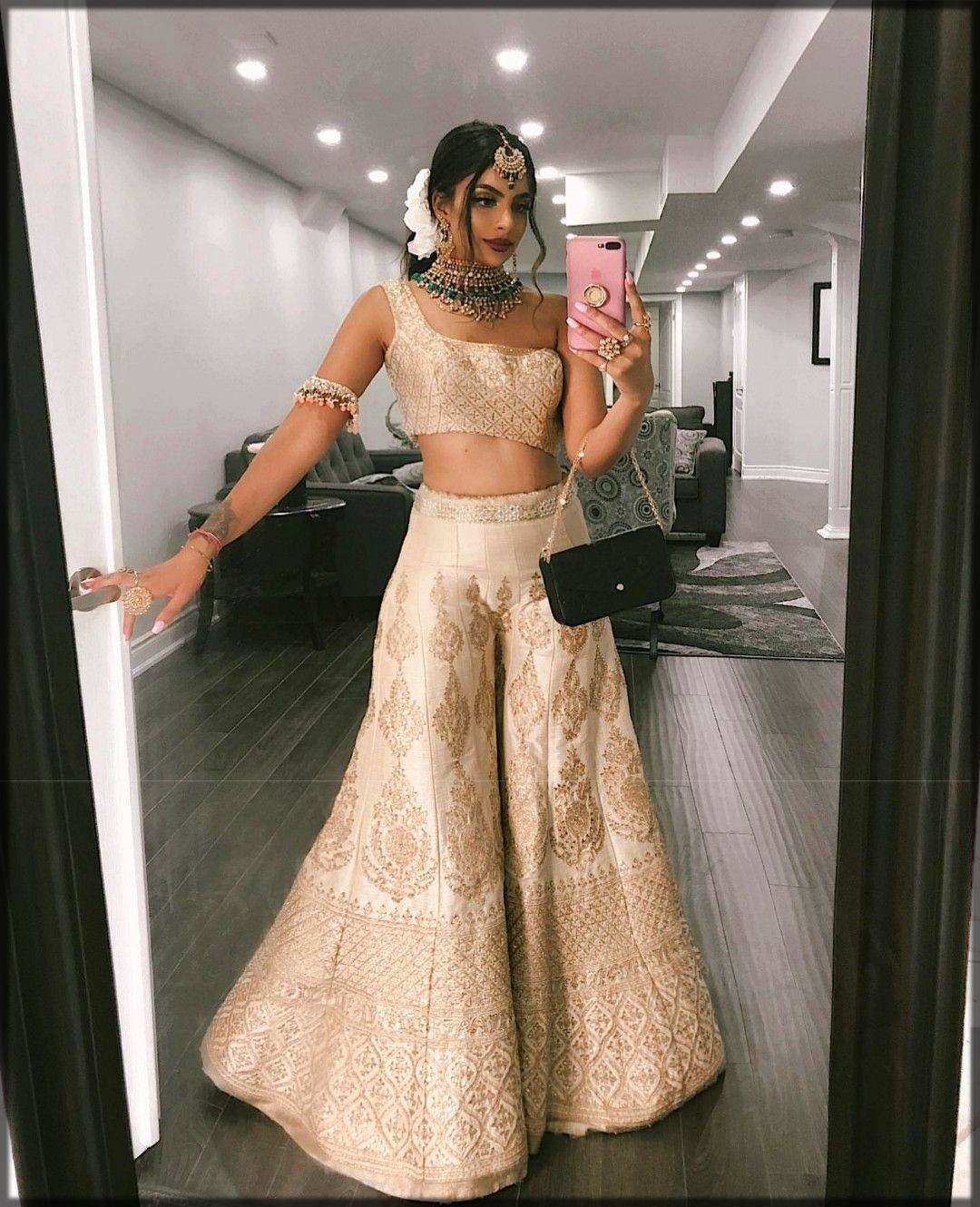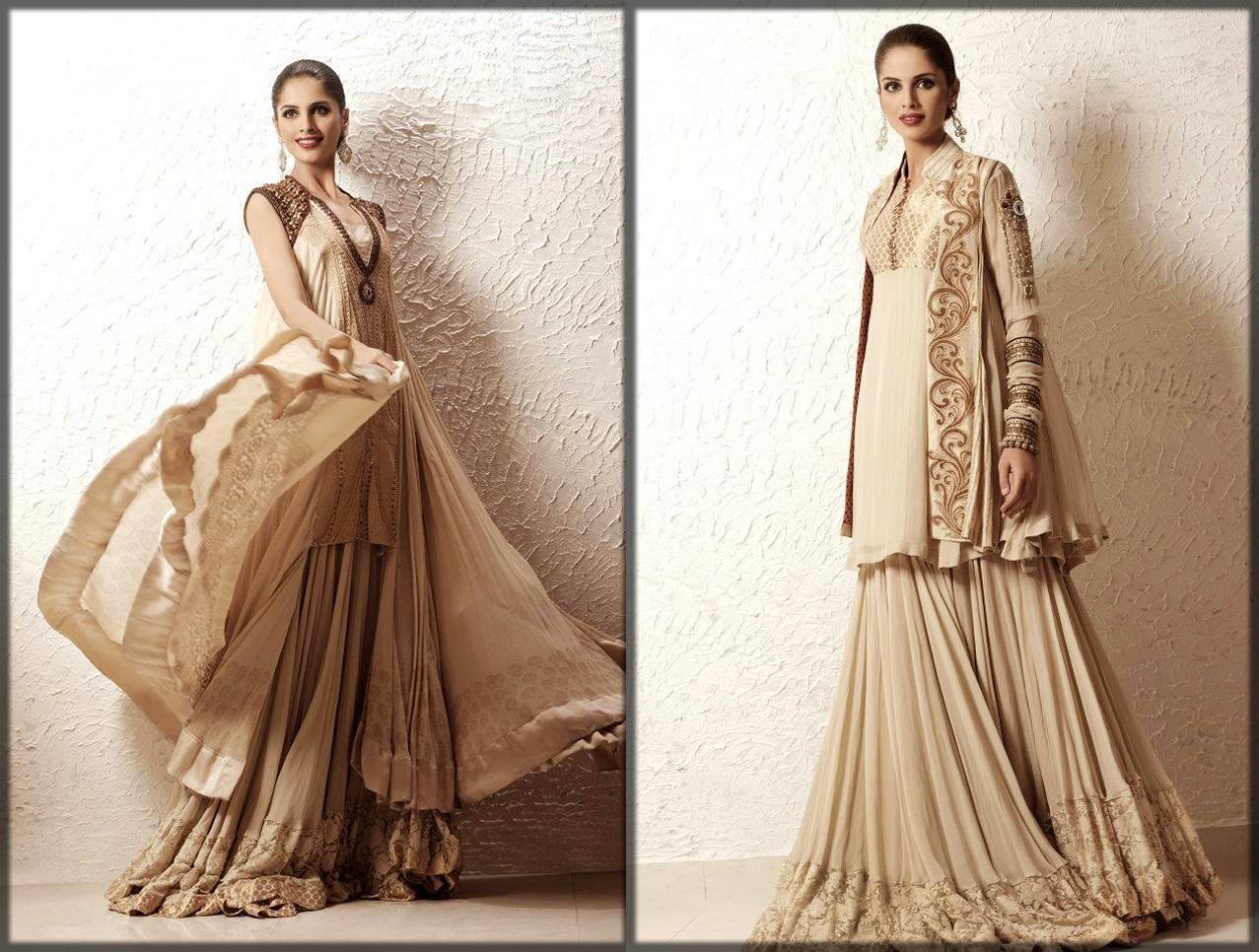 Besides the fact that there is very little difference between gharara and sharara, it is undeniable. Still, many ladies prefer bridal sharara dresses over other designs to look stylish. Moreover, this design is comfortable and easy to carry. Therefore, one can wear it casually or formally both.