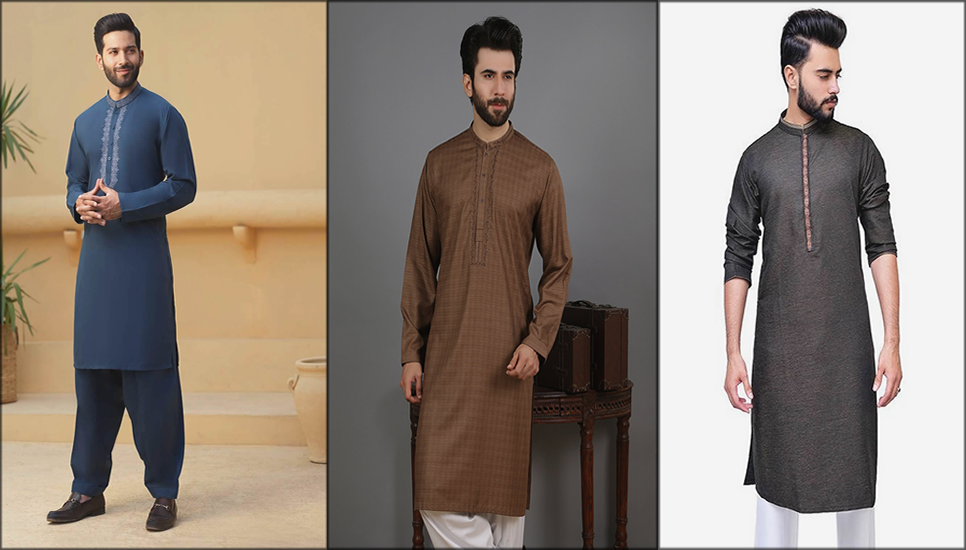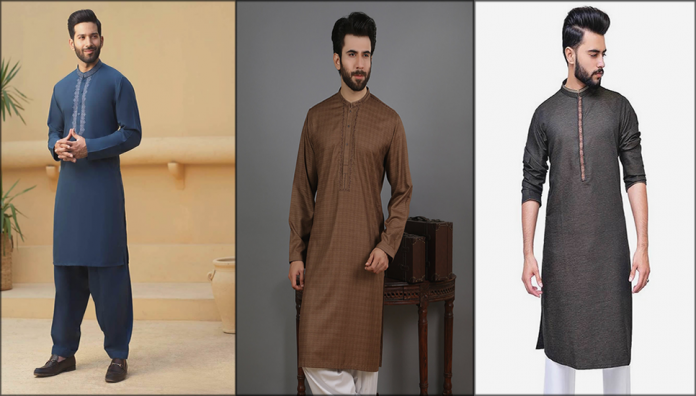 That is a big task to choose a decent dress in the summer and winter season. As we are probably aware, the summer season is sweltering in Pakistan and especially hard for the working men. Winter, on the other hand, is sometimes mild and sometimes extreme. So check out the latest kurta designs for men that are suitable for summer and winter.
Generally, people think that men can only wear a few colors for making their look incredible and awe-inspiring. But you get the most vibrant and vivid tints of clothes in the kurta catalog of many notable brands. Men also need versatile color outfits to fill their wardrobe with dazzling designs.
You can fill your closet with the classy outfits given below and make all of your looks jazzier and unique. A kurta is the most excellent style that will add more enchantment to your summer and winter look. You can merge these kurtas with any cotton shalwar for a striking look.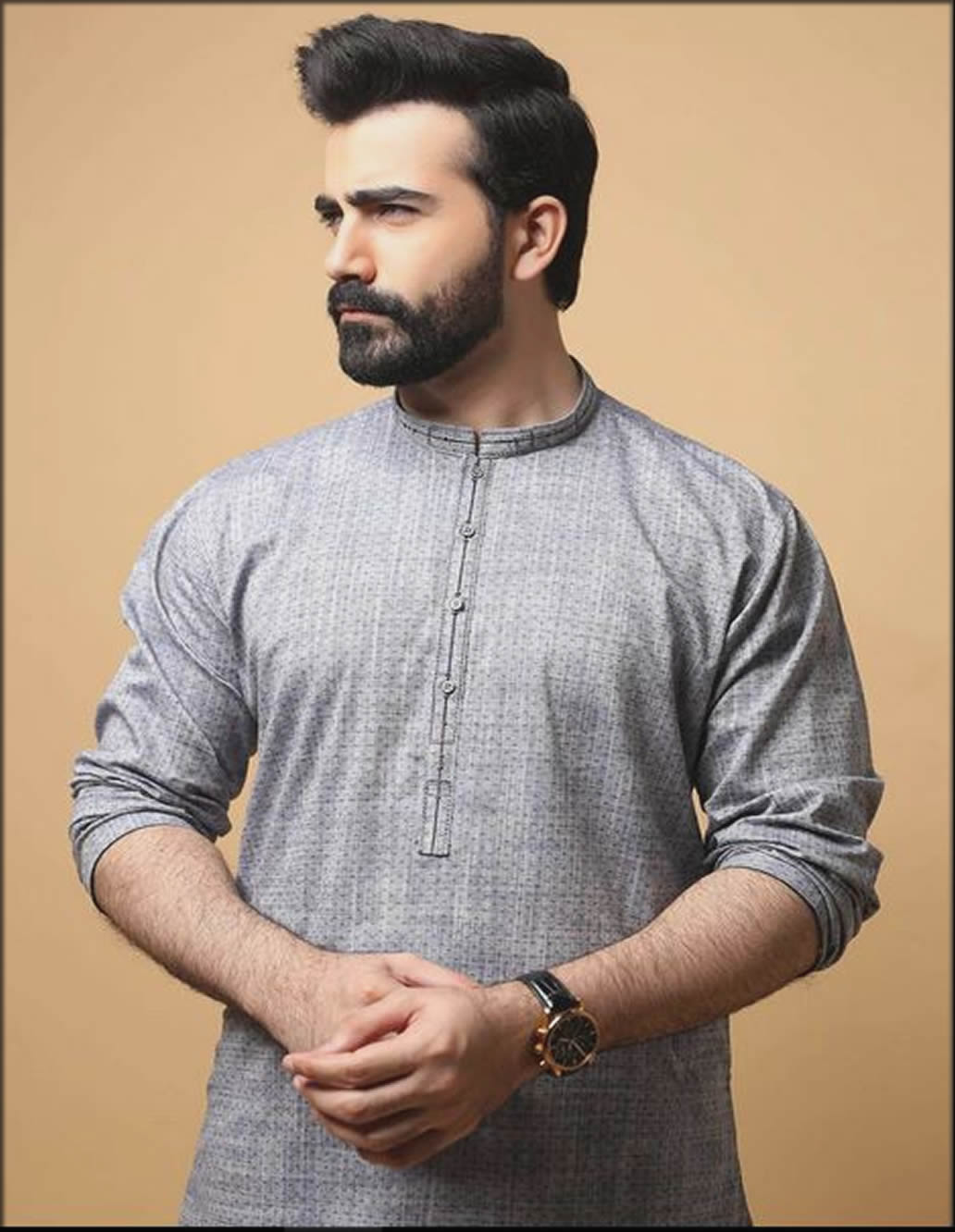 Best Summer and Winter Kurta Designs for Pakistani Men

With the advancement, many brands present the most alluring men kurta's with the newest designs. Usually, nowadays, everyone prefers to wear branded clothes instead of local because branded clothes are more trustworthy than local. Different top brands are working in Pakistan. They have the best kurta collection with the latest and modern designs.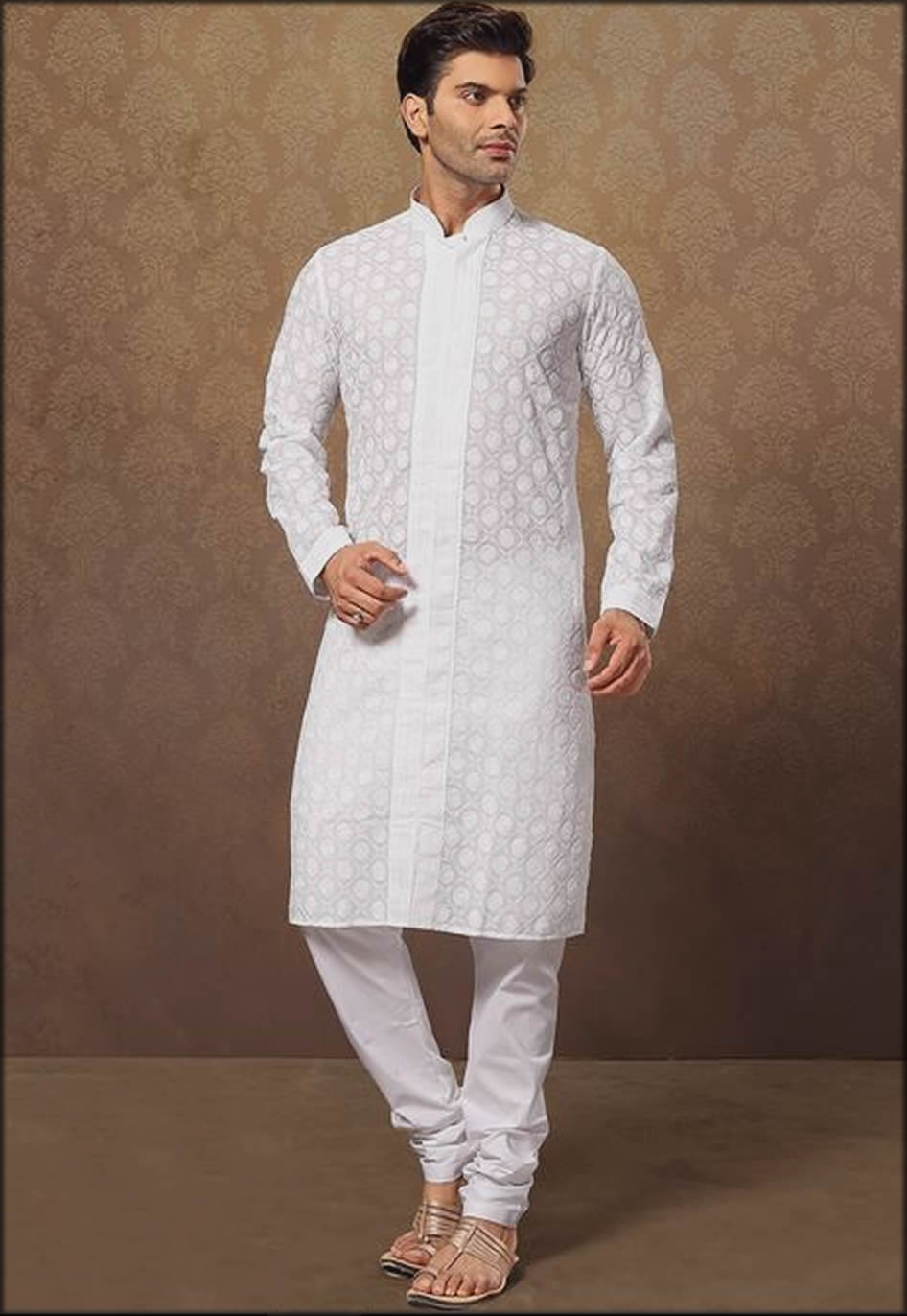 Designer Kurta Collection Suitable for Hot Summer Season (with Prices)

The climate is consistently changing, and the summer season is practically here. As we are probably aware, each season has its advantages and disadvantages. In this blistering season, men don't need to stress because the latest kurta designs for men are easily accessible in Pakistan. Seasons don't make a difference if you wear the right kind of clothing in the right season.
Men prefer to wear delicate, lightweight cotton suits yet, at the same time, desire to look appealing and attractive. Distinctive top brands are working in Pakistan producing quality fabric and the best kurta designs for men.
Fashionable Kurta Collection by Saeed Ajmal
Saeed Ajmal is one of the prestigious clothing brands for men. The brand serves its clients with quality and premium stuff. Like every other year, the brand has launched its Saeed Ajmal Collection in which they have included Saeed Ajmal Men Shalwar Kameez Collection and Kurta Collection. All the assortments have separate dressing and structures. These assortments have unstitched dresses, kurtas, casual or formal jeans shirts.
Embroidered Kurta with Sherwani Collar

Cotton Fabric Kurta in dark brown color contrast and thread work on the band will give you a gorgeous look. This semi-formal embroidered placket thread stitches on the banded neckline add a touch of class to your everyday design. Premium texture with inner buttons gives a luxurious look to these men's cotton fabric kurta.
Everyday White Embroidered Kurta
Here is a Schiffli embroidered white kurta that will persistently be the best for a different approach to review your design and style viewpoint. This eye-catching round long sleeves sublime attire impacts you positively. A band neckline with a thin placket makes it a comfortable outfit. You can utilize this unique motif design pattern, schiffli textured Kurta, with your preferred white jeans or pajama. This appealing men's attire will help you outshine everyone at events.
Trendy Kurtas by Men's Favorite Brand Edenrobe
The brand set out on its venture in 1988 under the name of "Eden Apparels." Junaid Dandia was the man who turned up the trumps for the association. He built up it and passed on its productive journey as CEO.
Embroidered Brown Menswear Kurta

In the hot season, men want to wear light and attractive suits. Appropriate textured dresses are accessible for you by Eden robe. The neckline of this dress is altered with cutwork and embroidered Patti on the front. Collars and shoulders are also lightly embroidered.
Beige Color Menswear Kameez

You can see a lovely beige color dress that is made with plain textured fabric. The neckline of this attire is embroidered appropriately. Front Patti on sleeves and contrast piping on the neckline are improving the finesse of this kurta. You can pair this attire with matching pajama or white shalwar according to your desire.
J. Junaid Jamshed's Stylish Menswear Collection

Numerous fashion designers and brands in Pakistan reveal their attire collections. The casual wear, party wear, and formal wear are available for men. Today, I am going to share the best assortment of fabulous outfits for Men by Pakistan's one of the top brands. Indeed, I am talking about the J. Junaid Jamshed kurta collection for men.
Formal Menswear in Black with Fine Detailing

Here you can see a formal Kurta for men with the machine and hand embroidery on collar, placket, and front. This is a very decent and modern suit. The neckline, front Patti, and shoulders of this attire are also embroidered appropriately with a fine detailing.
Plain Kurta in Sunshine Yellow Color

You can see the vibes of plain Sunshine yellow Kurta for men. There is an everyday textured outfit that is styled with the stunning sherwani neckline. Moreover, this outfit is an easy-wear that you can wear routinely. If you are searching for the wedding wear attires, then check out men wedding sherwani collection.
Bonanza Satrangi Kurta Designs for Men
Bonanza Satrangi is the best Pakistani brand that was built up in 2012. Firstly, this brand was working with women's attire in 2012 after it started the foreseeable future in other categories as well. Bonanza Satrangi is continuously growing and has jump-started its new outlet at the Dolmen Mall, Clifton, Karachi. You can see the vibes of the most recent summer assortment for men by Bonanza Satrangi.
Dark Blue Kurta with White Embroidery

You can enjoy this blue attire that has an embroidered neckline and front Patti. This is easy to wear in the daily routine. Moreover, you can carry this type of attire at any formal or semi-casual get together. The collar and placket of this attire are delicately embroidered.
Plain Maroon Kurta for Everyday Wear



In the following images, you can see the vibes of this elegant attire by the Bonanza. A beautiful maroon embroidered dress is available at a reasonable price. See the appearance of the attire that is prepared with a sherwani collar, also known as bain. Sherwani style collar and the front Patti of this attire is decently embroidered. You can pair this attire with matching or a white shalwar. It gives you a fabulous and elegant personality. Check out smoldering engagement dresses for men as well.

Gul Ahmed Elegant Kurta Designs for Men
The story of textiles in the subcontinent is the story of Gul Ahmed. The group began trading in textiles in the early 1900s. The group entered in the field of manufacturing with the establishment of today's iconic name of Gul Ahmed Textile Mills Ltd in the year 1953. Since its listing on the Karachi Stock Exchange in 1970, the company has been making rapid progress and enjoying a leading position in the world of textiles.
Grey Kurta with Moroccan Style Print

Men love to wear this type of attire at religious events and national ceremonies. Even at wedding functions, this type of attire is the priority of the men. You can see the vibe of beautiful menswear in the grey color. From the front, the attire is embellished with a beautiful pattern.
Sky Blue Kurta by Gul Ahmed
In the following, you can see the vibes of a self lining kurta. You can carry this attire at any casual or semi-formal get together. Moreover, it's also wearable at any religious event. You can pair this attire with the white shalwar or pajama.
Shahzeb Saeed Kurta Shalwar Dresses for Boys

Shahzeb Saeed has brought Pakistan's best men's kurta designs. The fabric of the kurta is wash and wear. You may be searching for weaved men's kurta or plain men's kurta. There are such a significant number of designs in the world. Furthermore, they have a place with cutting edge shalwar, pajama, and pants. Pakistani embroidered Kurta patterns for men are the most sizzling pattern nowadays. It tends to be on the neck area, shoulder, sleeves, and back.
Pastel Orange Kurta in Cotton

The orange Kurta is particularly made with extraordinary first-class styles. Moreover, Alluring shading makes this attire special. This different and unusual kurta presently has a scope of ethnic wear in your closet. Wash and wear texture is utilized in making this attire for men.
The premium quality texture is prepared with current fitting methods to create this evergreen Pakistani eastern wear assortment. Select your best fit, shading, and size. You can wear this new blue embroidered Kurta at any gathering or a formal occasion for a charming look and feel. The quality and stitching of Kurta are of superior quality. Wash and wear fabric is utilized for the development of this suit.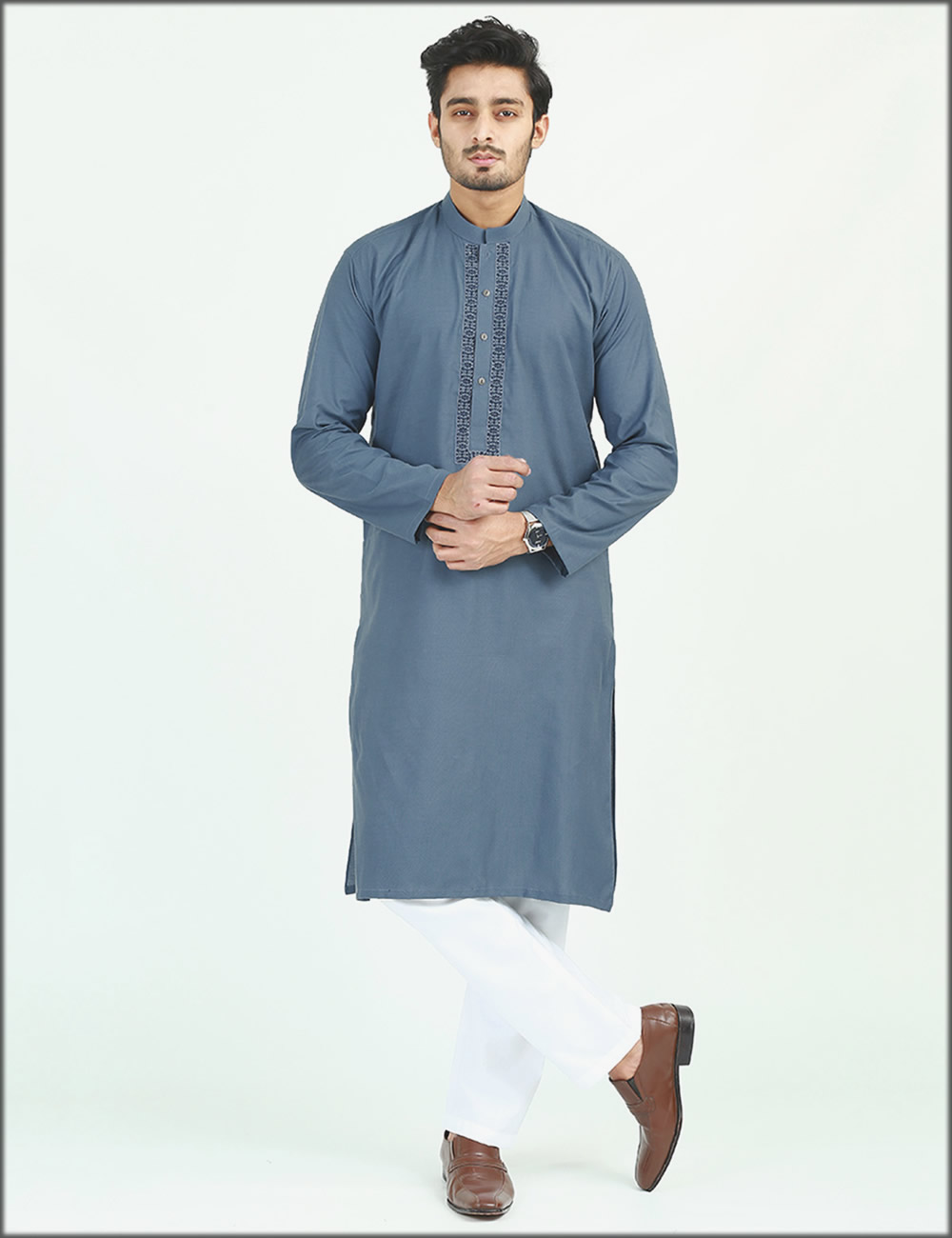 Best Winter Kurta Designs for Men by Topmost Brands of Pakistan



Like women, men also follow the trend by wearing the newest and latest style of attire. Only plain shalwar kameez was preferred in the past, but with time, the kurta designs have been introduced in-trend these days.
Men also want to make their look more stylish and handsome. Therefore, each brand always introduces classy men's outfits. In the latest winter collection of the brands, you will receive a wide variety of winter's kurtas that will assist the men in completing their handsome and killer look.
Edenrobe Kurta Designs for Men in Winter



The brand has been giving the chicest and alluring collection to its clients since 1988. The main reason for its fame is its excellent and unique quality of attires. Edenrobe knows well how to play with the colors.
It offers the most splendid and attractive hues of kurtas for the men to pick any color of their choice. It will help in making them look classy and handsome. Investigate the Edenrobe kurtas below and get a dazzling appearance. They have used the winter cotton fabric to prepare its winter kurtas to keep their customers in comfort. Further, visit the Edenrobe shalwar kameez collection with the most impressive suits for the youngsters and men.
Junaid Jamshed's Stylish Menswear Collection
This notable brand offers men's and women's clothes in unique designs and shades. Junaid Jamshed is the only distinctive brand that has a separate men's kurtas catalog. Junaid Jamshed kurta collection is very famous because it gives good quality kurtas in a striking blend.
This season the J. winter dresses are more stunning and attractive. You can pair these shirts with your plain white shalwar for a decent look. In this classic collection, you can see the brown shades, which have always been the sober addition to the men's wardrobe. The next purple color is such a classy option to wear. The last green one is appropriate for casual wear because this light shade complements the daily routine really well.
Bonanza Satrangi Men Kurta Designs



Bonanza is the best men's clothing brand that always brings the newest and fresh colored attires for men and women. This season, Bonanza is offering a wide variety of the men kurta that will assist in making all of your looks noteworthy and killer.
Look at the underlying impressive white kurta that will enhance your personality by making it more awe-inspiring and striking. This stunning kurta is perfect for formal events. Further, style your hair with the best men hairstyle and get a fabulous and classy appearance.
Gul Ahmed Kurta Designs for Winter
There is a variety of kurtas you will get in the Gul Ahmed men winter collection. This stunning collection will aid you in finding the beautiful and attractive kurta for your winter party. Men are more conscious about their dressing than women. They also want to look unique and stunning than others.
Therefore, Gul Ahmed has brought the most dashing kurtas for the men to enjoy any winter party by updating their look. Wearing these blazing kurtas will bring a natural look. You have to select the right shade for getting an impressive look.
Shahzeb Saeed Winter Kurta Designs for Men
Whenever you are going shopping, always take care well while picking the outfit. Always consider your skin tone in your mind, and choose the right shaded attire as per your skin complexion. Not all colors will suit everyone, so always take care well.
So, for the latest and stylish men's kurtas, let's discover the Shahzeb Saeed winter kurta designs for men that have the chicest and fascinating collection. In the Shahzeb Saeed's store, you get the bright and dark hues of attires because most youngsters love to wear the dark hues outfit.
Kurta Designs by Saeed Ajmal for Men
Saeed Ajmal is a Pakistani cricketer who started his men's clothing brand a few years back. They use a highly reliable texture for making its freakish quality attires. In its store, you get the most astounding eastern and western wear in Saeed Ajmal winter variety at an affordable cost.
Look below at the Saeed Ajmal winter kurtas that you can pair with your pajama for bringing the classy kurta pajama look. You get the neck embroidered and plain kurtas in its winter group. Are you going to the social meeting? At that point, never forget to wear the Saeed Ajmal kurta with the plain white shalwar for a nice and handsome look.
Luxury Amir Adnan Kurta Catalog for Men



The trend of kurtas is high these days. So, get ready with the Amir Adnan kurta collection and get a great look. You can pair your classy kurta with a decent and beautiful waistcoat for getting people's attention. Furthermore, brown leather boots also help to add more elegance to your character. These stunning kurtas by Amir Adnan will help to make your casual or formal look more luxurious and rich. It also manages the winter sale for the ease of its clients.
Elegant ChenOne Kurta's Collection
ChenOne is the most favorite brand of youngsters. It gives high-quality clothes to its clients. Look at these lovely kurtas by ChenOne, which are made with 100% pure winter cotton that normalizes your look and makes it more delightful and handsome.
People who want to look elegant and decent should try these lovely kurtas by the ChenOne and add appeal to their glance. You will also receive the traditional touch in these kurtas. Cambridge kurta collection has also got wide appreciation because of its impressive and noteworthy collection.
All these fantastic and impressive kurtas will help to demonstrate your temperament and make it more engaging. Pakistani designers have a wide variety of kameez designs with the latest patterns. You can combine these kurtas with your cotton shalwar for a nice look. You can wear these kurtas at any event because these stunning kurtas will work well for both casual or formal occasions. So, without any hesitation, wear these kurtas and walk with confidence.