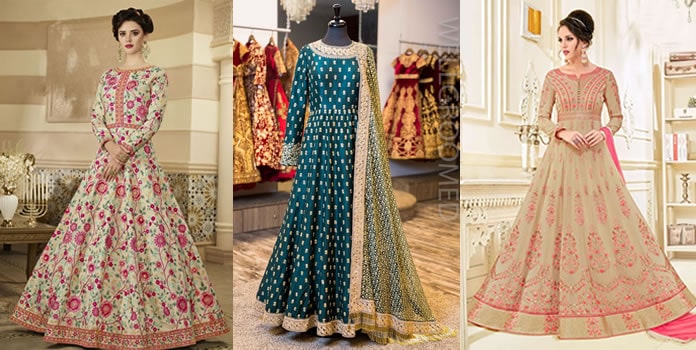 Women of every age prefer Anarkali suits and frocks when they go to any wedding event or parties. It is generally worn with the pajama, but most women or girls wear trouser or Capri with it for their ease. This article has the most ravishing and latest Indian Anarkali frocks collections.
Anarkali suits and frocks are available in numerous styles and designs, but in this article, I will show you the most stylish and decent outfit collections. Dupatta with Anarkali suit is kept simple. However, many ladies additionally wish to have some embroidery on it, which gives a unique look. Mostly women like long-length designs while young girls go for short Anarkali frocks or shirts. It is your choice to wear it in short or long length.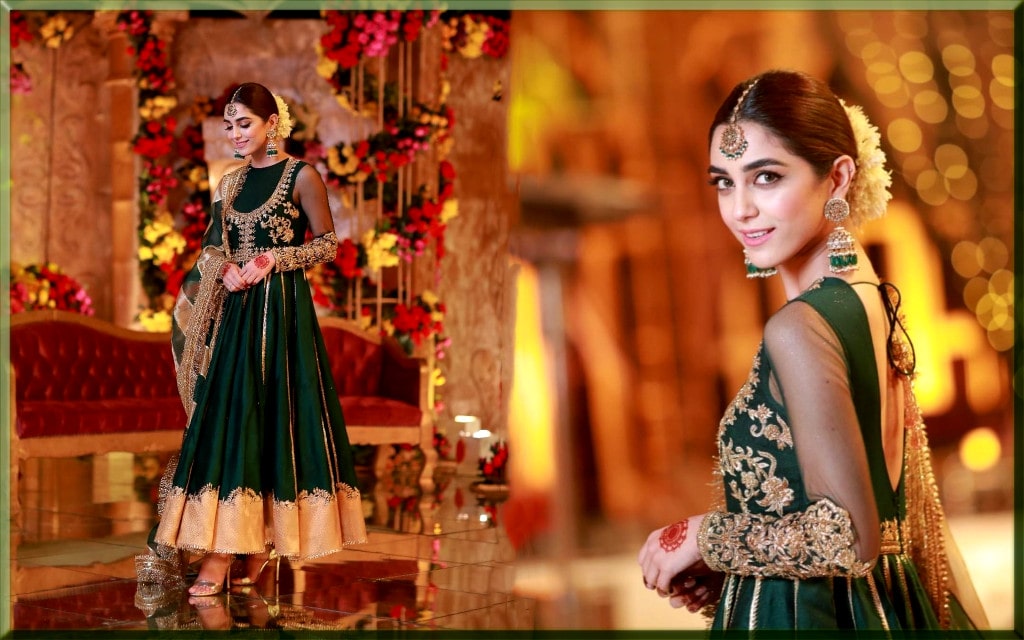 Beautiful Indian Anarkali Frock Dresses with Umbrella Flare

Anarkali frocks are one of the most stylish frocks which every woman wants to wear and appear beautiful. Check this cotton long Anarkali frock with the most vibrant colors. Nowadays, girls do not prefer half sleeves in dresses, but you can wear them in Anarkali frocks. With flare and long frock, half sleeves look very pretty. You can pair matching or contrasting bangles with these types of dresses.
Indian Anarkali Frocks for Daily Routine
Anarkali frocks can also be worn at home. You can stitch a simple frock with a flare for daily routine. Girls always try to look pleasing even when they are at home. Following is the beautiful every day wear Anarkali frock with the pajama. Khussa is looking exquisite with pajama. So, don't forget to wear khussa to complete your stylish look.
The casual wear cotton frock with the floral print is looking graceful. If you can not find a suitable tailor, then do not worry, you can easily create it at your home without any stress by creative stitching designs. It is effortless to stitch. All you need to do is to buy a great and soft fabric so you can quickly stitch it and make an ideal outfit for you on your own.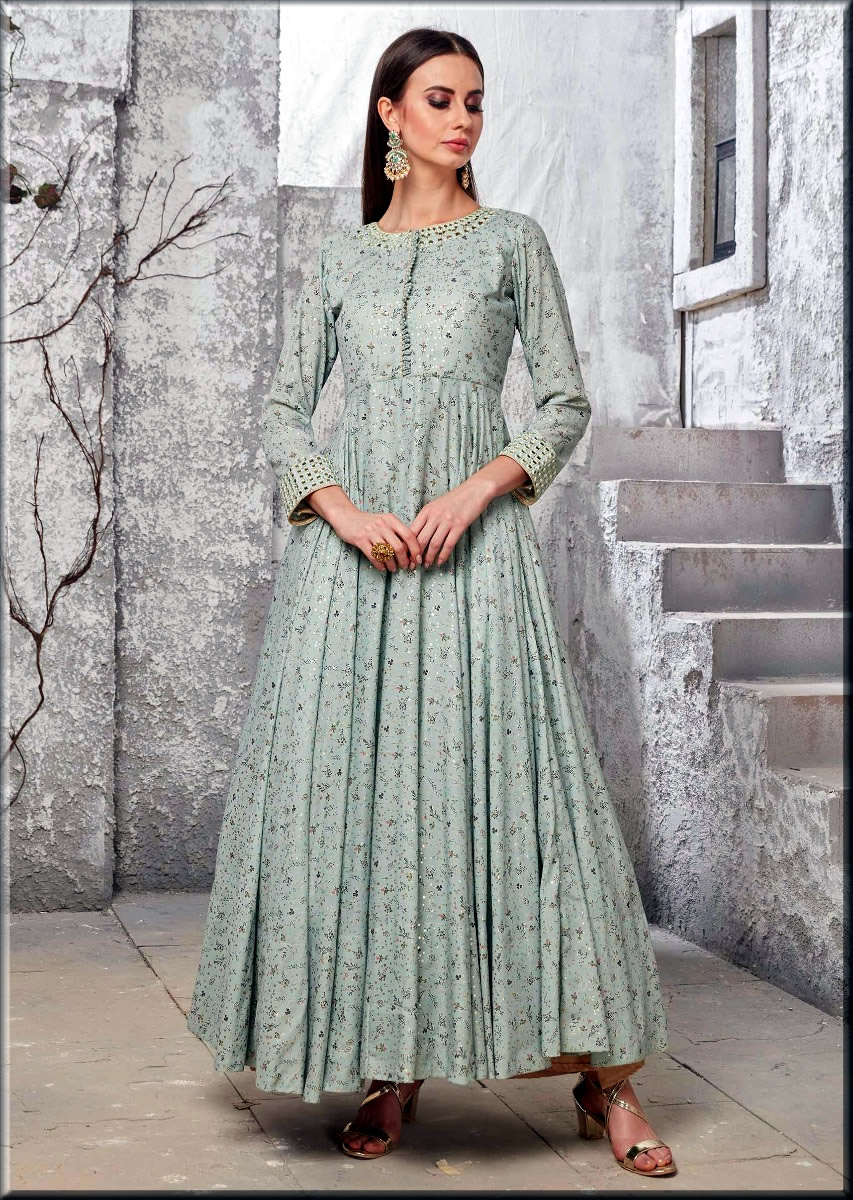 Exquisite Party Wear Anarkali Dresses
Wearing the Indian Anarkali frocks at any party or wedding event will make your personality outstanding in the crowd. So, always wear a trendy and unique outfit, so that everybody can appreciate you. This type of dress looks very traditional, and the border below with heavy embroidery looks heavenly.
Heavily Embellished Anarkali Frock
Below is the tea pink frock with the kora, dabka, and zari work on the daman and neckline along with the printed dupatta, which is furnished with the thick quadrilateral borders. Do not wear any necklace with it because the neck is already embellished.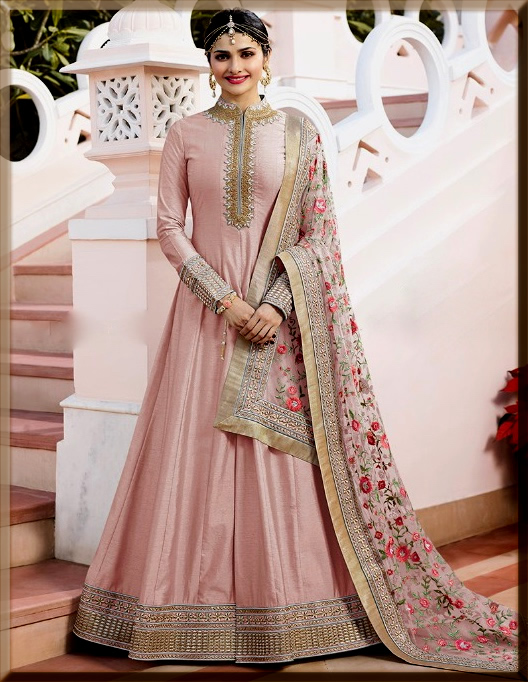 Embroidered Red Designer Frock
The beautiful red frock, which is delicately embellished with the kora, dabka and zari work. Shesha work is also on this frock for making it more ravishing. It pairs very well with the red pajama, which enhances the glory of the outfit. Moreover, a four-sided boarded dupatta is paired with it. If you want to look extraordinary at a party or wedding ceremony, then grab this outfit. It is a perfect party wear dress.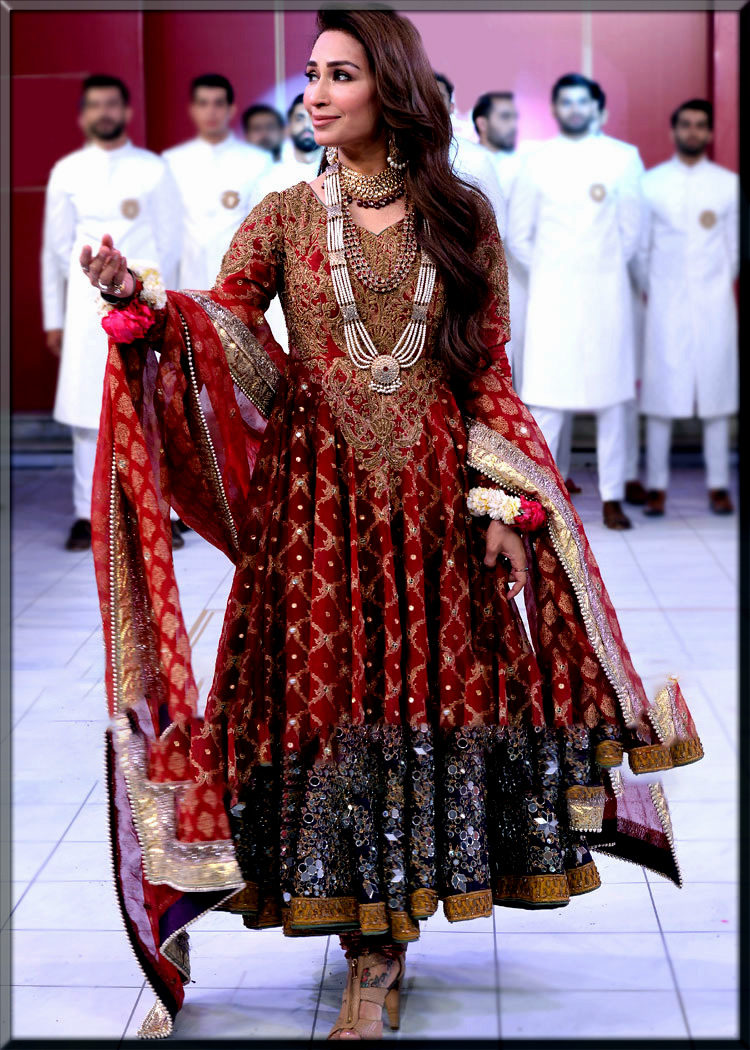 Floor-length Indian Anarkali Frocks
Here we have the stylish short Anarkali frock for the casual party. The simple short frock is beautifully furnished with the shinny laces (which is readily available in the market). As the dress is lightly embellished, pair it with the heavy jewelry if you are going to any wedding event. Bindi, with the short frock, is the best choice for making yourself stylish. Make a hair bun and wear high heels for this type of killer look. You can check out more fantastic party wear dresses by Zahra Ahmed.
Luxurious Grey Party Wear Frock
You can select the following dress for your special event — the most luxurious outfit for the party or wedding ceremony. Anarkali frock with a touch of Angrakha style makes the ideal outfit for the girls. The side-swept curls or hair bun with the front head hairstyles are the perfect match for this outfit. Chokar and bindi also look elegant with this outfit and never forget to wear heels to complete your stylish look.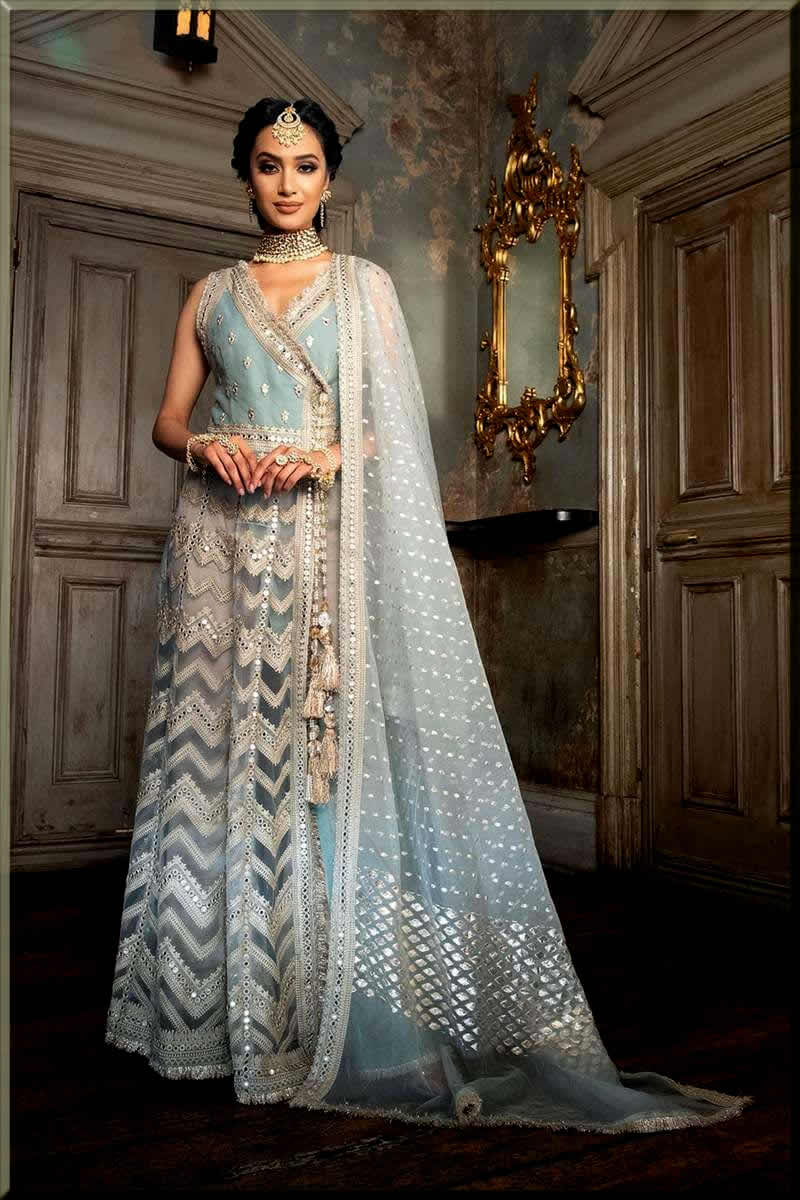 Fabulous Golden Champagne Frock
Every girl wants to look elegant and fabulous at any event. So, they always go for the trendy or unique style dresses. Check this latest gold champagne frock, with the gotta and kora work. This dress is especially suitable for a bridesmaid dress. The clothing is a little bit heavy to carry, but it is worth it. The bridesmaid is the second most important person at the wedding event, so pair it with the simple jewelry or wear a choker with it, create hair bun and get the soothing look at any event or party functions.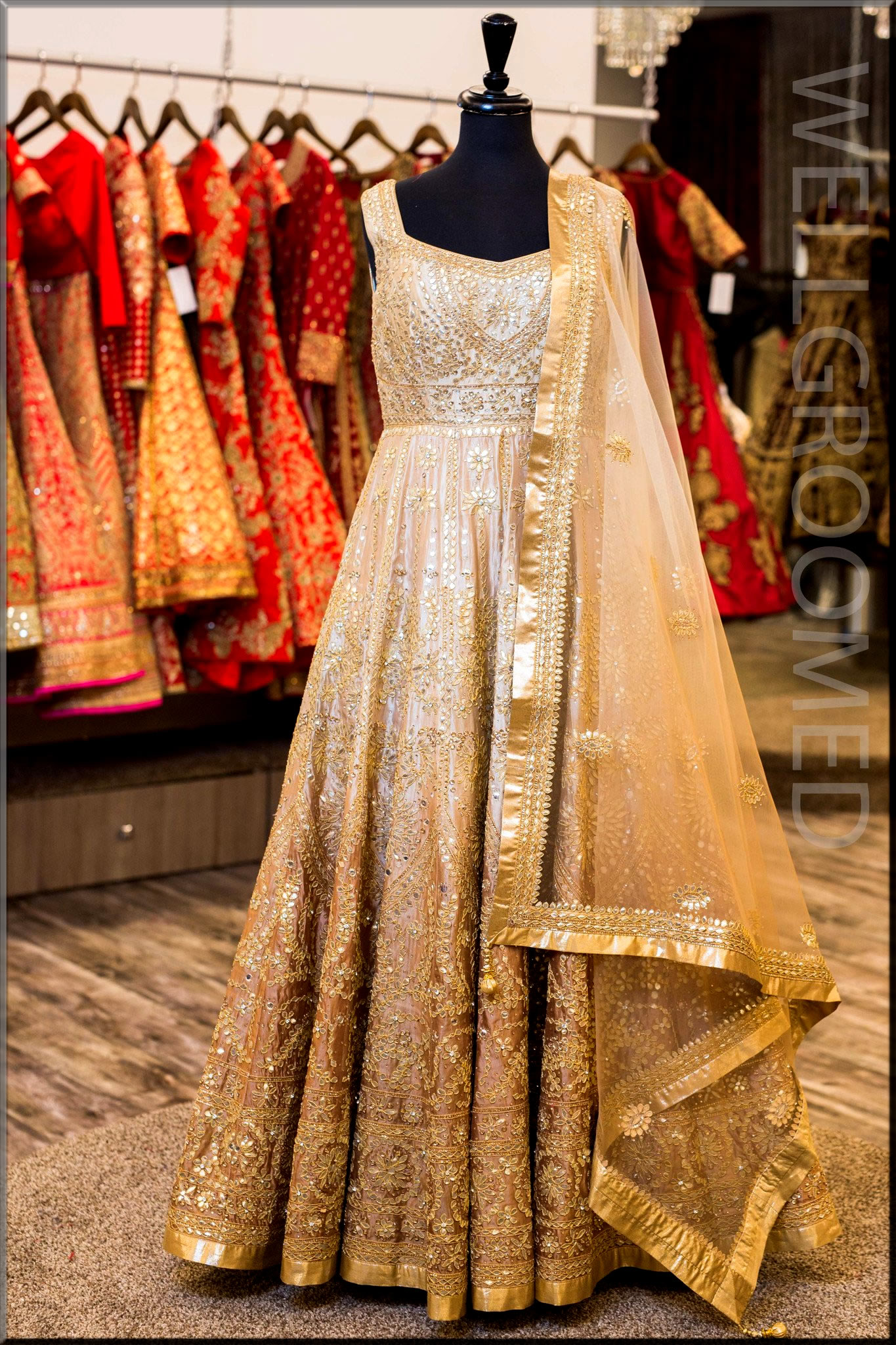 Sleeveless Grey Frock with Orange Contrast Dupatta
Nowadays girls prefer to wear a simple dress at wedding events. Check this simple and most stunning Anarkali frock along with the orange Gotta Patti dupatta. It is the perfect dress to wear on the mehndi, dholki, and mayun function, so the choice is yours. Wear bindi and bangles for making your look glamorous and bewitching. Keep your hairs open with the swift curls and puff for this look. This can be your perfect fancy engagement dress.
Magnificent Bridal Wear Anarkali Outfits
Wedding day is the life-changing event, which comes only one time in the whole life. It is a significant day when every bride wants to update her self with the unique bridal dress so that she can make her wedding event memorable and joyful. I suggest to all brides who want to look like a princess on their day, adorn yourself with the latest Indian Anarkali frock. An unusual and unique kind of style that will surely enhance your beauty and make you a perfect bride.
Bridal Frock with Gold Embroidery
Check this traditional red Anarkali frock for the bride to be fully furnished with the kora, dabka, and zari work. It is an ideal and delightful bridal barat dress. The Dupatta has a gold embroidered border, and the fabric is very sheer.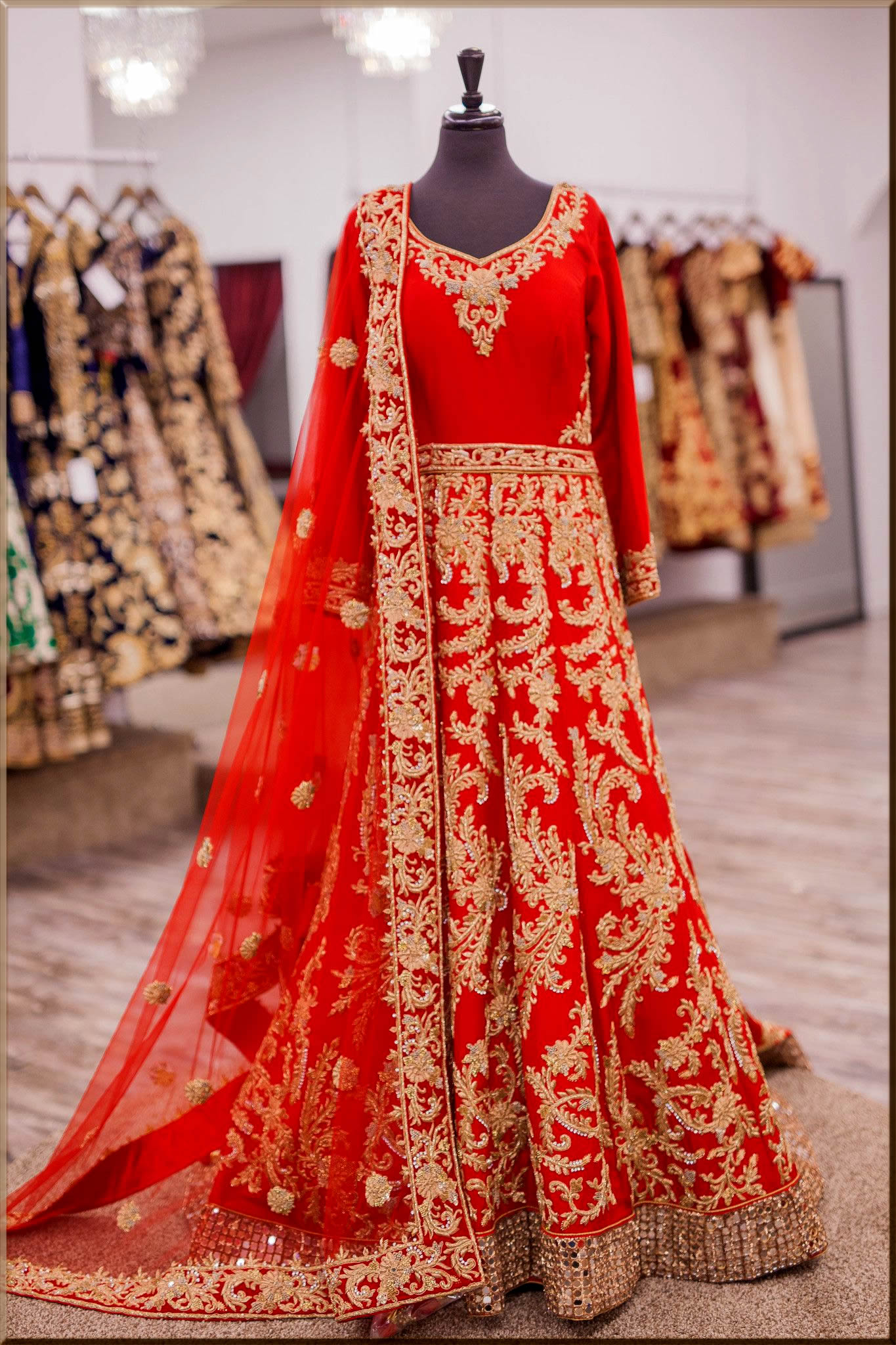 Bridal Wear Indian Anarkali Frock
Anarkali died, but her name remained alive with the Anarkali frocks. Following is the pink Indian bridal dress, which is heavily embellished with the zari, dabka, and kora work. The lehenga is also fully covered with the zari work, and there is a banarsi border on the flare. Heavily embellished, shocking pink dupatta pairs very well with this dress.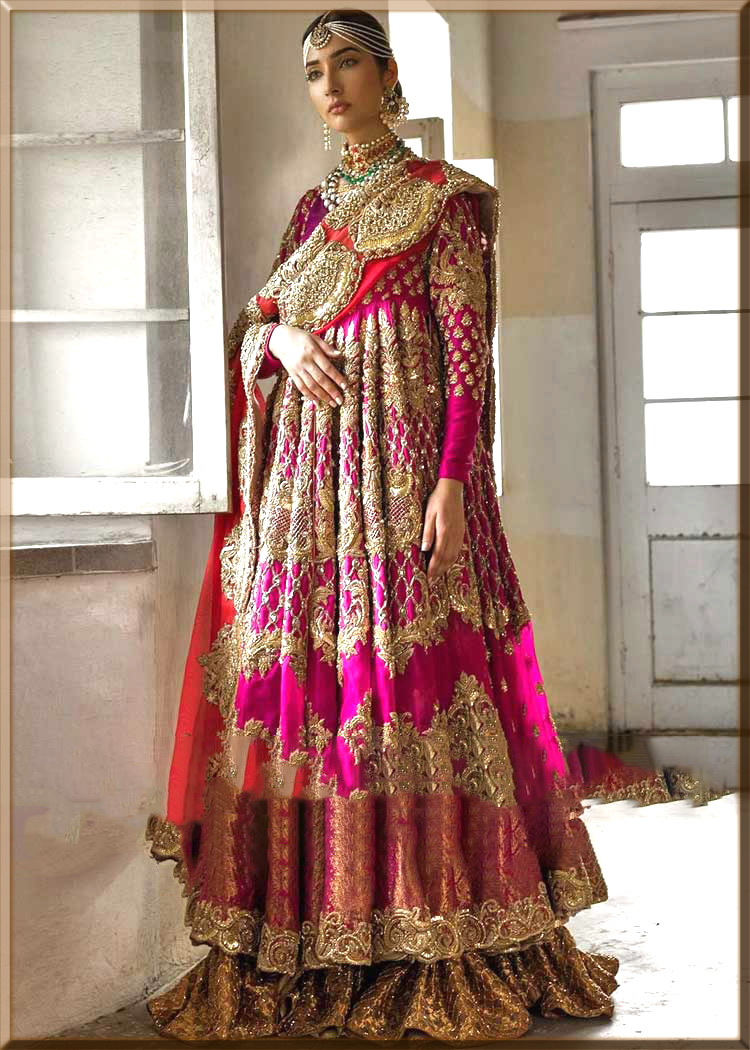 Navy Blue Anarkali Frock with Gold Embroidery
Anarkali is the extraordinary design which is very suitable for the brides. Wedding dress with gotta work in navy blue looks decidedly alluring. The full frock is heavily adorned with the golden dabka work. It pairs very well with the chiffon four-sided dabka work dupatta — the dreamy and perfect outfit for the brides. Check out more similar variety from HSY bridal collection.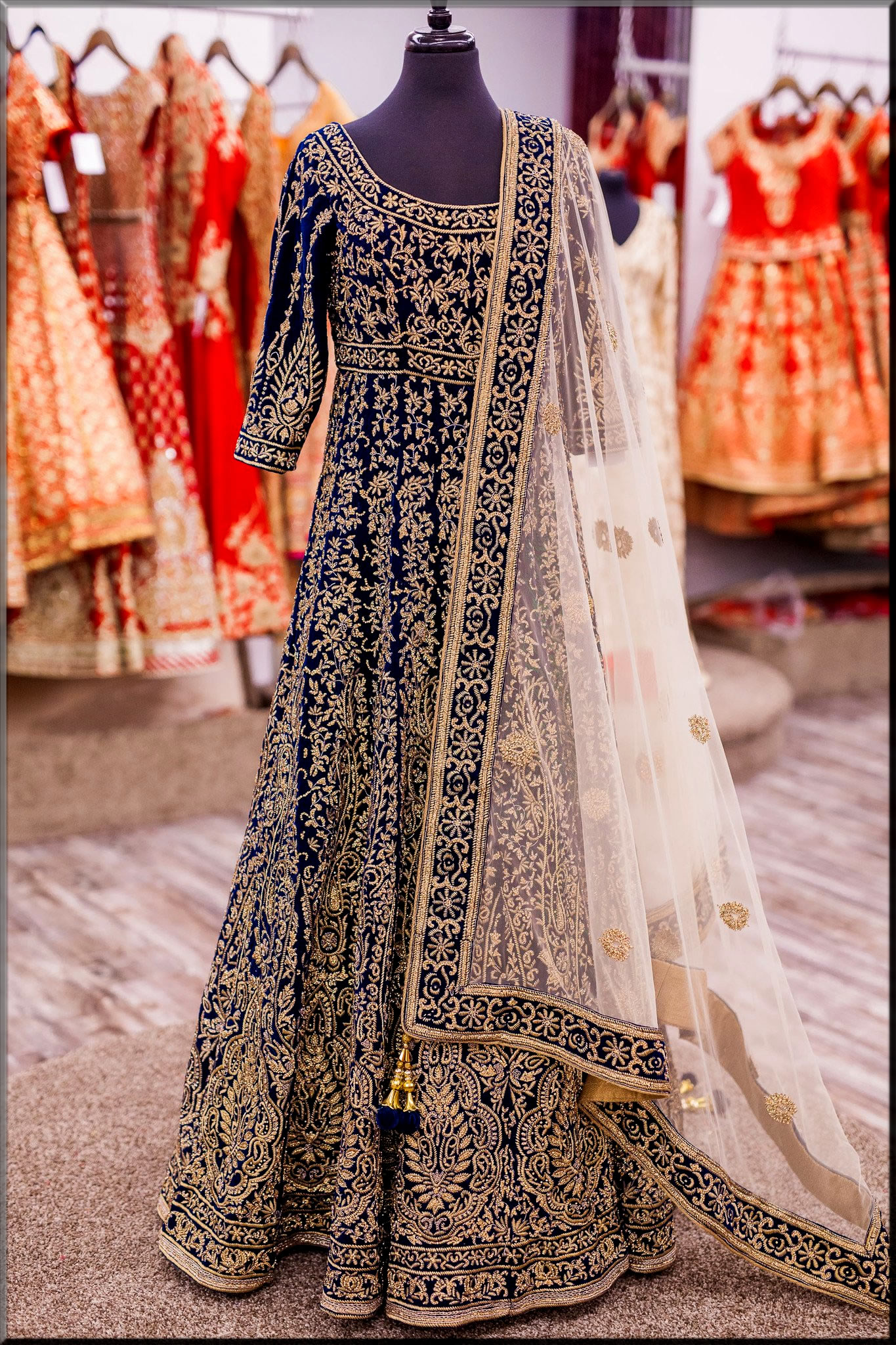 Short Anarkali Frock with Lehenga
The short Anarkali frock with the lehenga is a unique combo. It is a new trend of combining the short Anarkali frock with the lehenga. Lehenga and frock are covered in the zari, kora, dabka, and shisha work. The most ideal and significant dress for the lady of the hour for making her special day more glammy. This dress is perfect for bridal walima day dress.
Classy Short Indian Anarkali Frocks
Most of the young girl likes to wear short frocks with jeans. You can also wear short frock with Capri or trousers as you like, but if you want to get the most stylish look, then you pair it with the jeans. If you go for any friends gathering or any casual party, then the best outfit for you is the short Indian Anarkali frock with the jeans/Capri. You can add these types of shirts in your summer dresses wardrobe.
Short Frock with Tea Pink and Yellow Stripes
A short Anarkali frock with the tea pink and yellow stripes makes it a cute outfit for the young girls. The majority of the girls go for a short frock with the Capri or jeans. The best thing about short frock is that you can wear them with jeans, Capri or trousers as you like.

Anarkali frocks provide charm to your personality, and that is why every girl wants to wear them. Anarkali dresses have several designs and styles. Try a short Anarkali frock with the jeans and obtain a modern and stylish look on any party. Now I hope you will be able to select a perfect Indian Anarkali Frock for you.