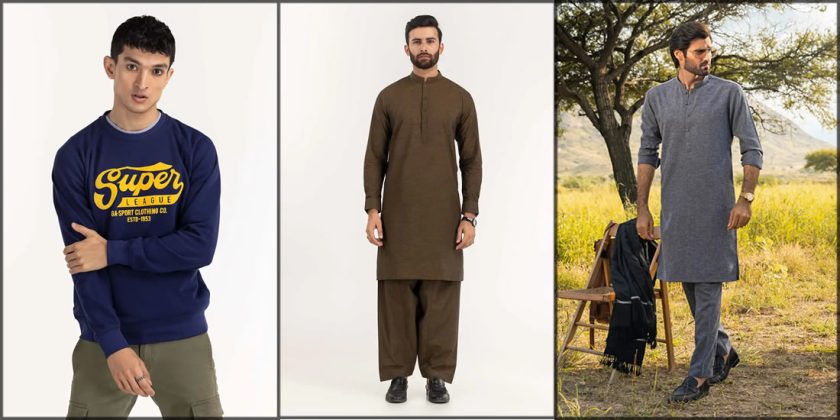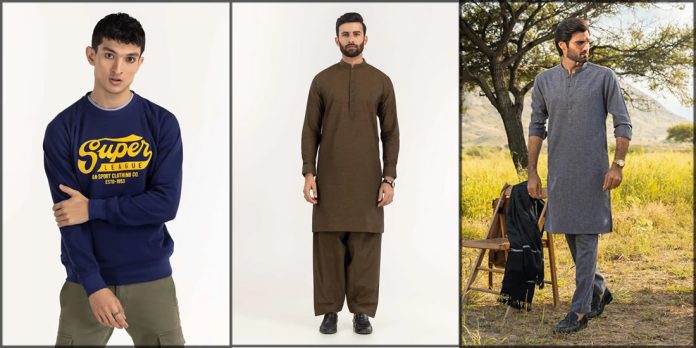 Let's unwind with the latest GulAhmed men winter collection here. The article offers an exclusive collection of stitched and ready-to-wear items. Plus, it has a comprehensive collection of sweaters, jackets, and hoodies, etc. Go and grab your favorite outfit online and at retail stores. I hope this article will help you to fascinate your season.
You can explore an exquisite range of dresses in this blog. Plus, the newest collection will help you to get the most graceful and classic look. Everyone opts for the best choice in the market for up-to-date appearance. So, you can have every style and design for your winter clothing below.
Nowadays men are equally conscious about their attires. To eliminate the factor of low confidence, try the following chic variety to rock your season. Take some time and check the entire winter collection below along with its prices.
Winter Sweatshirts, Sweaters, and Jackets Collection
The winter season is hitting the shores. Although, various men's clothing brands are launching their collection of cardigans. You can see this brand's collection that contains enough variety of winter protective upper-body garments. To cover the body from intense weather, you can have the following options to choose from the western collection:
Simple sweatshirts.

Sleeveless sweaters and jackets.

Full sleeves sweaters and jackets.

Stylish hoodies.
Warm Sweaters for Winters
To keep yourself warm, you need a sweater. There is a variety of sleeveless and full-sleeved sweaters for you. Opt for any style according to the weather conditions. Enjoy the impressive variety at reasonable costs. All of these sweaters are also appropriate for casual wear for men. Have a look at the following image gallery that offers incredible structures to you.
They are prepared from the skins of animals. This makes you feel warm and comfortable enough to enjoy the beauty of winter. Significantly, the boys who want to visit the northern area and college/university trips can opt for this style. Have a look at the following essential hoodies for you.
Cozy Sweatshirts for Mild Winters
The mildly cold weather encourages the brands to launch a separate variety. So, sweatshirts protect you from winter. These are kinds of T-shirts that are sufficiently warm enough to protect you from the cold blowing wind outside. So, go and grab the fascinating styles of sweatshirts by the famous brand here. They also make a perfect combination with casual business shoes
Warm Jackets for Frosty Looks
Get subtle looks in winter by having alluring jackets. Plus, wearing a coat gives cool vibes to you. So, never miss a chance to buy a fantastic leather jacket for your winter. Step outside and rush towards the nearest retail market to get this stylish stuff. 
Unstitched GulAhmed Winter Collection for Men
Most of men prefer to have unstitched clothes instead of buying pret. An impeccable style is a must for personality grooming. Therefore, men modify their outlooks by designing their dresses according to their choice. Here is freedom of full expression for you by the famous and leading brand.
The complete and engaging variety of unstitched dresses comes in intense colors. Plus, the inspirational styles will get you a compliment by turning heads on you. A man believes that there are only some specific colors for them to wear. But, you can see a massive cluster of colors below for your charming looks.
Basic Winter Colors for Men
People around you are always judgemental. They remain busy judging people by their character and personality. Indeed, real nature comes with a striking outfit. Therefore, you need a graceful dress that reflects positive vibes. Try the following unstitched winter dresses to reveal your aesthetic sense positively.
Youthful Bright-Shaded Outfits for Boys
Are you a college-going student? Are you looking for a unique style? Probably, boys look for bright-tone outfits to enhance their looks. Have bits and pieces of the following collection to get enchanted looks. Plus, combine your style with a beautiful pair of shoes for an entirely polished look. They will help you in achieving your dream style. Check out more dresses from the Cambridge winter collection here.
Pret Edition by Gul Ahmed Men Winter Collection
Style is a true reflection of everyone's personality. Truly, it comes from the outfit you are wearing. Some people prefer to have ready-to-wear dresses to save their time from buying and stitching. They might feel that stitching is a long and time taking process. Therefore, it comes up with a ready-to-wear variety for men. J. men's winter collection also contains classic and stylish pret attires for men.
The coverage of the latest collection is overwhelmed with chic styles. Therefore, it propels a man to have a well-refined outfit from a notable brand. It costs slightly higher as compared to the other clothing brands. But, it ensures durability and high-quality stuff that will make your season much more comfortable.
Stylish Kurta Collection for Winter
There are a variety of kurta designs for men to rock their events. Well, it may be a difficult task to select a classy kurta from a considerable variety. Several brands have an exclusive corner for kurtas only. But, Gul Ahmed's kurta collection is the most prestigious of all. Take a look at the following essential, stylish variety to make your season memorable.
Exclusive Shalwar Kameez Collection
Add more ammunition to your personality by wearing exclusive shalwar kameez in winter. There is a stylish variety of Gul Ahmed shalwar kameez for you. Combine your baggy style with a nice pair of shoes. Go for a classic style to make your season memorable. Have a look at the breathtaking collection below.
Great grace is better than anything else. Indeed, the ultimate sophistication for men lies in white. The massive versatility engages the brands to launch an exceptional assortment in white for everyone. The tremendous collection of Eden Robe shalwar kameez can also add more variety to your wardrobe. But, view the following array for winter vibes.
Gul Ahmed is the most ravishing clothing brand in Pakistan. It offers an immense variety for both men and women. As everyone knows, that winter has arrived. Therefore, several clothing brands have launched their winter collection. Here is the GulAhmed men winter collection for you. This brand comes up with the most inspirational ideas every season. After the start of the cold weather, here is the portfolio for men. Indeed, the smooth texture will make you feel comfy in winter.