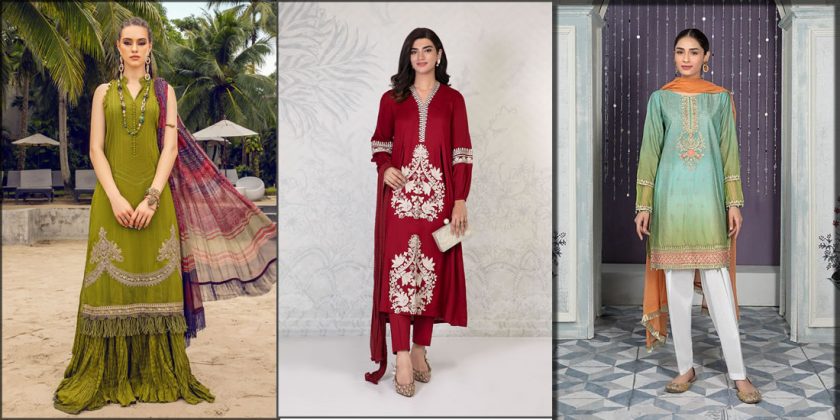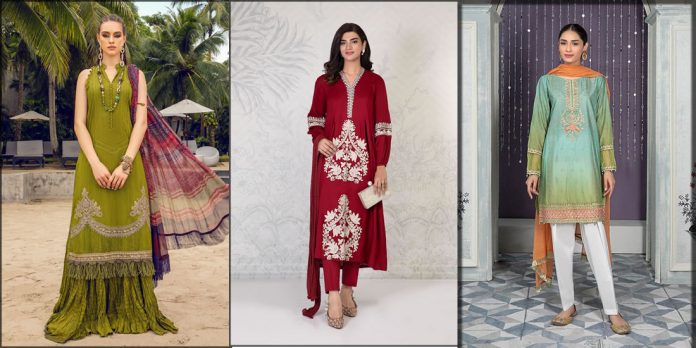 Maria B is the most renowned brand in Pakistan nowadays. Maria B summer collection has recently launched with the most amazing shades and patterns. Moreover, this notable brand offers a wide variety of pret, unstitched, and luxury collections for women of all ages.
Nicely and heavily embroidered chiffon dupatta, sleeves, and borders make the newest collection of Maria B more stylish and modern. You can purchase any dress from its official outlet or online store as you want. This season, Maria b selected the famous and beautiful television actresses Kinza Hashmi and Mahira Khan for a summer shoot.
The new arrival of Maria B is convenient for everyone. This top brand appears in the latest variety with astonishing fabrics. There is a wide variety of new arrivals, such as sarees, kids' dresses, women's three-piece semi-formals, and heavily embroidered collections. Let us bestow you some of the articles from the new arrival.
Latest and Attractive Maria B Summer Collection with Updated Prices



Recently Maria B propelled its summer collection with the minimum prize in Pakistan. If you are exploring for eye-catching and pleasant Maria B summer designs, then scroll down. This brand has launched many groups of attires, such as:
Unstitched 3PC printed lawn attires

3PC lawn embroidered suits 

Maria B chiffon collection 

Casual dobby lawn kurtas for teens

Casual pret lawn collection by Maria B

Evening wear organza and chiffon 3PC attires
Further, look at the stunning summer collection of Nishat Linen that is likewise very impressive and noteworthy.
1- Maria B M.Prints Collection for Young Girls
When you are in doubt, wear printed attire to make your look more impressive and stunning. Recently Maria B launched its latest M.Prints collection for those young girls who always dress well but want to keep it simple. In the latest collection of Maria B, you will receive incredible pattern clothes in two or three-piece forms. 
Your dressing sense reflects your personality, character, mood, and style. So always go for the proper outfit and add more charm and appeal to your look. You can wear these dazzling attires on any casual and formal occasion to make all of your breathtaking and noteworthy looks. 
Fashion Tips: With these printed attires, apply bold makeup, wear the classical beaded accessories, tie your hair in any trendy hairstyle you like the most and wear high heel shoes to get the enchanting and awe-inspiring look. 
2- Maria B Unstitched Fancy & Casual  Dresses
Enjoy your summer parties and festivals with unstitched casual and fancy dresses by Maria B. These dresses give you a remarkable and vibrant mark for your family assembling and night parties with your companions. Moreover, Maria B creates its casual assortment with a mix of dim and light hues.
The Maria B fancy assortment likewise very chic that made with fantastic color schemes such as skin, blue, teal, yellow, orange, and many more. Girls and women love to take silk dupatta because it is lightweight. Hence, the wide variety of Maria B lawn dreses are paired with the silk and chiffon dupatta for women's ease. So kamal summer collection also contains a wide variety of lawn dresses with chiffon dupattas, check it also.
Unstitched 3PC Printed and Embroidered Lawn Attires 
For home or casual wear, ladies prefer the printed+embroidered attires. In this catalog of Maria B, you receive the traditional, floral, leaves, and Mughal theme dresses in unique shades. In summer, women love to wear dark hues. Hence, the newest and latest collection of Maria B contains the fancy and casual attires in vibrant and dark shades. So the ladies can enjoy all summer adventures freely and happily.
The classy outfit encourages you to walk with confidence. Hence, you always need to pick the right outfit. In this manner, Maria B dresses help you out to make your gaze more perfect and classy. The below are the printed+embroidered dresses of Maria B that are paired with the chiffon/silk dupattas and lawn/cambric trousers. Pair these printed suits with natural makeup and lightweight adornments. You can also wear these attires at a formal party by pairing them with heavy gems. Further, explore the Warda summer collection for more variety!
Unstitched Cotton-Sateen Suits for Summer Parties
Cotton sateen is the comfiest texture that brings more solace and comfort to your life. Because it is a natural fiber that keeps you cold and calm. Moreover, sateen dresses are in demand because of their fastidious quality and solace. Maria B has a fantastic cotton sateen suit group with pretty colors, just like Manara cotton sateen dresses.
Everybody prefers to look different and pretty in fashion. If you want to style your clothes according to your needs and wishes, then Maria B's unstitched fancy dresses are the best. These unstitched varieties will stand out amongst other decisions that incorporate three-piece embroidered cotton sateen suits. If you are going for any summer event, then keep the following things in your mind:
Use lightweight makeup with a heavy dress for a more striking look.

Pair your classy outfit with dazzling footwear because it also plays a vital role in demonstrating your personality.

Try to wear traditional adornments to grab the cool gaze.

Hold the classy bag and walk with the courage to inspire the world. 
M.Luxe Fabrics Collection for Women

Have a look at the classy three-piece lawn embroidered suits of Maria B for women that are paired with the tissue silk and organza jacquard dupattas. These elegant dresses are beautifully adorned with the schiffli embroidered lawn, pearls, and motifs. Some key points about the suits are: 
Printed and embroidered one center panel and two side panels


Printed and embroidered lawn sleeves borders

Embroidered ghera patch and Patti with dyed and embroidered trousers.

Fancy ghera organza lace

Embroidered organza sleeve lace 
Maria B is the leading brand that not only gives you quality fabric also gives some embellishments like lace, borders, patches, and motifs. So you can modify your dress as you want. Pair these suits with lightweight adornments to make all of your breathtaking and jazzier gazes. You can wear these attires at any formal or casual gathering to get the breathtaking flash. Moreover, visit the Mushq summer assortments for more embroidery and impressive suits. 
3- Stitched Collection for Young Girls

Feel free and buy the pret attires for your casual and formal events. Most of us like to buy the pret attires because we don't want to face stitching difficulty. In the ready-to-wear Maria B collection, you will receive the lawn, dobby, organza, chiffon, and silk dresses in amazing tints. You also get an amazing variety of Evening wear in Maria's pret section for adding more grace to your evening.
Maria B used the fresh and bright hues with the newest pattern and designs to make its latest pret collection more unique and incredible. You can wear these suits at casual and formal events to get a decent and alluring flash. All you need is pair these attires with lovely accessories and footwear to make all of your breathtaking and noteworthy gazes. For more pret attires, browse the Chinyere summer assortments.
Casual Dobby Lawn Kurtas for Teens
Dobby lawn is another comfiest and reliable texture that will shield you from the hot sun and keep you calm. So you can freely enjoy the summer season. Have a look at the dobby lawn kurta collection of Maria B that is very chic and amazing. 
You get the stunning kurtas designs for women made with dobby lawn texture and bright shades in the kurta group of Maria B. You can pair these kurtas with any style of the bottom as you want. If you are moving to a formal event, then the below kurtas are the best choice to wear. With these kurtas:
Wera the long circular hoops

Apply the nude makeup with smokey eyes

Never forget to apply the highlighter for the glowing flash. 

Wear modern yet formal footwear and get a splendid look. 

Knot your hair in a classy bun.
Casual Pret Lawn Collection by Maria B
For a casual get-together, you need a nicely embellished dress that adds more charm to your gaze. The below three-piece casual lawn dresses of Maria B are awe-inspiring, giving you all bright and dark shaded attires with the latest pattern designs. You can likewise wear these casual attires at formal gatherings to make your gaze more perfect and glamorous. All you necessitate is to pair these attires with magnificent accessories to make all of your breathtaking and stunning looks. 
In the casual catalog, you get the following style of outfits.
Long shirt with trouser

Long shirt with Capri

A-line shirt with palazzo
Pick any style and add more attraction to your look. Combine these outfits with peep-toe footwear and bold makeup to increase your beauty. 
Evening Wear Raw Silk, Organza and Chiffon Attires
Wants to look pretty and fantastic? Further, looking for something marvelous to wear? Then, have a glimpse at the Maria B evening wear that presents you with stunning dresses. The long straight shirts have their lovely grace. Moreover, they come up with an elegant Capri that adds much elegance to the overall evening party wear outfits.
For evening wear, you need classy yet decent attires. Maria B is the only brand that each season offers a wide variety of evening wear for ladies of all ages. So the ladies freely enjoy the formal event by wearing a special and fabulous outfit. With these dresses, keep your makeup minimal to get a decent flash. Further, skip the necklace and simply wear the lightweight hoops to obtain the stunning gaze. Have a glimpse at the Noor by Saadia Asad luxury lawn collection that you can also wear on evening parties for adding more attraction to your flash.
Everybody obliges to look different and beautiful in daily routine and functions. Maria B is the most versatile and best brand in the Pakistani fashion industry that each season offers the renewed pattern cloths with vibrant and lovely shades to make your summer season fabulous and stunning. You also get a wide variety of hand-embroidered dresses in the newest summer collection of Maria B. The prices of the above dreses are slightly higher than others, but it gives you the quality dresses that surely make your flash more breathtaking and striking.