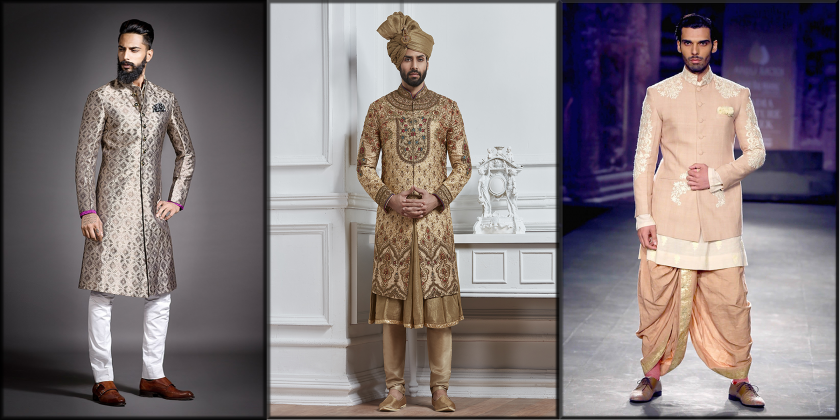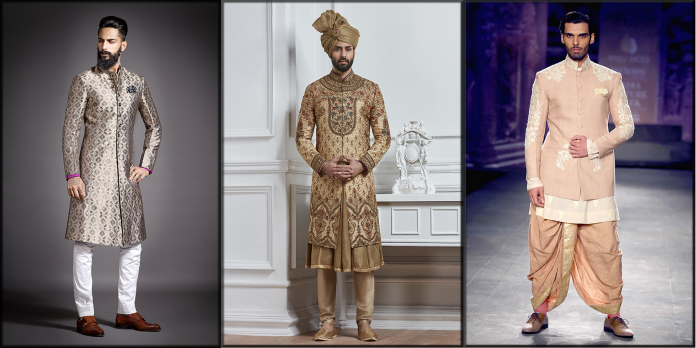 Sherwani fashion in India and Pakistan go hand in hand. Sherwani is a personality builder, and most people prefer this trendy style. Guys have limited options to choose their attire, so they prefer to wear Sherwani at the barat event. If Groom wants to spend some time on wedding dress planning, so he can browse for Men Wedding Sherwani Collection. Sherwani gives you a traditional look. As a result, it's the most preferred wear for the men if they want to show off the stylish and vibrant conventional look. It is suitable to wear for semi-formal events, festivals and occasions.
It is a knee-length, smart-fitting and full sleeves coat worn by the men with a stand-up collar. That is known as the extended length coat in Pakistan and India. In the British rule that is associated with the Muslim aristocracy. Its parried with a pyjama, a churidar, a shalwar or a dhoti as the lower body clothing.
This dress mostly assembled with Kurta and Turban. In the British colonial period, worn as the uniform of Mudaliyars in Sri Lanka. Quaid-e-Azam Muhammad Ali Jinnah has worn Sherwani frequently after the independence of Pakistan. Following Him, the president and prime minister of Pakistan started wearing formal black Sherwani.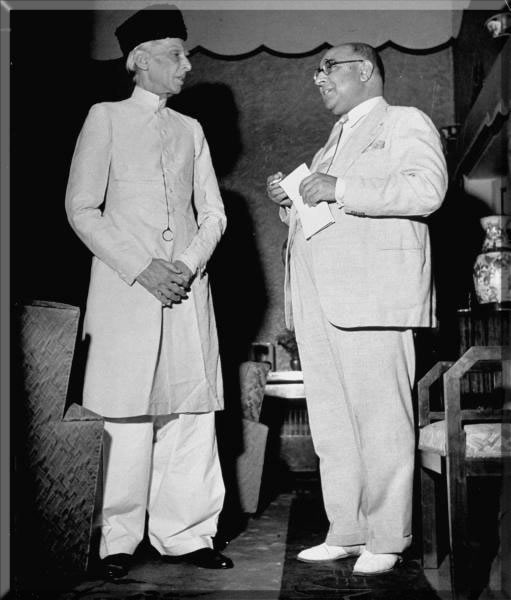 Designer Wedding Sherwani For Men



The audience always notices the groom's wedding dress. So, if you are slim, tall and have a healthy personality, then wear a Sherwani; otherwise, go for a suit. Sherwani mostly featured with embroidery and patterns. We are going to present the latest Men wedding sherwani collection by top designers  in the rest of the article.
Achkan Wedding Sherwani Collection
The Achkan word has driven from the Angrakha style. The people of the Sub-Continent wore that type of dress. Achkan from the front opening style mostly distinguished from the Sherwani. It has strings side opening tied and known as bazo bandi, but Sherwani has a front-opening style. Achkan goes with churidar or dhoti. Footwears suitable with Achkan are Peshawari chappal, Mojari, Jutti, Kholapuri and Paduka.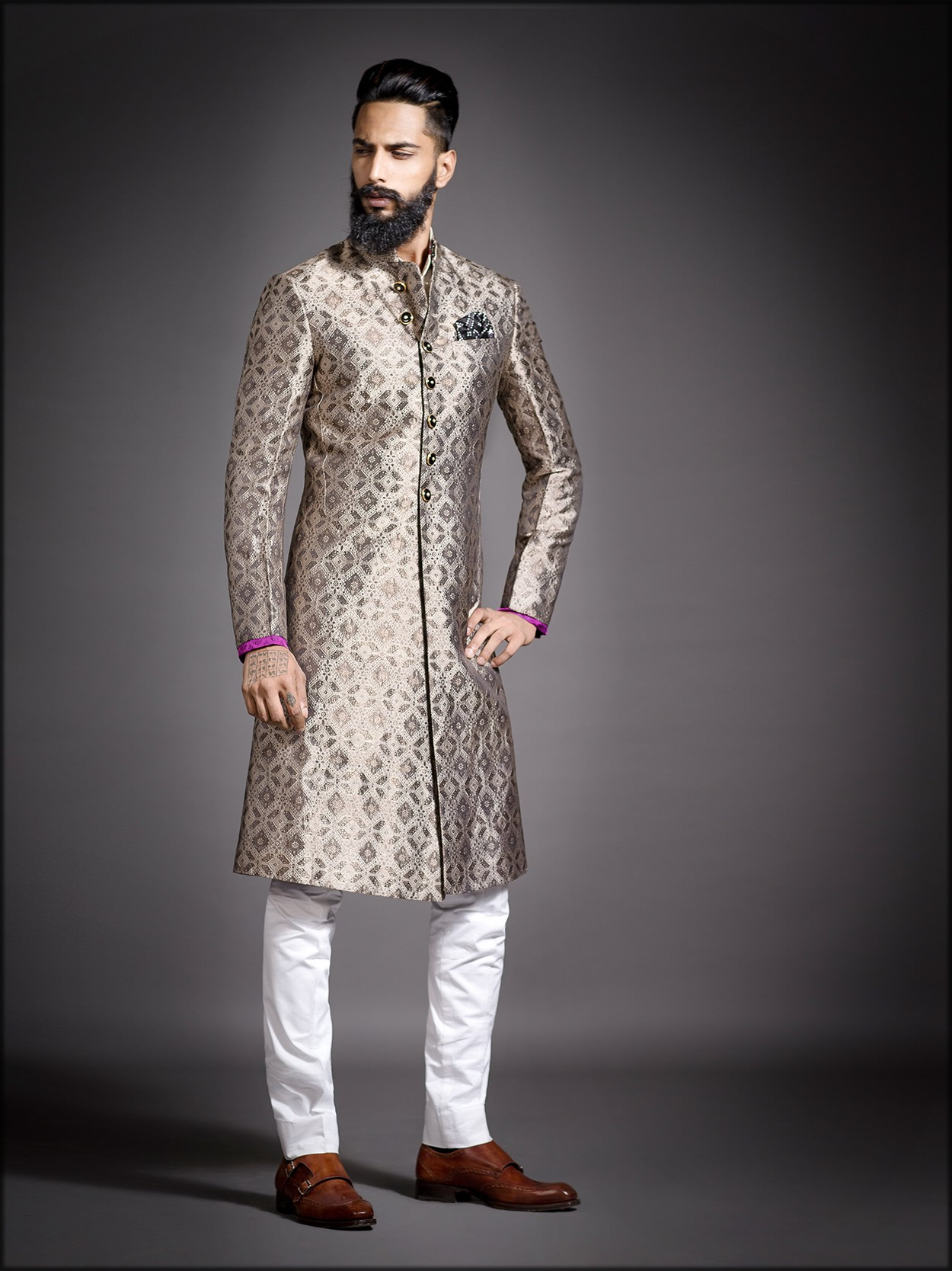 Achkan With Different Styles
There are different styles of Achkan, decorated with small size buttons and beautiful brooches. Elegantly embroidered Achkan with churidar contrasting pyjama, makes the groom look attractive. Embroidered achkan provides you with the same attention as the bride.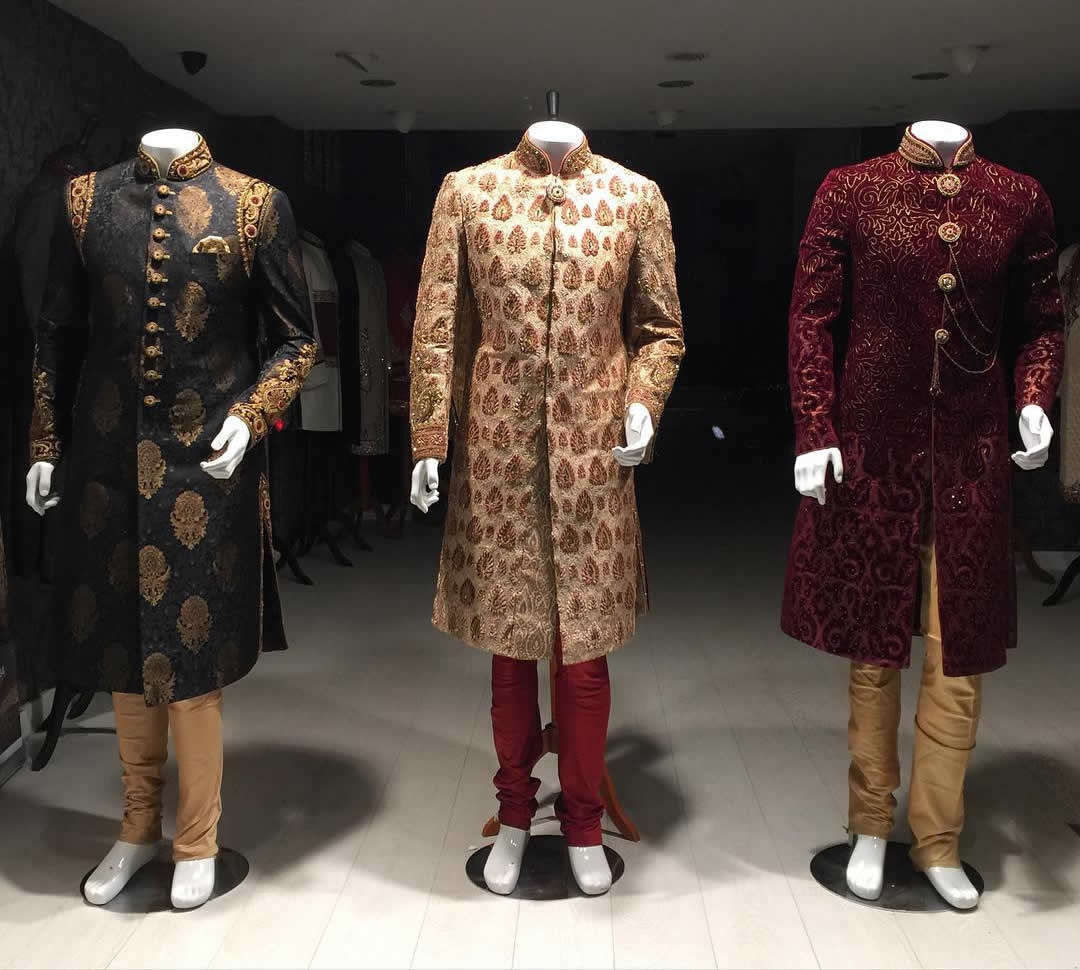 Modest Yet Stylish Achkan
Most grooms don't like to wear heavy embroidered Achkans. There are amazingly simple Achkans available as well with smart buttons. Below you can see, model is wearing a long neck kurta and churidar pyjama. Grooms often wear shawl or turban with achkan. You can easily match a beautiful shawl with Sherwani to achieve this look. Check here most trending engagement dresses for men.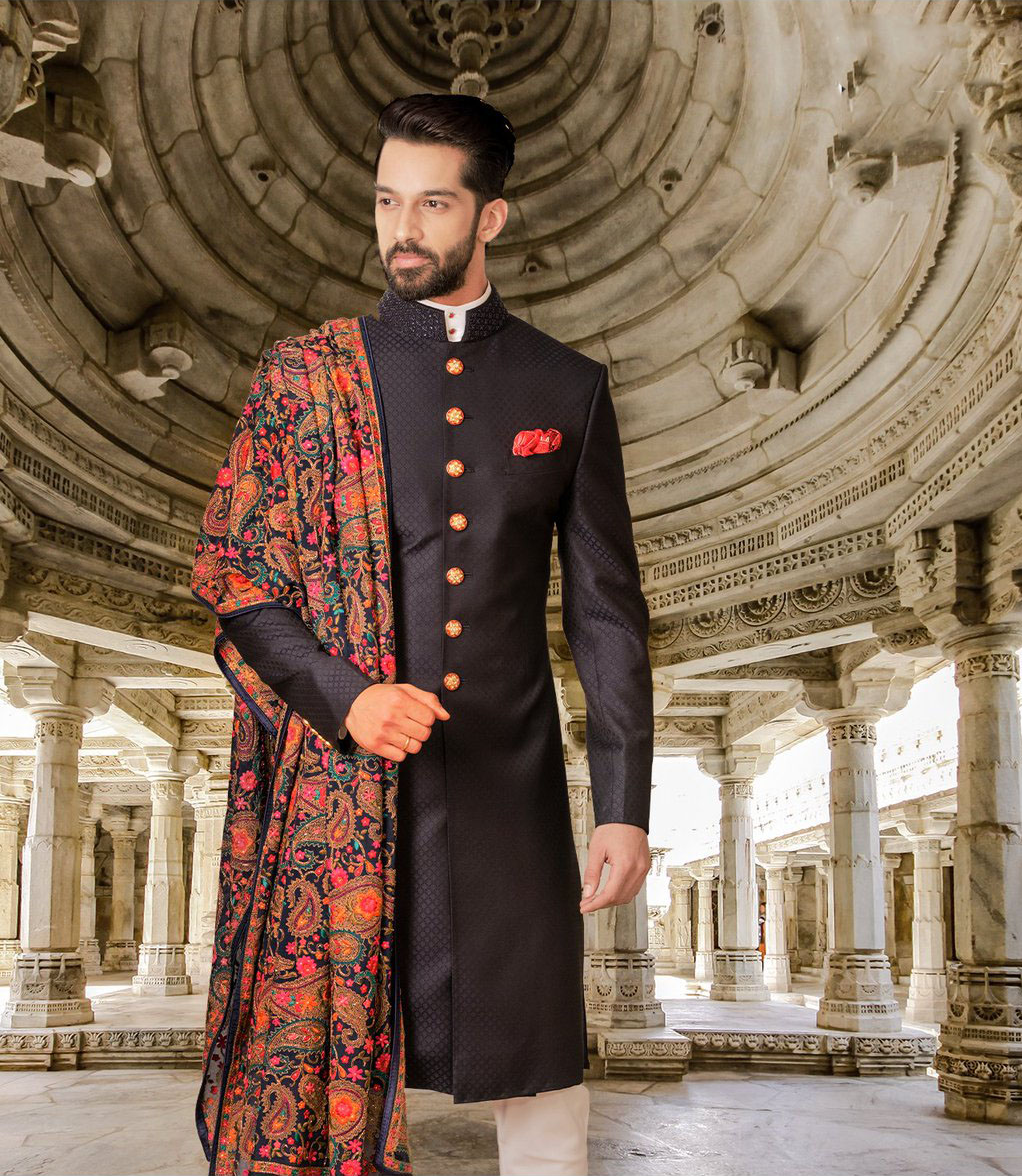 Symbol Of Royalty, Achkan Style
Ehsan Khan, in a photoshoot, wore a modern achkan style. The following picture shows you how achkan gives you a royal look. Elegant achkan with golden embroidery and golden pyjama is a big thumbs up. Blue velvet shawl with golden embroidery gives you a regal vibe.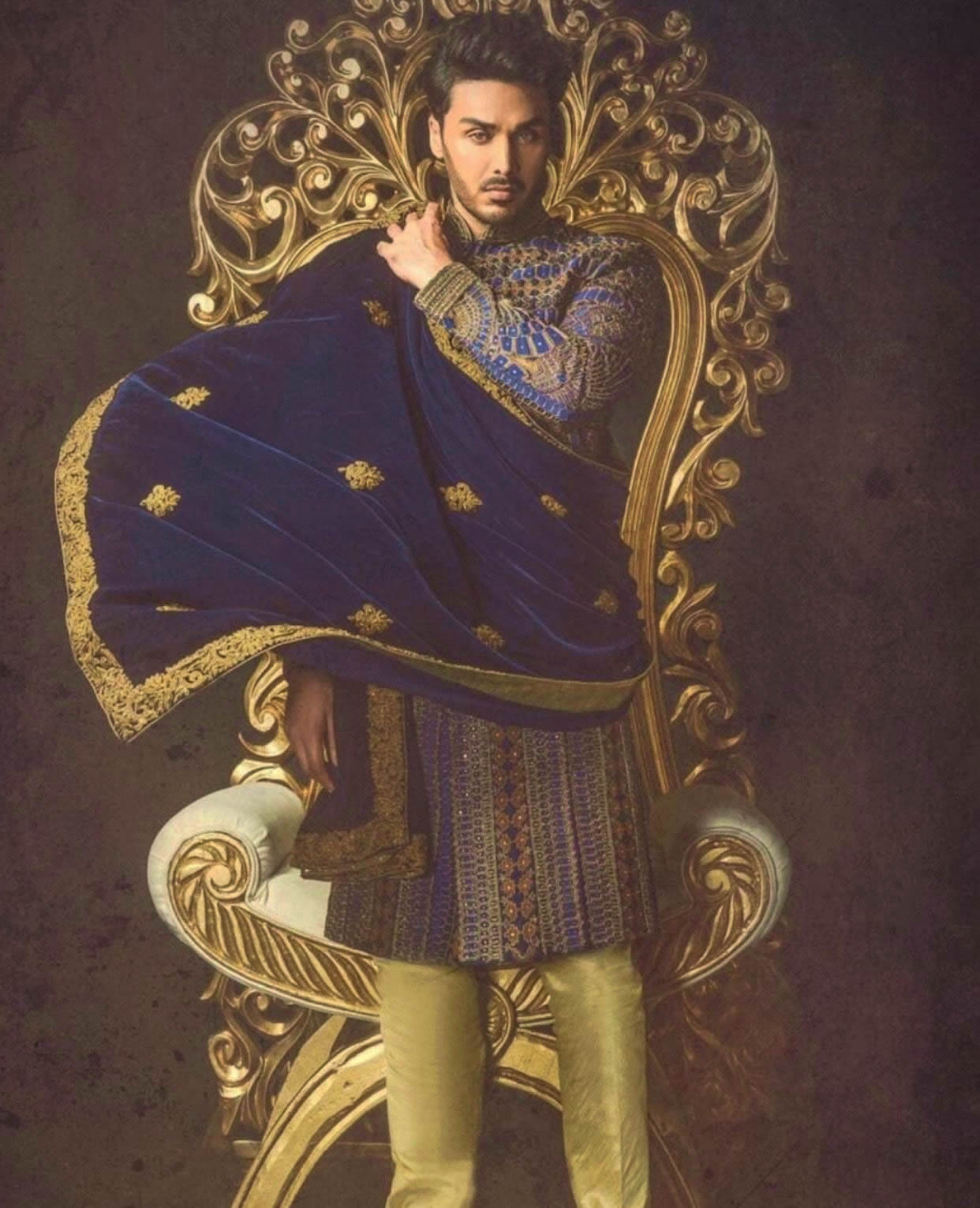 Angrakha Sherwani Style For Men
Angrakha is also known as angarkha, was worn by the men of Sub-Continent. The people who can carry this type of outfit confidently can wear Angrakha style sherwani comfortably. It has all kinds of sherwani elements like collars, cuffs, necklines and even mirror work. Rajasthani people like to wear the Angrakha style dress that is also known as bandi.
Exclusive Angrakha Silk Sherwani
A blue Angrakha style silk sherwani with Embroidered neckline and cuffs with matching dhoti look very eye-catching. Khussa with dhoti style gives you a traditional vibe. This outfit is not only for the groom but also for the other men in the wedding. The navy blue color will calm your personality, and intense blue color will give clear restorative thought. You can try this suggested look.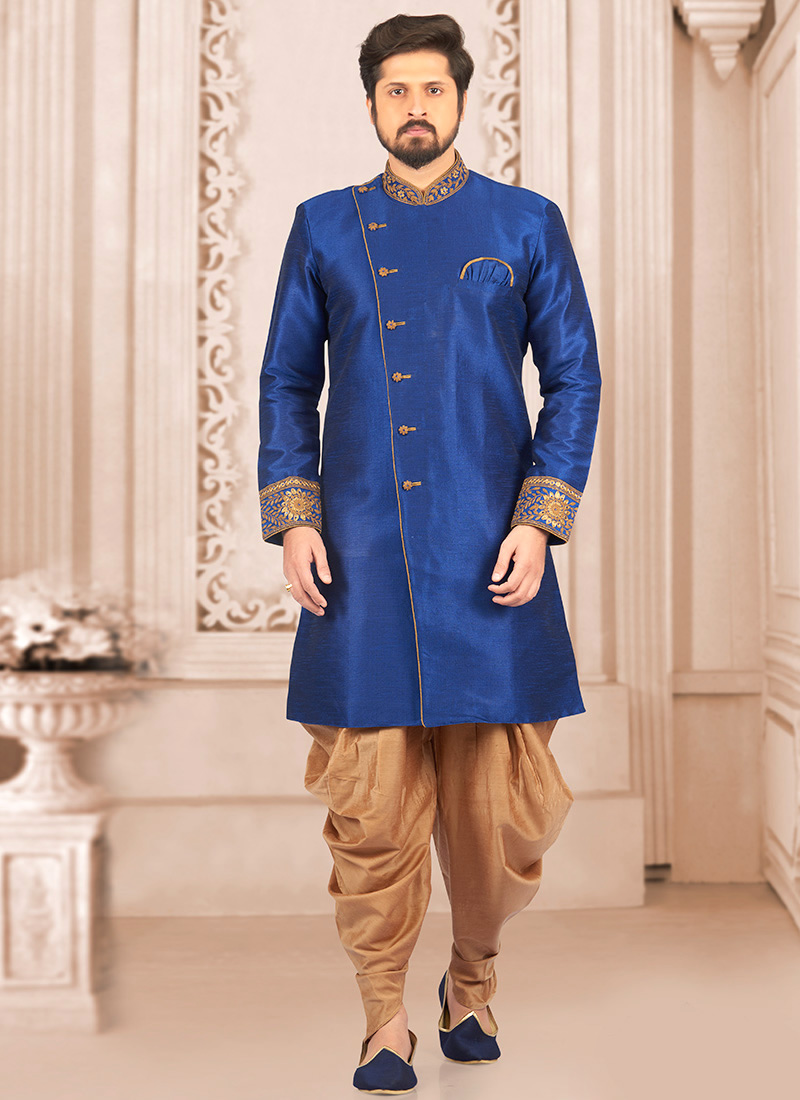 Brown Angrakha style sherwani with white pants is very well proportioned. It highlights your main features. With the help of the following picture, you can see the color contrast, for instance. He is wearing matching Kussa color with Aligadhi styled pant. You can take some excellent ideas from this suggested look.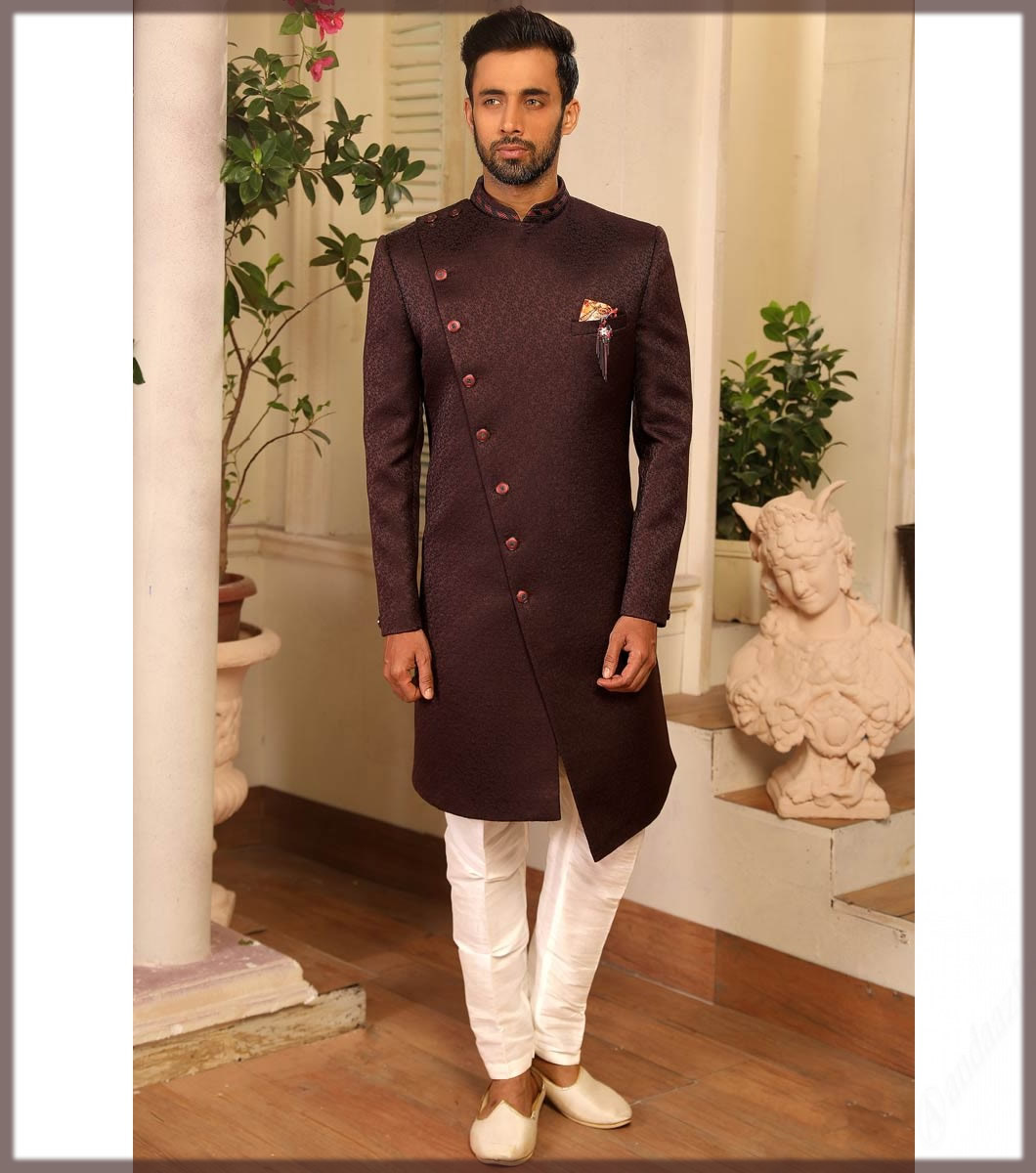 INDO-PAK Western Sherwani
1960 and 1970- were the years when the Asian culture inspired the west. That was the era when the west was in the influence of Asian culture. As a result, they were inspired and added Asian trends on their own. Some accessible Asian and Western man collection is Jodhpuri suites, Angrakha kurtas, kurtas with jackets, and Achkan.
Asian and Western Mix: Navy Blue Jacquard
It is a mix of eastern and western dresses. Navy blue jacquard looks so stunning with the neckline embroidery. He is wearing a pant with simple black shoes. A brooch also enhances the beauty of attire.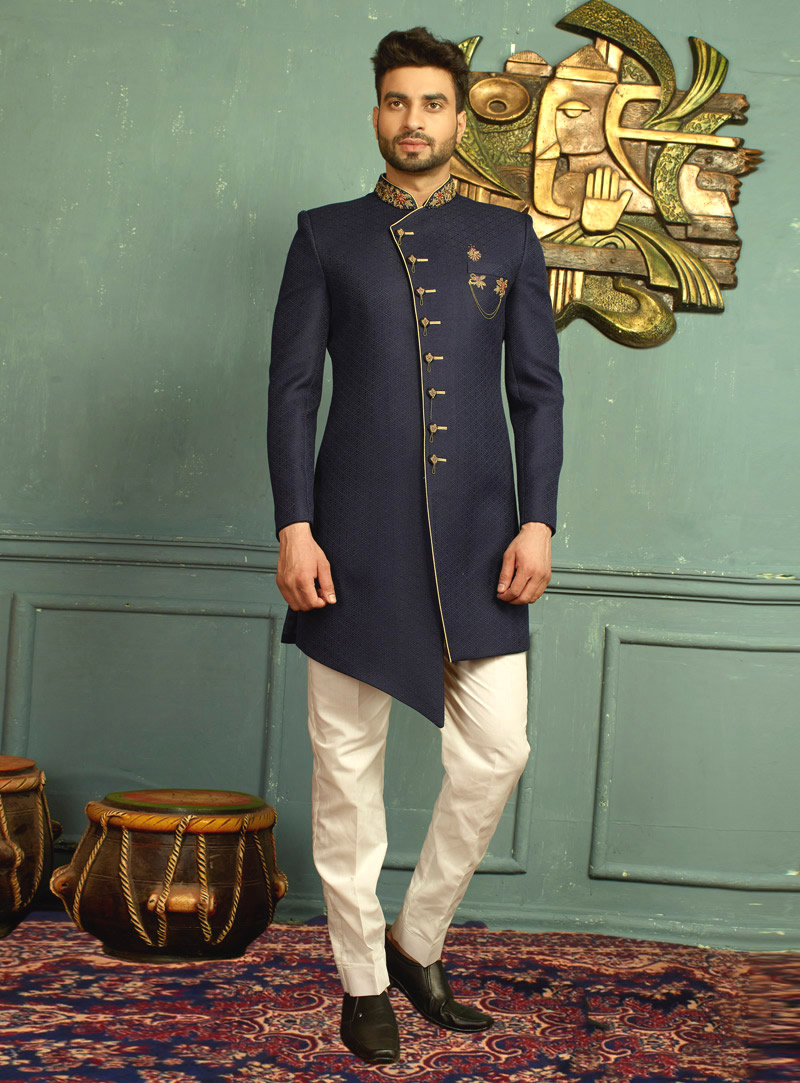 Ravishing Jacquard Silk Sherwani
It is a printed jamawar and a little bit embroidered attire with elegant studs. The model is wearing an exquisite colour contrast between yellow and brown. The pocket brooch is enhancing the jacquard print.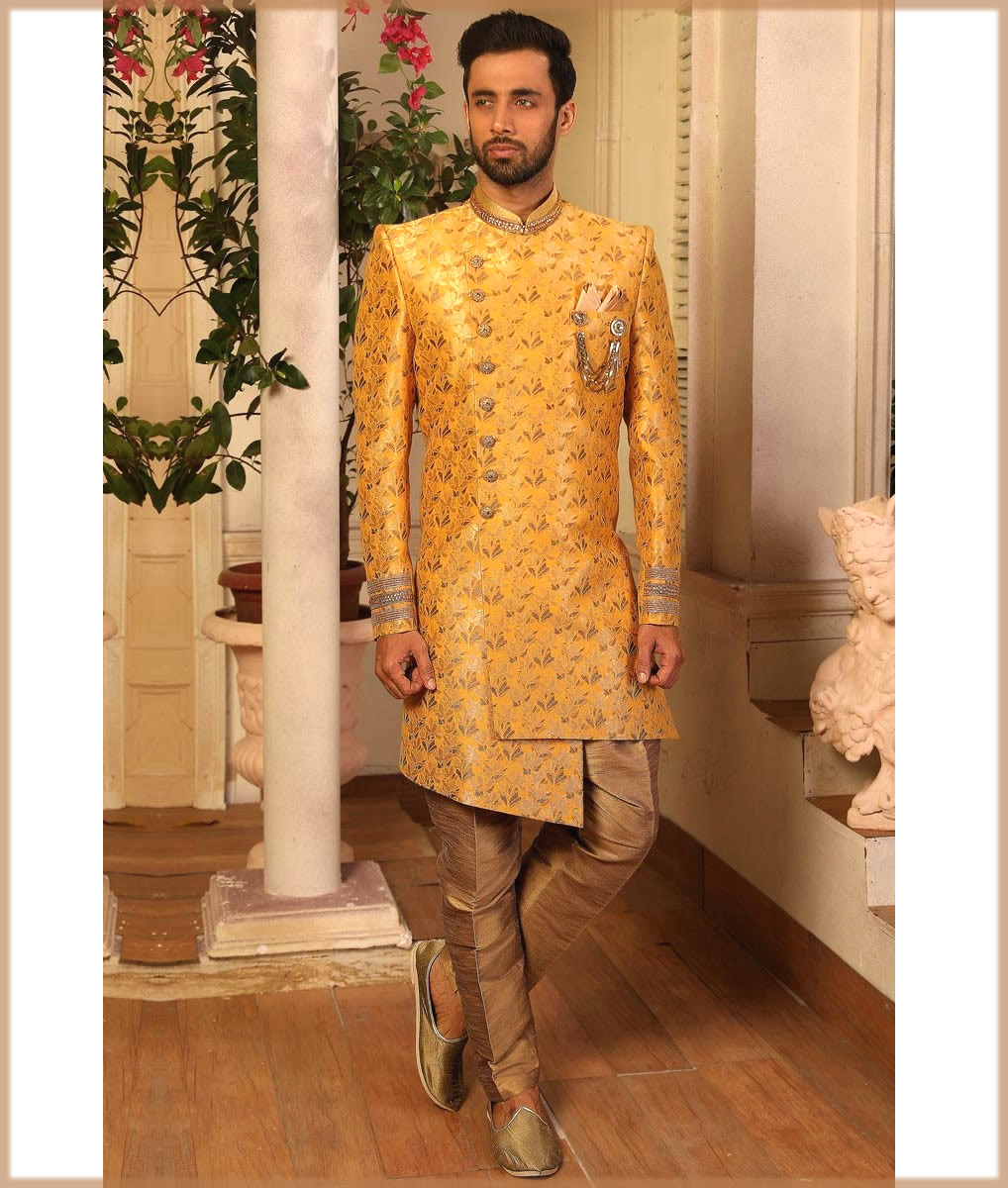 Stunning Men Sherwani Collection
Pastel pink color gives you a soft look. Round neckline jacket with gold studs and jewellery reflects our rich culture. Its modest but modern Sherwani that enhances the right features of the person wearing it.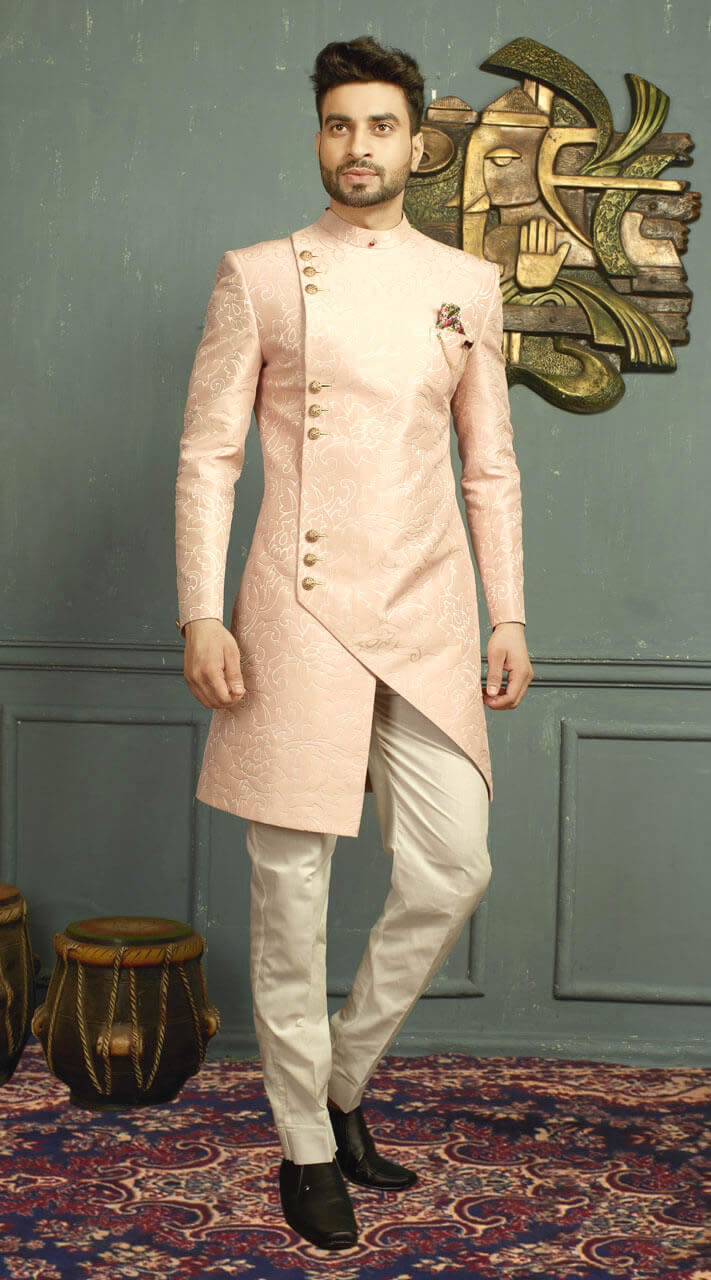 Stylish Jacket Sherwani
Jacket styled sherwani is a beautiful mixture of Asian and western traditional designs. It is shorter in length, suitable for heightened men. This shorter cut dress can be, worn at barat and reception. It's made with fabulous material like raw silk, tusser, Jamwar and Banarasii and is easy to wash and clean.
Pastel Pink Jacket Style Sherwani
It has minimal embroidery on the light-weight jacket. It is somehow more in length than a regular coat. Jacket mostly uses with Kurta and dhoti that makes your look traditionally handsome.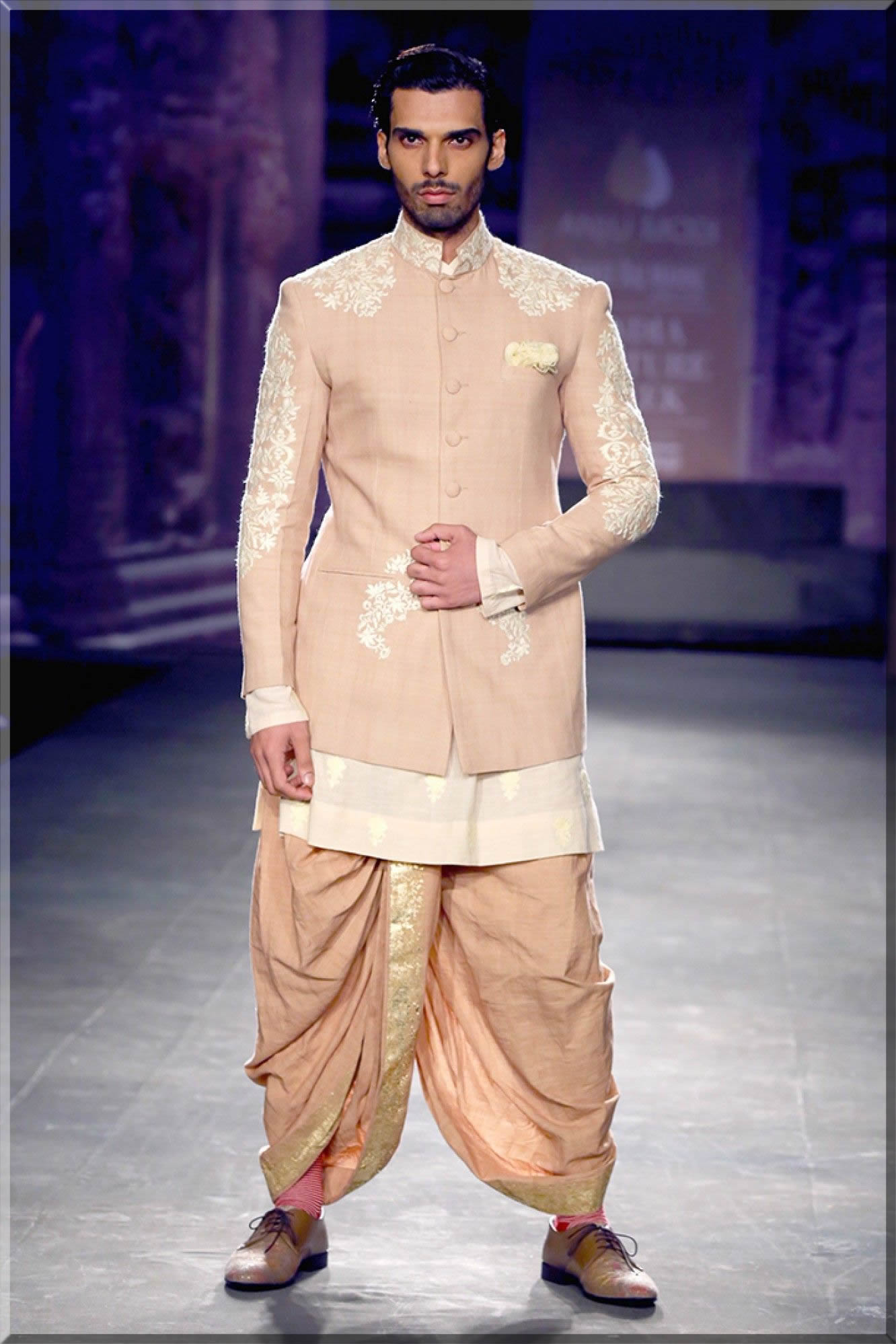 Maroon Jacket Stylish Sherwani
He is wearing a jacket sherwani with front embroidery kurta and pyjama paired with flat khussa matching with the coat. This Ravishing Jacket is for those who can carry this kind of attire.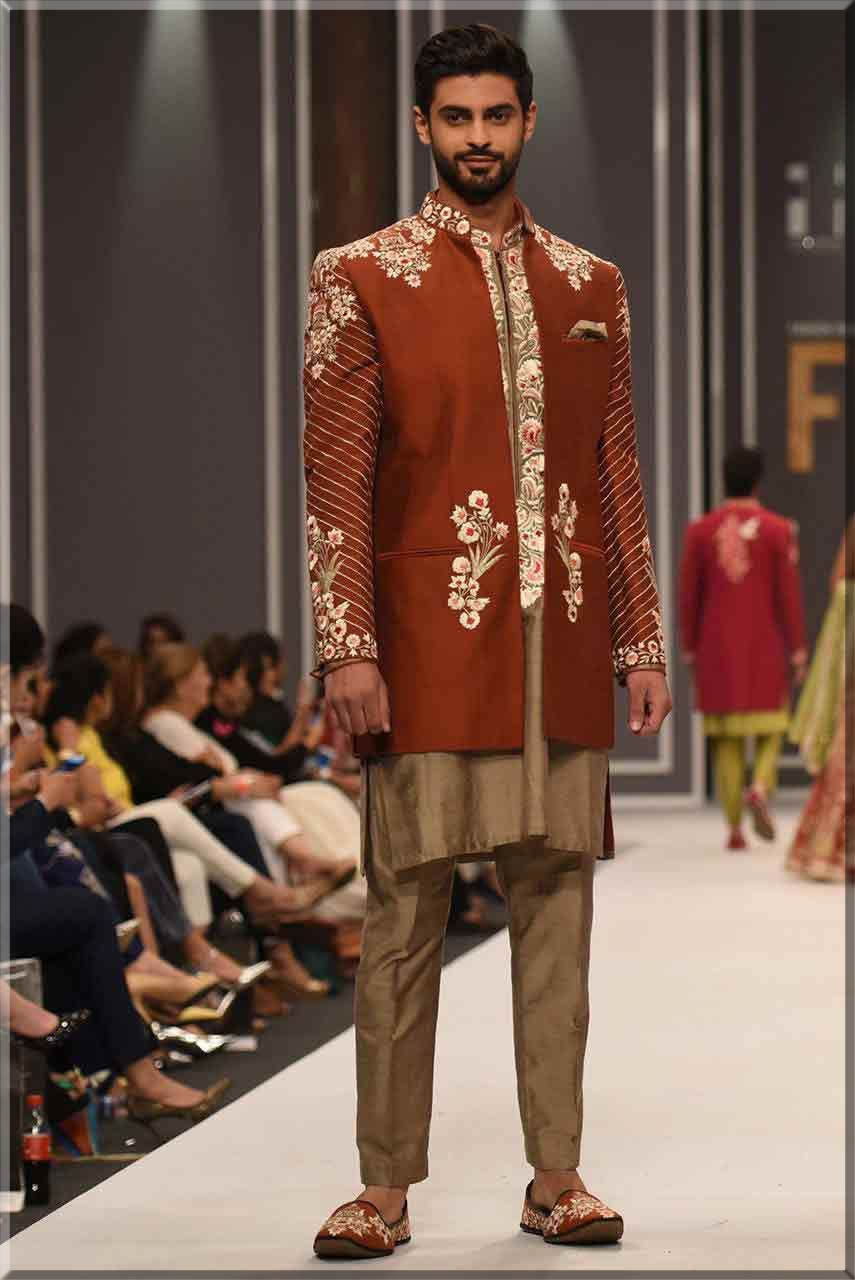 Anarkali Style Sherwani
If you want to experiment with traditional clothes, then go with this Anarkali dress and used it with churidar pyjama. It is an elegant, edgy, and classic style. In Bollywood, this kind of attire is often seen, especially in historical movies.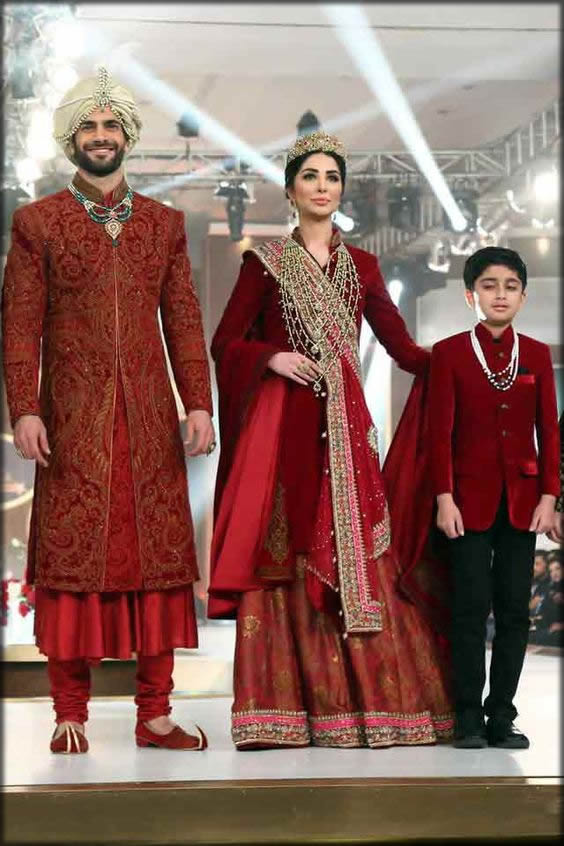 Anarkali Men Sherwani Collection
You can wear copper and purple motif print with golden studs in grey color. This outfit has the royal blue Frock, churidar pyjama with the navy blue colored khussa.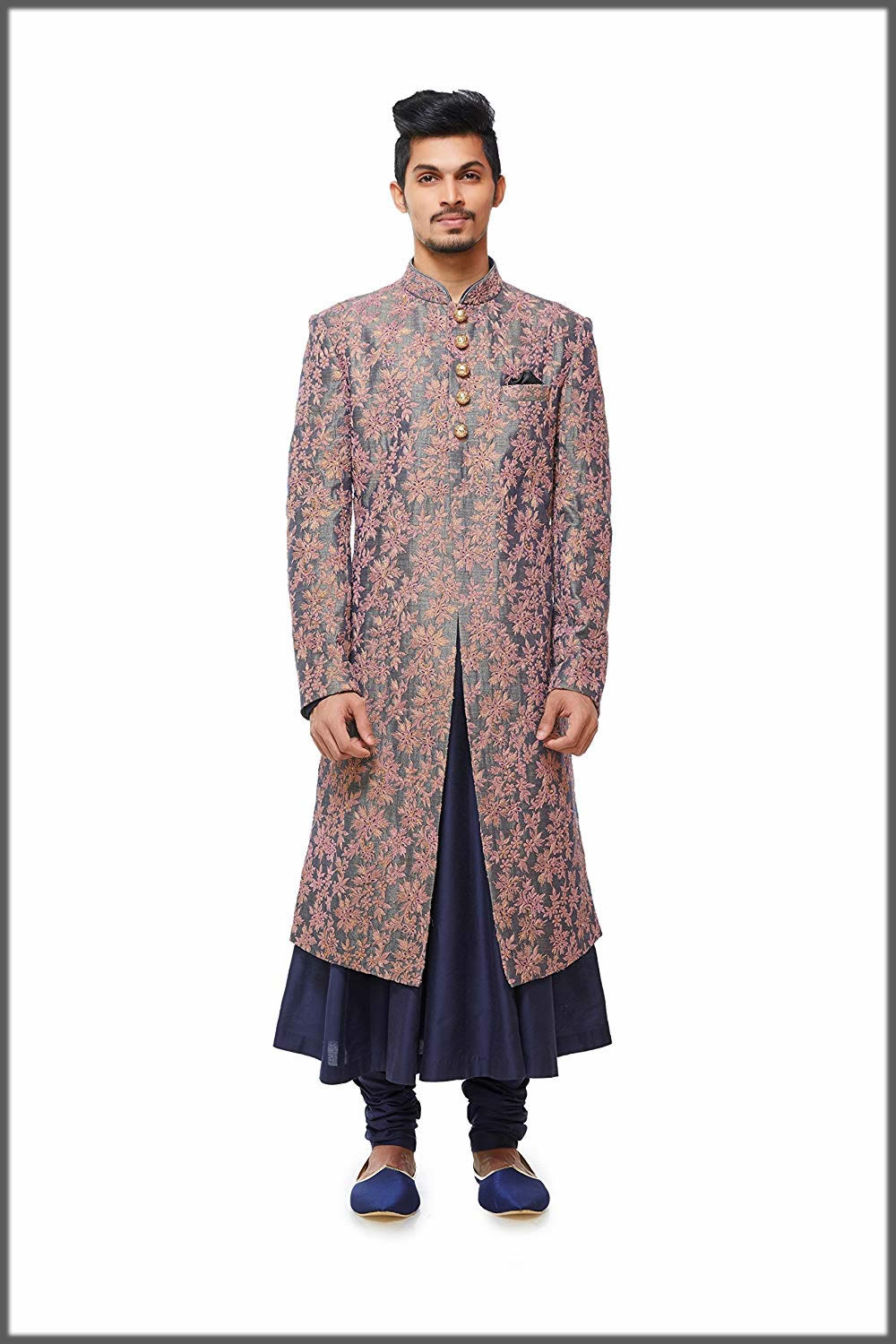 Anarkali Sherwani With Velvet Dress
Golden Sherwani with motif print and work on neck and sleeves harmonize elegantly. Red velvet outfit has a finishing look with golden lace. Red and gold are quite an edgy yet beautiful combination for men.

Jhodapuri Men Sherwani Style
Vibrant and Tropical, this royal style is for royal weddings. This style is exclusive and expensive. Jhodapuri sherwani is a symbol of the Rajasthani kingdom. Jodhpur attire gives a fancy look with high neckline handwork.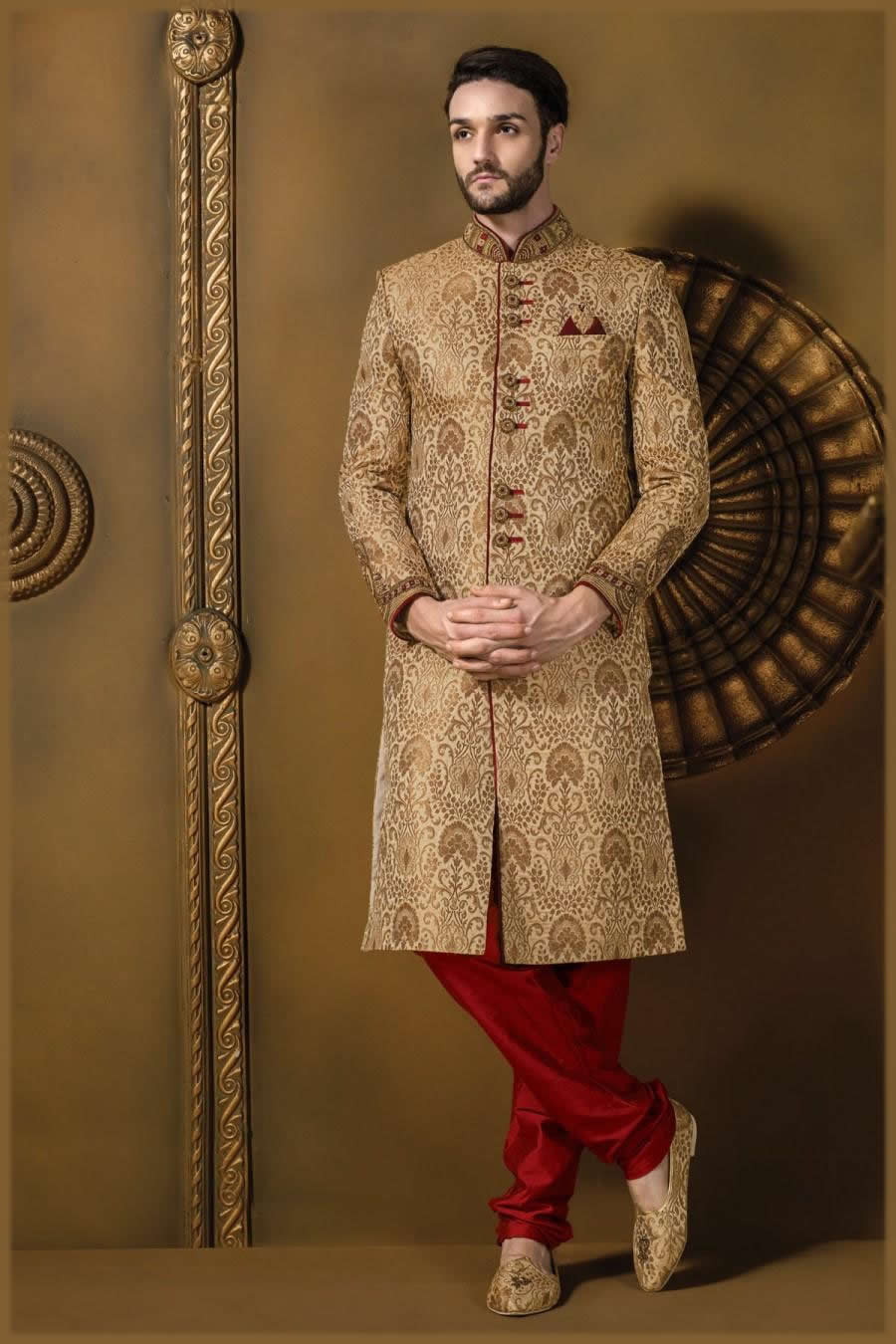 Solid Color Jodhpuri Sherwani
Samyakk black silk sherwani with pure black buttons look so elegant and stunning. You can go with this all-black look, in a picture below, for instance. Motif print is prominent in the black color. This type of solid color assembles you a mysterious vibe.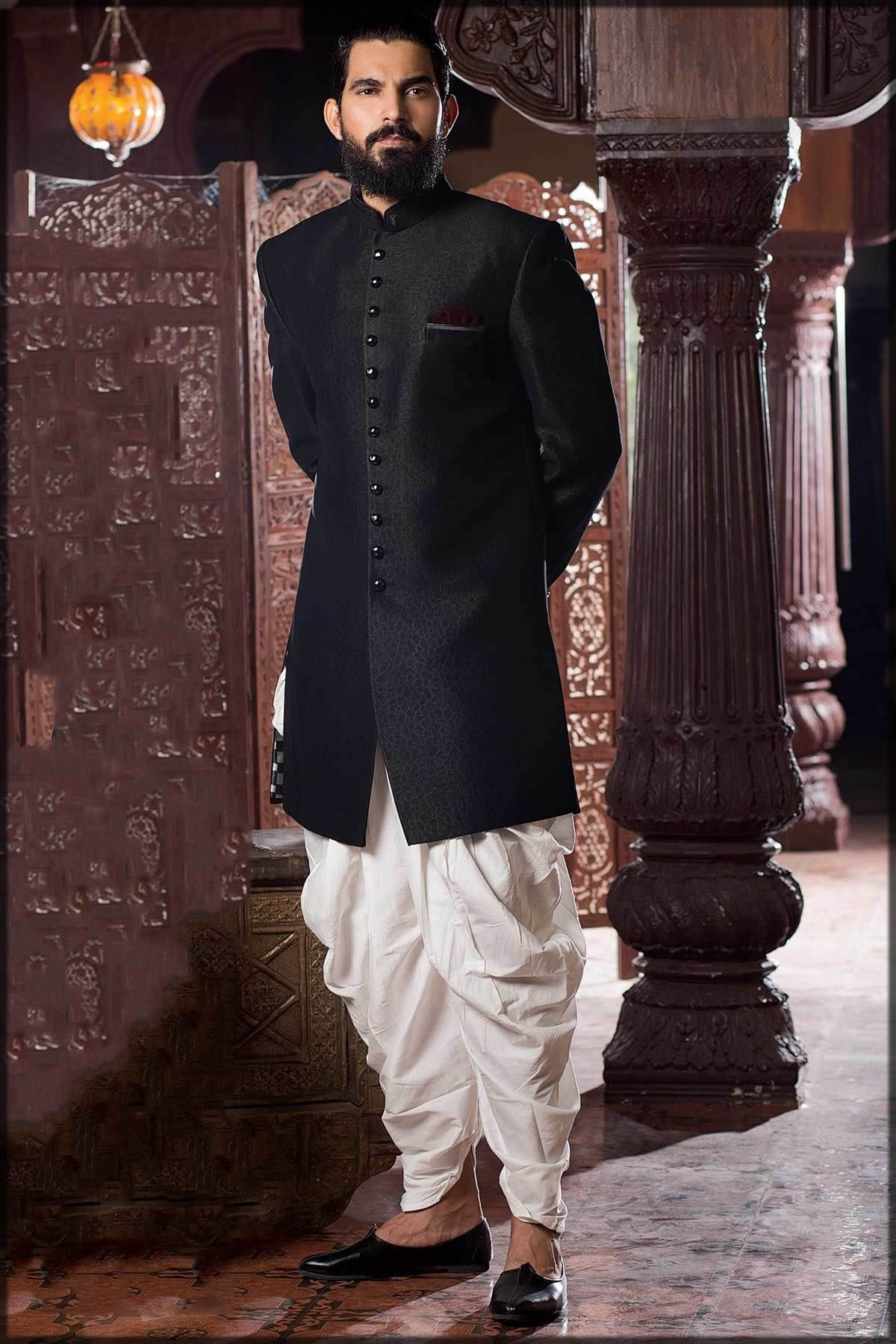 Chipkan Sherwani
Chipkan Sherwani is descending from the Historic Emperors. Now it is modified with evolving patterns, fabrics, and colors.
Ivory silk wedding wear attire with multicolored hues gives a Handsome look. This type of clothing mostly preferred by the grooms due to its uniqueness. The model represents how grooms can get ready for their wedding. Triple-layer band gala style and cuff work make the dress more cumbersome and luxury.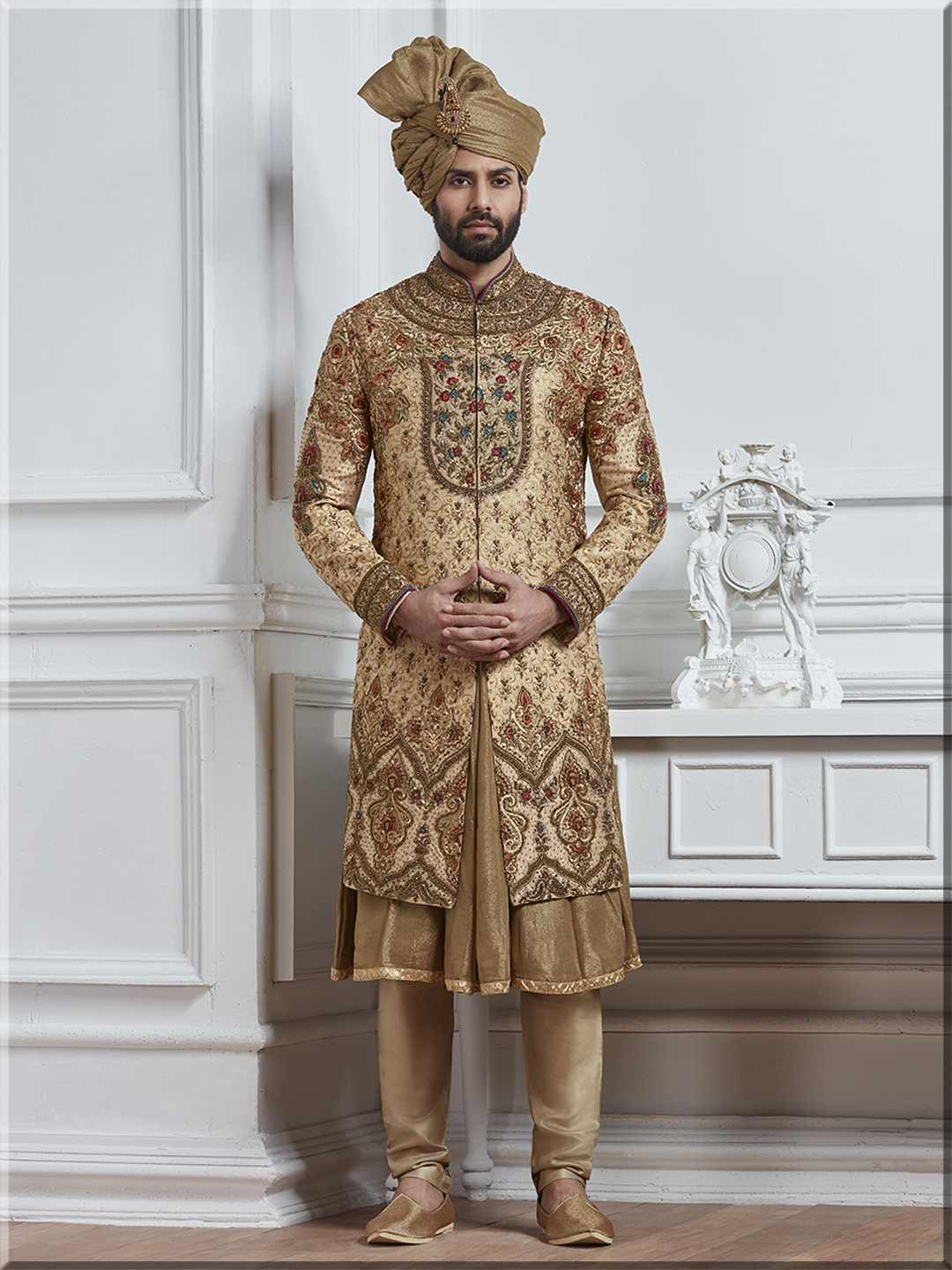 Beige multilayered dress looks gorgeous with heavy golden embroidery. The multilayered band gala style provides the exquisite look to the groom. He is wearing contrast jewellery with a maroon shirt that ends with the golden ribbon. This type of style makes your personality more gorgeous and eye-catching.
Printed Sherwani
Printed, stylish Sherwani provides a modest yet modern look. It is rich in artwork, designs, and patterns. The high-quality material used in this dress enhances the luxuriousness.
Pastel Pink Floral Print Dress
Light Pink Floral Print Sherwani with red roses printed all over is heavenly. Maroon shawl with heavy work will enhance the color and prominent the pastel pink. You can pair it with any solid colored khussa like red or maroon.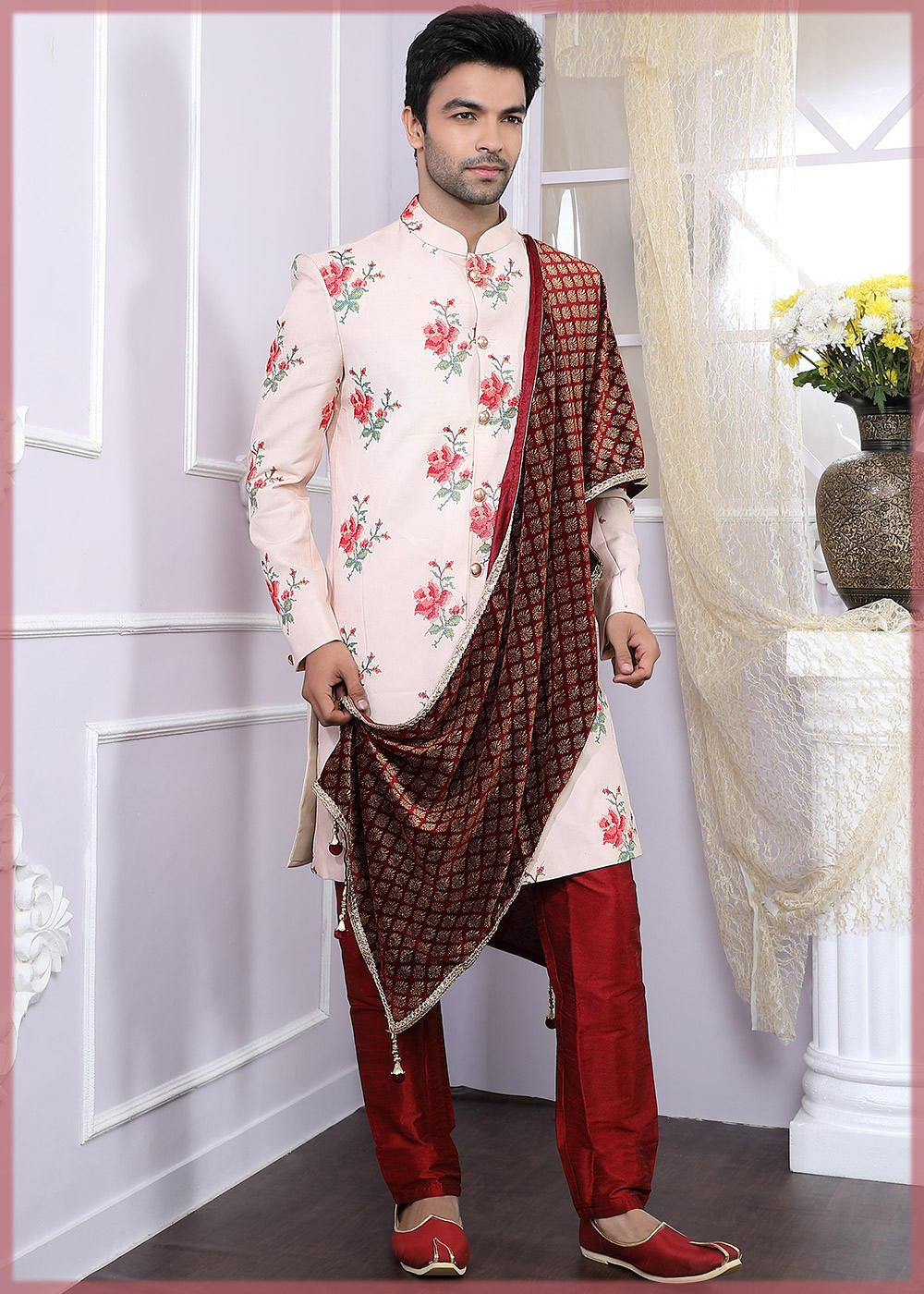 Nomi Ansari Wedding Wear Collection
This modern designer does not need any introduction. He has a vast array of men's wedding wear. His work in the fashion industry is fabulous. He can make every color or style a trend. However, he knows how to work with different combinations. Nomi Ansari has an extensive range of wedding collection with dapka work, stonework, and tilla work. Following is a glimpse of his work.
HSY Men Wedding Sherwani Collection
HSY is a famous Pakistani designer. In other words, well known all over the world. Moreover, he is one of the top designers in the Pakistani fashion industry. He has many successful collections under his name. HSY is one of the best inventors to happen in frame dress designs and works on the broad range of Men, woman dresses and jewellery collections. His latest men collection is below:
In conclusion, many Pakistani designers are working on men wedding sherwani collection very hard. Grooms don't need to worry about there special event and wedding dress.
Moreover, we are here to help you in choosing dresses with color combinations and trendy styles. You can choose a dress according to your needs and desire. In this article, you will see many designs and suggested looks only for men.