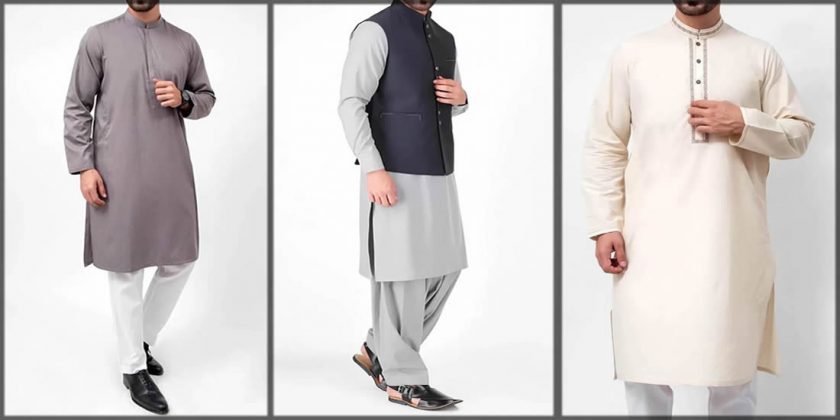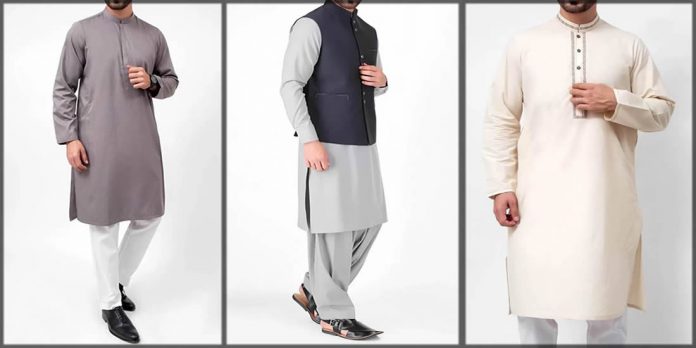 Cambridge garments are superior in quality, with a refined style that resembles the international standards. However, it values its customer's loyalty more. Moreover, it also attempts for perfection to create the perfect combo of Cambridge Kurta collection with Waistcoat that is worthy of purchasing.
The establishment of Cambridge was in 1958. Nowadays, it is famous all over Pakistan, and men of all ages favor quality wear by Cambridge apparel. Cambridge is the master in the art of tailoring. Moreover, it provides a great variety from simple suits to denim and other accessories.
Cambridge garments include diversified clothes for different age groups. Moreover, the Cambridge Kurta collection for Men is very much in demand. Furthermore, wearing Cambridge kurta with a waistcoat constitutes a more graceful personality.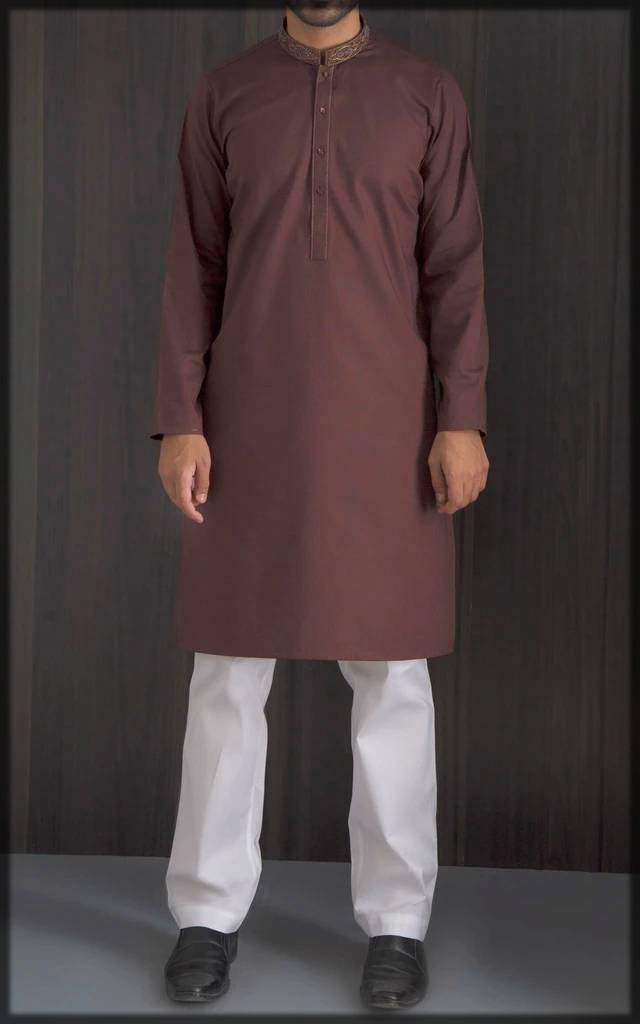 Cambridge Kurta with Waistcoat Designs for Men

Generally, Kurta for men with a waistcoat, is one of the traditionally formal outfits. Many people wear it on their special occasions to look orderly and decent. Nowadays, even grooms wear Kurta with a waistcoat to look astonishingly perfect. Furthermore, for more designs, you can visit the latest kurta designs for men.
Stunning Embroidered Kurta Collection for Men and Boys

Nowadays, people love to wear embroidered kurta to enhance their glamorous looks. A little embroidery increases the attraction of personality. However, there is a magnificent diversity of embellishments and colors for Cambridge outfits for men. Moreover, some colors are light-shaded while the others are dark-shaded.
These lovely attires are made of pure imported cotton fabric. Moreover, their featuring embroidery on collar and placket makes them stylish and formal. Furthermore, delicate embroideries are the reason that many people prefer Cambridge over others.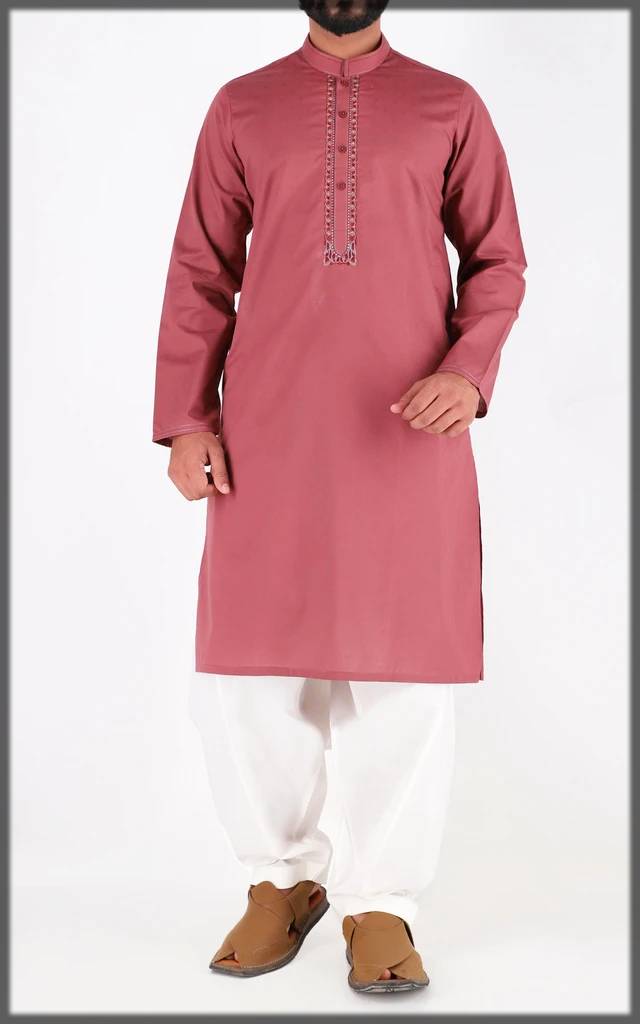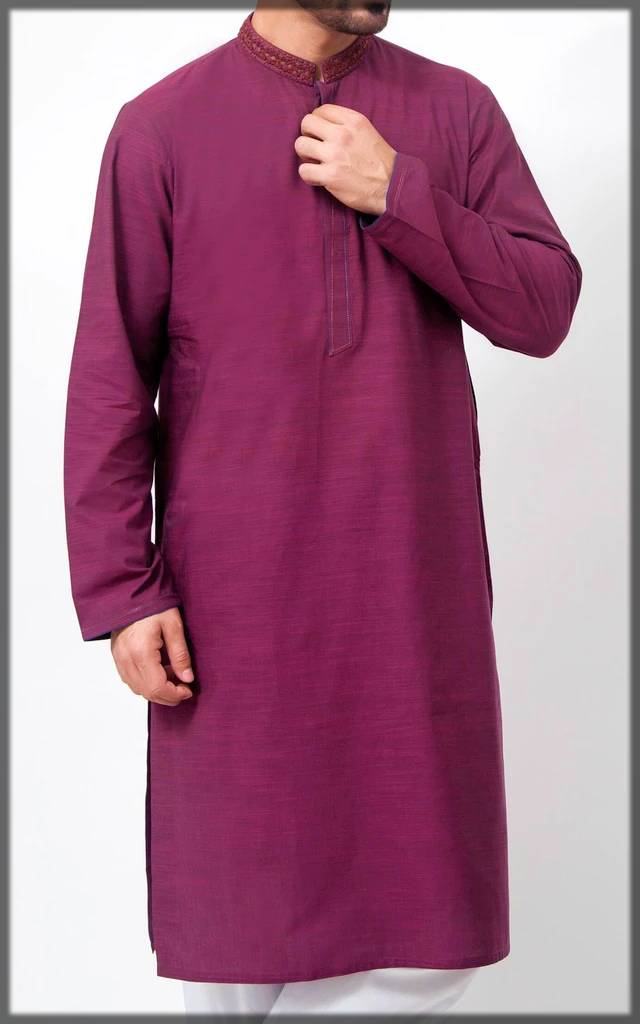 Light-Shaded Embroidered Attires
People who want to look decent and elegant go for light-shaded clothes. Therefore, Cambridge provides exquisite light shades for men. However, this fancy peach kurta is made up of blended fabric featuring embroidery on collar and front. Check more variety from J. kurta collection.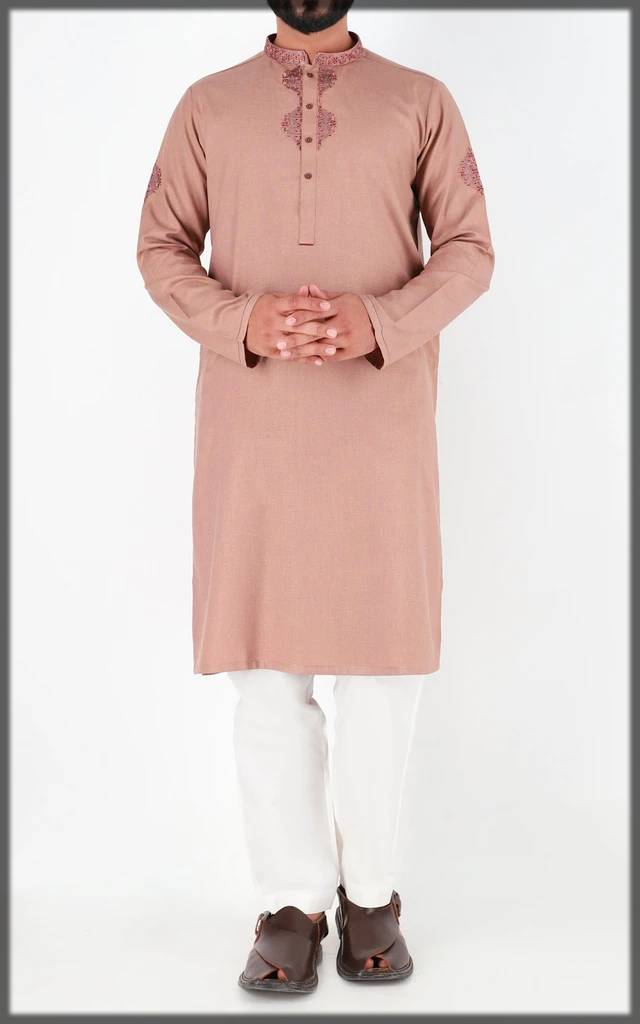 Similarly, these traditional fancy straight-shirts of karandi fabric also look adequate and eye-catching. Their sophisticated embroidery around the collar neck enhances the grace of these attires. You can check the Cambridge eid collection as well.
Fundamentally, the trendy, straight-shirts are particular clothes which people wish to buy. Cambridge summer collection presents exquisite and excellent colors for trendy attires, which people never resist purchasing. Black color looks dashing on boys. Therefore, Cambridge provides this black Kurta for men with the allurement of buttons at the front.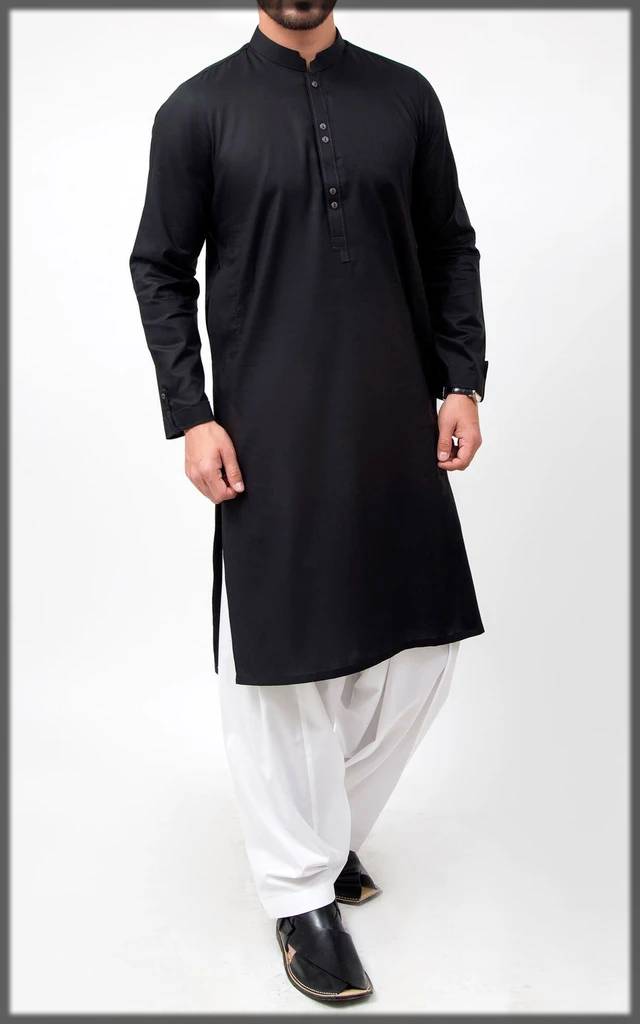 Moreover, Cambridge also provides these trending light colors, which many people adore to wear. Wearing white pajamas with the light-colored straight shirts will make the perfect endmost outfit.
Stylish Cambridge Kurta Collection for Men
This unique and exceptional brown casual Kurta can be on many people's wishlist. However, this Kurta looks more attractive with its featuring cut and the contrast bone on shoulder & sleeves.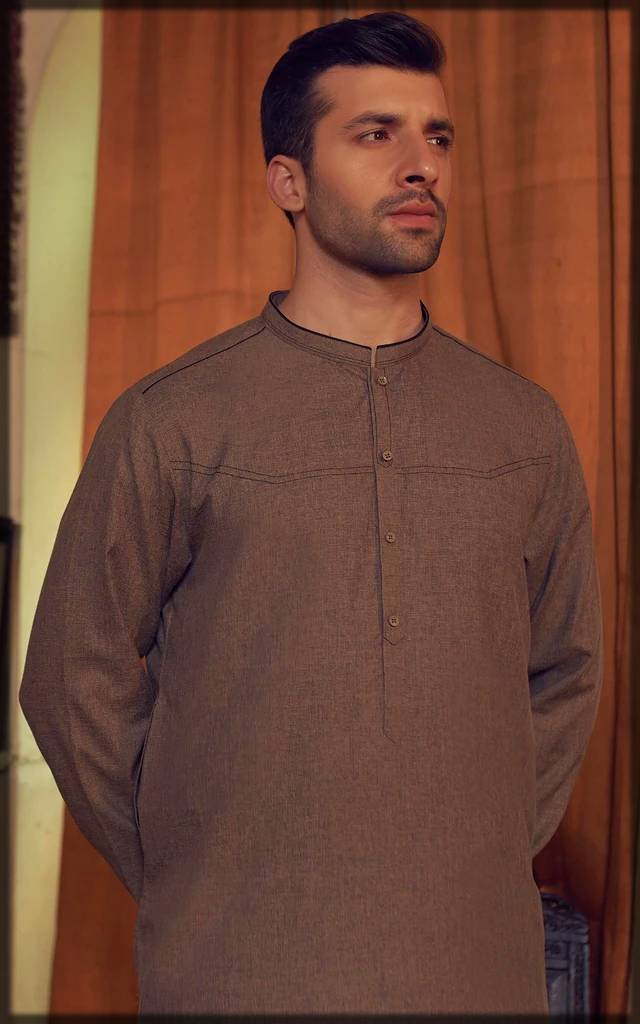 Digitally-printed Kurtas for women are trending in many countries. However, Cambridge is providing digital kurtas for men too. Besides, the boys who like funky looks will adore these outfits. Moreover, the designs around the collar neck and front enhance the ethnicity of these attires.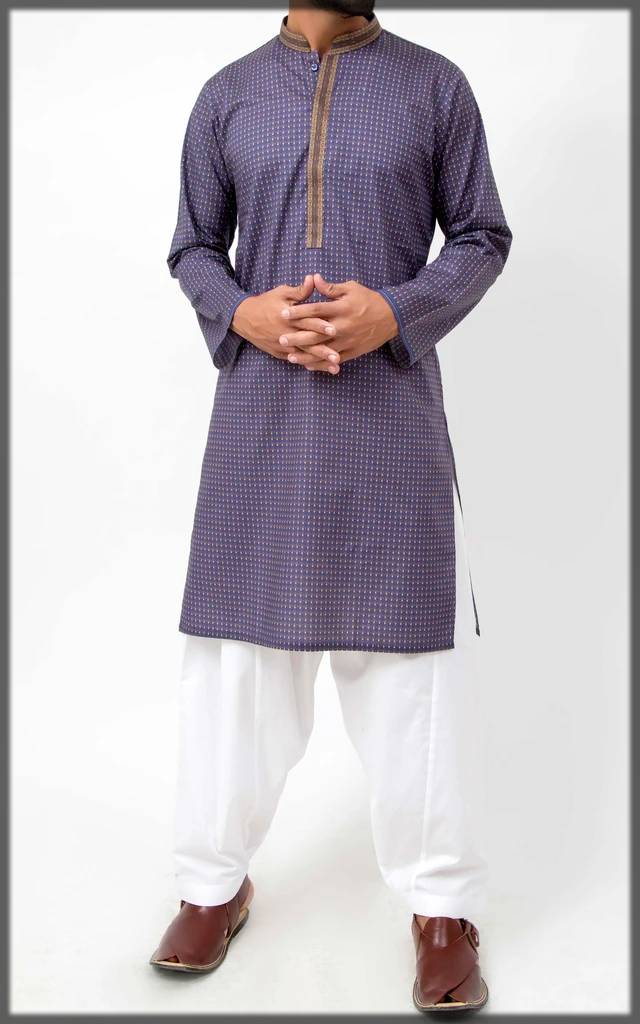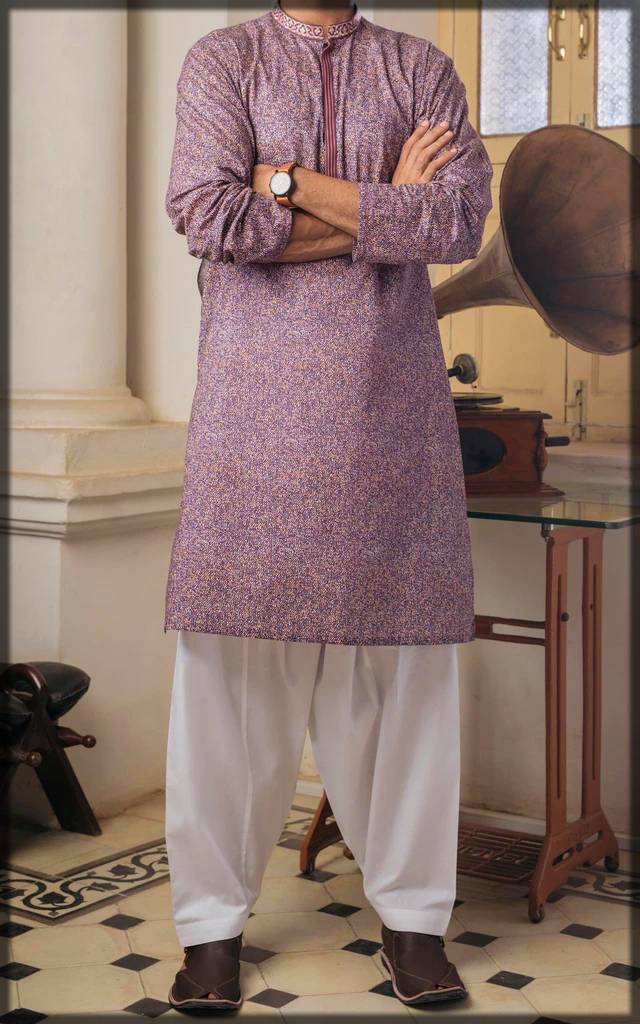 This distinctive Cambridge Kurta is for men. However, many boys who want to look jazzy can have this denim piece. Moreover, to look glazing, wear trendy goggles and watch. Furthermore, to complete the endmost look, wear a traditional kheri or Peshawari chappal. For footwear, you can also visit the best men's shoes.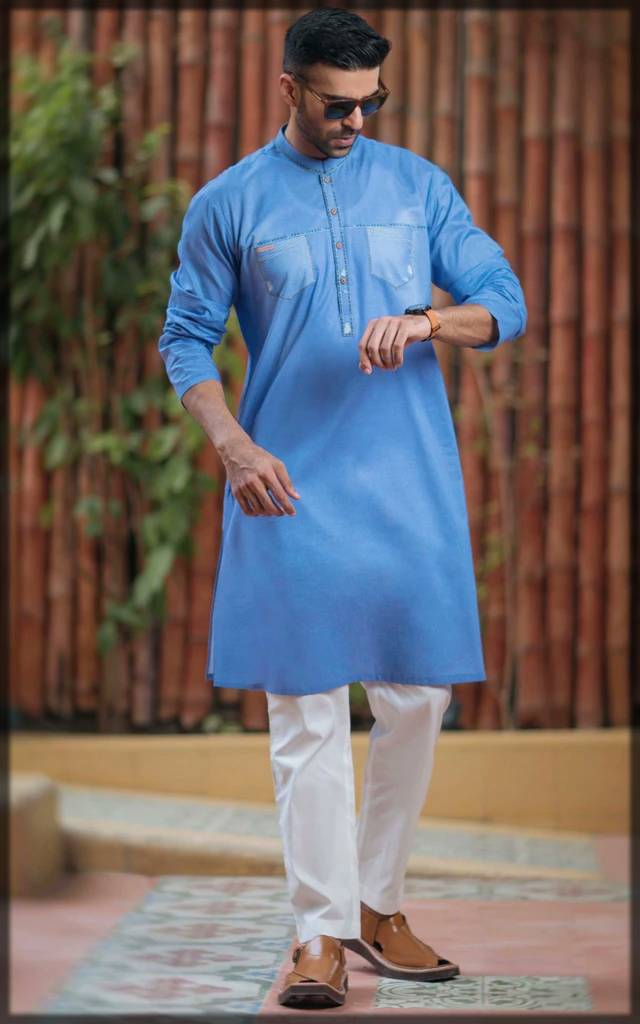 Cambridge Waistcoat Collection for Gentlemen
A waistcoat is a sleeveless outerwear garment for men. Generally, people wear it on special occasions like Eid, weddings, or parties, etc. Moreover, individuals consider it as the third piece in the traditional three-piece of the male outfit. We are having a tremendous variety of Cambridge kurta for men and waistcoat designs. But, for more variety, you can also search Edenrobe men's waistcoat designs.
Fancy Waistcoat for Gentlemen
Fancy waistcoats are outerwear that has enhanced ethnicity with embroidery or other motifs. However, this fancy banarsi waistcoat has featuring front pockets. Therefore, one can wear this sophisticated waistcoat on a black suit and also on a red suit.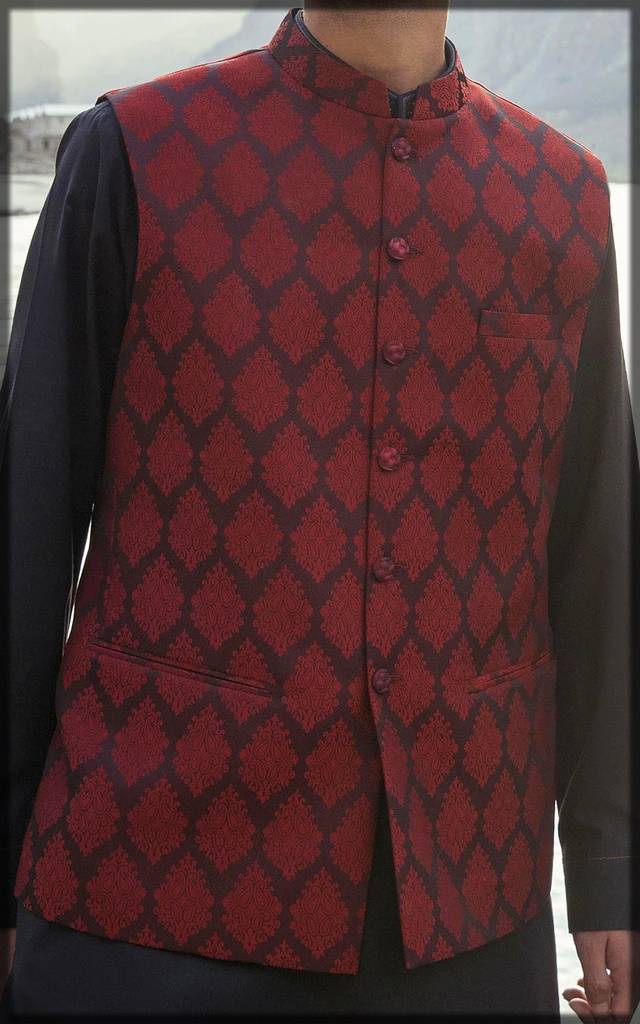 Basic Waistcoat Collection
Cambridge also provides primary waistcoat collection for men so that they can wear them casually. However, some of the basic waistcoats are plain while the others are printed. Nevertheless, all these designs help a man to get endmost look decent and formal. You can pair these waistcoats with elegant Gul Ahmed men kurtas.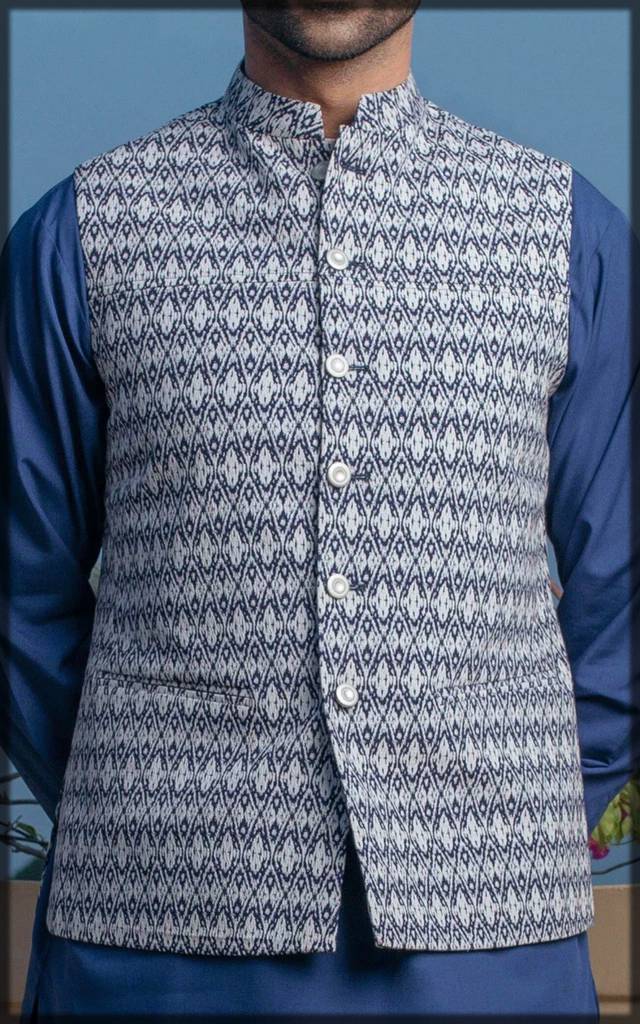 Formal Outfits for Men with Waistcoat
Generally, when someone wears a waistcoat, he succeeds in having a complete formal look at the end. Nevertheless, wearing a kurta with a jacket of suitable contrast will give a decent outlook.
Many people demand to buy a plain waistcoat to attain simplicity and decency. In contrast, Cambridge has a great variety of such jackets, which helps people to achieve virtue.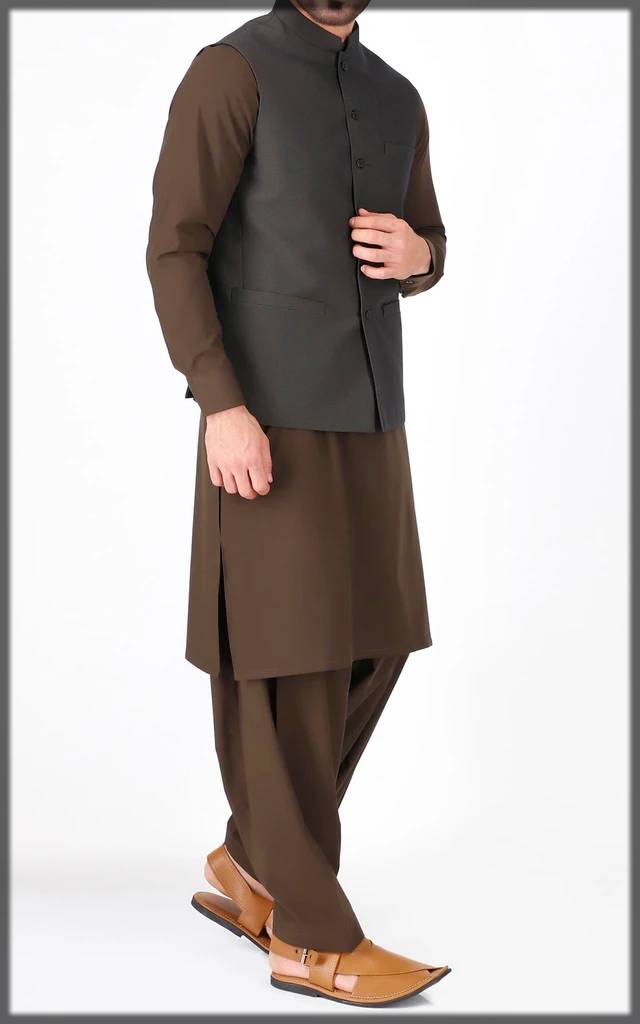 People who love to have a trendy outfit go for printed waistcoats. However, the printed jackets add style to the personality. Therefore, wearing the printed-waistcoat with a suitable contrast suit makes the whole outfit attractive.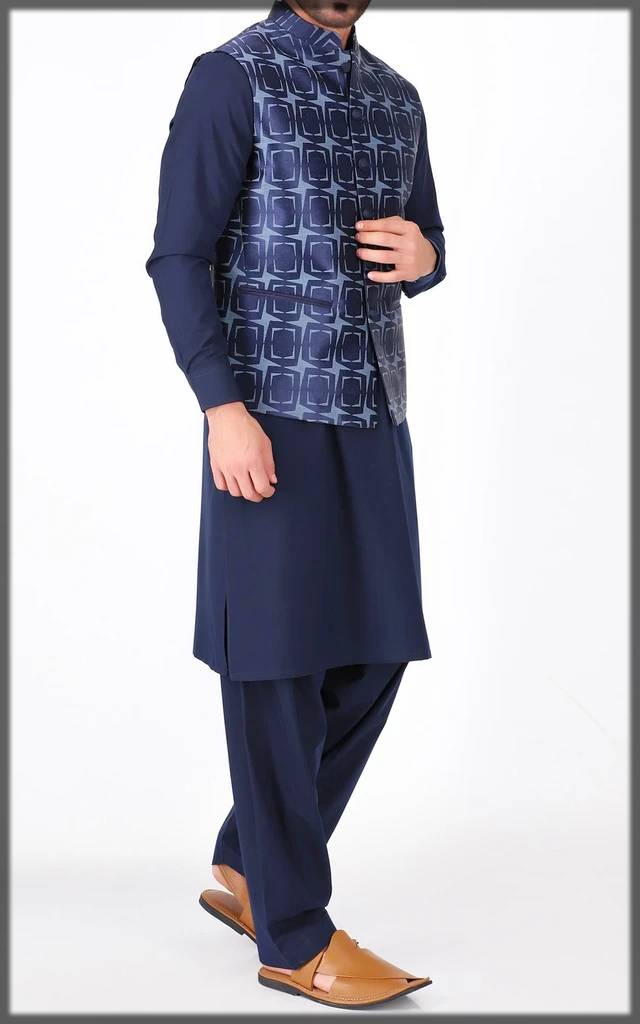 Fancy jackets look very elegant when people wear them with appropriate Kurta or kameez. However, this plain waistcoat is of a charcoal color. Moreover, the allurement of buttons and featuring with bone on the front makes it more encouraging.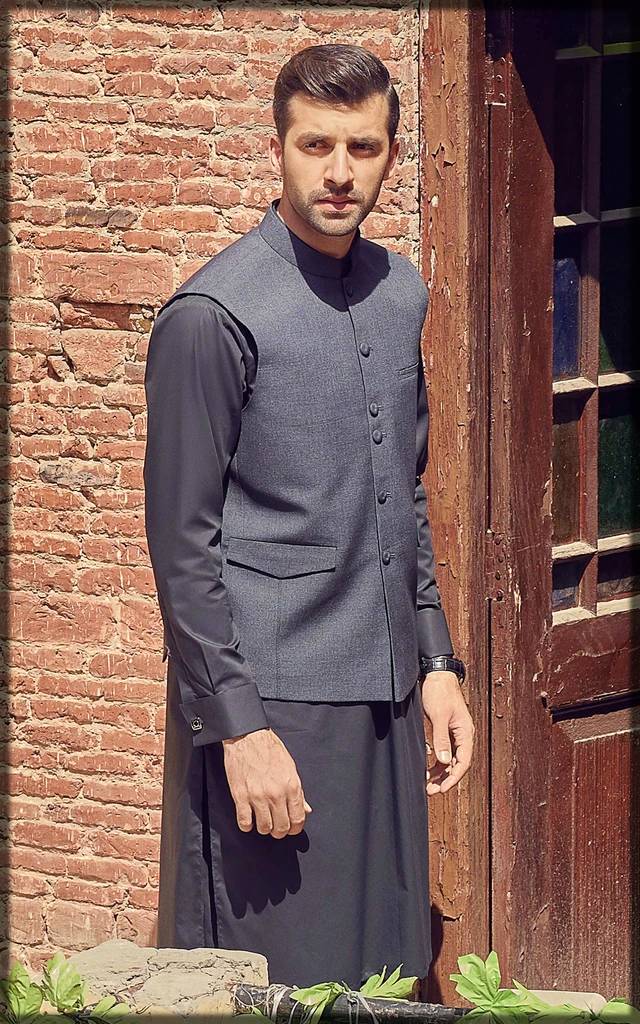 Ordinarily, many people prefer to wear printed fancy waistcoats on occasions like weddings, parties, etc. However, Cambridge has an exquisite variety of printed fancy jackets for men. Hence, one who sees their collection will never step back without purchasing it.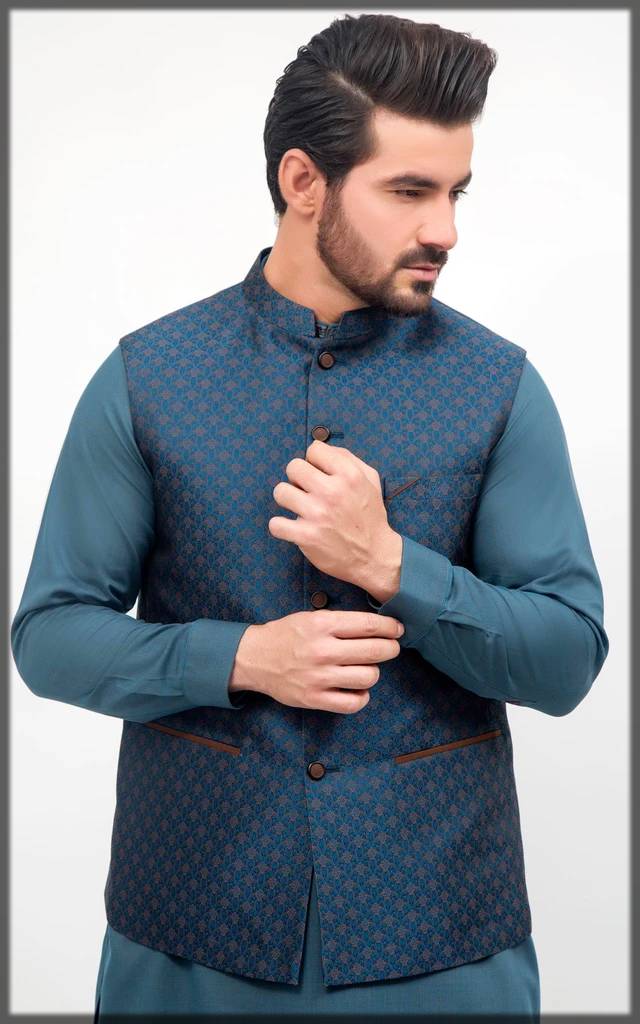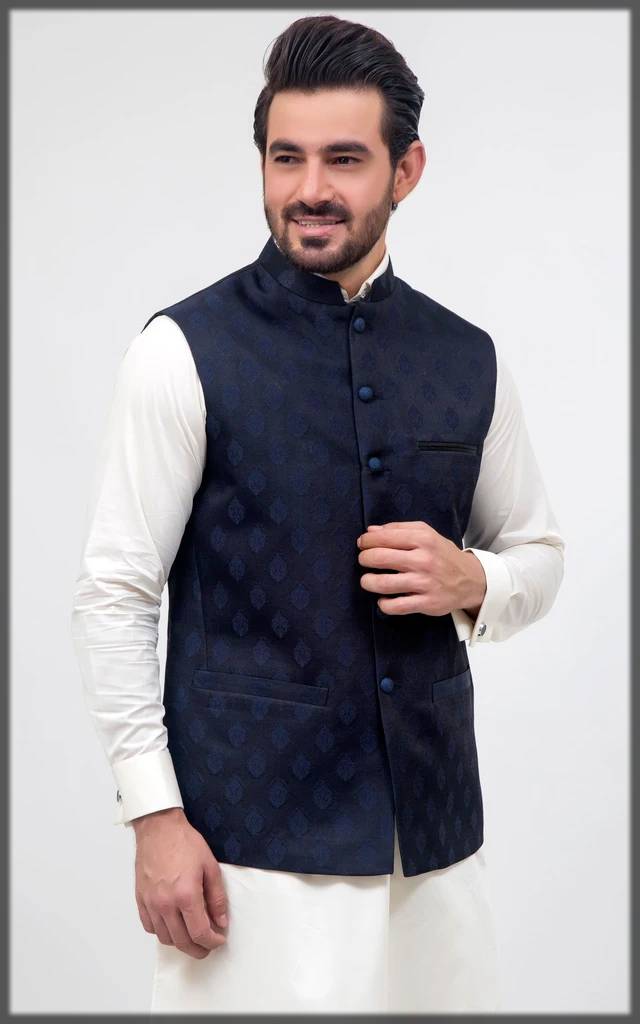 Stylish Waistcoat Designs for Men
Cambridge also makes some unique waistcoats for satisfying their customers. Moreover, the satisfaction level increases when they get such elegant styles with perfect contrasts. However, the dark-light distinctions are the best contrasts since forever. Therefore, these Cambridge kurtas with waistcoats have innovative simplicity, with high demands.
Plain Off-white attire with Fancy Waistcoat for Nikkah
Off-white is the color that reflects adequacy. However, this fancy off-white waistcoat is by Cambridge. Moreover, wearing a delicate watch and traditional branded open shoes like Hush Puppies footwear will complete the outfit for the nikkah ceremony of a man.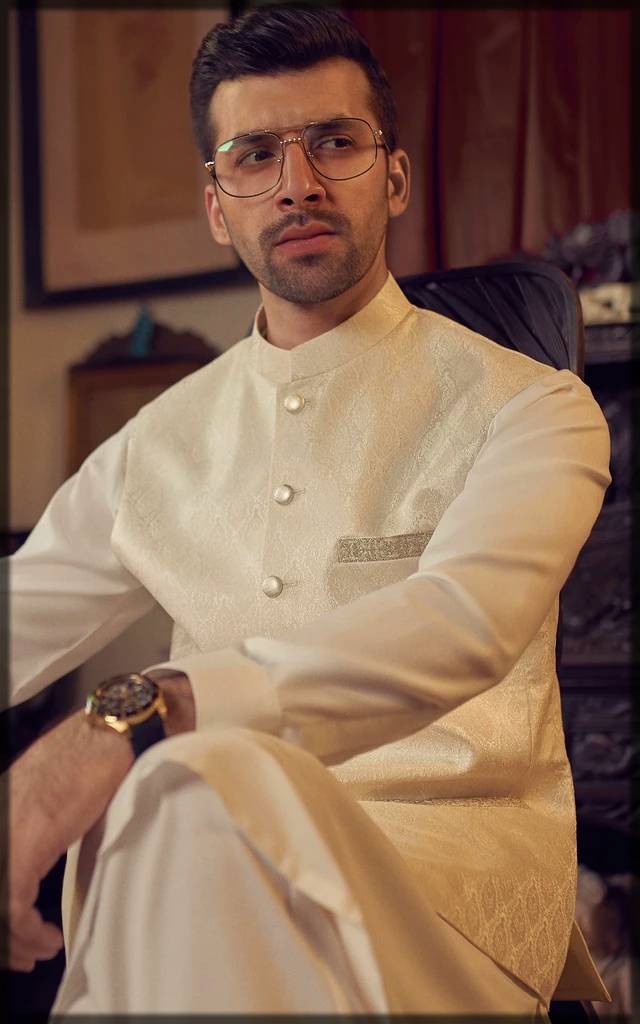 Splendid Blue Cambridge Outfits for Men with Waistcoat
Blue color adds royalty to the personality. However, this color is the most demanding color in men these days. Hence, Cambridge is providing different contrasting shades of blue for people. Moreover, one can wear a navy-blue waistcoat with the same color attire. Similarly, one can also wear a light-shaded blue jacket with navy-blue attire.
Exquisite Casual Waistcoat for Men
Cambridge also has a category of waistcoats for casual wearings. However, this grey casual waistcoat will add elegance to the personality. Moreover, the featuring round pockets with show stitches enhance the attraction of this piece. On the contrary, one who doesn't wear kurtas or waistcoats can visit men casual dresses for other varieties of casual outfits.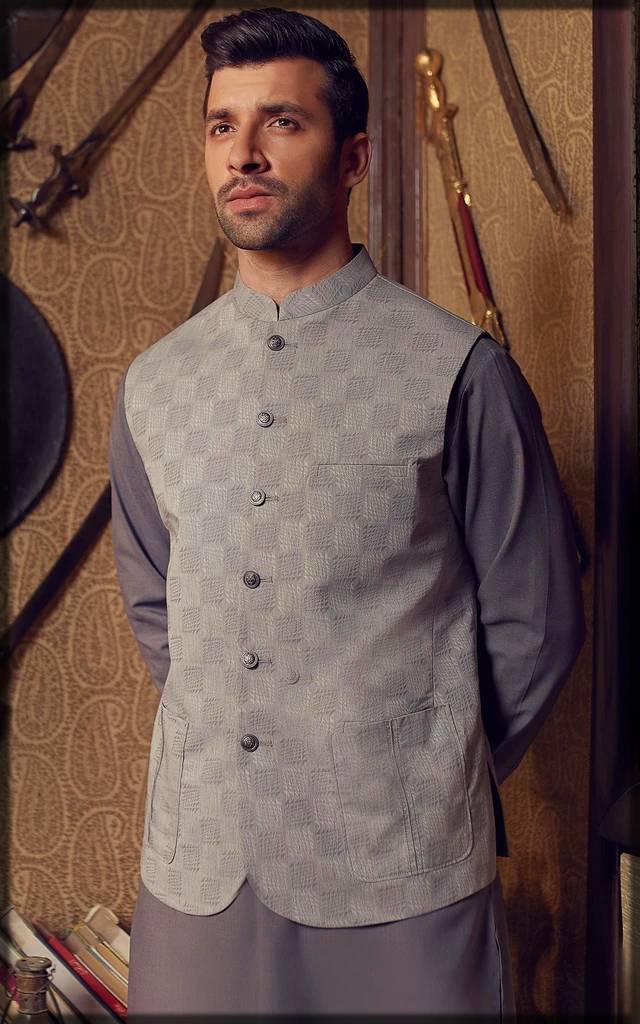 Nowadays, as we know, men are also conscious of their dressing and outfits. Therefore, the proper costumes with good quality contrasts are available by Cambridge. Moreover, the Cambridge kurta collection with a waistcoat is one of the most wanted formal costumes. Furthermore, you can also go for its accessories to have a completely gorgeous outlook.