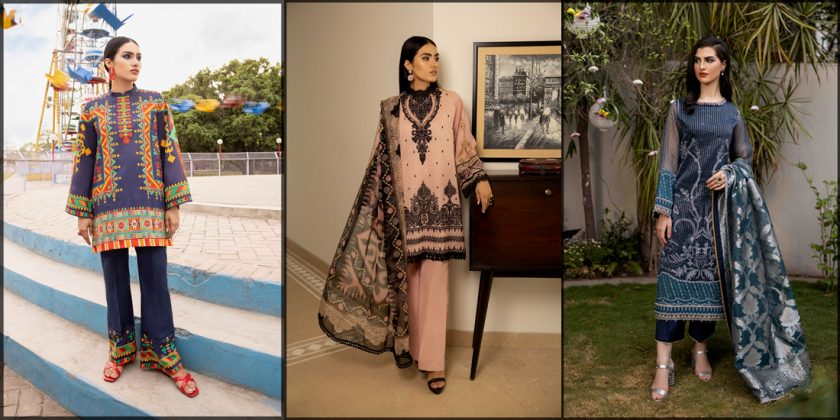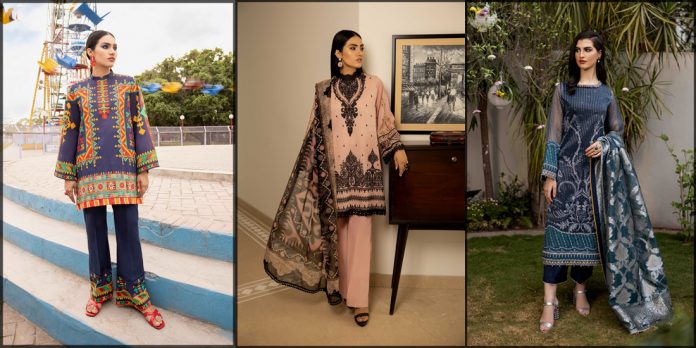 Eid is a religious event of Muslims. On the day of eid, everyone wears new clothes to fulfill the sunnah. In this manner, all notable brands of Pakistan launch the best eid collection for women of all ages. Hence, Sapphire recently launched its eid collection that contains impressive and dazzling dresses for women. Let's explore the latest Sapphire eid collection.
You will get the unstitched and ready-to-wear dresses in the latest collection that are made with the classic and soft fabrics that likewise make you feel comfortable and beautiful at the same time. The color combination and designing is done beautifully in regards with the festive season.
From casual wear to formal, Sapphire has everything for everyone in their store. So, hurry up and select your desired dress and update your eid look. Never forget to pair your cool outfit with the bangles to get the traditional look on eid. Because wearing bangles on eid is considered a cultural ritual. Lets explore the variety below.
Sapphire Stitched & Unstitched Lawn Eid Suits Collection

---
Sapphire Eid collection is recently launched that brings modest and impressive clothes for women of all ages. These fantastic dresses indeed renew and refresh your Eid look and make it extra chic and smart. You can likewise wear the Sapphire summer lawn dresses as your Eid dress because it contains the modest yet classy attires that you can also wear on the day of Eid.
You will get the pop, serene, signature, and many other sections that consist of dazzling attires in the unstitched catalog of Sapphire. Moreover, you can also wear these extraordinary dresses at any formal or event at the wedding event of your beloved one to make all of your breathtaking and jazzier looks. The latest eid collection by Sapphire contains:
Sapphire Unstitched Eid Edition
1- Modest Pop Collection for Young Girls

2- Daily Wear Eid Collection

3- Classic Sapphire Eid Collection

4- Serene Eid Dresses Collection

5- Luxe and Signature Eid Outfits

 Ready To Wear Collection
1- Embroidered Eid Frocks for Teens

2- Smart Kurta/Kurti for Eid

3- 2Pc & 3Pc Printed Embroidered Suits

New Arrivals of Sapphire Unstitched Eid Edition (2Pc & 3Pc Suits)

Most of us like to buy unstitched clothes to modify the dress according to our choice and need. The latest eid collection of Sapphire offers the 3M shirt piece so you can make any design you like the most. Suppose you don't like to wear the simple shalwar kameez and customize your dress in any frock style. At that point, the three-meter shirt piece by Sapphire will help you to make the angrakha and Anarkali frock or even any other design efficiently. The color theme and the trendy design pattern make the unstitched catalog of Sapphire special. So Kamal eid collection also contains a wide variety of unstitched dresses, check it also.
1. Modest Pop Collection for Young Girls
Sapphire offers the pop collection for young girls. This category has popping bright and vibrant colors. The pop collection by Sapphire contains vivid prints, in the single shirt piece, two and three-piece forms that definitely refresh your Eid look and make it extra cute. With your pop dress, apply the bold yet colorful makeup, wear the stylish and modest accessories, and knot your hair in a bun style to make all of your incredible and striking looks. Gul Ahmed eid collection also contains beautiful attires in the dark hues which are wearable and suitable for teen girls.
2. Casual Daily Wear Festive Dresses

Eid is always joyful when celebrated with family and friends. The below casual or daily wear dresses are best for house parties. You will get these dresses at affordable prices. These stunning eid dresses are made with the lawn that will give your a comfy look so you can freely enjoy your eid at home by wearing comfortable clothes. Pair your daily wear suit with nude makeup, small earrings, and flat shoes to get the casual and classy look.
3. Classic Sapphire Eid Collection

Suppose you have a plan to go outside with your friend for lunch or dinner on eid. At that point, give a chance to this classic catalog of Sapphire, and trust me, you will rock the gathering with your lovely and gorgeous look. This classic section contains the two and three-piece suits, which are improved with the thread work. For more embroidered suits, visit the Fahad Hussayn signature eid collection.
4. Serene Eid Lawn Dresses Collection

If you want to get the formal look on eid, then grab the lovely dress from the Serene catalog by Sapphire. It contains modest and traditional attires in the most unique and stunning shades. The thread, mirror, and beaded artwork make the Serene section extra dazzling and noteworthy. You can likewise wear these dresses at any formal parties to make all of your jazzier and striking looks. For more similar outfits, explore the Nishat Linen festive collection.
5. Luxe & Signature
Eid Outfits for Ladies

Most of us love to wear heavily embroidered dresses on Eid. So, look at the Luxe and Signature collection of Sapphire. The catalog has very elegant designs with threadwork detailing. These luxury formal eid outfits are affordable according to the quality and style. The fine detailing and beading is prevalent in these dresses. Get your favorite before the stick ends.

Pro Tips:
If you desire to make all of your modest and stylish look on eid at that point, keep the following points in your mind:
With your lightweight dress, apply bold makeup and wear light accessories.

In contrast, with your heavily decorated dress, apply nude makeup and wear heavy adornments. 

For a casual look, wear sandals while wearing the high heel shoes for a modest look. 
Stylish Ready to Wear Eid Dresses for Modern Girls

The ready-to-wear collection by Sapphire is likewise very noteworthy and remarkable. Sapphire used fresh and bright hues to make its eid collection beyond fashionable and notable. Because in the summer season, ladies love to wear bright hues attires to make their summer look colorful and jazzier.
Don't find the right tailor to stitch your eid dress? At that point, pret dresses are the best. The pret dresses of Sapphire are made with the lawn, cotton, and organza fabric that indeed update your eid look and you can happily cherish all the happy and precious moments of eid. Bareeze eid collection also offers chic pret dresses that are made with pure and soft fabrics.
1. Embroidered and Modern Eid Frocks

Let's have a look at the embroidered and modern frocks for young girls. Sapphire has included flared frocks in its eid collection. Further, you will get the printed and nicely embellished frocks that indeed make your eid look more decent and traditional. You will get the simple A-line and angrakha style frocks as well lin its latest collection. You can likewise wear these striking frocks at any casual gathering to make all of your jazzier and decent looks:

If you are going to wear the frock on eid, at that point, all you need is to:
Apply the lightweight makeup.

Wear the traditional jhumkas.

Prettify your hands with the Tikki mehndi design.

Wear the traditional khussa.

Knot your hair in the trendy hairstyle.
And your superb and fantastic eid look is complete. 
2. Smart Kurta/Kurti for Eid Festival

You also get the simple kurta/Kurti in the most amazing shades and designs here. You can combine these Kurti with any flared trouser, gharara, or any stylish bottoms. If you desire to obtain a decent look, then pair your classy Kurti with the classic hair bun. Plus, wear any stylish earning with your dazzling Kurti and enjoy your lovely and breathtaking look. For more classy Kurtis, explore the Junaid Jamshed kurti collection.
3. Two and Three-Piece Printed and Embroidered Suits
You also get the two or three-piece suits in the most unique and more exciting tones in the stitched catalog. In two-piece, you will get the trouser and shirt. The three-piece catalog of Sapphire contains classy lawn dresses with jacquard, chiffon, and net dupattas. Likewise, you can wear these dazzling suits at any formal gathering to make all of your a beautiful and lovely look. If you are going to wear Sapphire's dress on Eid, at that point, keep your makeup and adornments minimal to get a decent and pretty look. Ansab Jahangir eid collection also contains classy two and three-piece suits. Give them a shot too! 😉
Hurry up! And buy some impressive clothes to make your eid look extra beautiful and appealing. If you don't have enough time to visit the market? At that point, you can get your desired dress at your doorstep by online order. Sapphire likewise gives free shipping on all orders worth Rs. 2000 & above facility for the comfort and pleasure of its customers. So, what are you waiting for? Select your dress, add it to the cart and place your order. Happy Eid!! 🙂