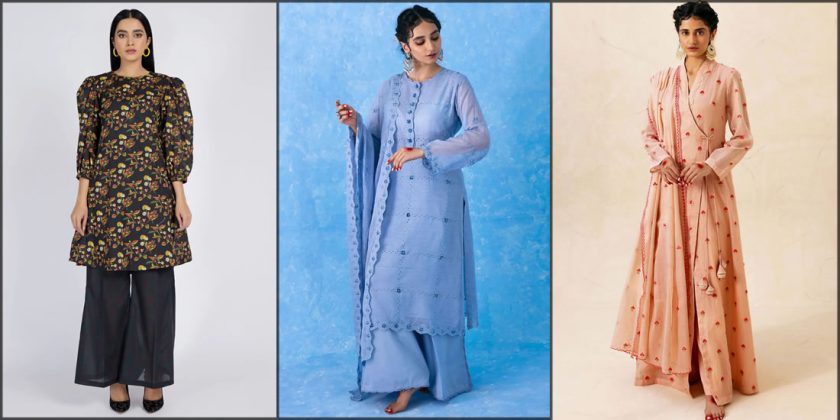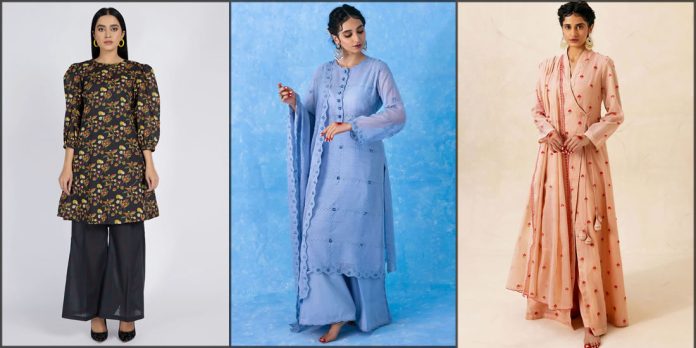 Kayseria launched its ladies' and children's summer dressing range with unstitched and pret assortments for the summer catalog. The latest Kayseria summer collection consists of 200+ outfits. So this summer season, wear Kayseria to beat sweltering hot weather in style. As you most likely know, long-length shirts are back in fashion, so this collection has some unstitched and sewn articles in long lengths according to trends.
The latest summer lawn collection of Kayseria consists of chic patterns and unique color themes at affordable prices. You will get printed, dyed, embroidered, and embellished dresses in all comfy textures like lawn, cotton, slub lawn, cotton lawn, and jacquards.
You can carry these stunning attires at any casual and formal gathering to make your look more breathtaking and charming. With your Kayseria outfit, keep your straight hair free and wear the round hoops to catch the striking appearance. Let's explore this blog to get all updated dresses of Kayseria with prices.
Latest Kayseria Summer Lawn Collection for Women
Dear Ladies, this season, adorn yourself with the Kayseria summer wear assortments that will make you feel comfortable and fashionable. As you are probably aware, everyone wants to look classy and modest at gatherings and occasions. In this manner, the elegant outfit helps you out. So try the Kayseria summer collection because it is the most versatile and best brand in Pakistan that brings trendy and stylish clothes for young girls and women every season.
Kayseria recently launched the Master's collection that contains the classical summer attires in the following forms:
1- Kayseria Pret Summer Attires
This brand offers different choices for youngsters to update their wardrobes. Women have various alternatives for summer clothing. There are new sewed dresses invigorated in the collection. Exquisite printed and eye-catching fabrics make the pret catalog more impressive and beautiful. Improve your personality by wearing these elegant suits at any formal gathering. Pret collection of Kayseria has one-piece, two-piece, and three-piece dresses.
Take a look at the lawn and cotton silk printed dresses by Kayseria, which are exceptionally chic and delightful. Make the most of your summer with the best Kayseria summer collection. It will give you a smooth and phenomenal look. These dresses are available in modern styles, which you can wear at any formal or informal event. Also, explore the latest pret collection by Chinyere.
Printed and Embellished Kurti/Kurta for Teenagers
Kayseria also offers one-piece printed shirts for young ladies. Because they know most ladies do not like to wear two or three-piece suits, as opposed to consolidating the shirt with pants or tights. Kayseria has launched printed and multi-colored shirts for the summer season.
This season, they have multi-toned shirts in short and long lengths according to fashion. Explore the below pictures to check the newest one-piece pret variety of Kayseria. Further, you can also pair your lovely short-printed shirt with tulip pants to look agreeable and graceful.
Two-Piece Ready to Wear Dresses by Kayseria
The following two-piece suits are chic and fabulous, with a beautiful color theme and patterns. These dresses are improved with thread, weaving, string work, and a beautifully printed base. The following summer assortments of Kayseria are comprised of short Kurti and shirts with the Capri or dupatta.
Make your summer season more fresh and cool by wearing the Kayseria and Rang Ja summer dresses. Moreover, you can wear these dazzling attires at your formal gatherings to add more grace to your summer look. 
Three-Piece Embroidered and Dyed Collection
The most conventional assortments of Kayseria comprised of ready-to-wear 3-piece dresses. The jazzier 3-piece suits are dyed, and the shirt is embroidered, which is adorned with polka dots and additional embellishments. It is combined with a net, lawn or chiffon dupatta, and trousers. In their new summer varieties, suits are in soft and pastel colors.
The following dresses are not too overwhelming and easy to wear and carry in the summer season. Grab any suit from the ready-to-wear three-piece collection of Kayseria and make all of your striking and dazzling looks. Further, explore the Sapphire summer lawn.
Luxury Two or Three Piece Pret Collection by Kayseria
Have a look at the luxury pret collection of Kayseria that is likewise very chic. You can wear these attires at any formal gathering and even at the wedding ceremony to make all of your jazzier and breathtaking flashes. Kayseria used the following fabrics to make its luxury pret more stunning. 
Embroidered Lawn Karandi 

Embroidered Organza

Zari Slub 

Cotton Silk

Jacquard
You must combine your outfit with dazzling makeup and lightweight adornments to make your gaze pretty and awe-inspiring. 
2-  Unstitched Spring Summer Collection

Kayseria virtually launches its customers' lawn collections for the summer season according to their solicitations and taste. You can see that unstitched dresses are assembled with perfect shades for the dresses to make them dynamically gorgeous. In the printed catalog of Kayseria, different patterns and themes will make your summer look more classy.
 If you want to beautify yourself with the best outfits that would make you continuously brilliant and excellent, at that point, this unstitched collection is preferably all you need. Because their most current assortments are astoundingly chic and made with a pure lawn texture that keeps you cool during the hot days of summer. Moreover, the yard and cotton lawn unstitched suits are enhanced with pearls and strings to make the shirts dynamically remarkable and sumptuous, just like the Firdous summer collection.
Classy Digital Printed Lawn Fabric for Teens

Kayseria's unstitched printed & embroidered collection has ideal examples of textures, designs, and hues. The best thing about this brand is that they provide custom unstitched single shirts, and you can customize them with your favorite style. 
The following styles are ideal for teenagers or working women. Moreover, you can match them with pants or capri as you wish to wear. The accompanying shirts are in lawn and cotton fabric, giving you a fresh look. You can also select Kurtis from the Bonanza Satrangi summer collection.
Two-Piece Women Unstitched Clothes
Look at the most recent two-piece unstitched suits by Kayseria are available in stores now. In its latest 2PC printed suits, you will discover the most amazing printed & embroidered shirts with pants or dupattas.  You can pick any below suit for your casual gathering by combining it with natural makeup. For more two-piece printed suits, browse the Alkaram summer lawn collection.
Three-Piece Lawn Suits for Women

If you are going to attend any friend's gathering or a casual party, at that point, these dresses are the best alternatives to try. You can likewise style these suits according to your preference. Give these suits a try on any informal or formal occasion; trust me, you will look angelic and modest. Further, have a look at the Nimsay three-piece summer suits for more attires.
Kayseria Luxury Embroidered Party Wear Unstitched Dresses



Partywear dresses are different from easygoing outfits. As the casual dresses of Kayseria are very delightful, their party wear embroidered summer assortments are additionally chic and beguiling. Moreover, the accompanying party wear clothing is delightfully adorned, including a printed weaved shirt covering dyed cambric shalwar that accompanies hand-printed chiffon, poly net, and organza dupatta.
Kayseria decorates their formal wear dresses with string and thread work with the best color themes. These dresses are available at affordable prices, which you can purchase for your occasion or gathering and make yourself increasingly beautiful. Check out the following party wear dresses and select anyone according to your choice and taste, and you can also check out Maria B's summer embroidered dresses.
Few Fashion and Beauty Tips to Look Classy

If you have fair skin, then go for bright and light-shaded printed attires.

If you have a medium to dark skin tone, then select the dark shaded attires.

With bright color dresses, apply minimal makeup.

With light color dresses, apply bold makeup.

Among printed outfits, make loose hair updos with some light curls.

With Plain outfits, tie a stylish ponytail to look classy.

If you are going to wear the heavily embroidered dress, wear lightweight studs to complete your glamorous look.

If you are going for a party, then pair your stunning outfit with high heel shoes, while for a casual gathering, wear sandals or chappal to get the perfect look. 

Choose the off-the-shoulder or sleeveless attires to enjoy the summer season freely.
Kayseria lawn dresses will make your summer season more fresh and fabulous. This season, Kayseria presented classy and captivating clothing articles, including kurta pajama, kurta dupatta, and three-piece suits. Moreover, Kayseria likewise managed the seasonal sale for the ease of its clients. So, pick any style and structure as indicated by your inclination, requirement, and body type from the Kayseria store at reasonable prices.