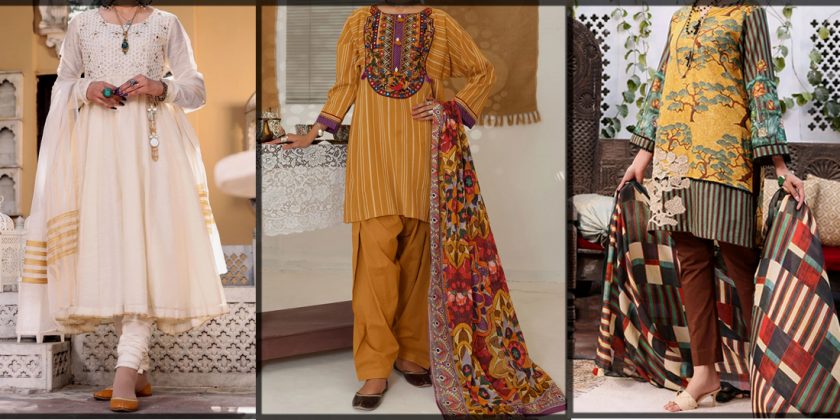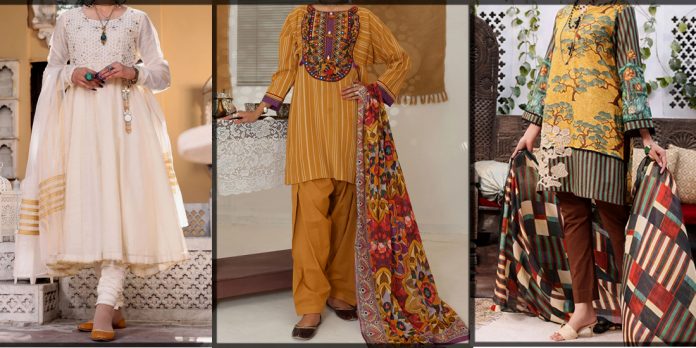 Almirah, the most adoring and notable brand of Pakistan, each season hit the floor by offering unique and modest clothing for women of all ages. This Eid, Almirah also offers a chic variety of suits in the unstitched and stitched forms. The latest Almirah Eid collection contains extraordinary dresses that are made with pure fabrics and lovely shades that indeed refresh your Eid look.
Eid is particularly around the bend. Everyone and especially women, are excited to buy the new clothes so that they can wear the new clothes on Eid to fulfill the Sunnah. Hence, Every Muslim purchases the new on Eid. The below magnificant dresses help you to make your Eid progressively unique and magnificant by wearing an appealing outfit.
In its latest festive collection, you will get different sorts of garments for the ladies. They used the lawn, jacquard, slub lawn, and cotton texture to make the Eid collection extra comfy and relaxing. All you need is to pair your classy outfit with the right style of footwear, accessories, bag, and hairstyle to prettify your Eid look and make it more dazzling.
Classy and Beautiful Almirah Eid Collection for Young Girls and Women

Everyone wants to refresh and renew themselves on the holy festival with the novel and impressive clothes. As Almirah's summer collection is fantastic and comprises of up-to-date styles. Hence, its latest Eid collection is also prepared with unique styles and a bold color palette. Plus, it utilized comfy fabrics to make their Eid assortment increasingly satisfactory. So, the ladies can celebrate the festive days with full happiness during the summer's blistering and melting days.
Our site is solely dedicated to fashion and beauty. Go through our latest eid catalog and get your desired dress for eid.
Structures and Designs:
Like many other notable brands, Almirah also used the lightweight and comfy texture to make its Eid collection extra chic and captivating. Almirah offers dazzling suits in the lawn, jacquard, cotton, and slub lawn texture by considering the weather in mind. This Eid offers the following chic styles for women and young girls to fulfill their needs and choice by wearing unique pattern clothes. 
Long shirt with pajama

Short shirt with flare pants.

Long frock with churi pajama.

Kaftan style frocks.

Plain shalwar kameez.

Front open shirt

Jacket style dress
Color Theme:
In Almirah's collection, they focused on light and pastel colors for making dull summer days increasingly agreeable and cheerful. They concentrated on the following colors:
White

Blue

Pink

Ocean Green

Dark

Pastel color

Yellow and many other brilliant hues
1- Ready to Wear Dresses by Almirah
Most of us always go for ready-to-wear dresses for our comfort. The pret collection of Almirah is the most impressive and comfortable to wear. You will get the different and unique pattern clothes in the pret catalog that surely help make all of your breathtaking and decent look on Eid.
These fabulous dresses are made with the lawn, cotton, and jacquard texture that will not only improve your look also add more charm and grace to your personality. For more pret dresses, visit the Bareeze Eid collection that likewise contains the extraordinary and dashing ready-to-wear dresses for women and young girls.
Mehwar- Printed Tunics for Young Girls



Printed clothing is the best alternative to wear on this Eid. In the printed variety of Almirah, you will get luxurious and extravagant clothing with trendy examples and patterns. It is every young lady's fantasy to finish her Eid look by wearing an elegant Eid dress. Look at the accompanying printed clothing types from the Almirah Eid collection that comprises of contemporary designs and lovely shades, as you can see below. You can pair your printed tunic with the following styles of bottoms.
Simple Shalwar

Capri

Flare Pant

Palazzo
Pick any style and complete your dazzling Eid outfit. Always remember not only outfit can make your pretty, hence you likewise need impressive makeup, classy gemstones, and appealing footwear to make your Eid look extra chic and smart. With your printed tunic, apply the lightweight makeup and wear the beaded accessories to make your Eid look more alluring and noteworthy. Also, get more Pakistani Eid dresses for this festive season. 
Khuld- Tow or Three-Piece Embroidered Eid Collection in White Hues
Are you looking for something modest and traditional? Then have a look at the below 'Khuld" catalog of Almirah that contains the embroidered dresses in stunning white hues. You will get the following styles in this section:
Angrakh style frocks with churi pajama

Kaftan style shirt with Capri

knee-length shirt with trouser
These beautiful dresses are made with pure lawn fabrics. The lightly embroider on the shirt and trousers make them more chic and attractive. You can likewise wear these stunning dresses at your sister or cousin's nikkah ceremony to complete your lovely and pretty look. Pair your cool white outfit with traditional jewelry and bold makeup to make all of your striking and fantastic look at any festival and formal event. 
Unss- 3PC Digital Printed Dresses
If you dont like to wear heavily embroidered dresses, then say yes to these digital printed dresses. Try these beautiful digital printed outfits on this Eid-Ul-Adha and complete your stunning look. Almirah utilized the cotton and lawn texture to make these lovely clothes because cotton and lawn are considered one of the comfiest and luxurious fabrics for the mid-year season. 
With these printed attires, keep your makeup and accessories minimal to get the jazzier and decent look on Eid. Further, wear the high heel shoes to get a lovely and modest look. Never forget to style your hair in a trendy and classy hairstyle to make your Eid look more appealing and dazzling. For more printed suits, explore the Nishat Eid collection.
Riwayat- 3PC Hand-Woven Dresses for Wome



Now take a look at the "Riwayat" catalog that contains the 3PC hand-woven dresses for women and young girls. If you want to wear unique and impressive dresses this Eid and want to inspire the world with your striking look? At that point, try the hand-woven dresses and make all of your jazzier and breathtaking looks. These woven dresses are also best for add some traditional touch to your Eid look.
The classy hand-woven work on the shirts' neckline and sleeves make the "Riwayat" collection extra chic and appealing. These Riwayat dresses are made with cotton and lawn fabric that keeps you refreshing. Since these are lightweight, you can match these outfits with the stone accessories to make your Eid look more dazzling and jazzier. For more hand-woven dresses, explore the Zara Shahjahan Eid collection.
2- Unstitched Catalog from Almirah Eid Collection
Don't like any stitch design and want to modify the dress as per your own choice? Then feel relax and buy the unstitched clothes from the Almirah collection and get the impressive two or three-piece suits. Multi-colors are utilized with the most charming mix in the making of their unstitched clothing types, as you can see below. You will get the printed, embroidered, and handwoven dresses in an unstitched catalog that indeed make your Eid look more dazzling. You can likewise wear these dresses at any gathering or get-togethers. Check out Maria B. stunning festive collection for more classy Eid suits.
Gulbahar – Printed 2PC Eid Collection
"Gulbahar" contains the impressive two or three-piece printed suits that will help to make all of your breathtaking and noteworthy Eid looks. Almirah used fresh and dark hues like yellow, black, blue, and magenta to make its printed collection extra chic and appealing. You can also add some pearls and motifs on the bottoms, daman, sleeves, and neckline of the shirt to make your outfit classy and lovely.
Pro Tips: With these printed dresses, apply bold makeup by prettifying the eyes with smokey eye makeup and cat eyeliner. Further, add a dark color to your lips and nude color to your cheeks. Remember to add highlighters on the cheeks, chin, and forehead to make your Eid look more stunner and elegant. Try to combine your simple printed suit with the heavy gemstones to get a lavish look.
Unss- 3PC Digital Printed + Embroidered Dresses
Some ladies like to wear nicely embroidered dresses. Therefore, Almirah offers the "Unss" catalog for those ladies by presenting the classy 3PC suits embroidered suits. You can likewise wear these fabulous dresses at any wedding event, formal parties, and even at your best friend's birthday party. These classy attires are improved with sequins and thread embroidery. With these embroidered dresses, keep your accessories and makeup minimal to get the noteworthy and appealing flash on Eid. for more embroidered dresses, visit the Ansab Jhanagir Eid collection.
Riwayat- 3PC Hand-Woven Dresses for Women
You also get the hand-woven dresses in unstitched forms so you can customize your dress as per your choice and fashion trend. Here you will get a wide variety of fresh and dark hues dresses in this stunner collection to make your Eid look more fresh and breathtaking. You can combine your hand-woven dress with the rajahstani necklaces to add more charm and shine to your look.
I hope you will admire the Almirah Eid collection because their latest assortments are made with the best tones of shades and tremendous yet comfy textures. Likewise, their prices are referenced with the goal that you can without much of a stretch purchase your desire outfits. Almirah also offers an online shopping facility to its clients. So, if you have less time to visit the outlet, you can buy your incredible clothing online from their web page, and within a couple of days, you will get your dress. The brand also announces the discount very often, so hurry up and grab your ideal dress with the best price before the stock ends. Happy Eid!! 🙂