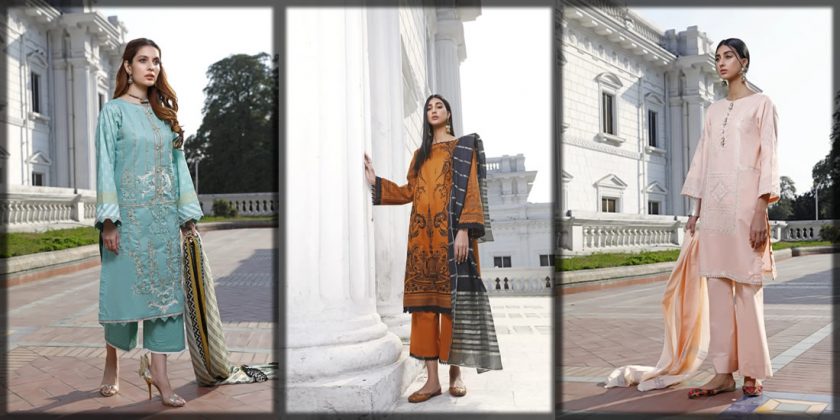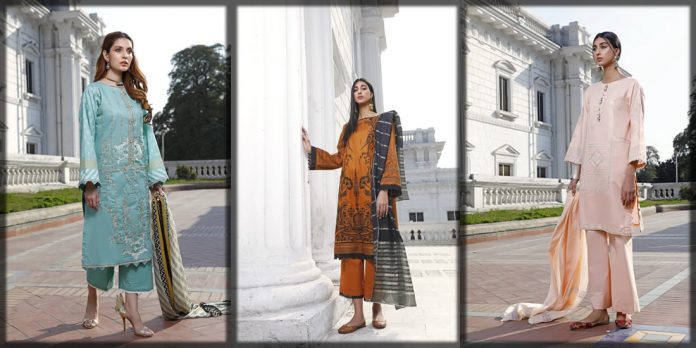 Ittehad Textiles is a leading clothing brand in the fashion industry of Pakistan since 2011. Primarily, it is famous for its high-quality clothing and delicate texture. People love the excellent designs of its dresses that have made it one of Pakistan's best dressing brands. Ittehad Textiles' summer collection is offering a versatile clothing range for its worthy customers.
Well, the notable brand revives the cultural and traditional aspects of Pakistani women. Moreover, all of its designs are classy and go well with Pakistan's summer season. The Summers of Pakistan are fierce an scorching hot. Preferably, this is strongly recommended to have weather-friendly clothes and designs in the summer season of Pakistan.
The recent Ittehad Textiles summer collection contains modest clothes in all vibrant and fresh colors. Additionally, the ornamentation and designing of all these dresses have been done elegantly. Their patterns and embroidery are also classically traditional. So, are you ready for the traditional assortment? Please take a look at the following blog to discover new designs.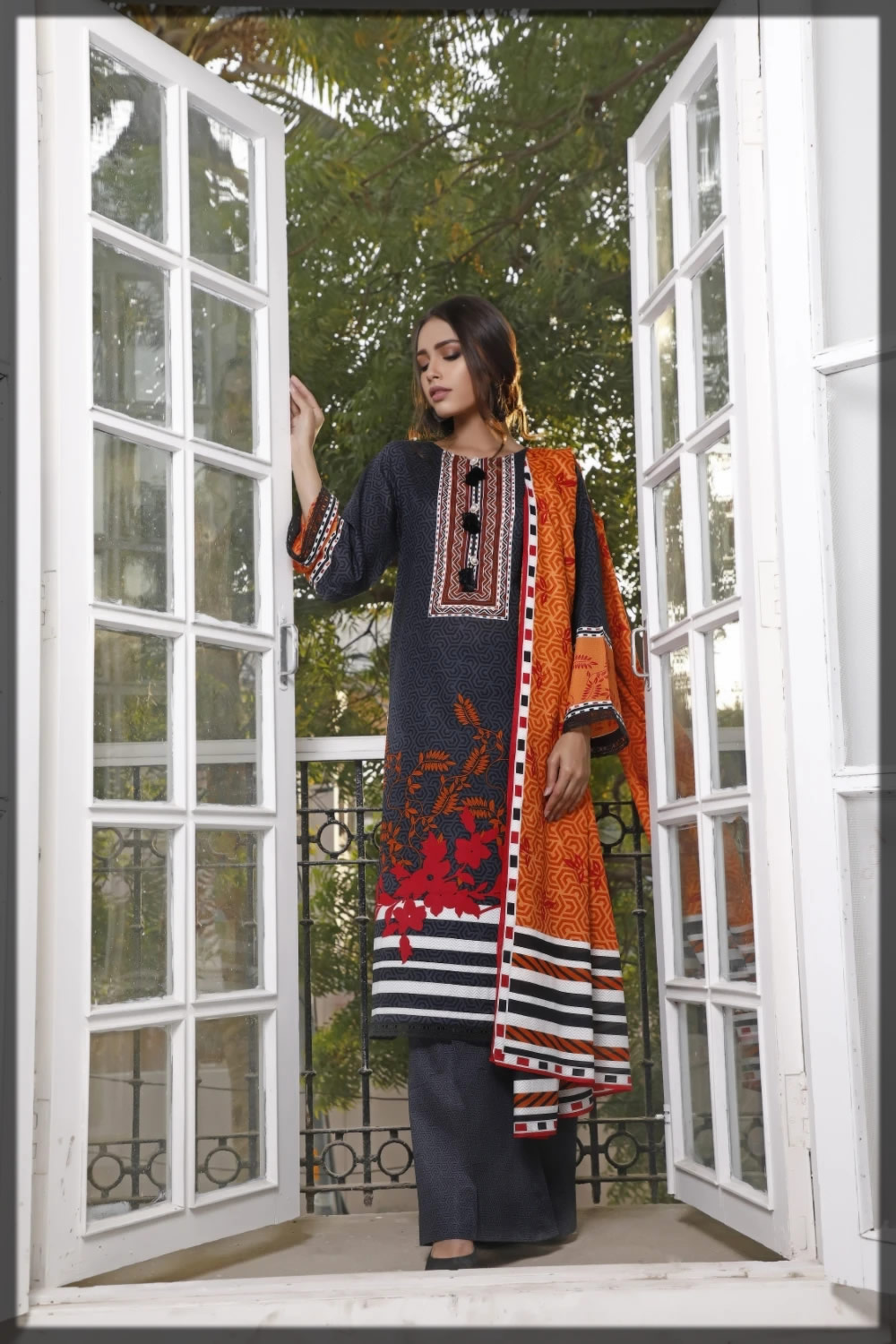 Latest Ittehad Textiles Spring Summer Collection Catalogue

The Ittehad brand has created and introduced many unique and new designs. These designs enhance the beauty of women and make every event more enjoyable. This brand is offering the following types of clothes in its collection:

Ittehad unstitched clothes.

Premium lawn dresses.
Festive and luxury dresses.

Ready to Wear outfits.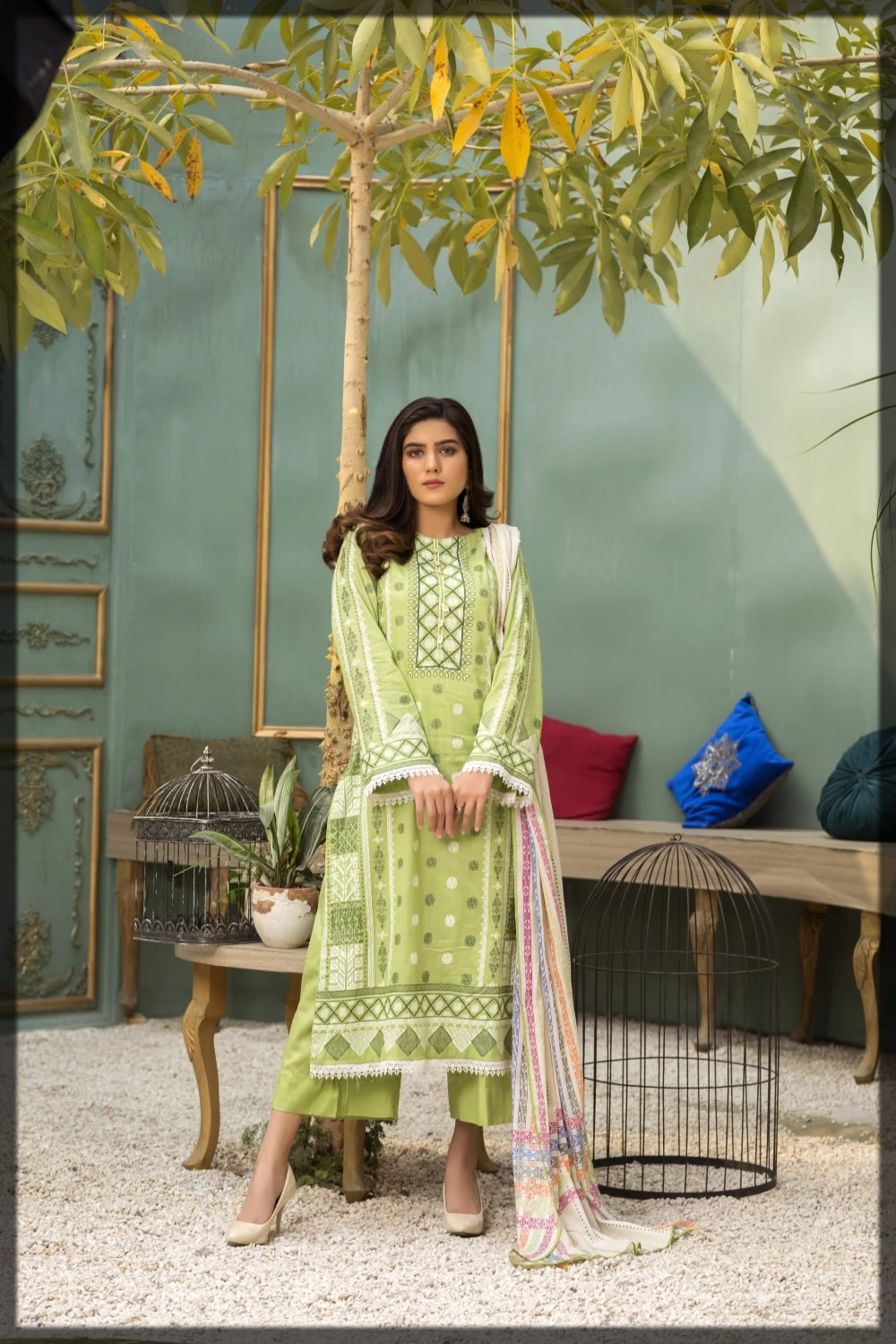 1. Summer Unstitched Lawn Fabric Collection

Unstitched clothes allow girls to stitch the clothes according to their liking and preferences. You can get them sewed with amazing lawn stitching designs. This brand also has a wide variety of unstitched clothes. The prints of these summer clothes are so amazing and new.
Let's discover the tasteful and striking summer color below with magical prints. You can have digital and floral printed suits along with a little embroidery and blended dupatta. Well, the common unstitched clothing categories include:
Cotton satin collection.
Crystal lawn collection.
Rahat Lawn collection.
Digital printed collection.
Embroidered lawn collection.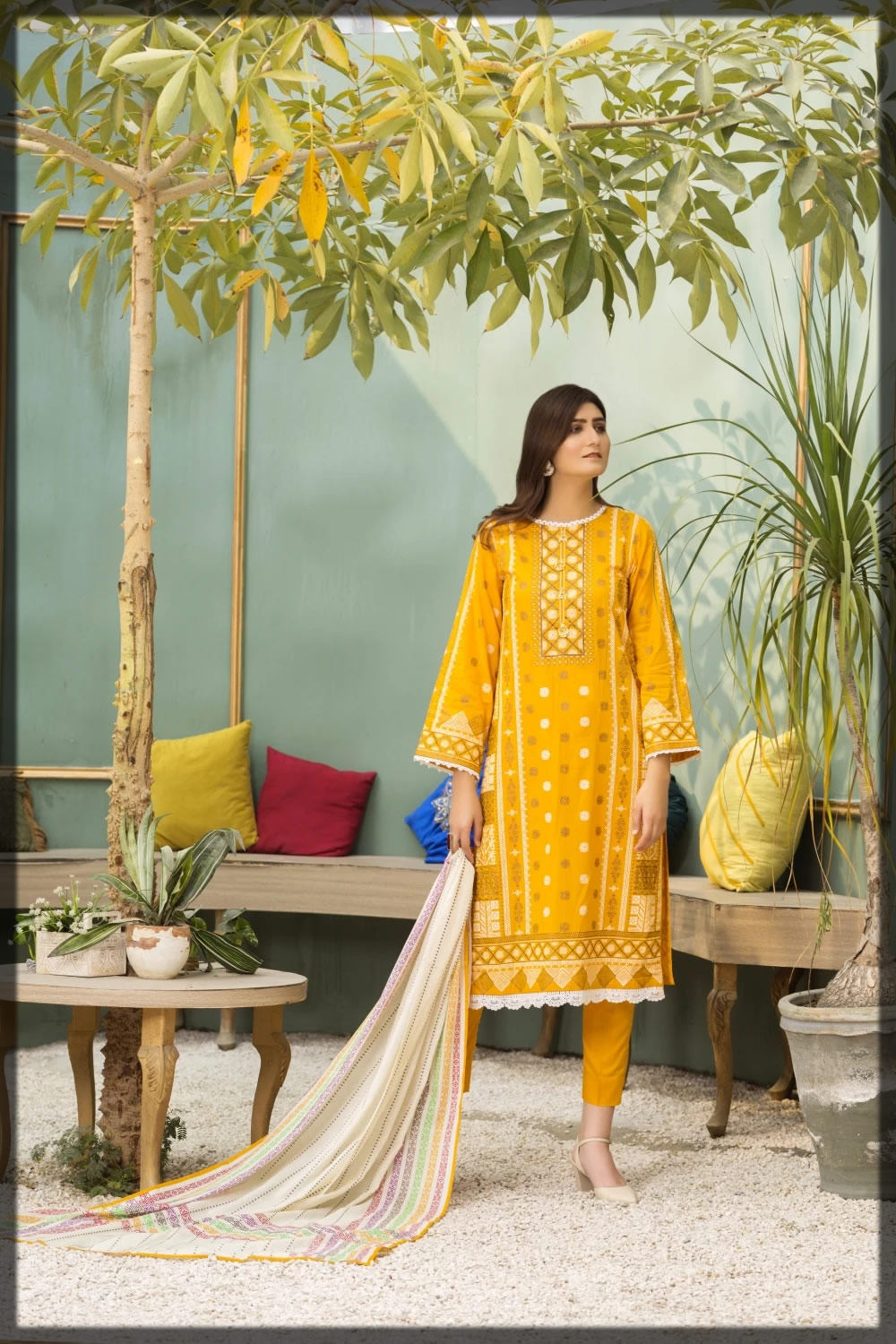 Summer Cotton Satin Collection (Single Shirts)

Undoubtedly, the simplest shirts look the most beautiful when you wear them correctly. The prices are comparatively low, but the texture is the same as those of expensive dresses. For instance, take a look at the following image gallery to seek beautiful coral and floral printed lawn shirts. Each design has uniqueness and a pure charming color palette.
Fashion Tip: Combine contrasting trousers and wear nice jewelry to complete your look.
Crystal Lawn by Ittehad Textiles (3PC Collection)
Nothing can be more sophisticated than the recent crystal lawn collection by the famous brand below. You will be glad to explore the charming colors and magical floral prints with unique designs here. Further, the dramatic patterns will enhance your overall summer look. Mausummery summer lawn is also very pleasing to the eyes. Give it a shot too!

Three-Piece Unstitched Rahat Lawn Collection

The following dresses in Rahat lawn collection are two different versions of minimal printed dresses. Minimal prints have that decency and refreshment, which makes them graceful in the summer season. Additionally, they are available at comparatively low costs.
Women who have been searching for a simple and casual dress can opt for the following collection. These prints are best for casual wear. For more such dresses, check out the Bareeze summer lawn.

Digital Printed Suits with Chiffon Dupatta

Ittehad Textiles has also managed to introduce a variety of designs with chiffon dupatta. Undoubtedly, a chiffon dupatta looks perfect and brings a semi-formal vibe in summers. Usually, women who look for a decent and office wear dress prefer the typical suits with blended and pure chiffon silk dupatta.

Below is an independent assortment for you that showcases a variety of three-piece dresses. Indeed, the beautifully crafted dresses will blazingly complete your vibe. Pick up the most favorite choice generously and enjoy your day.
Ittehad Embroidered Lawn Collection

Embroidery enhances the outlook of the dresses and makes them more fascinating. The following embroidered summer dresses are the depiction of the outclass ornamentation by the Ittehad Textiles. In the first dress, the golden embroidery on the black color is giving a very vibrant outlook.
Similarly, the other dresses with embroidery are also providing freshness to the dress. The embellishment on the base colors brings a charming effect. Moreover, you can appear aesthetically gorgeous with the fundamental collection below.

2. Ittehad Textiles Premium Summer Lawn Collection
How can a season end without a premium collection? Yes, every brand launches its premium variety for its lovable public. Just like other clothing brands, Ittehad Textiles comes up with a breathtaking premium lawn assortment for women.
Take a look at the following image gallery to get amazing designs. You can discover fascinating gold pasted and embroidered shirts here. Further, the shirts are combined with embroidered and plain tissue dupattas for a complete premium vibe.
3. Ittehad Textiles
Luxury and Festive Collection for Women
The secret of great style is to feel good in what you are wearing. Plus, stay confident and love yourself first before expecting a compliment from anyone. Many women like to be appraised and noticed. Therefore, they seek modest clothing styles in abundance.
Do you want to hear a compliment and get noticed? Indeed, you can turn heads on yourself if you bring the best version of yourself in your style. The best part of your dressing is to that be yourself and create an illusion with the following embellished dresses.
Each of the following dresses is beautifully crafted with a magical style. The mirror and stonework, along with hand embroidery and tilla work, will add fuel to the fire. Indeed, you can rock your summer event with a flawless look if you opt for the following dresses. Explore Orient Textiles summer collection for more lavish designs.
4. Summer Ready to Wear/Stitched Dresses for Girls

Ready-to-wear dresses are easy to buy and wear immediately. So, the majority of women prefer ready-to-wear dresses. Ittehad textiles have also launched a variety of designs of ready-made dresses in its summer collection. Nishat Linen summer collection has many trendy ready-to-wear dresses as well.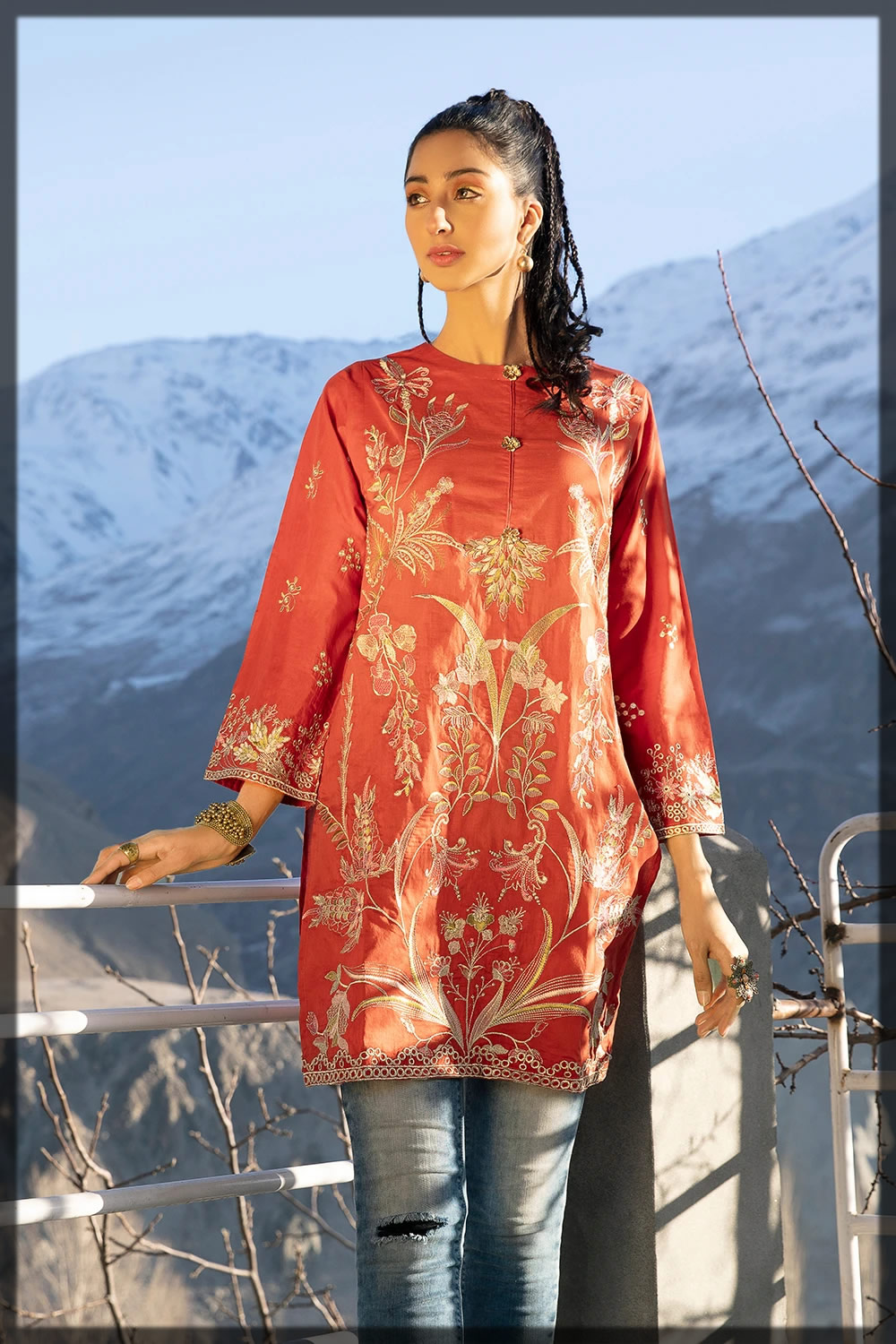 Ittehad Textiles Printed Single Shirts (One-Piece)

Different shades give a natural appearance but also appear so relaxing. The vibrant colors give the sense of refreshment in the blazing heat of the sun. Following one-piece shirts is a beautiful manifestation of the plum and pink color. The floral designs are looking very classy. The selection of plain optical white trousers is the right choice to wear along with these shirts.
Embroidered One-Piece Collection

The embroidered dresses always look very stylish. Plus, there is a unique grace of white color not bound to any weather, and it is a color of all seasons. Take a look at the beautifully embroidered lawn shirts below. Junaid Jamshed summer lawn is also available now in stores.

Classy Two-Piece Stitched Dresses
Ittehad has also prepared and launched its new collection of two-piece dresses. The first light almond brown printed two-piece dress looks astonishing. White dupatta with these two-piece will make the best combination. The second dress of the summer yellow color has golden embroidery all over it. It is providing a quite fancy look.
Pret Three-Piece Dresses in Light Colors
Most women prefer to go for light colors in the summer season. Ittehad has also launched a variety of three-piece dresses in various light colors. You can wear these dresses at formal events. Sana Safinaz summer pret is also worth buying for formal occasions.

The new summer collection by Ittehad Textiles contains dresses of various designs and varieties. These dresses hold the true eastern essence in them and depict the true eastern culture. Females may choose stitched and unstitched dresses according to their likings and preferences. The whole collection is so beautiful and enchanting. It is the reason that this brand is being liked worldwide.