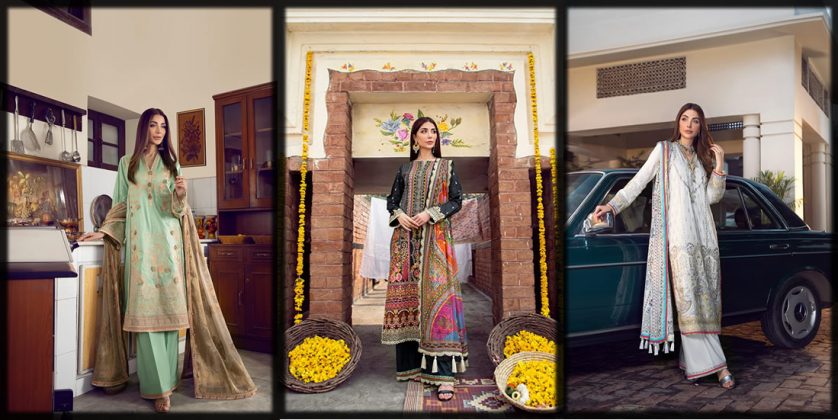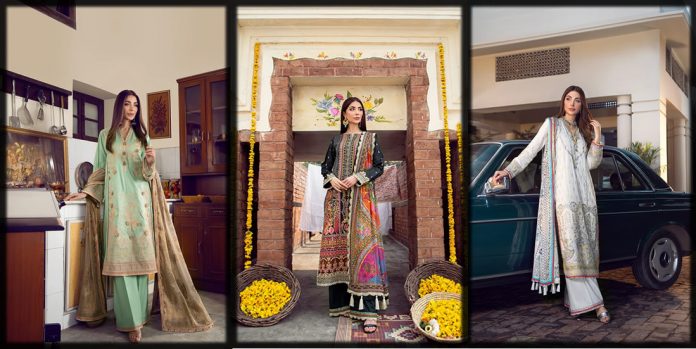 The following blog presents you with the flaunting Fahad Hussayn signature lawn eid collection for women. Indeed, the voguish and striking hues will progressively make you look stunning. The creative and famous fashion designer put his efforts into bringing you the essential summer outfits. Indeed, you will look much brilliant and gorgeous this summer.
The modern era is the era of fashion and glamour. Women always search for an outfit that adds glam to their looks. Additionally, complimentary footwear also adds a shine to your style. Hence, it would be best to go for a classy and modest outfit for yourself to stay classy. I hope that the following blog will aid you in finding your ensemble for spring.
Let me tell you that Fahad Hussayn's eid collection is a mixture of traditional and sensational outfits. You can seek a versatile collection for your memorable season. Get ready to add jazzier and sparkling looks to your spring wardrobe. Please take a deep breath and look at the image gallery below to get incredible summer dresses.
Latest Fahad Hussayn Signature Lawn Premium Eid Collection Catalogue
A change can be truly beautiful if you are searching for it. After the dry and cozy winters, people get frustrated and dull. They try to bring a colorful change with the arrival of spring. Indeed, spring is a season of colors, laughter, joy, and happiness. Plus, you can make it more engaging and joyous with a colorful and decorative dress and footwear. Pakistani designers struggle day and night to bring incredible and colorful outfits for customers.
Here is the latest assortment of Fahad Hussayn for you. The portfolio is a mixture of inspiring and intricate designs. Plus, the fusion of colors makes the outfits much attractive. Undoubtedly, you can get an appropriate dress from the collection below. The prices are comparatively high but in the range of the majority of the women. However, you can get affordable dresses from the recent Khaadi summer collection and have bliss.
About the Creative Designer and Brand History
Fahad Hussayn is one of Pakistan's finest designers who is ruling for over 16 years. The designer got fame for his bridal dresses for a mass influence. Undoubtedly, Fahad Hussayn's bridal collection will astonish you with influence designs. The designer incorporates the proficiency to create an avant-garde group of heritage bridals. People find it a privilege to wear a magnificent bridal outfit by a creative designer. Choosing Fahad Hussayn's dress will never make you feel regret about your choice.
The collections entail bejeweled and intricate tapestries, which is a collaborative project of Fahad Hussayn. Plus, the designer focuses on creating craft in its actual essence and reviving traditional ways intermixed with heritage craftsmanship. Further, the infusion of signature embellishments with silk threads and zardozi on custom-made nets is very phenomenal. The designer uses balmy and gossamery palettes that are set to be luxurious heirloom pieces. Indeed, the following luxury lawn collection will meet your desires.
Unstitched Three-Piece Lawn Dresses for Women
The sun shines, and the day gets warm in summer. To obscure yourself from the warmth of the sun, one must have a comfortable outfit. The top brands present you with the best summer dresses for women at affordable prices. However, a party or such similar events require a little embellishment. Fahad Hussayn's signature lawn eid collection is all set to bring you the desired stuff. Please get over the following blog and pick your favorite dress quickly. Indeed, you will appreciate our struggle and will never regret it.
Embellished Pastel Pink Lawn Suits
A teen's season is incomplete without a peachy pink outfit. Therefore, we've compiled the very best spring outfits to inspire you to get out and enjoy the bliss of the season. Also, you can make the most of this season of rebirth and rejuvenation if you wear a classy dress. Indeed, a peachy ensemble is ideal for such an iconic spring look. The following tea pink and peachy dresses from Fahad's signature collection are truly ideal.
Can you spot the embellishment on the dresses? The intricate embroidery on the front and sleeves look beautiful. Further, the net embroidered and organza dupattas are co-ordinating well for a while vibe. You can attach contrasting tassels on the border of the dupatta for a breathtaking look. Plus, get peachy ensembles likewise from Tena Durrani's premium lawn collection, and have a joyous summer. I hope you will love the designs and patterns.
Sea Green Embroidered Eid Dress
The first blossom of spring always propels the women to get an iconic outfit. Undoubtedly, you can never enjoy the shine of spring without a glamorous outfit. Therefore, the creative designers put their efforts and work day and night to craft magnificent dresses. Here is the phenomenal and delicately embroidered sea-green summer ensemble for you.
The beautiful shade comes in contrast with the yellow embroidered neckline. Further, it has bright pink floral designs on the front that makes it stunning. The embroidered organza dupatta looks unique and fancy for a complete formal look. Get similar outfits and combinations from Mushq's luxury lawn collection and enjoy your spring.
Luxury Black Eid Wear Lawn Dress

Unlock your boredom and paint yourselves with a delightful outfit. Undoubtedly, the black outfit has a grace that no other color brings. Therefore, the designers specially craft a dignified dress for women. You can explore a separate category of black attires in the latest Sana Safinaz summer collection that is incredibly stunning.
Here is an exquisitely embroidered and traditional black ensemble for you. The front of the shirt is fully and heavily embroidered, making the outfit much magnificent. Further, the digitally printed chiffon dupatta is co-ordinating perfectly for a voguish look. Wear Kundan-style earrings and apply minimal makeup with this dress to stay classy and modest.
Fahad Hussayn Signature Lawn Suit for Eid

You must be joyful and enthusiastic if you want to enjoy the bliss of spring. This couldn't be done unless you have an enthusiastic dress. So, what are you waiting for? Do not get depressed, as we have an embellished green outfit for the sake of glam. You can, however, get more vibrant and likewise dresses from Qalamkar luxury summer collection.
I am delighted to share the mesmerizing and most wanted summer ensemble below. You can carry the beautifully adorned dress to mehndi events as well. The fantastic pink floral designs are making the outfit much elegant. You need to go for a classy low-bun style along with delicate earrings to complete your classy and enthusiastic spring look.
Sequined Embroidered Fahad Hussayn Signature Lawn

Do you believe in the truth that white is the most decent shade among millions of others? Yes, it's truly a magnificent and decent hue that can be worn at any event. Delightfully, if a white dress comes in sequined embroidery, then it beats the other vibrant dresses. For instance, you can explore Hussain Rehar collection for graceful white dresses.
Below is a magnificent and exquisitely embroidered white dress. The sequined embroidered technique makes the outfit beyond beauty and grace. Undoubtedly, the embellishments are making the lawn attire much ideal for any summer event. So, get yourself the following dress and combine pointed high-heels to elevate your entire looks.
Shocking Pink Premium Eid Lawn Dresses
Do you want a perpetual astonishment in your outlooks? If so, then always chose a vibrant outfit over dull shades. Here we have a striking shocking pink ensemble for you that will gain you an attractive look. Get a similar design from the Salitex luxury collection.
Indeed, you will never deny buying the flaunting outfits below. The ornate designs look much stylish in summers. The fully embroidered fronts and trousers look ravishing. However, the chiffon and embroidered organza dupattas complete the summer look.
Embellished Pistachio Green Lawn Dress
The first actual day of spring is like the first time you are a free soul. A flood of skin-tingling warmth consumes you. Plus, everything shines with a fresh, colorful glow, making you forget that anything as cold and harsh as winter ever existed. The feeling gets doubled if you acquire a pure enchanting summer ensemble.
Undoubtedly, the pistachio green color always stays at the top priority of the majority of the women. Therefore, we are presenting you with a well-decorative outfit below. The magnificent attire comes in the usual combination of light tea-pink dupatta. You can have a similar dress from the recent Sable Vogue's luxury lawn collection.
Light Olive Green Summer Eid Outfit
Cut out the negative thoughts and welcome the colorful season with enchanting shades. Indeed, you will feel much happier than ever if you wear a dramatic outfit. The following olive green dress can be an ideal option for a cherishing spring look.
The dress is beautifully decorated with embroidery and tilla work. Additionally, it comes with a multi-colored digitally printed chiffon dupatta for a subtle look. Get more similar outfits from the Manara summer collection and get compliments from your loved ones.
Embroidered Beige Signature Lawn Dress
The  following classy beige colored outfit from Fahad Hussayn collection comes in a fantastic combination with maroon. Therefore, Fahad Hussayn's premium eid collection is presenting you with an essential combination below for summer. There are magnificent beige ensembles likewise in Zainab Chottani's collection. Give them a shot too!!
The following outfit has a fully embroidered front with a little tilla work. Additionally, it is complemented with a basic trouser that has an exceptional border. The blended and printed chiffon dupatta is making the outfit ideal and complete for a mature look.
Sunshine Yellow Premium Lawn Outfit
The spring wakes and sustains us with its arrival. Also, it revitalizes us with blossoms and shine. Well, can you answer it that how many times a season of colors come? If you are a convict of the calendar, then you have spring just once a year. People show immense love towards summer look for a sunshine yellow ensemble for their relatable look.
Here is the essential summer color for you. The embroidered yellow outfit is all set to bring you a dazzle. Plus, the complimentary style looks much magnificent with a digital printed chiffon dupatta. Get yourself an enchanting outfit for your mid-year season. Plus, explore more from Nida Azwer's lawn collection and have a delightful spring.
The regal ensembles etched with luxurious embroidered patterns are launched for you. Indeed, the radiant and glowy outfits will encourage you to opt for them. Gain a perfectly summery vibe with any of your favorite outfits from the portfolio above.  I hope you will never regret your choice. Please give a thought to Fahad Hussayn Signature Lawn and unlock your dullness here.