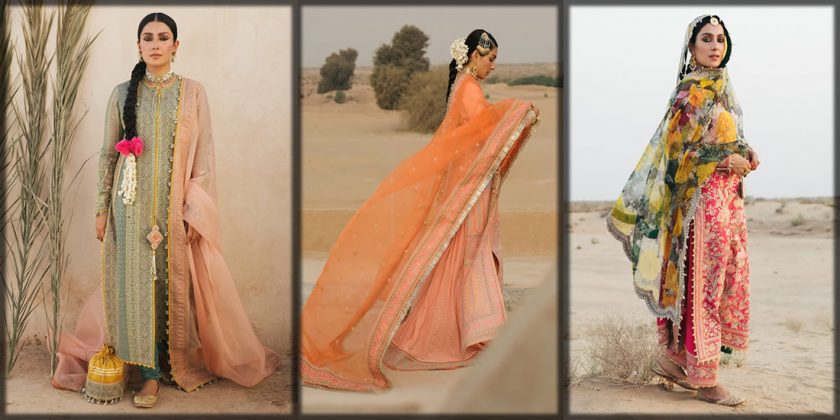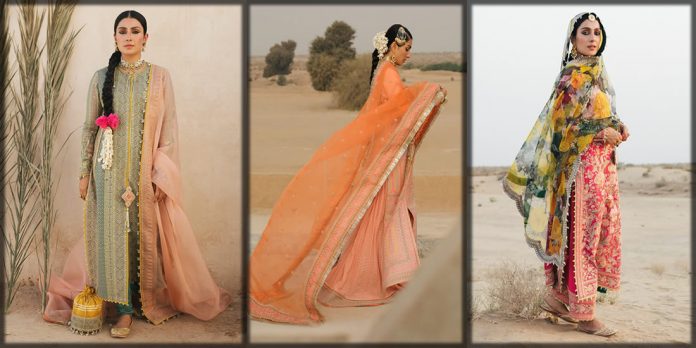 Glamour is something fundamental regarding confidence and owning your looks. You can never stay confident and pretty until you own what you are wearing. Therefore, a striking outfit is required to add a little glam to your personality and outlook. Hussain Rehar luxury lawn collection presents you with studded and glamorous spring outfits to own this season.
It is the game of mind that either you are wealthy or poor. So, your state of mind must be positive and satisfied with your clothes and footwear. Several clothing brands are working for the desired stuff that you love to wear. Moreover, the quality texture and sensational design also play an essential role in any outfit's entire look. One should never compromise on it.
So, never be afraid of starting something new and delicious. Instead, taking risks will lead you to success. Get yourself a dramatic outfit from the latest collection of Hussain Rehar. Therefore, I can assure you that the dazzling hues and embellished dresses will speak about your personality. Moreover, it will appeal positively to your character, so please give it a thought.
New Arrivals: Hussain Rehar X Ayeza Khan "ROHI DE NAAL" Collection

People always pay attention to the beauty of a woman. Undoubtedly, the girls have always noticed in any event rather it's spring or winter. Do you want to be recognized as a modest and up-to-date woman? If so, then choose an outfit wisely for yourself in any event.
Also, I am glad to let you know that the famous Pakistani fashion designers create enthusiastic styles for you. Admittedly, you will never regret your choice if you choose an ensemble from Hussain Rehar's collection. Instead, you will appreciate our tips and suggestions.
About the Creative Designer and Brand History
Hussain Rehar is a successful designer who has built a career in fashion through struggle and hard work. The secret of his success and excellence is the unique and unusual styling and attention to detail he gives to each design. Hussain Rehar established his namesake label on August 23rd, 2017. He graduated with a fashion designing degree from the Pakistan Institute of Fashion and Design. The young designer entered the market by bringing individuality with a touch of boldness. Therefore, people love his creative ensembles.
The indefinable characteristics of the label are a result of certain unique and uncommonly brilliant perspectives. Focusing on the ability to combine his unique handcrafted skill and aesthetic influence with high fashion sensibility, Rehar continues to offer fashion through broad-spectrum accessibility. From exotic elegance and bold wild print glamour to the red carpet drama, Hussain Rehar is adored by everyone in the industry.
Lifetime Achievements:
Hussain Rehar was nominated in Pakistan for two significant award shows, the Lux Style Awards, and the Hum Style Awards, as the fashion industry's shining star. You can witness the originality of the designer through his expertise in his divergent canvas. Moreover, the insight visual modality was inspired by cultural alluring and women empowerment.
Unstitched Catalogue of Hussain Rehar Luxury Lawn
Hussain Rehar made his fortune in the fashion world when he took the lead in designing the most extravagant labels that reflect his creativity and vision. The famous designer pioneered a platform that he constructed by merging his artisanship and scale of exotic elegance to grasp the fashion world's attention.
Further, the apparel collection of Hussain Rehar consists of resorts, formal and semi-formals, along with two Bridal Collections. The brand started boosting its fame, and it has already expanded its web in other fashion dimensions. However, here is the unstitched summer catalog for women. Moreover, the designer will eventually ratify his piece of art in western-style clothing, and it will give a chance to endorse delicate vogue.
Sapehar Yellow Luxury Lawn Outfit
Are you looking for a glam summer outfit? If so, then the pure sunshine yellow outfit will be the best option for you. Never limit yourself because a good emcee will rhyme in a lot of different ways. Therefore, we are bringing an exquisite yellow ensemble for you below.
Moreover, the following yellow outfit is fully embroidered from the front. Also, it has a fully embroidered back and sleeves. The floral printed organza dupatta is completing the striking look. Plus, you can get more designs from the recent Tena Durrani's luxury lawn collection.
Redish Pink Premium Lawn Dress
Beauty never fades, and one feels comfortable in their own complexion. However, people who have relatively fair skin tone look for vibrant colors to enhance their looks. Therefore, we suggest you try the flaunting shocking pink luxury premium lawn dress below.
Please take a look at the following voguish combination for your summer. The fully embroidered lawn shirt is co-ordinated with a floral embroidered organza dupatta. You can likewise get staggering combinations from the latest Taana Baana's summer collection.
Off-White Premium Lawn Dress
Nothing can beat the grace of an off-white outfit. You can behave the best if you dress up impeccably. Also, never compromise on your outfit as it speaks about your personality. So, get yourself a studded off-white premium lawn outfit for this summer to stay classy.
Moreover, the ensemble is fully embroidered from the front, back, and sleeves. Further, it is co-ordinated with a basic trouser having a contrasting border. The organza embroidered dupatta looks magnificent like that of Cross Stitch's summer collection does.
Teal Blue Embroidered Lawn Suit
Bring yourself a shiny and glamorous look this season with Hussain's summer collection. You need to stand still and look stylish with the right kind of outfit. Undoubtedly, the contrasting teal blue ensemble will bring you the necessary dazzling looks this summer.
Moreover, you can make your dress in the following style if you love to wear floor-length frocks. Plus, you can seek similar designs in different shades from Asim Jofa's RABT collection. I hope you will love the unique teal blue fully embroidered dress with organza dupatta below.
Embellished Ice-Blue Lawn Outfit
Glam culture has its roots in obsession and passion. Plus, people who are truly devoted and loyal to their personality can be the master of glamour. Also, do you think that you are glamorous? If so, then you will surely go for the following creative ensemble for summers.
The ice-blue outfit is intricately decorated with embroidery. It is embellished with organza patches and a fully embroidered organza dupatta. Moreover, it has basic trousers with a border for a whole look. You can see many similar styles from the Manara luxury lawn collection.
Light Pink Fancy Lawn Outfit
A fancy ensemble is all that a woman looks for in every season of the year. Despite the busy and hectic routine, a woman never skips any event. Therefore, we have an inspirational fancy outfit for you to wear on any summer occasion.
Get yourself an incredible pink embroidered outfit from Hussnain Rehar's summer collection. The delighted outfit is fully embroidered from the front. Further, it is co-ordinated with an orange organza dupatta. Get more similar dresses from Sable Vogue's collection.
Pistachio Green Hussain Rehar Luxury Lawn

How can a spring end without a typical pistachio green dress? You might have seen a sufficient variety of exquisite ensembles from Nilofer Shahid's luxury collection. But, here are some more from Hussain Rehar's collection. So, I hope you will love the dress.
Moreover, put on the following dress more elegantly this summer to rock the events. The beautifully embroidered lawn dress is embellished with intricate artwork. Also, it has a contrasting tea pink organza dupatta that makes the outfit progressively appropriate for any event.
Glitter is cool because it's like glam rock. Indeed, a woman looks glamorous if she opts for a slightly brighter and glittery outfit. You might have seen magnificent styles from the Salitex luxury lawn collection. So, here is a rusty yet glittery outfit for you below.
The unique combination will propel you to try it this season for a distinctive look. Apparently, the rustic shade comes with a ferozi gala in contrast. Further, it has a shocking pink dupatta and white trousers. I hope the dramatic combinations will suit you.
Koyel Black Hussain Rehar Luxury Lawn Suit
Are you looking for a Koyel black premium outfit for summer? If so, then head over to Hussain Rehar's collection to grab your desired striking summer ensemblse. However, you can have much variety from Zaha's luxury lawn collection too. The portfolio of Zaha's collection is full of inspirational and artistic work that looks classy in summer.
The following black outfit is full of glamour and class that will get you a compliment. Well, the outfit is fully embroidered from the front and back with printed trousers. Further, it has a plain organza dupatta for a wholly contemporary look. The innovative outfit will bring you enough dazzling looks to stay modest among the galaxy of people around.
So finally, the most awaited collection of the season is here for you. Delve into opulence with the majestic designs above. Moreover, the classical counterpart and traditional ensembles will evoke a sense of magic in your looks. Plus, the high-quality fabric and premium designs will create an illusion in your style. Please give a thought to the assortment above.