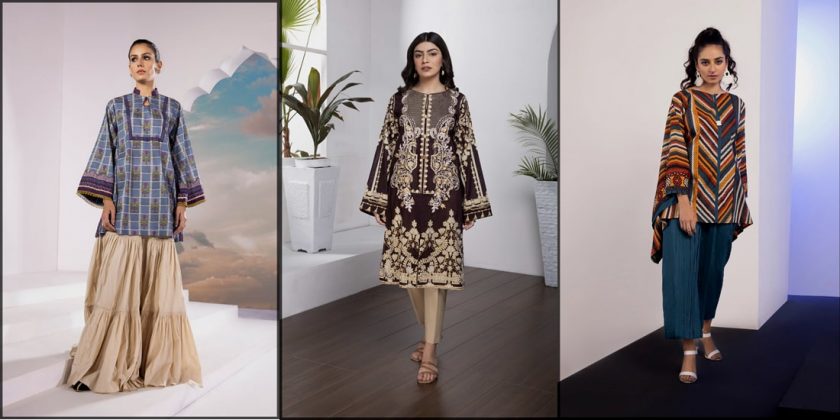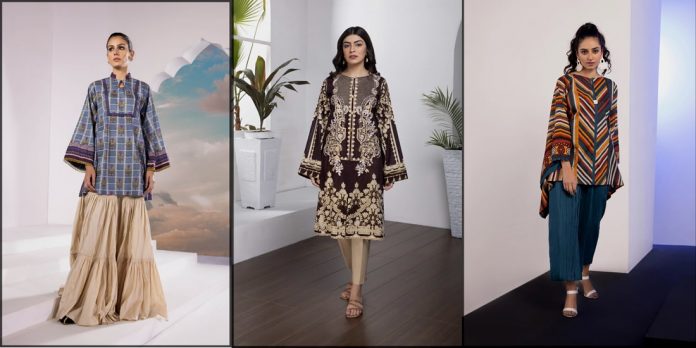 Sapphire is a Pakistani high-end clothing retailer that sells unstitched and ready-to-wear attires. The vast majority of Pakistan's women anxiously wait for the Sapphire summer collection to launch since women love to wear their fashionable and beguiling outfits.
Sapphire brand was found in 2014. The owner of Sapphire is Nabeel Abdullah, who is known as the pioneer in the fashion industry. The Headquarters of Sapphire is in Lahore, and it has more than 21 operating outlets all over Pakistan. They got famous in a brief time-frame and got appreciation more than other brands due to their extraordinary textures, patterns, and color themes.
Sapphire introduces the best and most trendy collection of bags, shoes, and outfits for women, children, and men every season. You will get tremendous and lavish lawn attires with the best vogue style in Sapphire's latest collection. This season, Sapphire offers the casual and formal attires in the most amazing shades. Let's explore!
Latest Sapphire Spring Summer Collection for Women (Catalogue)

Sapphire has launched its summer collection with unique designs and affordable prices. These dresses are made custom with a western touch. Sapphire spring and summer variety is available in two and three pieces suits and a single shirt in stitched and unstitched forms.
Sapphire's Quality Fabrics
This season, Sapphire focused on numerous textures for making their beautiful and beguiling summer wear assortments. So, everybody can get an ideal outfit and make themselves more lovely and outstanding.
Unstitched Sapphire Lawn Suits Collection (Volume 1)

Women prefer to buy unstitched clothes so they can modify the dresses as per their choices and need. In Sapphire's latest collection, you will get the most incredible clothes in unique shades and patterns. Most of Sapphire's unstitched garments are made with lawn and slub lawn texture because the lawn is considered the comfiest and reliable surface for the summer season. So this season, enjoy your summer freely by wearing the classy lawn suit and refresh your summer look. The unstitched summer collection of Sapphire contains:
Classic Sapphire Summer Collection

Daily Wear Summer Collection

Sapphire Pop Summer Collection


Serene Sapphire Summer Collection

Luxe and Signature Summer Collection
Also, explore the Zellbury summer catalog for more unstitched attires.
1- Classic Two & Three Piece Summer Suits by Sapphire

Following are the pretty outfits from the classic Sapphire collection for the summer and spring season, which incorporates the best shades and designs. You will get the two or three pieces attires in the classic collection of Sapphire. The shirt's neck area is embellished with patches and pearls, enhancing the dress's whole look and design. Further, these dresses are paired with chiffon and viscose dupattas, which are lightweight and easy to carry. You can also check the most stylish and gorgeous summer collection by Sana Safinaz here.
2. Casual Daily Wear Summer Outfits Collection

Daily wear clothes are different from formal garments. Women prefer casual dresses for everyday wear because casual clothes provide comfort, and you can easily do your work. It is because when you are satisfied with your outfit, then you can do anything with confidence. Sapphire's daily wear collection consists of soft fabric and soothing colors. It is usually paired with chiffon, poly silk, or net dupatta, which you can easily carry. Further, have a look at the So Kamal casual summer dresses that also very beautiful and chic.
1-Piece Unstitched Fabric

The below single unstitched piece dresses one of the chic outfits, with the geometric design and best combinations of colors. You can likewise wear these beautiful kurtas at any gathering or event. Further, you can carry your printed summer kurta with the cambric trouser or Capri as you like.
Two & Three-Piece Printed Suits
The unstitched casual attires of Sapphire also very chic, as you can see below. The beautiful shades and the attractive patterns of this catalog will help update the ladies' look and appear more cool and dazzling. All you need is to pick the blooming and fresh hues outfit to add more charm to your summer look. For more printed suits, browse the Rang Ja summer collection.
3. Sapphire Pop Summer Collection



Sapphire's summer pop collection is amazing like Maria B's summer dresses, which give you a fashionable look. The accompanying varieties consist of beautiful colors. You can style the unstitched variety of lovely tones and dynamite prints in an appealing manner. A charming blend of vibrant hues and dynamic flower prints make these outfits jazzy. Wear lightweight jewelry to finish your pop look with the pop outfit.
4. Serene Two & Three-Piece Summer Collection
Serene Sapphire's summer collection holds fresh and trendy clothes in the collection. As you are probably aware that the trend of long-length shirts is back. So, Sapphire exhibits the long-length shirts with the trousers for demonstrating their best in-vogue assortments of this summer. Along with the unstitched dresses, the following accessories are included that can make your dress beguiling and exceptional.
| | |
| --- | --- |
| Colored additional weft and self Jacquard shirt | |
| | |
| | Colored supplementary weft and self Jacquard Dupatta |
Sapphire uses motifs and pearl bands to improve these outfits. You can wear these motifs and pearl dresses at any gathering or wedding occasion. Tie your hair in progressively classy hairdos and apply light makeup as you like and get a stunning look by wearing these luxury dresses. Trust me! You will look increasingly smart and up-to-date in these dresses. All you need is to pick the right outfit to rock any gathering.
5. Luxe and Signature Three-Piece Suits by Sapphire



The Luxe and signature summer collection by Sapphire includes gorgeous dresses with printed silk dupattas for women. The extravagant suits are structured with digital print remix, hued, weaving, self-print, and weaved strings work. This collection of Sapphire is very excellent yet modest.
The accompanying shirts are available at a reasonable price, which you can easily buy and prettify yourself at any social event or companion gathering. It will give you a sleek and fabulous look. Here all the most current beautiful and decorated outfits from the Luxe Pakistani party wear dresses by Sapphire. That will change your look entirely and make you more bright and beautiful. With these outfits, wear high heels and a necklace with the earrings and prettify yourself well.
Classy Stitched Dresses in Sapphire Summer Collection

The pret assortments by Sapphire are generally enchanting and magnificent, like the Breakout summer collection. If you are in a rush and want to get the comfiest and classy outfit for your summer party, then you can grab your desired outfit from the pret catalog of Sapphire. As you are most likely aware, nobody has time to go to the bazaar and run down through piles of clothes in the bustling life schedule. Hence, we are here to give you comfort by updating you with the latest collection of Sapphire.
The latest pret collection of Sapphire will encourage you to make your gaze more glammy and jazzier. All dresses are beautifully furnished with string and dabka work. You need to pair these stunning attires with a classy makeover and decent adornment for a beautiful and gorgeous look.
Printed and Embroidered Pret Shirts
In ready-to-wear kurtas of Sapphire, you will get the printed and embroidered shirts/Kurtas. The embroidered single shirt of Sapphire is decently adorned with thread, beaded, and string work. While in contrast, the printed shirts contain the geometric, dotted, and strips patterns that each girl wishes to wear.
Therefore Sapphire added the dotted and striped patterns in its latest collection. You can pair these stunning kurtas' with the plain cambric trouser to get an incredible and noteworthy look. For more embroidered shirts, visit the Limelight lawn embroidered shirts.
Two & Three-Piece Ready to Wear Suits
The printed and embroidered suits of Sapphire are also very chic. Sapphire used the slub lawn and cotton texture because both are the comfiest textures that help prevent the person from the sun's hot rays. The pret suits of Sapphire contain lovely shades and patterns, as you can see below.
Summer Dupattas Collection of Sapphire

In summer, everyone wishes to carry the lightweight dupatta to enjoy the summer season freely. Sapphire is the only brand that contains the dupatta section in its latest collection. So, the ladies can't face the difficulty of searching for the lightweight dupatta for the summer season. In its latest summer collection, you will receive the different texture dupattas in vibrant tones. This season, Sapphire offers the following dupattas:
Viscose Chiffon
Blended Organza
Fine Voile
Extra Weft Jacquard
Trendy Bottoms Designs for Young Girls

Not only chic shirts will enhance your look. You also need to pair your shirt with stunning and modest trousers to get the perfect and alluring gaze. Look at the trendy bottoms designs below, which you can pair with your single kurta to complement your outfit. These classy bottoms are available at a minimal cost, so everyone can easily buy and make their look more accurate. Sapphire offers the following style of bottoms this season:
This site page's leading role is to give you the facility to check Sapphire's latest summer collection. Further, at that point, get your desired outfit online from their website page, and within ten days, you will get your dress. In this article, I showed you the classic, pop, serene, and embroidery work outfits of the Sapphire so you can quickly select your outfit according to fashion or occasion.