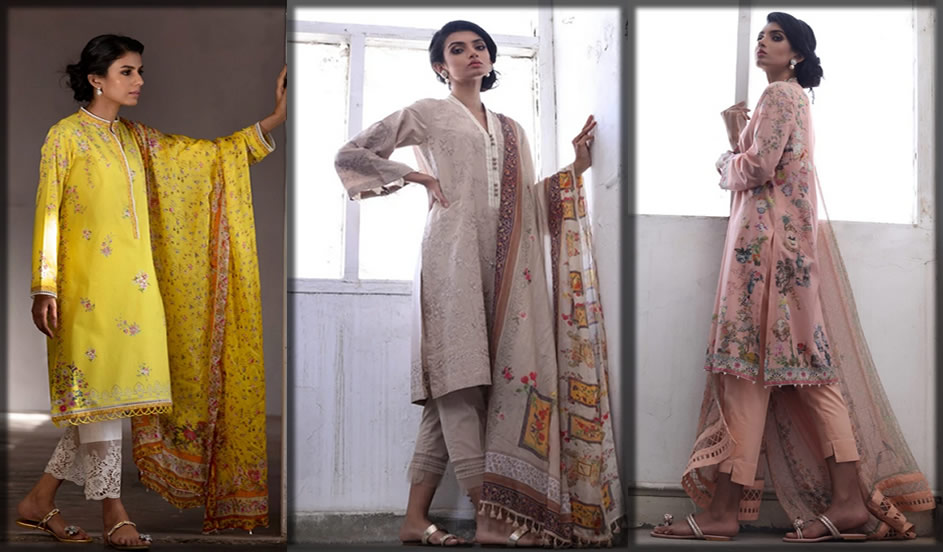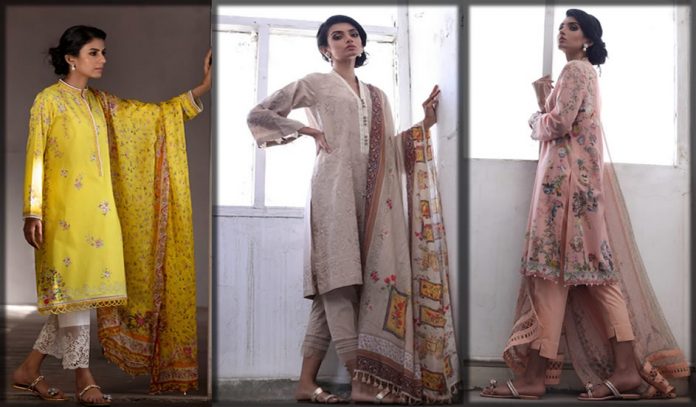 Nida Azwer luxury lawn collection presents you with an exemplary assortment of beautiful dresses. You will be overwhelmed with the dramatic designs and inspiring hues. Undoubtedly, women try to wear every color in spring. I am glad to say that you will find all the desired stuff here. Plus, the quality fabric will comfy your scorching summer season.
The scorching sun propels the women and men to look for new dresses. Undoubtedly, people get bored from the cozy and warm outfits of winter. Spring is an opportunity to add colors to your looks. Therefore, the clothing brands come up with modest and latest styles. Plus, the comfortable and smooth texture will make you look progressively stunning.
So, are you ready for an engaging portfolio? Do you want to look exceptionally unique in the mid-year season? If so, then give a pause here to view the blog. The following article is a sensational demonstration of lovely and dynamic summer dresses. Admittedly, you will pick any of the dresses for yourself to bring jazzier and graceful spring looks.
About the Creative Designer – Nida Azwar

Nida Azwer stands among the top Pakistani fashion designers in the industry. She is in the industry since early 2005. The designer completed her graduation from the renowned institute Indus Valley school of art and architecture. Just after one month of her completion, she stepped into the industry with innovative designs. Nida Azwer has always been inspired by the fine craft of local and creative Pakistani artisans. Further, people recognize her for the love of truly inspirational and vintage designs.
Plus, you can see her traditional crafts like Tukri ka Kam, Zardozi, and miniature embroidery. She revived the contemporary fashion trends by bringing a youthful and classy collection every year. The designer was nominated in Lux style awards for the first time in 2005 for the category of new emerging talent. Further, in 2015, she was nominated for the best fashion designer for pret collection. However, she won the award of the Best designer at the Nesveta women's strength awards in 2019.
Nida Azwer Luxury Lawn Collection for Women (Unstitched Three-Piece Suits Catalog)

All that we need in summers is a comfortable fabric and splendid design. Many people may have skin issues that can be managed with a quality outfit. Therefore, Nida Azwer presents you with a breathtaking summer collection in high-quality fabric and smooth texture. Indeed, the meticulously created summer dresses will satisfy your desires.
Further, the delicately embroidered dresses will bring out elegance. Women who are beauty conscious shall quickly pick a desired dress from the following collection. The creative designer has worked day and night to bring you the innovative spring collection. Indeed, you will love the intricate designs and beautiful magical prints.
One looks slaying and classy in a dusty pink outfit if you wear it correctly. Significantly, the teens and university-going girls show immense love for the unique pink shade. Therefore, we are presenting you with stunning and pleasant pink outfits in our latest collection. Plus, you can discover more from the recent Sable Vogue's luxury lawn collection.
Here is the chic outfit for you below. The dress has vertical embroidered panels on the shirt. Further, it has a pleated cuff style for sleeves. However, the border of the shirt comes with floral digital printed patterns for a slaying look. The amber chiffon dupatta and plain trousers are completing the whole look. So, get yourself the following outfit for spring.
Pistachio Green Lawn Dress
Pistachio green is relatively dull from of original green color. It is one of the coolest shades that women love to wear in summer. Therefore, we are presenting you with the beautiful pistachio green dress here. You can explore more from the Cross Stitch collection.
Take a look at the image gallery below to seek a pleasant style. The horizontal patterns and delicate embroidery looks stylish in summer. You can apply minimal makeup and combine fantastic footwear to complete your look. Please give it a thought and enjoy your spring.
Gardenia Embroidered Summer Outfit
One cannot endure wasting anything so precious as autumnal sunshine by staying in the house. Also, women who think that life is like a gleam of sunshine look for a sunshine yellow outfit. Therefore, we are presenting you with a blissful yellow outfit. You can see the more vibrant yellow dresses from the Khaadi summer collection.
Take some time to have a look at the image gallery below to explore the gleamy dress. The border of the shirt is heavily embroidered from the front. You can combine white lace to create a stylish neckline just like the model has done for a unique look. However, the contrasting digital printed blue dupatta is creating a staggering and bright look for you.
Blazing Orange Rusty Outfit
Mixing and blending specific hues to create an unusual yet magnificent look is an art. Undoubtedly, Nida Azwer is a creative artist known for intricate designs and patterns. Here she has a beautiful blazing rusty outfit for you. The fantastic blend of brick red and orange color looks dramatic and quite stunning in the mid-year season.
Please take a glance at the image gallery below. The model is wearing an exquisite summer outfit by Nida Azwer. You can attach a criss-cross lace at the border to create an inspiring look. However, the contrasting brown dupatta goes well with the combination for a jazzier look. Get unique dresses likewise from the Junaid Jamshed's summer collection.
Indigo Blue Luxury Lawn Dress
You can never change the direction of wind and sun in summers. But, you can change your fashion sense and outfits to glow differently. If you want to leave shadows behind you, then always wear a fantastic and unique dress for ease and comfort. Here is a brilliant indigo blue outfit for you. You can have a similar style from Limelight's summer collection.
Please take a while to discover the unique indigo blue dress below. The shirt comes in vertical printed panels from the shoulders to the border. Further, the border is enhanced with contrasting pale yellow patterns. The digitally printed lawn dupatta is completing the contemporary look. So, give a thought to the dress below and enjoy your spring.
Light Almond Brown Lawn Dress
Whatever the matter and situation are, one shouldn't compromise on style and fashion. It's your style that speaks about your personality and choices. Therefore, you need to manage things rightly in summer besides the hot and unpleasant season. Go for the classy light almond brown lawn embroidered dress to bring dazzle and sparkle to your looks.
Please take a look at the image gallery below to explore the fascinating spring outfit. The light almond brown dress is beautifully and delicately embroidered from the front. Plus, you can attach an organza embroidered lace on the border of trousers for a creative look. Also, explore Taana Baana's summer collection for more likewise decorative attires.
Sundaze Strawflower Suit for Summer
Keep your face towards the sun, and you will hardly see a shadow. It's all about perspective. Women who wanna enjoy the entire gleam of spring always opt for a sun-daze shade. Therefore, we are bringing you a unique sun-daze strawflower outfit for summer.
You can get likewise dress from the latest Ittehad textiles summer collection too. But, below is the creative Nida Azwer's gleamy yellow dress. The embroidered shirt is co-ordinated with white trousers and a digitally printed lawn dupatta for a whole look.
Pink Outfit by Nida Azwer Luxury Lawn

Pink color always looks exquisite in every season of the year. Usually, teens prefer to opt for the shade for the prolonged summer. Undoubtedly, it looks pretty and fashionable with a little jewelry. Get similar pink outfits from the latest Mushq's luxury lawn collection.
Well, here is a delicate pink outfit for you below. The embellished embroidery and decoration are making it progressively seeking. Further, it is combined with a floral printed white dupatta with vertical patterns for a total slaying spring look.
Elegant Beige Embroidered Dress
Nothing can beat the grace of contrasting beige outfits. One must try ravishing styles but, simple and graceful dresses have many magnificent looks. You can get enthusiastic styles from the recent Maria B's spring collection for a pure luxury outfit.
Here is a decent yet graceful beige outfit for you below. The dress has beautiful combinations of beige with multi colors to create a stylish look. Plus, the dark brown dupatta goes well to craft a totally dual personality look.
Enchanted Garden Outfit for Teens
Be the one who shall be recognized as most graceful and respectful. This couldn't be done without a pleasant and dignified spring outfit. For instance, you need to try Zara Shahjahan's summer collection as it offers glorious styles for women.
Well, Nida's collection is a breathtaking portfolio of versatile clothing styles. Below is a beautiful demonstration of a dignified spring outfit for women. Buy yourself an enchanted garden blue dress below and apply minimal makeup to stay classy.
So, the flaunting Nida Azwer luxury lawn collection catalogue is out now. You can buy your favorites online or from the stores. Undoubtedly, the sleeking designs and inspirational patterns will create an illusion in your style. So, be yourself and bring sensational outlooks with the mesmerizing collection above. I hope you will love the summer dresses.