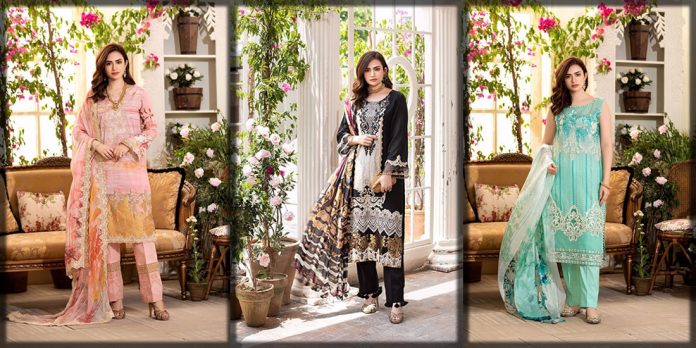 With the arrival of spring, people start searching for an exquisite and comfortable summer dress. Several brands work day and night to satisfy their customers with productive designs. Meanwhile, women are busy searching for a new dress for the hot season. I hope that the Manara summer collection for women will meet your desires regarding dress type and color.
The leading brand provides online shipping facilities to its customers across Pakistan and the Gulf. Plus, the order never gets delayed by 2 weeks. However, international customers can receive their orders within 15 to 20 working days. The lovely floral patterns and digital prints with a little embroidery make an outfit much magnificent.
So, are you ready for the incredible summer assortment? If so, then head over to the website of Manara and book your favorites. For instance, take a look at our following blog to discover the recent Manara summer collection for women. You will enjoy contemporary dresses with sleeking patterns and artwork. Please take a look at the image gallery below.
Manara Embroidered Unstitched Summer Collection for Women (Full Catalogue)

The most blissful season of the year has arrived with all the beautiful sunshine. People are rushing towards their favorite brands to buy comfortable lawn clothes. Meanwhile, the fashion designers are busy bringing lots of clothing varieties, including casual, formal, and luxury wear. Manara's summer collection for women is now offering tremendous summer clothes for women.
Undoubtedly, nothing is more beautiful than a woman who is carrying a dress perfectly. Plus, the right kind of color and style selection is something prerequisite for a complete look. Women shall always choose a wise color for themselves in accordance with their complexion and body texture. You can find every summer color and style in the Manara summer collection for women below.
Be a woman with class and attitude. One can never be classy and sassy at the same time without an exquisite outfit. So, give some rest to your mind and explore the vibrant summer collection below. Manara's collection primarily presents you the:
Pastel Blue Lawn Suit for Women

Do you know that mirror work is unique on lawn dresses? Do you want to stay unique in spring for bliss? If so, then check out the subtle pastel blue dress below. The detailed mirror work and embroidery is enhancing the overall beauty of the lawn dress.
The exquisite dress has a fully embroidered front while the back is paste printed. Further, it has an organza applique patch with mirror details for daman. The embellished organza dupatta with pearls is all set to complete the whole summer look.
Fashion tip: Wear high-heels with the dress for an eye-catching look.
Royal Blue Festive Lawn Dress
Royal blue is the most vibrant and decent color for summers. Especially, the grace is doubled when it comes in contrast to the off-white or white shade. Below is such a blissful combination for you. Plus, the delightful contrast will elevate your summer look.
Take a look at the gold foil printed and embroidered royal blue lawn shirt below. Further, it has an organza border for daman. The printed jacquard dupatta and dual shaded trouser are completing the look. Get similar contrast from the latest Alkaram studio summer collection.
3PC Black and Red Lawn Suit
The striking combination for a staggering look can be none other than black and red. Eventually, people think that the idea has been adopted from Bollywood. But, it is always the most welcomed and entirely voguish contrast that suits everyone.
Enjoy your summer look blazingly with the dignified lawn dress below. The jacquard printed lawn dress has an extensive 54 inches organza border for its beautiful look. Further, it is paired with a medium silk gold foil dupatta for a semi-formal yet delicate look. Want some more jacquard dresses? Check out the latest Cross stitch summer collection and get yourself one that elevates your look.
Yellow Floral Printed and Embroidered Dress
Undoubtedly, the charming yellow color looks pleasant in the mid-year season. People love to wear sunny shade for the entire summer vibe. Indeed, adding colors to your outfit will bring you much magnificent look. Enjoy the yellow outfit to make your summer memorable.
The self-jacquard printed and embroidered yellow dress below is decorated with motifs and pearls. Additionally, it has an embroidered net dupatta with pearls that looks beautiful. Get dresses likewise from the Ittehad Textiles summer collection, and have an ecstatic summer.
Latest Manara Luxury Spring Summer Collection Featuring Sana Javed (Unstitched)

Pakistani Television is facing massive respect and love from the public. Meanwhile, people love the content and performance of the actors. Many girls try to follow the styles and fashion sense of celebrities. Therefore, clothing brands tend to hire such high-rated actresses for their catalog shoot. Here is Manara's luxury collection featuring the very iconic and much talented Sana Javed. Indeed, she is looking gorgeous in her luxury apparel by the Manara summer collection for women.
Pearl White and Peach Dress
Here is an exquisite and elegant pearl white and golden outfit for you. The tasteful dress is beautifully crafted with embroidery and pearls. Further, the design is enhanced with customized jacquard and organza dupatta for a sleeking appearance. It features a schiffli neckline that has motifs and pearls for elegance inside and out.
The vintage rose embroidery is representing a mixture of pleasant summer hues. Especially, the rosy pink and peach shades for hem look magnificent. However, the trouser is simple and basic plain in a light off-white shade. Complete your summer look with the enchanting outfit below. Explore Rang Rasiya summer collection for similar luxury outfits.
Pastel Peach Luxury Lawn Dress
Undoubtedly, there are immense variations among the peach shade to bring an illusion. The dramatic combinations always produce something exciting and useful for the customers. Indeed, you will be overwhelmed with the pastel peach shade for the summers below. The coolest shade looks beautiful with its unique decoration and print.
Take a look at the image gallery below that is showcasing a pretty peach dress. It is a finely embroidered lawn dress with delicate floral patterns. Further, it comes up with pearls and sequins work to enhance its formal look. The pearl decorative net dupatta is completing its look. Asim Jofa luxury lawn is also presenting similar breathtaking summer dresses.
Pastel Yellow Embroidered Lawn Suit
Are you looking for a warm summery tone? Do you want to wear a sunny yellow dress in the mid-year season for a unique look? If so, then take a look at the beautiful sunshine yellow outfit below. The detailed pearls artwork is adding beauty to the texture.
The dress has an embroidered organza neckline with similar patterns for sleeves. So, be the fun with the sun and enjoy the beautiful luxury yellow attire below. Get combinations likewise from the recent Gul Ahmed summer collection and have a blast.
Unstitched White Luxury Lawn Dress
Below is an enchanting white exquisite lawn dress decorated with pearls. Further, it is enhanced with mirror details and embroidery for an elevating look. The graceful jacquard lawn dress is complemented with a net dupatta. Additionally, it is adorned with fine embroidery and mirror work.
Moreover, the mirror-infused hemline and organza embroidered border is making the outfit more elegant to be worn on any formal occasion. Every season is filled with parties and weddings. Women need such party wear dresses to complement their looks. Undoubtedly, the following white dress will be the best choice.
Beige Embroidered Luxury Lawn Dress
The following beige ensemble forms a purely feminine look. It is complemented with an embroidered laser applique with little mirror work. Further, it has a dreamy dyed jacquard dupatta. Moreover, it has decorative patches for sleeves and borders.
Stand out effortlessly with the pure spring-summery look. Indeed, the vintage panels with embroidery will bring you a much magnificent look. Get similar dress designs from the Khaadi summer collection and enjoy your season.
Unstitched Maroon Luxury Lawn Dress
Here is the supremely elegant and the most demanded shade for women. The voguish red color adds beauty to your looks when it comes with an off-white contrast. Indeed, the following deep royal red attire with an organza border will make you look beautiful.
Further, the dress is complemented with a luxurious canvas. It is finely adorned with fine embroidery for a regal design. Undoubtedly, the entire outfit is much modest and stylish with cotton flared pants. Please give a thought to wear the exquisite luxury lawn dress.
Contrasting Black and White Lawn Outfit
A classic black outfit with a fusion of white and off-white looks very decent. Below is such a graceful outfit featuring the very graceful Sana Javed. Look how beautifully she is carrying the magnificent luxury lawn dress by the famous brand Manara.
The self-jacquard embroidered lawn dress is complemented with a sequined cream panel. Additionally, it has multiple appliques and patches for enhancing the overall look. Get the timeless, elegant ensemble for your spring to add glam to your personality.
Royal Blue Luxury Lawn Dress
Undoubtedly, Sana Javed always surprises us with vibrant and eye-catching hues. Here she looks completely outclass with the classy royal blue luxury attire. Indeed, the self-jacquard dress is always stylish and comfortable for women to wear in the mid-year season.
Further, it is complemented with a tissue silk dupatta. The yellow and blue combination is the most royal among all the designs. Plus, the schiffli embroidered organza applique looks ideal for hem and sleeves. Please give a thought to the following royal combination.
So, here is the most vibrant summer assortment for you. The brilliant mix of amazing colors surprises you with brilliant contrasts. Further, the intricate designs and floral artwork will add appeal to your character. Get yourself an engaging outfit from the recent Manara's summer collection, and have a blissful summer. I hope you will love the dresses and designs.