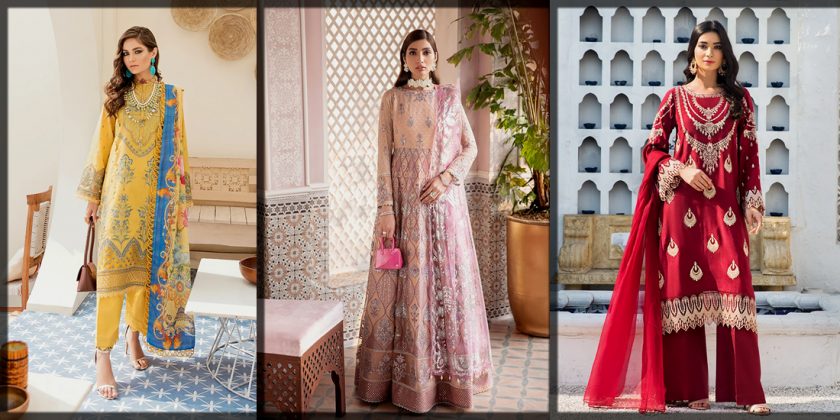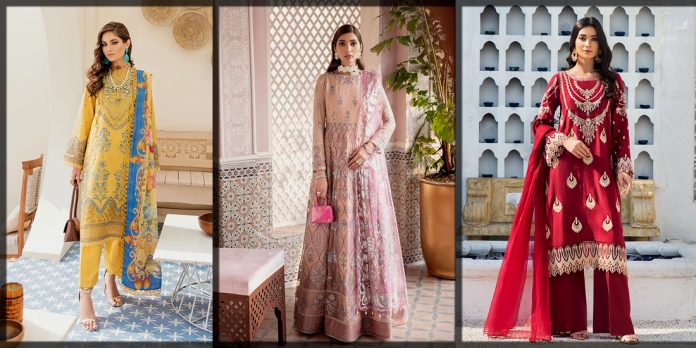 Afrozeh summer collection contains luxurious and stylish attires for women of all ages. In its latest collection, you will get fantastic daily home wear, party wear, and formal wear attires in unique shades and designs.
Every season, all brands launch the newest ladies' dresses. Hence, ladies can easily get any outfit for any occasion or event and look more stunning and beautiful. Afrozeh likewise brings the latest pattern attires with the most amazing shades.
Its latest collection contains ready-to-wear and unstitched dresses at the most affordable prices. In its latest collection, you get the lawn, chiffon, crinkle chiffon, slub lawn, and cotton attires in the most vibrant tints. Read this blog to check its newest summer collection.
Latest Afrozeh Luxury Summer Collection Catalogue – New Arrivals

Afrozeh is the leading brand of Pakistan that become famous in just a few months because of its unique crafted dresses. From casual wear to formal wear, it has everything for everyone. Rich colors and delicate embroidery dresses embellished with gorgeous embroideries are used in making the Afrozeh summer collection more classy. The latest collection of Afrozeh helps to make your summer ceremonious more impressive by increasing your beauty. This season, Afrozeh offers subsequent styles of clothes:
Daily Wear Pret Summer Kurtas


Luxury Pret Collection by Afrozeh

Unstitched Embroidered Collection

Luxury Unstitched Chiffon Collection
1- Daily Wear Pret Summer Kurtas

For daily wear, women prefer the loosely fitted kurta to do their work easily. Digitally printed kurtas are best for daily wear. You can likewise wear these printed attires at a casual gathering to adding more grace to your look. Pair your classy kurtas with the cambric pant and digital chiffon dupatta to complement your outfit.
For home wear, lawn and cotton texture are best because both are the most reliable and comfy fabrics that normalized the look and shield from the sun's hot rays during the summer season. In the daily wear catalog of Afrozeh, you find a wide variety of kurtas in the lawn and cotton texture. Further, explore the Pakistani women kurta collection for more variety!
Digital Printed Lawn Shirt with Embroidered Neckline
For a casual get-together, the below digital printed lawn kurta is the best choice adorned with the embroidered neckline. Pair this classy kurta with the off-white trouser to make it more stunning. Plus, wear lightweight earrings and walk with confidence.
Home Wear Casual Kurta by Afrozeh
The below bright, shaded shirt is the most excellent choice to wear with the black trouser. The abstract print looks very stylish. You can also wear this kurta at the formal gathering by pair it with block heel shoes and brownish makeup for a more splendid look. Further, browse the Nimsay summer assortments for more digital printed kurtas.
2- Luxury Pret Collection by Afrozeh

Suppose you are in a rush because your best friend invites you to her marriage. Further, you don't have any luxury suit in your wardrobe? At that point, the luxury pret collection by Afrozeh will help you out. The stunning pret collection by Afrozeh is just superb, as you can see below.
This classy collection contains three-piece attires in unique designs and shades. This luxury collection is prepared with sequins, kora, tilla, and thread work that make this collection more glamorous. All you need is pair your luxury dress with the perfect makeup and adornments to make all of your noteworthy and appealing looks. For more embroidered suits, visit the Mushq luxury lawn assortments.
Organza Suit with Raw Silk Trouser and Dupatta 
Peach is the best shade to wear in summer. The below lovely peach organza suit is combined with the raw silk trouser and organza dupatta. The white combination enhances the glory of this outfit. This pastel pink dress is perfect for all sorts of formal events.

Sleek Black Summer Luxury Suit by Afrozeh
If you want to deliver your good impression on others? Further, desires to look unique than others? At that point, pick this classy black suit that is perfectly blended with the golden embroidered border. It is paired with the plain cambric trouser and organza dupatta with light embellishments. Manara luxury lawn collection also contains pretty summer attires in flawless designs and patterns. Check it as well.
3- Unstitched 3PC Summer Embroidered Collection
For formal gatherings and events, you need a nicely embroidered outfit that standardized your look and makes it more classy and fantastic. These lawn embroidered dresses of Afrozeh are decently furnished with pearls, beads, and embroidered organza borders.
With these dresses, try to keep your makeup minimal. Further, wear lightweight and classy accessories to make yourself more breathtaking and stunning. Moreover, look at the Mausummary spring summer lawn collection that likewise contains the dazzling embroidered dresses in two or three pieces.
3PC Lawn Embroidered Suit with Cotton Trouser
Yellow and blue both are the most classy hues for the summer season. The blue and yellow combo dress is just perfect for your summer party. The combo of yellow and blue is beyond perfect. The yellow detailing and loops on the border are enhancing the grace of the dress.
Afrozeh Summer Embroidered Suit for Women
Always pick the bright attire for making your summer style more glammy and dazzling. The below shocking pink is the perfect outfit for the formal party. The combination of black and hot pink is very classy. The organza dupatta is the main element in the dress. Also, look at the Nishat Linen summer collection for more summer attires.
4- Luxury Unstitched Chiffon Collection
For wedding ceremonies, women prefer chiffon dresses because it is the comfiest and reliable texture that keep you calm during the hot days of summer. Look at the luxury chiffon collection of Afrozeh that is very impressive, like the Salitext luxury lawn collection.
Pick these attires for your brother/sister's wedding to make all of your noteworthy and awe-inspiring looks. You can also wear the following chiffon dresses at any formal events and even on Eid to add more finesse to your Eid look. With these heavily furnished dresses, keep your makeup and adornments minimal.
Crinkle Chiffon Party Wear Suit
Crinkle chiffon is the comfiest and reliable texture, just like the lawn. It likewise keeps you cold and calm. Pick the below dress enhanced with the sequin's work that makes it more unique and amazing. The silver work on pastel pink frock is just beyond perfection. If you can't manage your time shopping, you can get this outfit at your doorstep by ordering it online.
Black & White Luxury Suit by Afrozeh
The Black and white combo always hit the floor. Grab this outfit for your cousin's wedding and renew your look by making it more fantastic and unique. The border of the dupatta is making it more fancy and stylish. The jal work on the neckline is very unique. Saira Rizwan summer assortments also contain a wide variety of luxury lawn suits that will refresh your look.
Afrozeh summer collection is a blend of fantastic summer dresses. The beautifully crafted dresses are pleasant enough to adorn yourself well. Further, the premium quality fabric is fabulously fashioned with wonderful designs and style. Moreover, these suits will help you enhance yourself well and make your summer season more vibrant and colorful.