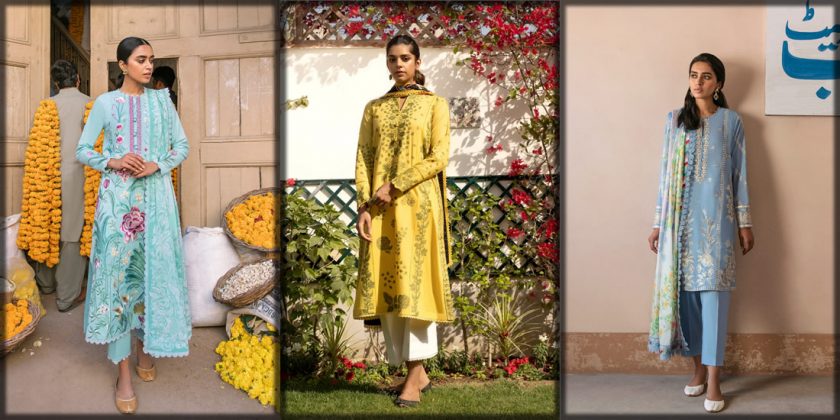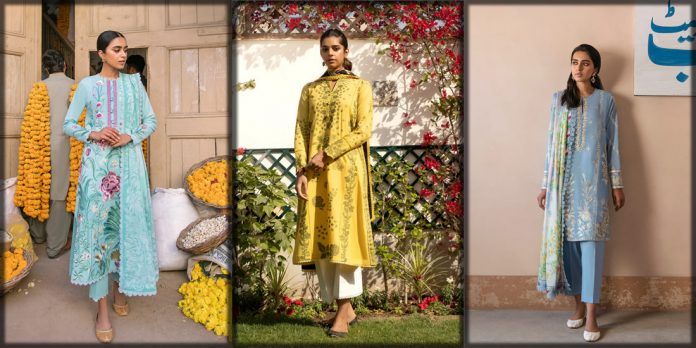 Zaha luxury lawn collection has been launched with flaunting designs for women. Just like other clothing brands, the designer crafted versatile outfits for its lovely customers. Undoubtedly, you can explore purely feminist dresses in their recent collection. The contemporary styles and innovative techniques have made tasteful designs for women.
The fashion designer Khadijah Shah is very famous around the globe for her unique and intricate artwork. Indeed, the magnificent and detailed structures always attract women. That is why people love to go for exquisite styles by the famous fashion designer in town. Many people recognize Khadijah Shah as a creative director of Elan.
So, are you ready to discover a chic assortment for summer? If so, then give a pause to your scroll and take a look here. The following article will engage you by presenting fundamental summer outfits. You can utilize the designs for formal wear. Please extract some time to view the following blog. I can assure you that you will love the dresses.
Latest Zaha Luxury Lawn CITY BY THE SEA Collection (Unstitched Catalogue)

Women are fond of fashionable clothing and footwear. In every season, they try to follow the latest trends to gain attractive looks. Undoubtedly, you can never look elegant without a smart choice and selection of clothes. Wearing the right kind of outfit with matching footwear speaks about your personality. Therefore, several brands are working to satisfy the demands of women. Zaha's luxury lawn collection will definitely dazzle your looks.
Pakistan's fashion industry is running successfully through electronic media and commerce. People can buy their favorites dresses online from the website of their lovely brand. Likewise, Zaha facilitates its customers by providing an online shopping facility. You can now select your outfit online and add it to your cart. You will love the impactful and dynamic designs with eclectic patterns. Have a blissful summer with marvelous dresses.
The designer Khadijah Shah aims to bring unparalleled and unique ideas for women. Indeed, the dynamic hues will encourage you to buy them. The prices of the dresses are comparatively high than the other clothing brands. However, you can buy your desired spring attires at affordable prices from the Khaadi summer collection. The collection offers vibrant and chic hues that co-ordinate perfectly with summers. Plus, you can combine classic footwear and jewelry to enhance your entire look. Please give it a thought!
Zaha Unstitched Embroidered Luxury Lawn Suits (New Arrivals)

The unstitched dress is always the top priority of every woman. Many people love to design their style in the way they like to make it. Therefore, several brands have launched their unstitched spring assortment. You might have seen luxury unstitched dresses in the latest assortment of Noor by Saadia Asad. Here we are presenting some dresses as well.
Everyone desires to try every shade in summer. Undoubtedly, spring is the season of joy, laughter, and happiness. You can double your charm by adding glamorous looks to your personality. Nothing is impossible once you struggle for it. Therefore, find a wise and nice color that can increase your glam and bring dazzling looks. Here is a dramatic portfolio below presenting you with ideal combinations for summer.
Royal Blue Embroidered Lawn Dress
Teens always love to wear vibrant colors to bring glam to their personalities. Royal blue stands among the most striking color among the group of bright shades. Here we have an exotic outfit for you that is rendered in cobalt and berry hue shade. Plus, you can explore similar styles from the latest Ittehad textiles summer collection.
The following outfit features rich floral embroideries with a self-patterned lawn. Further, it is co-ordinated with a very gorgeous embroidered swiss voile dupatta. Ceratin embroidered panels bring many dazzling looks to the overall combination. However, the plain basic trouser adds much grace to the entire look of the luxury lawn dress.
Marigold Ethnic Embroidered Lawn Suit
Sunshine yellow dress looks delightful in summers. People who want to add shine to their looks must go for the yellow shade. However, the marigold color slightly varies from the original yellow. But, many people consider it yellow. Here is an ethnic embroidered dress for you. The pretty outfit features delicate embroidery in an ivory shade.
Undoubtedly, it is the most exquisite combination for spring. The fully embroidered dupatta and ivory trouser are completing the entire vibrant look. Get a combination likewise from the latest Taana Baana summer collection. Plus, enjoy your spring to the fullest with magic and joy. Wear delicate jewelry with the dress to bring graceful and attractive looks.
Magenta Embroidered Lawn Dress
Are you looking for a feminine yet bold design for yourself this summer? Do you want to stay classy and dominant among your fellows? Undoubtedly, this couldn't be done without exquisite attire and footwear. Zaha luxury lawn collection is presenting you with a fantastic magenta dress below. However, the Manara luxury lawn is offering likewise dress too.
The following striking outfit is featuring a subtle berry-hued floral embroidery. Plus, the fantastic dark and light combination is ideal for youth. The Chatta Patti dupatta is unique as compared to that of Cross Stitch's collection. Undoubtedly, the flaunting outfit will effortlessly deliver elegance from day to night this season.
Pastel Baby Blue Festive Lawn Suit
Embroidered panels always bring elegance to your outlook. There are several brands that follow such designing technique for people. For instance, you can explore the latest Salitex luxury lawn collection. The portfolio presents incredible outfits that have been crafted beautifully to satisfy the customers. Here is a specific pastel blue festive lawn dress for you.
Take a look at the delightful ensemble below. The mesmerizing delicate blue attire has delicately embroidered panels on the front and sleeves. Further, it is paired with a floral embroidered festive dupatta. I can assure you that the charming outfit will uplift your summer look. Please give a thought to the pleasant dress below.
Floral Black Embroidered Dress
A striking look is ideal for the summer season. You can see many black outfits from the recent Sana Safinaz summer collection for women. Further, you can opt for the fiery floral outfit below. The design is featuring bright red oversized embroidered chintz. Also, it has floral embroidery over the front. Well, the fiery patterns are looking unique and striking.
Plus, it is paired with a crimson dupatta with ebony stripe details. Also, it has the finest ebony trouser for a whole dramatic look. You can attach a patterned lace with the dupatta and daman of the shirt. Indeed, it will elevate the overall look of the outfit. Apply minimal makeup with the flamy dress to manage your grace. Please take a look at the outfit below.
Dreamy White Summer Attires
Undoubtedly, you can never render a completely dreamy summer look without a white dress. Plus, the soft shade looks much magnificent and graceful, especially on traditional occasions. You can pair a contrasting khussa with a white outfit to elevate your look. Here we are presenting you with two amazing ivory embroidered dresses below.
The tribal embroideries will appeal positively to your character. Further, the feminine design and pale contrasts will get you a soft and pure look. The attires are ideal for brunch. However, you can wear them as a formal dress too. Undoubtedly, your classic look will never go out of style if you opt for any of the following dresses.
Exclusive Unstitched Collection Featuring Syra Yousaf
Almost every brand hired top-rated actresses for the demonstration of their collection. Especially, people were anxiously waiting for the uniting culture campaign of Maria B. The portfolio was featuring the very famous Turkish actress Gulyism and Ayeza Khan. Well, Ayeza Khan was seen in many of the spring collections this year. Mushq's luxury lawn was also featuring the iconic and talented actress.
Zaha featured gorgeous Syra Yousuf for their summer campaign. Many people believe that she is a source of inspiration for every woman. Well, it isn't our domain to talk about. We are here to present you with very stylish and embroidered summer dresses. Take a look at the breathtaking embroidered outfits below. Indeed, the exquisitely crafted outfits will make your summer much memorable and delightful. Please give a thought to it.
Ready-To-Wear JOON Collection for Women
How can a brand's collection be complete without pret assortment? Well, a woman have enough courage to spend the season in single volume. There are a lot of clothing brands who offer their exceptional pret assortment a bit later then the unstitched collection.
Here is the Zaha's luxury lawn "JOON" collection for women below. The dazzling and aw inspiring hues will propel you to buy any of the dress. Undoubtedly, you can catch majority eyes if you wear a dramatic silk outfit from the portfolio below. Please give it a thought.
So, here is the most awaited assortment for you above. The dramatic hues and brilliant color palettes are all set to make you stylish. Further, you can elevate your looks with makeup and jewelry. Head over to the nearest outlet of Zaha or buy the Zaha luxury lawn dresses online. I hope the collection above will get you a stylish and memorable spring look. Grab your favorites before it gets late and have a blast. Indeed, you will never regret your choice.