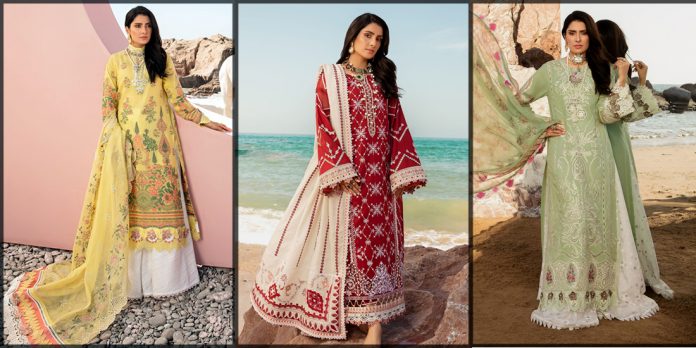 Noor by Saadia Asad is the most leading name in the Pakistan fashion industry. Saadia is the owner and designer of the notable brand "Noor." Each season, she launches the newest and trendy attires for women of all ages. In its latest Noor luxury lawn collection, you will get the most fantastic suits that are decently furnished with vibrant tones and designs.
This season, the Noor brand featured the most beautiful and talented actress Ayeza Khan in their campaign. In its luxury lawn catalog, you get the applique, weaving, and thread work outfits that you can wear on any summer occasion.

This unstitched luxury lawn collection is paired with the digital printed chiffon and silk net dupattas. Moreover, you can stitch these dresses as per your choice and event. Have a look at the entire luxury lawn collection of Noor and grab your favorite one. 
Latest Noor by Saadia Asad Three-Piece Unstitched Summer Lawn Catalogue

Women always want altered dresses for looking unique and impressive. In the luxury catalog by Noor, you will get striking and splendid attires in the most vibrant and fresh hues. The following three-piece unstitched collection by Saadia Asad is just incredible. She used the newest designs to make its summer collection more classy. All you need is to pair these attires with elegant makeup and adornments. The 3PC luxury lawn collection of Saadia Noor contains:
| | |
| --- | --- |
| 1. Embroidered Schiffli Lawn Suit | 6. Lawn Suit with Printed Chiffon Dupatta |
| 2. Digital Printed Pani Work Lawn Suit | 7. Woven Jacquard Lawn Outfit with Cotton Net Dupatta |
| 3. Luxury Lawn Suit with Lace Finished Dupatta | 8. Yellow Outfit with Silk Mirror Work Collar  |
| 4. Lawn Suit with Jacquard Side Panels  | 9. Black Summer Suit with Silk Border |
| 5. Embroidered Applique Lawn Suit | 10. Luxury Pink Formal Outfit by Noor |
1. Embroidered Schiffli Lawn Suit with Digital Chiffon Dupatta
Schiffli is a classy type of lace that is made with a schiffli machine. The most incredible and elegant summer lawn suit is adorned with schiffli embroidery, beads, and pearls. It is paired with the digital printed chiffon dupatta and cambric trousers. You can get this dress stitched exactly like in the picture below or as per your preference.
With this impressive outfit, wear the double necklace with lightweight earrings for adding more grace and shine to your party look. Further, pair it with block heel shoes and curly hair. For more similar suits, visit the Mushq spring summer collection.
2. Digital Printed Pani Work Lawn Suit

The yellow and peach both are the most excellent and bright hues. Look at this bright yellow and peach combo that is fully decorated with hand-embroidery. It is paired with cambric trousers and a cotton net dupatta. This classy outfit also contains: 
Patches for sleeves 

Patches for dupatta  
If you are going to the mehndi ceremony of your best friend or cousin at that point, grab this outfit from the Noor store and make all of your dazzling and attractive looks. You can also wear this lavish outfit at your sister's nikkah. Further, check out the Generation summer collection that has pretty pret and unstitched embroidered dresses in the most breathtaking designs and colors. 
3. Noor Luxury Lawn Ombre Outfit with Lace Dupatta
Life is too short to wear boring clothes. Hence for all events, always go for the chic outfit that makes you look smart and beautiful. The intrigue of great style is to feel reliable in what you wear. I hope the below dress surely helps you feel good and inspire the world with your stunning style. Pick this outfit for a formal gathering and prettify your look. Taana Baana summer dresses are likewise very awe-inspiring. Give them a shot too!
4. Bottle Green 3PC Lawn Suit with Jacquard Side Panels 
This fashionable dress is specially designed for young girls. Because for teens, fashion is important. Dressing adequately is a form of good manners. So, if you want to add more attractiveness and elegance to your summer look, at that point, get this outfit. That is beautifully adorned with jacquard lawn side panels and pearls. The digital printed floral silk dupatta adds more grace to this outfit. Further, have a look at the Salitex luxury embroidered lawn suits.
5. Luxury Embroidered Applique Lawn Suit by Noor

Applique is embellishing needlework. It is generally used as decoration, chiefly on garments. Further, it is a beautifying design method that adds dimension to the framework fabric. Have a look at this applique embroidered lawn outfit that contains:
Border for front

Sleeves patches 

Embroidered buttons
The long shirt and palazzo trend is in-demand these days. You can likewise style this outfit in a short shirt with a palazzo style according to your choice.

6. Light Purple Lawn Suit with Printed Chiffon Dupatta
Here we have another applique lawn suit with a delicate design. You can style this dress as an off-the-shoulder outfit to make it bold and beautiful. The dupatta has a very unique border. It is paired with the printed cambric trouser that adds more shine to this outfit. Combine this outfit with natural makeup and heavy accessories. It is one of the best outfits for summer parties.
7. Woven Jacquard Lawn Outfit with Cotton Net Dupatta
Jacquard is the most excellent texture that helps the ladies to make their look more stunning. The white jacquard lawn outfit is prettified with the pink silk mirror work collar and neckline Patti. It is paired with the embroidered schiffli cotton net dupatta.
The color theme of this dress is very subtle and feminine. The pastel colors complement the white base very nicely. You can pick this outfit for a formal or casual gathering. Limelight summer collection likewise contain a wide variety of jacquard dresses in the most amazing and charming shades.
8. Sunshine Yellow Outfit with Mirror Work Collar 
Here is the most striking and splendid summer outfit that surely helps make your summer style more exciting. Suppose, if you want to refresh your summer look and make it more dazzling and stunning. Then this outfit is perfect for you.
If you are proceeding to a beach party with your family and friends, then pick this outfit. While doing your makeup, never neglect to apply the highlighter and bronzer for a glowing and shining look. You can pair this outfit with yellow and silver jewelry. The Rang Ja summer collection additionally contains ravishing and elegant attires for women and young girls as well.
9. Black Luxury Lawn Suit with Pani Silk Border
This impressive block style schiffli lawn suit is paired with cambric trousers and a printed silk dupatta. Further, you can furnish this dress with motifs and pearls according to your choice and fashion trend. This dress has a very aesthetic and traditional vibe. The intricate detailing is very fashionable. Further, explore the Zainab Chottani luxury summer dresses.
10. Pastel Pink Luxury Formal Outfit by
Noor 
The outfit plays a vital role in demonstrating your personality. So, if you want to make your classy impression on others at that point, pick this striking outfit. The below dress is the best choice to wear. The laser-cut design on the dress is looking very elegant.
The below schiffli lawn suit has fine detailing and delicate embroidery. This is a perfect formal outfit for brunch. The dupatta has a very unique border. The whole color theme of the dress is very subtle and soft.
Explore More Variety!
For more dresses, take a look at the image portfolio below. The prices of these dresses are also mentioned for your ease so you can quickly buy your preferred outfit. Sobia Nazir summer collection also contains the embroidered dresses with the most astonishing tones. 
Pro Tips:
If you are going to wear the bright/dark-shaded outfit, then pair it with nude makeup.

While if you wear a pastel or nude-colored outfit, then pair it with bold makeup.

For completing your casual look, pair your outfit with sandals or chappal.

While for a formal or wedding look, wear block heel shoes.

Further, style your hair elegantly or keep them open according to your choice.

Never forget to hold a classy clutch.
All these dresses are available at affordable prices. It also gives the "Get the outfit stitched (Additional PKR 800)" facility for its clients' ease and comfort. Wear these outfits at any formal and wedding events, looking absolutely breathtaking. Further, never forget to give your valuable feedback in the comment section about this blog.