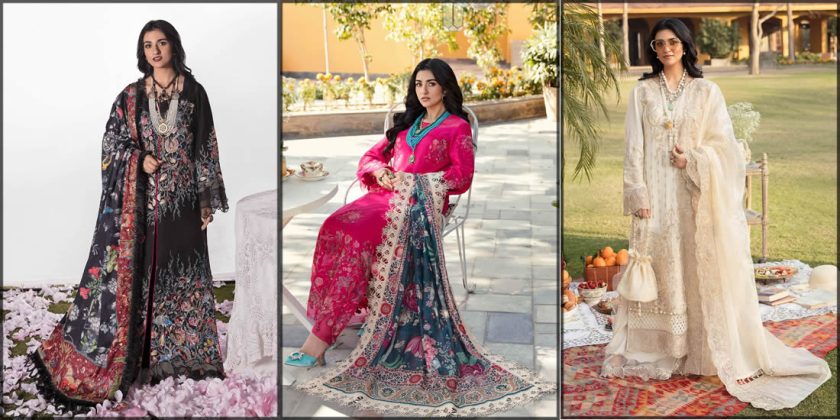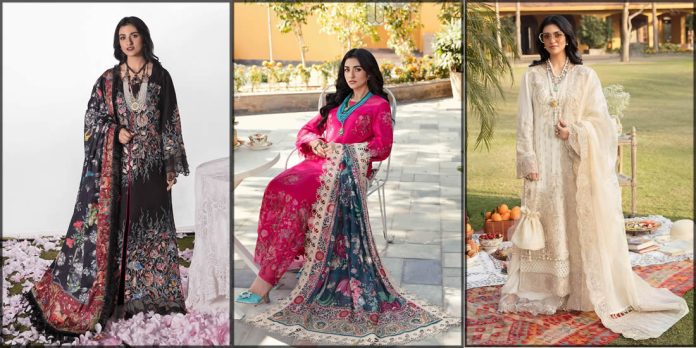 Nilofer Shahid is one of the well-known Pakistani fashion designers. She was formerly a TV actress who served the drama industry for many years. However, she stepped into the fashion industry with fabulous and statement outfits for both men and women. So, you will be glad to explore the latest Nilofer Shahid luxury summer collection, which offers striking costumes in all vivid shades.
Besides so much beautiful chaos, lovely weather, and pleasant sunshine, people need summer outfits. So, several clothing brands started launching their summer assortment so people could get their favorites quickly. Likewise, Nilofer Shahid tried their best to offer dazzling attires for women of all ages to satisfy their customers.
So, are you ready to discover the chicest assortment for summer? Take a deep breath and scroll down to explore the gorgeous summer dresses along with prices. Indeed, the magical blend of hues and contrasts will bring you pretty looks. So, pick up your favorite style quickly from the luxury collection below. Admittedly, you will stand differently among the public around you.
Beautiful Nilofer Shahid Luxury Dresses for Summer
Summer is the season of joy, laughter, and happiness. People feel delighted after the dry winters. Plus, they want to bring colors to their personality to enjoy the season's beauty. Moreover, summer adds new colors and beauty to every soul. Even with a shoe full of slush, women can feel like something is whistling. It's nature that calls for a party.
People judge a woman by the quality of clothes she wears. Hence, always pick the best and trusted brand to stand out on every seasonal occasion by wearing a high-quality costume. You may explore many brands for summer attires, but if you want to get the comfy yet appealing attire for yourself? Then give a pause and examine this blog. Here you will get impressive apparel in self silk, jacquard, chiffon, cotton net, and organza textures. All these dresses are designed with the best color themes and patterns that improve your overall magnificence and make it extra dazzling. 
Moreover, you can also explore the complete variety of summer collections by different brands here.
Nilofer Shahid Luxury Lawn'23 ft. Sarah Khan
Here is amazing luxury lawn collection by Nilofer Shahid featiruing beautiful Sarah Khan. These dresses are unstitched dresses and a stitching facility is also provided. The tassels, laces and buttons that can be seen in the pictures are not included in the dresses. Also, the product colour may slightly vary due to photographic lighting sources or your monitor setting.
Crystal Maiden is a stunning combination of elegance, femininity, and graceful beauty. Exuding to the aura of the angelic Madonna lilies, this ensemble symbolizes purity and rebirth. Crafted with the highest quality jacquard with incredible gorgeous floral embroideries. This exquisite ensemble is sure to captivate and add a touch of class to any event. With its stunning details and intricate craftsmanship. Crystal Maiden is a must-have for any woman's wardrobe.
Alyana by Nilofer Shahid is the perfect choice for a sophisticated chic look. This gorgeous fuchsia dress is adorned with vintage European motifs and features a deep teal printed Dupatta with exotic floral foliage. The timeless design and intricate detailing truly create a marvellous spell bounding Aura.
Evoke a sense of magnificence & elegance with Enchanted. Nilofer Shahid presents a stunning ensemble of Glorious flora and fauna embroideries, inspired by her iconic Art Piece the tree of life, depicting many of God's gifts. This dress is crafted with intricate details, luxurious fabrics and a stunning vibrancy that will make you look and feel like a goddess.
Nilofer Shahid hand-selected a gorgeous Auburn canvas to be the centre of this exquisite ensemble. A gorgeous suffusion of flora and delicate embroideries, highlighted by a Royal Turquoise Aqua printed silk Dupatta. Accentuated heavily by magnificent Tilla sleeve details that are a class apart, Melody of Life is truly a stunning piece of Art!
Nilofer Shahid embarks on a captivating journey of historical romance in her latest masterpiece, 'Rose', inspired by her iconic collection, "NurJehan & Josephine". Exude grandeur and elegance this summer in this exquisite ensemble featuring a delicate shade of pink and jade, accented with a fusion of Artistic Embroideries and printed motifs creating a timelessly elegant look. Be enamoured by the captivating beauty of 'Rose'.
Nilofer Shahif Formal Wear Catalog
Nilofer Shahid is a name of elegance and style. Here is the formal wear catalogue for festive events. All fabrics are handpicked by Nilofer Shahid and made to the highest standards of quality as compared to the fashion industry. Check out all the beautiful designs as all the prices are mentioned below with the pictures and descriptions of the dresses.
1. Black & White Floral Embroidery Raw Silk Suit

A long shirt and capri are one of the most lavish styles for a girl to carry on any occasion. Many people prefer to wear it at casual events. But, even many girls go for this style on their big day like Nikkah. You can wear a long shirt and capri both casually and formally. Asim Jofa's latest lawn collection is also presenting engaging attires for summer. 
The following luxury outfit is indulged in pure undisguised feminity. Plus, the design is inspired by the goodness of love and its breathtaking design. The beautiful motifs on pure tissue and silk fabric create an incredible look. Undoubtedly, the outfit is truly evocative of elegance inside and out. You can wear this dashing outfit to any formal celebration to append more polish to your look. To grab the below model look, you only need to wear this gorgeous outfit, apply nude makeup, and wear long hoops and ankle straps high-heeled shoes. 
2. Pistachio Green Premium Self Silk Summer Outfit
Do you want to bring a refined look in summer? If so, then evoke a sense of magnificence and refined elegance with the following green embroidered dress. The premium self silk fabric is adorned with embroidered sleeves. Further, it has a unique 2-dimensional floral design pattern on the front and back damn. Additionally, it is enhanced with beautiful handmade 3D flowers.
The gorgeous handwork and intricate patterns make the outfit much ravishing. It is complemented with a self-silk capri with a neat finishing. Indeed, the pleating and embroidery techniques make it perfect and ideal for women. Moreover, get similar designs from Rang Rasiya summer collection.
3. Floral Printed and Embroidered Cotton Net Summer Suit

How can a season be completed without an exquisite cotton net attire? So get yourself a dreamy draped cotton net suit from the latest collection by Nilofer Shahid. Below is a beautiful demonstration of a cotton net summer suit. The dreamy, draped, long embroidered shirt depicts the old world's charm with its gorgeous caroline off-white shade.
Further, it has stunning embroidered trousers, evocative of real class. The ensemble is encrusted with an amalgamation of alluring crystals and thread work. Let's make a statement look with the following lavish costume and create uniqueness in your style. Taana Baana summer assortments also offer a wide variety of cotton net dresses.
4. Side-Cut Long Shirt Dress in Royal Blue Shade

Embrace the splendor of summer with the striking royal blue side-cut embroidered dress below. The outfit is bejeweled in the luxury of sequins embroidery with lavishing shades of blue. Moreover, this refreshing royal blue outfit is decorated with alluring floral motifs. Further, the side-cut design makes this 2pc attire more classical. So, the outfit is an all-in-one package of sophistication, class, and charm. Get likewise dress from the Manara luxury collection.
5. Sleek Black Festive Outfit by Nilofer Shahid
Black is all time favorite shade of ladies. Hence all brands must include black dresses in their seasonal collection. So here is a vigorous black long frock for you from the Nilofer Shahid summer collection. It comes with delicate handwork with sublime silver-color embroidery. Further, it has delicate crystals and moonstone beads that enhance the dress.
Moreover, the splendor outfit is perfect for any summer event. The lushly ornamented organza dupatta completes the look. However, it is accompanied by pure silk cotton trousers. Also, get likewise dress from the latest Saira Rizwan summer collection because they make pretty cute dresses.
6. Nilofer Shahid Pure Tissue Silk Dress

Step into summer with the glorious tie & dye ensemble. As you know, tie-dye dresses are in demand these days. Thus, Nilofer offers striking tie-dye silk for summer parties. It is decorated with elegant handwork and prints. Further, it has embroidered sleeves to create a luxurious look. A chunri dupatta accompanies the overall outfit. Also, it is finished with intricate detailing and lace patching that adds true glamour to the dress.
Carry this elegant dress at any formal event and grab the breathtaking flash. You only need to pair this fabulous outfit with bronzer makeup, peep toe heel shoes, and green shaded gemstones to allure. Ansab Jahangir's summer collection also offers snazzy dresses.
7. Pink Haze Summer Ensemble by Nilofer Shahid

Wrap yourself in extravagant floral motifs of the following dress. This gorgeous dress is beautifully adorned with 3D flowers and lace embellishments. Further, it is complemented with lace embroidered trousers. Moreover, the statement look is finished with a floral printed and embroidered dupatta that adds a Persian touch to the outfit. Undoubtedly, the following dress is an ideal option for a refined summer look. 

8. Rust Orange Luxury Summer Dress by Nilofer Shahid

Here is a striking ethnic attire crafted with rust orange and green shades to create a nostalgic look. The outfit is beautifully decorated with 3-dimensional embroidery and printed capri. Undoubtedly, it makes a mesmerizing luminous serenade for everyone to behold. Get more similar ensembles from the recent Maria B collection.
Moreover, Nilofer Shahid created a great fusion with a statement green shaded dupatta for a unique look. Surprisingly, you will never find such a unique combination again. So head over to pick the fantastic combination quickly.
9. Lilac Affinity Nilofer Shahid Luxury Summer Dress

Look how beautifully the designer is carrying her own summer ensembles. The elegant lilac outfits are an ideal option for any summer festival. Indeed, you can opt for the outfits for any formal gathering. For more luxury dresses, check out the latest Mushq's luxury lawn collection. I hope you will never regret our suggestions.
10- Thread and Tilla Embroidery Self Silk Suit
Are you looking for the sleekest summer costume? Look below at the dazzling blue attire nicely adorned with the tilla and hand embroidery. The long shirt and capri dresses are on trend these days. Thus, Nilofer Shahid offers many attires in long shirts and capri style. Look below how beautifully the designer adds the side cut on the long shirt to make this outfit extra charming. Garb this outfit for your summer evening parties to get the glamorous flash. For more evening dresses, explore Maria B evening wear.
Above is the latest Nilofer Shahid summer collection for you to try this season that offers brilliantly crafted attires for women of all ages. The luxe dresses in the Nilofer Shahid summer collection are ready to dazzle you. Plus. The lusciously crafted ensembles are ideal for women who want to stay classy during the summer. Furthermore, the enchanting hues and pleasant handwork propel the public to think about it.