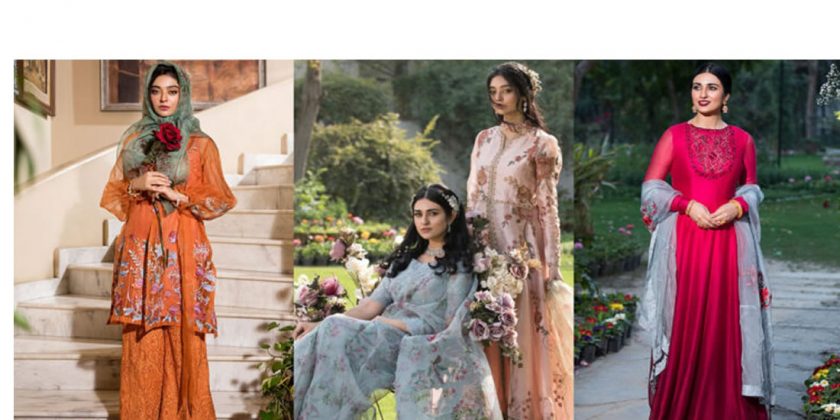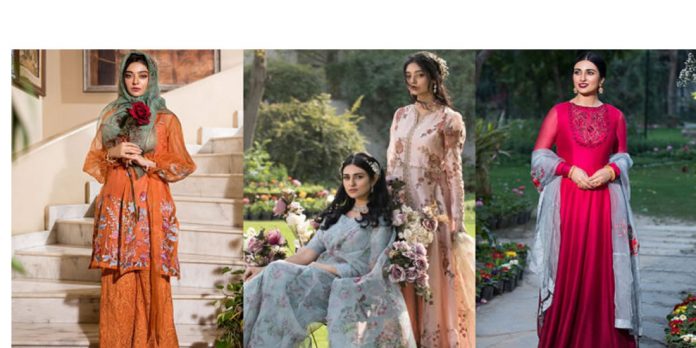 Nilofer Shahid is one of the renowned fashion designers in the industry of Pakistan. She was formerly a TV actress who served the drama industry for many years. However, she stepped into the fashion industry with fabulous and statement outfits for both men and women. So, you will be glad to explore the latest Nilofer Shahid luxury summer collection in brilliant colors.
Undoubtedly, women are fond of clothing and fashion. People judge a woman by the quality of clothes she wears. Plus, high-profile actresses and celebrities always remain in competition with each other. In our following blog, you will see the famous sisters Sara Khan and Noor Zafar Khan wearing exquisite dresses. Indeed, you will love the inspiring hues and prints.
So, are you ready to discover the chicest assortment for summer? Take a deep breath and scroll down to explore the gorgeous summer dresses along with prices. Indeed, the magical blend of hues and contrasts will bring you pretty looks. Pick up your favorite style quickly from the luxury collection below. Admittedly, you will stand differently among the public around you.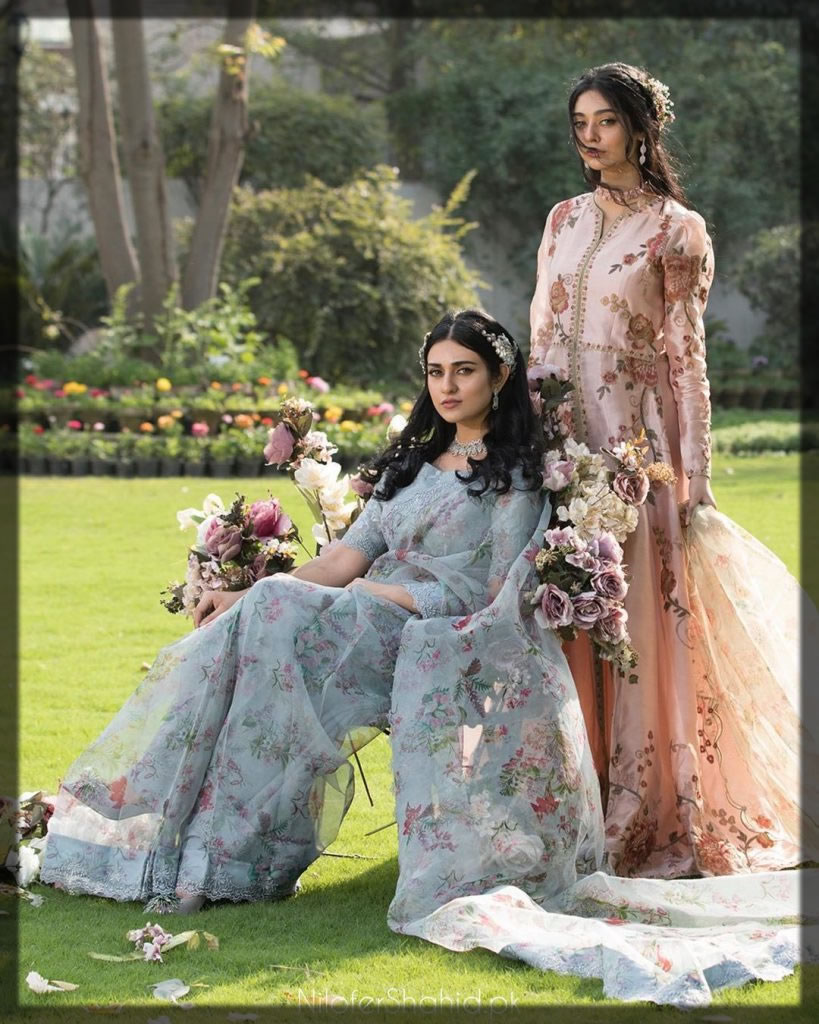 Nilofer Shahid Beautiful Luxury Dresses for Women

Summer is the season of joy, laughter, and happiness. People feel delighted after the dry winters. Plus, they want to bring colors to their personality to enjoy the beauty of the season. Moreover, summer adds new colors and beauty to every soul. Even with a shoe full of slush, women can feel like something is whistling. It's nature that calls for a party.
Besides so much beautiful chaos, lovely weather, and pleasant sunshine, people need summer outfits. So, several clothing brands started launching their summer assortment so that people can get their favorites quickly. Also, here is Nilofer Shahid luxury summer collection featuring the graceful sisters Sara Khan and Noor Zafar Khan.
Moreover, you can also explore the complete variety of summer collection by different brands here.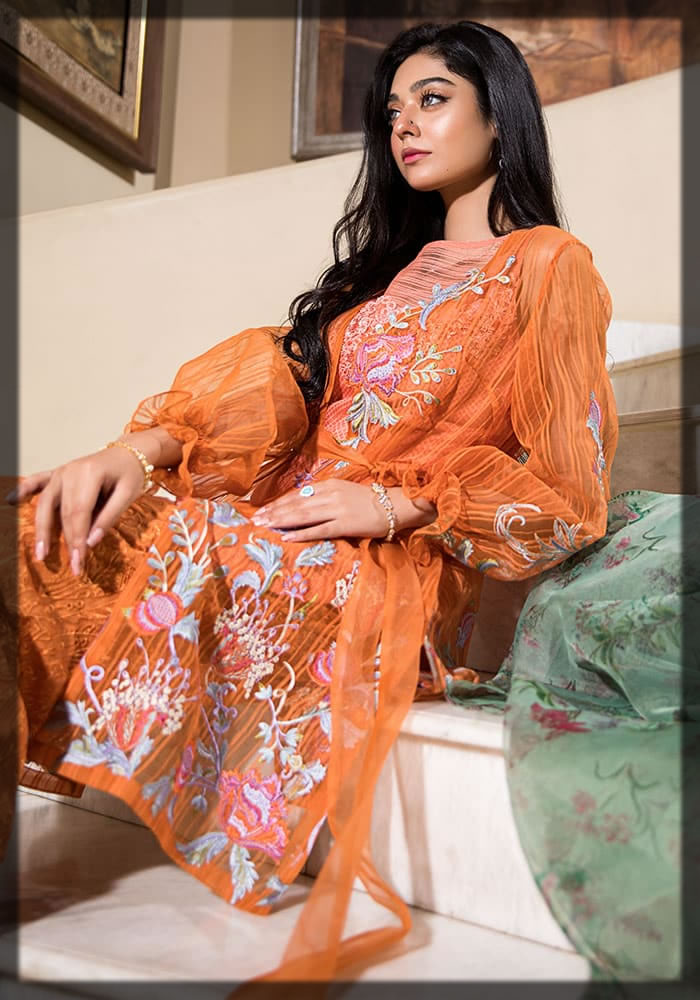 1. Lunar Mist Premium Net Summer Outfit
Do you want to bring a refined look in summer? If so, then evoke a sense of magnificence and refined elegance with the following black embroidered dress. The premium net fabric is adorned with embroidered sleeves. Further, it has a unique 3-dimensional floral design pattern on the front and back. Additionally, it is enhanced with beautiful handmade tassels.
The gorgeous handwork and intricate patterns are making the outfit much ravishing. It is complemented with a pure silk shalwar with a neat finishing. Indeed, the pleating and embroidery techniques are making it perfect and ideal for women. Moreover, get similar designs from Rang Rasiya brand, because their dresses are one of a kind.

2. Festive Peach Peshwas Long Silk Dress

Peshwas is one of the most lavish styles for a girl to carry on any occasion. Many people prefer to wear it at weddings. Plus, many girls go for this style on their big day. You can wear a Peshwas both casually and formally. Asim Jofa latest lawn collection is also presenting an engaging floor-length style. Here is a festive peach flared Peshwas for you below.
The following luxury outfit is indulged in pure undisguised feminity. Plus, the design is inspired by the goodness of love and its breathtaking design. The beautiful motifs on pure tissue and silk fabric are creating an incredible look. So, look how beautifully Noor Zafar Khan is carrying the dress. Undoubtedly, the outfit is truly evocative of elegance inside and out.
3. Floral Printed and Embroidered Light Blue Saree
How can a season be completed without an exquisite saree? Get yourself a dreamy draped saree from the latest collection by Nilofer Shahid. Below is a beautiful demonstration of summer featuring the very graceful Sarah Khan. However, you can go for other eastern styles if you do not want to wear a saree dress in summer.
The dreamy draped saree is depicting the old world's charm with its gorgeous caroline blue shade. Further, it has a stunning embroidered blouse, evocative of real class. Plus, the ensemble is encrusted with an amalgamation of alluring crystals and thread work. Let's make a statement look with the following lavish costume and create uniqueness in your style.
4. Stitched Long Shirt Dress in Ivory Shade

Embrace the splendor of summer with the striking ivory net embroidered dress below. The outfit is bejeweled in the luxury of Resham embroidery with lavishing shades of lime, caramel, and pistachio green. It has gorgeous lace tapestries that are creating an inspiring look.
Further, the outfit is complemented with a fine organza embroidered dupatta. The refreshing laced dupatta is decorated with alluring floral motifs. So, the outfit is an all-in-one package of sophistication, class, and charm. Get likewise dress from the Manara luxury collection.
5. Nilofer Shahid Luxury Angrakha Style Dress

Step into summer with the glorious Rosalyn ensemble. Below is an amazing angrakha style dress featuring Sara Khan. Well, the outfit is based on pure self cotton silk fabric with affluent 3D floral embroidery and patterns. It is decorated with elegant handwork and tassels.
Further, it has pleated embroidered sleeves to create a luxurious look. The overall outfit is accompanied by a fully embroidered deep pink cotton net dupatta. Also, it is finished with intricate detailing and lace patching that adds true glamour to the dress.
6. Amber Flame Summer Ensemble by Nilofer Shahid

Wrap yourself in extravagant floral motifs of the following dress. It is a modern fusion of a wrap-round pure organza jacket-style dress. So, the outfit comes along with a chic under-shirt. The inner shirt is beautified with tangerine shades of embroidered floral motifs.
Further, it is complemented with lace embroidered trousers. Moreover, the statement look is finished with a floral printed and embroidered organza dupatta that adds a Persian touch to the outfit. Undoubtedly, the following dress is an ideal option for a pure summer look.
7. Aqua Athena Festive Outfit by Nilofer Shahid

Here is a vibrant aquamarine outfit for you. It comes with delicate handwork with sublime multi-color embroidery. Also, the pine green, deep red, and golden shades look fantastic. Further, it has delicate crystals and moonstone beads that are enhancing the dress.

Moreover, the splendor outfit is perfect for any summer event. The lushly ornamented organza dupatta is completing the look. However, it is accompanied by pure silk cotton trousers. Also, get likewise dress from the latest Saira Rizwan summer collection as well because they make pretty cute dresses.
8. Maroon Luxury Summer Dress by Nilofer Shahid

Here is a striking Peshwas that has been crafted with ombre in coral and maroon to create a nostalgic look from the past. The outfit is beautifully decorated with 3-dimensional embroidery and churidar sleeves. Undoubtedly, it creates a mesmerizing luminous serenade for everyone to behold. Get more similar ensembles from the recent Maria B's collection.
Nilofer Shahid created an astonishing fusion with a statement powdered blue organza dupatta for a unique look. Surprisingly, you will never find such an amazing combination again. Head over to pick the fantastic combination quickly.
9. Designer Nilofer Shahid Wearing Luxury Summer Dresses

Look how beautifully the designer is carrying her own summer ensembles. The elegant carnation peach and ice blue festive outfits are an ideal option for any summer festival. Indeed, you can opt for the outfits for any formal gathering. For more luxury dresses, check out the latest Mushq's luxury lawn collection. I hope you will never regret our suggestions.
Above is the latest Nilofer Shahid summer collection for you to try this season. The luxe dresses in Nilofer Shahid summer collection are ready to make you dazzle. The lusciously crafted ensembles are ideal for women who want to stay classy during the summer. Furthermore, the enchanting hues and pleasant handwork are propelling the public to think about it.