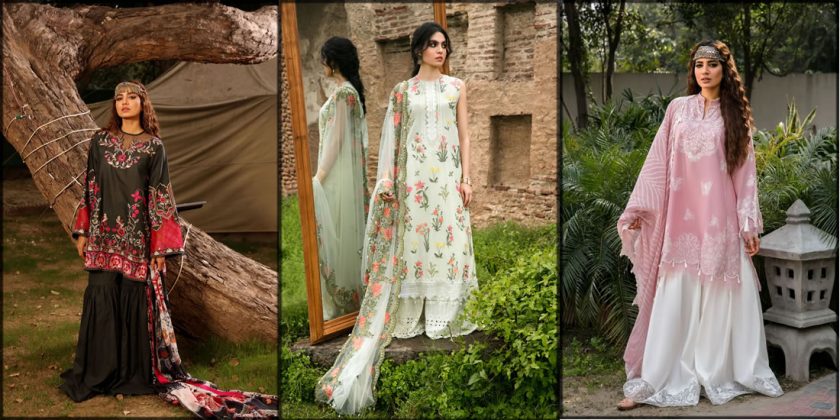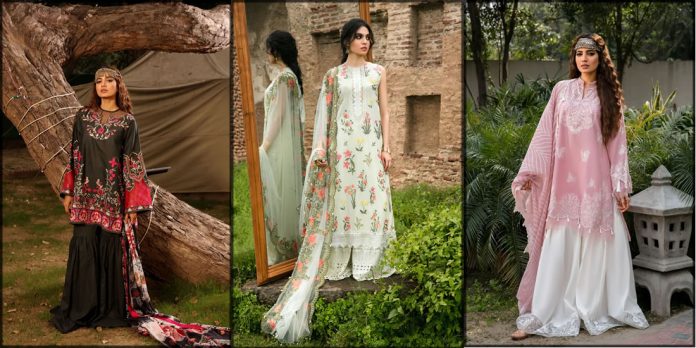 Try the Saira Rizwan summer lawn collection to look attractive, smart, and elegant this summer. In its latest collection will receive unstitched and stitched attires in vibrant colors and designs. Plus, they used pure lawn fabric to drill their summer costumes. 
The summer collection of Saira Rizwan is magnificent, which undoubtedly helps create your summer style more beautiful and fascinating. Are you eager to see the summer lawn collection by Saira Rizwan? Then you are in the correct spot. The following collection by Saira contains the best quality fabric and designs. Summer is considered the fresh and bright season, so the brand has used bright colors in summer wear for women of all ages, as you can see below. 
This season, the campaign shoot classically featured talented and beautiful Rabia Butt. She did a great photoshoot and carried every dress with elegance. The background for the shoot is chosen very nicely as well. Moreover, Saira Rizwan likewise managed the seasonal sale for the ease of its clients. 
Latest Saira Rizwan Unstitched Summer Lawn Collection (New Arrivals)

Saira always tries its best to gives its clients reliable and comfy attires so women can enjoy any season freely. This summer, it used the lawn, slub lawn, and jacquard texture to make its summer lawn collection more comfortable. Let's explore its newest summer lawn collection with reasonable prices according to the quality and design.
This high-end luxury brand was founded in 2007. Saira Rizwan is the leading brand and has earned a prominent name in Pakistan's fashion industry. Saira Rizwan summer lawn collection contains classy attires made with pure lawn and vibrant shades.
1. Peach Machine Embroidery Dress with Jacquard Dupatta

Peach is a bright and alluring shade that is perfect for summer. The peach and silver combo always hit the floor. Hence, Saira offers the alluring peach outfit that is beautifully furnished with the silver combination. This lawn dress is paired with the embroidered jacquard dupatta. Moreover, the Orient Textiles summer catalog also has a broad assortment of peach summer outfits. You can wear this classy outfit on any seasonal occasion to add more charm and appeal to your look. 
2. Saira Rizwan Lawn Embroidered Suit with Net Dupatta

This cute self-printed green-shaded outfit is the best for casual wear. It is paired with the embroidered net dupatta and chikankari trousers. You can wear this lovely outfit at a beach party to enhance your look and make it more breathtaking. You can also customize this dress as per your choice and need. Get lawn dress stitching ideas from our blog here and quickly get your dress stitched as you like.
3. Blush Pink Summer Lawn Suit with Paste Printed Dupatta

The classy self-printed shirt with an embroidered neckline and border patch looks gorgeously stunning, especially when you are wearing it with brownish makeup and lightweight adornments. You can customize this unstitched dress as an angrakha style frock by pairing it with the flared palazzo.
Try to match your jewelry with the embroidered work to make this outfit more impressive. You can wear this classy dress at your sister's wedding if you want to keep your look decent and simple. You can also wear this lovely outfit at a casual gathering by customizing this dress as a shirt and Capri.
4. Luxury Dobby Lawn Outfit by Saira Rizwan 
Sleek black is a fresh shade that will make your summer dressing more striking. The printed chiffon dupatta adds more charm to this lovely outfit. If you are going for any special function, grab this outfit and pair it with heavy jewelry, a pink bag, and pink high heel shoes for the perfect look. Further, add some curls into your hair and get the adorable yet cute flash. For more attires, explore Taana Baana's summer assortments.
5. Mustard Yellow Summer Lawn Suit with Digital Printed Dupatta

This dress is specially designed for those who like bright-shaded dresses. Below is the most breathtaking mustard-shaded outfit heavily decorated with thread and sequins. You can wear this outfit on any formal occasion and make all of your attractive and stunning looks. It is paired with the digital chiffon dupatta with bright and fresh color detailing. Have a look at the Zellbury summer collection for more nicely embroidered dresses.
6. Machine Embroidery Dobby Lawn Suit with Cotton Silk Dupatta

Look at the machine embroidered dobby lawn dress with the digitally printed back, which is paired with the cotton silk dupatta and cambric trousers. One of the most ideal and striking outfits for a formal gathering. The color combinations in this dress are beautifully chosen and blended together. You can also wear this outfit at your sister's wedding to add more grace to your personality.
Pair this lovely outfit with traditional jhumkas. Further, apply the lightweight makeup and tie your hair in a bun style or keep them open. The choice is yours. Never forget to add Kajol to your eyes to add an extraordinary look. For more nicely embroidered dresses, visit the Asim Jofa luxury lawn collection. 
7. Ice Blue Saira Rizwan Embroidered Suit with Net Dupatta

The lawn is a durable and soft fabric that looks quite classy, and it is comfortable as well. Look at the elegant ice blue lawn outfit by Saira Rizwan that is paired with the net dupatta. The embroidered neckline, damn, and sleeves enhance the beauty of this outfit. You can wear this outfit at any summer wedding ceremony to look jazzier and more noteworthy. Visit Limelight's summer collection for a wide variety of lawn attires.
8. Purple Lawn Suit with Dyed Slub Krandi 
Dupatta
Purple is the most alluring shade that makes your summer style more classic and striking. The dress is beautifully paired with a slub karandi dupatta. The front and back of the shirt are beautifully weaved with threads and sequins. This glamorous dress is paired with the plain cambric trouser that enhances the elegance of this outfit. With this dress, keep your hair open and wear shocking golden heels to look more modest and stylish. Also, explore the Rang Ja summer outfits for more variety. 
9. Moss Green Embroidered Lawn Suit

Every brand must have green dresses in its seasonal collection. Below is the moss green embroidered suit that is paired with the digital printed red dupatta. If you want to refresh your summer look and want to make it more dazzling, at that point, pick this outfit and inspire the world with your dashing look. Almirah's summer collection also contains modest summer attires likewise. So give it a chance too!
10. Pure Lawn Suit with Emboss Paste Dupatta

Women love to wear bright-shaded attires. Look at this dress that is beautifully adorned with golden-colored thread work. The shirt has a self-embroidered neckline with floral embroidered side panels and is paired with the matching trousers and emboss paste dupatta. You can wear this outfit at any formal gathering to make your look more striking and stunning. For more similar attires, explore the Hussain Rehar luxury lawn.
This season, Saira Rizwan offers incredible and exquisite lawn designs for women of all ages. Each season Saira presents the Pret, ready-to-wear, formals, and Bridal clothes with the most intricate designs and combinations. This season also brings the most awe-inspiring lawn dresses in all vivid shades and designs. Look above and explroe all of its latest summer collection with the mentioned prices.