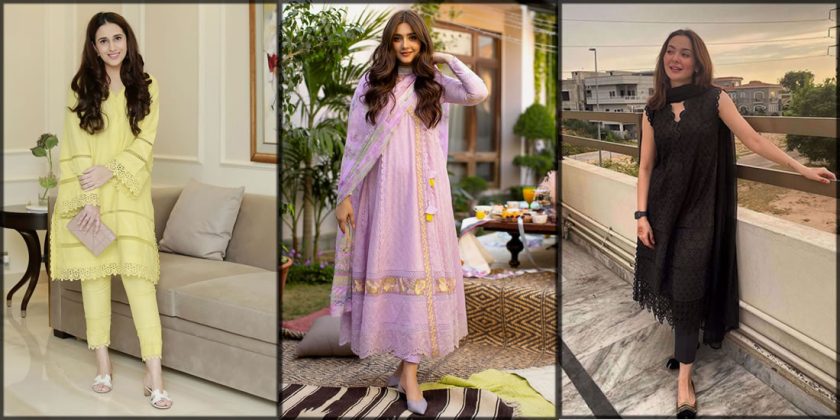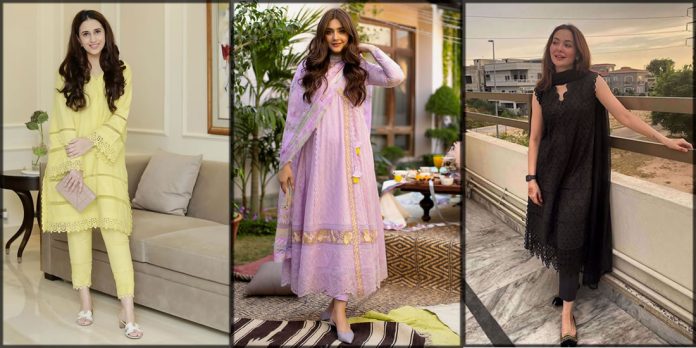 Ansab Jahangir is a creative and innovative designer in the fashion industry of Pakistan. Through continuous hard work and intricate designs, the designer stands among the leading retailers. Plus, it brings a seasonal assortment for its endearing and valuable customers. Here is Ansab Jahangir luxury lawn embroidered collection for you to wear this summer.
Ansab used solid and high-quality textures this season to design their summer dresses. Additionally, the beautiful embellishments and hand-embroidered techniques are done on these attires to make the outfits progressively seeking, as you can see below. To stand out, you can wear these beautiful attires at any casual, formal, or informal event.
Well, everyone desires to stay classy and modest with a perfect choice of clothes. But, rightly, you can never add glam to your character without a perfect outfit and a pair of footwear. So, do you want to bring striking looks to your personality in spring? Then, head to our following blog and get fundamental spring attires at an affordable cost.
Latest Ansab Jahangir Luxury Lawn Collection for Women (New Arrivals)

We suggest you always go for a modest style. Several clothing brands and top designers of Pakistan are available to craft incredible dresses for women. Besides all, Ansab Jahangir is one of the finest designers in the country. The apparel collection includes classy dresses for both men and women. Plus, you can explore fascinating bridal outfits too. Here is the Ansab Jahangir luxury lawn collection for you to wear this summer.
So, what are you waiting for? The highly applaudable spring assortment has been launched for you. Pick the ideal outfit that coordinates well with your personality and complexion. Plus, a little bit of makeup and elegant shoes will elevate your entire look. So never forget to pair your stunning summer costume with appealing makeup and lightweight accessories to allure. 
1- Basics 2PC Summer Collection by Ansab Jahangir
Nowadays 2pc simple and printed dresses are on trend these days. Hence all notable brands of Pakistan must include the two-piece dresses in their seasonal assortments. Likewise, Anssb Jahngir offers an adorable variety of two-piece summer dresses in all bright shades. Further, some embellishments and laces are utilized to design these two-piece attires that make them more classy.
You can wear these attires at any casual and formal events by combing your two-piece suit with natural makeup, a little bit accessories, a classy handbag, and formal summer shoes to get the prettiest yet decent flash.
2- Ansab Jahangir Signature Chikan Collection for Summer

Are you excited about the lawn outfits? Undoubtedly, everyone waits for the colorful assortment of the year. The Ansab Jahangir's luxury lawn collection will astonish you with the marvelous designs. Additionally, the breathtaking portfolio will propel you to get an outfit for spring. You will never feel regret your choice if you pick any dress below.For more summer lawn dresses, explore Noor by Saadia Asad's collection.
Gara Style Powder Pink Schiffli Embroidered Suit
Are you waiting for something magical to happen? Do you want that real magic in your outlooks? If so, you need a vacation and a break from the daily routine. Plus, buy yourself a soft and magical spring outfit to run in the streets in the long summer. You can never walk on the runway unless you wear a splendid dress. So we are bringing you an exceptional powder pink embroidered outfit to wear this spring.
The following outfit is entirely composed of embroidery on the front and sleeves. Further, it has a contrasting vintage floral flamingo pink dupatta. There are separate side panels that you can attach either on a frock or on the trousers. The outfit is coordinated with plain trousers to complete the whole look. You can seek a similar embroidered outfit from Sable Vogue's luxury lawn collection. Indeed, you will be able to buy your favorite.
Apple Green Five Paneled A- Line Shirt with Dyed Chiffon Dupatta  & Cotton Pants

Apple green is an enchanting shade that brings glam to your looks. Additionally, the warmth of the dazzling hue will bring you a compliment. You may explore the Manara summer collection to seek inspiring summer outfits for your comfort. But, here is the incredible apple green enchanting spring attire for you. Please have a look at the following dress.
Apple green schiffli shirt comes with white accents and a heavy jeweled embroidered neckline and sleeves. Further, the outfit coordinates well with embroidered schiffli pants. Moreover, it has a unique and embellished pure chiffon dupatta. I hope you will love the Chikan embroidered outfit for your summer look. Please give it a thought. Mushq's luxury lawns are also worth buying.
Kalidaar Lilac Schiffli Embroidered Outfit with Accents of Lemon Embroidery

Blushing is the color of virtue, and fashion is the armor to survive. However, you can never be a full demonstration of fashion until you do it correctly. Indeed, a pure and magnificent outfit will help you to gain confidence and stay classy. We have a gorgeous lilac outfit for you to fulfill your fashion dream. I hope you will love the magical design for yourself.
The beautiful schiffli dress comes with an anchor neckline and satin embroidered borders. In addition, it comes with a printed chiffon dupatta with green and lilac floral silhouettes. Further, it presents you with patches of contrasting lace that you can attach to the borders. Get dresses likewise from Fahad Hussayn's luxury lawn collection for this summer.
Sorbet Lemon Embroidered Suit with Silk Dupatta

Your face is a reflection of what you are wearing. So, opt for a delicate outfit if you want to bring a glow to your face. You can be beautiful inside and out if you choose wisely. Therefore, stop doing the worst with yourself to satisfy others. Instead, buy the dress that makes you feel happy from within and have a blissful season with laughter.
Below is such a delightful and inspiring outfit for you. The sorbet lemon outfit is coordinated with green embroidery on the shirt. Further, it has a floral embroidered patch for the border. The digitally printed silk dupatta completes the delighted look. You can have many similar and cherishing dresses from Qalamkar's summer collection.
Pale Orange Schiffli Anarkali Embroidered Suit for Summer

Always wear a dress that can make your soul and face shine. Unfortunately, many of women lack to make a wise choices. Plus, many people have very weak decision power, which leads to dull looks. We are here to present you with some tips to bring glam to your personality. Choose a dress color according to your facial complexion. Let me tell you that the following pale orange outfit will be ideal for girls with a very fair complexion.
You may get a variety of outfits from the Khaadi summer collection that offers an extensive assortment. Well, here is the iconic pale orange color for you. The dress is decorated with chikan embroideries. Further, it comes with a matched floral printed dupatta. The dreamy dupatta is decorated with applique motifs that make the entire look blazingly stunning. So, please give a thought to the following outfit.
3- Chikan Exclusive Collection
In the Exclusive collection of Ansab, you will get the embroidered three-piece dresses in all bright and vivid shades. Further, some embellishments and laces panels are utilized to design these chikan attires. You can wear these appealing attires at any formal gathering to make all of your stunning and jazzier flashes. You should combine your chikan suit with striking makeup, formal shoes, and classical gemstones to get the adorable flash.
Powder Pink Chikan Angarkha Frock with Silk Digital Printed Dupatta
Do you want to be a flame and change the world with your dramatic looks? Undoubtedly, a woman is a powerhouse of fashion and aesthetics. She can rule the world if she is well-oriented and wise with choices and decisions. You can be flamy and loud if you wear an exquisite daffodil powder pink outfit in the scorching summer season of the year.
So, explore the Taana Baana summer collection to grab the likewise shades of dresses. Below is the beautiful pink dress with exquisite powder pink embroidered patterns. Plus, the contrasting sky blue print dupatta completes the entire summer vibe. You can wear this beautiful costume at any casual family gathering to add more shine and appeal to your look.
White Ansab Jahangir Luxury Lawn Suit
Nothing can dim the light that shines from within unless you do it. Remember one thing that never let anyone dull your shine and sparkle. You are what no one can be, and that is your power. So, be yourself and try to choose an outfit that can bring the side elegance out. Here is such a delicate and beautiful white embroidered lawn suit for you.
You can get a massive variety of lawn dresses from the Attraction by Kamal summer collection too. Well, the following pretty ensemble comes with a bright, shaded mixture that makes this outfit extra cute. Further, it has a pretty blended chiffon dupatta for a complete look. Prefer to wear high pointed heels with the ensemble for an entire beauty look.
Midnight Black Schiffli Embroidered Outfit
Everything good can happen in the months of spring. People who say black isn't a color for summer shall think again. I believe that the people who wear black color have the most colorful mind. You can stand differently in public if you wear a black dress. Get exclusive black dresses from the Sana Safinaz summer collection. The collection offers an exceptional corner of black dresses for women.
Here we have a blazingly stunning midnight outfit for you. The dress is genuinely ideal for evening wear. Below is the solid schiffli attire for you. It has applique embroidered patches that you can use to decorate your damn. Plus, the dress coordinates with a plain black dupatta for an entire ravishing look. Apply minimal makeup and prefer to make smokey eyes to get a pure solid night look with this exquisite outfit.
Blush Pink Schiffli Embroidered Outfit
When life brings you another spring, just dip it in glitter and shine all day. Say no to your imperfections and step into the modest styles with exemplary dresses. The following blush pink outfit could be the best choice for you to shine in the mid-years season. Also, you can get fancy and embellished dresses from Faiza Saqlain's festive collection.
Take a look at the following cool outfit. The graceful blush pink schiffli embroidered shirt looks gorgeous. It comes with vintage white floral frames on the neckline, daman, and sleeves that make this outfit more stunning. Keep your hair open to gain attractive looks with the outfit.
Cuff Sleeves Ansab Jahangir Luxury Summer Dress
Nothing can beat the cherishing beauty of the white color. Your face shows your entire thoughts and judgments. Therefore, inner satisfaction is absolute, and you need to be concerned about it. Own your glamorous looks with the glamorous white embroidered dress below. Plus, get likewise design from the latest Zainab Chottani's summer collection.
A little decoration always looks delicate and graceful. Therefore, we present you with the magnificent minimal schiffli embroidered patterns on chikan Kari. You can combine a contrasting lace for the daman and the dupatta's border to enhance the looks. I hope it will bring you the desired summer look.
What are you looking for? A splendid and enchanted outfit for summer? Explore this blog and get fantastic summer dresses for women of all ages. Here you will get high-quality summer dresses in all vivid shades and classy patterns. So pick any clothing from the above exhibition that adds finer allure and appeal to your summer flash.