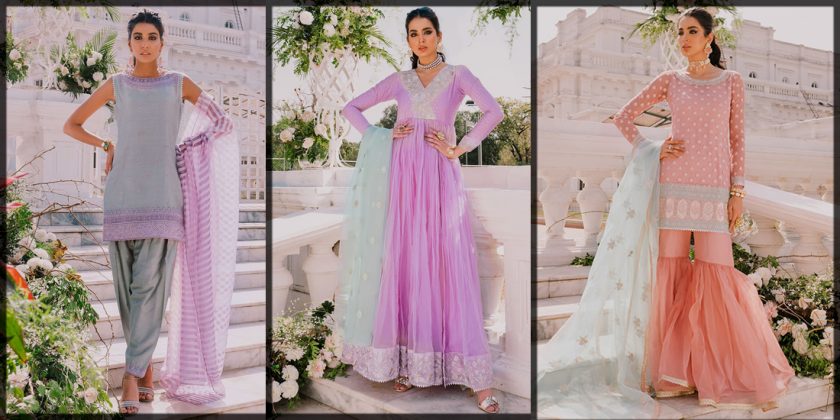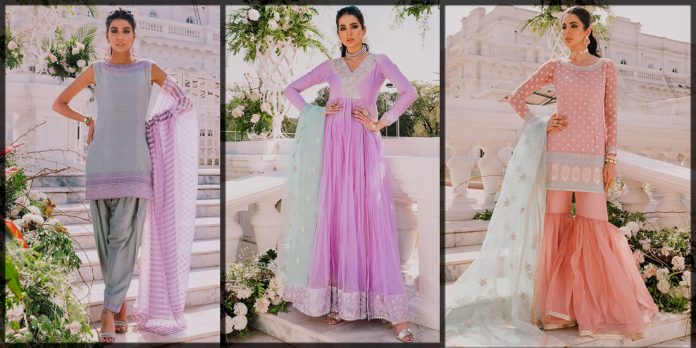 Zainab Chottani is a well-recognized brand of Pakistan. She started her brand in 1999. Although she began with bridal wear, now she has managed to create all kinds of dresses, whether casual, formal, and bridal gowns. The Zainab Chottani eid collection has also been launched, bringing many new patterns and designs of the clothes.
Eid is the event of celebration in Pakistan. The upcoming eid is in the summers as well. By keeping the weather in mind, this brand has launched its new eid in soft and reliable fabric. Furthermore, the color selection and contrasts of these dresses are also best to wear in summers.
The brand has always created new and unique designs of dresses. A lot of the famous models of Pakistani also admire her work. The positive appreciation from the artists and the general public is the reason for this brand's growth. Females are needed to take a look at the latest eid collection by this brand to make their eid look extra beautiful and pretty. Moreover, the prices of all the dresses are also mentioned for your ease. Scroll down!!
Zainab Chottani Luxury Ready to Wear Eid Collection Catalog (New Arrivals)

Women are excited to wear new clothes on Eid. Because in every event, women like to wear the unique and latest pattern clothes to look more modest and chic. As you have also seen in the Zainab Chottani summer collection, you will find a wide variety of dresses in cotton silk, organza, and net fabrics with the best blend of colors and shades in the eid collection as well.
As eid celebration requires heavy embellishment, these dresses fulfill that requirement through their design and decoration. Moreover, try the new eid hairstyles this eid with these fantastic dresses to make your festive look more appealing and dazzling.
Our site is solely dedicated to fashion and beauty. Go through our latest eid catalog and get your desired dress for eid.
Black Front Open Gown with Pink Organza Dupatta

The majority of women like and prefer black color. The following black attire is beautifully stitched in the front open gown style. The pink and silver floral embroidery is on the neckline, and the finishing of the dress is also going well with floral motifs and a scallop border all around. 
It is paired with black pants and a pink organza dupatta. This striking pattern will be a showstopper no matter what the event is. It is the perfect wear for eid day. Check out more such dresses from Sana Safinaz eid collection.
Note: Wearing black heels will showcase quite a modern look along with this modish attire.
Cotton Silk Embroidered Shirt with Traditional Shalwar

Most girls desire to get the legendary look by wearing the simple shalwar kameez. The following silver and lilac cotton silk dress is ideal for those ladies who want to grab the traditional look on eid. This short shirt is beautifully furnished with the embellishment of thread. It is paired with conventional shalwar.
Furthermore, the contrast of the lilac organza dupatta makes this dress more beautiful. You can likewise wear this cool outfit at any wedding event to look more pretty and charming. Further, visit the Fahad Hussayn eid collection that likewise contains the impressive eid suits for women.
Fashion Tips: Pink-shaded eid makeup is the best alternative to pair with this dress. With this classy outfit, skip the necklaces and only wear the traditional circular hoops to make all of your jazzier and breathtaking looks.
Floral Jhaal Embroidered Shirt with Lilac Organza Dupatta
In summer, women always go for fresh hues like pink, purple, silver, and yellow to add more charm and shine to their look. The below purple outfit looks so classy, especially when you carry it on any events like eid. This long purple shirt is highlighted with an intricately embroidered border, neckline, and floral jhaal all over the front. 
The plain straight pants are complementing this attire beautifully. Plus, the lilac organza dupatta is in contrast with ornamentation and looking quite elegant. You can also wear this dashing outfit at your best friend's wedding to look more modest and chic. BeechTree eid collection is also worth buying. 
Fashion Tips: Remember to pair this fresh hues suit with lightweight makeup and adornments to make all of your striking and dazzling looks. Plus, paint your nails with classy nail art to increase the beauty of your hands.

Blue Embroidered Long Shirt with Capri by Zainab Chottani
As you know, the long shirt trend is on the back. Hence all notable brands offer long shirts with the capri style as per the trend and fashion. Hence, Zainab Chottani is also offering the long shirt and capri style this eid. The blue color seems so refreshing in summers and brightens up your eid look.
Hence, grab this blue outfit from the Zainab Chottani store beautifully furnished with silver and pink embellishment. Plus, the sleeves and borders are enhanced with navy blue embroidered lace. Pick this dress to make your eid look more noteworthy. For more such variety, check out Almirah eid dresses. 
Note: Blue and silver shaded earrings, and the silver bracelets are going very well with this stylish outfit. Pair this chic 2PC suit with the high heel shoes to make your eid look more modest and charming. 
Traditional Gharara Dress with Lilac Organza Dupatta

Cherish your eid with the traditional dress of Zainab that contains the traditional short shirt with lilac organza dupatta and gharara. A chic short shirt is adorned with silver gotta kinara with the lilac touch.
It is paired with a lilac organza dupatta and classic silver gharara pants that make the outfit more classy. The contrast of the lilac dupatta gives the attire a very vibrant and refreshing look, as you can see below. For more traditional attires, explore the Zara Shahjahan eid collection containing impressive eid suits with lovely tones and shades. 
Fashion Tips:
With this traditional outfit, keep your makeup minimal.

Try to enhance your eye's beauty by doing the smokey eyes makeup with cat eyeliner.

Wear the long purple hoops matched with your outfit to get a pretty yet classy look.

Plus, tie your hair in a bun or low ponytail as you like. 
Mauve Long Shirt with Culottes by Zainab Chottani Eid Collection
Mauve is the fanciest color for formal events like eid and weddings. Following long mauve kurta and flared culotte pants is the most appropriate wear for eid. It has ornamentation with thread embroidery on the border and the daman of the shirt. Plus, the floral patterns all over the shirt's front make this outfit more classy and impressive. 
This beautiful shirt comes with embroidered organza dupatta and modish flared culotte pants. You can also wear this fabulous dress at an evening party to increase your beauty and make it more charming. Also, visit the Maria B eid collection for more similar outfits. 
Pro Tips: With this dark-shaded outfit, apply nude makeup and wear the small earring to get a decent and breathtaking look. Further, wear the peep-toe shoes to adding more elegance and attractiveness to your look. 
Khaadi Organza Gown with Embroidered Neckline and Side Slit

The purple color gives you a sense of royalty and grace. This light purple gown has a beautiful grey thread embellishment on the neckline and border. Plus, the side cut of the gown makes it more pretty and modest. It comes with plain straight pants allured with a border and embroidered grey organza dupatta. You also wear this incredible gown at any casual and formal gatherings to make all of your jazzier and appealing flashes. Also, explore the Ansab Jahangir eid collection. 
Pro Tips: If you want to make yourself more modest by wearing this purple gown on eid, then apply the nude makeup and wear the beaded necklace and earrings. Further, wear the cone heel shoes and add more sparkle and shine to your eid look. 
Short Shirt with Traditional Gharara and Organza Dupatta

Another traditional outfit for eid to catch the alluring flash. This fabulous outfit gives you a sense of lightness and refreshment with its blush pink color. It has the floral decoration of sky blue and gold colors on the daman and neckline. Plus, the small floral designs are also spread on the sleeves, and all over the shirt look mesmerizing. Blush pink gharara pants and the net organza dupatta is also adding more beauty to this outfit. For more variety, take a look at Faiza Saqlain eid collection.
Fashion Tips: Combine your blush pink traditional outfit with pink-colored makeup and accessories to make all of your jazzier and breathtaking looks. Never forget to style your hair in a classy hairstyle to add more appeal and grace to your look. 
The latest Zainab Chottani eid collection contains various designs and dresses according to the newest fashion trend. They use thread embroidery to enhance the outlook of these dresses. The ornamented borders are giving a fancy look to these eid outfits. Plus, the organza dupattas are also complementing these dresses beautifully. All you necessitate is to choose the right dress as per your body size and skin tone to make all of your jazzier and breathtaking flashes.