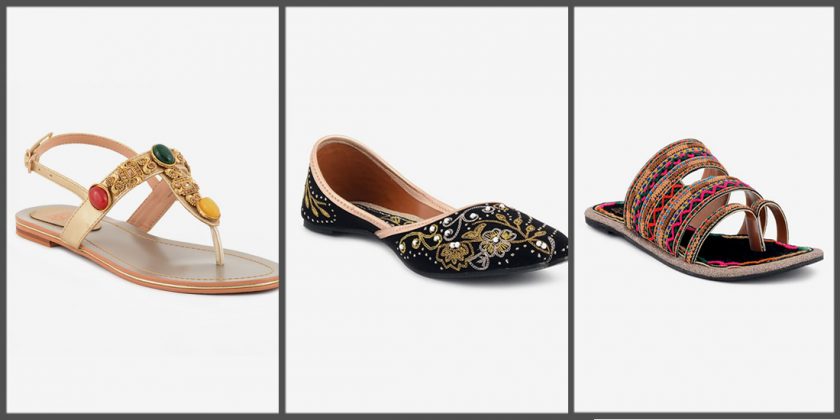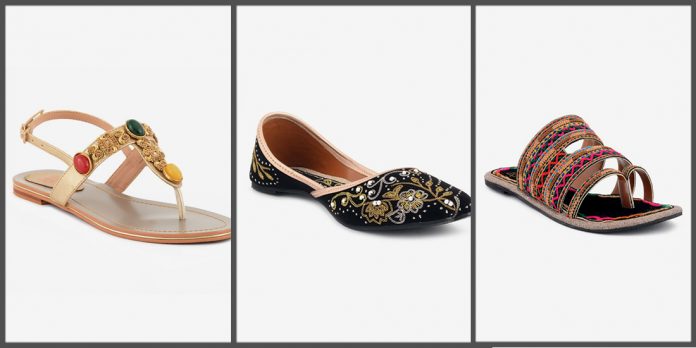 Shoes are the finishing touch on any equipment, and it is essential to complete a perfect look with an excellent pair. So, always try to pick the right pair of shoes to improve your character. You will get a wide and trendy variety of shoes in the latest ECS shoes Eid collection that indeed help to renew your look and make it more dazzling.
Many of us always go for comfy shoes to easily walk and run. If you are looking for comfortable yet classy footwear? At that point, the below ECS collection is ideal. ECS used the soft sole to make its Eid shoes more comfortable and classy. Plus, the different styles and patterns of these shoes make this collection extra remarkable.
In the latest Eid collection of ECS, you will get the newest pattern chappals, slippers, sandals, and khussas in the most vibrant and vivid hues. The prices of these shoes are also mentioned for your ease so that you can quickly get your desired footwear before Eid.
ECS Shoes Eid Collection for Women (New Arrivals)

Like the outfit, shoes also play a vital role in demonstrating your solid character. Hence all notable brands of Pakistan each season offers impressive and lovely footwear. The ECS is the most adoring and affordable brand in Pakistan that gives soft and good-quality shoes to women of all ages. It's the reason it is becoming the most favorite brand of women in just a few years. One of the most beneficial things regarding this brand is that it gives the different styles of shoes in the most handsome amount.
As you know, Eid is coming soon, and everyone is looking for something unique and impressive to look more stylish and modest on Eid. If you are searching for perfect and appealing designed footwear at the most affordable price at that point, you are in the right spot. The ECS Eid shoes are just superb and according to the latest fashion and trend that help make all of your breathtaking and striking looks. The newest Eid collection of ECS offers the following types of footwear in the most dazzling designs and shades.
Fancy Chappals

Slippers Footwear

Traditional Khussa Collection

Fancy Heel Shoes Collection

Eid Fancy Chappals by ECS Shoes
On any occasion and festival, ladies love to wear fancy shoes to add more shine and appeal to their look. Look down at the fancy chappals collection by ECS that undoubtedly improves your Eid look and makes it more chic and smart. Chappal is the comfiest and reliable type of footwear that keeps your feet in comfort.
If you prefer to spend your Eid at home, at that point the chappal is the best choice to wear to do your housework easily. You can wear a fancy chappal with your printed suit to get an adorable and elegant look. Furthermore, you also wear these fancy chappals at your friend's nikkah ceremony to get a decent and jazzier display. Get more fancy chappals from the Stylo festive collection.
Slipper is another most extraordinary and comfy style of footwear. These casual slippers of ECS help to make your Eid look splendid and more exciting. You can also wear these slippers at any casual gathering and event. If you want to efficiently run or walk, then pick the right size of shoes to keep your feet in place. So, that you can quickly run or walk. If you are going to wear the Capri shirt, then the slipper is the best choice to look more splendid and gorgeous. Metro eid collection also contains a wide variety of Eid slippers.
Traditional Khussa Collection
Khussa is the traditional footwear that many teens prefer to wear. If you are going to wear the gharara and sharara on Eid, then the khussa is the ideal choice to wear to complete your legendary Eid look. Here you will get the classy thread artwork khussa in the most lovely shades and hues. You can also wear the fancy khussa with the Capri shirt as you like.
Sandals Collection for Women
Sandals are the prettiest structure of the shoes that help keep your feet in point to quickly run or walk. In the latest Eid collection of ECS, you will get the stunning pair of sandals in the most remarkable and jazzier designs and shades.
You will get casual and fancy sandals here. Pick any latest pattern of sandals and make all of your impressive and decent displays. You can pair your chic pair of sandals with the embroidered suit to add more charm and attractiveness to your look. You can likewise wear these sandals at any casaul gatherings and events. For more sandals, visit the ECS summer shoes collection.
Fancy Heel Shoes Collection for Eid

Keep your standard high by wearing the high heel shoes at the Eid party. If you don't like to wear flat shoes, instead you want to wear high heels on Eid, at that point, the below fancy heels collection from ECS helps you out to improve your character.
In the latest Eid catalog, you will get the fancy block and cone heels shoes in the dark and fresh hues that help to normalize your look and make it more breathtaking and appealing. You can also wear these dashing fancy heels shoes at any wedding event, social gathering, and even birthday party to look more modest and smart. Unze London shoe collection also contains fancy heels for women.
Some Classy Eid Footwear Designs by ECS Brand

If you favor something traditional and classy, at that point, the ECS shoes eid collection is ideal. You will get the many newest and latest structured footwear in the most dazzling shades and patterns. You can also wear these shoes at any casual, formal, and even at the wedding and social events to increase your beauty. Also, visit the Ndure shoe collection.

Pro Tips:
Here are some tips that surely help you to make all of your striking and awe-inspiring looks. 
If you are going to wear the printed and plain dress, at that point, pair your dress with fancy sandals and slippers. 

With your heavy embroidered suit, try to wear the casual chappal to look more graceful and charming. 

If you are going to attend the Eid party, wear fancy high heels to make you look extra modest and stylish. 

If you want to wear casual footwear and prefer simplicity, at that point, pair the slippers with your casual outfit and enhance yourself well.
Women always love to wear noteworthy and awe-inspiring shoes on any occasion. In this manner, ECS tried its best to offers the most engaging Eid shoes for women of all ages. Now hurry up and buy your favorite footwear from the ECS store and prettify yourself accurately. Furthermore, you can get your footwear at your doorstep by online order if you don't have enough time to go to the physical store. Have a sweet Eid 🙂