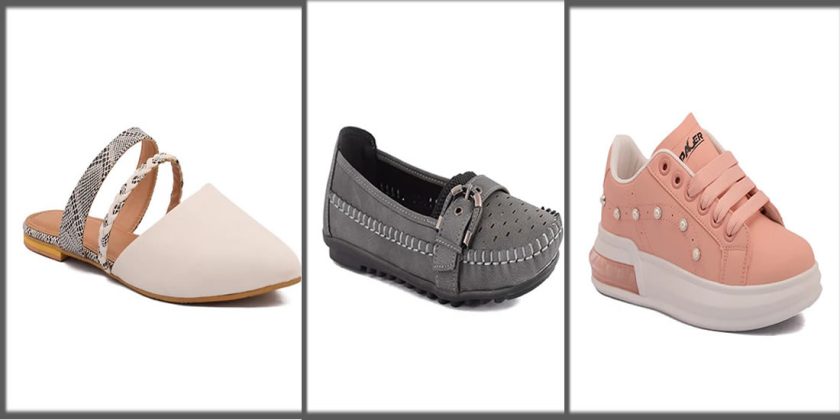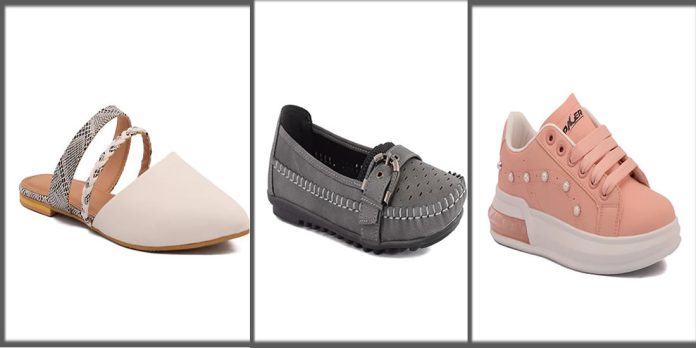 Clive is leading-edge fashion footwear in Pakistan. It provides innovative shoes to style-conscious customers. Consistently, it is working rapidly to encourage product sales on a large scale. Therefore, it comes up with an immense variety every season. Well, here you can discover the latest Clive shoes winter collection that offers quite a nice and colorful assortment of footwear for women of all ages.
Teen girls always desire to look fashionable. Therefore, they opt for a style that can add charm to their looks. Here is an excellent variety of winter footwear by the proactive brand. Additionally, choose the right style that can enhance your entire personality. So, get consistent and innovative designs below. Here you will get comfy long boots, sneakers, loafers, pumps, peep toe, and court shoes in all lovely shades.
Generally, women have enough collection of proper shoes in their closets. But, the winter season does not allow us to wear such open and uncomfortable shoes. One must have enclosed formal footwear in the winter season. Plus, combine the right pair of shoes with your formal dresses to get chic looks. Indeed, it will make your event more memorable. So, take a deep breath and have a look at the article below to get the recent assortment.
Latest Clive Shoes Winter Collection for Women (New Arrivals)
Winter is a season that stimulates a wide variety of colorful footwear. To make your style progressively outstanding, you need a versatile variety of shoes that append more elegance to your look. Winter propels you to wear an enclosed style to obscure yourself from the intense cold. A classy outfit always requires a nice pair of shoes for enchanted looks. The leading brand anticipates the changes in fashion and caters to customer needs and wants. Therefore, it presents your versatility in designs for all the segmented groups. For instance, try the following collection of beautiful court shoes. The variety is enough to make your evenings and other formal gatherings splendid enough.
Subsequently, everyone is looking for a classy style as the fall has arrived. Plus, all the brands have started launching their winter shoes for women and men. But no one can beat the Clive assortments. There is exceptional comfort that lies in the style of the shoe. Therefore, we are showcasing a wide range of exclusive shoes from the Clive assemblage. So look down and explore all the latest collections of Clive.
1- Easy-Going and Comfortable Loafers
Undoubtedly, loafers are the warmest and most comfortable shoes to be worn in cold weather. You can wear them with any outfit. It is the beauty of loafers that they effortlessly blend with any wardrobe perfectly. Usually, most people consider them as business casual shoes for women due to their intense smartness. Hence, it is an ideal style for everyone.
Further, teen girls can have them as a priority to wear with jeans. Carrying various shades of incredible styles requires fine footwear. Mostly, those who are looking to settle their skirts and flared pants can also opt for it. So, get yourself a neutral design from the following variety of loafers in vibrant colors for elegant winter looks. Well, you can explore the Stylo shoes winter collection for more variety. 
2- Stunning Open-Back Mules for Winters
With an excellent budget, always go for mules. The stylish open-back shoes beautifully mingle with every kind of outfit. Mostly, teen girls prefer them to wear with jeans. Plus, they will look sleeking with khaki pants and flared trousers.
The elegant style of mules will genuinely make you stand out. Plus, you can wear and carry them effortlessly. Indeed, everyone will turn their heads on their feet due to the selection of fantastic mules. Let's give a thought to the following collection of open-back shoes. ECS shoe collection also offers a stunning variety of open-back mules.
3- Court Style Clive Shoes Winter Collection
Court shoes always have a little heel. Women never miss a chance to get themselves a stylish outfit and footwear. Wearing a court shoe style is the perfect option to treat your achy soles. Plus, exquisite styles always add brightness to your personality. They come up with a variety of designs just like Servis winter shoes. Well, it depends upon you which style you prefer to buy.
Usually, women prefer to have a design that has optimal comfort. Therefore, simple and block-heel court shoes can be the best choice for them. Essentially, they provide an ultra level of comfort to you. Let's discover the tremendous collection of high and chic formal court shoes below at affordable prices. Borjan shoe winter collection also has a vast collection of comfortable footwear.
4- Stylish and Comfortable Pumps
Clive shoes always fulfill the dreams of their customers. It focuses on customer-centricity to give its best. The high-quality collection of shoes will look amazing in winter. Therefore, they are presenting you with a variety of the most easy-going shoes in the comfiest exteriors, as you can see below. For getting more designs, go for the Metro winter collection.
The pump is the most dreamy and excellent style of shoes that usually the youngest prefer to buy. Hence Clive must include the pumps in its seasonal collection. To make your looks progressively sleeking, choose the right pair of pump shoes. Indeed, wearing the right color and style will add glam to your personality. So, have a look at the following variety of pumps and get your favorite one.
If you want to evaluate the collection of others footwear brands, then explore our Footwear catalog which contains the latest collection of all notable brands of Pakistan.
5- Comfortable Sneakers for Women
Here you will find a wide range of sneakers. Indeed, they are the optimum solution for those who have to walk a couple of miles every day. Especially, mountain climbers can have these as the best choice.
The easy-going sneakers come in a variety of styles. All you have to do is to pick the best one for keeping your feet in comfort. You can carry these sneakers with your top and jeans for the perfect and glammy look. Moreover, you can also wear them with any style of outfit to dazzle. For more comfy winter boots, explore the Unze London winter shoes collection.
6- Classic Winter Collection of Peep-toes by Clive Shoes
Some shoe styles were prevalent in old fashion trends, but some people follow them even today. Peep-toes are among those fashion trends. Usually, women who dislike wearing socks and closed shoes opt for this classy style.
Get yourself an innovative style for unique looks. Choose the most stylish pair of peep toes from the image gallery below. Indeed, they are the best in providing next-level comfort due to their flat sole style. Take a look at the following collection.
7- Winter Fancy Edit
Are you looking for a slick style? Get yourself a slender heel to incorporate immense style into your personality. Well, it will create a slight pressure on your toes. Therefore, women who are facing orthopedic issues should not consider them.
Besides, an exceptional high heel is not easy to carry. Most of women lose their balance when walking with such high heels. Therefore, we present you with a covered style with straps to give you enough comfort and support. Moreover, also visit the  Insignia winter assortments for more variety.
Probably, you might be looking for warm and comfortable shoes. We assure you that you can have the best pair of shoes from this article. Indeed, all the magical styles will help to make your season memorable and comfortable. So, get ready to wear the most snappy designs this season.