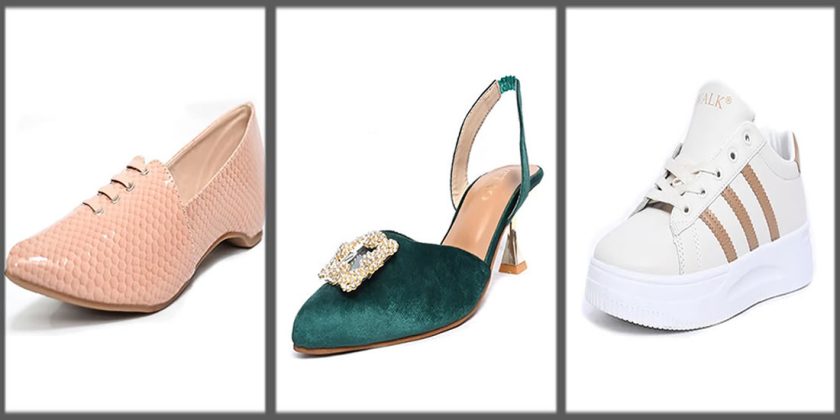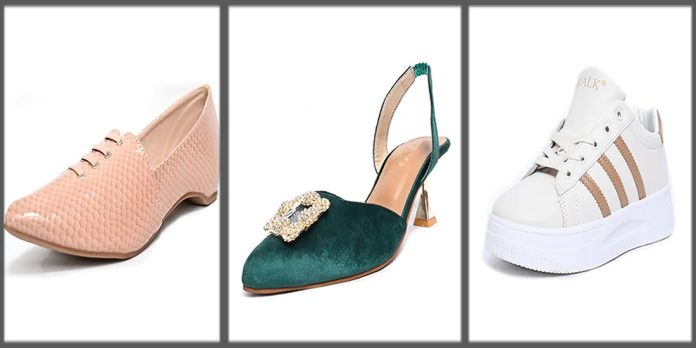 Metro is offering different varieties of shoes for this cold season. So, you can pick any style of footwear for yourself and enhance the grace of your personality. In addition, you also get a wide variety of formal wear from this brand, which can make your event or party more glammy and charming. So, please have a look at the comfortable and high-quality Metro shoes winter collection below.
Women always go for fashionable footwear for a unique look. In this regard, Metro does its best to provide the chicest and most excellent footwear for the ladies so they can accomplish their needs by wearing it. Whenever you buy footwear, always take care of the sole and shade to make your look more decent and attractive.
This stunning Metro winter shoes collection will help you make your look more classy and fantastic. Moreover, it facilitates free shipping on orders above Rs.3000. So hurry up and grab your favorite design from the Metro store before the stock ends.
Latest Metro Shoes Winter Collection for Women[

New Arrivals]
Look at the Metro shoe winter collection that has brought the most alluring and comfortable shoes for the ladies. So they can freely enjoy the winter season. The unique details and rich leather will take you for a leisurely winter streetside walk.
This season, Metro is offering the most stunning shoes with awe-inspiring designs. They have used the soft sole to make your feet comfortable. Because comfortable shoes help you in walking efficiently and quickly, therefore, each brand, including Stylo, Borjan, and Metro, uses the soft sole for your ease. All of these brands launch the best winter shoes for women every season.
About the Creative and Innovative Shoe Brand
Metro, the most notable brand, was established in 1986. They offer the most striking footwear for the ladies. Metro is one of the famous and indigenous shoe brands in Pakistan. The ISO-certified brand is renowned for its comfortable and extensive assortment of shoes for men and women. Also, the brand focuses on catering to the footwear demands of the public and design the shoes accordingly. Therefore, many people show their love and trust for the leading brand. Well, the apparel collection of Metro showcases a wide assortment of accessories for women too. So, you can combine the accessories and footwear with your outfit.
You can capture your favorite pret shirts and stylish handbags for a prettifying look. Moreover, you will get a lot of variety of plain and printed scarves. The brand specializes in footwear but offers a variety of fragrances for women as well. However, we are here to introduce some dazzling and comfortable winter shoes for you by the famous brand. So, let's take a break from your routine and out your heart in the following Metro collection.
Comfortable Winter Shoes for Women
A comfortable pair of shoes will take you on a pleasant tour. Women desire to cover their feet thoroughly in the cozy weather to get enough feeling of warmth. Therefore, the Metro shoe winter collection comes up with various dazzling styles to make your season memorable. Undoubtedly, the designs will pamper your feet with all-day comfort and ease. The most common winter footwear designs include the following major categories:
Classy Back Open Flat Shoes for Casual Use

Do you need daily wear office shoes? Then say yes to these flat-back open shoes. They will help to complete your casual look. Women always want to look incredible and classy, so these shoes are easy to wear and graceful. They also enhance the efficiency of your work.
Do the Borjan winter shoes inspire you? Then you will also like the latest Metro collection. You will get the most extraordinary and striking designs in the most glorious colors in the back open shoe assortment.
Casual Winter Pumps for Girls

Pumps are fantastic, which will help to complete your formal look. Are you going to your business meeting or social gathering? At that point, remember to wear the pump shoes with the skin-fitted jeans for a jazzier look.
Look at these classy pump shoes that you can match with any clothes. In addition, all these footwear are available at low prices, so everyone can enjoy the winter by wearing these elegant designs. The Stylo winter collection also has a classic variety in pump shoes. 
Winter Court Shoes & Wedges by Metro
Court shoes are the most attractive choice for your formal look. You can wear these shoes at any formal event. In the court-style collection, you get all bright and light shades. It depends on your liking of which shade of shoes you prefer.
Combine your court-style or wedges footwear with decent and impressive makeup and outfit. I hope these shoes will bring a tremendous look to your personality. In the following footwear designs, the black and blue footwear looks very decent. The last silver and royal blue shoes are the best choices for the casual daily routine in winter.
Winter Trainers and Sneakers Collection
For training and exercise, you need a soft sole to do your exercise and training easily. These training and sneakers by Metro will help you work out efficiently. In the Metro's training shoes, you get splendid and noteworthy shades. You can pick any shade as per your choice and need.
You can also wear them for jogging or a morning walk. They also help to increase your walking speed. Because when your feet are in comfort, then it becomes easy for you to run. Therefore, all boys prefer to wear trainer's shoes. Look below and get the most dazzling variety of comfortable shoes. 
Women prefer to wear a loafer style for sure. This footwear makes you look more noteworthy. This brand offers the following two colors in the Metro's loafers style. They are black and maroon. Both are the most impressive shades that will help normalize your look. 
You can wear these elegant and straightforward shoes at casual or formal events. For more classy and attractive winter shoes, visit the ECS shoe collection for women. You need to pick the right hues of footwear for a more impressive look.
Are you going to your formal event? Do you need classy footwear to look more stylish? Then pick these pump-style shoes if you are going to wear the Capri and short shirt outfit because this style goes well along with straight trousers.
This brand has crafted pink, maroon, and silver tints in formal pumps. Pick your favorite hues from this footwear. Matching the shade with your outfit color is also a brilliant idea. Wearing socks along with this footwear for keeping your feet warm is also best for winter.
In all seasons, the teenager prefers the khussa. Because the khussa shoes are easy to wear in your daily routine and give you a classy look. You always get a wide variety of khussa in every season, with the most dazzling designs.
Look at the lovely and impressive khussas below that you can pair with your outfit. You can also wear these khussas with your jeans for a more stylish look. You can also pair the traditional vibe with Gharara pants and a short shirt to get the traditional vibe. The choice is yours.
Fancy Winter Shoes for Formal Use

Fancy shoes are totally different from casual footwear. You will love fancy and stunning shoes with glittery and shimmery designs. Look at the most classy and awe-inspiring fancy winter shoes that are wholly decorated with pearls. These high heels can also be used as winter bridal shoes.
Also, you may combine these lavish shoes with your fancy dress and complete your unique formal look. If you want to get other designs and styles of such classy fancy footwear, then the Insignia shoe collection will satisfy you as well.
Comfy Sandals Metro Shoes Winter Collection

Do you want to try something different this winter? Then pick any warm sandals that are the best fancy for this season. For more trendy footwear, visit the Unze London winter collection. You will get the most impressive hues in the sandal style so that you can grab anyone according to your outfit color. 
Look at the lovely and graceful sandals below. They are beautifully adorned with motifs and pearls in different colors. These fancy sandals not only appear mesmerizing, but they are also easy to wear.
With a classy outfit, you always need appealing footwear to complement your dress. In the Metro's winter collection, you will get a wide variety of footwear with the most dazzling designs and hues. Undoubtedly, women who desire to get flaunting styles will satisfy their needs. I hope you will love the generosity of comfortable winter footwear designs by Metro. Look above and get all updated shoes with prices.