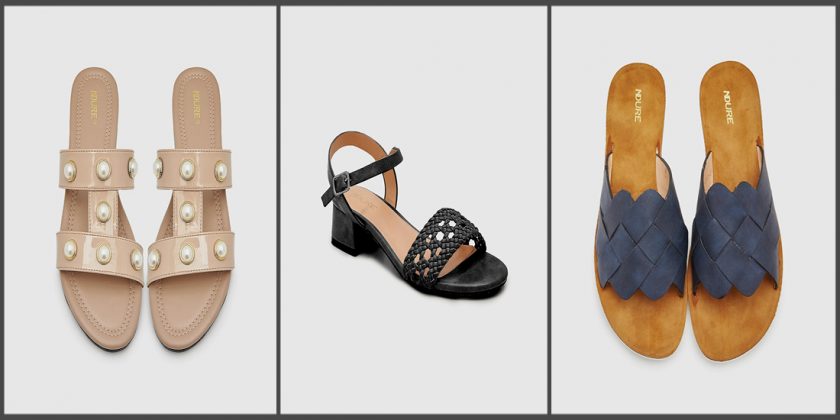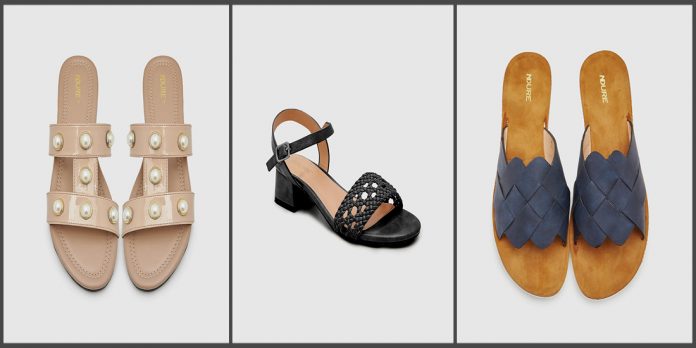 Ndure is the most well-known brand in Pakistan that each season offers a chic variety of shoes. It was founded in 2014, and now it is becoming the most preferred brand of ladies. Browse the Ndure shoes summer collection and shop formal, casual, sandals, slippers, and much more.
Ndure used the soft sole to make its summer collection more stunning and reliable. You can get all styles of shoes here. This season, Ndure offers footwear for men, women, and kids with the best tints. All you necessitate to do is to pick the right pair of shoes. Surely, a nice pair of shoes will make you look chic and more stunning.
People always estimate the worth of a woman by the selection of her shoes. Therefore, wearing the right kind of footwear is very important to make your good impression on others. Let's take a glance at the subsequent blog to grab beautiful footwear by Ndure for the summer season.
Latest Ndure Shoes Summer Collection for Women in Pakistan

Many notable footwear brands like Metro, Stylo, Insignia, and Unze London offer beautiful footwear for women. The Ndure likewise brings the chicest variety of shoes for the ladies. They present the summer shoes in bright and fresh shades to make the summer season more colorful and livelier.
Whenever you go outside, you always need a classy pair of shoes to demonstrate your solid character. The not only outfit makes your pretty you likewise need the right pair of shoes to add more balance to your look. Further, you can wear these comfy shoes at any casual and formal gathering.
1- Best Summer Slipper and
Chappal Designs
Women prefer to wear comfy footwear to walk with ease. In this manner, the flat chappals and slippers help you out. Hence all brands each season offers classy designs of slippers and chappals. This summer, Ndure brings the elegant designs of chappals and slippers for women of all ages so they can freely enjoy all seasonal festivals.
ECS summer shoes also contain a wide variety of casual chappals, check it also. You can wear these casual chappals with your summer suit to make all of your jazzier and noteworthy looks.
Women Chappals in Laser Cut Style
Give your feet the right pair of shoes to walk with reliance. You can try this laser-cut style chappal this summer to add more grace to your summer look. From casual meetings to friends gathering, this chappal is best to make your look more striking. One of the best and easy-wearing women chappal that offers a calm finish to your summer wardrobe. Further, this classy ladies' chappal is made with good quality leather to ensure durability.
H-Strap Flat Shoes for Ladies
If you want to endeavor something new and modest this summer, at that point, try this H-strap slipper that will help to make all of your impressive and decent looks. You can pair this classy pair with any chic outfit to make yourself more awe-inspiring.
Summer Kolha-Puri Slipper
Are you looking for classy yet traditional footwear? Then grab this kolha-puri slipper from the Ndure shoe summer collection. Pair this cool pair of footwear with the long frock and leggings to add more glow and sparkle to your summer look. You can pick this classy chappal for your casual gatherings.
Toe Ring Multi Strap Chappal by Ndure
Have a look at the newest style of toe ring multi-strap ladies chappal by Ndure that surely updates your summer look and makes it more stunning. You can wear this dazzling pair with any casual outfit to make your look more splendid. Further, have a look at the Insignia summer shoes collection that likewise contains chic summer footwear for ladies.
2- Comfortable Sandals Collection by Ndure Brand

In summer, the sandal is an excellent choice to wear. The comfy material of these sandals will encourage you to make all of your breathtaking and noteworthy looks. In the sandals collection by Ndure, you will get the following classy styles:
Buckled style sandals for women

Uber stylish women sandals 

T-strap women sandals 

Cross-strap ladies sandals by Ndure
Pick any style that you like the most. Try to match the sandal with your outfit hues to make your look more striking. You can carry these shoes at casual and even formal celebrations to get a splendid and magnificent appearance. 
Buckled Sandals for Women
Add style to your summer wardrobe by wearing the buckled-style sandal by Ndure that is made with good quality material that keeps your feet in comfort. The following sandals are decorated with a buckle round toe shape and the upper sole fabric with thermoplastic rubber that makes it more stylish.
Uber Stylish Sandals for Girls

Give a chance to this Uber-style summer footwear, and trust me, you will rock any party. Pair this classy pair of shoes with your jeans and add more grace and shine to your look. Further, visit the Stylo summer shoes collection that likewise offers impressive and comfy summer sandals.
T-Strap Sandals for Women

Do you have the round feet? Then try this t-strap sandal that surely refreshes your feet and it appears beautiful. You can wear this classy style at any casual gathering and parties to make all of your breathtaking and attractive looks.
Cross-Strap Sandals by Ndure

This season, Ndure offers the cross-strap sandal in the black and white combo. The black and white mixture always hit the floor. So, if you want to make your look more perfect and classy, then never miss a chance to wear this cool style. Combine your cross strap sandals with the three-piece summer suit to add more elegance to your overlook look.
3- Classy Block & Cone Heels for Spring/Summer Parties

At parties, ladies love to wear heels shoes. In the latest summer heels collection of Ndure, you will receive the block and cone heels with magnificent and impressive footwear. These stunning shoes are made with pure leather not only to keep your feet in place also to give them comfort.
You can wear these classy shoes at formal gatherings, wedding events, and even at your best friend's birthday party to add more finesse to your look. Let's explore the heels collection by Ndure and pick any trendy style to make all of your dazzling and appealing looks. Further, visit the Clive summer collection for more footwear variety!
The peep toe is the most excellent and fine style of this season. Moreover, the cone heel adds more sparkle to this stunning style. Grab this footwear for your formal gathering to make your display more awe-inspiring. For more peep-toe style shoes, explore the Metro summer shoes.
If you want to grab the other's attention, at that point, try this pointed-toe heel footwear. That not only normalized your look also make it more stunning. You can combine this classy style with your formal outfit to make your look more decent and charming.
This season, give a chance to this multi-strap block heel footwear. Trust me, you will appreciate your look by wearing this relaxed style. The side buckle adds more refinement to this style. Pair this chic footwear with your floral printed outfit for a charming look.
Basket Weave Sandals by Ndure
For tall ladies, the below small block heel shoe is the best that is furnished with the basket weave pattern that will make your look more perfect and dazzling. You can likewise wear this captivating style at your casual party to make your look more splendid and sparkly.
Some More Articles from Ndure Shoes Summer Collection

Get some more trendy and newest design footwear by Ndure. The upper sole of these shoes is crafted with rubber and a comfortably cushioned footbed that will give comfort to your feet. If you want to walk with comfort at that point, pick the right size of shoes. Here you will get a wide variety of chappals, slippers, sandals, and heels in the most vibrant tones that make your summer look more colorful and stunning. The costs are also discussed for your ease. Have a look!
If you want perfect summer footwear, at that point, try the Ndure shoes summer collection and enhance the appeal and beauty of your feet. The prices of these shoes are also mentioned for your ease. You can also buy your preferred shoes by online order if you don't have enough time to visit the physical outlet. Have a relaxing summer!