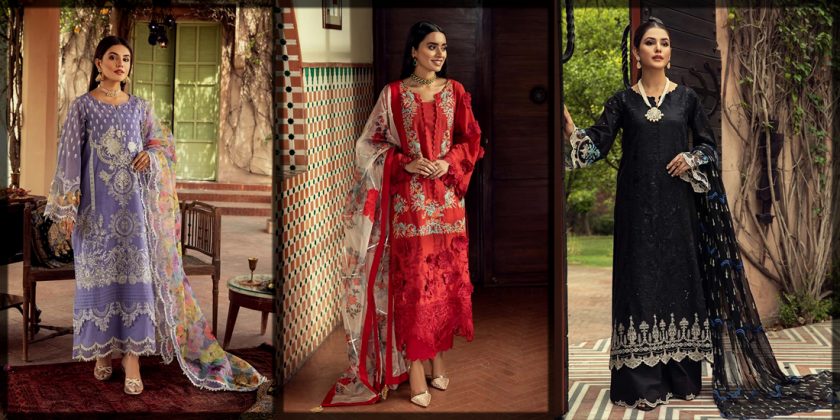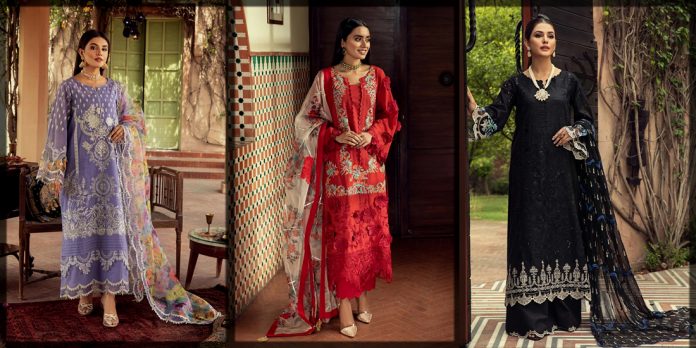 The most awaited Eid collection of Charizma is out now. The latest Charizma Eid collection offers a wide variety of unstitched suits that are enhanced with fresh hues and striking patterns. Charizma used high-quality fabric to making its Eid collection extra chic and comfortable to wear.
It used the pure lawn and slub lawn texture for making its latest Eid collection. So the ladies can freely enjoy all the happy moments of Eid by wearing the classy yet comfy outfit because the comfortable outfit will help to cherish all happy flashes openly.
Charizma is the only brand that focuses on the customer's feedback and designed the clothes according to the fashion trend and client requirements. Likewise, you can wear these stunning dresses on any occasion like social, friends gatherings, formal parties, and even any wedding ceremony.
Latest and Beautiful Charizma Eid Collection  – Festive Dresses

Eid is just around the bend, and everyone is excitedly searching for their Eid dress. So they can make their Eid look unique and different from others. For this, keep scrolling this weblog and examine the latest Eid collection by Charizma that is very impressive and contains classy dresses according to the latest fashion. It includes the fantastic weaved three-piece dresses in unstitched forms.
Charizma also offers the design of these unstitched dresses so you can rapidly design your dress and make all of your breathtaking and stunning flashes. You can likewise stitch your dress in any style which you like.  Also, have a look at the latest Charizma summer collection with stylish patterns and the best color theme according to the season.
Our site is solely dedicated to fashion and beauty. Go through our latest eid catalog and get your desired dress for eid.
Sleek Black 3-Pc Embroidered Unstitched Signature Eid Dress
Black is the most remarking and dazzling color that each lady wishes to wear in Pakistani. Women of all ages love to wear black outfits to slay all festive ceremonies and gatherings. Hence, black is one of the universal colors that will keep your personality as high as you are. The below sleek black dress is an excellent choice to make your Eid look more dazzling and appealing. 
This classy contains the embroidered lawn shirt paired with the cotton trouser that is further improved with the embroidered Patti. The embroidered chiffon dupatta adds more grace and appeal to this outfit. With this slay black outfit, apply the bronzer makeup and wear the beaded gemstone to make your Eid look extra chic and smart. Get some more dress ideas from the Khaadi Festive Collection that also offers the most beautiful and slaying Eid dress designs. 
Peach Shaded Slub Lawn Embroidered Shirt with

Cotton Trouser & Organza Sublimation Dupatta



Explore the below peach-shaded 3PC outfit from the Charizma Eid collection. The dress exquisiteness is also mentioned, so you can get it stitched with the best and excellent designs. The limited stock of Charizma may end soon because the majority of the women prefer to wear Charizma clothing types. So, pick any dress according to your choice before the stock end.
The below peach-shaded luxury slub lawn outfit is further furnished with shocking pink and white embroidery. It is paired with the organza sublimation dupatta and cotton trousers. You can likewise wear this fabulous dress at your formal gathering to make all of your jazzier and breathtaking flashes. For more similar outfits, visit the Almirah Eid collection.
Some Pro Tips to Look Classy with this Stylish Dress
With this chic and dazzling outfit, all you need is to:
Wear lightweight earing.

Utilize the brownish makeup by improving your eyes with the cut crease eye makeup.

Wear the white cone heel shoes.

Tie your hair back by making a classy bun. 

Now you are all settled to go to inspire the world with your pretty and elegant look. 
Light Purple Luxury Slub Lawn Suit with Organza Embroidered Dupatta

The slub lawn is recognized as the comfiest texture for the summer season since it keeps you fresh during the blistering and melting days of summer. Look at the most dazzling light purple lawn shirt that is paired with the cotton and multicolored organza dupatta, which is the best combo ever. The soft purple shirt is beautifully adorned with white and silver embellishment. You can also grab this outfit for your sister's wedding to look more charming and impressive. Also, explore the Beechtree festive collection for more dazzling attires.

Additional Tip: If you need to get this kind of look, at that point, keep your hair open by straighten and apply some natural yet brownish makeup. Plus, wear the stones and beaded work accessories to make your gaze classy and extra smart. Remember to wear colorful bangles on both hands to give captivating and traditional vibes to your Eid look. 
Embroidered Luxury Masoori Lawn Suit in Red Shade by Charizma

Need to refresh or renew your look at your festive event, then say yes to this masoori lawn outfit that will give you a noble and extravagant look. It is paired with the organza dupatta that you can easily carry during the late spring's blistering days to enjoy your Eid with full joy.
Red is the most demanding color of the year that each woman wishes to wear at any casaul and formal events. If you are going to wear this red outfit on Eid, then wear the beaded choker by pairing it with small earrings. Apply the lightweight makeup and wear the peep-toe shoes to make all of your jazzier and breathtaking flashes. Visit the Nishat Eid collection that also contains a wide variety of masoori dresses.
Nude Shaded Charizma Eid Suit with Hand-Woven Luxury Masoori Dupatta

Most girls prefer to wear the nude color outfit instead of dark outfits. Because the nude-colored outfit will add more shine and grace to your look. Look at the nude shaded Charizma Eid suit that is paired with the hand-woven luxury masoori dupatta and cotton trouser. For more masoori dupattas outfits, visit the Ansab Jahangir Eid collection.
The off-white shirt is beautifully adorned with sky blue and brown embroidery that surely updates your Eid look and makes it more dazzling and appealing. You can likewise wear this classy outfit at any casual gathering, formal parties, and even at your brother's wedding. One of the most slays outfits to look beyond stunner and charming. With this dashing outfit, keep your makeup and accessories minimal to make all of your jazzier and noteworthy flashes. 
SunShine Yellow Eid Suit by Charizma

If you are bored enough by wearing the primary colors and you want to try something new and fresh. At that point, give this vibrant yellow color a shot this Eid that will help to make your Eid look more pretty and noteworthy. The sunshine yellow shirt is entirely improved with the silver thread work that enhances the overall appearance of this fabulous outfit. Also, have a look at the latest Bareeze Eid Collection.
 It is paired with the cotton trouser and organza sublimation dupatta that is further improved with the embroidered patti that appends more attractiveness to this lovely outfit. If you want to get the traditional look this Eid, then you need to obey the following steps:
Wear the "Rajhastani" necklace with the conventional silver jhumkas.

Wear the high heel shoes to look more modest and smart.

Apply the Tikki mehndi designs on the back of both hands.

Prettify your nails with the best henna art.

Apply the brownish makeup with a smokey touch.
Your classy Eid look is complete. 
Embroidered Luxury Lawn Outfit by Sapphire for Eid
Do you know what the essence of beauty is? It all depends upon the choice of a dress that makes you beautiful. A pretty and dazzling kind of outfit will make your looks fascinating. So please have a look below at the green shaded attire that you can wear this Eid and add more charm and glow to your look.
This lawn suit is prettified with some luxury embroidery that indeed renews your Eid look. You can likewise carry this outfit as your formal outfit to grab a decent and graceful look. With this classy outfit, keep your makeup and accessories insignificant to get an elegant and pretty look.
Embroidered Schiffli Lawn Suit with Embroidered Organza Printed Dupatta
Your beautiful Eid look is incomplete without the graceful outfit. So, we are here to provide you the dazzling Eid ensembles by Charizma below that contain beautiful and impressive clothes.
Schiffli embroidery is the special kind that makes any outfit breathtaking. If you want to wear something novel, pick this schiffli embroidered lawn suit paired with the embroidered organza printed dupatta. You can also wear this incredible outfit at any family dinner to grab the charming and dazzling look. All you require is to pair it with nude makeup and block heel shoes to make all of your awe-inspiring and alluring looks. 
Lovely Pink Thread Artwork Eid Suit with Embroidered Organza Dupatta
Pink is the most killer and lovely hue that always remain in trend. The ladies of the all-ages prefer to wear the pink shades dresses at any occasion and ceremony. So for pink lovers, the below outfit is the most trustworthy that is enhanced with the pure white thread artistry. Moreover, the beautiful embroidered organza dupatta adds more appeal and attraction to this outfit.
Tips: With this pretty pink suit, apply the pinkish makeup, wear the pure white accessories and tie your hair in any trendy hairstyle to grab the captivating look at any celebration. 
Festive Dresses from the Charizma Eid Catalog

Further, explore some more dresses that are advanced with the greatest artwork. Plus, the best color combinations are used to make these attire more breathtaking and dazzling. Likewise, you can carry these outfits for any family dinner, birthday party, wedding event, and bridal shower. Al you require is to combine your outfit with trendy footwear, impressive makeup, classical gemstones, and hairstyle to get the livelier and appealing looks.
You can swiftly get any perfect outfit from these above dresses. Their prices are also mentioned for your ease and satisfaction so that you can rapidly get your dress and make all of your jazzier and dazzling look on Eid. Some tips about makeup and accessories are also discussed, so you can quickly and efficiently finish your pretty look and enjoy your Eid freely and happily. Happy Eid!!! 🙂