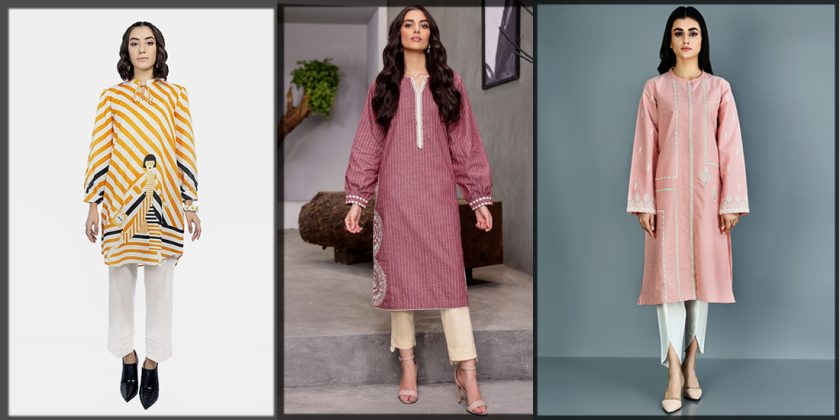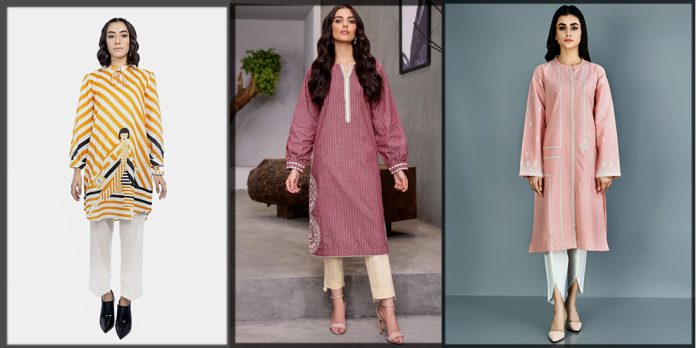 Kurta is the most alluring style that every youngster prefers to wear. Whenever you are going for a casual or formal party, the classy kurta helps to make you look more attractive and dazzling. So here we have gathered the beautiful winter kurta collection by top brands for women and young girls.
In Pakistan, you usually see many notable brands offering fashionable kurtas for women of all ages. But here we have showcased the most well-known Pakistani brands that provide remarkable and dazzling kurtas in khaddar, karandi, dobby, yarn-dyed, velvet, and twill linen textures.
I have tried my best to collect the most stunning kurta designs for women to try this season. This kurta collection contains the most stylish kurtas which are manufactured with the most vigorous designs and vivid hues. Trust me, all these stunning kurtas will make your casual events, formal gatherings, and parties more glammy and exceptional. So let's browse this blog to the edge and get the absolute outfit for yourself.
Ladies Kurta Designs for Winter by

Top Brands/Designers
It is the fantasy of each youngster to look smart and chic at any seasonal event. Hence they always get ready to update their wardrobe. As you know, winter is just around the bend, therefore, all brands are busy equipping lavish clothing for women.
Kurta is the most excellent style of garment that each lady wishes to wear so they can pair it with jeans to get the perfect winter look. Because according to young girls, without jeans their winter look is inadequate. Hence, the following Pakistani brands try their best to present the most remarkable kurta collection for youngsters and women.
Alkaram

Khaadi

Limelight

Nishat Linen

Junaid Jamshed
You may also check out the winter kurta collection by other brands by browsing our winter dresses catalog that embraces the winter collection of all notable brands of Pakistan. 
1- Winter Kurta Collection by Khaadi
Khaddi is the most notable brand of Pakistan that brings the chicest winter collection for the ladies. You can get the fabulous and elegant kurta catalog separately in the Khaadi winter collection that will assist you in making all of your looks splendid and pretty. In the Khaadi winter collection, you get the following kurta styles:
Embroidered Khaddar Kurta
The below khaddar printed kurta is the best for the chilly season. You can pair it with your denim jeans for a stylish and classy look. You can carry this appealing kurta at any casual and formal gathering to make all of your noteworthy and dazzling gazes. To complete your dashing look, pair your khaddar kurta with fantastic makeup and lightweight jhumkas.
Cotton Satin Jacquard Kurta
Most teens prefer to wear plain and lightweight embroidered kurtas for getting a lavish and relaxed appearance. The following purple kurta is very trendy that will add more magic to your winter look. The lightweight embroidery on the neckline increases the overall beauty of this kurta. You can blend this kurta with any plain cambric trousers.
Marina Twill Printed Kurta for Girls
Printed kurtas are the most desirable for home wear. Look down at the blue-shaded marina twill kurta that you can also wear at any casual gathering. All you ought is to match this cute kurta with plain cambric trousers to compliment the outfit. Moreover, apply elegant makeup and striking jewelry to add an extra glow to your look. Also, explore the summer kurta styles for women with the latest trends.
2- Alkaram Studio Kurta Collection for Girls
Be your kind of beautiful with the Alkaram kurtas. It is the most notable brand that always brings some unique clothes. This winter has also brought the most admirable and stylish designs of dresses in a kurta style and two-three pieces. Moreover, in the Alkaram winter collection, you get a vast range of kurtas for women of all ages. They used khaddar, karandi silk, yarn-dyed, and dobby texture to manufacture their seasonal kurtas.  
 

Printed & Embroidered Khaddar Kurti
Khaddar is considered the comfiest texture for the winter. Therefore all brands must use this stuff to design their attires. Alkaram also offers the stunning khaddar kurtas in the most dazzling shades. Look down at the blue shaded khaddar kurta which is perfect for a formal or casual gathering. You can combine this Kurti with plain trousers or jeans for a dazzling look.
 

Dyed Embroidered Karandi Silk Kurti
The formal dresses are a little bit different from casual ones. This stunning 1PC yellow Kurti is decorated with a white coloration that will make your event more classy and magnificent. This beautiful shirt is in the karanji silk texture that will keep you warm during the cold days of winter. Pair it with a plain white Capri and get the perfect formal gaze. 
 

Embroidered Yarn Dyed Kurti
Do you want to build up your self-confidence? Plus, do you want to try something new and different? At that point, try the following yarn-dyed kurta that is nicely adorned with thread artwork. For enhancing yourself, you need to do your impressive makeup with a natural touch by wearing this classical kurta. And further, wear soft and lightweight jewelry and footwear and make all of your alluring and splendid gazes.
3- Nishat Linen Winter Kurtas for Women
It is another most notable brand that launches the most alluring kurtas for teens. You get the premium, casual, and evening wear kurtas in the winter catalog of the Nishat Linen. They use soft and comfy textures for making their unique and lavish attires. So, you can enjoy your winter by wearing the most dreamy and stunning shirts.
Casual Karandi Pleated Kurti
Now have a look at the karandi Kurti that is originated with innovative designs and striking color combinations that will make your season more memorable and classy. Pair it with any matched trousers or jeans and get the stunning winter flash. 
You can wear this dashing Kurti at any social and seasonal celebration for getting the cool gaze. In the most recent Bonanza winter collection, you also get the most alluring printed kurtas in the most vibrant hues. 
Poppy Khaddar Kurta for Young Girls

Nishat's winter collection consists of the most excellent and reliable attires that will make you look more pretty and cute. Do you want to modify your look and want to look luxurious and rich at your winter event? At that point, the below shirts by Nishat will help you out. You can pair the following shirts with the Maria B chiffon shawl for a more awe-inspiring look.
Off White & Blue Cotton Karandi Kurta

Are you looking for dazzling winter evening wear? Have a look at off white and blue shaded cotton karandi shirt that is beautifully adorned with floral and stripe patterns. Match it with the plain Capri, appealing makeup, peep-toe shoes, and silver gemstones to get the breathtaking gaze. Also, visit the Maria B evening wear for more styles and types of evening wear.
4- Junaid Jamshed Kurti Designs
The Junaid Junaid has become the most favorite brand among the ladies in just a few years. The primary purpose of its reputation is its unique and high-quality clothes. The Junaid Jamshed winter collection has recently launched the chicest attires for women. You get the fabulous Kurti designs in its winter catalog that will help to make all of your looks striking and noteworthy.
Casual Baggy Printed Kurti by J.
If you are going for a casual gathering or family dinner, at that point, this elegant printed J. Kurtis will help to update your look by making it more beautiful. Pair it with a sleek black Capri and get the pretty gaze. You can also pair it with the blue denim for getting a stylish flash. 
Elegant Green Velvet Kurti

For formal and snow parties, you need a lavish dress. In this regard, Junaid Jamshed presents precise shirts in the most remarkable hues. Have a look at the below velvet Kurti that indeed adds extra sparkle and shine to your winter look. You can carry this cool Kurti at any winter snow party by pairing it with blue skinny-fit jeans and sleek black sneakers.
Angrakha Style Printed Shirt
Printed dresses are in-trend these days. Look at the below angrakha style printed shirt. It is the most excellent and classy outfit that will help to make your look stunning. You can pair this elegant shirt with any plain trousers for a lovely and outstanding appearance. If you want to get the legendry look at the point, you can pair this angrakha style dress with the sharara or gharara.
5- Limelight Winter Kurta Collection

Limelight is my most favorite brand that always brings the most stylish attires with the chicest designs. This season, the Limelight winter collection is offering the most splendid designs for the teens. You can get the most classy kurtas, two or three-piece attires in the chiffon, khaddar, cotton, slub khaddar, and karandi textures.

Slub Khaddar Winter Kurta
Look at the slub khaddar printed winter shirts by Limelight that append more elegance to your look. Style up your khaddar shirt with bold and stylish makeup to get a marvelous and superb look.
Pink Shaded Missouri Cotton Kurta

Young girls prefer to buy a single shirt with some decoration. This Missouri cotton shirt is the most suited to wear for keeping yourself warm during the cold season. It is beautifully enhanced with delicate embroidery in white chromas. You can carry this pretty shirt at any formal gathering by pairing it with plain tulip pants. You can also consume this dazzling shirt with the dyed trouser if you like.
Embellished Jacquard Kurta for Women
Give yourself a fantastic look at formal events by wearing the jacquard kurta by Limelight. The below orange shirt has a gold foil print all over the shirt. This is undoubtedly giving a royal vibe. You can pair this jacquard kurta with Capri or flared trousers to compliment your outfit. With this bright shaded outfit try to keep your makeup and accessories minimal to make all of your pretty and dazzling gazes.
These are the most recent and latest winter kurta designs for women by the top brands of Pakistan. All these brands are also offering online shopping facilities for their consumers. So you can also get your dress at your doorstep with a single click. Likewise, their prices are also mentioned for your ease. I hope this article will be helpful for you to pick the right one. Further, give remarks about this blog in the comment section. Have a happy and comfy winter.