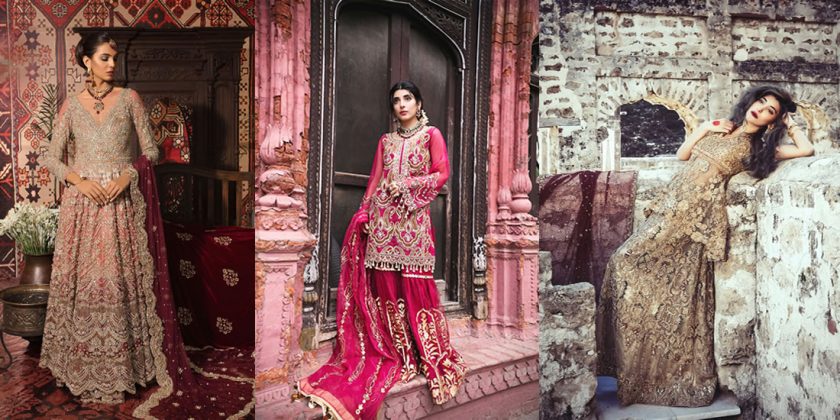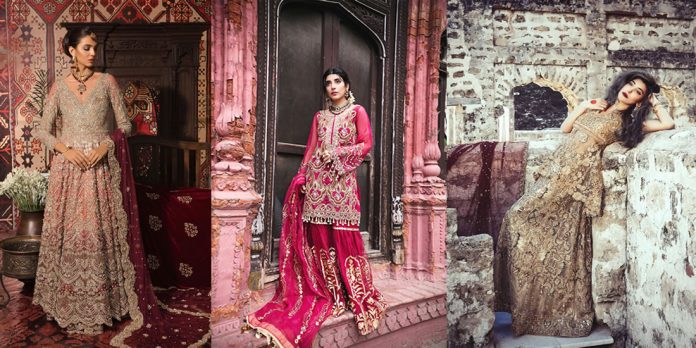 Saira Rizwan is among the top leading brands in the fashion industry of Pakistan. It is famous for its exquisite and vibrant collection of both unstitched and ready to wear dresses. However, here we will present to you a magnificent Saira Rizwan bridal collection.
The brand introduced itself in 2007 and got fame for its extravagant styles. The collection has magnificent designs for wedding wear. Also, her distinctive collection contains fantastic techniques and outlines for crafting stylish brides.
Young girls who are looking for masterful styles at their big day can view this astonishing collection. The most recent patterns of artwork will bring a dazzling look. Also, it will provide conventional dresses for traditional brides.
Elegant Saira Rizwan Bridal Collection for All Wedding Events

The accumulation of Saira Rizwan bridal collection contains fantastic marriage dresses. Each of the wedding dresses is enriched, giving an imperial look. Also, the substantial weaving brings an extravagance in a bridal look. You will discover a variety of dresses, including tremendous lehengas, maxi dresses, and gharara, etc. Let's have a look at stunning bridal wear.
The amazing bridal wear contains outfits for all the wedding events. These are mainly mehndi, barat, and walima. Also, there are some unique attires for simple bridal nikkah wear. Check out the following dresses:
Latest Collection for Engagement and Nikkah
Pakistani wedding culture has three main events. However, some modern families still prefer two prior functions. These are engagement and the nikkah event. Therefore, they look for more straightforward and elegant attires for such a kinder event. Here is a vigorous yet delicate and more uncomplicated collection by Saira Rizwan for these girls. Let's extract a little time to look at the super collection for pretty engagement dresses and nikkah wear.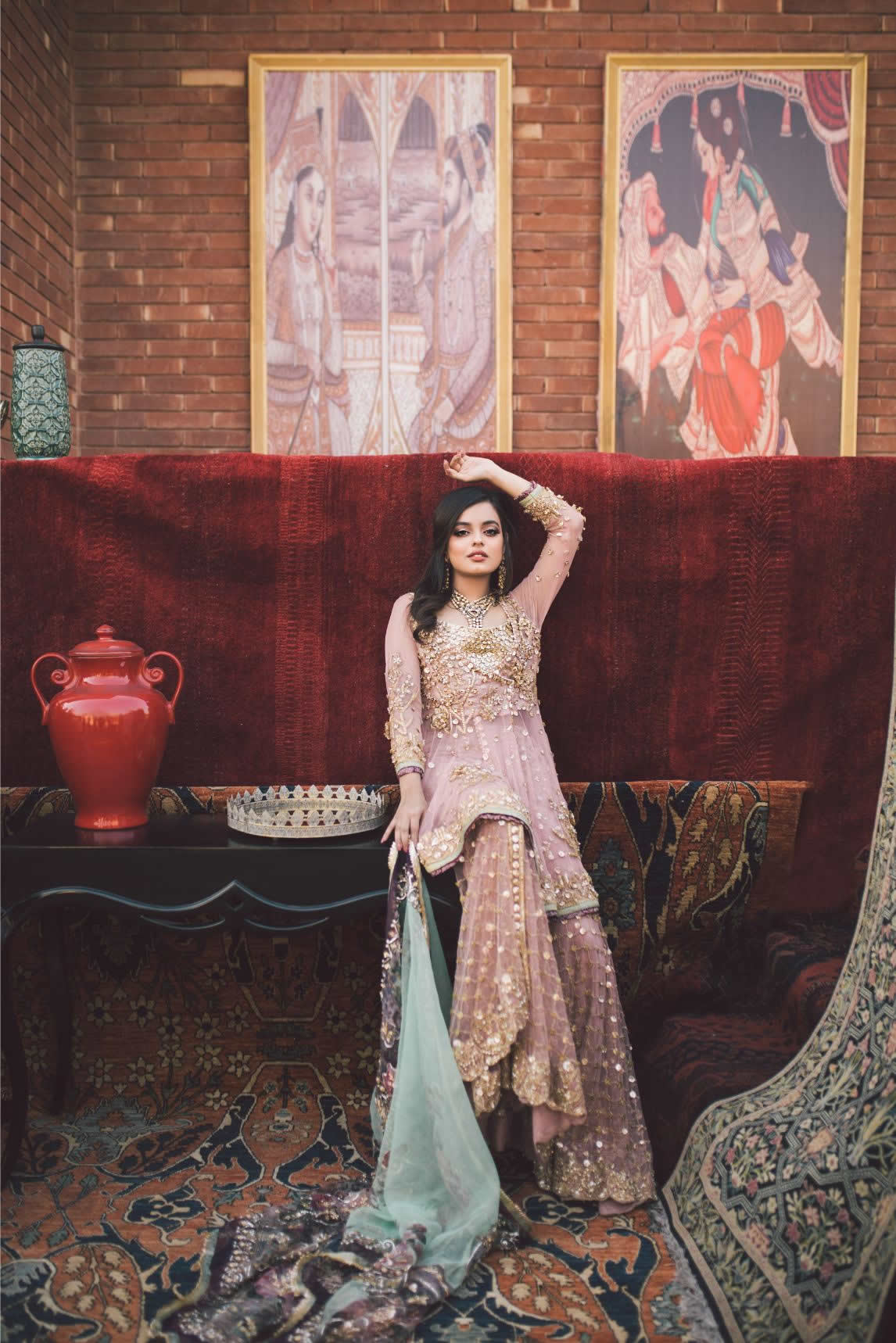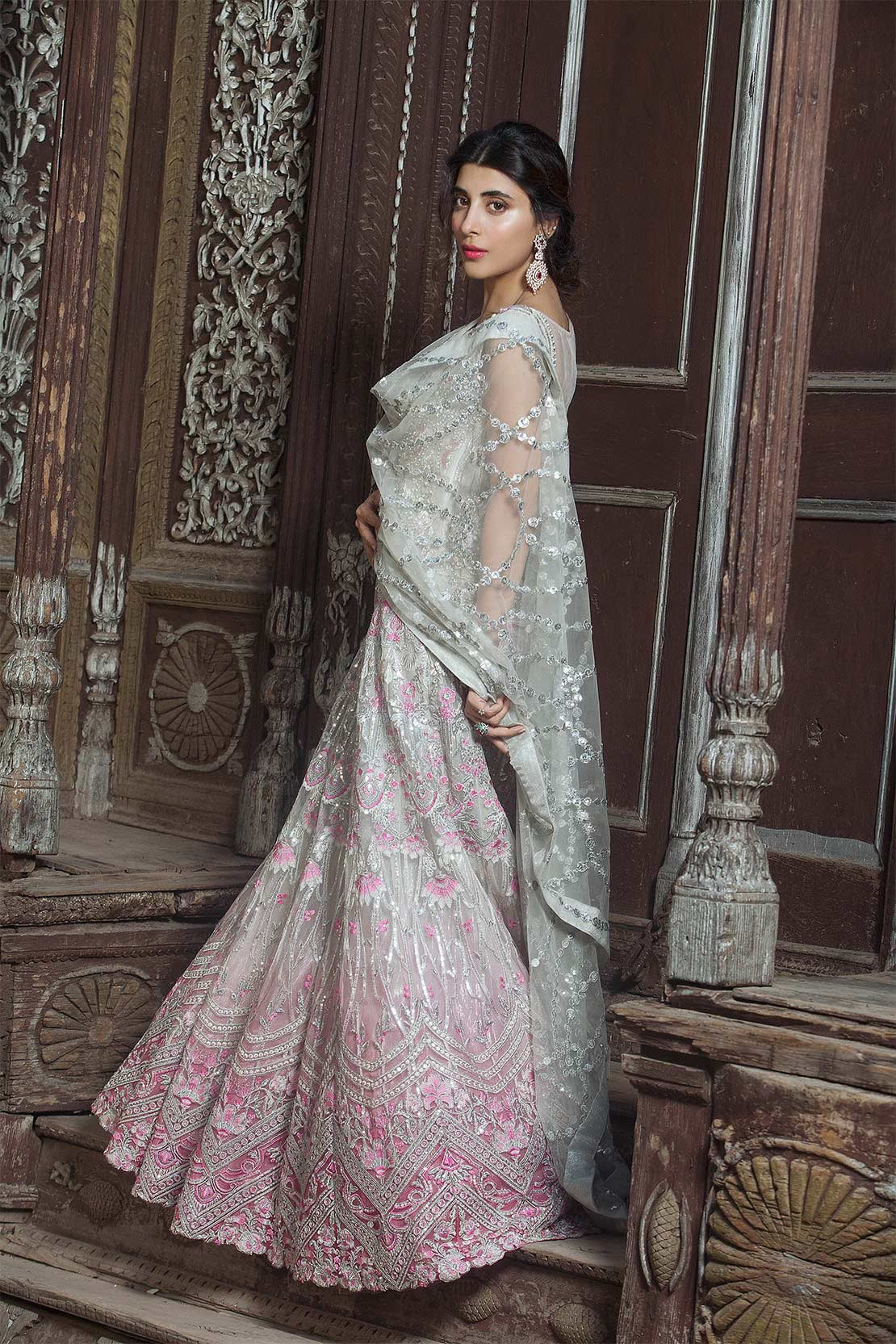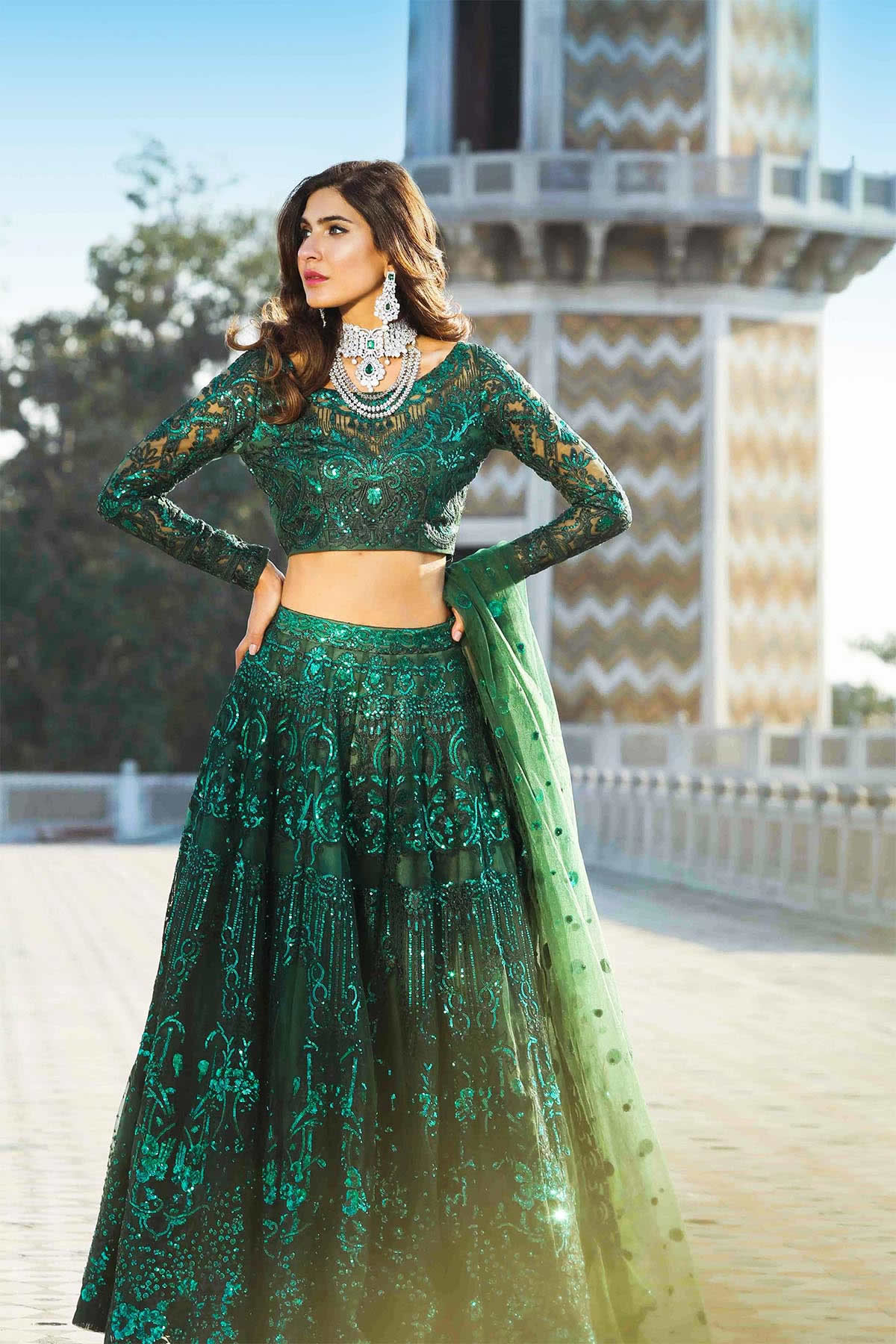 Vibrant Mehndi Dresses with Sparkling Designs



Mehndi is a pre-wedding event of Pakistani culture. It is the day before the first barat day of the wedding. Therefore, girls look for sizzling outfits for their mehndi. There are classy styles of dresses for this event. However, the colors are generally yellow and orange. Girls prefer such bright hues on their mehndi night. The mehndi dresses usually come in gharara and straight shirt. Also, some look for a gorgeous lehenga with choli. Therefore, we have two styles for you.
Sizzling Gharara and Shirt
A gharara is a conventional dress that women of sub-continent prefer to wear. It comes with a straight and short shirt. However, some prefer to wear it with a peplum. Some women belong to desi cultural families. Therefore, they look for a traditional outfit on their wedding day. Check out the following vibrant mehndi collection by Saira Rizwan.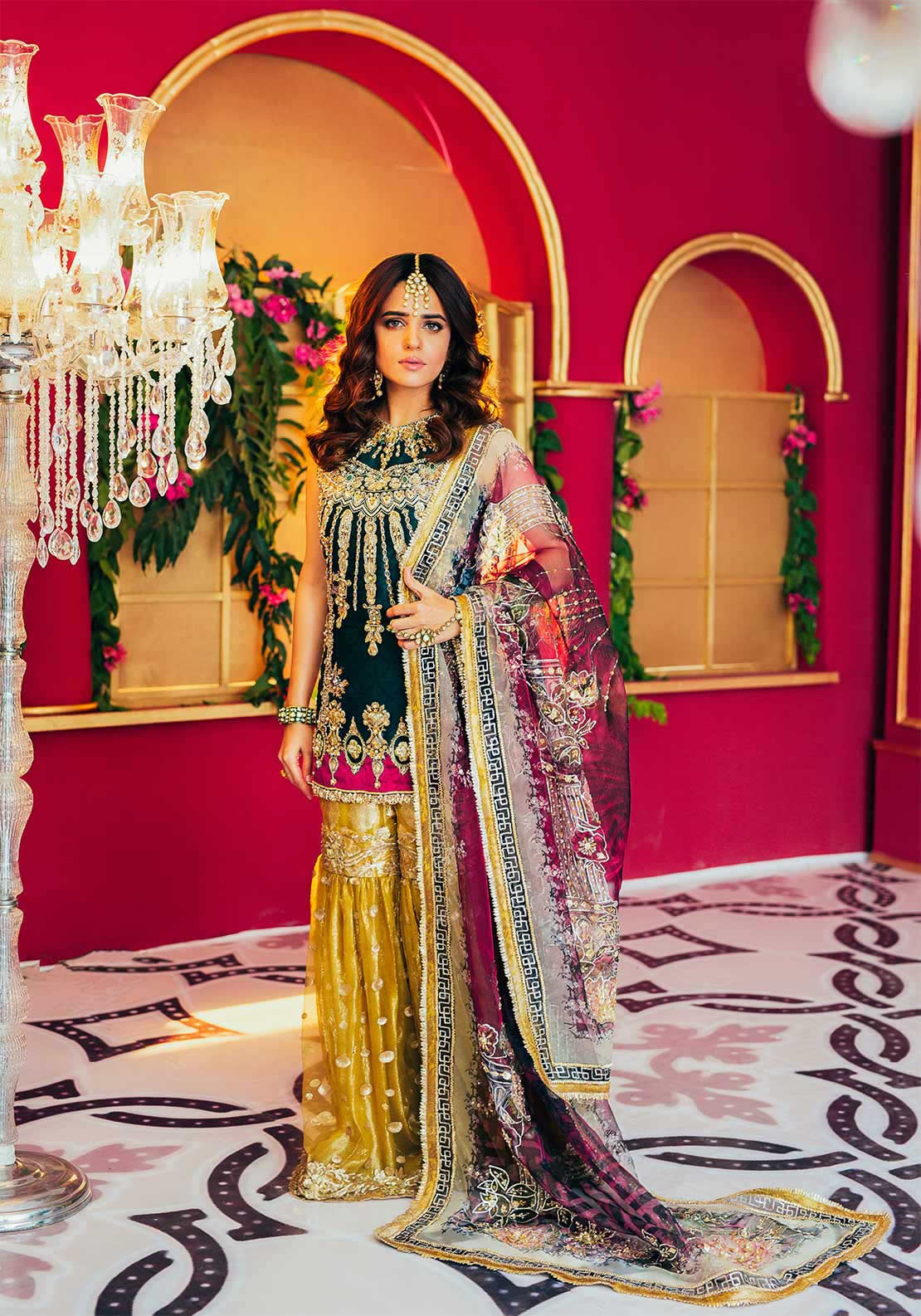 Conventional Lehenga Choli for Mehndi
A lehenga is a form of a pleated skirt that has a much massive flare. Usually, girls prefer to have yellow and bright orange attire for their mehndi. It comes with a choli. Also, the extensive pleated attire looks dazzling in several mixtures of hues. Therefore, we are presenting you with the two astonishing colors in this style.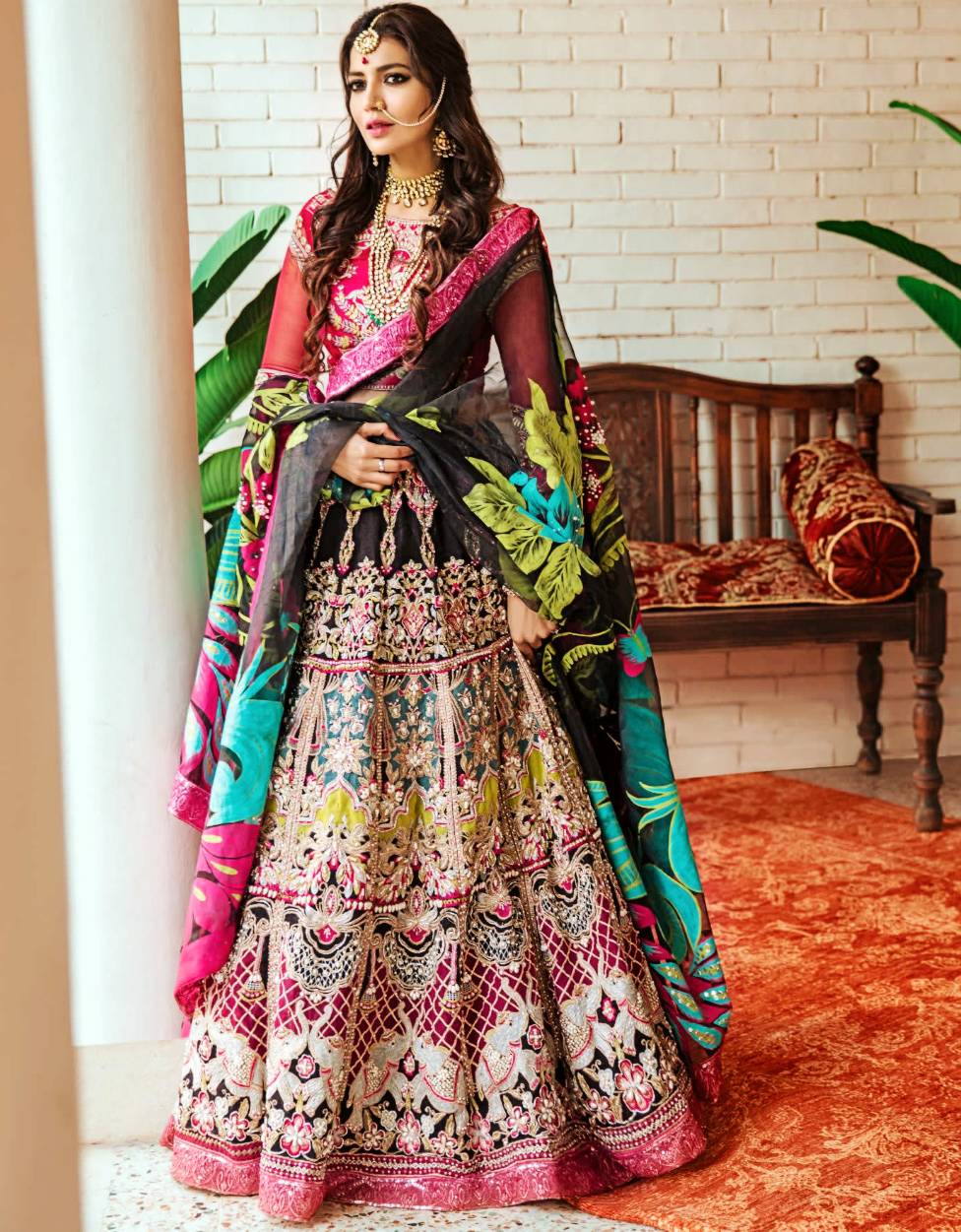 Distinctive 4-Piece Angrakha Style
Angrakha is a unique style in clothing. Also, it catches attention when you wear beautifully designed dresses. Have a look at the following stylish attire of distinctive design. The alluring sky blue color brings a refreshing and elegant look to mehndi. Moreover, the embellished net dupatta looks extravagant. You can see the visible golden details on the entire surface of the dress. Pairing exquisite jewelry will amplify the entire grace and beauty of the dress. Opt for the following captivating style and create a benchmark of wearing blues on Mehendi.
The simplicity in the outfit always brings ultimate sophistication. Therefore, women prefer more straightforward dressing at weddings. Here is a simple yet elegant yellow dress for mehndi. Such a vibrant hue reflects a mehndi look in the bride purely. Also, it appeals and looks dazzling whenever you wear such fantastic attire. Opt for the following sage green dress for your Mehendi and exude sheer elegance and grace. Indeed, it will be your most graceful and modest choice ever. Give it a thought and have a blissful wedding.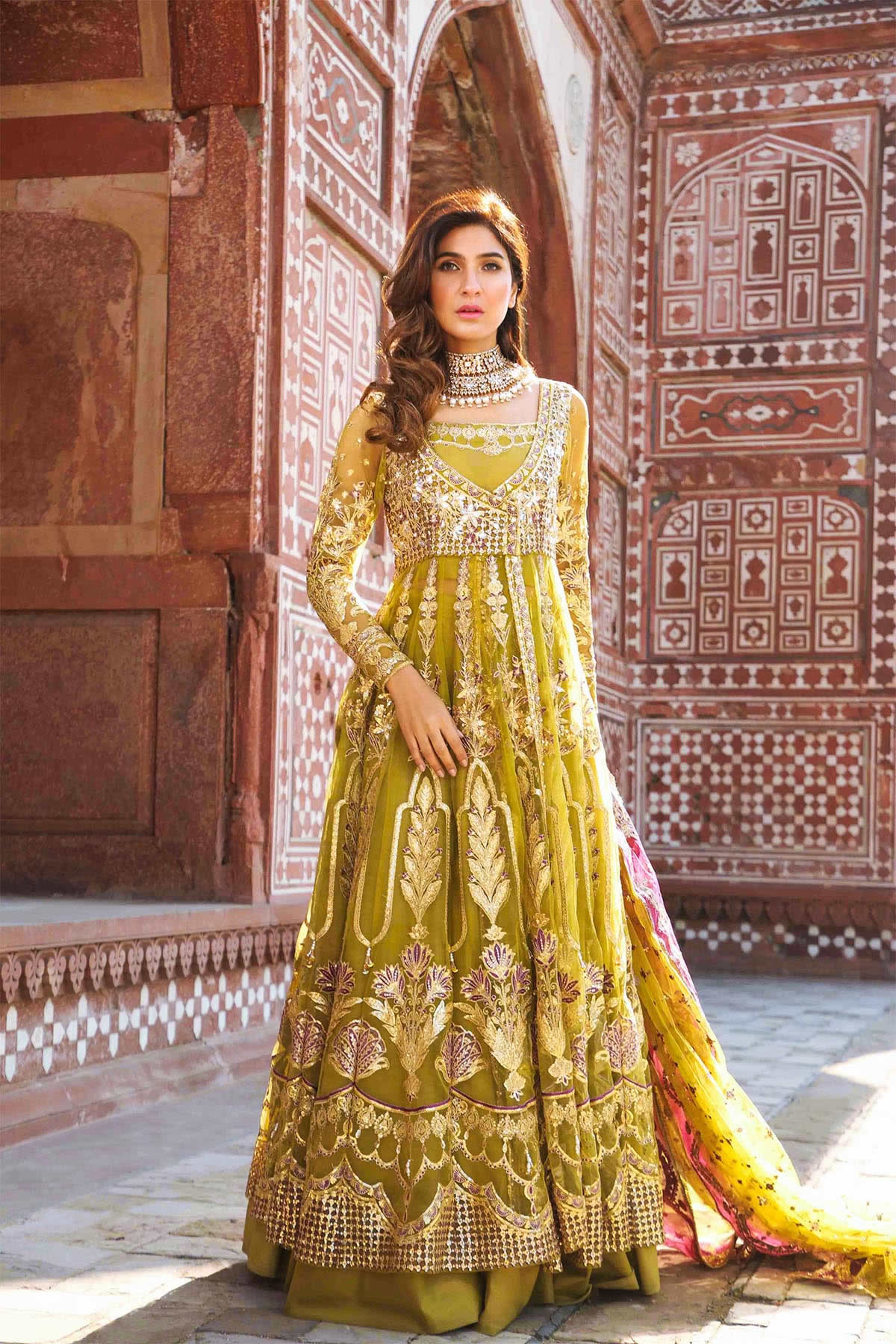 Stunning Barat Collection by Saira Rizwan
Barat is the leading wedding event in Pakistani culture. Most of the women prefer to wear an outfit in red on their big day. Therefore, we have such incredible Barat dresses for those brides looking for a fantastic outfit for them. The wedding dresses are mostly lehenga and choli. However, some girls look for distinctive designs. You can get many innovative designs from Sadaf Fawad Khan's bridal collection as well. But, here you need to extract some time to look at the following stunning Saira Rizwan's bridal collection.
Traditional Green Decorated Tail Lehenga
Your wedding day becomes much memorable if you wear something conventional and unique. Therefore, we have this dazzling outfit for you. It is a splendid golden bridal Barat dress. The individual tissue and silk fabric are used in crafting the dress. Moreover, it has embellished red and green stones for a complete traditional look.
Striking Peshwas and Lehenga
If you are looking for a simply elegant yet vintage style for your walima look, you are in the correct place. Saira Rizwan's bridal collection pleases you with yet another striking style. The magnificent peach look is ideal to get a glowy peach shine on your wedding day. So, what are you waiting for? Go ahead and buy the following sizzling style from Saira's collection.
Here is a stunning ombre wedding dress in the peach shade. The gorgeous outfit is decorated immensely with crystals and stones. Moreover, it has an embellished net dupatta. Also, the striking shade and design of the dress provide dazzling looks. Finish your looks with appropriate makeup and combine delicate jewelry for a completely dazzling look.
Alluring Persian Rose Bridal Wear
Here are some gorgeous moments from the vintage era. The alluring Persian rose wedding bridal outfit catches the eyes for its exquisite beauty. Also, it brings a cherishing look with highly enriched red stones. Furthermore, the pink and the peach stones are sprinkled over the dress for having a subtle look. Tena Durrani bridal collection has amazing dresses as well.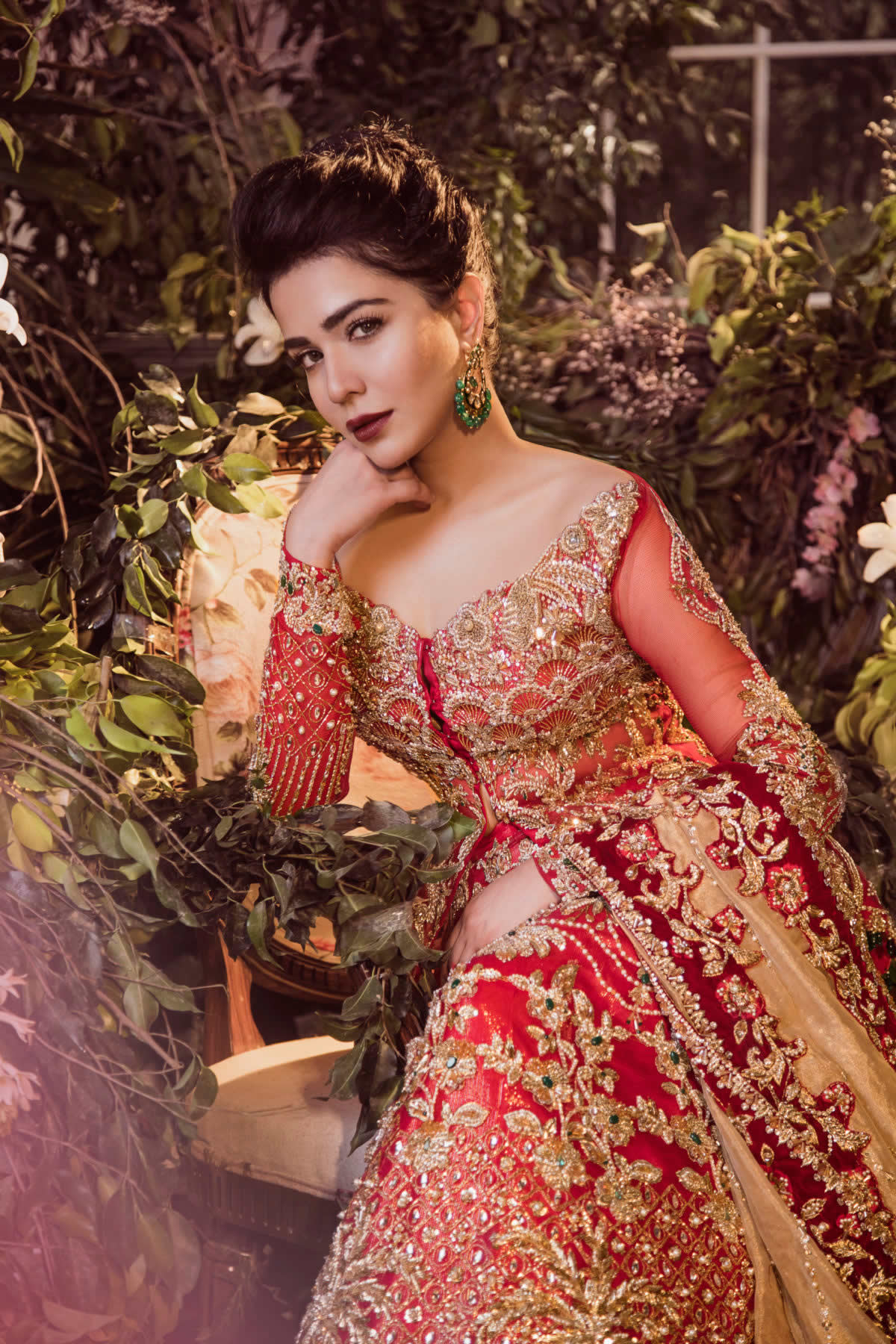 Marvelous Walima Outfit by Saira Rizwan Bridal Collection
Walima is the third main event of Pakistani weddings. Brides always look for something dazzling to wear on the walima like Barat. However, the color choices and styles of walima dresses may vary. Here is a beautiful collection in a variety of hues for walima wear.
Pearl-Beaded Walima Outfit
Here is a beautiful yet distinctive dress in a cherishing grey shade. The incredible pearl beading and crystals bring a marvelous look. Also, the heavily embellished and meticulously adorned pearls and beads are perfect for a complete walima look. Ali Xeeshan's bridal collection is also worth buying.
Appealing Fish-Tail Walima Dress
Here is the decadent embellishment on canvas of the gorgeous color of blue-grey. This stunning bridal has its own class. Therefore, modern women prefer to wear such a dress in their walima. Also, the geometric placement of motifs in this brilliant outfit brings a gleam. Let's take a look at the following mermaid cut gown with a net dupatta. Zainab Chottani's bridal collection has likewise a variety of appealing walima dresses for you as well.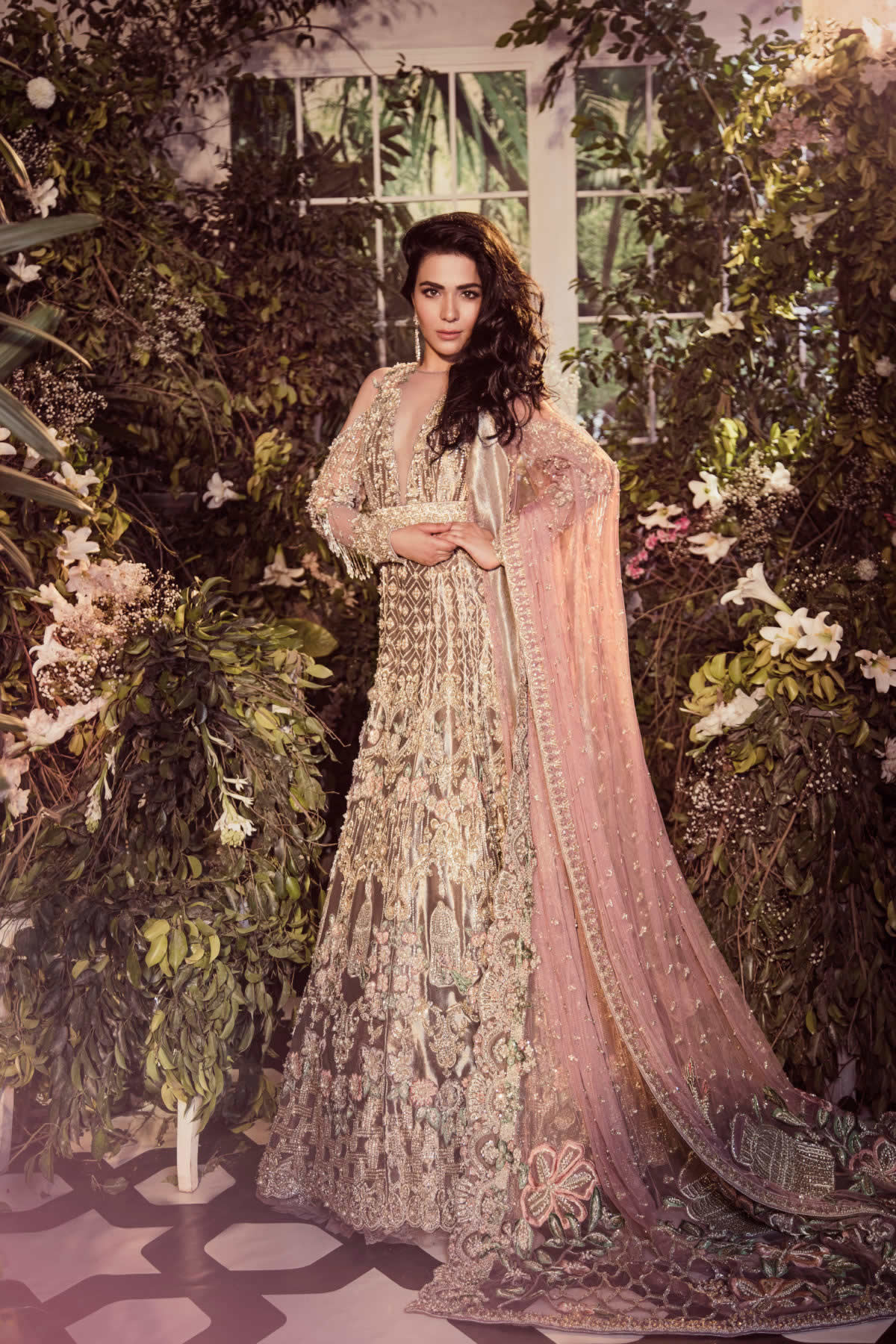 Classic Vintage Modern Walima Outfit
The inspiring vintage collection is always the most demanded. Therefore, their bridal collection is having some fantastic vintage attires for you. These are the colors from classic Persian orchards. Also, the rich tones of pastels look much phenomenal. Let's consider the color palette for an excellent dramatic look. Opt for the following enchanted outfit if you want to look as charismatic as Humaima Malick does. Let us know about your experience soon.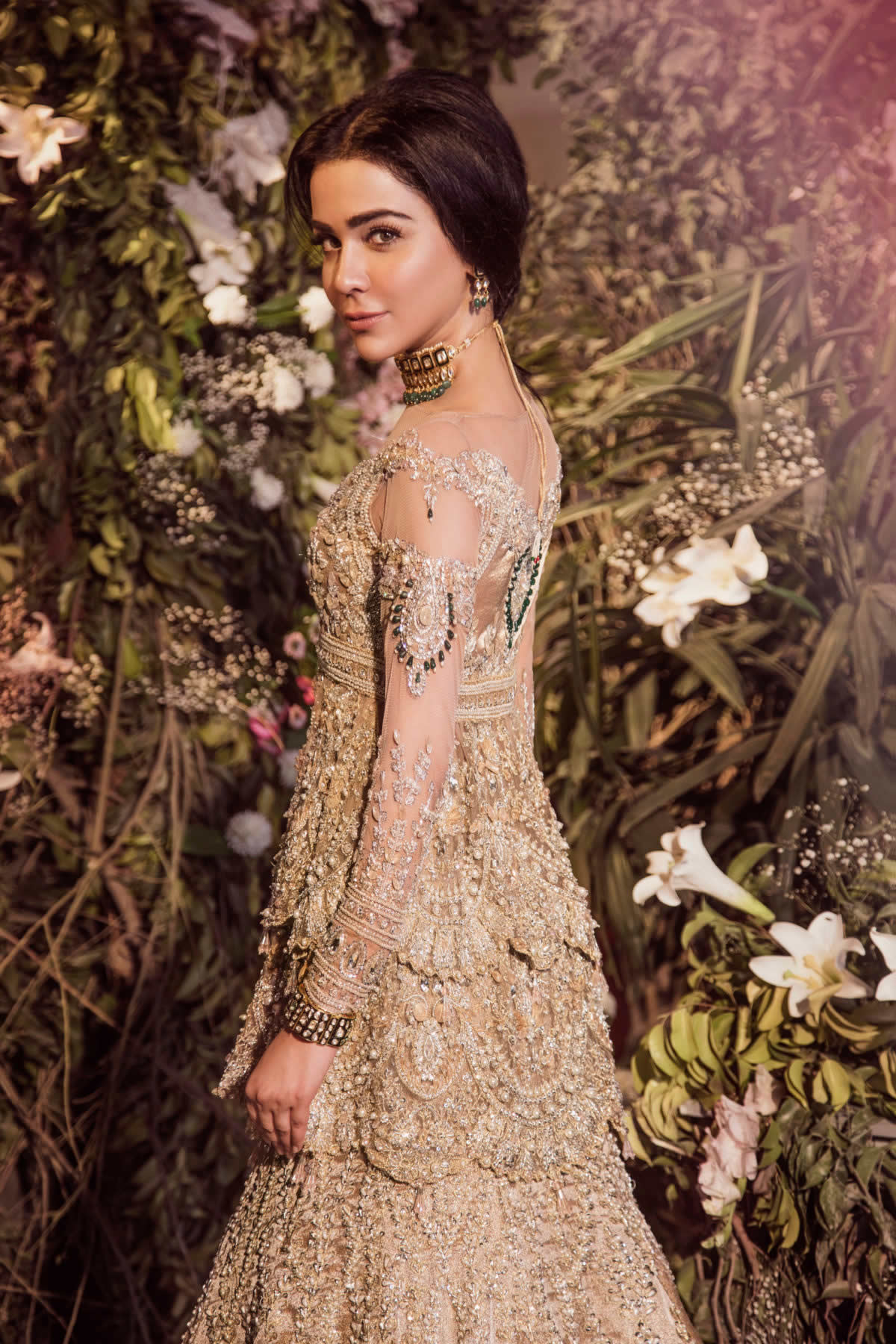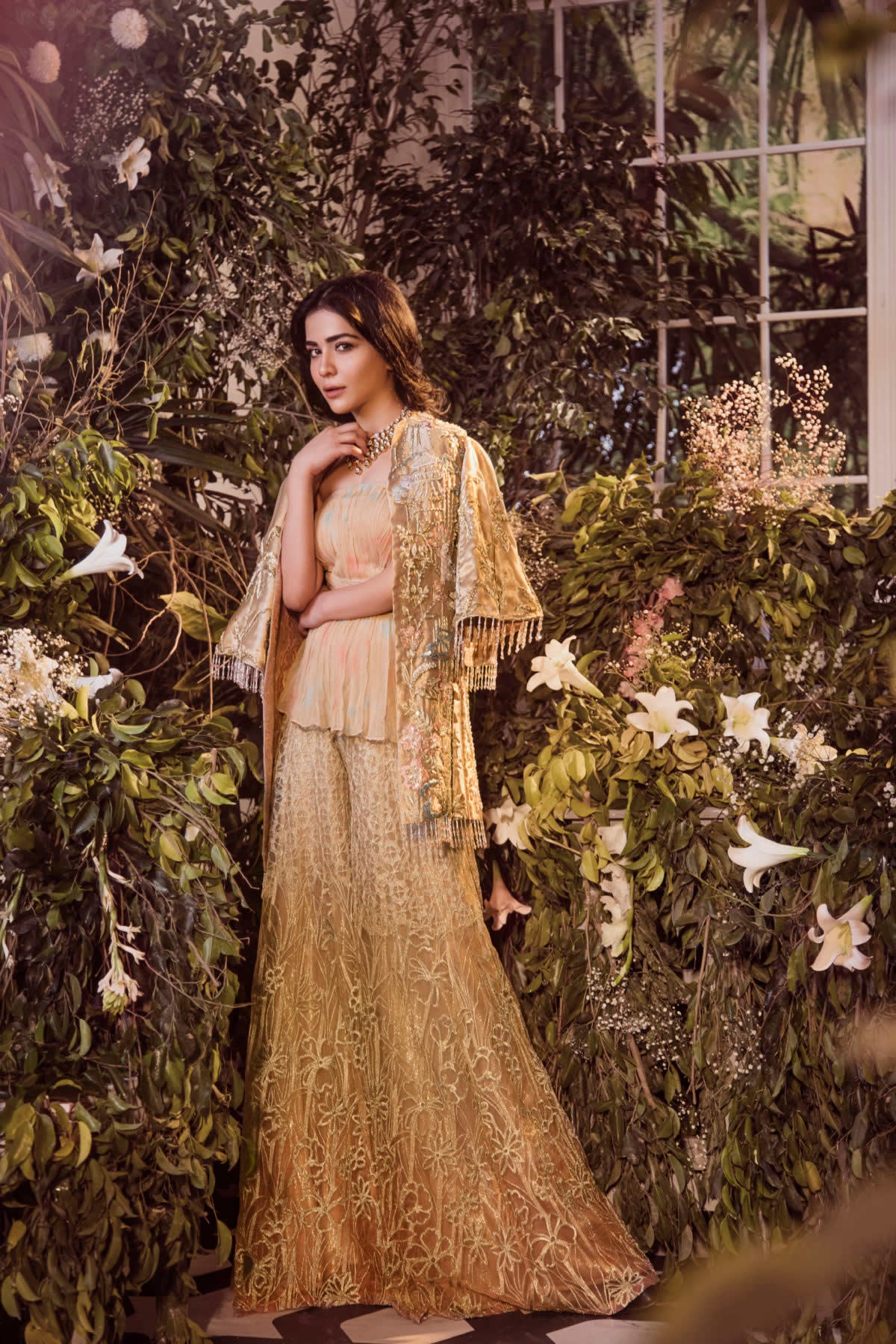 BAHAAR Bridal Collection by Saira Rizwan
The most awaited and anticipated series of the year is out now. Saira Rizwan's bridal collection is ready to glamorize your wedding look. Indeed, it is the priority and desire of a bride to enhance and elevate her bridal looks. This year, you will be able to add an appropriate amount to sparkle and shine in the right way. So, opt for the following dresses by Saira Rizwan's exclusive BAHAAR bridal collection and have a splendid look on your big day.
Please have a look at the following image gallery. You will find plenty of dynamic and versatile bridal outfits from your favorite brand. However, you can seek a variety of designs from our catalog of bridal dresses for a captivating look. Also, you can explore the Mirusah bridal collection for a more fundamental variety. Make your style game on point with the right amount of makeup and jewelry. Have a wonderful journey ahead with prayers and love.
Wearing a cherished outfit brings exquisite beauty with some uniqueness in the proportion. Also, strikingly enriched dresses will catch everyone's attention. Such phenomenal outfits will bring an incredible look. Moreover, the extensive variety of hues will help to choose your favorites. Furthermore, you can also check other bridal collections at our website in the bridal section.