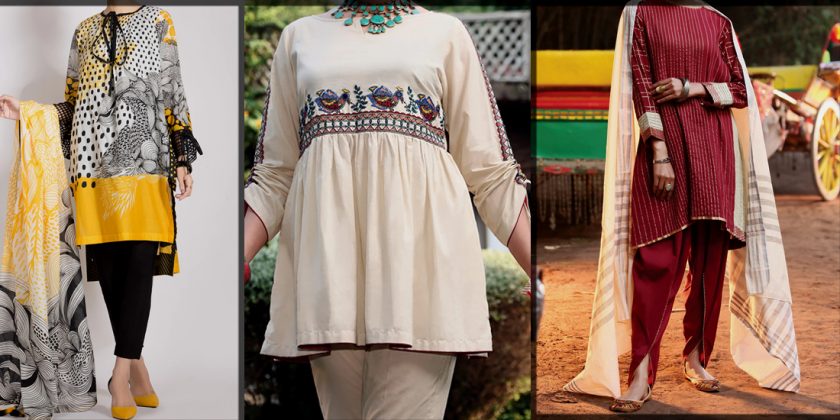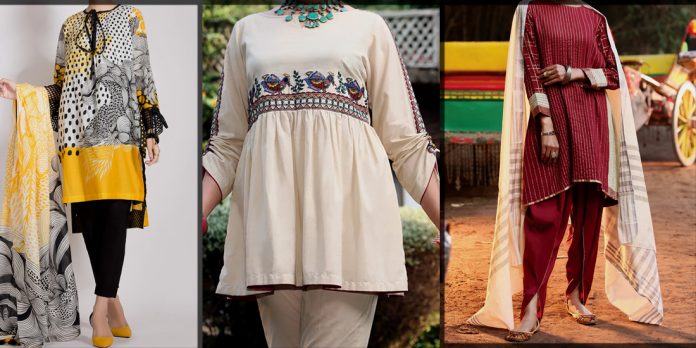 In the realm of the fashion industry, Almirah has presented fabulous and exemplary dresses with exquisite designs. Almirah recently launched its summer collection, and now its lawn dresses are available at outlets and online stores. Almirah summer collection is very extravagant and suitable for all sorts of gatherings.
This season, Almirah is offering a wide variety of stitched and unstitched suits for women. All dresses are adorned with lovely rich tints and beautiful textures that will refresh your look and make it more dazzling and charming. Trust me, you will feel free and comfy by wearing the Almirah summer dresses.
Moreover, this brand has numerous outlets in Pakistan's healthy urban communities like Lahore, Multan, Faisalabad, Islamabad, Karachi, and some more. It also gives a free home delivery facility to its clients for their efficiency and ease. Let's explore the collection now!
Latest Almirah Spring Summer Lawn Catalogue (Volume 1)
Almirah's newest summer collection is very chic that helps the ladies to enjoy the summer season with the latest and stylish variety of clothes. Unique designs, new hues, new printing structures, and weaving attires of Almirah will help you to relish your spring-summer season happily. Moreover, the Almirah outfits collection covers all seasonal suits so that ladies can enjoy all summer events freely by wearing unique pattern clothes.
This brand has launched different groups of attires in their summer collection. Each group has its own identity and quality. This season, Almirah presents the summer clothes in the following categories:
| | |
| --- | --- |
| 1. Urban Paradise | 2. Shadow Dreams |
| 3. Traditional Craft | 4. Woven Secrets |
| 5. Rubik's Cube | 6. Tales of the Craft |
| 7. Eastward Stir | 8. Spunky Strokes |
Classy 2PC & 3PC Unstitched Almirah Summer Collection  
Women love unstitched dresses because they want to modify them according to their needs. Hence, Almirah offers the unstitched attires every season. These unstitched dresses of Almirah are flawlessly designed with stunning prints and light weaving.
In the following unstitched summer dresses, you get the digitally printed, embroidered, and hand-crafted attires in the most amazing tints and patterns. Have a look at the unstitched summer catalog by Almirah. For more unstitched suits, explore the Kayseria summer collection.
Eastward Stir – 2PC Unstitched Collection 
For casual wear, select the Eastward Stir 2pc collection by Almirah that contains the printed suits in the floral themes. These dresses are available in the lawn and cotton texture that will not only update your look but also shield you from the hot rays of the sun. You will get the Eastward Stir dresses in two categories:
Shirt and Dupatta

Shirt and Trouser
For more casual attires, visit the So Kamal summer collection.
Urban Paradise – 3PC Lawn Collection 
Let's browse the urban paradise collection of Almirah that contains the impressive three-piece lawn suits. The lawn is considered the comfiest texture for the summer season because it keeps you calm and relaxed during the hot days of summer. Have a look at the following digital printed summer lawn suits that you can wear at any casual gathering for adding more charm to your gaze. Further, look at the Bareeze summer collection containing the printed lawn suits in the most striking shades.
Shadow Dreams – 3PC Digital Lawn Collection 
Most teens prefer to buy digitally printed attires because the digitally printed outfit will enhance your personality and make it more unique and appealing. In the Shadow Dreams catalog of Almirah, you will get fantastic and wonderful digital printed suits. You can modify these dresses as per your choice and make all of your noteworthy and incredible gazes. For more digital printed suits, visit the Limelight digitally printed summer suits.
Three-Piece Unstitched Embroidered Dresses by Almirah
Now, look at the embroidered party wear dresses by Almirah that were nicely adorned with motifs, thread work, and pearls. You can pick any clothing from the Almirah store and make yourself more perfect and stunning. This notable brand also gives the stitching facility to its clients.
Traditional Craft – 3PC Embroidered Collection 
The traditional craft catalog of Almirah contains chic three-piece embroidered suits, which you can wear at any formal gathering. All you need is to pair these gorgeous suits with lightweight adornments and minimal makeup. These following traditional craft attires are paired with chiffon and net viscose dupattas. Further, look at the Maria B summer collection that also contains formal dresses.
Woven Secrets – 3PC Hand Crafted Collection 
Women prefer to buy hand-crafted attires because they give them a more chic and unique look. The Almirah is the only brand that offers hand-crafted attires in the most vibrant tones and themes.  Further, these suits are paired with the jacquard and net viscose dupatta that you can easily carry and enjoy your event freely by walking with confidence. Pair your hand-crafted suit with the traditional khussa and make all of your breathtaking and alluring gazes. For more hand-crafted attires, explore the Rang Ja summer dresses.
Stylish Pret/Stitched Summer Collection by Almirah
The stitched collection of Almirah likewise consists of the most striking designs with the best shades. In the pret collection of Almirah, you will get the classy 2pc suits and Tunis at the most affordable price. Almirah used the dobby, lawn, and Organza fabric for making its pret collection. Also, have a look at the Nimsay summer dresses that are very chic and stunning too.
Rubik's Cube – 2PC Signature Series 
Rubik's Cube is the most striking section in Almirah's summer collection, consisting of the most dazzling and modest 2PC suits in the lawn and dobby fabrics. You can pair these 2PC attires with the chiffon and net viscose dupattas. These dresses are beautifully adorned with a combination of different bright hues that make the attires more flawless and alluring.
You can wear these signature dresses at any formal gathering to make yourself more stylish and chic. Remember to combine these stunning attires with the striking pendant, circular hoops, traditional rings, and high heel shoes.
Ready to Wear Summer Tunics for Young Girls
The teens love to buy tunics for looking more stylish and modest OOTD. Further, you can pair your single Kurti with jeans or Capri as your like and refresh your look. Have a look at the summer tunics by Almirah that will help to complete your look and make it appear more modest and striking.
Spunky Strokes – Digital Printed Tunics
The following digital printed collection is as captivating as Warda collection. You can pair these Kurtis with cotton or dobby trousers for adding more charm to your look. You can wear these digitally printed shirts at a friend's birthday party to look more graceful and beautiful.
These unique shirts are specially designed for the teens because they wish to wear the kurta or Kurti for a more breathtaking display. The Kurti collection of Almirah contains short-length tunics as the teens prefer it. You can also wear these digitally printed tunics at your business meeting for a more elegant look.
Tales of the Craft – Embroidered Tunics
For formal wear, you need the embroidered attires. Therefore, all brands must include the embroidered dresses in their seasonal collection. Look at the embroidered dresses that are decently furnished with the thread work. You can pair these classy Kurtis with jeans for a more modest look.
All these embroidered tunics are available at affordable prices so that everyone can easily buy any shirt and make their outfit more perfect and charming. Almirah used the lawn and dobby texture for making their embroidered tunics so that you can easily carry them in the summer season. Chinyere summer collection also contains the digitally printed and embroidered Kurtis for young girls.
Some Pro Tips for Fashion Lovers

For looking more stylish, keep the following points in your mind:
If you wear the lightweight or simple Kurti, then pair it with heavy adornments and bold makeup.

While if you are going to wear the embroidered Kurti, pair it with lightweight jewelry and nude makeup.

Never forget to paint your nail with unique nail art to get a flawless and breathtaking look. 
Almirah summer collection has launched now in stores and online. All kinds of varieties of dresses are available for women at reasonable prices. Moreover, you can make your summer season more comfy and reliable with the summer collection of Almirah. Visit any retail store or webpage of Almirah and enjoy extravagant outfits with popping colors and unique prints.