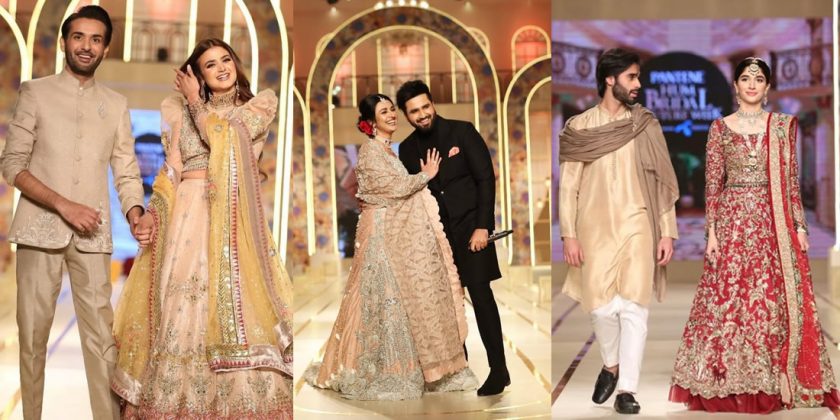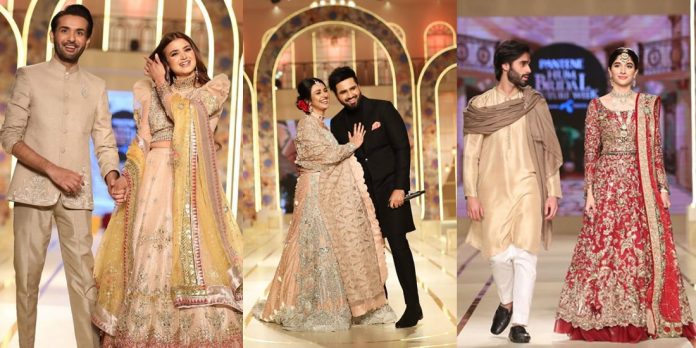 Pantene Hum Bridal Couture Week started off with a star-studded show in beautiful attires. After the pandemic, the fashion industry is getting back on its track and everything is coming back to normal. Also, this high profile show has kept its glory by showing traditional bridal dresses this year as well.
The talented Pakistani fashion designers presented their awe-inspiring collection and astonished everyone with their artwork and presentation. Moreover, this year PBHCW will present 35 Pakistani fashion designers. Pantene is the sponsor of fashion week 2021.
The fashion week was held on 4th February 2021, in Lahore. Also, the show started off with an amazing line-up of extravagant bridal dresses which stunned everyone. This year PBHCW only played Pakistani osts and songs for the ramp walk.
Pantene Hum Bridal Couture Week Fashion Show

Pantene Hum bridal couture week was arranged under the HUM Network Limited. Many notable actors including, Urwa Hocane, Mawra Hocane, Alizey Shah, Affan Waheed, Imran Ashraf, Yumna Zaidi, Ayesha Omer, Muneed butt, Shaver Jafry, Usman Mukhtar, Soniya Hussain, Sarah Khan, Falak Shabir, Hareem Farooq, Resham, Sunita, Sahiba Rambo, Shaista Lodhi, Sana Fakhar, Ameer Gilani and Farwa Ali Kazmi walked the ramp for the designers.  For taking the Pakistani fashion industry higher, the following designers presented their rich and nicely embellished clothing in the most striking shades and patterns. 
Bridal Couture Week All Designers List (Names+Collections)
| Designer Name | Collection Name |
| --- | --- |
| Haris Shakeel | Ghazal |
| Naushad Imdad | Subh-e-Nau: The Way Forward |
| Fahad Hussayn | Sao Banjara |
| Madeeha Shoaib | The Enchanted Island |
| Alishba & Nabeel | Sakhiyan |
| Munib Nawaz | Sakal Ban |
| Nauman And Bhaiya | Gurya |
| Uniworth Dress Co | Luxe Desire |
| Uzma Babar | Zeenat |
| Tabya's | Mahal |
| Kashee's | Parihaan |
| Ahsan's menswear | دریا |
| Jermyn Street collection () | Shab-e-Vasl |
| Ali Xeeshan() | Numaish |
| Nisa Hussain Bridal Collection | Bridal wear |
| Ahson Shoaib(Dastaan-e-Mohabbat) | Dastaan-e-Mohabbat |
| Gentlemen's Club Featuring Diner's | Men's wear |
| Faiza Rehman() | Peony Dream |
| Sable Vogue (Mussarat Sultana) | Mussarat Sultana |
| Arsalan Iqbal | Men's Collection |
| Ayesha and Usman | Riwaayat |
| Khadija Shah's Zaha | Rashk e Qamar |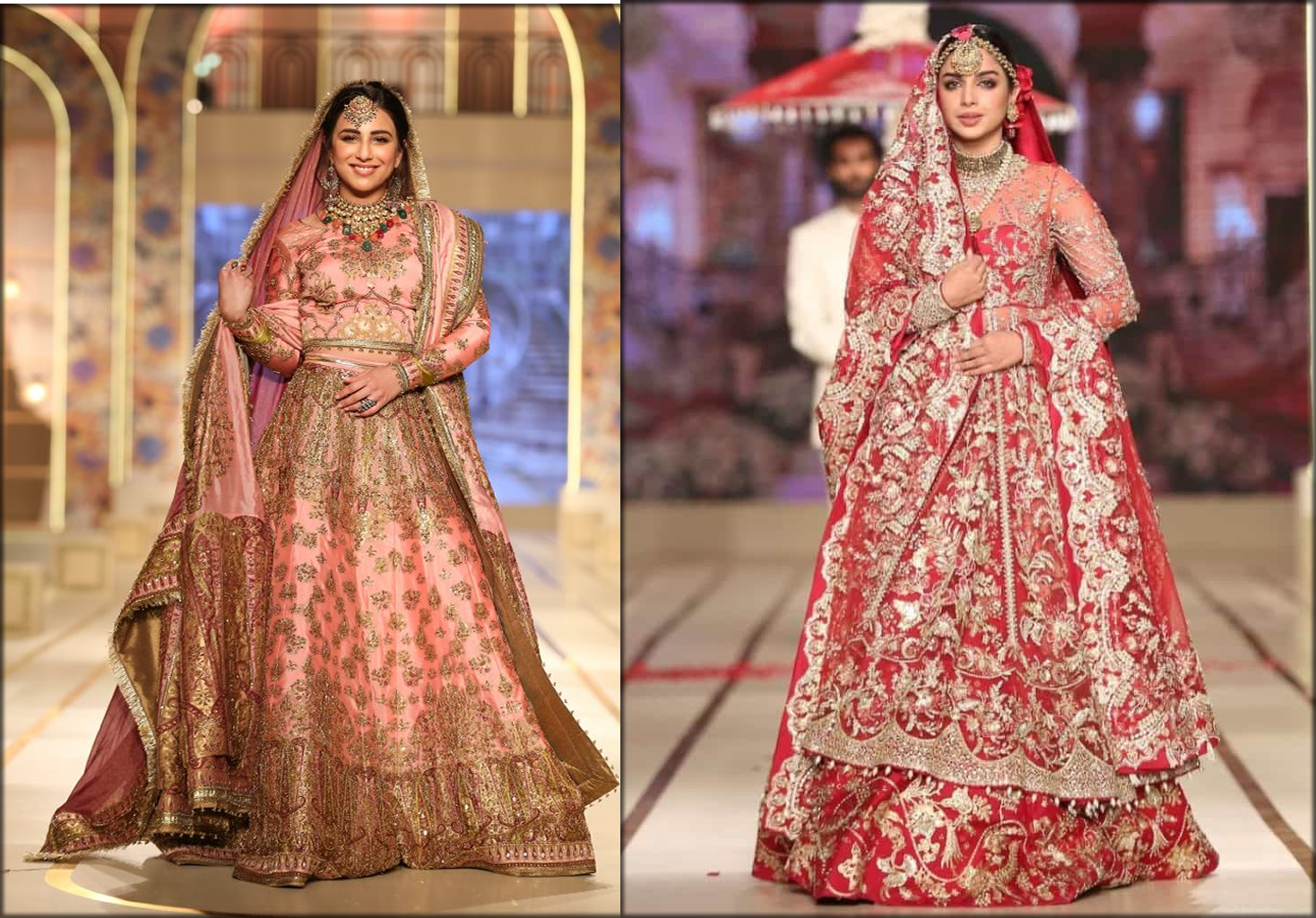 Day 1: Pantene Bridal Couture Week
The first show of day 1 started with a Pantene hair show where the band released their new product. Maya Ali and many other famous models walked the ramp for Pantene with open hair by showing off their shiny and healthy hair.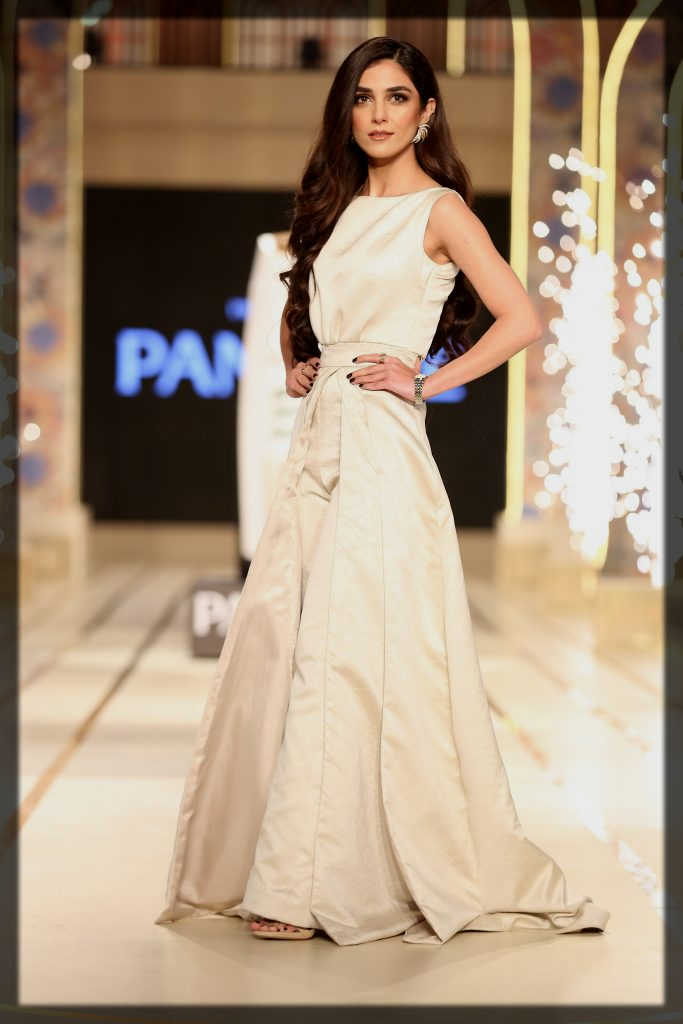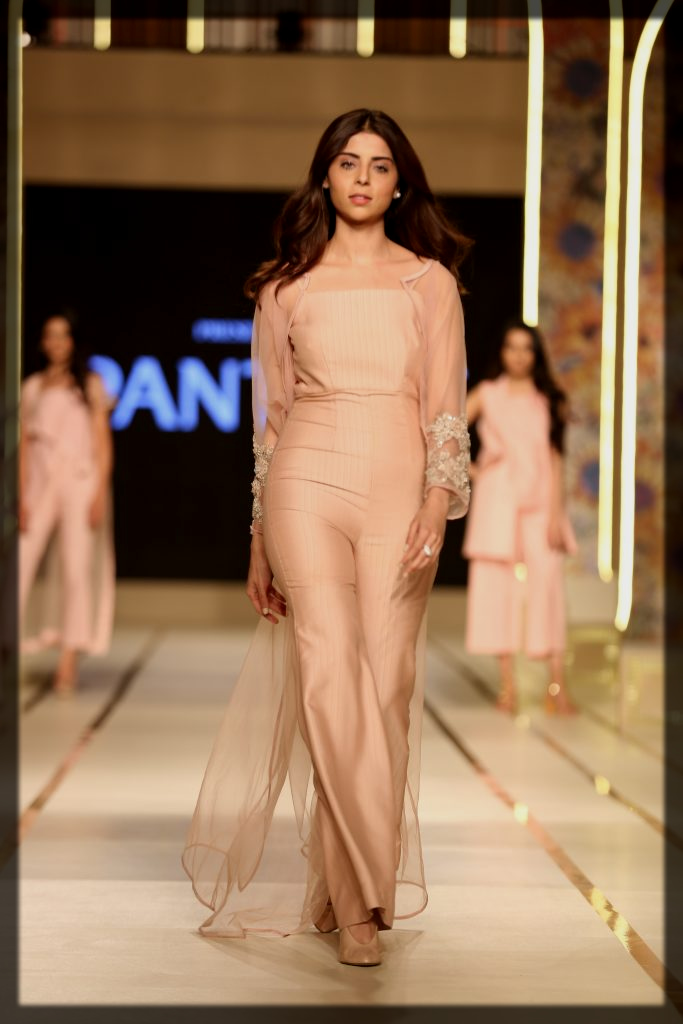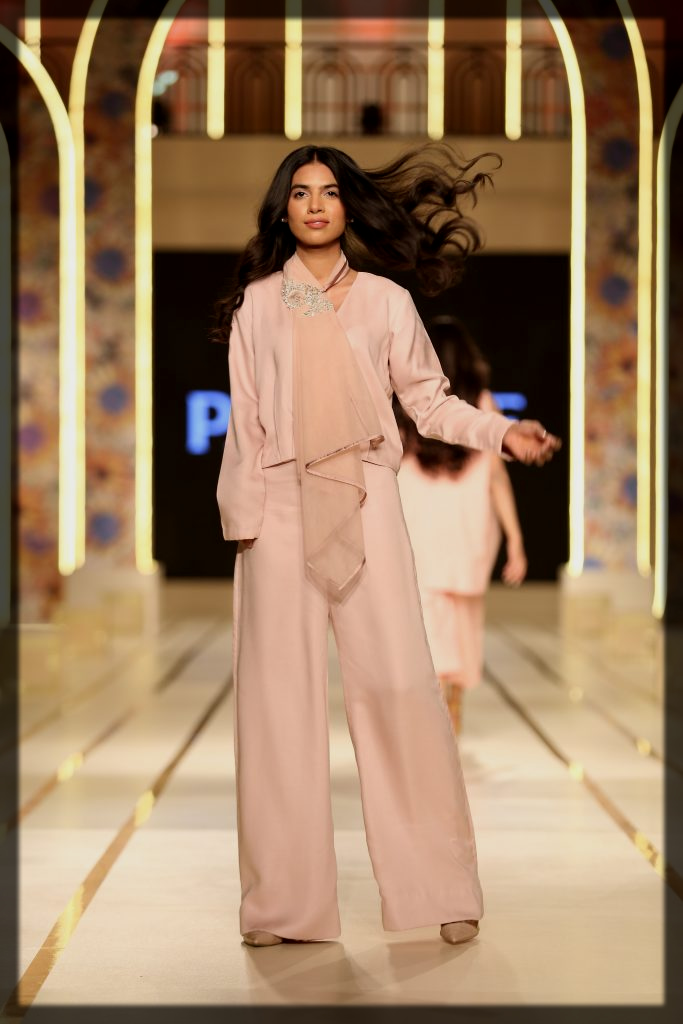 1- Haris Shakeel (Ghazal)
Haris Shakeel the most notable brand of Pakistan presented its "Ghazal" collection at bridal couture week. He nicely embellished his clothes with gota and sequins work. The luxury collection of Haris reminded us of old times. The well-known television actress Saboor Ali walked the ramp for Haris Shakeel. Look below to review the complete catalog of Haris Shakeel.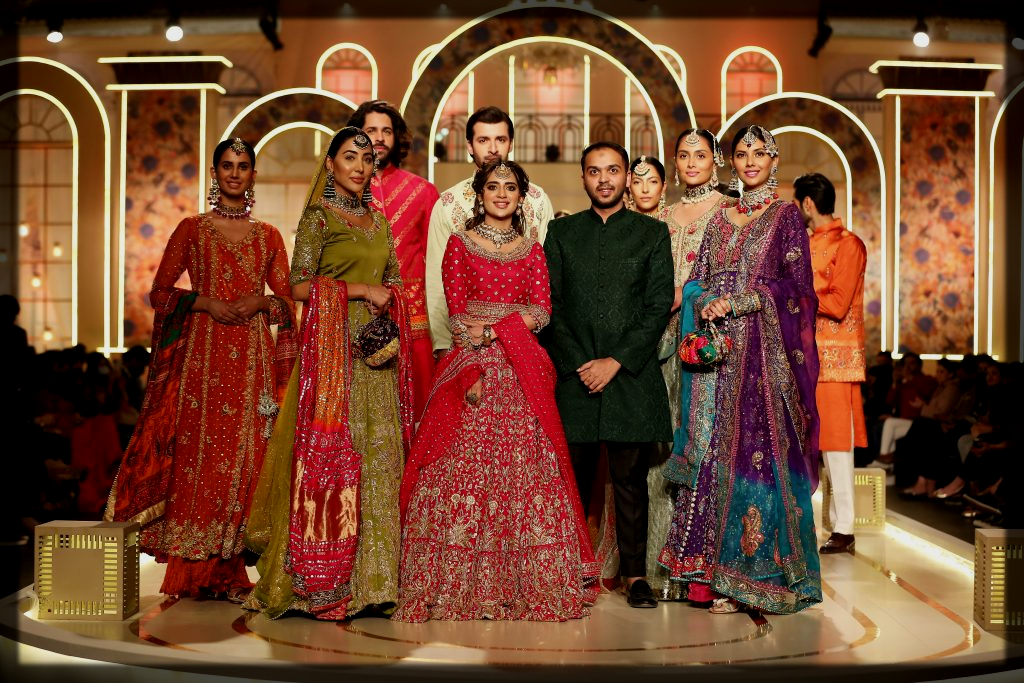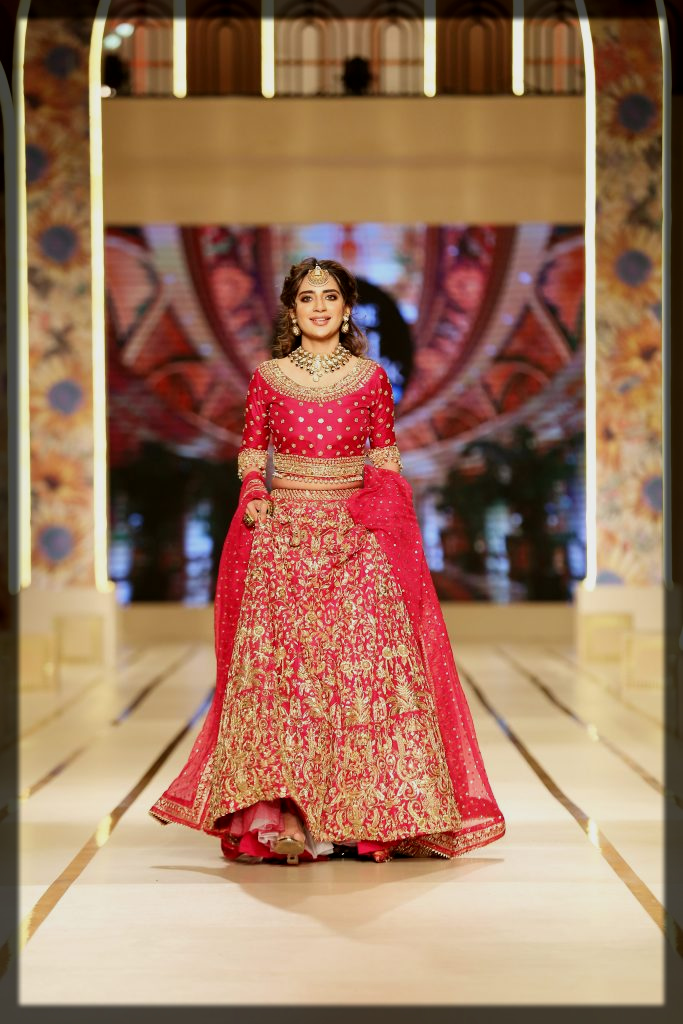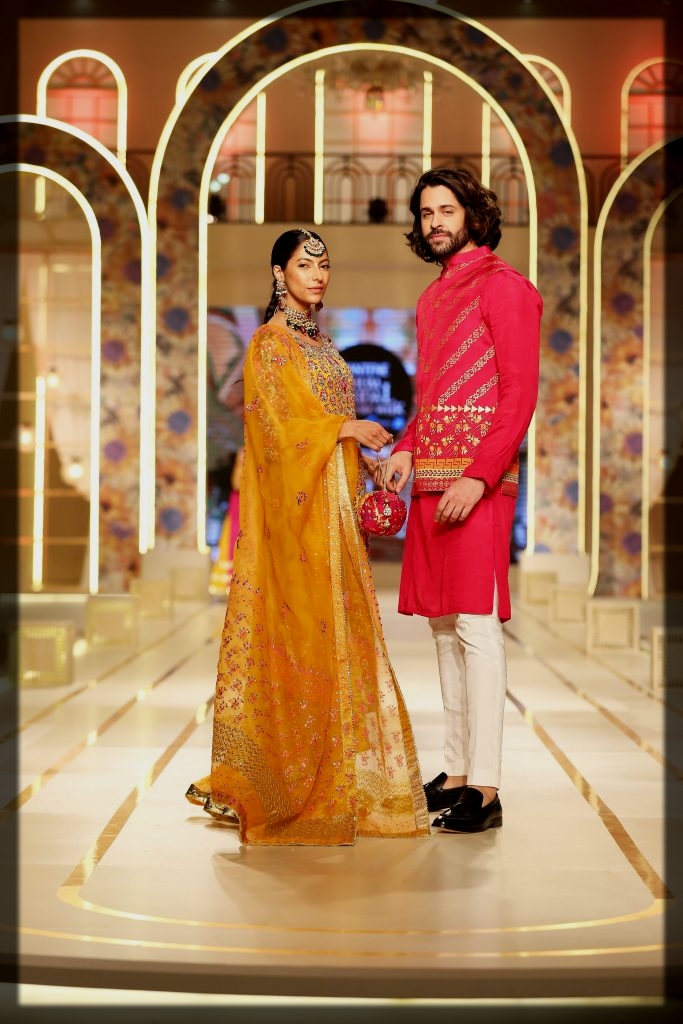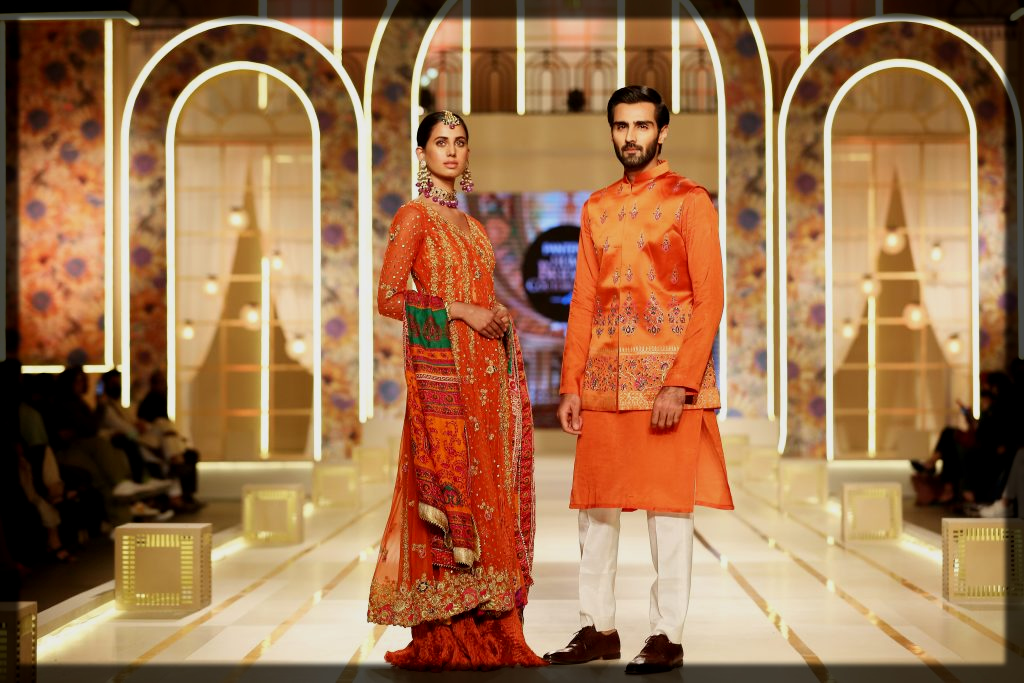 2- Naushad Imdad (Subh-e-Nau: The Way Forward)
Very first time in Pakistan you have seen the hand paint art and hand fabrication together in the rich collection of Naushad Imdad. He presented his "Subh-e-Nau: The Way Forward" collection at bridal couture week this year that will help to make any event more glammy and charming.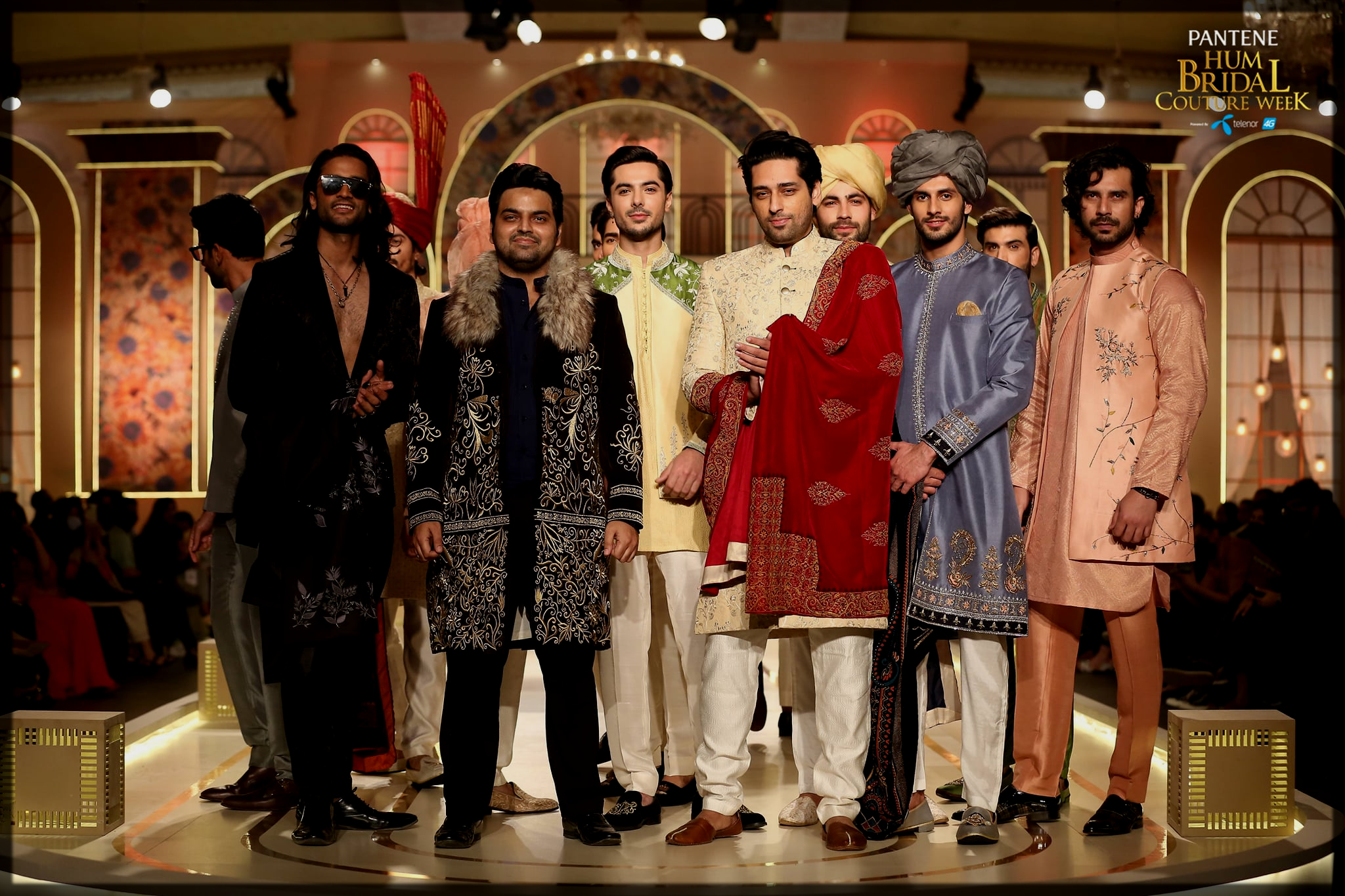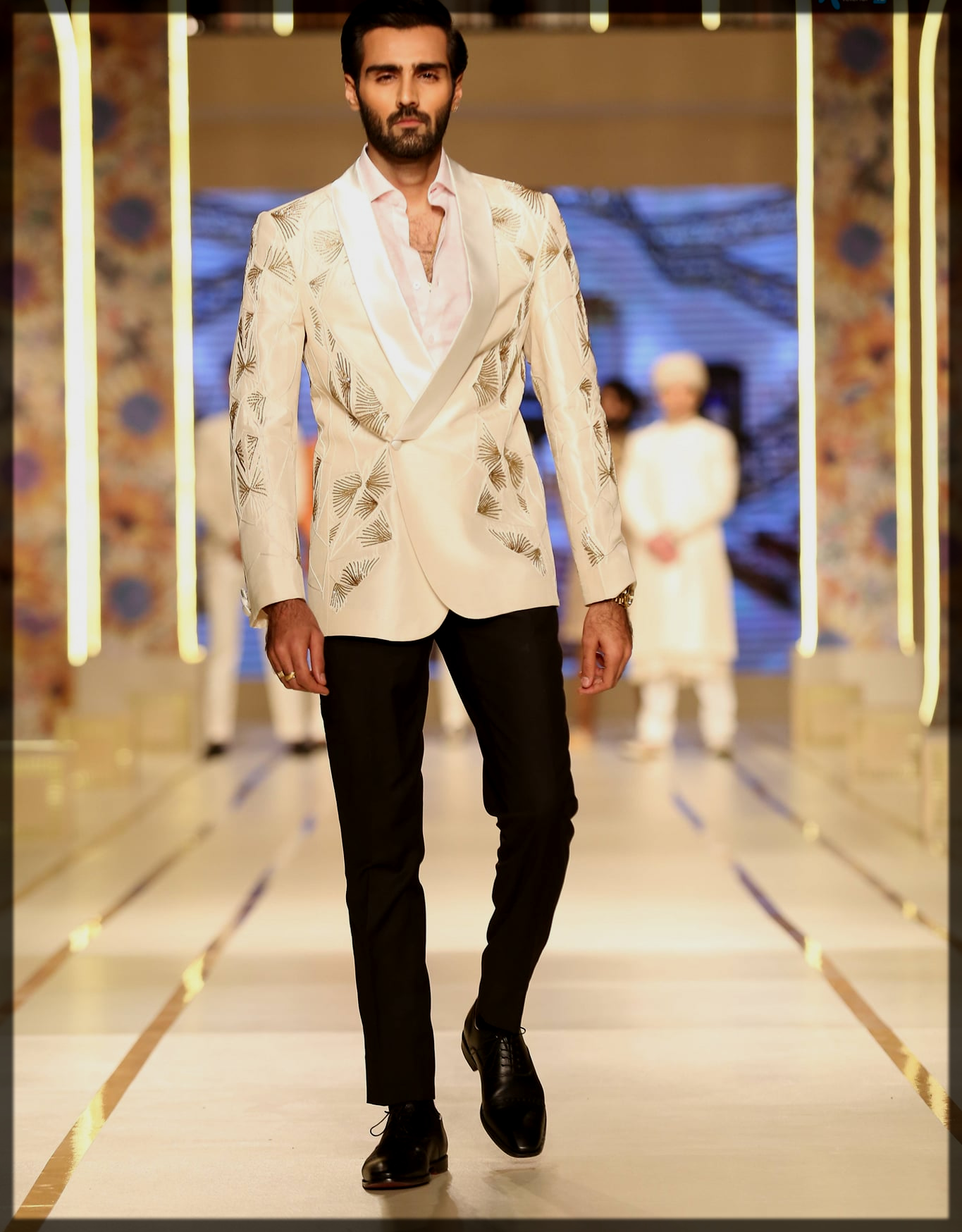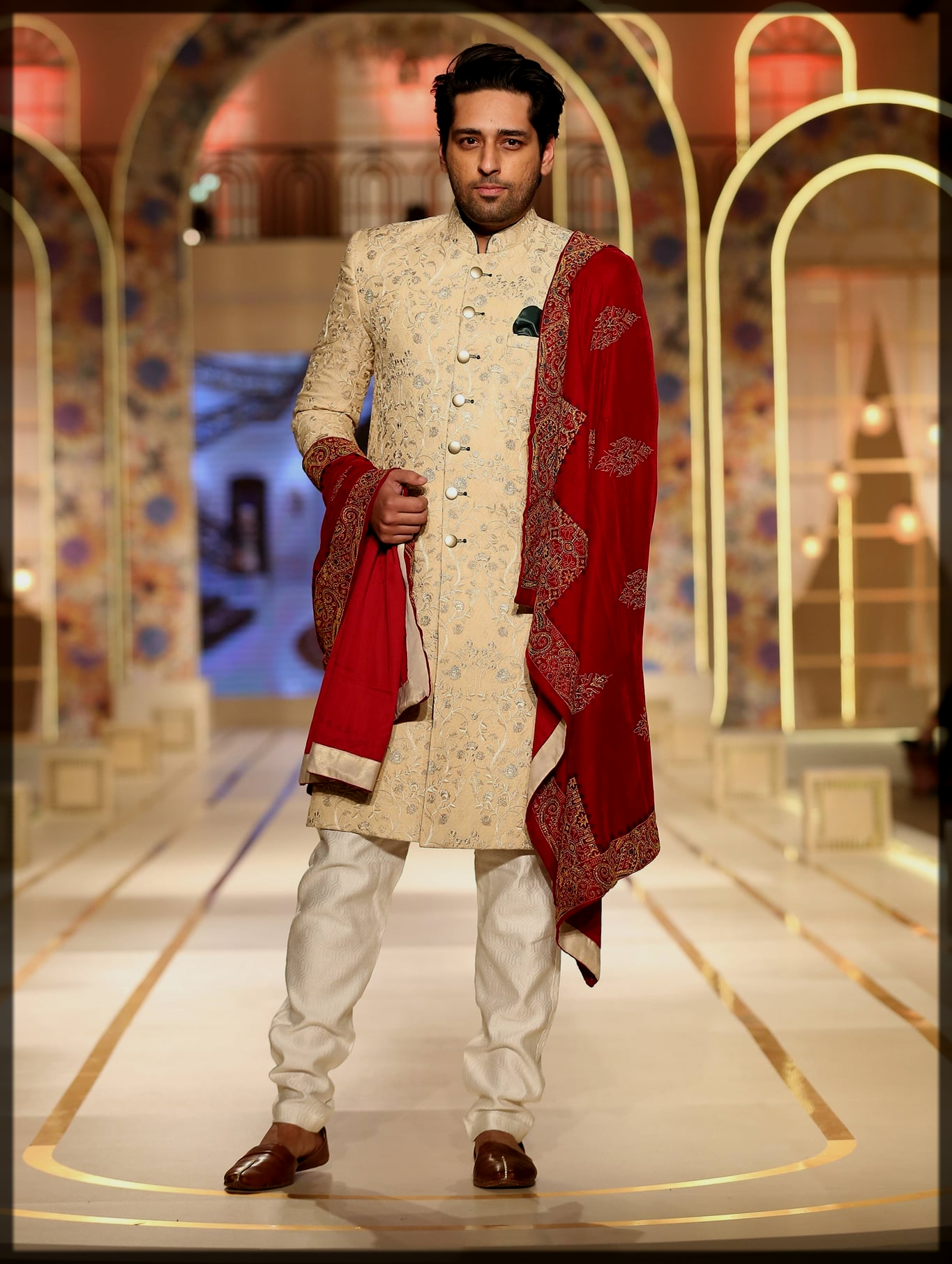 3- Fahad Hussayn (Sao Banjara)
Fahad Hussayn the most notable brand of Pakistan, presented its banarsi and silk thread embroidered bridal dresses at the 18th edition of Pantene bridal couture week. The models decently adorned Sao Banjara clothes. You can pick any clothes as per your choice from its physical and online store with free home delivery. Usna Shah, the renowned television actress walked the ramp for Fahad Hussayn. Ushna Shah set the new trend by wearing the peach bridal outfit with multi-colored jewelry.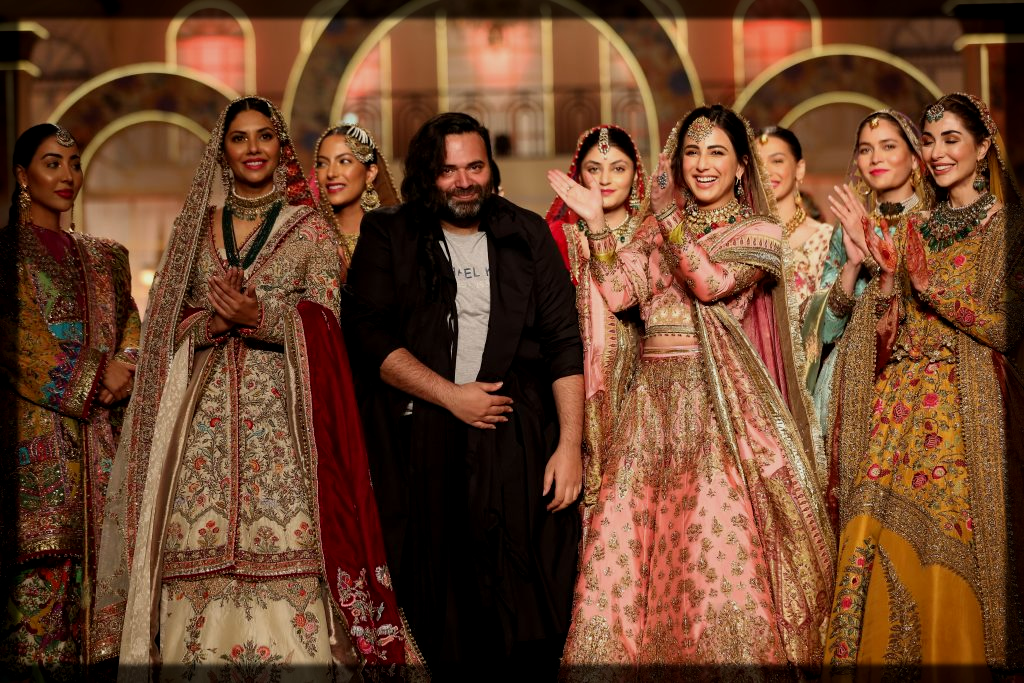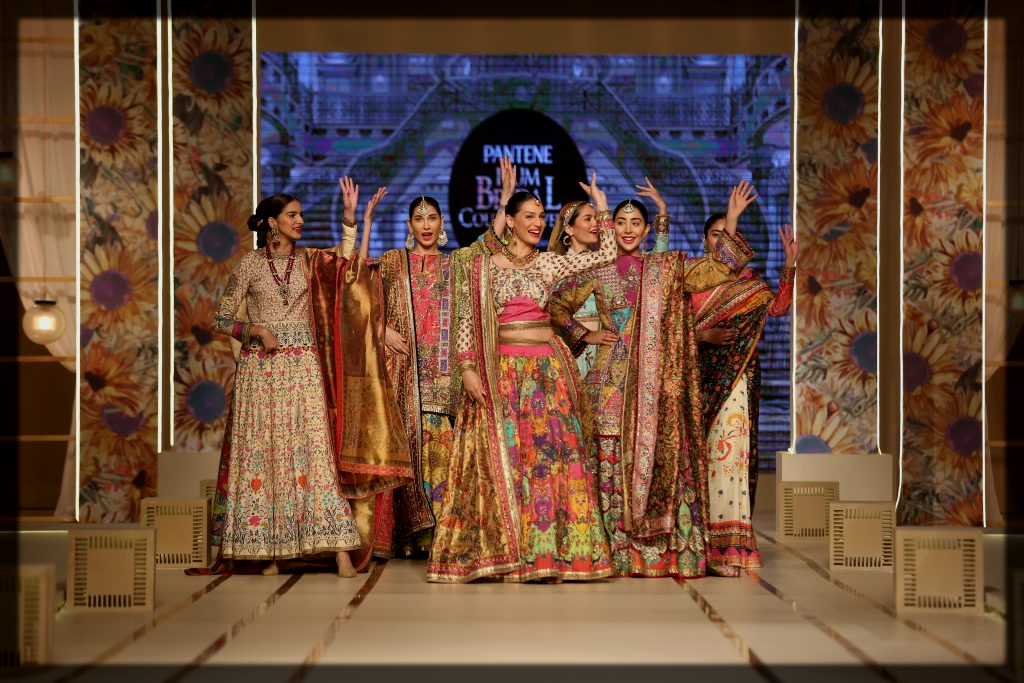 4- Madeeha Shoaib (The Enchanted Island)
Madeeha Shoaib unveiled her signature collection (The Enchanted Island) at the 18th edition of Pantene hum bridal couture week. She presented its lavish and stunning bridal/formal attires which were heavily embellished with gotta and Tilla work.
The gorgeous couple of singer Falak Shabir and actress Sarah Khan walked on the ramp for Madeeha Shoaib. Falak Shabir sang a song for her lovely wife and made the BCW more glammy and memorable. Check out the image gallery below to get the complete catalog of Madeeha Shoaib.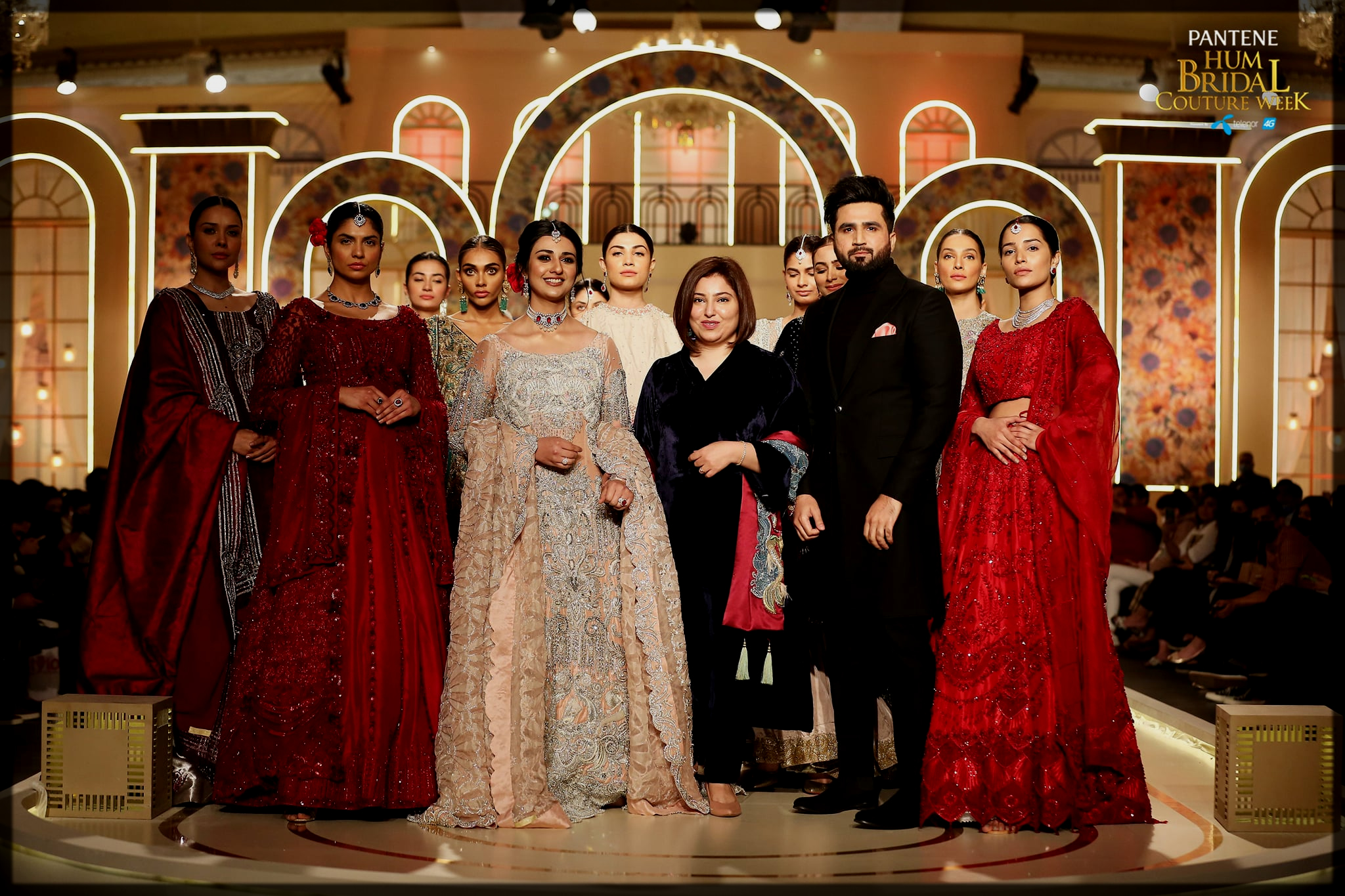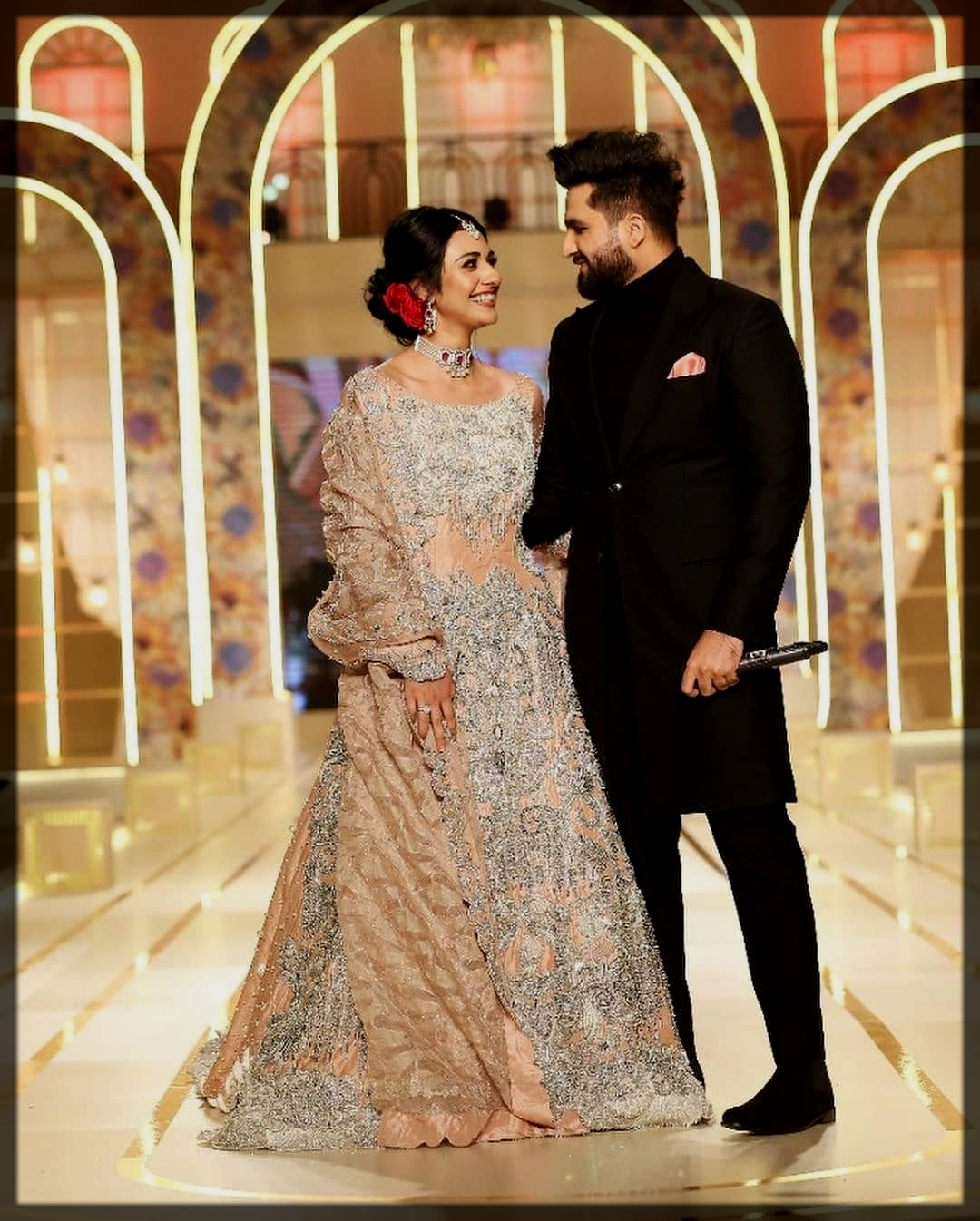 5- Alishba & Nabeel (Sakhiyan)
Alishba & Nabeel presented their stunning collection "Sakhiyan" as praise to all the bridesmaids who also need to look jazzier and classy. The most favorite couple of Pakistan television, Hira Mani and Affan Waheed closed the show for Alishba & Nabeel. They both took many beautiful clicks together that won the crowd's hearts.
Hira wore the nicely adorned blouse with the ruffle sleeves that were paired with the kora work lehenga. While the Affan Waheed wore the matching nude shaded pant coat. Both were looking cute together.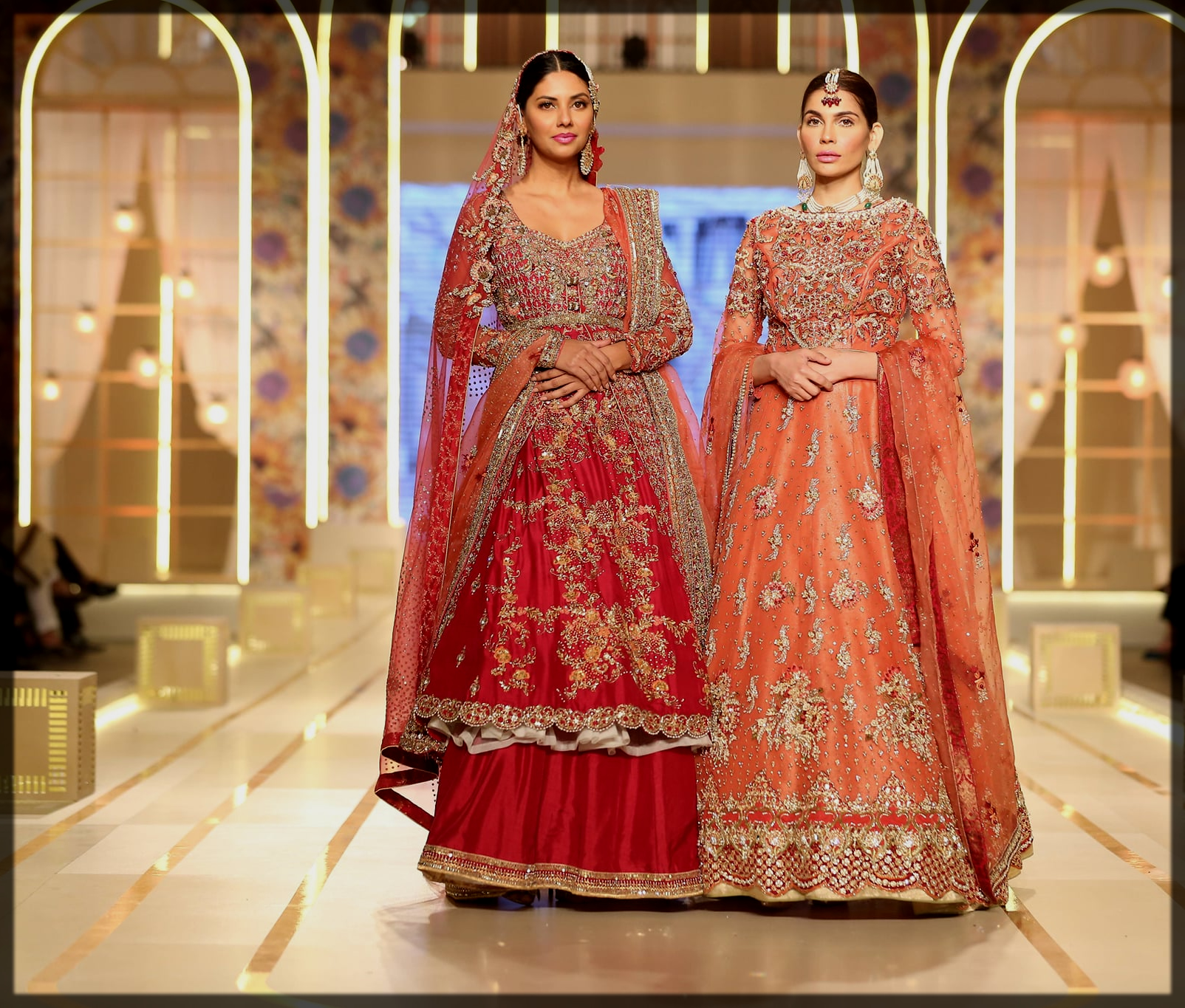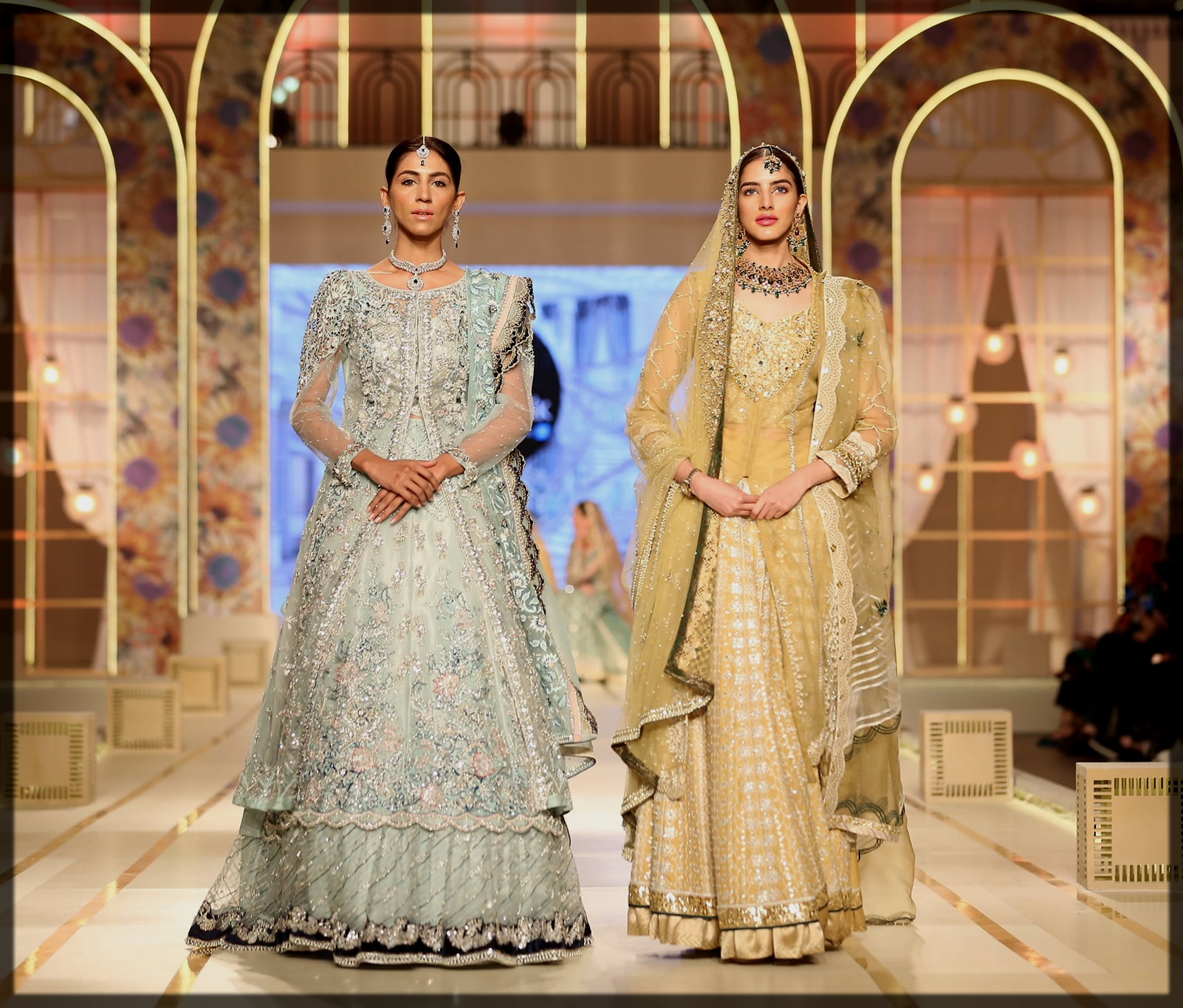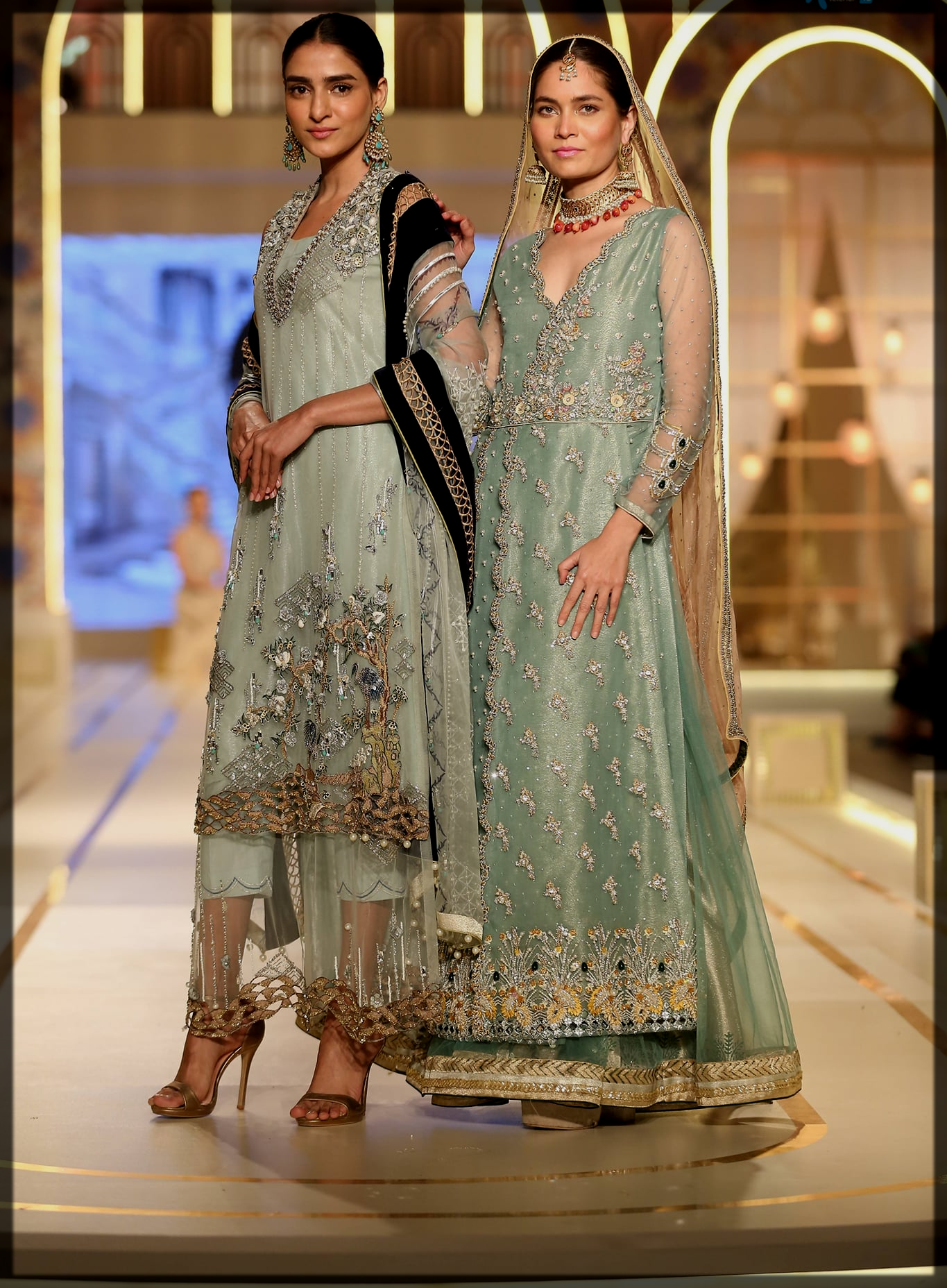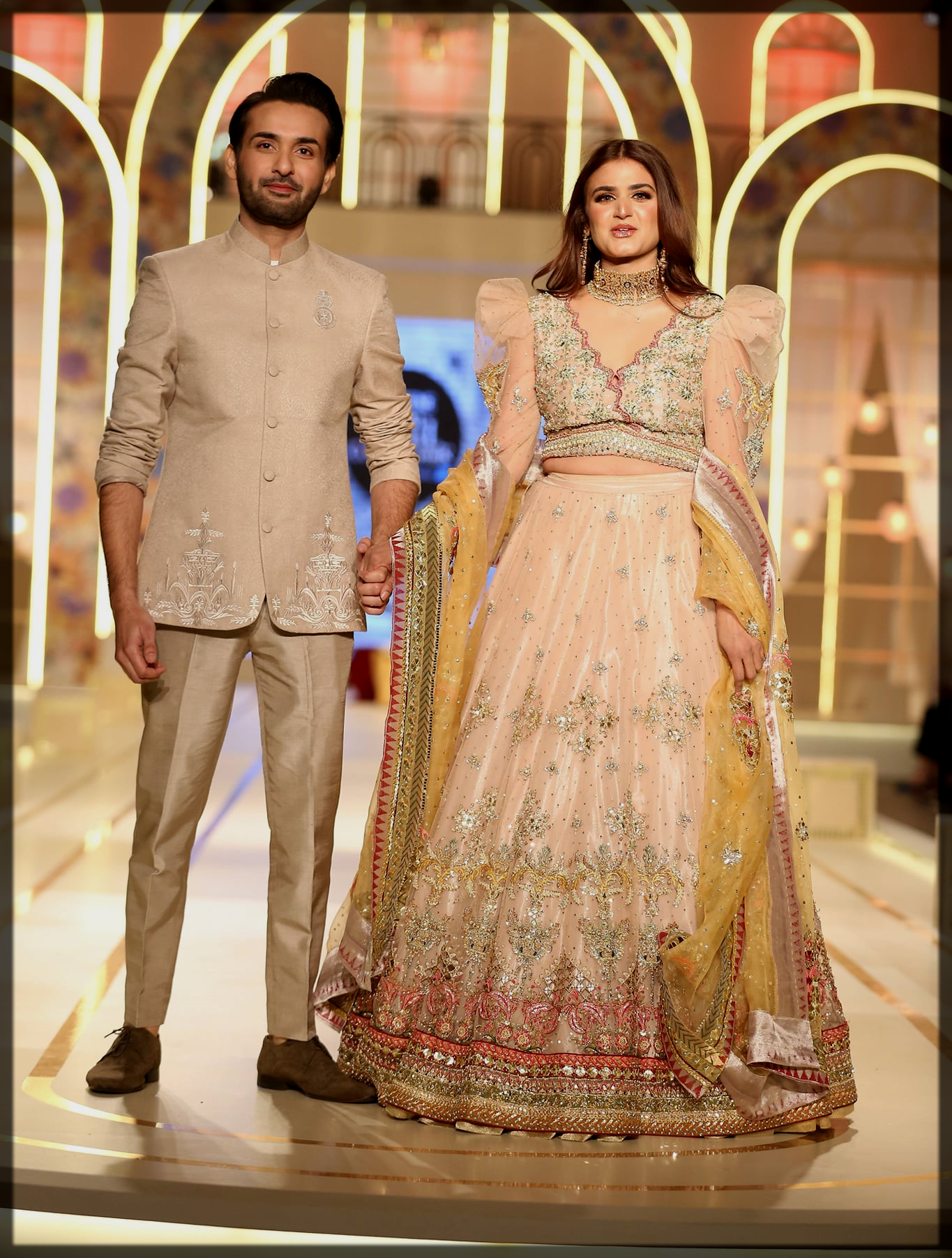 6- Munib Nawaz (Sakal Ban)
Munib Nawaz presented its "Sakal Ban" collection at the BCW. He presented the latest and unique pattern clothes for women and men. Munib used vibrant shades and chic patterns to make its collection. Usman Mukhtar and Farwa Ali Kazmi walked the ramp for Munib Nawaz. Usman Mukhtar was looking so handsome in the sherwani with the red embroidered shawl.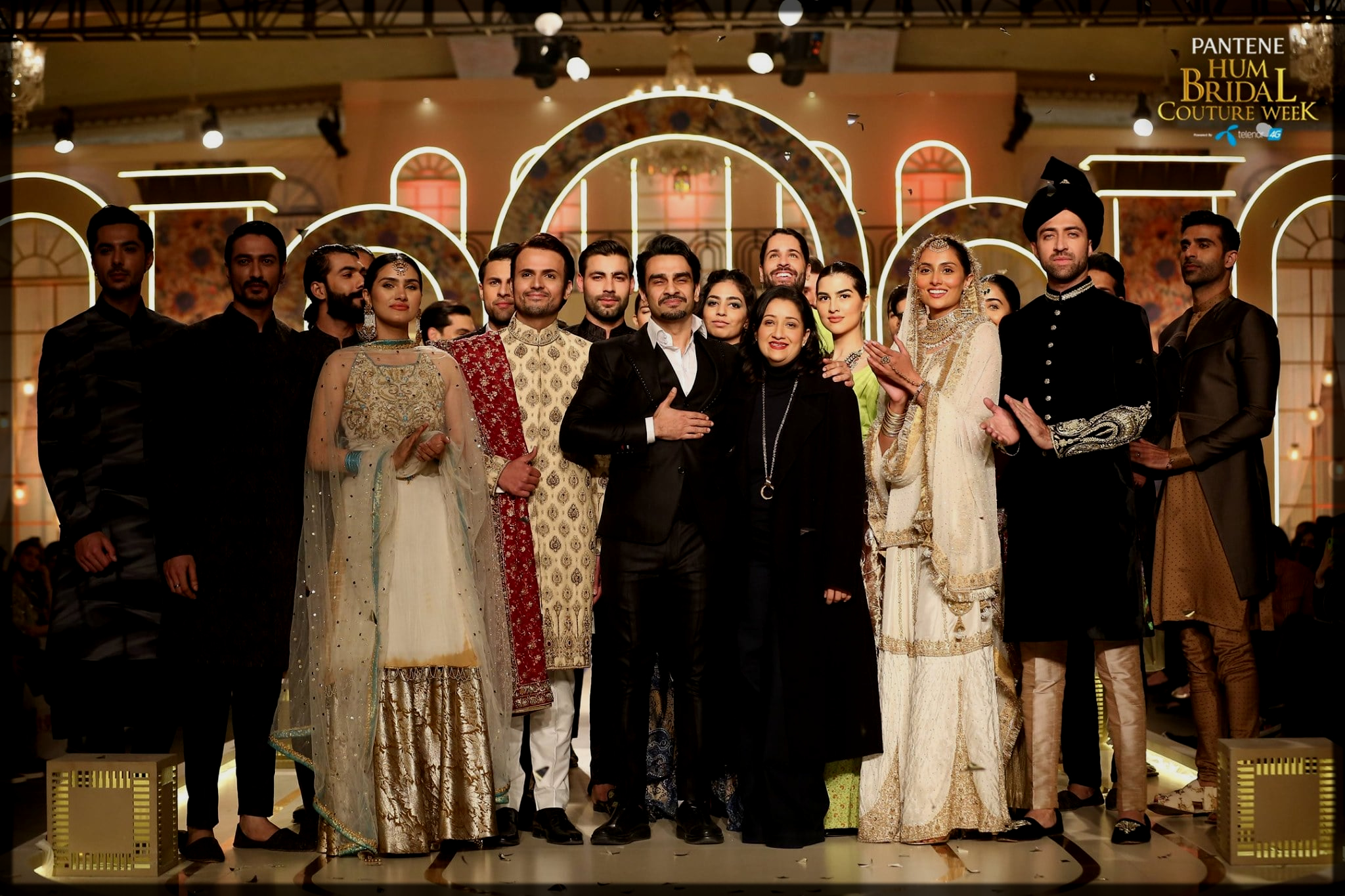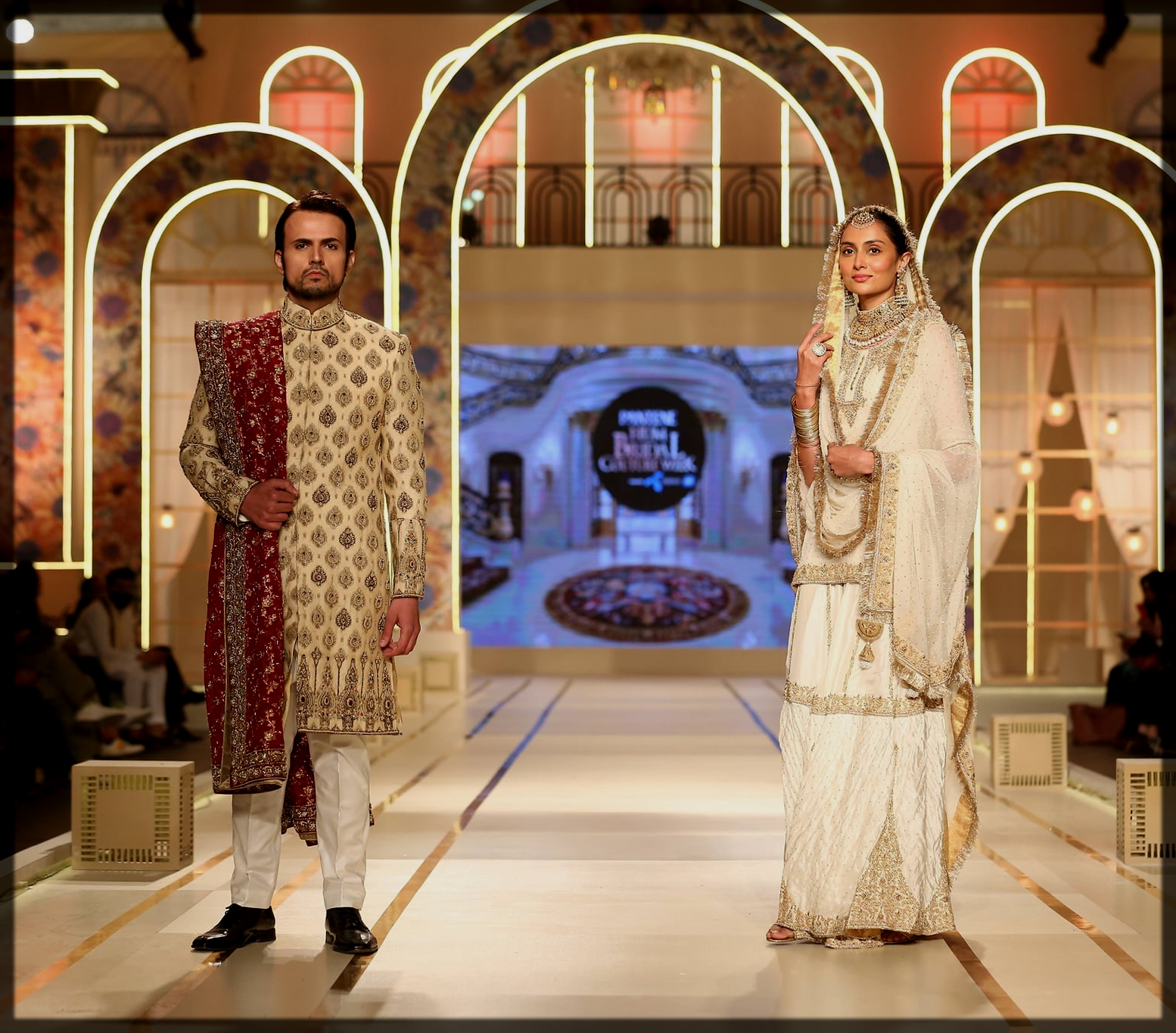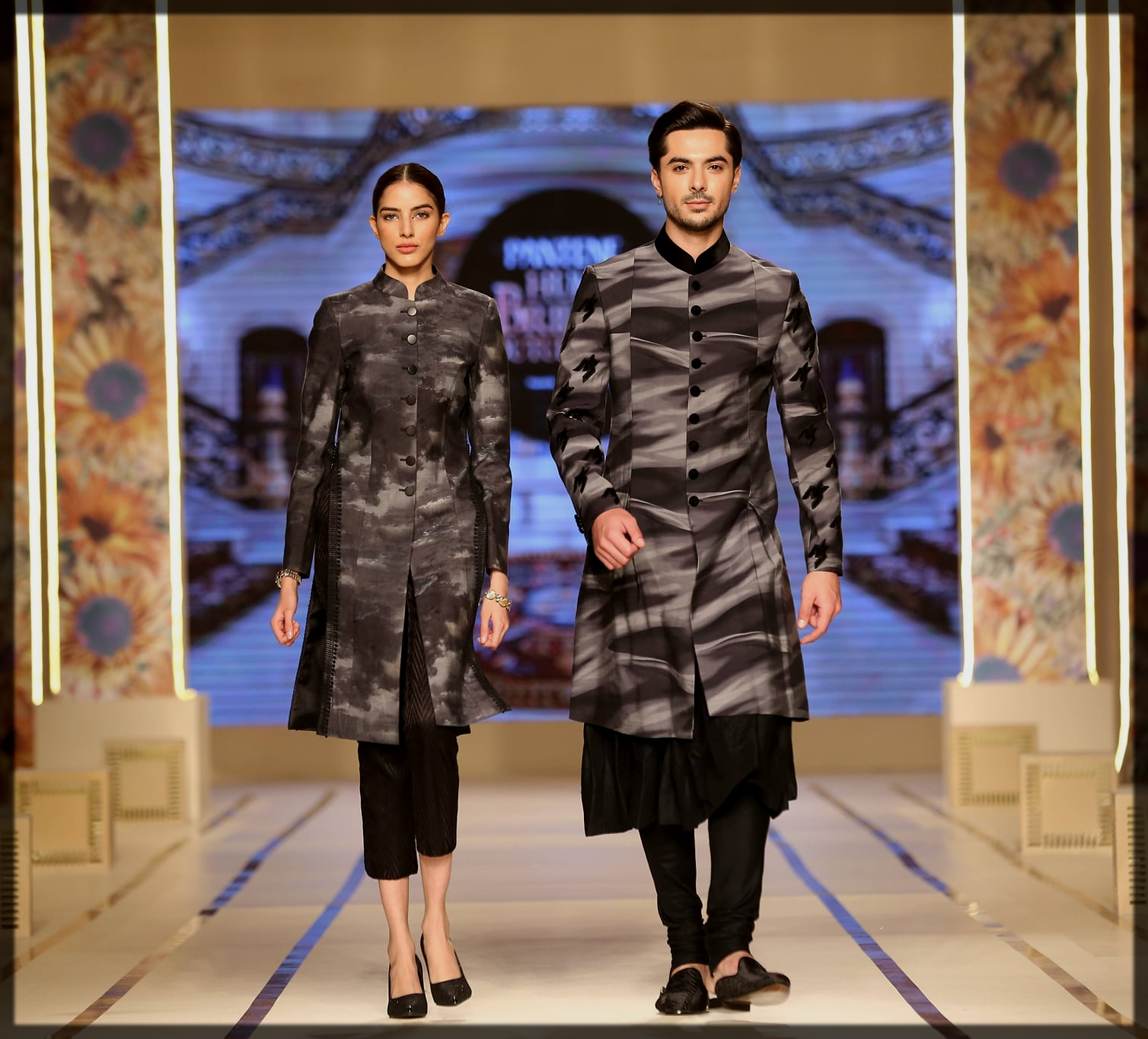 7- Nauman and Bhaiya (Gurya)
Bringing back the style of the 90's era the Nauman and Bhaiya presented their "Gurya" collection at bridal couture week. In their collection, you will get the mythical crafty lehengas which are furnished with the zari and beaded artwork.
You can pick these stunning lehengas for your mehndi, Barat, and Walima event and make your look more attractive and dazzling. Look below and review the complete collection of Nauman and Bhaiya.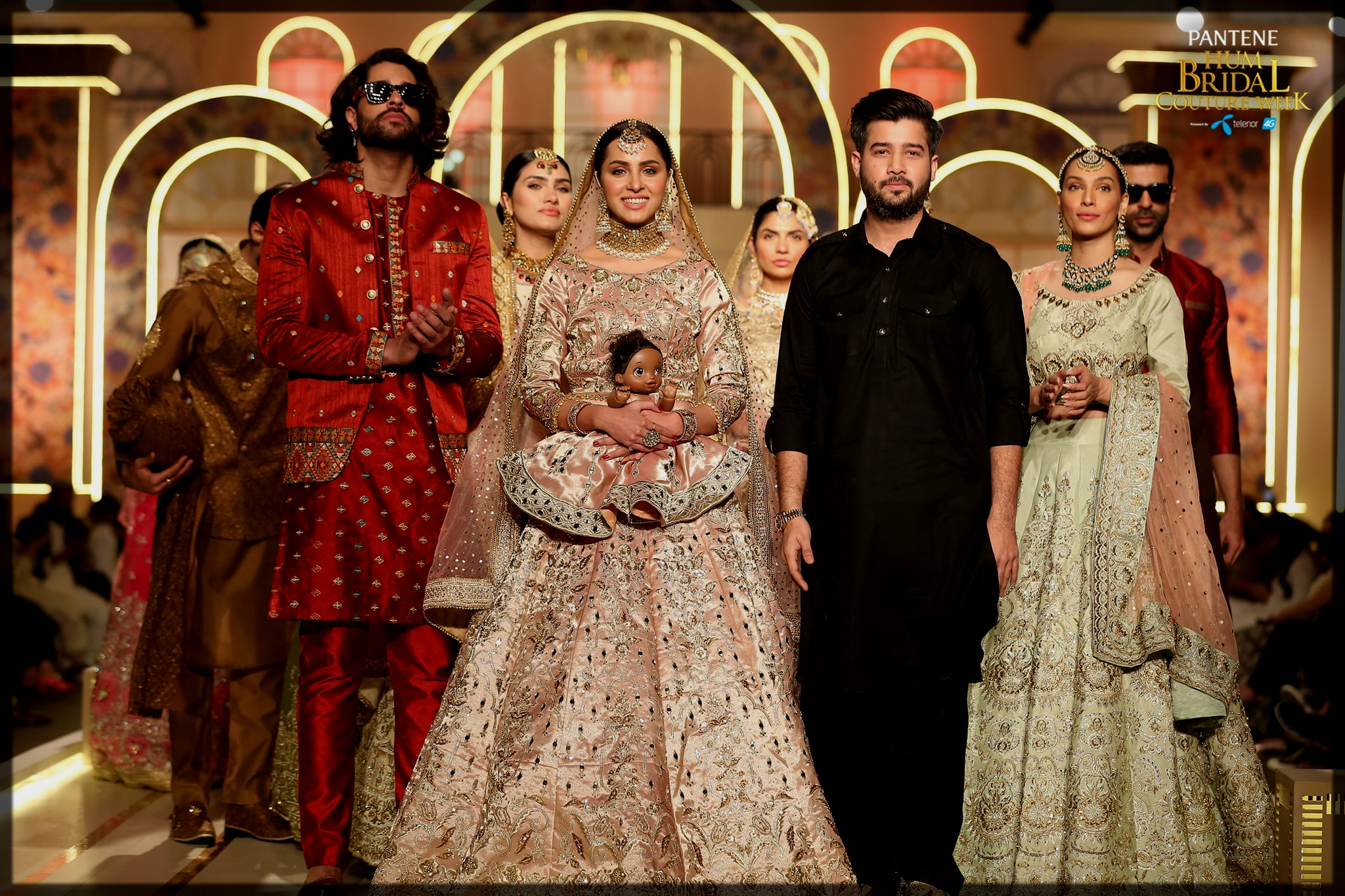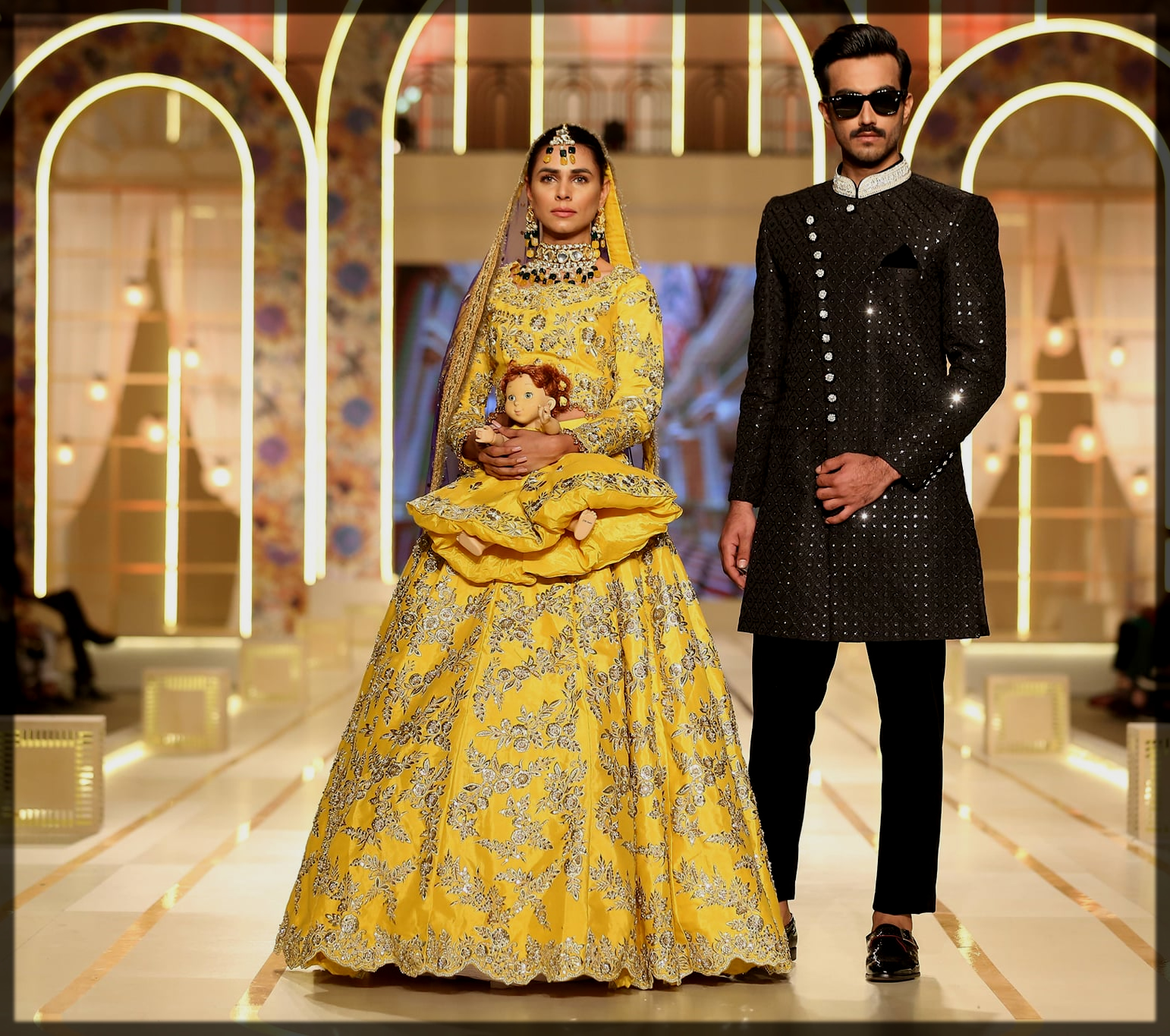 8- Uniworth Dress Co (Luxe Desire)
Uniworth Dress Co-presented their signature men's wear collection "Luxe Desire" at the BCW that consists of vintage and modern designs. It featured sherwanis, pant coats, and waistcoats with the most exquisite zari and kora artwork which made the attires more captivating and chic.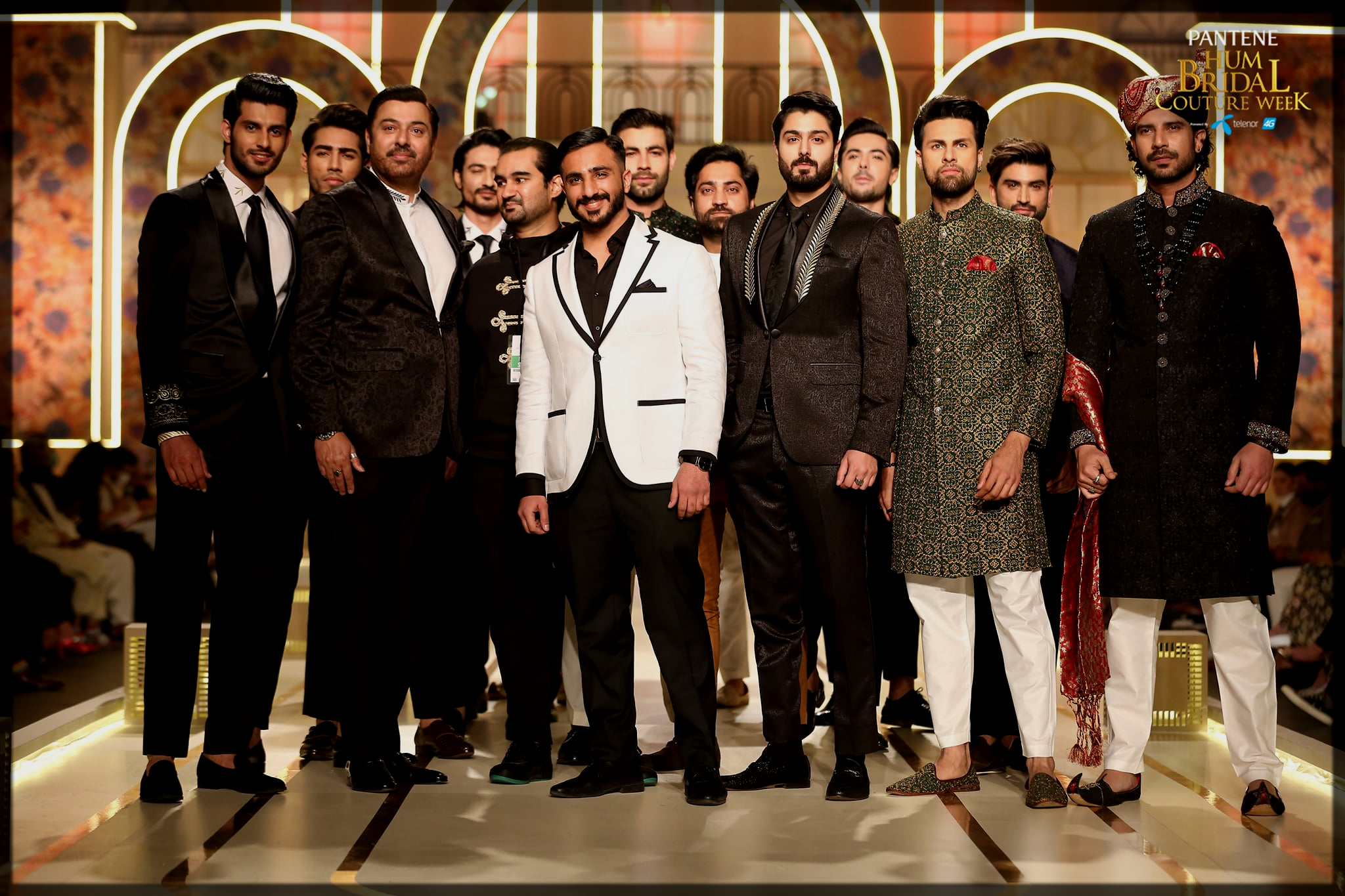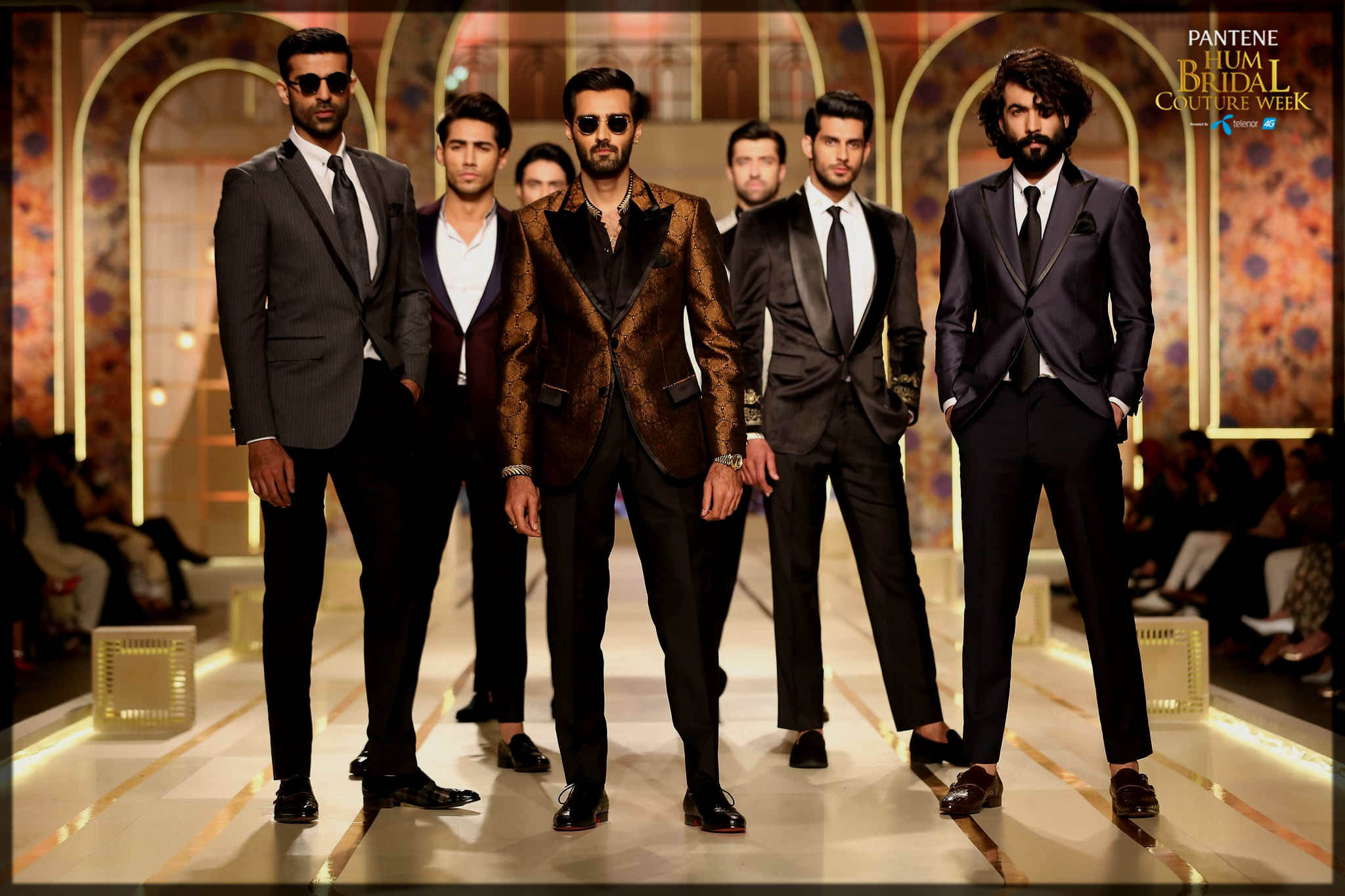 Day 2:
1- Uzma Babar (Zeenat) 
Uzma Babar presented its "Zeenat" collection that was specially designed for the brides. In its Zeenat collection, you will get the most dazzling and striking outfits for the bride to be to make their glimpse attractive and breathtaking. Popular actors Imran Ashraf and Yumna Zaidi walked the ramp for Uzma Babar by holding hands on the second day of BCW.



2- Ahson Shoaib (Dastaan-e-Mohabbat)
At the BCW Ahson Shoaib presented the luxury collection "Dastaan-e-Mohabbat" for the women. They used raw silk, organza, and shimmer fabrics for Dastaan-e-Mohabbat. Ahson Shoaib apparels have a beautifully printed neckline and sleeves. Their daman also has a beautiful embroidered border.
As everyone knows, the long shirt pattern is back with specific modifications, therefore, he also included the long pattern shirt with Ghaghra in its latest collection that will make your look more outstanding and dazzling. Have a look at the image gallery beneath to examine the astonishing collection of Ahson Shoaib.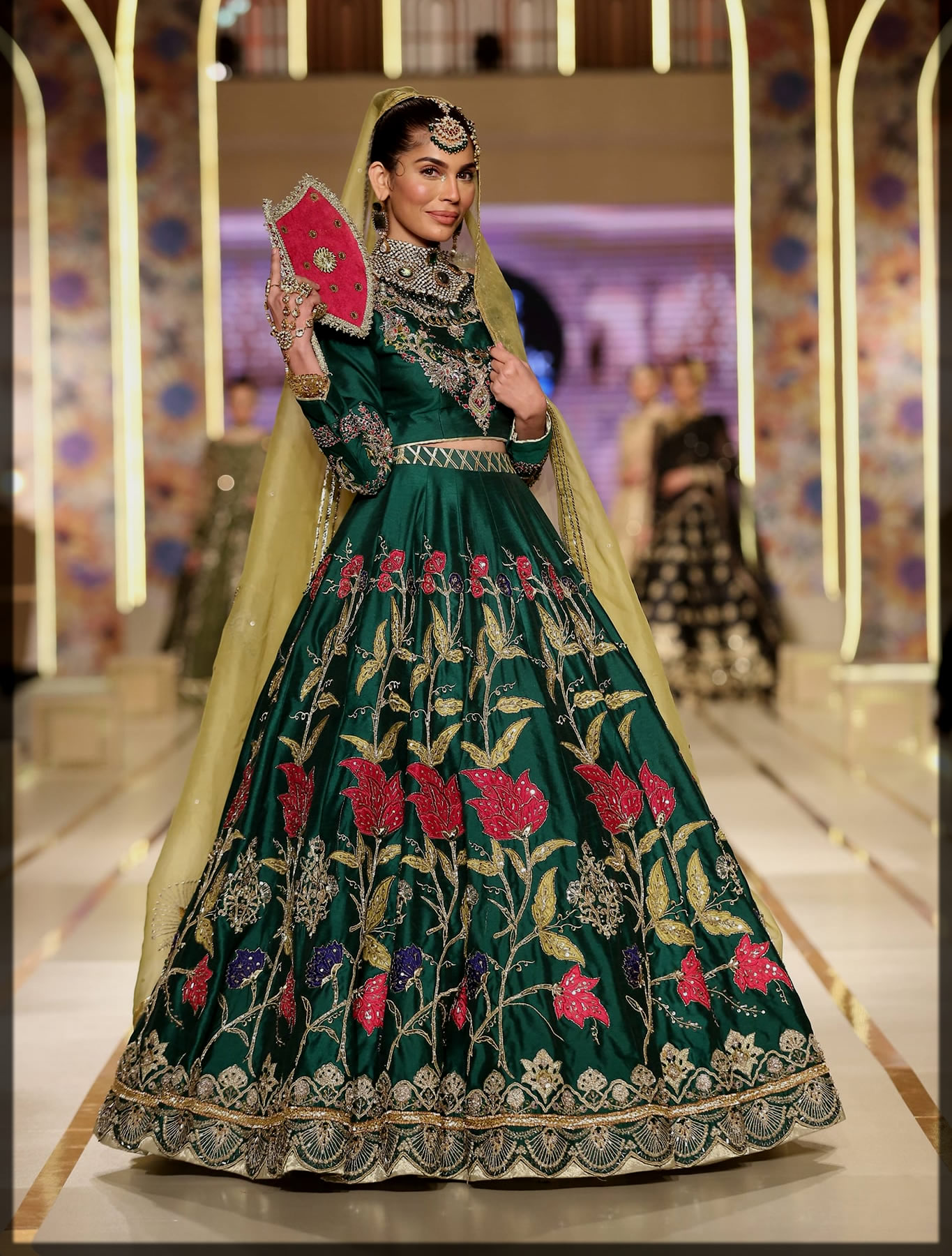 3- Tabya's (Mahal)
Tabya's introduced its "Khaas – Mahal" collection that was prepared for the brides to make their look more traditional and stunning. Famous drama serial "Sabaat" couple Mawra Hocane and Ameer Gilani closed the show for Tabya. Here is a glimpse of Tabya's collection. Mawra Honce wore the traditional red lehenga that was decently decorated with the sequins work.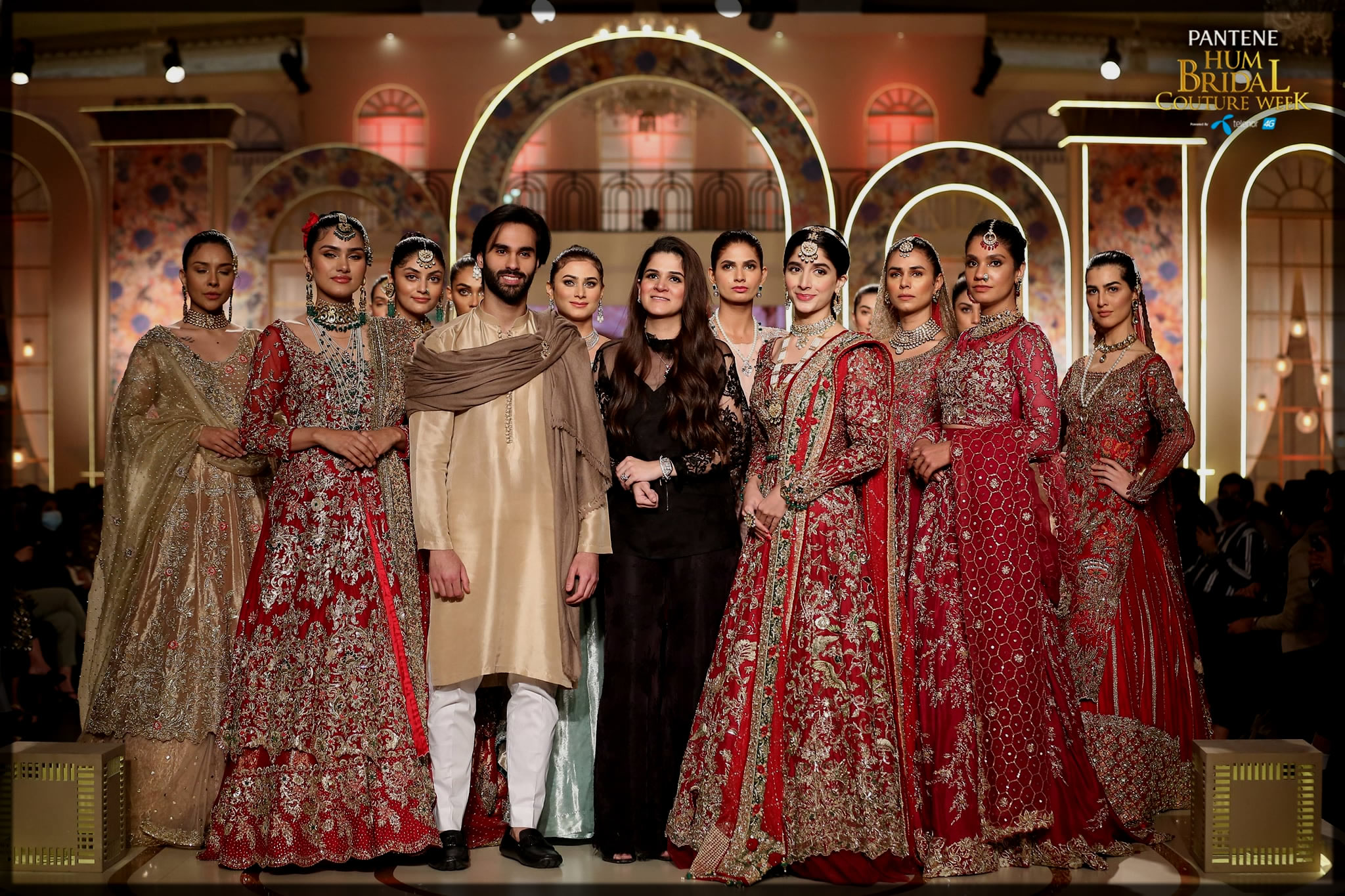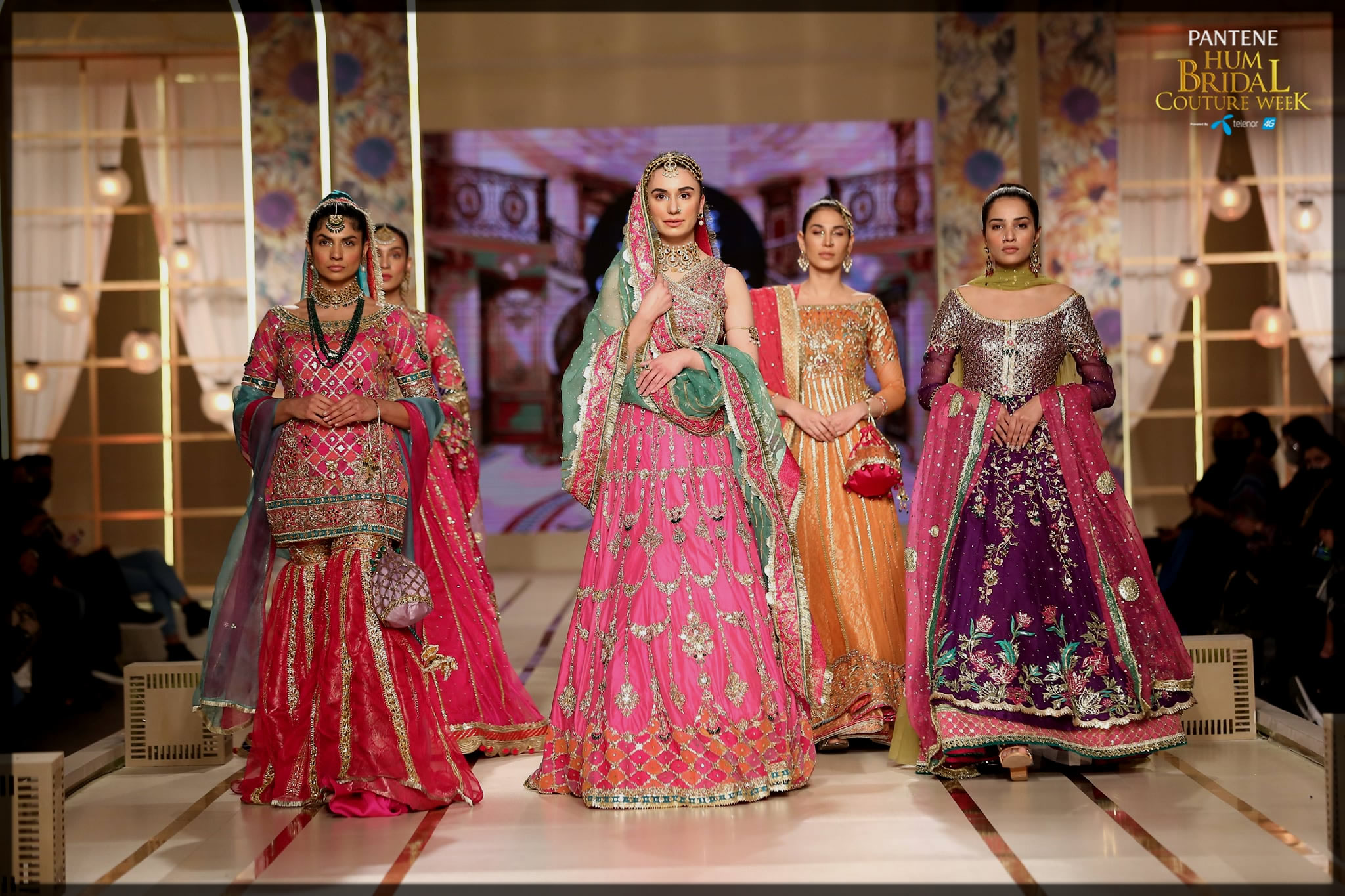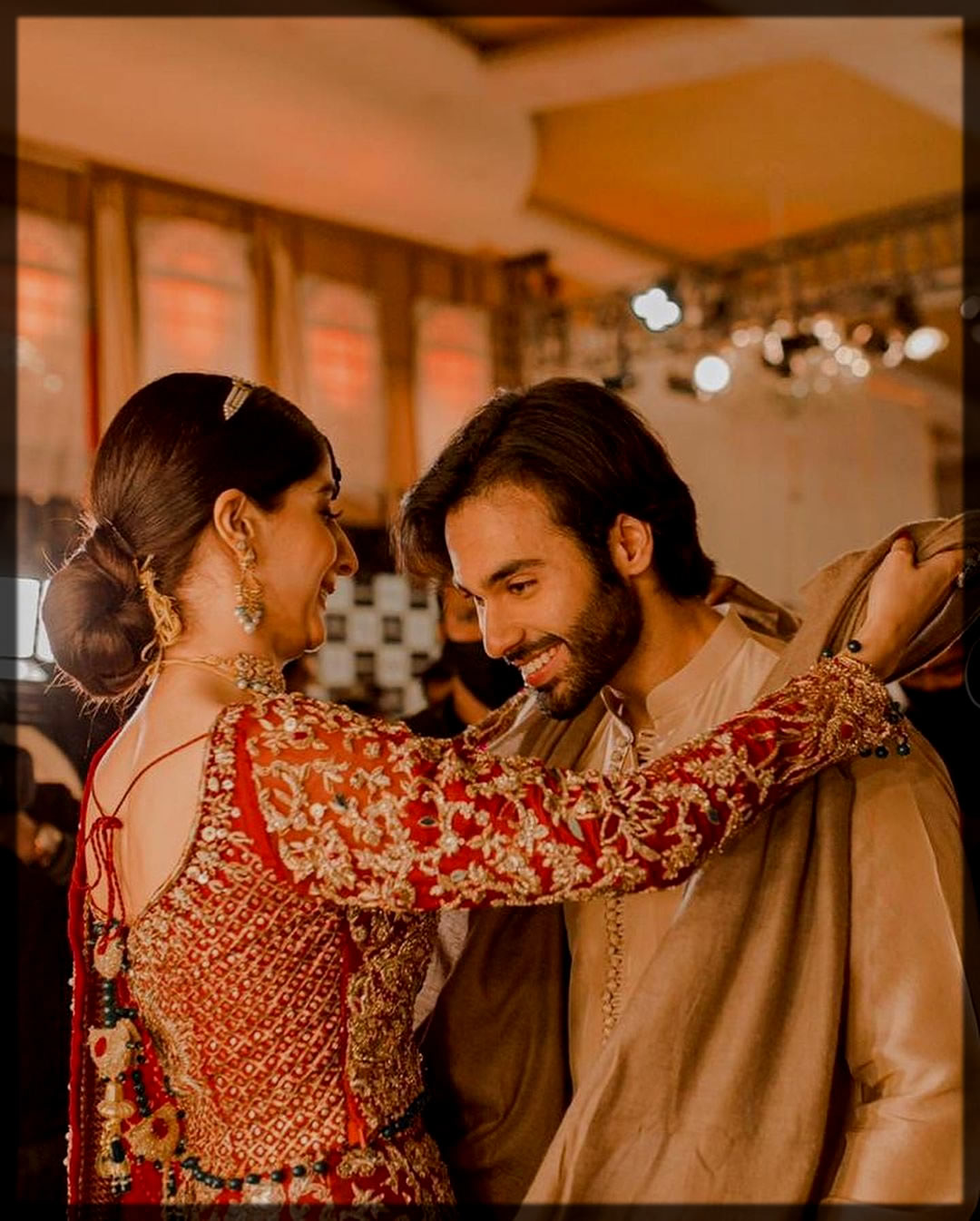 4- Kashee's (Parihaan)
This year, Kashee's likewise presented its signature collection "Parihaan" at the 18th edition of Pantene Hum Bridal Couture Week. Kashee's selected the most famous actresses of the Pakistan industry to showcase their debut collection.
Alizey Shah, Urwa Hocane, Sunita, Sahiba Rambo, Shaista Lodhi, and Sana Fakhar walked the ramp for Kahee. Alizey Shah was the showstopper for Kashee's. She wore the peacock style lehenga that was nicely decorated. The sleek black outfit with the golden embroidered added more charm to the Alizey's getup. Look down to check the complete stunning collection of Kashee.








5- Gentlemen's Club Featuring Diner's, J. and Almirah



The Gentlemen's club showcased an impressive collection for men. All the models were looking handsome in Gentlemen's club featuring Diners, J., and Almirah. Aijaz Aslam walked the ramp by worn the black sherwani. Have a look!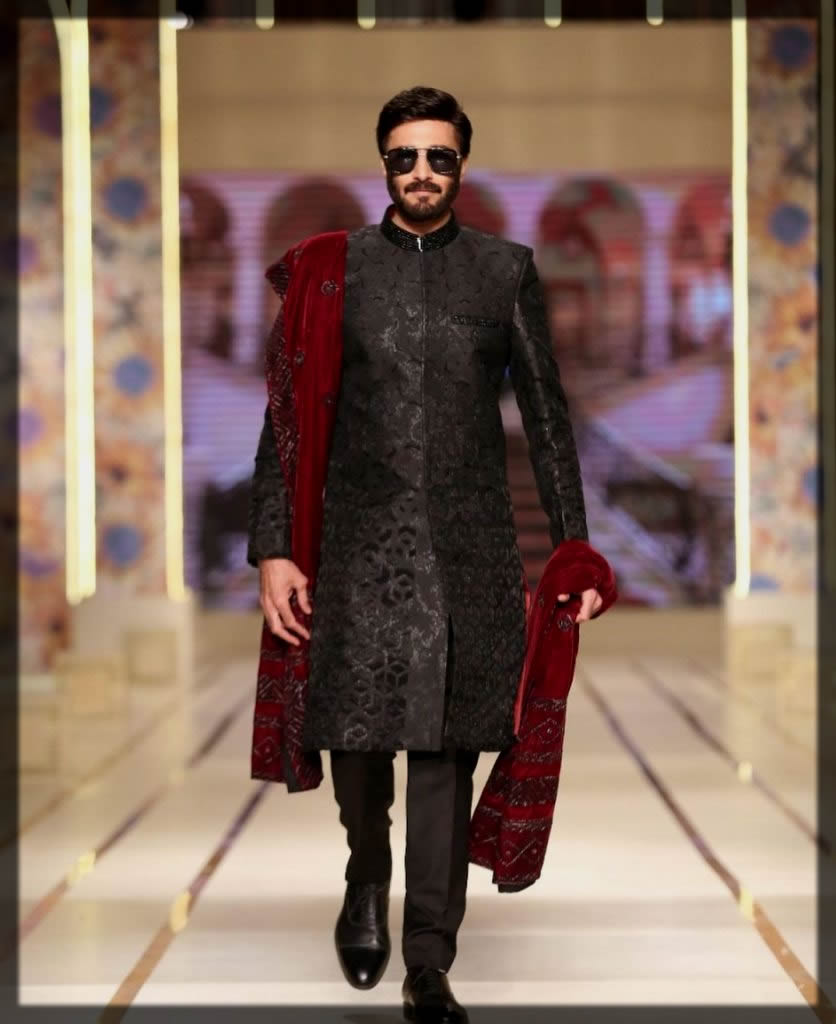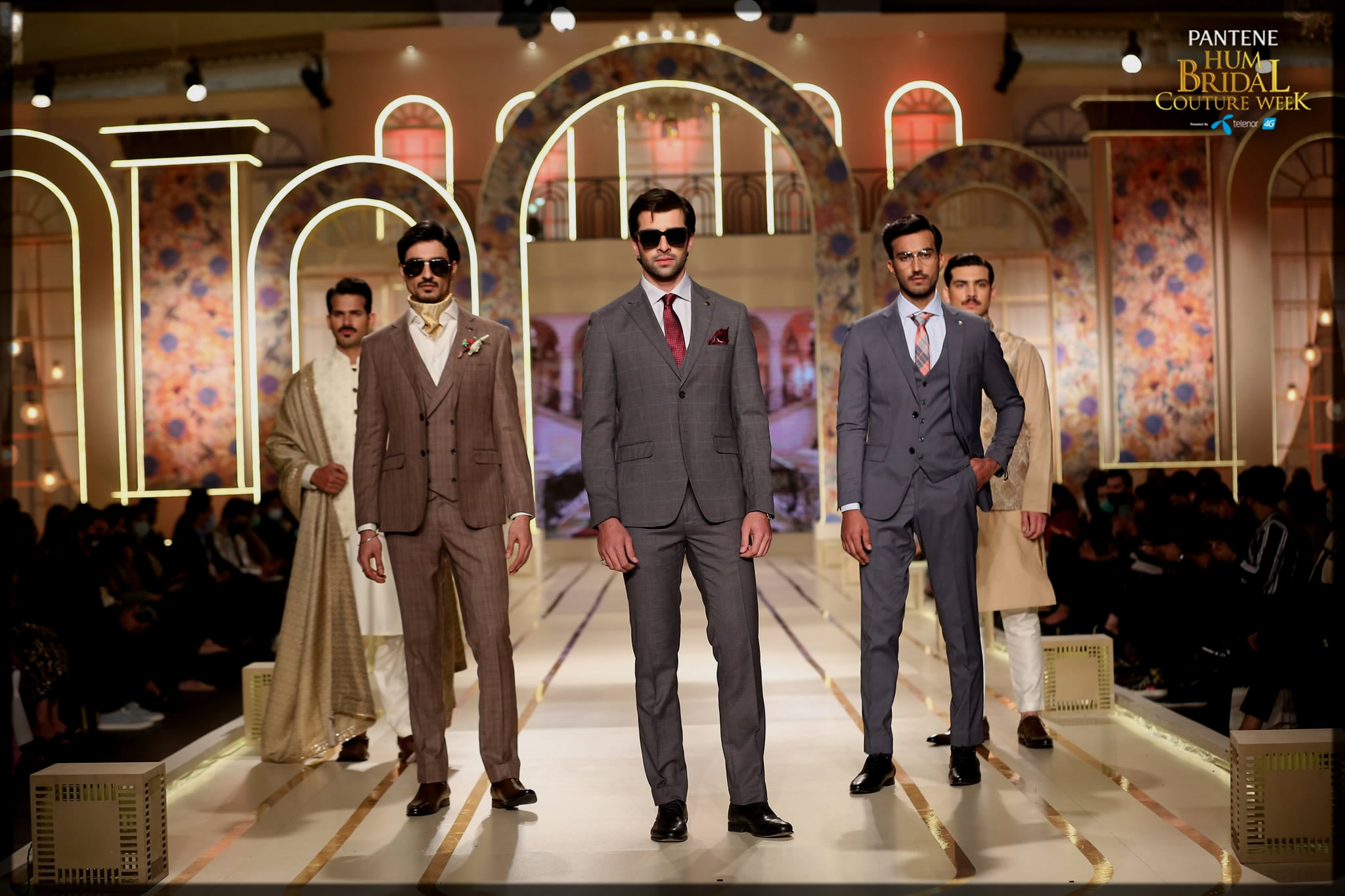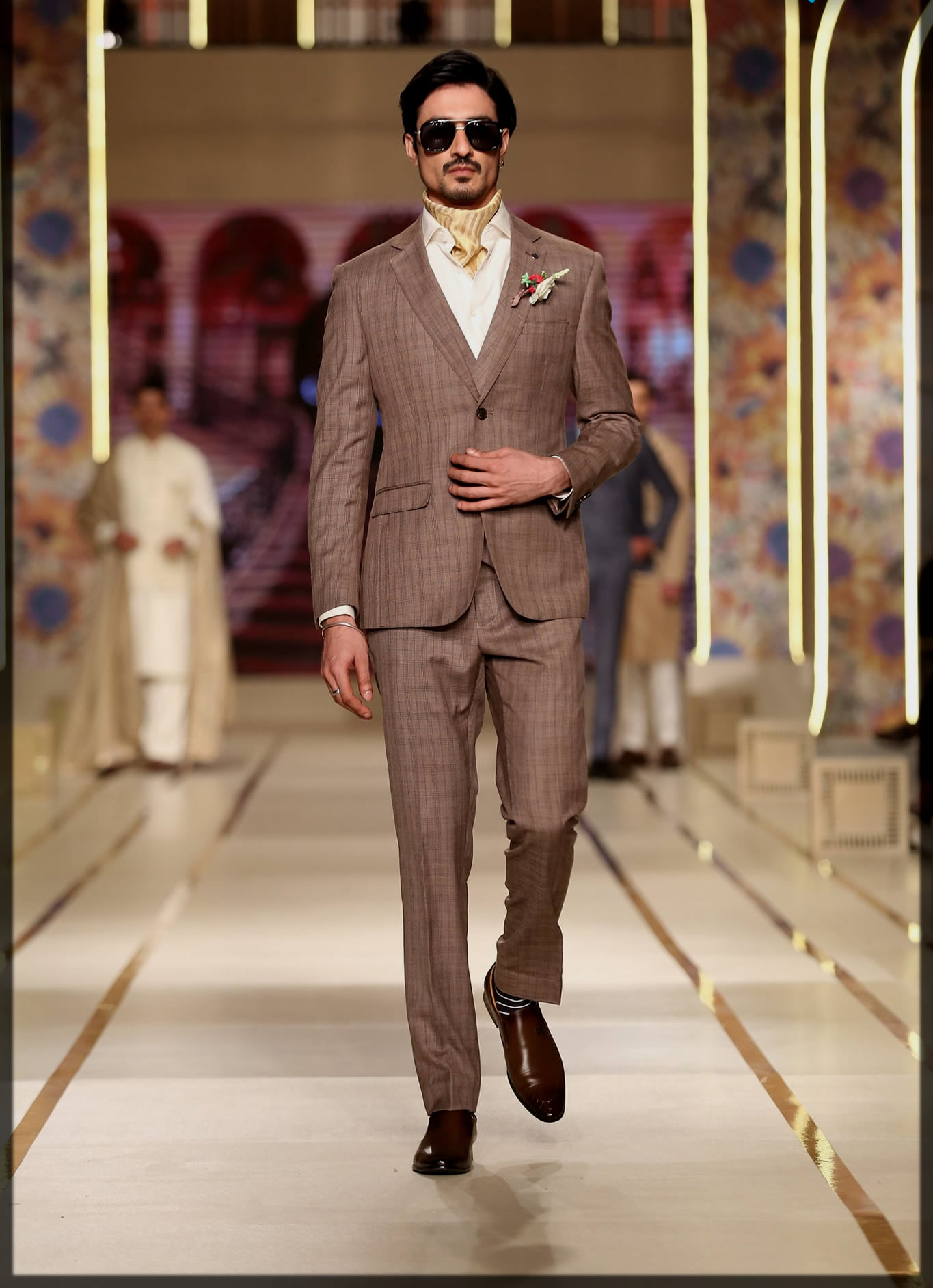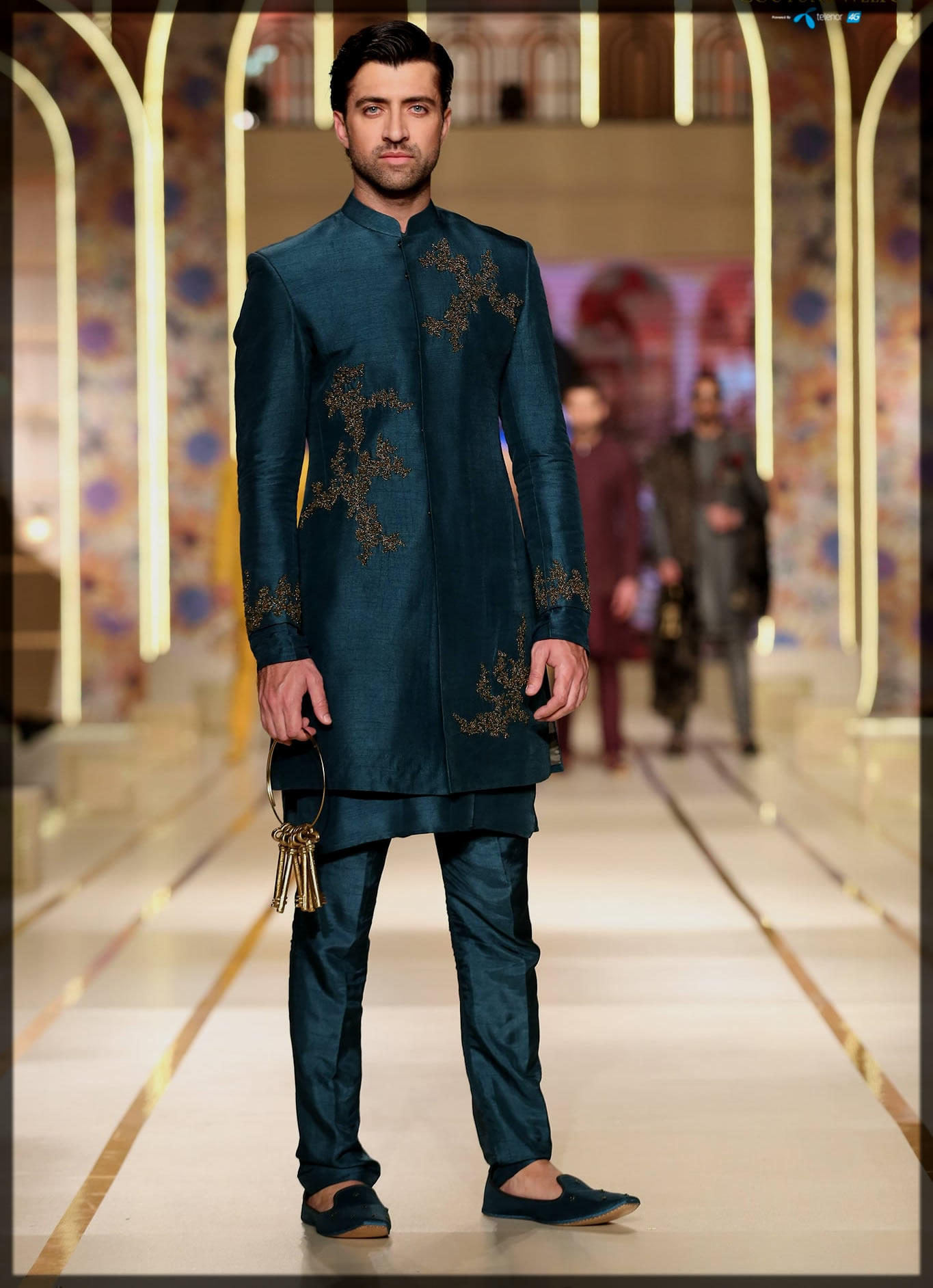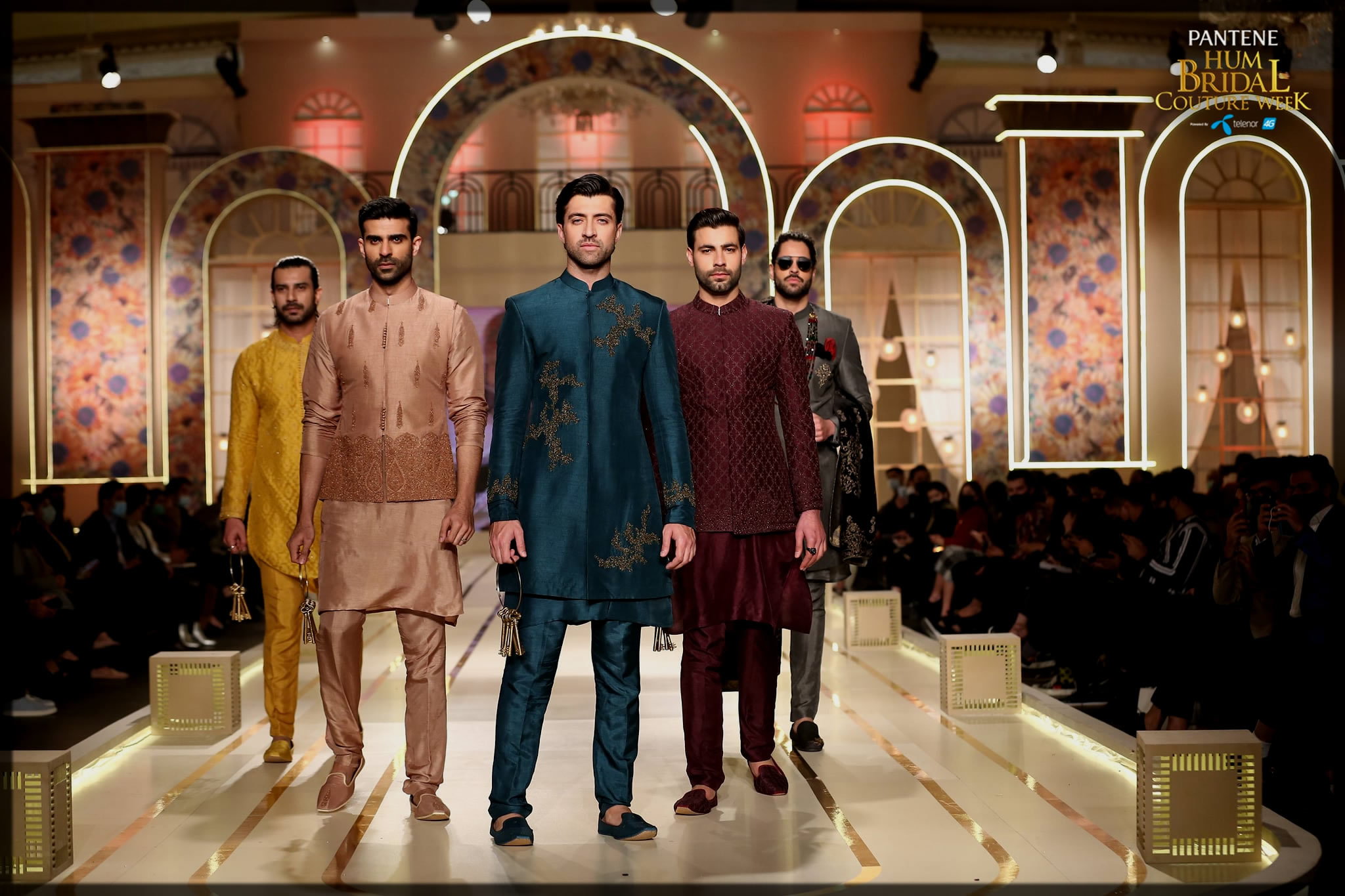 6- Faiza Rehman (

Peony Dream)
Faiza Rehman the notable designer presented its "Peony Dream" catalog by introducing the newest and latest pattern attires for teens and women. The peacock and ruffle styles dresses of the Faiza will encourage you to make your gaze more appealing and alluring. Ayesha Omer closed the show for Faiza Rehman.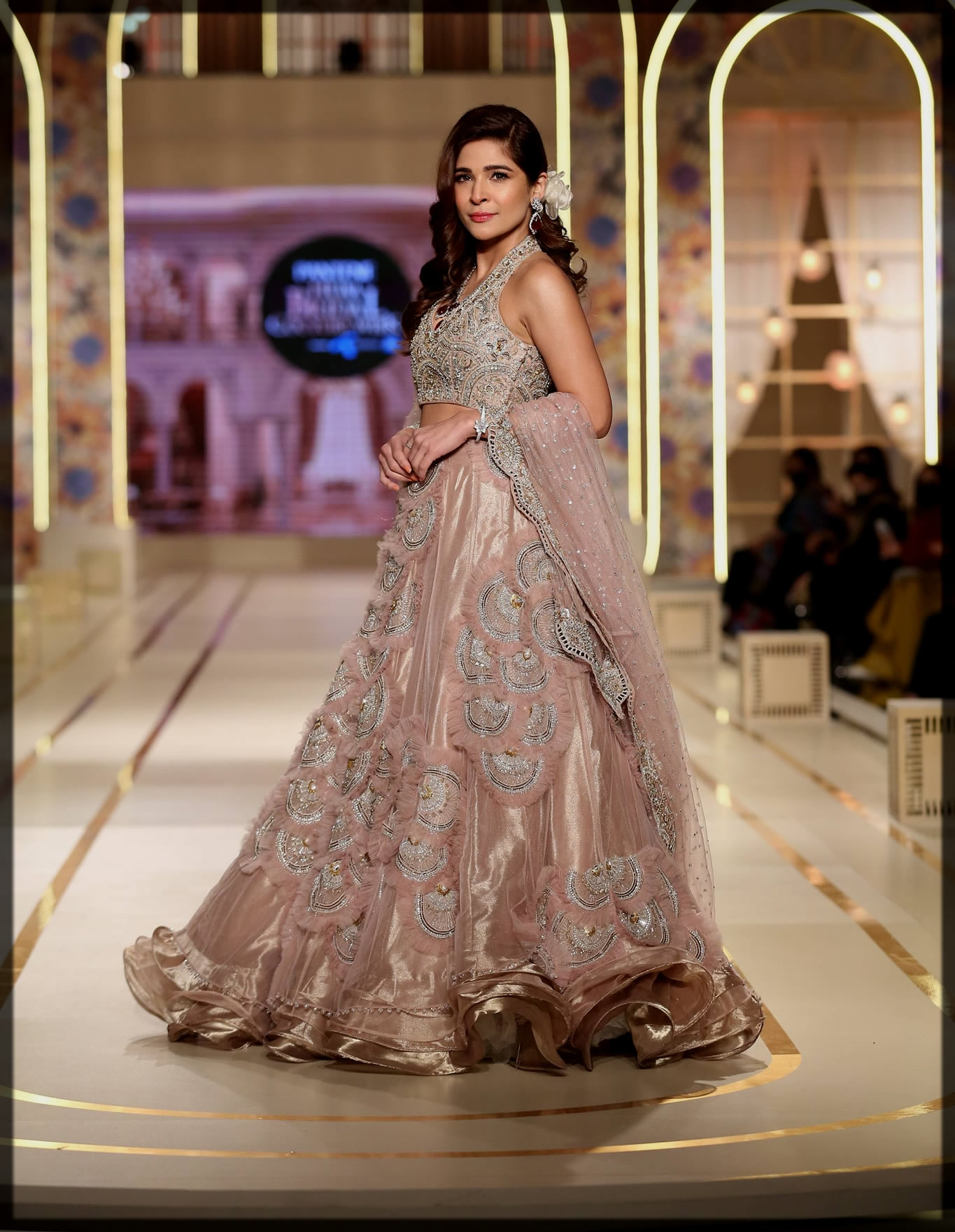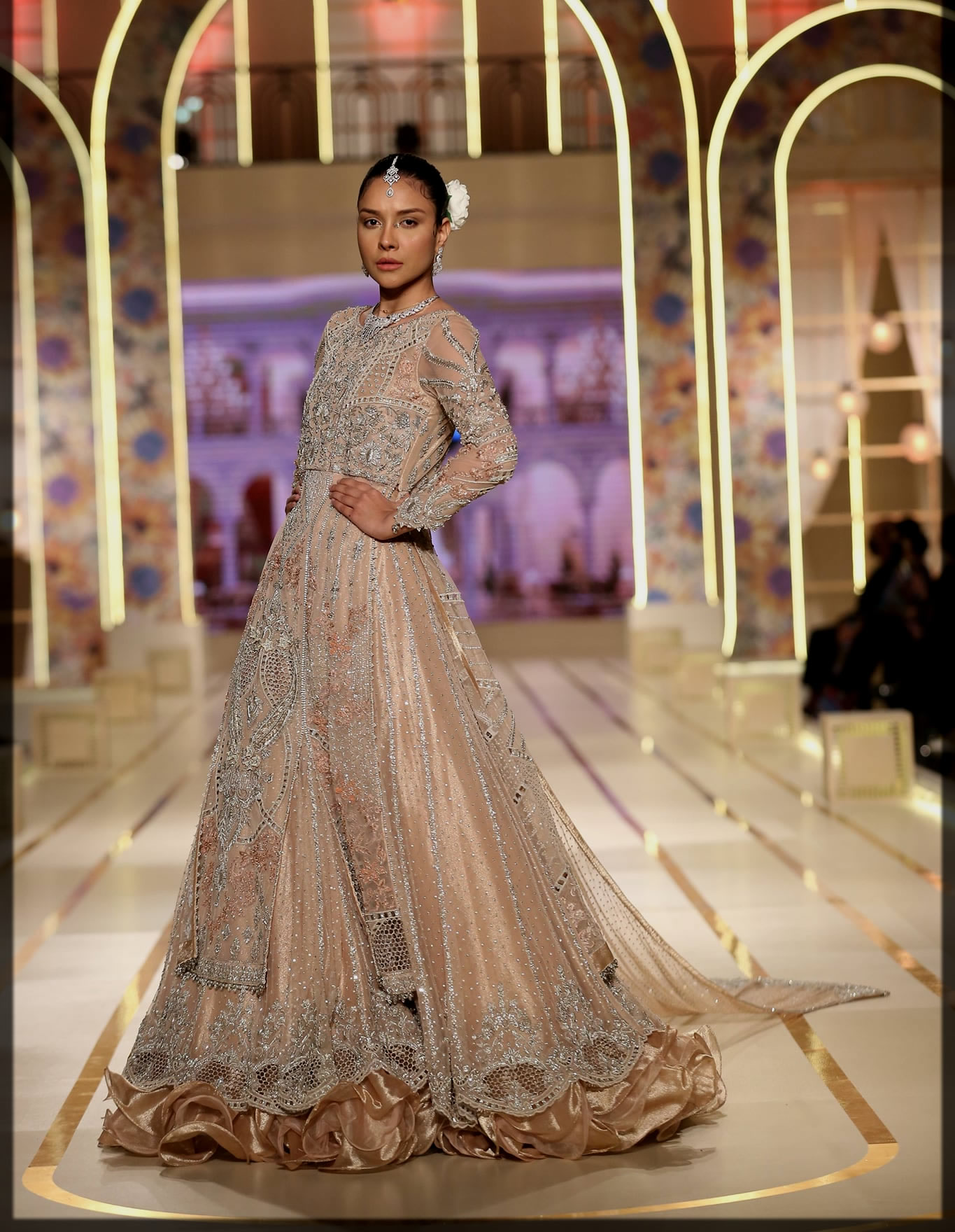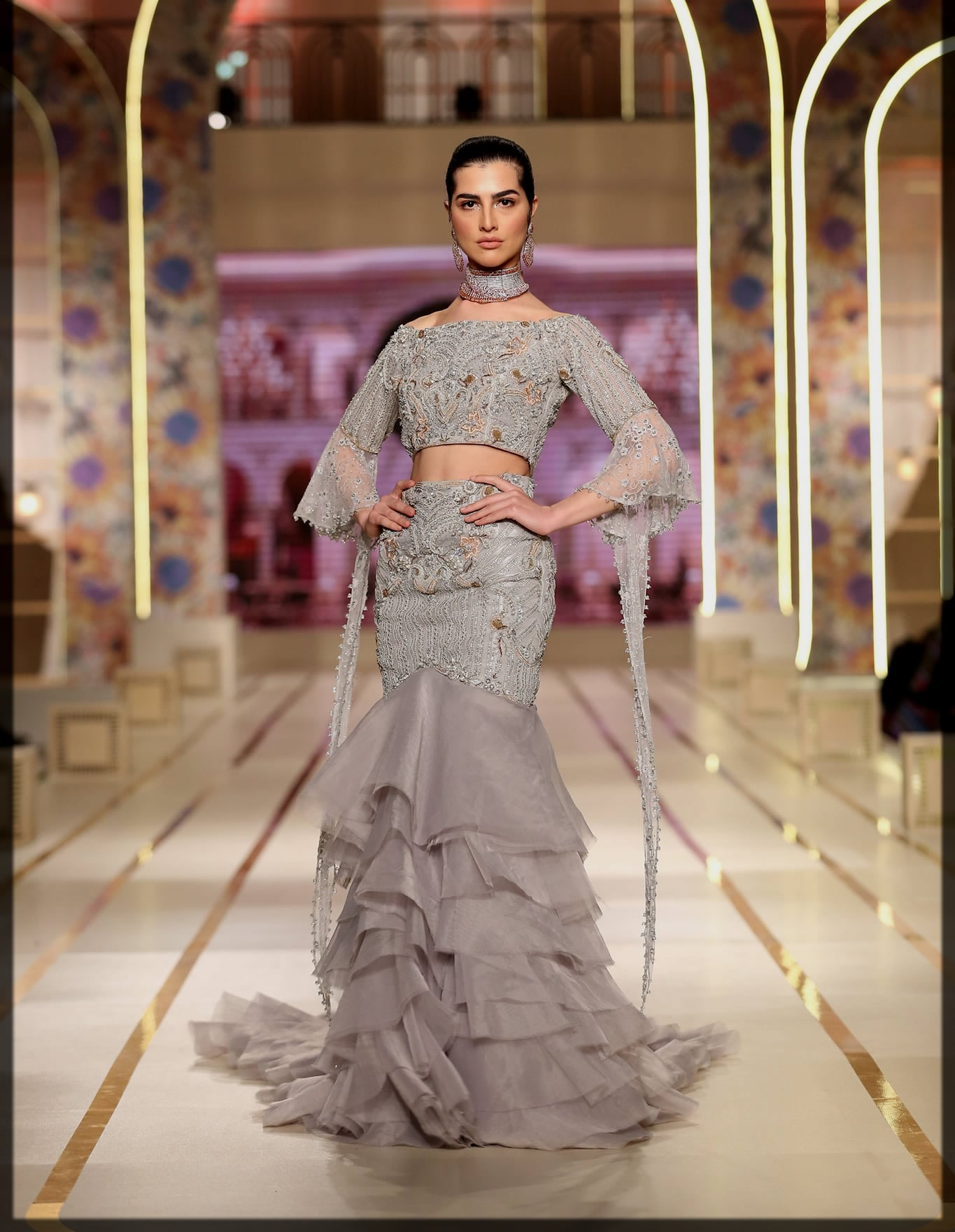 7- Arsalan Iqbal's Men Collection

Look at the Arsalan Iqbal collection below that will surely help you to make your groom look more classy and handsome. Also, Arslan Iqbal showcased its luxury collection for the grooms. He used a precise and reliable texture that will give you a comfortable yet classy look.
Arsalan Iqbal the notable designer of the Pakistan fashion industry, always presents the newest and chic pattern clothes for men. Because they know very well, men also need the most novel and trendy pattern attires like the women. Therefore, each season they bring some uniqueness in the menswear attires. Look below to scroll through the latest collection of Arslan Iqbal.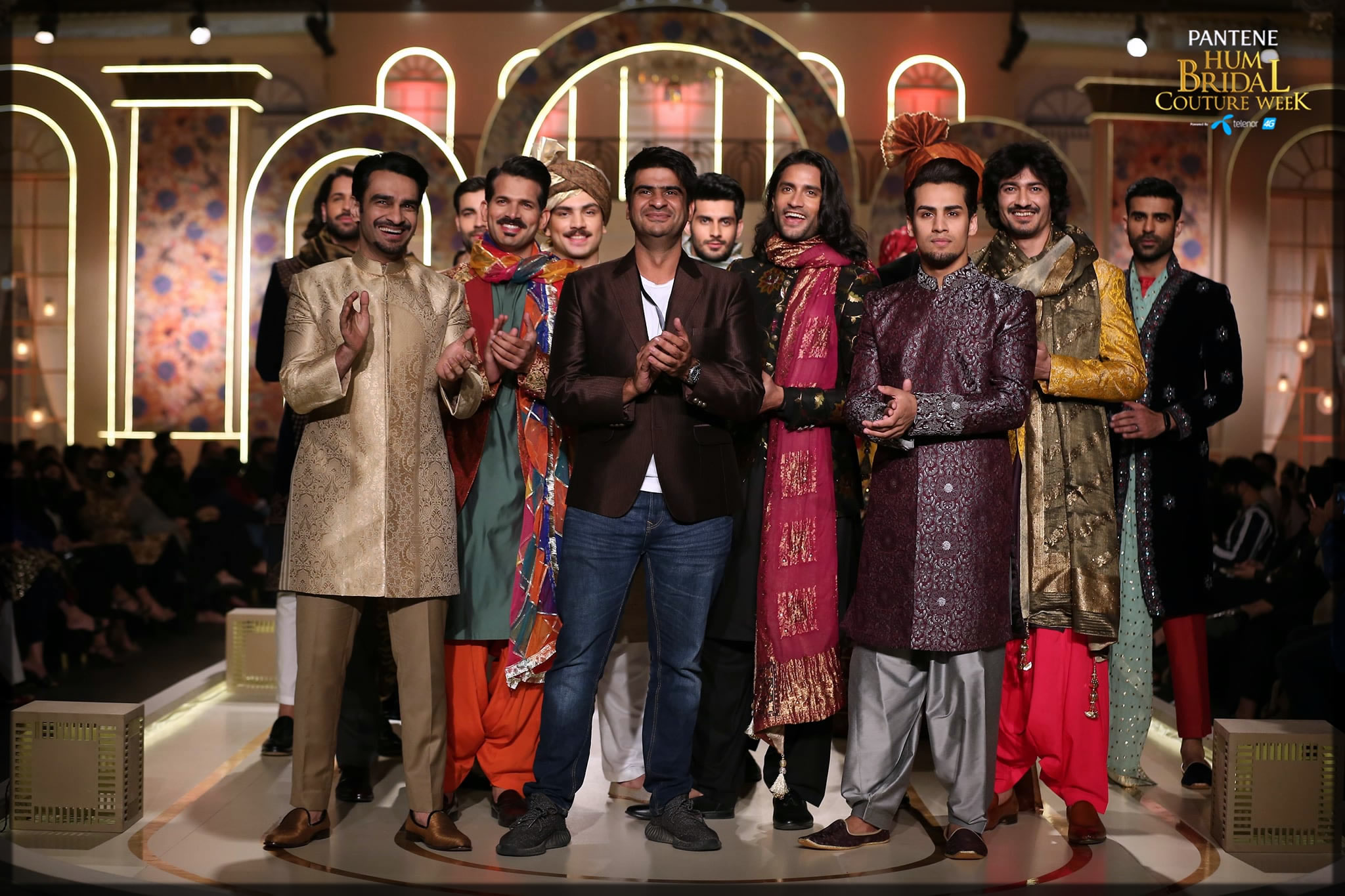 Day 3:
1- Ayesha and Usman (Riwaayat)
This year, Ayesha and Usman likewise presented their lavish "Riwaayat" collection. They used vibrant hues and reliable texture for making their Bridal Couture Week attires. Off the shoulder, side shoulder, strapless, and many new designs are included in their latest collection. Have a glimpse below to get the complete collection of Ayesha and Usman.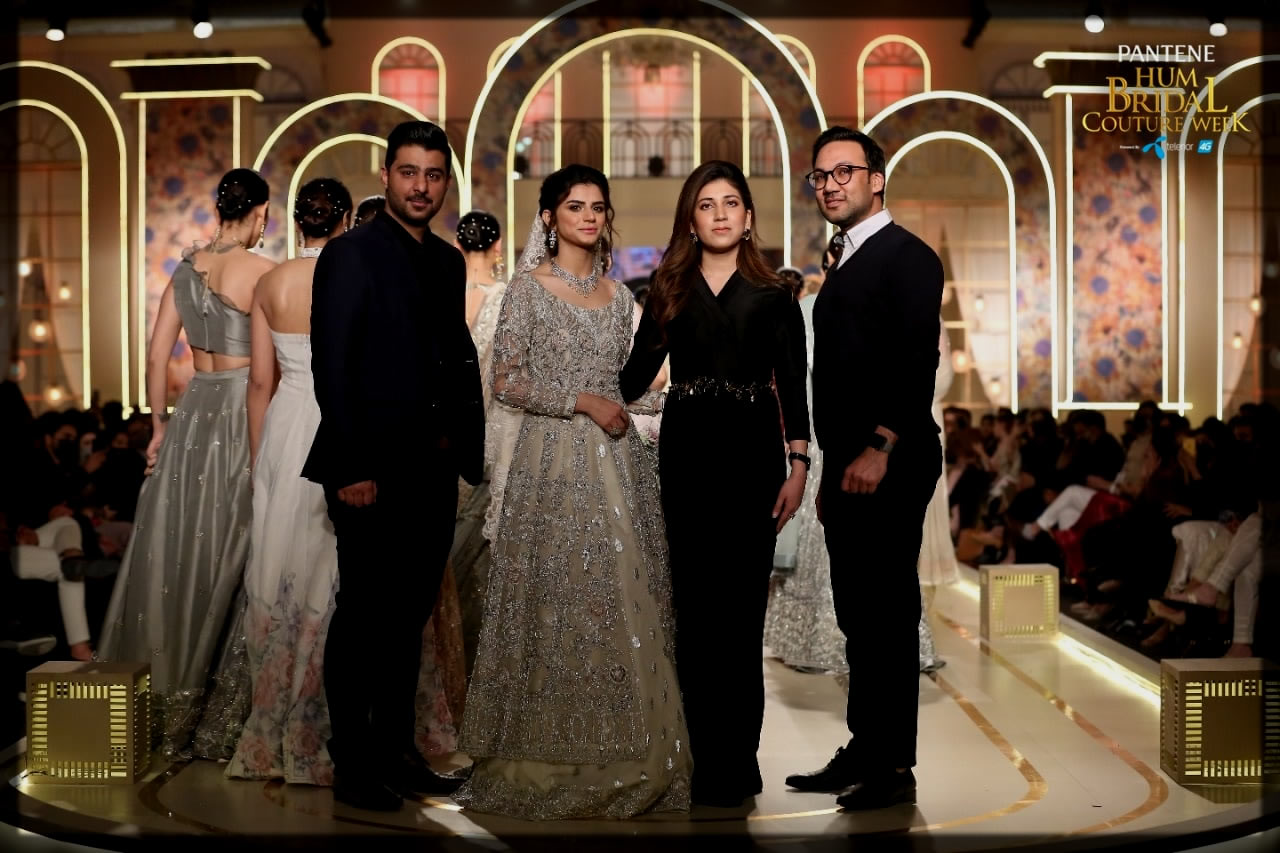 2- Nisa Hussain Bridal Collection
Hiba Khan the wife of Fawad Ahmed Chaudhry introduced its luxury bridal wear collection at BCW. The most popular actresses Resham and Hareem Farooq walked the ramp for Nisa Hussain. Both co-stars wore them outfit with sequins and dabka that was fully furnished. All models of Nisa Hussain walked with confidence on-ramp and made the event jazzier and breathtaking.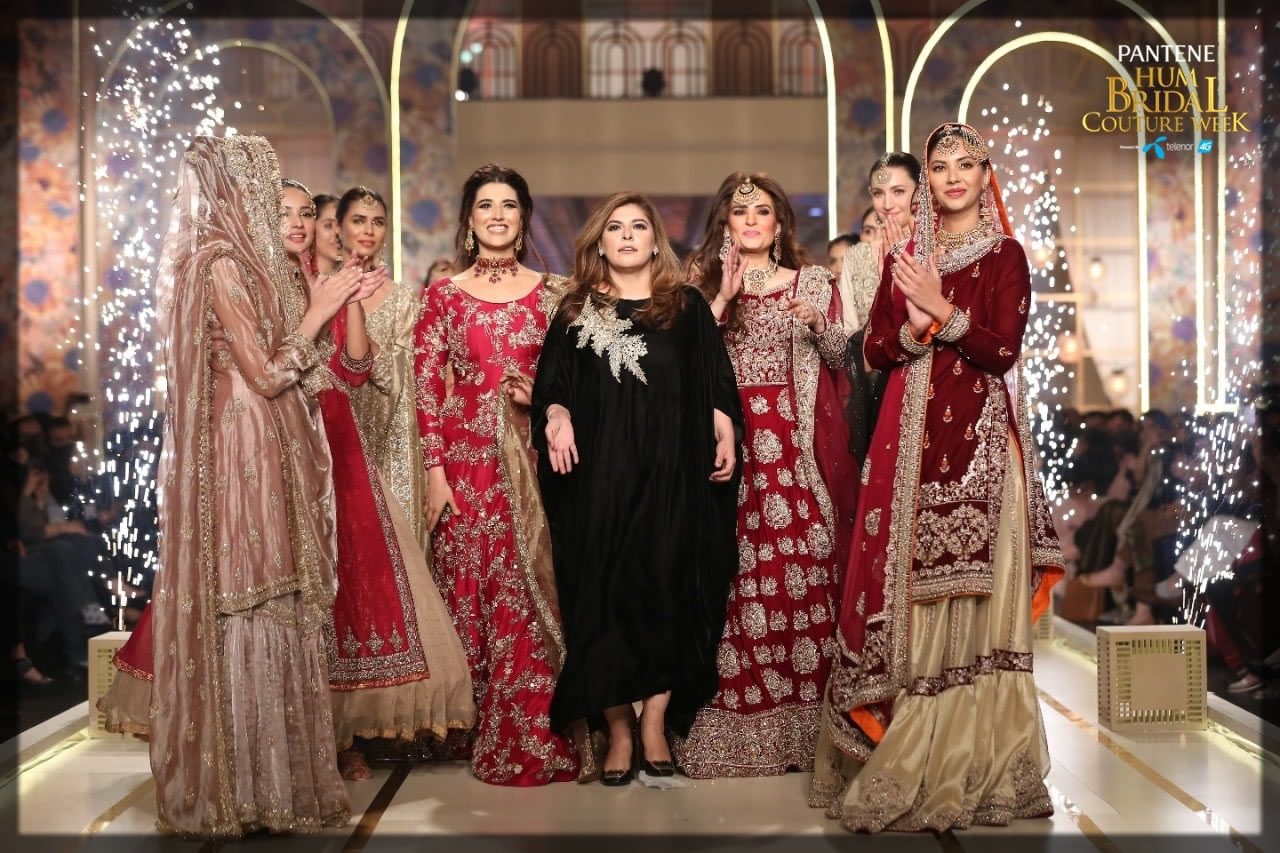 3- Jermyn Street collection (Shab-e-Vasl)
The united kingdom brand Jermyn Street presented its "Shab-e-Vasl" collection at the 18th edition of Bridal Coutre Week. The most famous Youtuber Shahveer Jafry and the television star Muneeb Butt walked the ramp for Jermyn Street. 
Shahveer Jafry wore the sky blue kurta pajama and waistcoat that was nicely adorned. He walked with confidence and a smile and won the hearts of crowds. While Muneeb Butt wore the striking pant coat and dashing sunglasses to showcase the latest collection of Jermyn Street.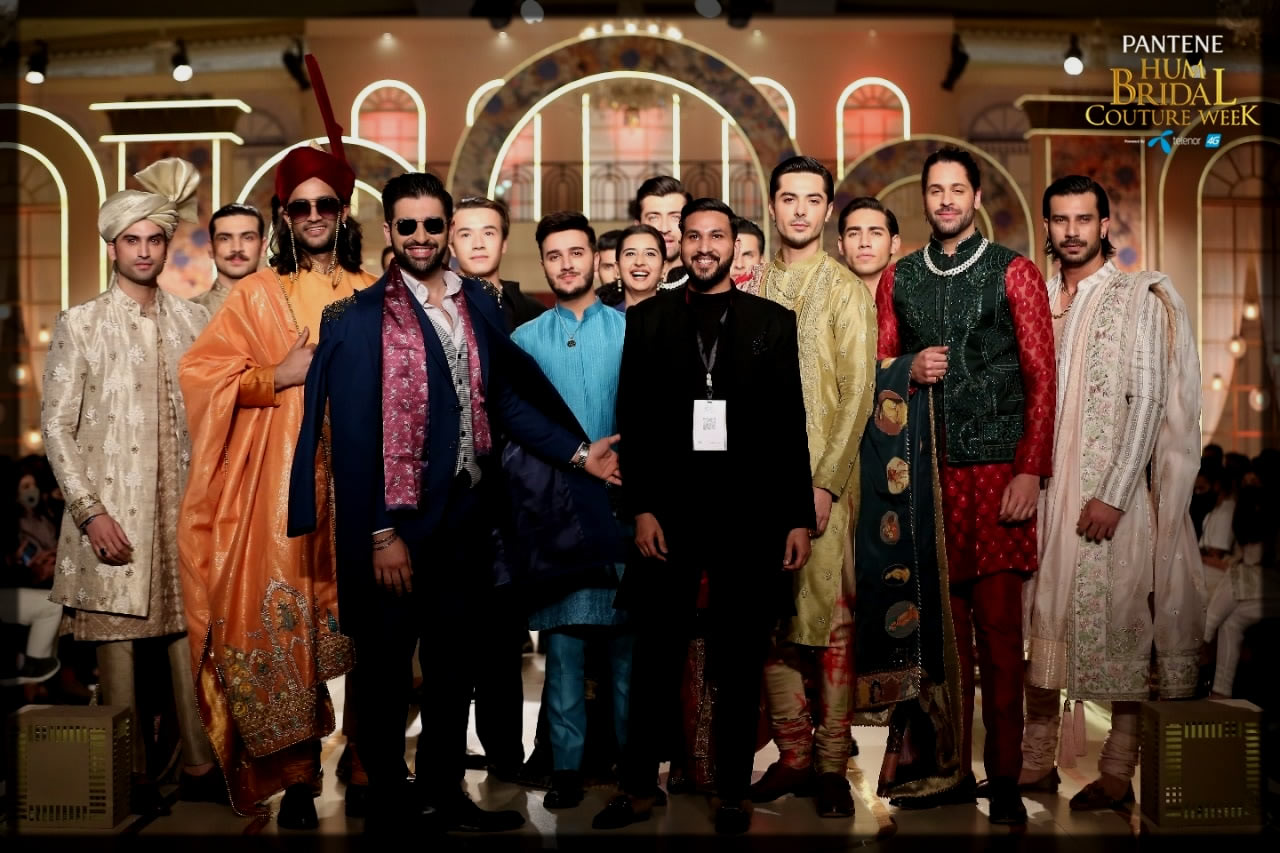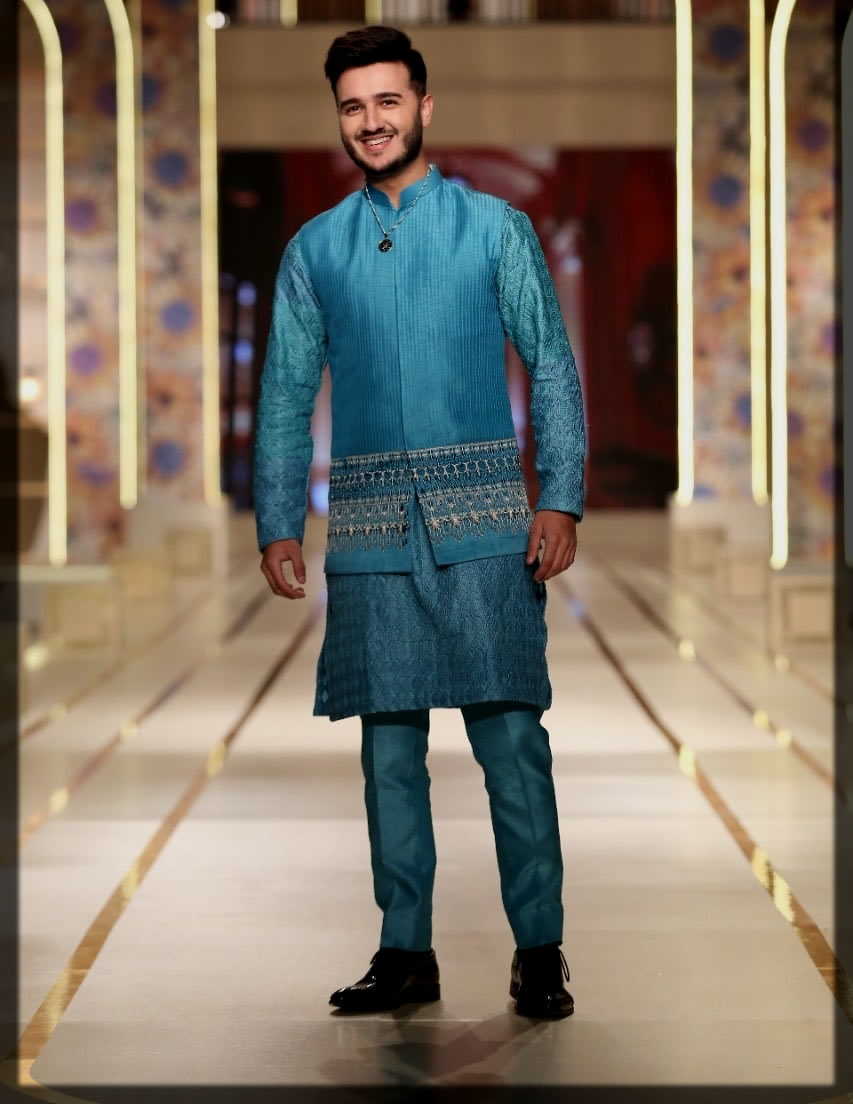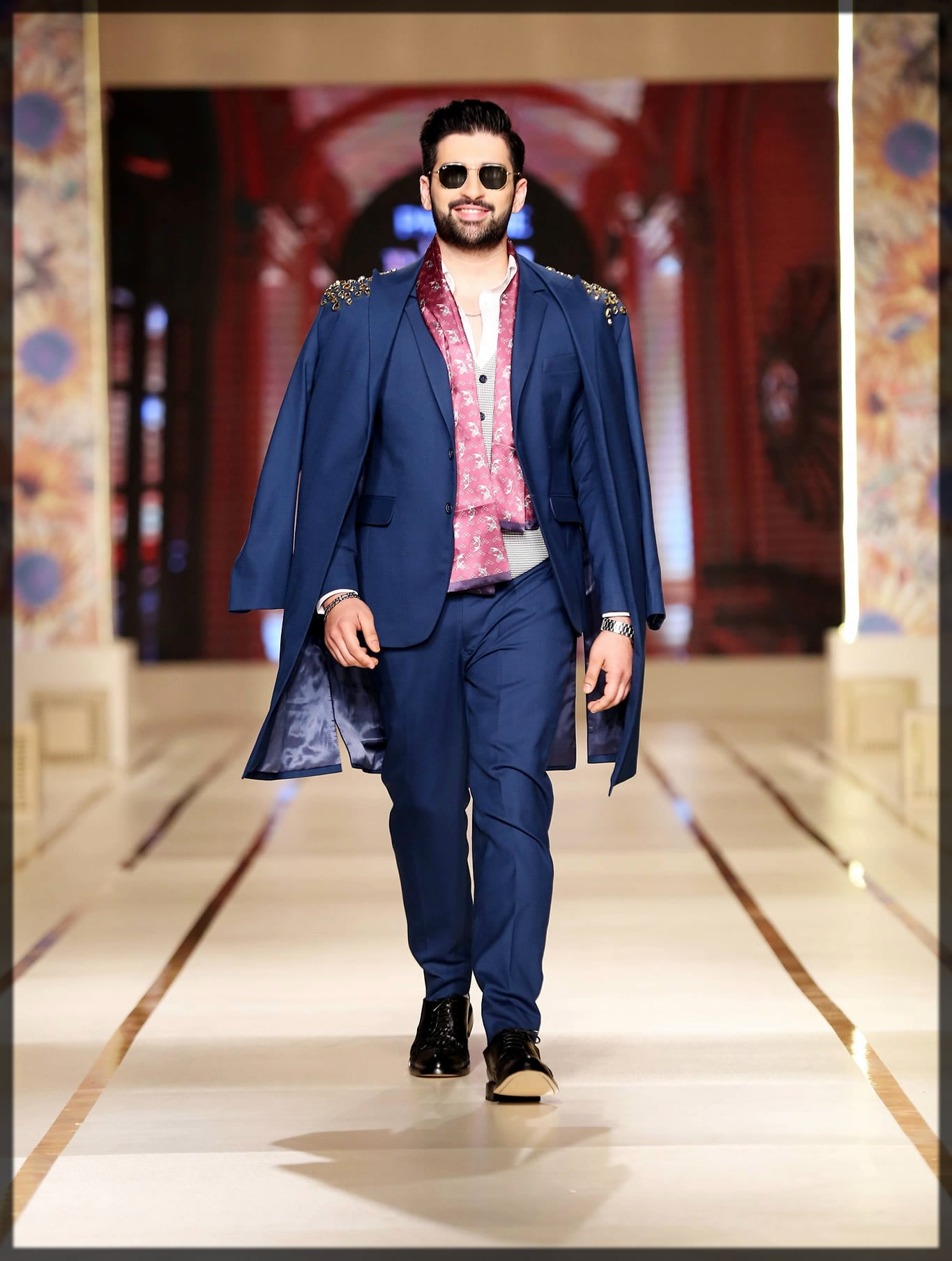 4- Sable Vogue (Mussarat Sultana)
Sable Vogue presented her collection "Mussarat Sultana" at the 18th edition of Pantene HUM Bridal Couture Week. In its latest collection, you will get the heavily and nicely embroidered dresses for the brides to be.
Black is the most favorite shade of ladies that adds more grace and appeal to their look and personality. Mussarat Sultana also presented the nicely embellished black outfit for the brides so they can make their look more dazzling and appealing on their big day.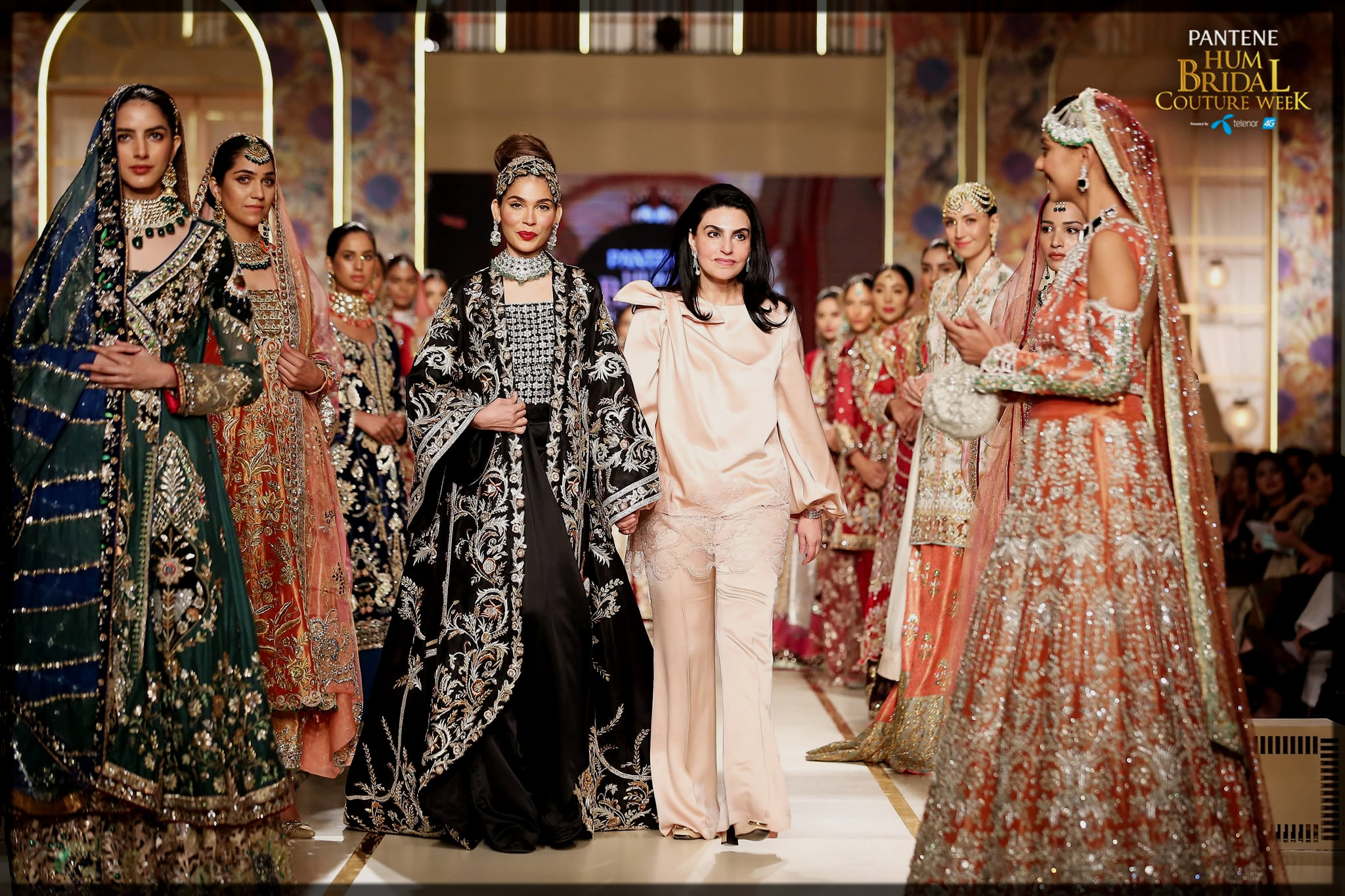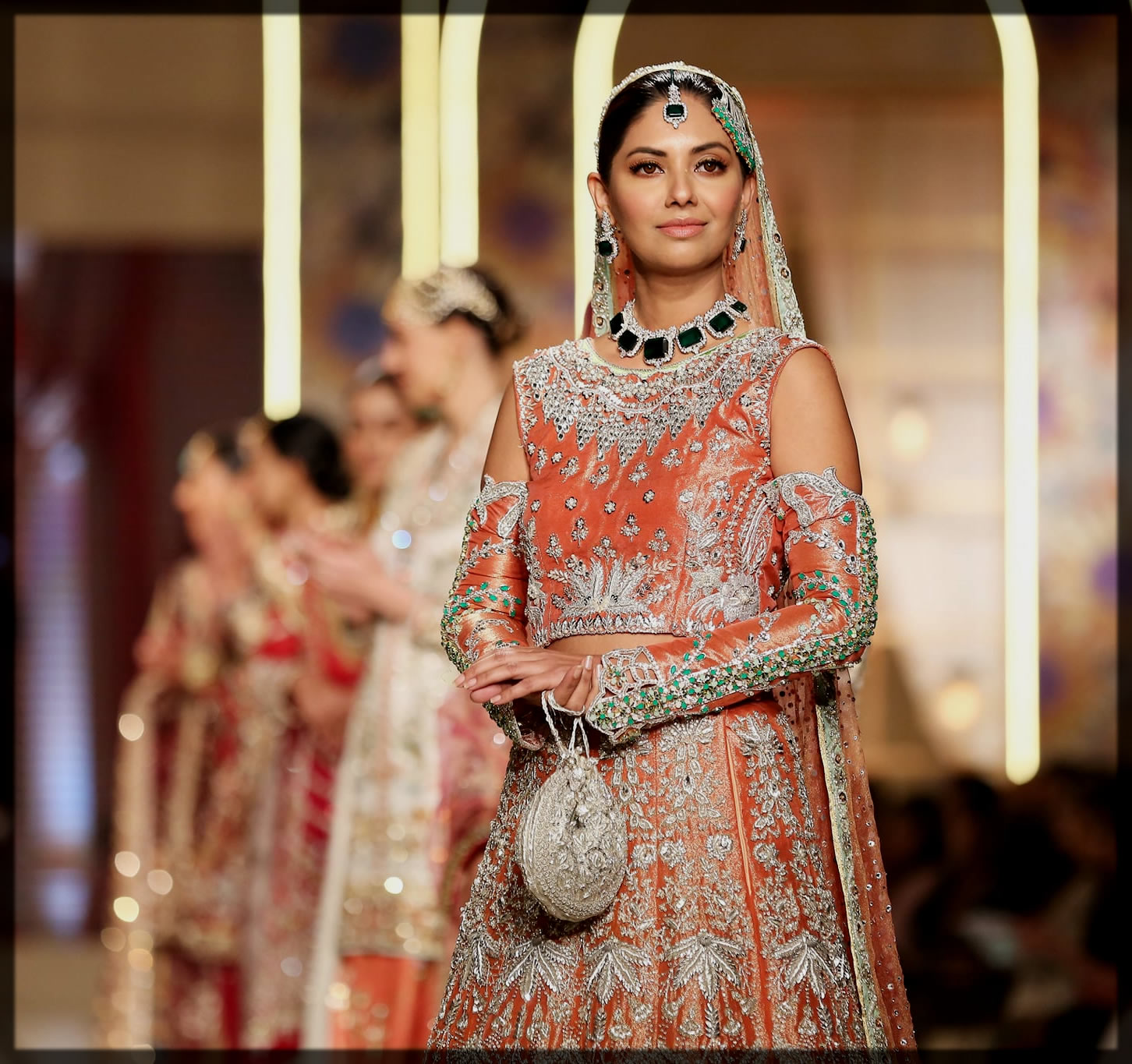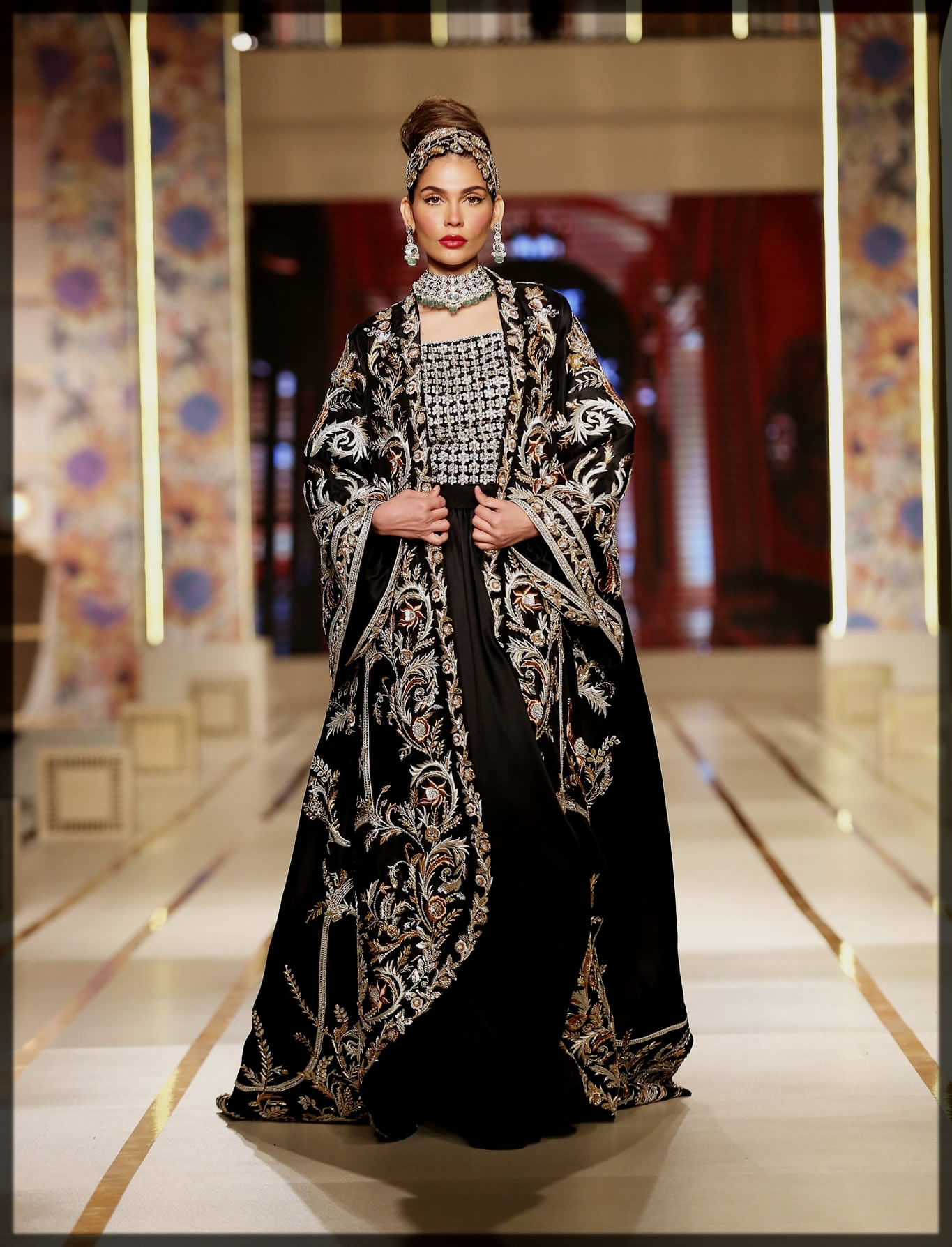 5- Ahsan's Menswear (دریا)
Have a look at Ahsan's menswear collection. He presented its "دریا" collection at the Bridal Couture Week that consist of sherwanis, pant coat, shalwar kameez, and waistcoats. The famous actor Asfar Rehman closed the show for Ahsan's menswear.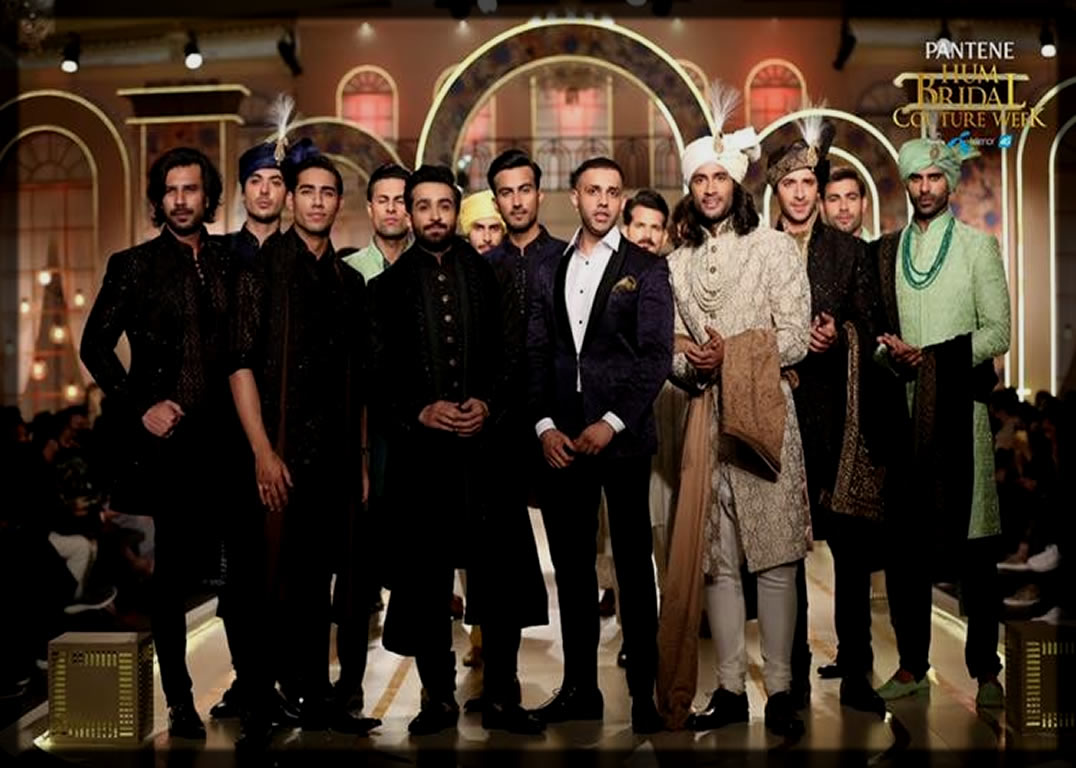 6- Ali Xeeshan (

Numaish

)
On the last day of BCW, Ali Xeeshan presented his brand new collection "Numaish". He walked with his pregnant wife on the ramp at the end and stole the charm of the event. Ali Xeehsan affectionately kissed her forehead and showed the love for his beautiful (mommy to be) wife.  
By presenting his "Numaish" collection, Ali Xeeshan encourages people to say no to dowry. Let's have a look at the complete collection of Numaish and likewise the pictures of Ali Xeeshan with his beautiful pregnant wife below.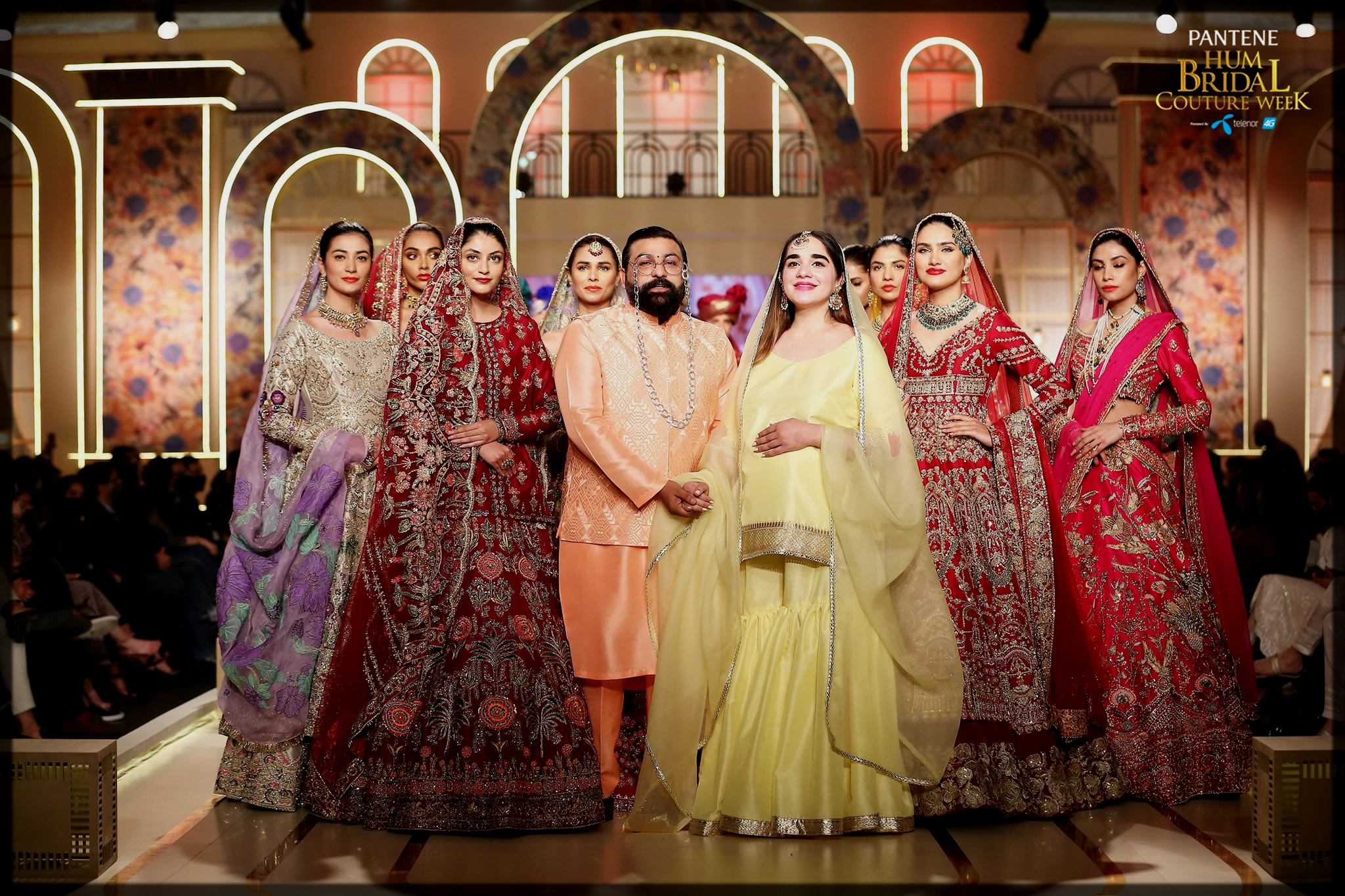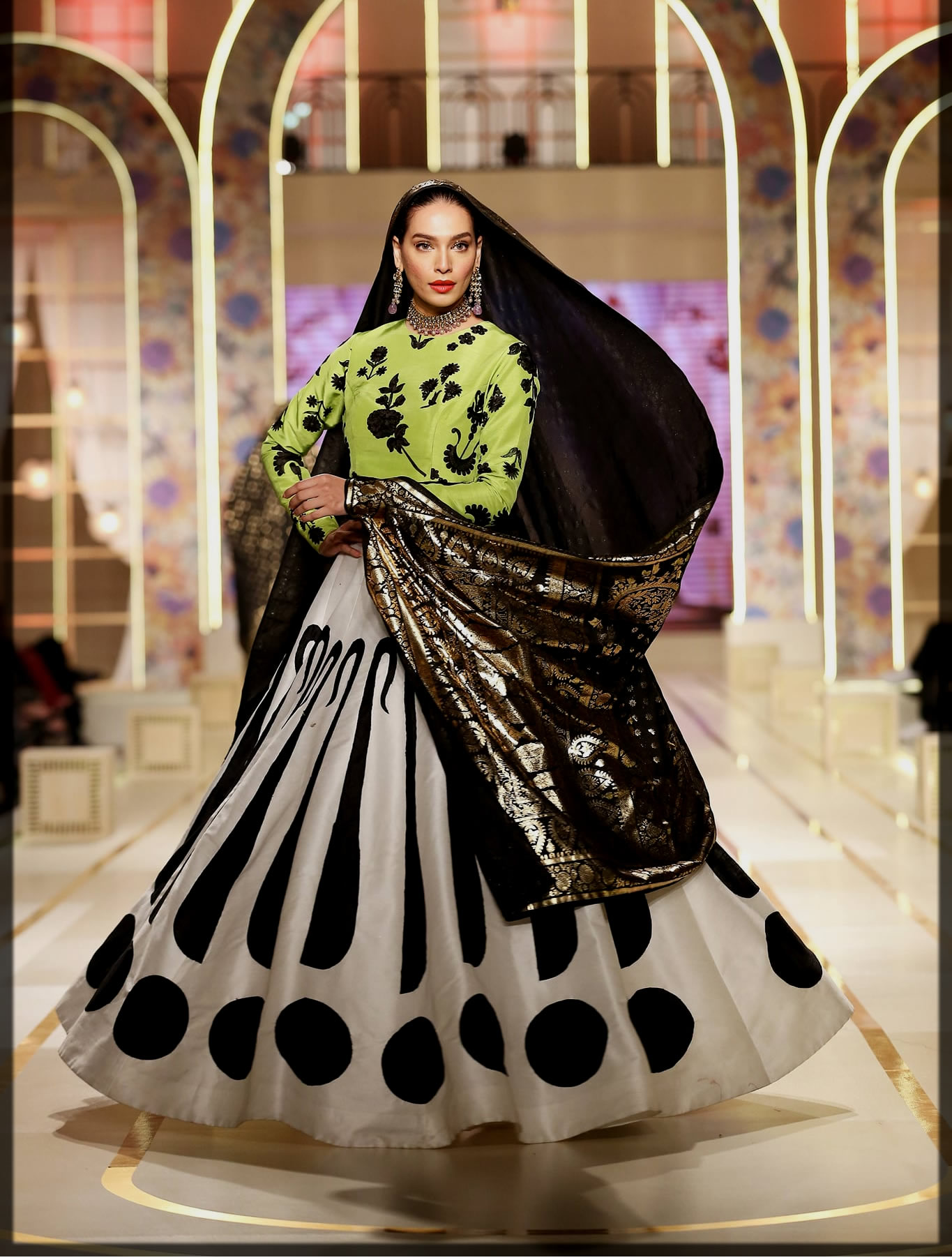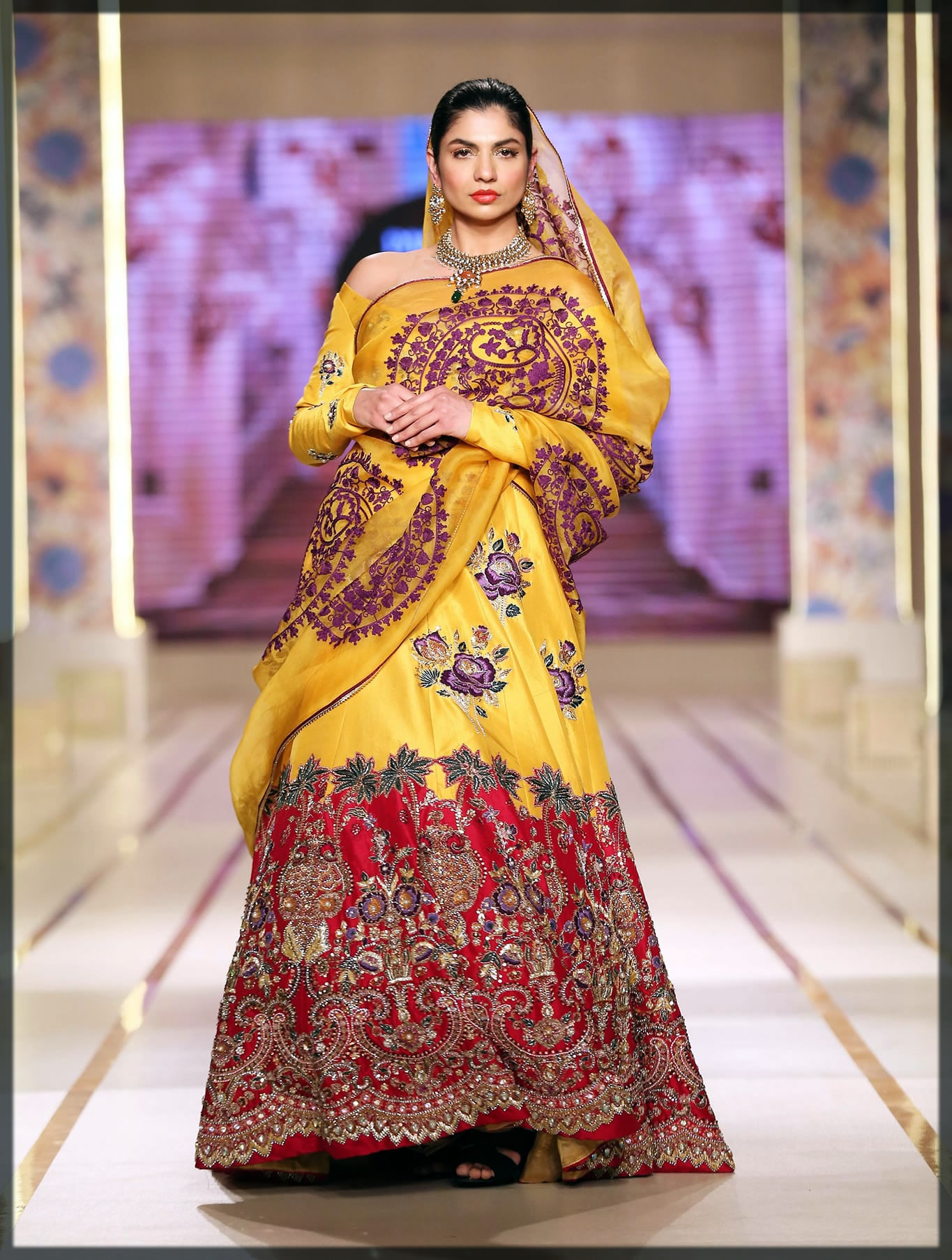 7- Khadija Shah's Zaha (Rashk-e-Qamar)
Khadija Shah's Zaha presented its "Rashk-e-Qamar" catalog at the Bridal Couture Week. Also, you can wear these dresses on any occasion and prettify yourself well and make your gaze more appealing and striking. 
The most trending drama serial "Saraab" actress Soniya Hussain walked the ramp for Zaha's collection "Rashk-e-Qamar". She wore the heavily decorated traditional red frock. She was looking just superb as you can see below. Moreover, this latest "Rashk-e-Qamar" collection is available in its store, you can easily buy any dress as per your choice and budget and add more charm to your event and look too. 





HBCW has introduced many amazing talents and discovered a lot of hidden gems for the fashion industry. Moreover, we have seen many designers get recognition after participating in the fashion week throughout the years. All in all, HBCW has given us many talents and it is continuously providing us with more gems every year.