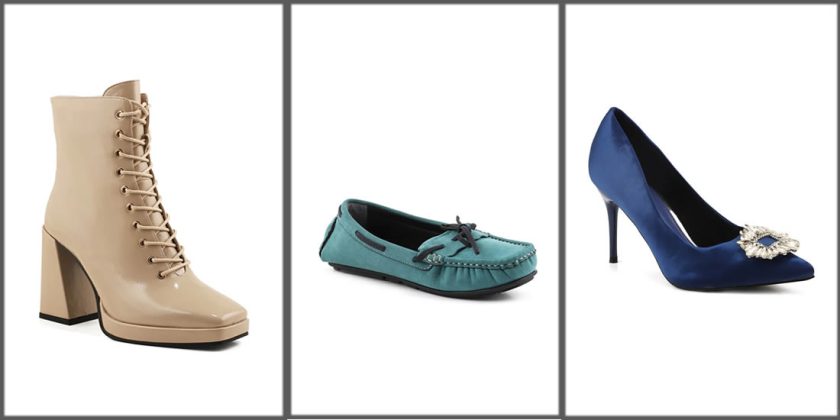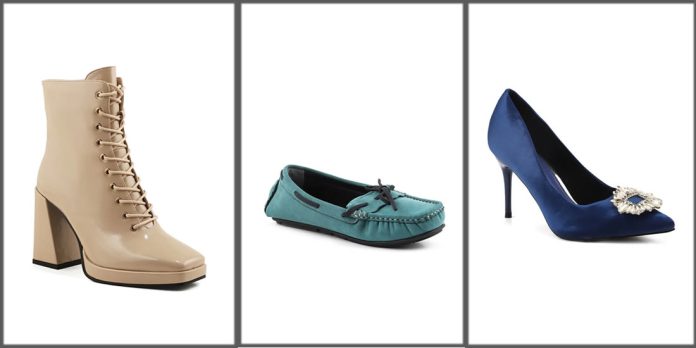 Generally, everyone wants to upscale her look every season according to the trends and traditions. Therefore, this spirited brand has launched a striking collection in every season that caters to customers' exceptional needs. With horizontal and vertical diversification, it has expanded the production from footwear to other accessories. You can see an immense variety of women's shoes, men's shoes, ladies bags, women's clutches, and other fancy accessories. Here is the latest assortment of Insignia shoes winter collection for you. 
Let's slay with the right pair of footwear in winter. Indeed, everyone prefers classy shoes with outfits to look stunning. Get contemporary winter outfits and combine outstanding shoes to rock your winter. Indeed, a comfortable style will win the hearts of the audience around. Let's cherish every moment with the right kind of outfit and footwear for elegance. 
So, the most recent Insignia shoe winter collection has been launched. In the portfolio below, you can see a great versatility variety of pumps, court shoes, peep toes, moccs, sneakers, and long boots in all lovely shades and styles. Hurry up, head towards Insignia's outlet, or buy your favorite one online. I hope it will make you progressively captivating in this season.
About the Trademark!!
Insignia stepped into the fashion industry in early 2011. Later, it has drawn footprints on the hearts of people due to the amazing designs. Flaunting and glamorous styles are a part of fashion magazines in Pakistan. Also, you can see an immense variety in the Insignia summer shoes as well. The collection offers splendid footwear designs for blissful summer.
Most of the women like the numerous collection of footwear by this famous and notable brand. The leading brand embodies incomparable and high-quality footwear to its customers. Additionally, it is offering proficiency to retain its valued customers. It is a firm belief that hard work pays off. Continuous hard work brings instant recognition and elegance to your style. Today, there are 20 retail outlets of Insignia running across Pakistan. All the big cities facilitate the lovers of this leading brand with the factory outlets located at the central spots.
Insignia Shoes Classy Winter Collection for Ladies (Fresh Designs)
Insignia stands among the leading fashion retailers in the fashion industry of Pakistan. Just like clothing, everyone needs essential footwear for a complete look. Therefore, several shoe brands are busy crafting trendy and modest styles for people. Here is the latest assortment of Insignia shoes winter collection for you. It offers a wide variety of incredible designs.
1- Peeptoes Winter Collection by Insignia Shoes
You might have seen a wide variety of peep-toes from the Borjan winter collection. Women are always overwhelmed with the exclusive collection of a couple of shoe brands. Likewise, the latest collection of this notable brand brings a fantastic peep-toes variety for you.
Take a look at the timeless and traditional styles below. It has a little opening at the toes. Perhaps, this opening makes it exquisite and more elegant. You can wear such custom shoes both formally and casually. So, get the stylish pointed-heel style and simple peep-toes below.
2- Elegant Pumps Insignia Shoes Winter Collection 
Probably, many of you look for an innovative design. With the advancement in technology, the fashion industry of Pakistan is extending its standards. Therefore, you will get progressively outstanding variety from every store. 
Take a look at the variety of shoe gallery below that offers an extensive collection of pumps. Generally, teen girls prefer these stylish designs for a jazzier look. You can have different types of pump shoes ranging from simpler to printed. So, make your cold season warm enough with the pair of shoes below. Pick the matching pair for pure bliss and grace.
3- Comfortable Moccasins for Women
Are you searching for effortless and iconic shapes with a little modernity? If so, then check out the stylish moccs below. With the great versatility of footwear, moccs never go out of fashion. Perhaps, these are the most comfortable shoes for women, and they are among the best winter shoes for women.
From the dock to dinner, you can look sleekly unique by wearing the collection below. Probably, the soft sole and texture of this style bring comfort to your zone. Therefore, many women prefer this shoe design. Get your favorite article from the nearest store of Insignia or buy online to rock your winter.
4- Classy Court Shoes for Women
Maximize the potential of your closets with stylish court shoes. Indeed, each style of footwear reflects a different aesthetic sense. But, the kind you are wearing is the true reflection of your choice and good taste. So, always prefer graceful shoes over others to get compliments from the people around. You can seek many similar styles from the latest Clive Shoes winter collection for women as well. It has a wide variety of footwear designs.
Additionally, court shoes provide the next level of comfort with some style in proportion. Besides warm clothes and hot beverages, you must have modernity in footwear. Therefore, we are showcasing both casual and fancy court shoes to you. Please explore the following designs and get your favorite one soon from the nearest store before it gets too late.
Casual Court Shoes for Women
Are you looking for a slick yet comfortable shoe style? If so, then you are in the right place. The following couple of graceful shoes will add sleekness to your personality. Indeed, they will appeal more effectively to your character. Upscale your winter looks with these styles. With no confusion, these designs will bring ultra comfort and style to your personality. These shoes have a matte appearance. Stylo shoe winter collection also has the latest and updated styles for women. Give them a chance too and create an aura around yourself for pleasure.
Formal Court Shoes for Winters
The heel is an essential part of every closet of women. Most of women already have such variety. Therefore, they might not need to spend extra money and time in buying these styles. However, for those who want to upraise their style, try the fancy court shoes below.
Seemingly simple, the pointed heels below are transformative enough to bring a distinctive look. So, get a chance to shine with the sleeking variety. Plus, this pointed court shoe style is best to combine with your cocktail attire for a perfect evening look. For checking out more festive designs, check out the Metro winter collection and get magnificent glam heels designs.
5- Stylish Long Boots for Teens
Teens are always obsessed with their clothes and shoes. Undoubtedly it is not just a nice outfit that makes you look beautiful. But, complementary and contrasting footwear adds much grace to your entire personality. Teens always look for a modish style for a stylish look. Therefore, we have a collection of high-knee boots for young and charming girls. College-going girls can avail the chance for a delightful and modest winter look with the shoes.
This year, you can plan a trip to northern areas and pick a comfortable long-boot style from the following portfolio. Indeed, you will look classy if you wear denim and jeans with the following footwear designs. Besides a stylish look, the long boots will protect your feet and legs from the intense cold. So, what can else be more appropriate? Go and buy a suitable pair of knee boots from the Insignia shoes winter collection and have a blast with bliss.
6- Comfortable Sneakers for Women 
An evening walk is always a pleasure for women to have a fun time with love. Indeed, a pair of comfortable shoes will amplify your pleasure. This year, grab easy footwear from the Insignia shoe winter collection. After a lot of formal & casual varieties of shoes, here we have a portfolio of sneakers for women. Please have a look at the following footwear designs.
The following image gallery shows a variety of shoes with various designs. This means that you can tie & fit the shoe to your most comfortable level. The following styles will hold your feet firmly in place to allow you a comfortable walk. Also, you can run many kilometers for fitness & freshness with the following styles. Please give it a thought & have a memorable walk.
7- Insignia Back Open Shoes for Women
Here we have an excellent choice for women to wear in this article. Well, the one-and-done style enhances your entire look. To elevate your personality inside out, go for the classic open-back shoes. Indeed, the fall collection offers all the necessary colors for you. Explore formal and fancy open-back shoes below.
Formal gatherings always need a traditional outfit with classy footwear. Therefore, we have an exclusive collection of open-back shoes here. Indeed, the slick variety will turn heads on you. Get the most innovative and energetic mules from the collection below. Indeed, you will love all the designs for appealing looks. All of these shoes can be used as casual shoes for women.
Indeed, a creative style always brings long-lasting impressions. For a sartorial style, women look for the chicest shoe styles to gather the most refined pair. No worries now as we are showcasing the likewise fancy assortment to you below in different colors. You might have a variety of formal outfits for your weddings and parties etc. But, in the cold weather, women need a stylish pair of shoes to rock their traditional looks.
The following collection of shoes are in trend for years. Usually, you might have seen such styles in the '90s, but they are back now. So, style up your wardrobe and combine the trendy shoes below to get a gorgeous look.
Women always favor vibrant yet comfortable footwear. Additionally, they want to bring a fragmented look with a little sparkle to their personality. Indeed, the collection of footwear above will meet all the desires of women. Get some time and explore the recent variety of shoes by your favorite brand. Indeed, the investment of time & money will be worth it. So, pursue the article above and get the chicest and most alluring designs for complementing your winter outfits.