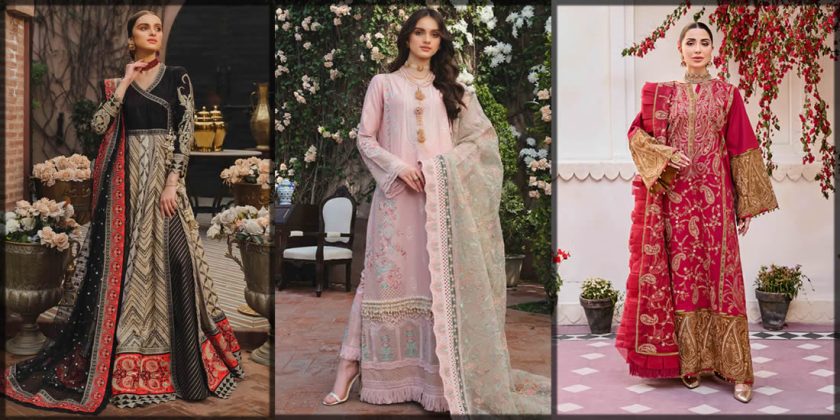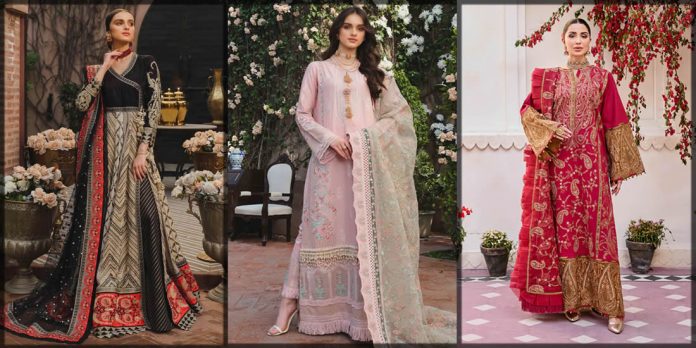 Maryum N Maria is the most well-known brand, noted for its stunning and high-quality clothing. Every season, it introduces a luxury collection for ladies so that everyone can enjoy the season while dressing comfortably. Let's check out amazing dresses in the Maryum N Maria eid collection at affordable prices.
Nowadays, every lady favours fashion and wants to look fashionable at all times. MNM is a unique brand that gives the latest pattern of clothes for women to fulfil their desire to wear modest outfits each season. This is why it has quickly become the most popular brand among women.
Do you want to do something different and memorable for Eid? The Maryum N Maria Eid collection is wonderful and perfect at that point. It provides the most stunning and sparkling clothes for women of all ages. You may also wear these clothes to any informal or formal event to complete your stunning and awe-inspiring looks.
Maryum N Maria Eid Collection for Women
Maryum N Maria eid collection is lavishly embellished with thread, string, weaving, sequins, and kora work. The dupattas and trousers are equally embellished with lightweight embroidery, making the outfits more sparkling and stylish. Its most recent collection includes a wide range of clothing in unstitched, ready-to-wear, and formal dresses.
All of these dresses are constructed of pure lawn, chiffon, and organza fabrics that will not only refresh your Eid style but will also offer you a comfortable yet classy appeal. These stunning designs are matched with luxury dupattas. All you need to do is choose the perfect dress from the Eid collection and pair it with the right shoes and accessories to complete all of your stunning and acceptable looks.
Stylesnic always appreciates fashion and quality. We have a beautiful and latest eid collection of every distinctive brand. You can find all your favourite brands under one roof of our brand. So, explore and save your time searching different brands online. 
MNM Unstitched Luxury Lawn Collection
MNM luxury lawn is an excellent blend of dark and pastel hues. Every year, the brand debuts its dream combinations, which feature pure texture and stunning colours. They have recently launched Eid dresses, which offer amazing outfits in the best colour combinations. All notable and famous brands try their best to introduce the most stylish and modest dresses for fulfilling their customers.
Maryum N Maria likewise attempts their best to satisfy their clients' needs by presenting numerous new clothing varieties on this Eid, just like the Almirah eid collection.
Pink Venus is an eye-catching three-piece printed outfit that can help you create all of your stunning and memorable Eid looks. The beautiful colour combinations are best for young girls.  To make its printed collection especially trendy and appealing, MNM employed bright and pastel colours such as purple, pink, and pastel green. You can also add pearls and motifs to the shirt's bottoms, daman, sleeves, and collar to make it look refined and wonderful.
Here is the city of love with a beautiful colour palette of blue. The dress exudes elegance and the design is full of grace. You can also wear this stunning dress to any wedding, formal occasion, or even your best friend's birthday celebration. This elegant outfit is adorned with sequins and thread embroidery.
The elegant Olive Garden is a hand-woven design on the dress with embroidered neckline and sleeves that elevate the luxury eid collection. These luxury dresses are constructed of cotton and lawn fabric, which keeps you cool. Because these are festive wear, you can pair them with stone accessories to make your Eid look more spectacular.
Vex is a beautiful contrast of black and white. With these printed attires, keep your makeup and accessories minimal to get a decent look on Eid. Further, wear the high heel shoes to get a lovely and modest look. Searching for Eid dresses is the most challenging task to do nowadays. The pretty and in-vogue eid dress designs can make you stand out among the others. So, consistently locate the fabulous outfits for you if you need to appear unique and gorgeous. 
The majority of the girls prefer to refresh themselves with unstitched attires. So they can customize their dresses according to their choice and trend. The following unstitched dresses are the ideal choice to wear this Eid they will influence your skin tone and makes it all the more beautiful. As the shade of the outfit mirrors your skin tone, so consistently attempt to pick the right gear with the best shades. The MNM Eid collection is incredibly chic, like the Alkaram eid collection.

Maryum N Maria Ready to Wear Dresses
Most of us always go for ready-to-wear dresses because they are easy to wear without any hassle of stitching. The Pret collection by MNM is the most impressive and comfortable to wear. You will get different and unique pattern clothes in the Pret catalogue that will surely help make all of your breathtaking and decent look on Eid. These fabulous dresses are made with lawn fabric that will not only improve your look but also add more charm and grace to your personality.
Additionally, review the most fascinating Nishat Linen eid collection, which is extraordinarily noteworthy and has the best colour theme. I hope you will never regret our suggestions and tips.
Uplift your festive season by wearing this amazing red and white combination. Victorian love is a beautiful mix of dark and light colours. Both colours complement each other very well. The dress looks decent yet feels festive. If you want to make your standard more classy this Eid, at that point, give a chance to the ready-to-wear Eid collection. I hope you will never be disappointed. You can also take a look at the Charizma eid collection for similar attires.
As you can see below, multi-colours are used in the most beautiful combination in the creation of Retro floral attire. In this catalogue, you will find printed, embroidered, and handwoven designs that will make your Eid look even more spectacular. The colour combination is one of the kind that will make your festive days more beautiful.
If you want to stand out this Eid by wearing one-of-a-kind and eye-catching dresses, look no further. Love potion is a perfect blend of elegance and grace. Try hand-woven outfits to create all of your appearance more gorgeous. These woven dresses are also excellent for adding a traditional touch to your Eid ensemble. More beautiful digitally printed dresses are available in Ego eid collection.
Who does not love white? Amour is a beautiful white dress with dainty lace details. The whole dress exudes pure feminine vibes. So, get fabulous outfits for you if you need to appear unique and gorgeous. Always remember not only outfit can make you pretty, hence you likewise need impressive makeup, classy gemstones, and appealing footwear to make your Eid look extra chic and smart.
Beautensia Coco is a pretty pastel green colour that will look absolutely stunning on festive days. As it is summer eid, so it is better to wear light colours. Check out the following classical outfit that will surely improve your beauty on the occasion of Eid. All you have to accomplish is to grab the right outfit as per your skin tone, body shape, and size. In the Pret section, you will find beautiful attires in all the trendy styles. For more pret dresses, browse the Zainab Chottani eid collection.
MNM Formal Dresses Eid Collection
Need to look royal and elegant? At that point, look at the formal Eid dresses by MNM that will make you look eminent. Formal clothing is the best alternative to wear this Eid. In the festive formal variety of MNM, you will get luxurious and extravagant clothing with trendy examples and patterns. It is everyone's fantasy to finish her Eid look by wearing an elegant Eid dress. Look at the accompanying printed clothing types from the assortment that comprises contemporary designs and lovely shades, as you can see below.
Summer Eid always calls for pastel-coloured dresses. Festive Bloom is a perfect dress for Eid brunch with family and friends. It is a pastel pink colour with a finely detailed design of green colour. The lace is the same colour that complements the look of the whole ensemble. The attire resembles chikankari dresses but it is all work of thread lace.
Want to look bright and prominent on Eid day? Porcelain rose is a bright orange and magenta combo that has a fine design in white colour. The sleeves have a twist of golden thick lace with sequins that adds a festive feel to the attire. The daman in maroon colour is perfect for Eid Milan parties.
White with different colours always appear beautiful. White garden is a combination of white and multi-colours. Bright yellow and hot pink complements the pure white lawn dress. You can mix and match different types of jewellery like pearls and jade. You can wear this dress at any time of the day without any tension of colour or design theme.
Maryum N Maria never fails to impress the audience with its delightful colours and prints. The following refreshing shades of pink and orange will get you a fun summer look at this year's holy festival. Scarlet Stag is a hot pink and orange blend. The shirt is full of brown motifs and prints. The daman is in muted gold colour with an organza dupatta. Get this dress and pair it up with some brown nude makeup.
Pretty purple dresses will bring you vital peace in a chaotic eid shopping spree. When you put on the chicest hue of purple, you can undoubtedly enter serenity mode. As a result, the Maryum N Maria Eid collection includes the beautiful garment seen below. Indeed, the following sequin embroidered dress will make you look calm and collected on Eid this year. Wrap yourself in iconic outfit. It is paired with a organza dupatta with sequin embroidered designs to create an illusion in the overall look.
Now hurry up and get your favourite item before it's too late because the brand only has a limited stock. All you need to do is choose the appropriate dress for every Eid party or gathering. The MNM has the best shopping facilities in Pakistan. It will allow you to do your Eid shopping from the comfort of your own home, avoiding congested markets. To get your dress sent to your door, simply go to the official website, select your desired dress and add it to the cart, then place your order, and you will receive your dress within a few days. Choose attire for the occasion and look your best. Have a blessed Eid!!! 🙂