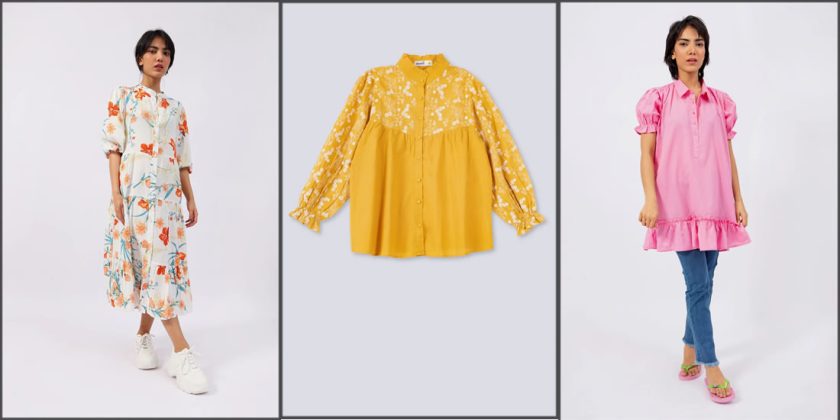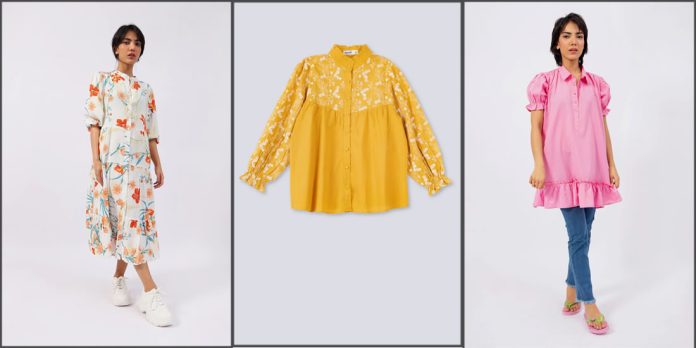 The Breakout summer collection is a classic blend of enthusiastic and bright tints. Plus, all innovative and trendy designs are utilized to design the summer wardrobe for ladies of all ages. All these dresses add more elegance and charm to your look and keep you cool and fresh because Breakout uses relaxing fabric for your comfort.
Breakout collection contains unique kinds of attire with the best styles. The most recent summer variety of Breakout contains more than 100 pieces of clothing. From meetup to party wear, Breakout has everything for everybody in its store.
Let's explore the latest summer collection of Breakout that offers stylish tees, tanks, shirts, and denim. They used all bright shades because they know that ladies like to wear fresh and bright tints clothes in summer. So look down to explore its latest catalog. Also, their prices are mentioned for your solace.
About the Brand!!
Breakout is one of the most successful brands, reflecting the Pakistan fashion industry, because of its incredible stuff and glamorous dress designs.
It is one of the western wear retail brands. The only brand that serves youth with its cutting-edge clothing. Imran Ghani is the founder of Breakout Pakistan. He started his profession in 2002. He began his own high-class dress brand, 'Breakout,' in 2010. So, Breakout has been serving style and quality since 2010. Under his initiative, Breakout has ventured into kids and eastern wear too.
Latest Breakout Spring Summer Collection for Women (Catalogue)

Breakout summer collection has recently launched that brings modest attires for the youth and women. These dresses also have a touch of western culture for a unique look. Breakout also included the cotton shirts in its summer variety because they know cotton is also the reliable and preferred texture for the summer season. The entire summer stock of Breakout is beguiling and made with pure lawn and cotton to keep its customer in comfort.
The dresses are made with ideal and vibrant shades, making the ladies look more glammy and stunning. Keep scrolling to get all updates attires. You can pick any dress from the Breakout store according to your taste and body size. Their summer collection contains: 
| | | |
| --- | --- | --- |
| 1. Summer Tanks & Camisole Collection | 2. Tees & T-Shirts for Young Girls | 3. Formal Collar Shirt for Working Ladies |
| 4. Long Summer Frock | 5. Embroidered Sleeves Top with Pleats | 6. Cotton Striped Shirt for Girls |
| 7. Embroidered Top with Neck Frill | 8. Summer Long Rainbow Dress for Teens | 9. Frill Detail Top |
| 10. Side Bow Button-Down Shirt | 11. Wide Leg Denim Trouser | 12. Solid Long Skirt for Summer Beach Parties |
| 13. Flared Denim Pant | 14. Skinny Fit Black Jeans | 15. Tie & Dye Twill Pants for Young Girls |
New Arrivals in Breakout Summer Collection
As you probably are aware, Breakout, every season, presents its humble collection for the youngsters. Additionally, its latest summer collection is also very chic, with an amazing color palette. They contain shirts, denim, and other stylish sorts of clothes in their freshest attires. Have a look!

Tanks & Camisole Collection



These tank tops with the western touch styles are entirely amazing with the best tints and structures. Make your look crisp and charming during the long, unpleasant periods of summer, and improve yourself by wearing the tank top. You can likewise match these tanks with the floral or plain shirt as per your choice to finish your cutting-edge look.
 Tees & T-Shirts for Young Girls

Tees and T-shirts are the most cherished clothing of the youngsters throughout the summer season. Summer is the sweating season, so Breakout inclines toward the splendid and fresh shading so you can enjoy your summer days. Look at the accompanying dazzling and lovely summer tees with their respective prices. You can easily pair any denim pants with these tees that are additionally mentioned in this blog.

Trendy Summer Shirts for Modern Girls by Breakout

Take a look at the latest Summer shirts that are gratified with the best designs and tones. Check out the following stylish shirts so you can easily purchase any perfect shirt as indicated by your desired budget.

 Formal Collar Shirt for Working Ladies

The following collar shirt is the best decision to wear when you are going for a business or office meeting. It will make you look fine and smooth. You can pair it with denim or wide gasp pant as you like to make your ideal look. It is made with pure cotton that will also shield you from the heat.

Long Summer Dress by Breakout
Floral-shirts are very much in trend nowadays. The shirt is in frill style that indeed append more class to your look. All you need is to pair it with the right style of denim. Pair it with classy makeup, a high ponytail, and chic earrings for extraordinary flash. For more shirts, visit the Beechtree summer collection.

Embroidered Sleeves Top with Pleats

Look at the most dazzling and appealing shirt, which contains the puff sleeves that will make your look smarter. Further, the pure cotton fabric also keeps you safe from the blistering beams of the sun. Try to pick the right fabric because the agreeable fabric improves your confidence, and you can accomplish any work effectively. Combine this chic shirt with white boyfriend denim pants and get the prettiest gaze. Ethnic by Outfitters can also be an excellent choice to buy quality clothes in this summer season.
Cotton Striped Shirt for Girls

The majority of girls love to wear striped shirts with stretchy denim pants. This combo will give you an unobtrusive and snappy look at any social event or gathering. This vertical strip shirt is made with pure cotton stuff so you can enjoy your summer days without any doubt.
Embroidered Top with Neck Frill

If you are going for any friends gathering or party, at that point, pick this stunning shirt from the Breakout summer collection. This has delicate frill sleeves and neckline that will make your look noteworthy. Pair it with white pants and classy sneakers for a more alluring and cute look.

Summer Long Rainbow Dress for Teens

Rainbow suits are the best choice to wear in the late spring season to beat the heat. This long rainbow dress encourages you to look unique to others and prettify your summer style. Pair it with lightweight studs and brownish makeup for a more breathtaking look.  
The below long rainbow dress is available at an affordable price, which you can easily purchase from the Breakout store. Additionally, you can buy this dazzling summer suit from its online website page, and within 15 days, you will get it. Moreover, you can get the most stylish ready to wear shirts in the Sana Safinaz summer collection as well.
If you want to get the modern yet classy look at your friend's bridal shower, at that point, you can pick this frill detail top and pair it with blue jeans. Plus, wear the lightweight adornments with this outfit and apply minimal makeup to get a decent and chic look.
Side Bow Button-Down Shirt

Side bow is the most iconic style to stand out. Below is the classy side bow button-down shirt in the nude shade that surely helps to normalize your summer look by making it more dazzling and stunning. You can pair your  button-down style shirt with denim or flared denim trouser as you want or like to wear. Further, never forget to pick decent and chic footwear for adding more attractiveness to your look. You can choose this shirt for your casual gatherings. For more reliable and comfy attires, explore the Sapphire summer dresses.
Stylish Denim Pants and Trousers for Summer

In the past, mostly simple trousers or denim pants were utilized. However, with time well-known brands present the freshest and in vogue designs pants. Nowadays, the wide pant trouser with weaved denim and pants are trendy, which every young lady wishes to wear. Breakout tries its best to offer you the most up-to-date newest stylish summer trouser collections, so you can never go behind the trend.

One of the most in-vogue denim styles that are in-trend these days. It additionally has the cut-edge on the base of pants, which makes it more impressive. For a perfect look, pair it with the matching top or shirt, which combines best with it. Keep your crimped hair open and apply stunning makeup for a more breathtaking and appealing look. Also, check out casual denim shirts by Bonanza Satrangi.

Solid Long Skirt for Summer Beach Parties

You can likewise modify your pretty and snappy look with this lovely pretty and black combo net skirt. It is one of the most alluring and stylish clothing pieces that will give you a smooth look. Pair it with any printed shirt and complete your outfit. If you have a bob haircut, then indeed pick this combo for adding more grace to your summer beach party look.
Every girl prefers to wear comfortable pants during the blistering days so, they can enjoy the summer days without any difficulty. Look at the below stretchy and flared denim pant which is available in grey color. You can combine it with any kind of top or shirt from Generation summer tops.

Try this skinny fit black pants which will make you look mind-blowing and energetic. You can match this black pants with your solid black shirt to get the All-Black vibe. This getup will surely look very up-to-date and trendy.
Tie & Dye Twill Pants for Young Girls

Every summer, each brand presents the boyfriend jeans pant style. Because the structures and designs of the boyfriend jeans are just superb, which became quickly mainstream among youngsters. Upgrade yourself with the below tie and dye boyfriend jeans this year by pairing them with the textured t-shirt or simple shirt to make you look amazing and jazzy. Further, check the Maria B pret summer shirts to pair with this trousers and complete your classy look.
Breakout always competes to be the trendy designer brand with an excellent value incentive. For every piece, Breakout gives the most extreme consideration to texture, fitting, and flawless quality. The fundamental explanation behind its prominence is that they work on inventiveness melded with a reflecting New York road style. Breakout summer collection has recently propelled that will make your season fresh and iconic. Their prices are also mentioned so you can easily buy them.