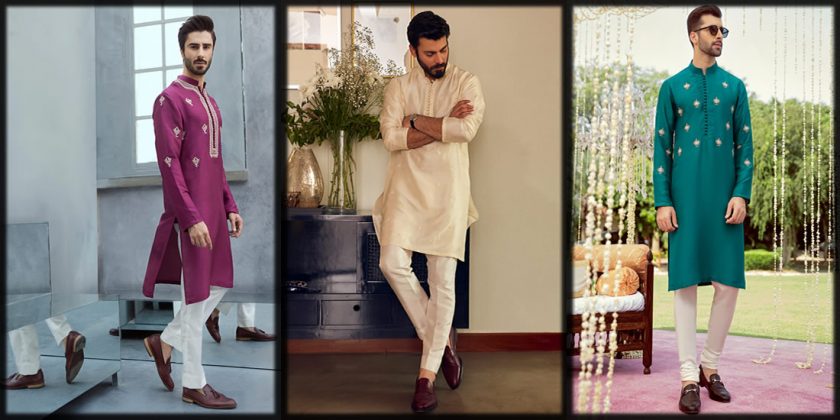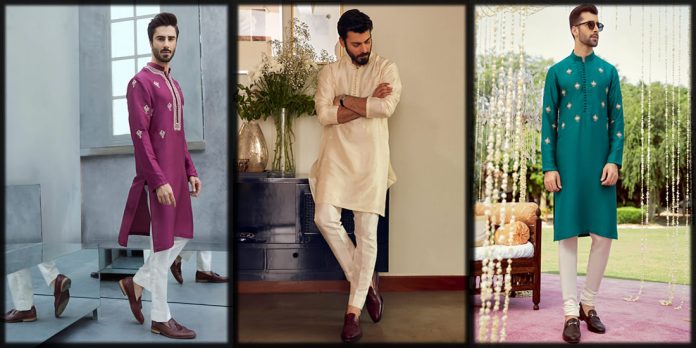 Clothing is equally important for men as women. Therefore, the designers urge to craft youthful designs for men too. Also, you can enhance your dignified looks with additional accessories. This season, get yourself a significant outfit from the Sadaf Fawad Khan menswear collection.
Didn't get my point? I said that if you are slightly different from others, then it's all ok. It would help if you were yourself and never lose your identity in copying others. However, following fashion trends is necessary for survival in the modern era. Here are the fashionable dresses for men below.
If you want to look visibly radiant, then go for the embellished dresses below. It is a myth that only women can wear decorative dresses. In the modern era, you will see every other man wearing an embellished dress. In the following article, we present you with the glorious assortment of Sadaf Fawad Khan's menswear dresses in dynamic styles. Further, the prices are also mentioned for your ease.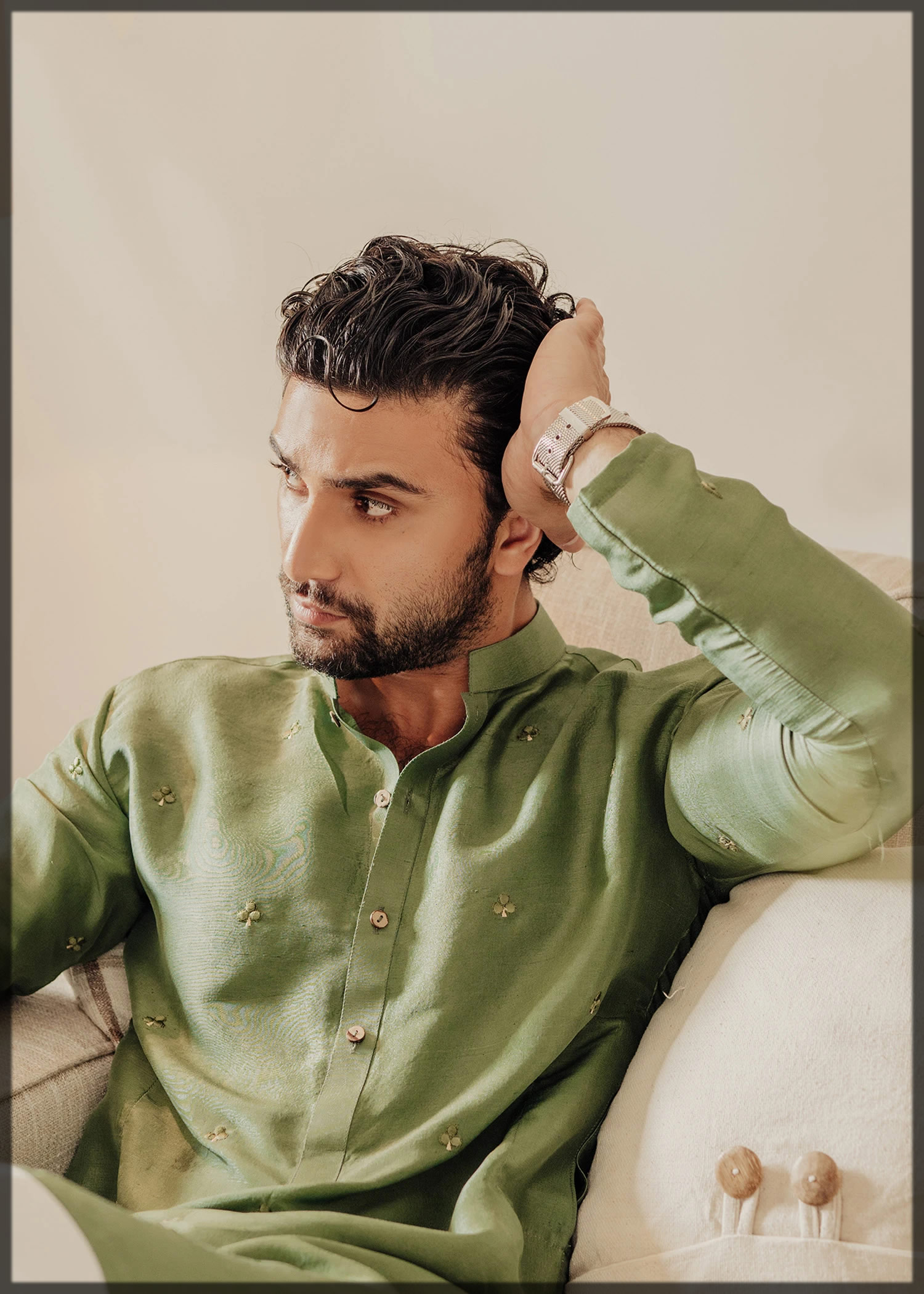 About the Notable Brand and Designer
The creative and fashionable designer Sadaf is the wife of famous veteran actor Fawad Khan. Therefore, they named their band collectively has Sadaf Fawad Khan. The leading brand stepped into the fashion industry in the year 2012. Primarily, the brand started its work with exclusive silk dresses in classic and innovative designs for both men and women.
Later, it evolved itself as an exemplary brand for bridal and formal dresses for women. The powerhouse of fashion runs men's and women's clothing under the label SFK-bridals. The unparalleled flair of craftsmanship revives the cultural heritage of the country beautifully. Indeed, you will love the following traditional dresses for men.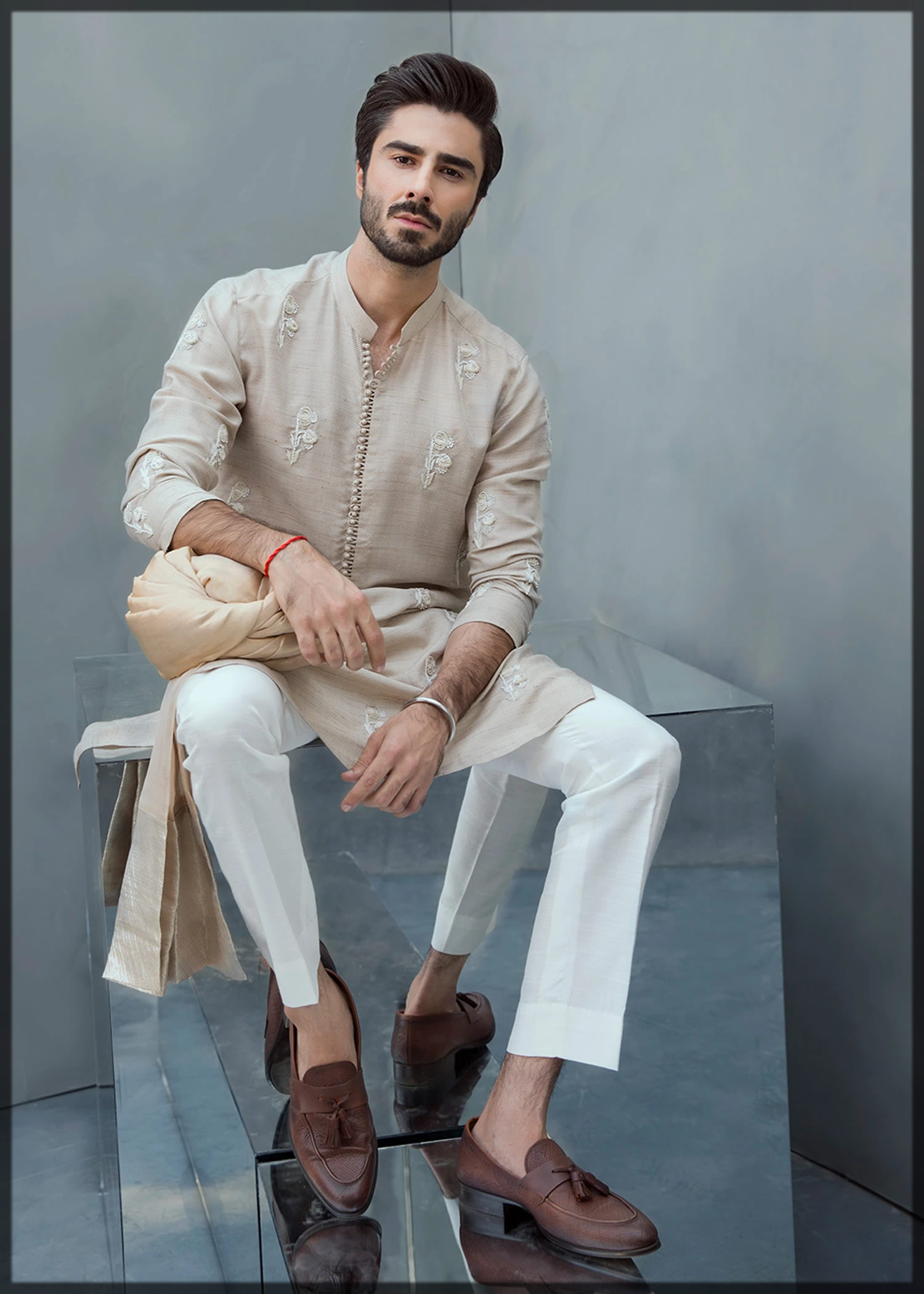 Sadaf Fawad Khan Menswear Kurta Collection (New Arrivals)

Nowadays, the public is more aware of the trendy outfits for both women. It is necessary to wear an extraordinary outfit to survive in the running trends. Although, there are a lot of options for men to wear. But, nothing can beat the grace of traditional Kurta or Shalwar Kameez. Investing money in a well-designed outfit adds more value to its cost. Therefore, every human must invest time and money in a dress that is worth wearing.
Creative designers have a lot of designs in their clothing for men to bring grace to their looks. But, not every dress color and style compliments every man. In the following blog, we will guide our viewers about the proper selection of clothes. Take a deep breath for the upcoming excitement level and have a glance at the following dynamic portfolio.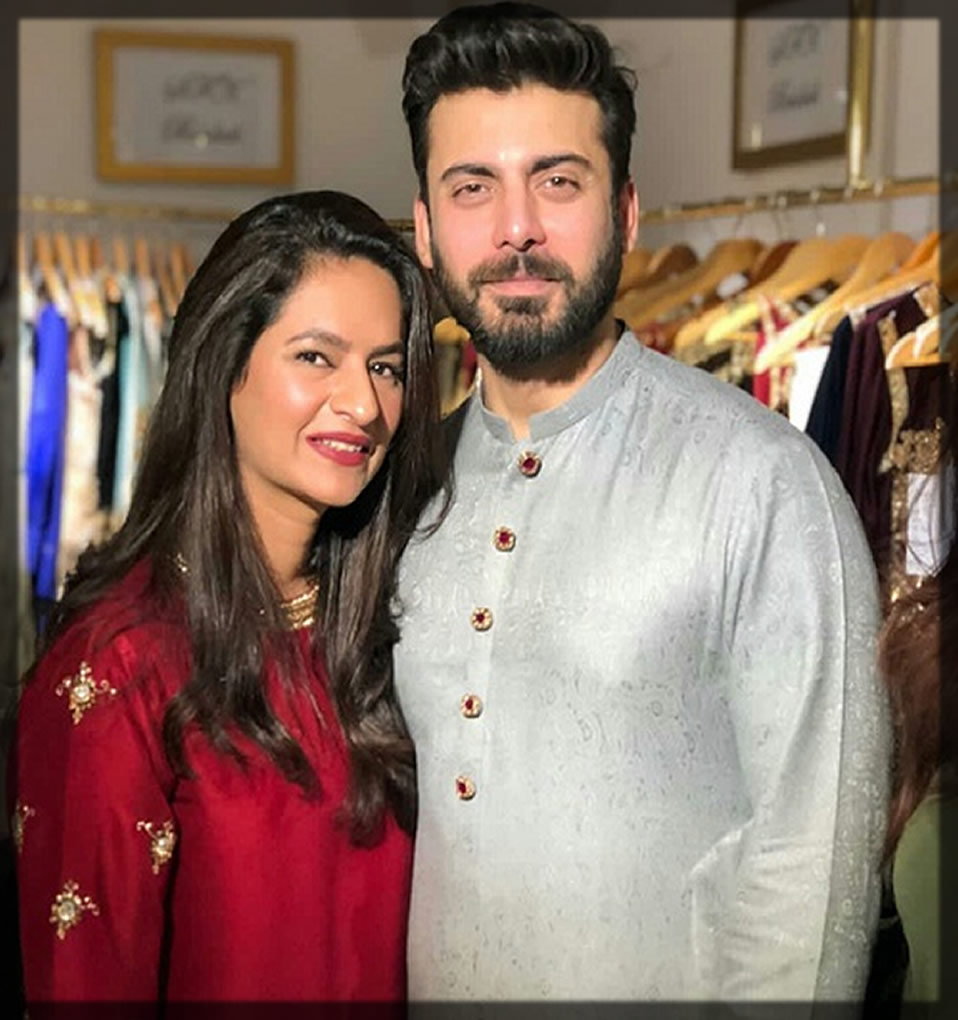 Ready-to-Wear Kurta Collection for Men with Prices

A modern twist can make an outfit more royal and legit. The signature series of Sadaf Fawad Khan menswear is a beautiful demonstration of amazing designs. Also, the colored and embellished ensembles will elevate your traditional looks beyond infinity. So, it is the right time to revive your cultural heritage through the following Kurta collection.
The portfolio is all set to bring you the dynamic and decorative Kurta collection. Here is the key point of ethnicity that always picks a color that can complement your complexions. Plus, never opt for a fitted kurta if you are obese. Being obese is not a sin but consider it for a good look. A big shout-out to SFK for this remarkable menswear collection of the year.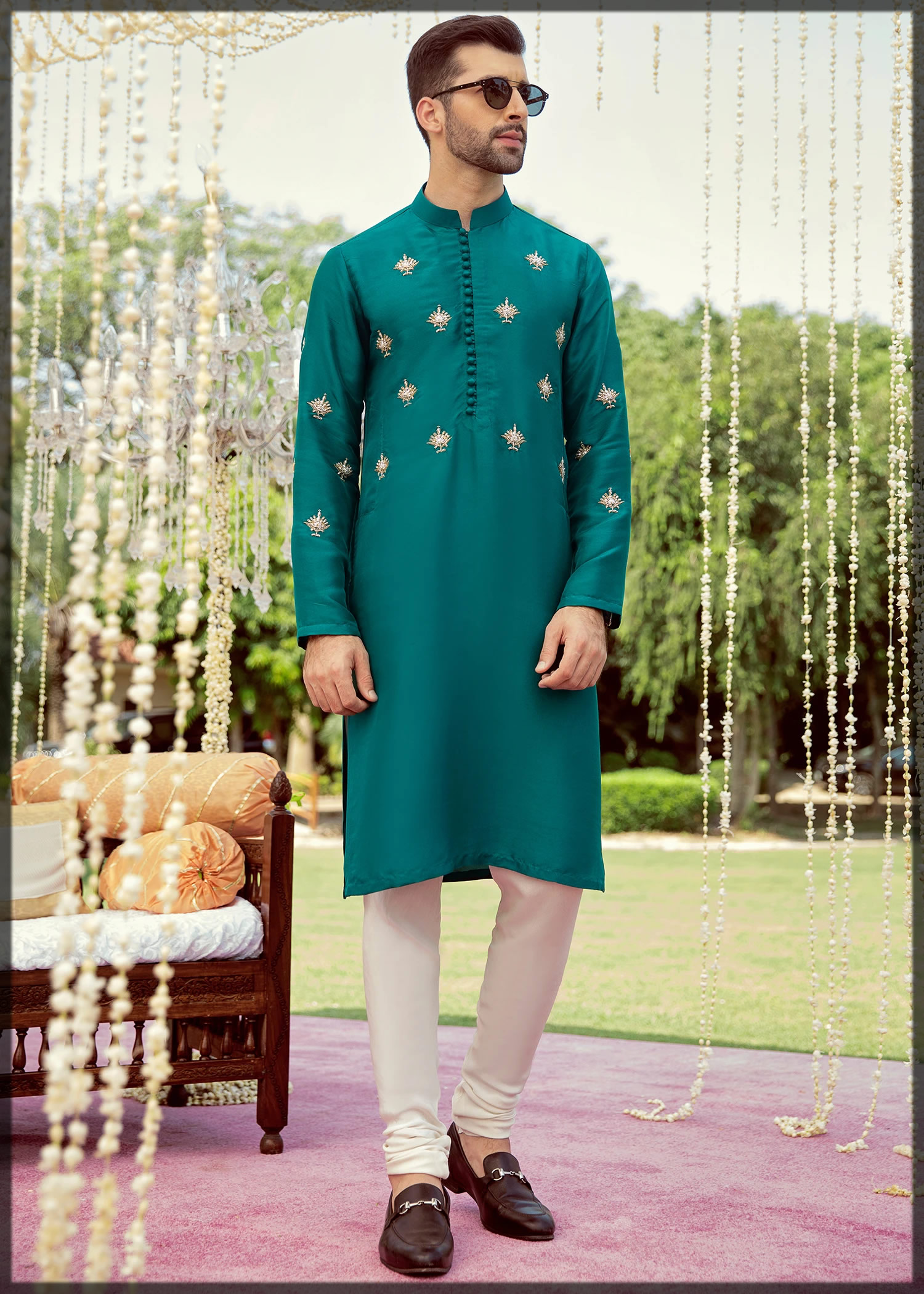 Green Clover Kurta for Men
Here is an elegant green clover raw silk Kurta for you below. The ban-collar style with buttoned-down technique looks fantastic in summer. Further, it has clover motifs on the front that makes it classy. Explore Kurta designs for men for a more likewise variety.
Hand-Embellished Steel Grey Kurta
A little embellishment makes an outfit more attractive than usual and casual ones. Men today look for a well-decorated and sometimes embroidered dress. For instance, the clothing brands urge to bring the desired stuff for people in a wide variety. Similarly, the Sadaf Fawad Khan menswear collection brings you a monochromatic style below.
Do you want to make your dimensions more complex and unique? If so, then opt for the multi-dimensional steel grey pure raw silk kurta below. The graceful hand-embellished Kurta has extravagant shiny motives on the front and sleeves. Wear round glasses to look as graceful as Ahad Raza Mir below.
Midnight Plum Embellished Kurta
Do you know what the intermediary between fashion and style is? Well, it is the design of the dress that fluctuates your looks. The same color may have different impacts on different people having distinct complexions. However, you can manage your looks by yourself if you opt for a perfect color. Here is a mid-night plum embellished kurta for you below.
There is always a unique grace of combination in a dark color with a pinch of light shade. Many people love the universal combination of plum and beige. Therefore, we have a beautiful deep plum kurta with majestic tones for men below. You can explore Amir Adnan's Kurta collection for more variety as well.
Raw Silk Honey Gold Kurta
Celebrities and models always equip you with the knowledge of fashion and style. Men have equal rights to dress up in an impressive way like women. However, there are specific personality traits of graceful men that make them different from others.
The following pure raw silk marigold honey Kurta by SFK stands unique among the entire assortment. Plus, the dainty fabric has block printing with a buttoned-down style. This can be an ideal option for boys to wear at mehndi events. Additionally, a pair of contrasting Khussa will complete the entire ethnicity of Kurta.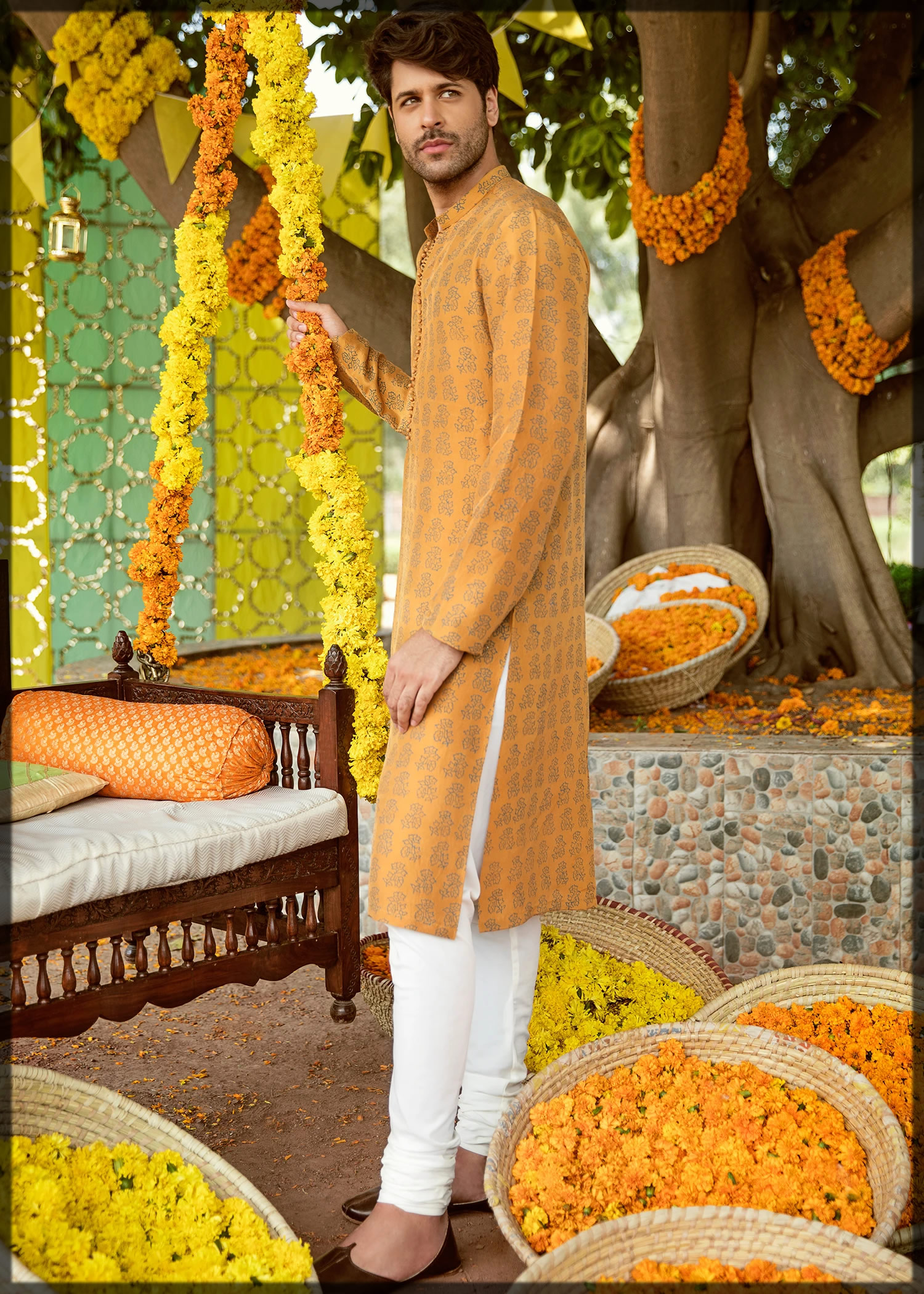 Lavender Raw Silk Embellished Kurta
Who says that lavender is a color for girls? Whoever says this might not know the reality of nature. Here we have an elegant lavender raw silk Kurta for breaking the stereotypic beliefs. The following looped-neck Kurta is ready for young boys to wear at any upcoming event. Further, you can see the delicate embroidered motifs on the front and sleeves of the dress. The anticipated outfit comes with a churidar white pajama in contrast for a whole vibe. You can get similar graceful designs from the recent and chicest J. Kurta collection for men.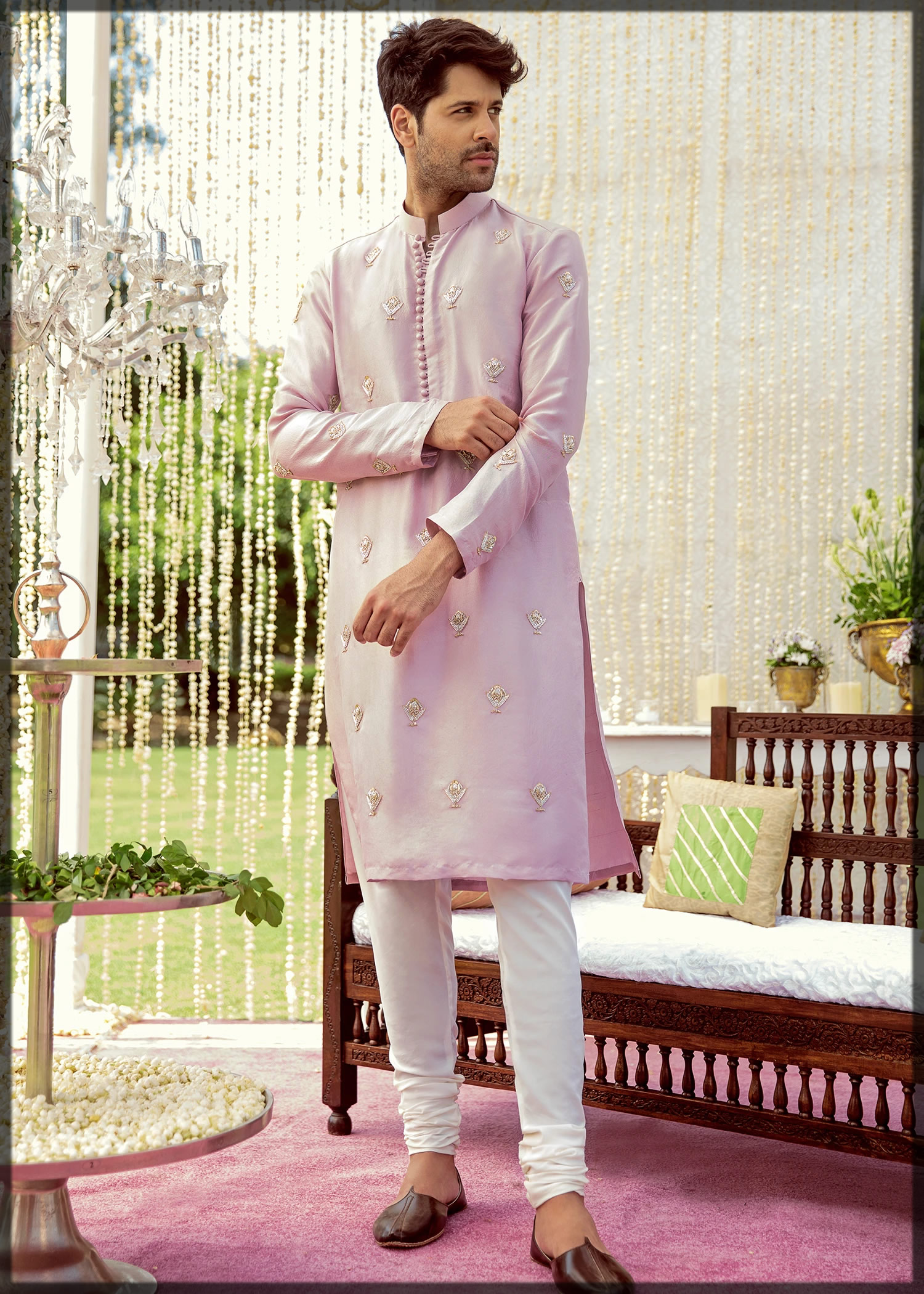 Exclusive SFK Menswear Collection Featuring Fawad Khan
Fawad Khan stands among the finest and most versatile actors in Pakistan's showbiz industry. The veteran actor has been serving the studio since 2006 till date. In between, he got a chance to work in Bollywood as well. You might have seen in several hit movies, including:
Kapoor and sons.

The legend of Maula Jutt.

Khoobsurat.

Behadd.

Khuda Kay Liye, etc.
He served Pakistani media with his blockbuster drama serial "Humsafar" across the iconic actress Mahira Khan. Also, you will see the best on-screen couple this year on the big cinema screen for their upcoming movie Nilofer. The handsome actor gracefully dons the embroidered and embellished silk Kurtas. Let's take a look at the following portfolio.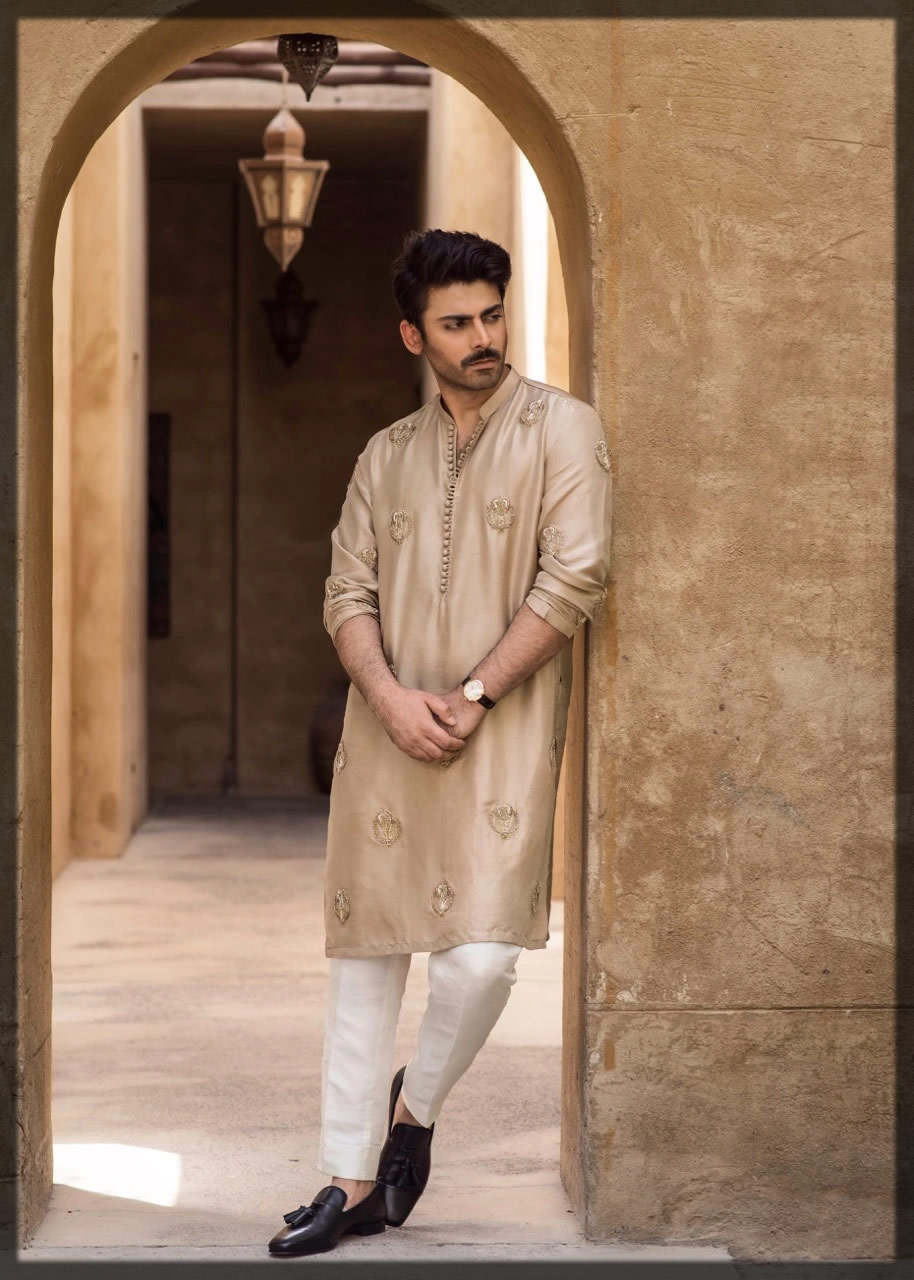 Black Kurta Collection for Men
A man must achieve nonchalance without any excuse. It would never be possible until you have a fine piece of cloth to wear. For instance, here we have two dignified black Kurtas for you. Individuality is more significant than style for both men and women. Undoubtedly, you will achieve your goal to be different if you opt for the following black buttoned-down Kurtas. You can check out a lot of variety from the Cambridge Kurta collection for men for this winter season. Give a lot of appreciation to the designer for bringing these youthful designs for you.
Raw Silk Optical White Kurta Collection
Man who wears light and delight shade always looks stylish. Indeed, the following collection of basic, plain, and optical white Kurtas will add more grace to you. The four different shades of white exhibit different styles. Each outfit has its own grace, regardless of style. Indeed, the dynamic Kurta collection is serving major outlook goals with dignified designs. For more variety, you can explore the latest Gul Ahmed men Kurta collection. Pair nice shoes or khussa with the outfit to enhance the entire grace.
Embroidered Steel Grey Kurta with Pashmina Shawl
The Pakistani fashion designers offer you a couple of styles every year to adopt the one that suits you. But, you need to choose a specific style that can elevate your looks. Men who believe that wrapping a shawl around with Kurta Pajama will make them graceful shall opt for the dress below. Undoubtedly, the shiny outfit with spade motifs and embroidery will bring you the desired elegance. Try the attire below and rock your looks beyond infinity.
Blended Orange and Peach Kurta
You might have seen such a broad and dynamic variety in the Sadaf Fawad Khan menswear collection till now. Here is the most unique and distinct article for you below. Challenge your individuality with the pleasant and delightful peach Kurta below. Undoubtedly, you will force people to turn heads on you if you wear the following unusual dress. Bring yourself your own style and signature look by wearing a colored Kurta.  I hope you will love your looks if you don the outfit confidently. Have a glance at the following kurta pajama dress and give it a chance to wear.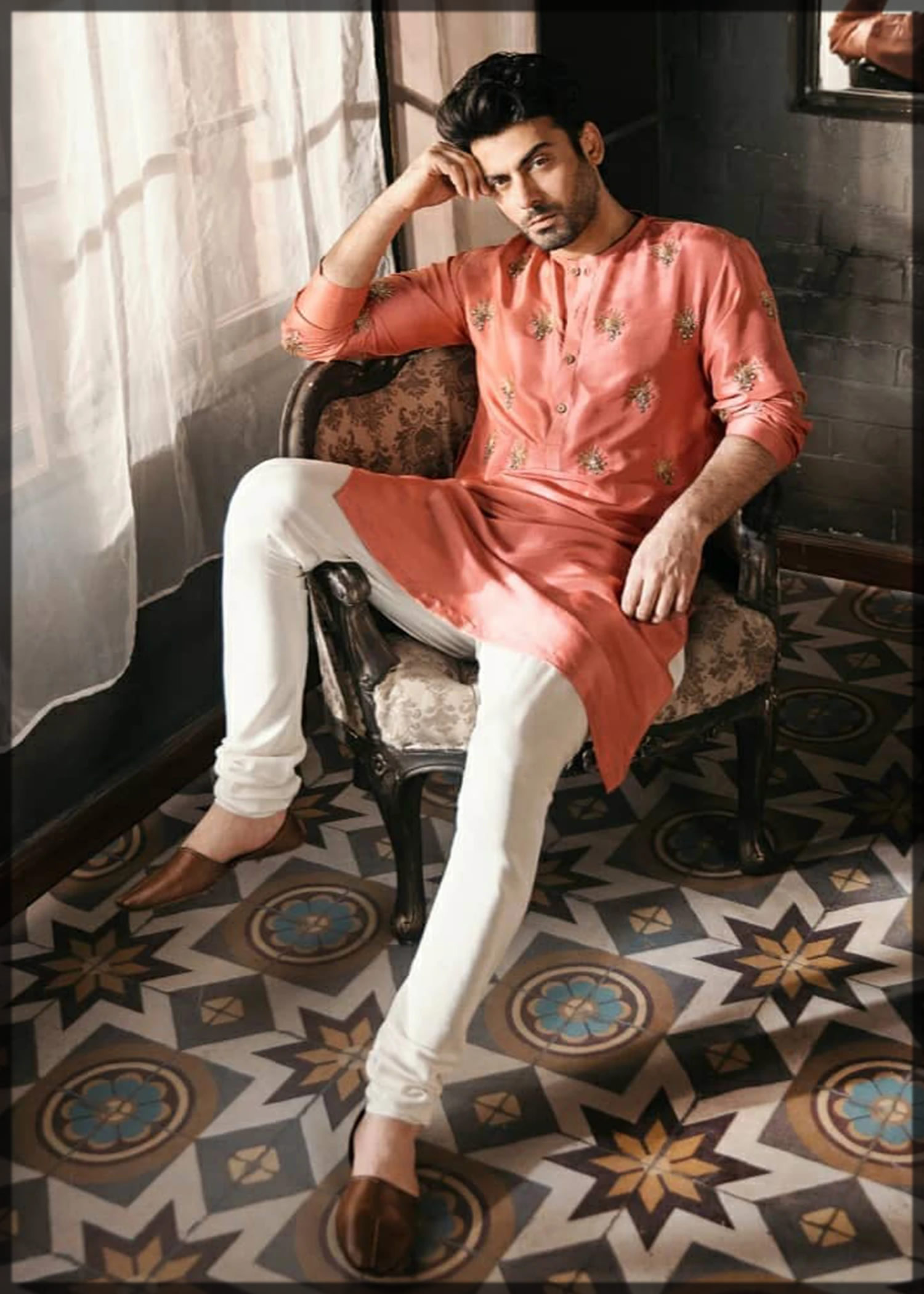 Embellished Mustard Mesh Kurta
Sadaf Fawad Khan menswear presents you with a glorious and magnificent mustard mesh Kurta below. The embellishment and decoration will propel you to pick it blindly. The contrasting white pants will amplify your overall look. However, you can combine a brown Khussa for more grace too.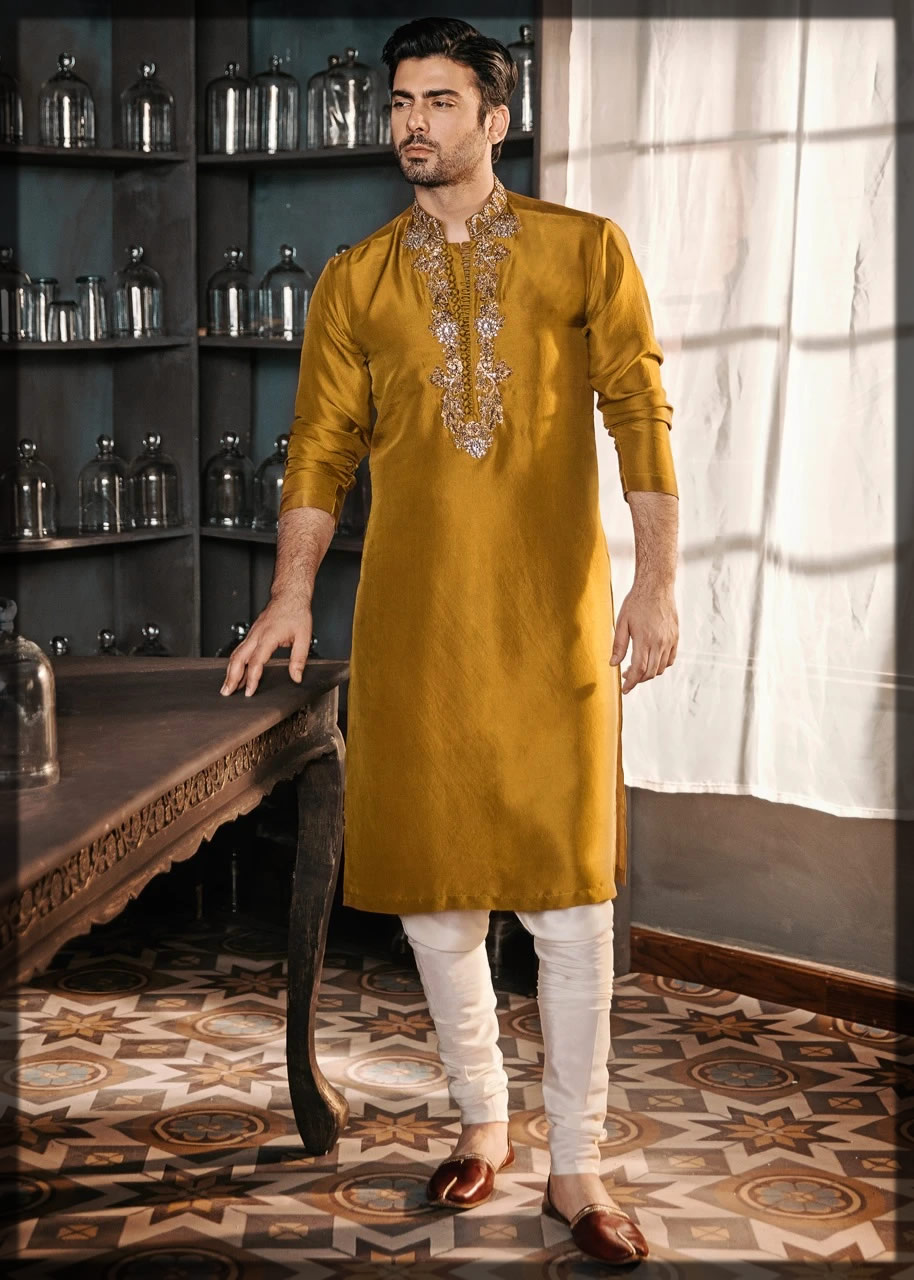 So, are you excited about the Sadaf Fawad Khan menswear collection? The brilliant assortment has been launched nationwide for you to buy your favorites. It is time to enhance your looks with the dignified Kurta collection above. There is no need to compromise on your beauty and grace. Go and pick up the dress that can complement your whole look. I hope you will look progressively graceful in the embellished Kurtas above.