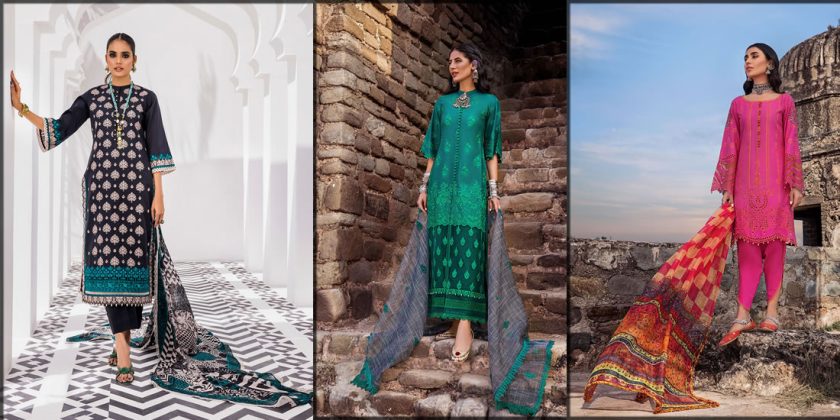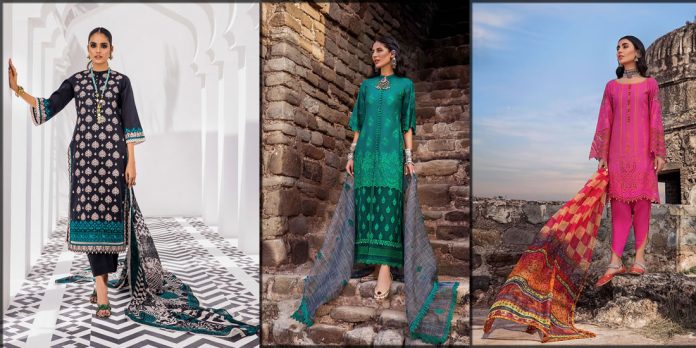 The Threads and Motifs lawn collection has been launched with stunning hues and designs. The structure and themes of the outfits are animated by Central Asian and Turkish artistry, which makes them stylish and the most modest attire for women of all ages.
The floral leaves, geometrics, boxes, strips, and historic theme dresses make this collection more striking and splendid. Further, they used the lawn texture to make their summer collection more reliable. Although these dresses are best for casual wear, you can likewise wear them at any formal and social gathering by enhancing them well with pearls and motifs.
The brand generally tries to bestow you with the latest
designs and structures to make your closet extraordinary with the best outfits. So, if you are scanning for the best Threads and Motifs lawn collection, you are in the correct place. Here you will receive the best collection of this brand. Let's explore..!!
Latest Threads and Motifs Summer Lawn Collection for Women



In the latest summer collection of Threads and Motifs, you will get unstitched 3PC lawn dresses prepared with unique and lovely patterns and shades that renew and refresh your summer look and make it more appealing and alluring. Thread, string, and dabka artwork are done on these attires to make them jazzier. You only need to pair your Thread and Motifs attire with striking makeup, classical footwear, and an adorable clutch to stand out. Khaadi lawn summer collection also contains impressive unstitched suits, check it also.
About the Brand..!!
Thread and Motifs amazed crowds with their stunning assortments. It was established in 2009. They always present their best collection and keep on doing their best work by introducing luxurious and dazzling clothes in the most reliable and soft texture. Also, the brand offers a varying assortment of formal wear, stitched and unstitched suits.
Threads and Motifs have numerous outlets in Pakistan. They not only have their outlets in Pakistan, but they also have established their business all around the world.
1- Threads and Motifs Summer "Tahra Lawn" Outfits



Threads and Motifs summer outfits are notable because they present the unique quality of the lawn and other summer pieces of clothing. You can also wear these clothes that are correspondingly reasonable for formal and casual wear. Moreover, the unstitched Threads and Motifs lawn assortment contains new hues with some light shades and has eye-catching prints.
The recent "Tahra" collection by the brand has the best-printed dresses that are generally accessible for ladies at reasonable costs. Moreover, these summer dresses and shirt varieties are splendid and phenomenal with digital prints and weaving work. Look at the accompanying unstitched dresses and select any clothing as indicated by your decision.
Sleek Black Summer Lawn Suit with Beige Embroidery

Update your summer closet with this work of art, an easy-to-wear dress that has an botanical print. The following attire has stylish sleeves and has additionally utilized lace underneath the shirt and at the base of pants to make this dress more glammy. Pair this striking outfit with nude shaded makeup, high heel shoes, an impressive bag, round circular hoops, and a trendy hairstyle to rock any summer events. For more similar outfits, visit the Salitex summer assortments.
Blue Printed Lawn Suit with C

olorful Flowy Chiffon Dupatta
If you are tired enough to make the same wedding guest look at each festivities, then this fascinating summer lawn suit will make a perfect choice. It is paired with the colorful, flowy chiffon dupatta. You can likewise wear this dress at any office meeting or gathering to enhance your pretty look.
This bright, shaded outfit is improved with 3D prints and lace embellishments. If you are going to wear this dazzling outfit at any event, then pair it with lightweight gems, a trendy hairstyle, and impressive and classy makeup to look more modest and beautiful.
Emerald Green Lawn Attire with Stunning Bright Hues Dupatta.

The lawn material of this dress will secure you from the blistering beams of the sun throughout the late spring season. The following dress has a beautiful floral theme with the best hues. You can customize this unstitched dress in any style you like the most. Keep your hair open with delicate twists, and wear lightweight floral pattern studs and a beaded necklace to complete your charming look. Likewise, you can wear this classy outfit at any formal event by furnishing this printed outfit with peals and motifs. BeechTree Lawn collection has unique lawn dresses as well.

Breezy Floral Zest Lawn Dress with Colorful Daman

Check out this geometric printed party wear dress with snappy embroidery at the neck and sleeves. This dress has a vibrant print and stylish sleeves and ought to be combined with high heels for a luxurious look. You can wear this dashing outfit at any casual, social, and even formal gatherings to make all of your dazzling and breathtaking gazes. 

2- Thread and Motifs Luxury Lawn Collection
Adornment and embellishment of the attires increase their beauty. Thus, many old age women like to wear embroidered dresses to get the immaculate flash. So here we have gathed some luxury lawn dresses from the T & M summer collection. All these dresses are made with trendy designs and patterns. Moreover, all bright shades are utilized to make this collection more awe-inspiring. You can wear any of the below outfits at any casual, formal, or informal event to dazzle.
Pink Chikankari Unstitched Summer Lawn Suit with Net Dupatta

Every woman likes to carry a lightweight outfit in summer. Lawn outfits are everybody's need in hot days since it is a delicate and plain-woven finished texture. The tender and subtle texture of the below dress gives a ladylike vibe. Probably, this three-piece dress looks exceptionally chic and fabulous in the summer season. This dress is paired with the net dupatta, which is easy to carry. You can wear this stunning three-piece suit on any summer occasion to look more stylish and smart. 

Dark Blue Embroidered Dress with Khaadi Dupatta



Nowadays, generally, youngsters lean towards beautiful suits, which are improved with a touch of motifs and pearls. On the other hand, most young ladies don't like to wear heavily embroidered dresses on events or social occasions. So, you can get lightweight and overwhelming woven clothing types in the Threads and Motifs summer assortment. These fancy dresses are a bit pricey but trust me, they are worth it. Check out the Almirah summer collection for more party wear dresses.
The coming up next is the ideal choice to look more modest and pleasing at any event. This lovely blue outfit adds more appeal to your look. You only need to pair your simple dress with heavy accessories to make all of your noteworthy and dazzling gazes. In addition, you can try smokey eye makeup with either nude or bright lips to enhance the outfit. Also, you can straighten your hair and let them fall behind your shoulders for a slaying look.
Impressive Green Threads

and Motifs Luxury Lawn Dress



Ladies prefer to buy unstitched dresses because unstitched dresses can be modified according to choice and fashion. So, rather than Thread and Motifs, different brands like Firdous summer lawn accomplish their incredible work and present their most beautiful and classical summer collection of this season.
Look down at the freshest article from the T & M summer collection that makes you look more splendid and jazzier. The green suit is furnished with delicate embroidery is looks superb, as you can see below. Further, the embroidered pants and sleeves add more charm and appeal to this outfit. You can wear this dashing outfit at any beach and at social parties to make your look more modest and smart. 
Yellow Lawn Dress with Printed Net Dupatta



Their new collection utilized lawn fabrics to make charming summer dresses. Moreover, they used threadwork and motifs to make their stunning summer assortments. Their themes and types of clothing are lightly enhanced with pearls and laces. You can serenely wear these lawn dresses at any gathering to make your look increasingly chic and pretty.
 If you are searching for the newest and most appealing lawn dresses for your party, then the below dress is the best. This bright shaded helps to make all of your jazzier and striking look at any summer event. Also, Check the Zellbury summer collection for more similar outfits.
Sleek Black Threads and Motifs Luxury Lawn Dress



The unstitched dresses by Threads and Motifs are comprised of three-piece, including a shirt, trousers, and a dupatta. These unstitched collections have printed and woven clothes with the best shades and designs. The color palette used for manufacturing their clothing is very appealing and chic, and you can make your character pretty attractive by wearing the dresses of this brand. 
The below luxury lawn suit is the best choice to wear to look more up-to-date and stunning at summer parties. You can also wear this sleek black suit at any wedding ceremony to make all of your jazzier and breathtaking flashes. Check out Unstitched Dresses by Bonanza Satrangi for some more variety.
Threads and Motifs reliably offer innovative new designs by mixing the most diverse shading palettes and quality embellishments in a fantastic collection for ladies of all ages at reasonable costs. The Threads and Motifs have additionally opened the online E-store that offers everyone to purchase any attire from their store quickly within ten days. Have a cool summer..!!