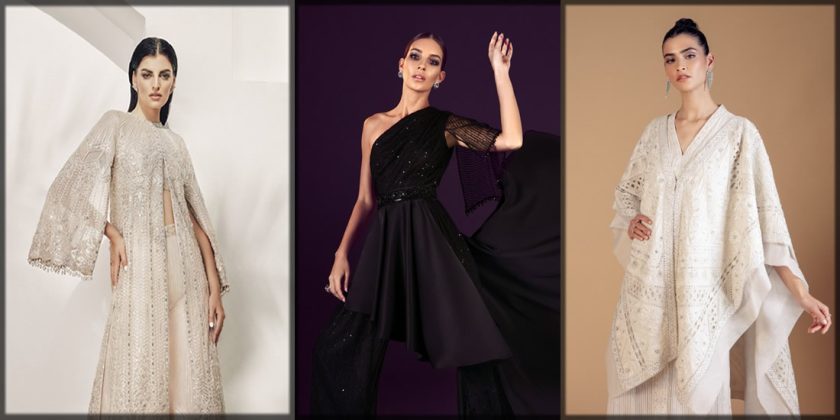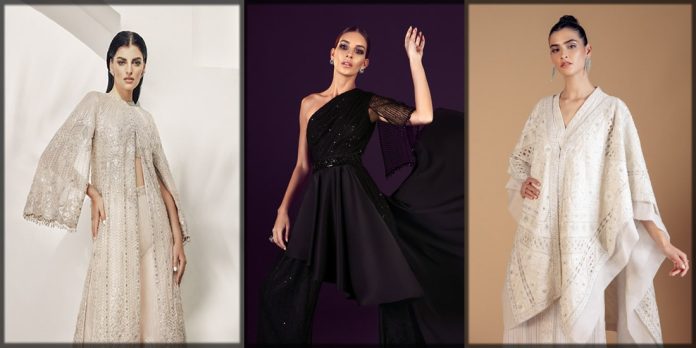 The Faraz Manan Formal Collection shows the designer's dedication to luxury, class, and style. People love Faraz Manan's beautiful work and perfect attention to detail. His formal dress line has once again wowed the fashion world. This collection is ideal for the modern woman who values tradition and style. It has a lovely mix of classic and contemporary styles.
One thing that stands out about Faraz Manan formal collection is how well he uses expensive fabrics like velvet, silk, and brocade. Designers are very good at making these luxurious fabrics into a wide range of beautiful and elegant styles, from flowing dresses to structured pantsuits. Each outfit has a bit of sparkle and drama thanks to hand stitching, sequins, and beads, which make them perfect for the holiday season.
The colors in this line by Faraz Manan are perfect for the season. There are deep jewel tones like emerald green, ruby red, and sapphire blue, and more neutral colors like ivory, black, and silver. It's guaranteed that whoever wears these designs will be the talk of any party because they are so beautiful and elegant.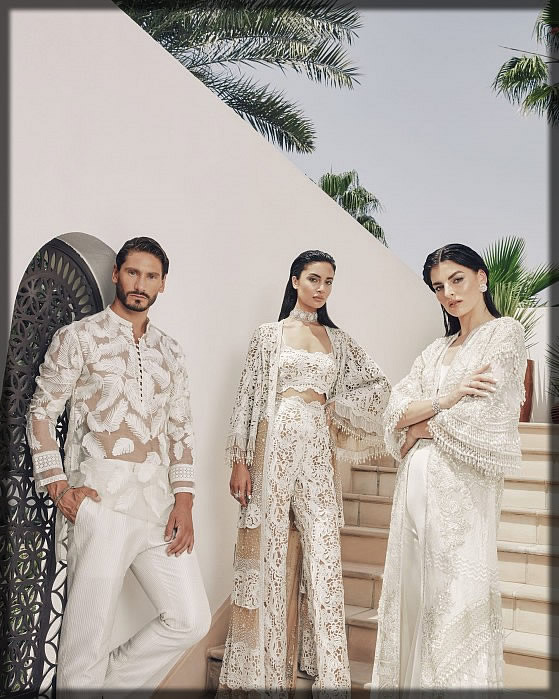 About the Brand
In fashion, Faraz Manan is a name that stands for luxury and sophistication. The brand has a long past, making it one of Pakistan's most prestigious clothing lines. The brand was started by the visionary designer Faraz Manan. It first appeared in the fashion world in the early 2000s and quickly became famous for its classic grace and modern designs. At the start of his career, Faraz Manan wanted to change Pakistani fashion by combining traditional skills with current styles.
The brand's success comes from paying close attention to every detail, being committed to quality, and being open to new ideas. Faraz Manan has always pushed the limits when making wedding wear, ready-to-wear, and luxury lawn designs that appeal to many customers in India and worldwide. Today, Faraz Manan is a symbol of Pakistan's lively fashion scene. He embraces the country's rich cultural history while keeping up with the fast-paced world of style and glamour.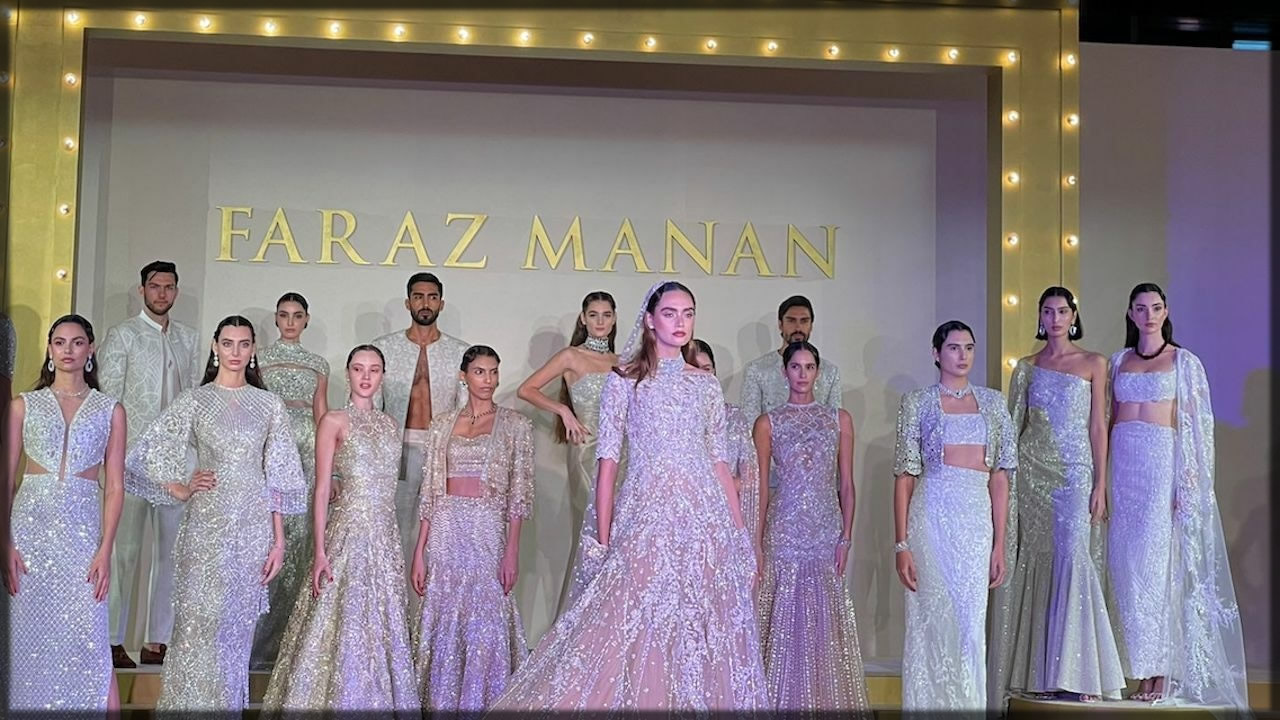 Faraz Manan Formal Collection [Bridal & Wedding Formals]
The Faraz Manan Couture Collection includes dresses for brides and grooms. He has always been creative, and the Faraz Manan Couture Collection shows that he can make luxurious and classy clothes. Faraz Manan has become a popular choice for people who want to look their most luxurious for special events. His clothes are known for their detailed embellishments, luxurious fabrics, and mix of Eastern and Western styles. Over the years, the brand has dressed many famous people and walked fashion shows worldwide, solidifying its position as a high-end Pakistani fashion leader.
This fashion collection also shows that Faraz Manan pays attention to how versatile his clothes are. Each piece is made with the modern woman's lifestyle in mind, so it's easy to go from daytime chic to nighttime glam. The collection of Faraz Manan fits the wide range of clothing needs of his picky customers, from a cozy kaftan with fur trim for a cold afternoon to a stunning evening gown for a gala event. He is still a trusted name in high fashion, just like Agha Noor formal collection shows. It has classic pieces that make you feel confident and classy.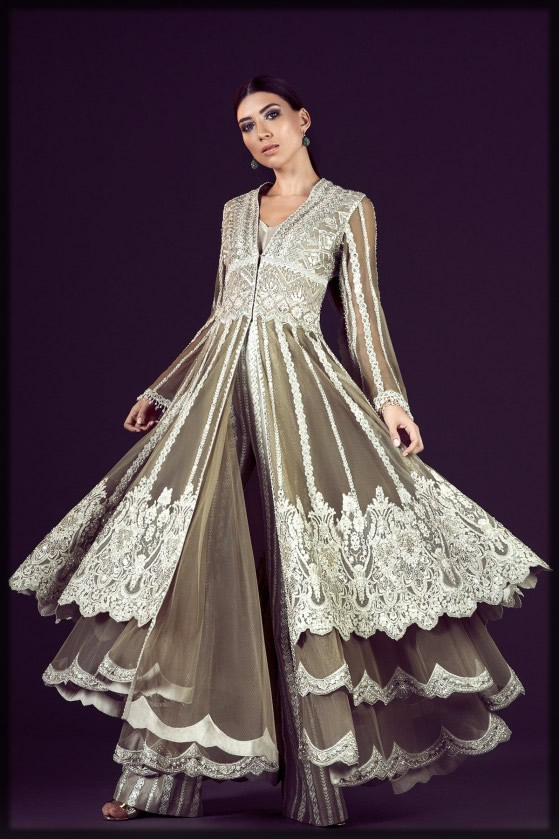 RTW Diffusion Catalog by Faraz Manan
Faraz Manan's Ready to Wear dresses are the best example of current Pakistani fashion, combining tradition and modernity in a way that looks great. Faraz Manan has made a name for himself in the fashion world with a strong focus on quality and a good eye for detail. His diffusion Ready to Wear line shows how good a designer he is, allowing women to be elegant and sophisticated without any effort. There are also many unique RTW dresses in Misha Lakhani formal wear collection that are absolutely worthy of your attention.
These dresses' detailed embroidery, rich fabrics, and classic shapes work well together. The ready-to-wear line has clothes for various events and styles, from casual brunch to fancy parties. Each piece is a work of art to make the person who wears it feel good about themselves and relaxed. Women can show off the ease and charm typical of Pakistani fashion with Faraz Manan's Ready to Wear dresses, which make a statement wherever they go.
Luxurious Evening Dresses
Pakistani fashion designer Faraz Manan has made a name for himself in high fashion, especially when making beautiful evening dresses. His designs are a mix of luxury, style, and modernity, which makes them a popular choice for people looking for the right outfit for a special event. Faraz Manan's evening dresses testify to how carefully he crafts each one. They ooze luxury and sophistication with rich fabrics, intricate embellishments, and perfect detailing. Maria B evening dresses are no less than these, so you can also check them out.
Each Faraz Manan evening dress is a work of art in its own right, made to make the person who wears it feel like a queen. Faraz Manan's designs suit many tastes, from those who like a traditional Pakistani outfit to those who want a sleek and modern ball gown. His collections often combine traditional Pakistani embroidery methods with modern cuts and styles in a way that looks great together. This way, every woman can find a dress that fits her style. Faraz Manan's creations are the height of classic grace and glamour for women looking for the perfect evening dress that mixes old and new styles.
Wedding Formals Ft. Mahira Khan
Faraz Manan's wedding formals are a celebration of elegance and luxury. Renowned for his impeccable craftsmanship and attention to detail, Manan's designs effortlessly blend traditional aesthetics with contemporary sensibilities, creating a visual symphony of rich fabrics, intricate embellishments, and exquisite tailoring. Each ensemble from his wedding formals collection reflects a harmonious fusion of culture and modernity, making every bride and groom feel like royalty on their special day. Faraz Manan's creations stand as a testament to his unwavering commitment to crafting timeless and luxurious wedding formals that captures the essence of enduring love and celebration.
Ethereal Ready Couture by Faraz Manan
In the fashion world, Faraz Manan formal collection is a name that means high-end and classy clothes. Faraz Manan has made a name for himself in the fashion world by paying close attention to detail and making beautiful clothes. He has always been dedicated to making classic pieces that are rich and elegant, and his Ready Couture designs show this. Each piece in the ready-to-wear couture line is a work of art that was carefully made to meet the exacting needs of fashion experts.
His collections have a lot of different styles for fashion lovers, from wedding dresses with lots of small embroidery to stylish, modern, ready-to-wear clothes. Ready Couture by Faraz Manan is more than just clothes; it's a sign of luxury that lets people show off their unique style with style and ease. Faraz Manan is still a leader in haute couture, setting trends and changing fashion rules. He does this by being dedicated to quality and having a sharp eye for new ideas, just like Hussain Rehar formal collection showcases in its latest catalog.
Western Style Traditional Dresses
In his Western-style takes on traditional garments, Faraz Manan creates a compelling fusion of classic elegance and contemporary flair. His works are a beautiful symphony of conventional materials and modern techniques, reflecting the collision of past and present. The luxurious and refined styles created by Faraz Manan appeal to a clientele that wants to honor their heritage while still participating in the international fashion scene.
Faraz Manan 'Resort' Attires
With his beautiful collection of Western-style dresses, the famous Pakistani fashion designer Faraz Manan has expertly crossed the gap between traditional Eastern and modern Western styles. His designs are truly unique because they combine sophistication, innovation, and cultural wealth in a truly impressive way. The dresses that Faraz Manan makes in the Western style have clean lines, perfect tailoring, and a mix of high-end fabrics. These make the clothes easily modern while staying true to their Eastern roots.
Manan's Western line has many beautiful dresses, such as trendy jumpsuits, statement blazers, chic cocktail dresses, and evening gowns. His attention to detail and love of mixing complicated embellishments with simple design elements have made his works a worldwide favorite among fashion fans. This is clear in the detailed embroidery, bold color choices, and graceful silhouettes. Western-style dresses are a great way to make a fashion statement because they combine the best of both worlds in a way that looks great. They will always look good in your closet. Western-style dresses by Shahnaz Anis show that the designer is dedicated to pushing the limits of fashion by creating pieces that are not only fashionable but also culturally relevant.
In fashion, the Faraz Manan Espoir Velvet Collection is a stunning display of wealth and style. Faraz Manan, a famous Pakistani fashion designer, has again shown how skilled and creative he is with this beautiful collection. Many beautiful silk outfits in this collection are meant to make a statement. The velvet collection has a lot of different styles for different events and tastes, from fancy wedding dresses with lots of small details to elegant eveningwear that makes you look sophisticated.
The name of this collection, "Espoir," which means "hope" in French, perfectly describes it. It gives fashion lovers a glimpse of hope and luxury in their closets. These clothes show that Faraz Manan is dedicated to making clothes that make women look beautiful and feel strong and confident. They use luxurious fabrics, classic shapes, and careful attention to detail. The Ansab Jahangir velvet collection is a lasting tribute to the fashion industry, so get a regal velvet dress for events. It adds a touch of glamour and grace to any outfit, whether going to a wedding, a gala, or a special occasion.
In conclusion, Faraz Manan formal collection shows how skilled the designer is and how dedicated he is to high-end fashion. His exquisite pieces combine classic grace with modern flair smoothly and stylishly, making a collection that fashion experts love. Faraz Manan's collection is a captivating mix of style and class, with lavish embellishments and carefully tailored silhouettes. It's perfect for fashionistas who want to make a statement. His skill takes fashion to a new level, ensuring everyone wearing it radiates classic beauty and class.