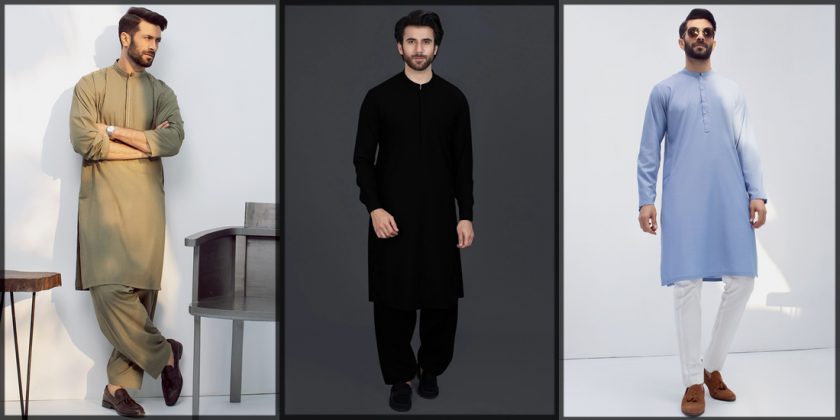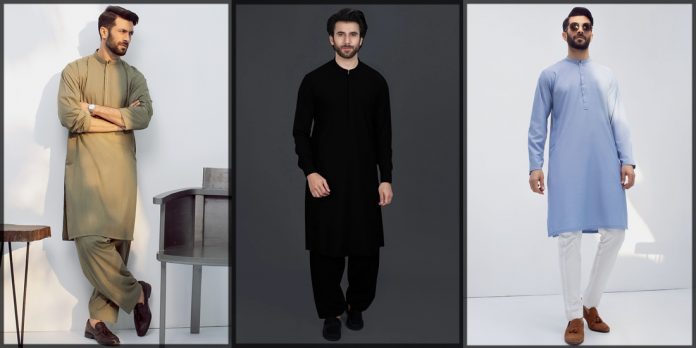 As you know, summertime is just around the bend. So if you want to make your summer season more reliable and happier, at that point, all you need is to buy comfy and soft fabric clothes. Hene, we gathered the most comfortable and best summer dresses for men here.
This is a big challenge in the summer season of Pakistan to choose a suitable dress. Because the summer season is sweltering in Pakistan. In summer, men prefer to wear soft, lightweight cotton suits to freely and efficiently do their work.
Different top brands are working in Pakistan, styling the best summer dresses for men to look attractive and handsome. Like women, men also want some modification in their dresses to look unique and impressive than others. Read this blog towards the end, and I am sure this weblog will help you choose the right dress.
Best Summer Dresses for Men [Shalwar Kameez +Kurta Collection]

Different bands in Pakistan are working on men's summer suits because why women have all the fun? All notable brands do their best to satisfying the men with their comfy summer attires by delivering soft fabric clothes in excellent and remarkable tones. Men can wear these suits confidently at any casual and formal get-togethers. Let's explore the stunning summer collection of the following brands. 
Edenrobe 

Alkaram Studio 

Junaid Jamshaid


Bonanza Satrangi

Riwaj

Almirah
1- Edenrobe Men Summer Wear



Edenrobe, the most loving brand of Pakistan, was established in 1988. The owner Muhammad Haris is a well-known designer of Pakistan. This chic brand each season is offering comprehensive styles in modern ethnic and western wear for men, women, and kids.
The men's summer collection of Edenrobe contains the soft cotton material shalwar kameez and kurtas that not only normalized your men's look also keep you safe from the melting days of summer. Let's have a gander at the newest summer shalwar kameez and kurta collection of Edenrobe.
Cream Shalwar Kameez with Embroidery Collar
You can see an attractive cream color shalwar kameez that is made with plain fabric. The collar and front patti of this kurta is decently embroidered. The kurta is paired with the plain shalwar that enhancing the grace of this outfit. You can wear this remarkable dress at any casual gathering to make all of your jazzier and handsome flashes. 
Charcoal Grey

Band Collar Cotton Kurta for Men



Band collar kurta is on-demand these days. Men, especially young boys, love to wear the band collar kurta for looking more handsome and dashing. The below grey kurta is the ideal choice to wear when you are going for any formal gathering. All you need is to pair it with the right pair of shoes and hairstyle.
Simple Teal Color Suit for Young Boys

Now the men's dresses are also available in every color, and you can choose the color according to your preference. Here is a teal color plain fabric suit for the men. This suit's kurta contains beautiful embroidery on the collar, and hidden Patti thread work on the collar adds more grace to this outfit. Combine this chic suit with the classy summer chappal and make your gaze more perfect and remarkable. Check more Kurta designs for men for diverse variety.
2- Alkaram Studio Men Wear Collection
Alkaram Studio was established in the mid-1900s. Pioneering abilities and intuition have consistently been the main impetus behind the accomplishment of the group. Situated in Karachi, the Alkaram group has unfurled its vision of development. Alkaram is an easily recognized name concerning fashion fabrics.
As women, the men's collection of this brand is very fantastic. It used pure cotton and lawn fabrics to make its men's summer collection more comfy and reliable.
Impressive White Color Dress
Men usually love to wear white suits, especially at religious festivals. Here is a beautiful white dyed embroidered cotton shalwar Kameez for the men. This attire is very modest and straightforward. You can wear this chic suit at any casual and formal gathering to looking more dashing and killer. You can likewise wear this white suit at your sister's wedding by pairing it with any bright-colored waistcoat. If you want some formal dresses for your engagement, then check out trending Engagement dresses for men.
Dyed Blended Summer Kurta for Men

If you want to join any formal reception, then the below-dyed blended kurta is the best choice to wear. The beautiful plain kurta indeed refreshes your summer look and likewise adds more shine and refinement to your look. Pair it with the plain white shalwar and get the decent and superb flash at any gathering.
Green Shaded Shalwar Kameez with Minimal Embroidery
You can see the green-shaded outfit with minimal embroidery on the collar and front patti in the following image. You can wear this dyed blended shalwar kameez with basic fitting at any event and gathering. This dress is available in the following sizes.  
All you necessitate is to pick the right size as per your body size and skin tone. Further, pair this fabulous dress with the modern hairstyle and chic boots to make all of your jazzier and noteworthy flashes. 
3- Junaid Jamshaid Summer Suit Collection
Junaid Jamshaid is the top brand that started its journey in 2002. In 2011, Men's clothing brand Junaid Jamshed stepped into the fashion industry and started its business. J. always offers impressive men's suits in good quality fabric and hues. This season likewise brings the comfiest attires for the men with the mixture of best tints, as you can see below!
Mustard Summer Kurta for Boys

You can see the vibes of the plain kurta in the mustard color for the men. A beautiful plain kurta in the cotton fabric is the best choice to wear. The computerized machine embroidery on the collar and the front patti look so elegant. You can pair your mustard kurta with the plain white pajama and shalwar as you like. Pair your kurta pajama with the kolhapuri chappal and add more charm to your look.
Pure Cotton Wood Brown Suit

Are you looking for a decent and impressive summer cotton suit for your evening party? At that point, pick this fabulous outfit from the Junaid Jamshed store and make all of your handsome and noteworthy flashes. Likewise, you can wear this chic outfit at any wedding ceremony by pairing it with a classy waistcoat and footwear.
Casual Camel Blended Kameez Shalwar

This is a casual wear suit that you can carry regularly. You can also wear this stunning suit at any business meeting to adding more balance to your character. Pair this excellent suit with the Peshawari chappal and add more rhythm to your look.
4- Amazing Summer Collection by Bonanza Satrangi
Bonanza Satrangi is the best Pakistani brand that was established in 2012. The latest summer collection for men by the Bonanza Satrangi will help to renew your look and make it more excellent and killer. The prices of these suits are slightly higher than others, but it gives you the high-quality fabric clothes that no one gives you. Let's explore!
Kurta is always on-trend. The teen boys love to wear the kurta. Because it is a versatile style that gives them a chic and noteworthy look. The below sky blue kurta is the best selection if you want to grab the attention of others. Pair your plain sky blue kurta with the plain pajama and make your look more perfect and classy.
Plain Blended Kurta Shalwar with Metallic Button
Have a look at the plain blended shalwar kameez that are adorned with metallic buttons. If you have a fair skin tone, give a chance at this classy suit, and I am sure you will rock any gathering and event.
Sleek Black Summer Cotton Suit by Bonanza
Sleek black is the most favorite shade of everyone. Black is considered the winter color but black lovers wear the black outfit even in the summer. If you want to add more grace and balance to your look and further want to impress others with your solid look, then pick this black outfit from the Bonanza store and fulfill all of your wishes.
5- Riwaj Men's Wear Summer Attires
Riwaj is a famous men's wear brand known for its best texture quality and customary plans. Malik Habib introduced this notable brand. Riwaj is a renowned brand that has launched the most recent men Kurta assortment with a productive lawn and various hues at reasonable costs.
Chic Summer Kurta with Brown Embroidery
Are you searching for the best and trendy pattern kurta for your welcome party? The below summer kurta with brown embroidery is the best choice to wear if you need to make your flash more breathtaking and charming. Pair this dashing kurta with a unique hairstyle and classy footwear to make your gaze more stunning and striking. 
Party Wear Summer Shalwar Kameez for Men
Here are the best summer party wear dresses for men. This dress is simple but stylish and fabulous. Classic two-piece shalwar and Kameez in cream color are prepared with Boski fabric. The band of the shirt is embroidered, and the sleeves are cover with a cuff. The one of the best summer dress for men.
Cuff Sleeves Summer karandi Kurta
In the following, you can see the summer karandi kurta for men. This type of kurta is best for party wear and formal meetings. The band and front patti of this shirt are decently embroidered with a beautiful pattern, as you can see below. Pair this cool kurta with the white shalwar and get a decent flash.
6- Best Summer Dresses for Men by Almirah

The first outlet of Almirah was established at Dolmen Mall Tariq Road Karachi in July 2012. Now, this brand is extending its roots across Pakistan. ALMIRAH has many items that incorporate formal wear, casual, abayas, Kurta shalwar, and many more for you. Anybody can discover something for his/her self for any event from the Almirah store.
Almirah men's collection is very impressive that contains the shalwar kameez in striking hues. You can pluck any color as per your choice and event to make your look more handsome.
Two-Piece Green Blended Kameez Shalwar
A fantastic two-piece suit is available in a green shade for men. This dress is prepared with blended fabric that is easy to wash. This is classic fit men wear stitched suit with an Italian collar. Grab this outfit if you want to try something new.
Classic Purple Cotton Kameez Shalwar
The purple color is the most demanded color by women and men. This color is the most attractive, no doubt. Here is a simple purple dress in cotton fabric that will give you a comfortable and remarkable look at any casual and formal party.
Now men are not stuck with the same typical colors, and they love to wear different color attires. Here you can see a brown candid but graceful two-piece dress. This dress is prepared with premium blended fabric and modified with an Italian collar. You can wear this dashing outfit at any casual gathering to make all of your dashing and handsome looks.
You can buy the best and latest summer dresses for men from your favorite outlet and brand. All these notable brands also offer a home delivery facility for your relaxation. So if you don't have time to go to the outlet, you can get your desired dress at your doorstep by online order. Remember to pick the right outfit as per the occasion to look more chic and handsome than others.