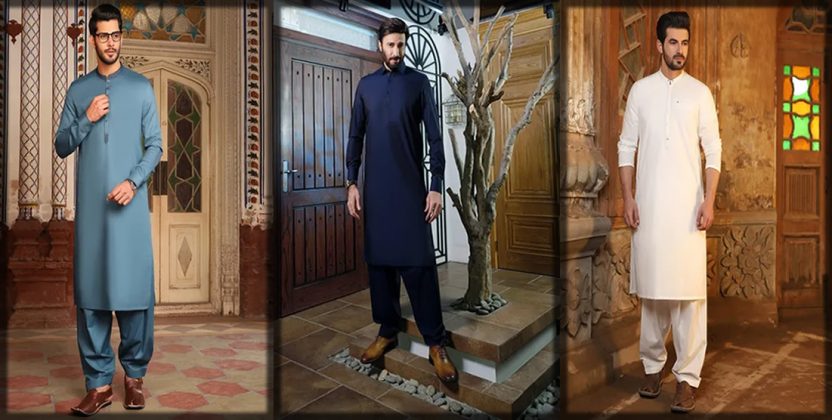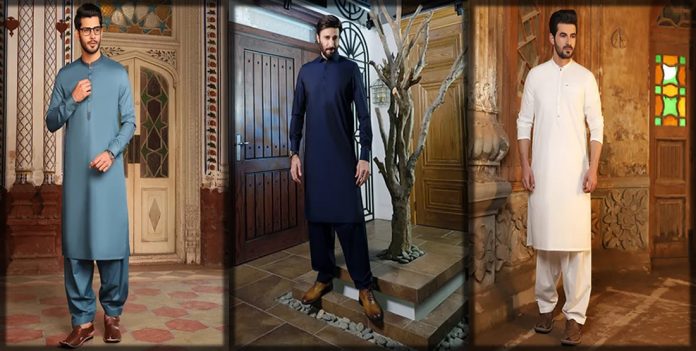 Junaid Jamshed is a famous clothing brand in Pakistan. The leading brand launches its seasonal collection for both men and women. Undoubtedly, the dress designs and fabrics are recognized by the public at large. You will be satisfied with the latest Junaid Jamshed men summer collection as it provides an exclusive cultural variety.
The brand has revived the cultural heritage of the country by bringing the shalwar kameez collection. The brand is working since 2002 with more than 100 retail outlets across Pakistan. Plus, it established itself as a very well-known brand in the South Asian states, which is an outstanding achievement. It has more than 20 outlets in western states as well.
Are you looking for the latest spring/summer outfit for your summer? Indeed, the hottest and scorching season of the year is on the way. Several brands have started launching their spring assortment for their lovely customers. Take a while and explore the easy-going unstitched, and ready-to-wear men's collection below and get your favorites soon.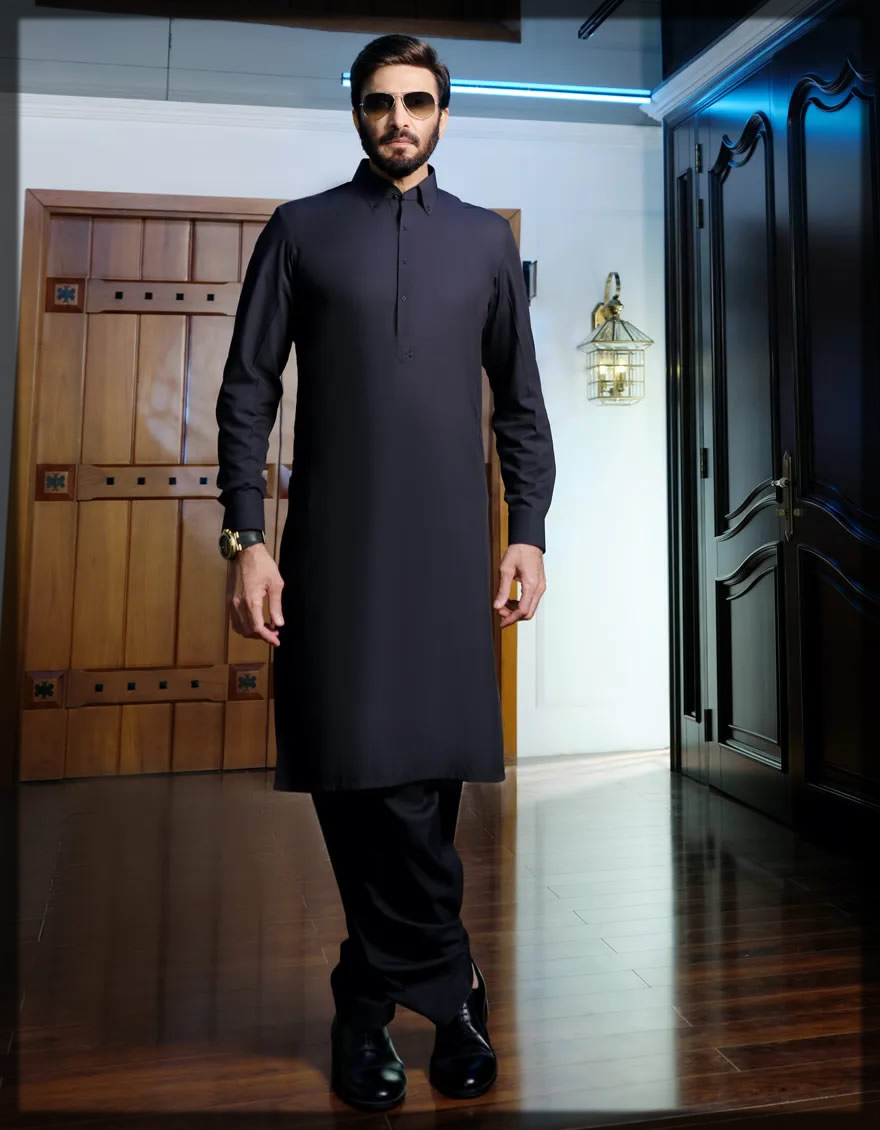 Junaid Jamshed Spring Summer Collection for Men and Boys

The apparel clothing brand deals with a versatile assortment for both men and women. Initially, it emerged in the clothing lines. With a vertical diversification, the brand expanded itself in jewelry, perfumes, and many other accessories for men and women.
Many people love and prefer Junaid Jamshed for its fine texture and fabric. Indeed, the comfortable fabric makes your season much pleased with the easy-going material. Let's take a look at the following portfolio of summer collection that portrays:
J. Summer Catalogue
1. Unstitched Shalwar Kameez Suits
2. Stitched Shalwar Kameez Suits
3. Ready-to-Wear Kurta Collection
4. Waistcoats Collection
5. Formal Shalwar Kameez Collection featuring Aijaz Aslam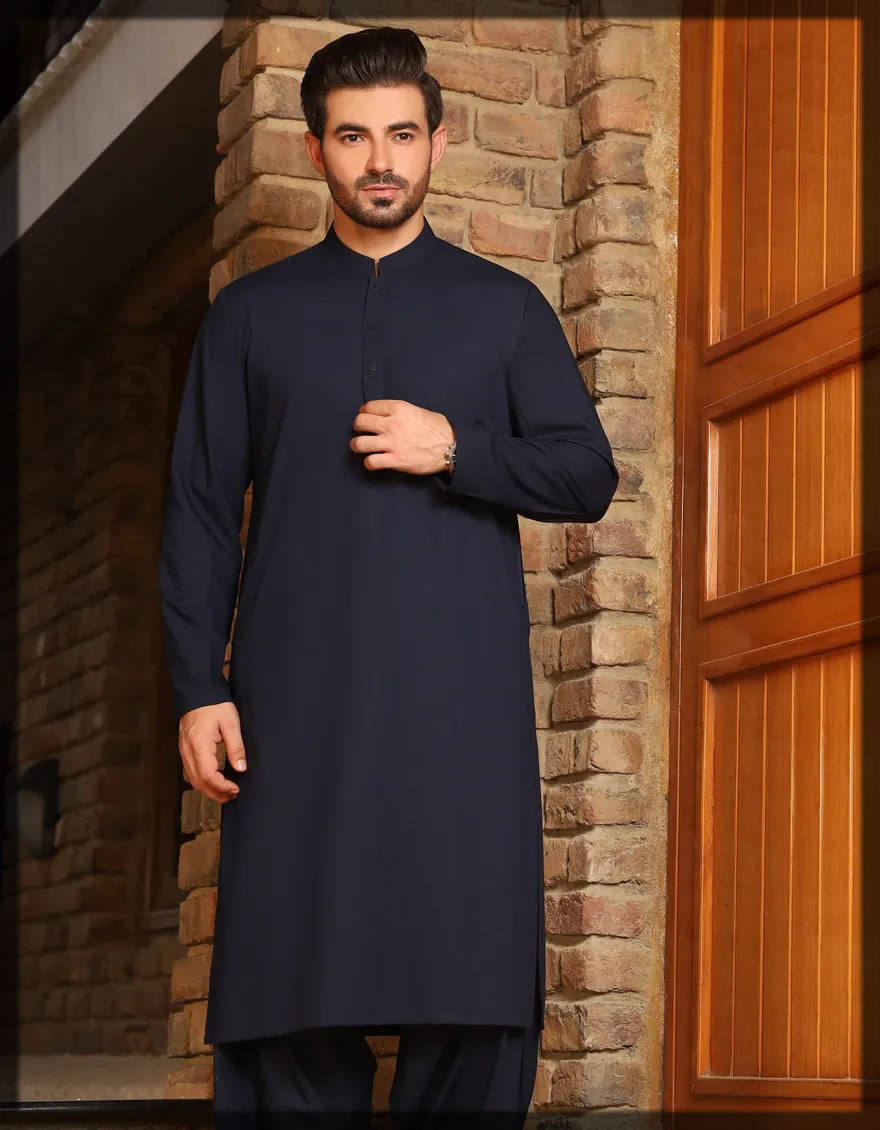 1. Junaid Jamshed Men Summer Unstitched Fabric Collection

Many people prefer to get an unstitched piece of cloth. It may be due to their low prices as ready-to-wear dresses are comparatively expensive. On the contrary, some people buy unstitched dresses to style them according to their body shape.
Here we have a wide variety of essential summer colors below. Indeed, the prices are comparatively lower than the pret shalwar kameez and kurta. So, take a while to explore the light and dark basic colors for men below.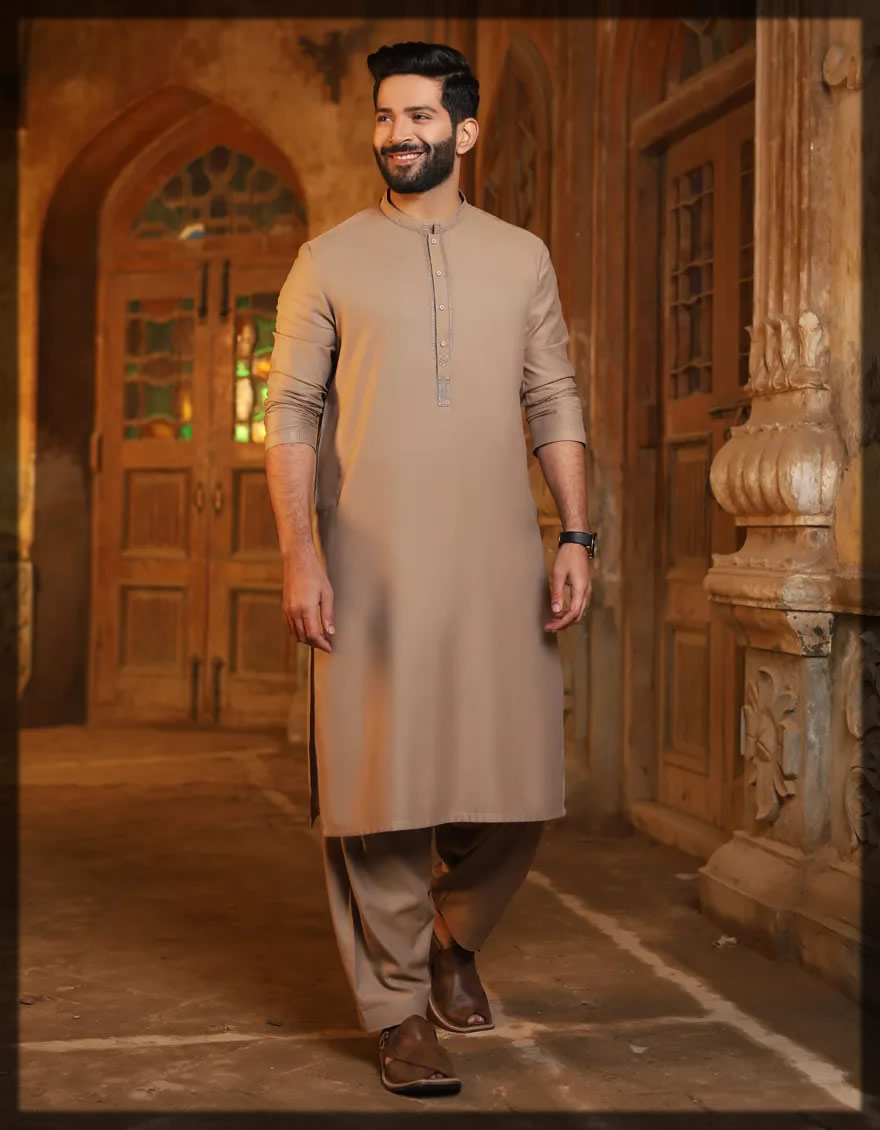 Summer Unstitched Fabric in Light Colors

Undoubtedly, dressing well is a form of good manners. People will always notice and remember you with the selection of colors you are wearing. Therefore, always choose wisely and go for a shade that perfectly fits your complexion and face tone.
Take a look at the following light colors for men. The basic beige, light grey, and lilac dresses are ideal for those who need an office wear shalwar kameez. Get yourself a graceful dress from the latest Junaid Jamshed summer collection for men, and enjoy your day.
Unstitched Dark Suits Fabric for Men
Do you want to make yourself significant? Remember, keep yourself simple and linger dominantly among the galaxy of individuals. This can't be done without a perfect outfit and a great look. Indeed, the following dark-shaded dresses will appeal positively.
Take a look at the basic dark colors below. You can choose a shade that suits more to your personality and complexion. The olive green color will be the best option if you want to look different. Similarly, the charcoal black, and grey colors will enhance your personality wholly.
2. Stitched Shalwar Kameez Collection for Men
Style is a unique expression of individualism with a proportion of charisma. On the contrary, fashion is something that comes after style. Therefore, one must focus on a unique style to possess fashionable looks. Men should be honest in their style and fashion sense. Indeed, a traditional and ready-to-wear shalwar kameez will revive your cultural heritage in summer. Plus, the traditional outfit is the easiest style to carry in hot summer.
Do well, live well, and dress up well to lead a successful life. Plus, in a world full of trends and fashion, remain a classic gentleman with a positive attitude. Head over to Junaid Jamshed's ready-to-wear shalwar kameez collection for a traditional look. The portfolio offers a variety of soft, light, and basic dark-shaded suits for men. Indeed, you will never regret your choice if you opt for the latest and trendy suits below.
Fashion Tip: Wear a classic kheri and men's watch to complete your look.
3. J. Ready-to-Wear Kurta Collection for Men
Clothes and manners alone can never make a man. But, when he is made, the former two things improve his appearance greatly. You are a genius if you are showing someone who you are without saying anything. Indeed, a good form of dressing can reflect many positive and impactful vibes on others.
Undoubtedly, wearing a Kurta can make you look different and graceful. There are a variety of Kurta designs for men to try and carry impeccably. Are you searching for a dignified kurta for your summer season? If so, then give a pause to your scroll and explore the basic, semi-formal, and colorful kurta collection below.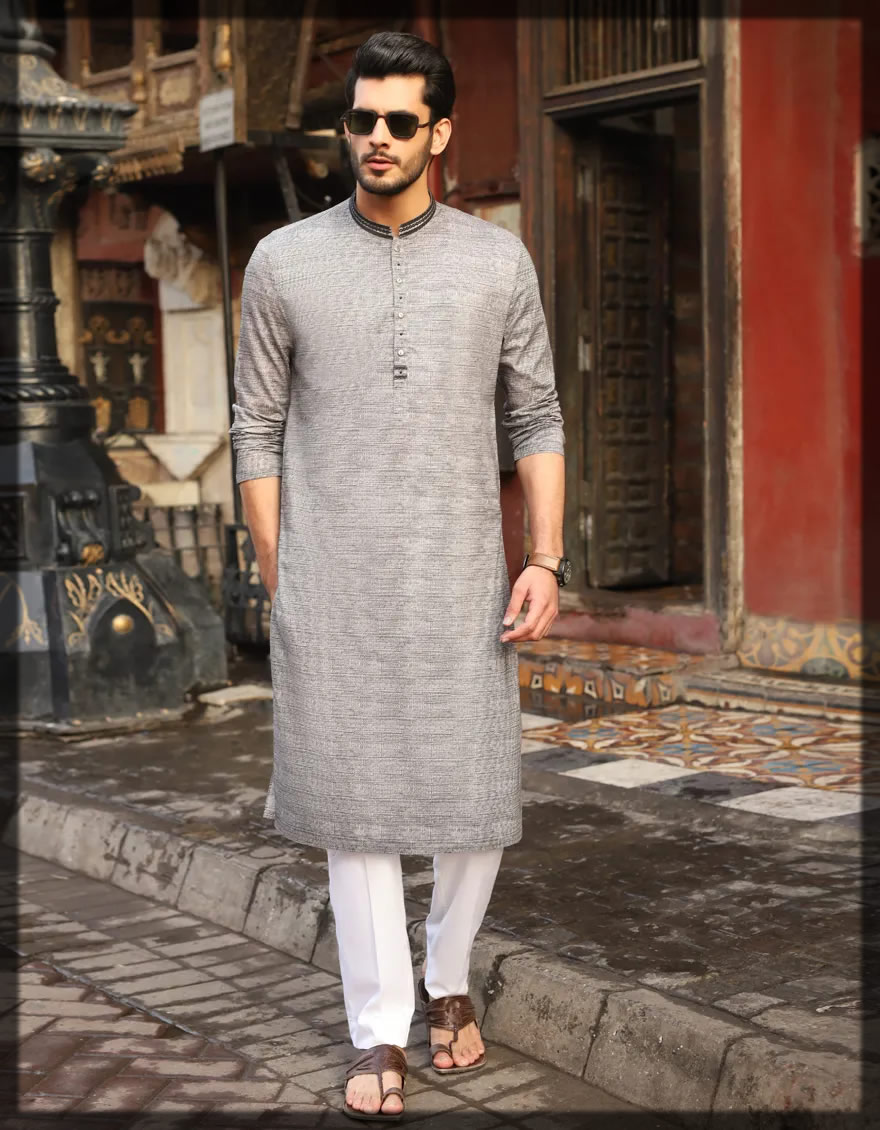 The soul of a human is in the clothes he/she is wearing. Therefore, always choose a nice dress wisely to obtain impressive and graceful looks. For instance, take a look at the following image gallery that features a wide variety of simple yet basic kurta designs. The light and decent hues will add appeal to your character and make you stand-out dominantly. Further, explore Amir Adnan Kurta collection for a likewise assortment.
Semi-Formal J. Summer Collection for Men

Weddings and other party occasions require a semi-formal outfit for men as well. Plus, they want to wear a different yet decent dress to remain inside the boundaries of good aesthetics. Therefore, we are bringing you some fascinating kurta styles below. The dual shaded and slightly self-printed Kurtas will make your event much memorable. You can have more variety from the Cambridge kurta collection for men.
Colorful Kurta collection for Teen Boys
Fashion is like a language that generates itself in clothes to interpret reality. Those who want to create a colorful look with a colorful mind must look for the following Kurta designs. Indeed, the vibrant and splendid hues will add more sleekness to your personality. You will enjoy your new summer look with the magical rainbow J. summer collection for men below.
4. Junaid Jamshed Summer
Ta'assur Collection
featuring Aijaz Aslam
You have to dress like the man you want to be. Plus, dress-up like a grown man to be noticed by everyone. Here is an exclusive collection of J. summer collection for men featuring the very graceful Aijaz Aslam. He is a famous actor with passion, and style with an attitude.
Indeed, the following exclusive collection will help you to look graceful. The prices of the following outfits are generally high due to exclusive texture and quality fabric. Plus, it is a pure formal material to wear in summer weddings and other exceptional reception events.
5. J. Summer Waistcoat Collection for Men
The waistcoat is a traditional yet formal accessory for men to typically wear at weddings. There are many clothing brands offering waistcoat designs. For instance, you can check out the recent Edenrobe waistcoat designs for a quality look. Take a look at the following image gallery to get a flawless and incredible summer look with amazing waistcoats.
6- Luxe Gold Edition

by Junaid Jamshed
Luxe Gold is an exclusive, timeless collection for your traditional wardrobe. Junaid Jamshed used the strong colored and compacted fabric that indeed complements your style and needs. Moreover, the stylish cuffs, banned collar, and button strips uplift the beauty of these limited pieces. You can carry these outfits for any casual, formal, social, and wedding events to get a fabulous and handsome look. You will get these attires in the following sizes.
Pick any size according to your figure and make all of your breathtaking and awe-inspiring looks. With these classical attires, all you need is to comprehend the below steps to get the killer and handsome look.
Wear formal boots for catching the cool look.

Protect your eyes with sunglasses during the summer.

Style your hair in any style you like the most.

Wear the wristwatch, and you are ready to go.
Buy the premium quality shalwar kameez and kurtas from the recent and eccentric collection by Junaid Jamshed. Indeed, the combination of well-crafted designs and flattering cuts will complete your summer look. Moreover, the eye-pleasing colors in your wardrobe will always be a fun idea. Check out the recent portfolio of Junaid Jamshed Men's Summer collection above and get your favorite dress soon.