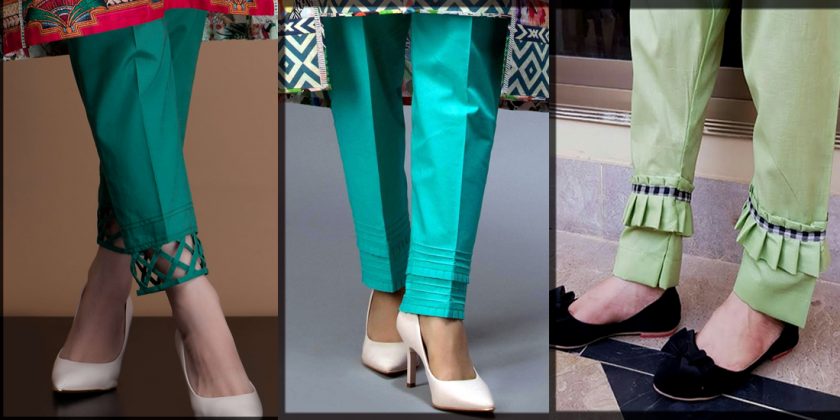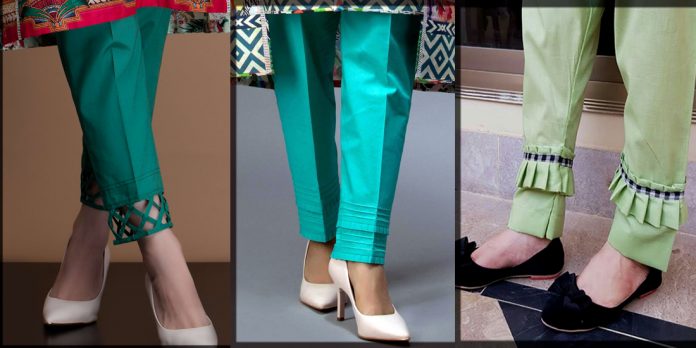 Like sleeves and neckline, Poncha also needs to be designed beautifully. In the ready-to-wear trousers, you will get the different stylish trouser Poncha designs. You can copy these designs on your own and can stitch your trousers as you want and need. You will get the different trousers below that will help to stitch your stylish trouser with the latest designs.
Take a look below and get the most fantastic and superb trouser Poncha designs that will help you to prettify your look by making it jazzier. Women love to wear stylish outfits. Therefore, they always look for a well-decorated neckline, sleeves, and trousers with the latest patterns.,
Some girls buy the unstitched attires so that they can stitch them as per their choice and need. As your shirt plays a significant role to make your dress perfect, your trouser also does the same. Therefore, women are always searching for trouser Poncha designs from different sources. We have made it easy for you by gathering all the latest and trendy designs in one place.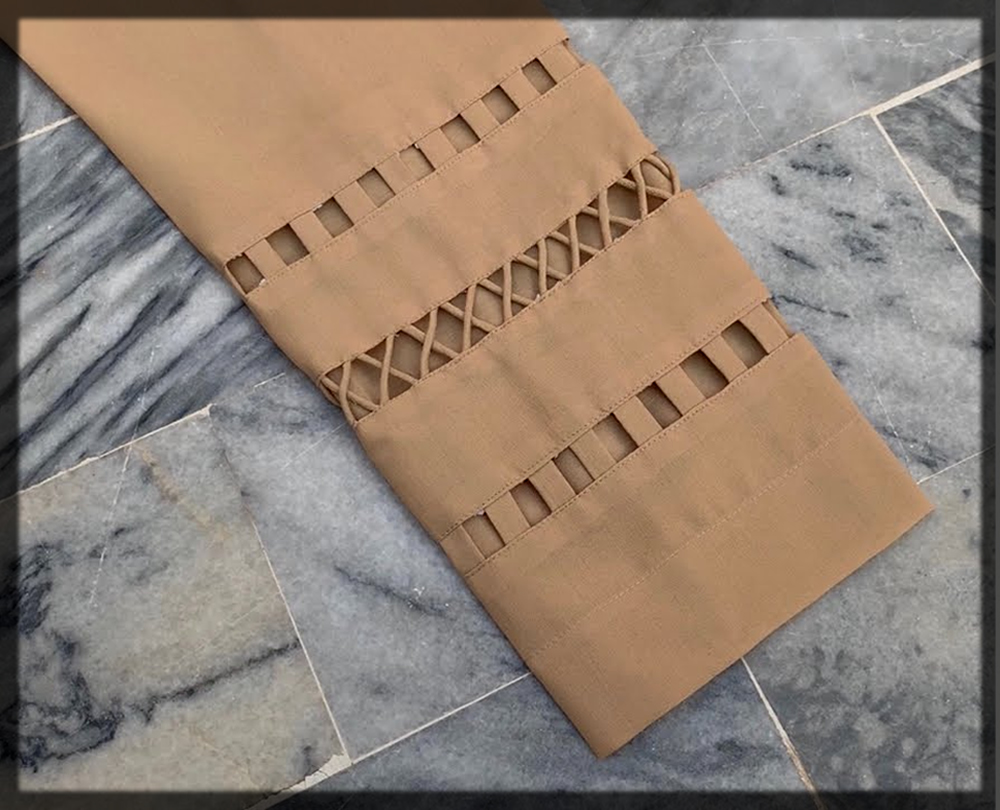 Beautiful and Trendy Trouser Poncha Designs for Women
Women are always conscious of their looks. They want to look perfect and unique. So, for looking different, you need the stylish and latest pattern outfits. That will help you to make yourself look more splendid. We have brought the classy and latest trouser border designs for you. You can easily make all these stunning designs on trousers, and further, you can furnish your Poncha with laces and pearls for a more striking look. You will get the following styles here and also their brief description that will help you to adorn your pajama border with the latest and trendy designs.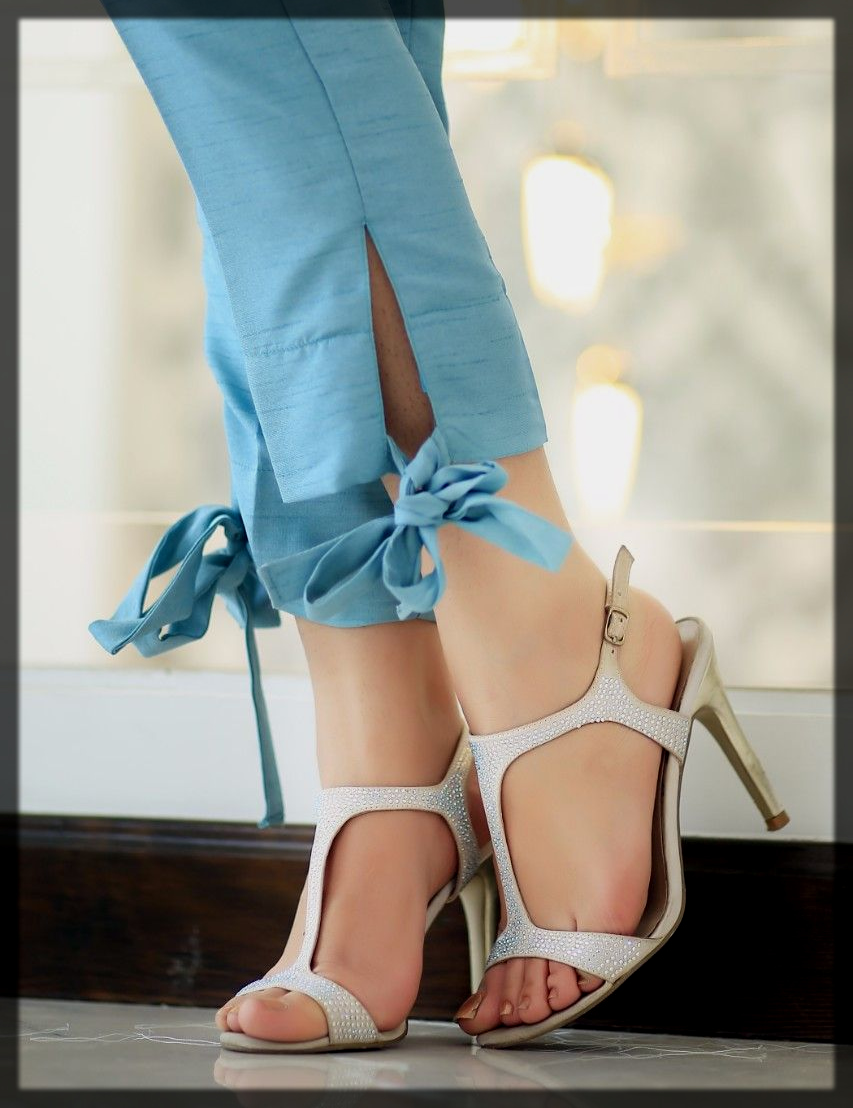 Simple Casual Pleated Poncha
Do you want to design your trouser stylishly and look pretty? At that point, try the pleated pajama. You can simply adorn your trouser by adding pleats at the bottom of the pajama. You can pair your casual Poncha with a kurta or short shirt for an appealing look. Pair it with plain chappal and you are all ready to go.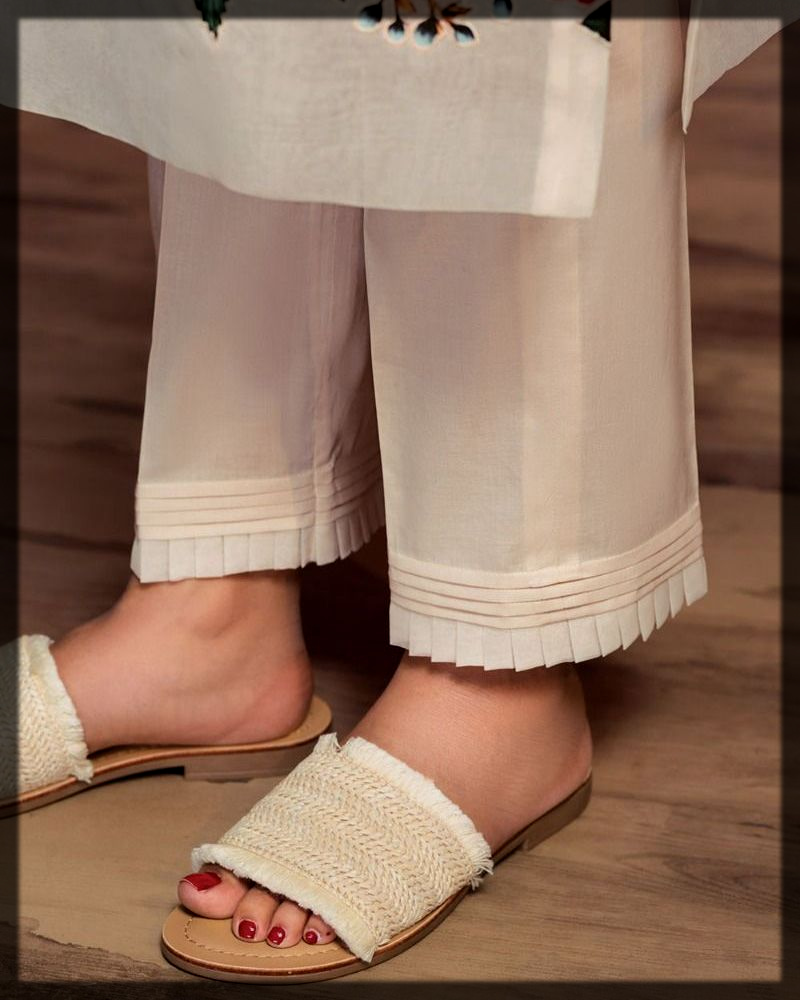 Trendy Poncha Style with Samosa Lace

Style your trouser with this latest style that is very easy to stitch. Add the impressive white lace at the bottom for making your trouser more pretty. You will find the different types of laces in the market. All you need is to pick the trendy one to make your look more fantastic and fashionable.
You don't need to do anything, simply buy the stylish lace from the market and attach it at the bottom of your trouser, and your stylish and dazzling trouser is ready. You can attach the little samosa lace at the border to add more style to it. Also, visit the dress stitching ideas here.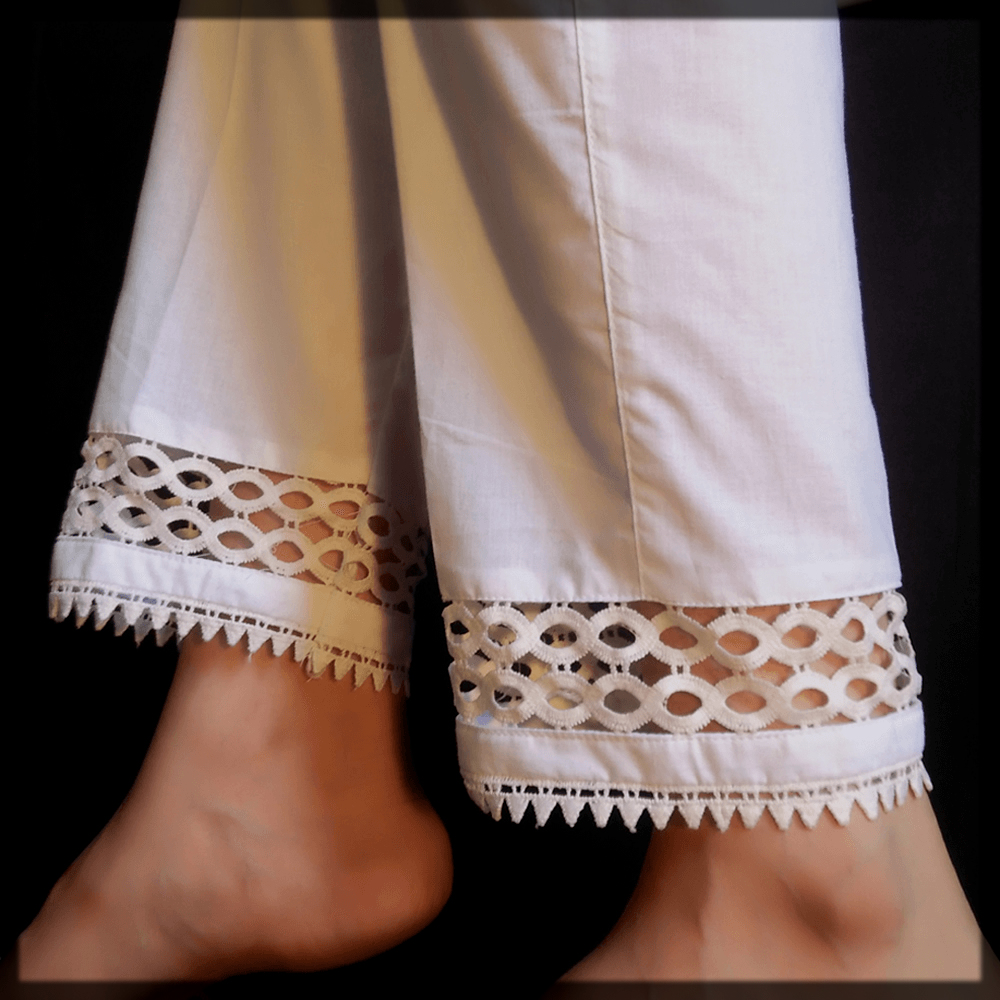 Net Lace and Pearls Poncha Style
Nowadays, the trend of net lace is very trendy. You can adorn your trouser as well by adding them to your pajama poncha. For making your trouser more classy, you need to add the latest lace to the center of the trouser. Furthermore, take a net lace and start to stitch it to the bottom. Plus, add the pearls on the center of the lace for a more glammy and noteworthy look. Simply pair this stunning trouser with a plain shirt and add more charm to your look.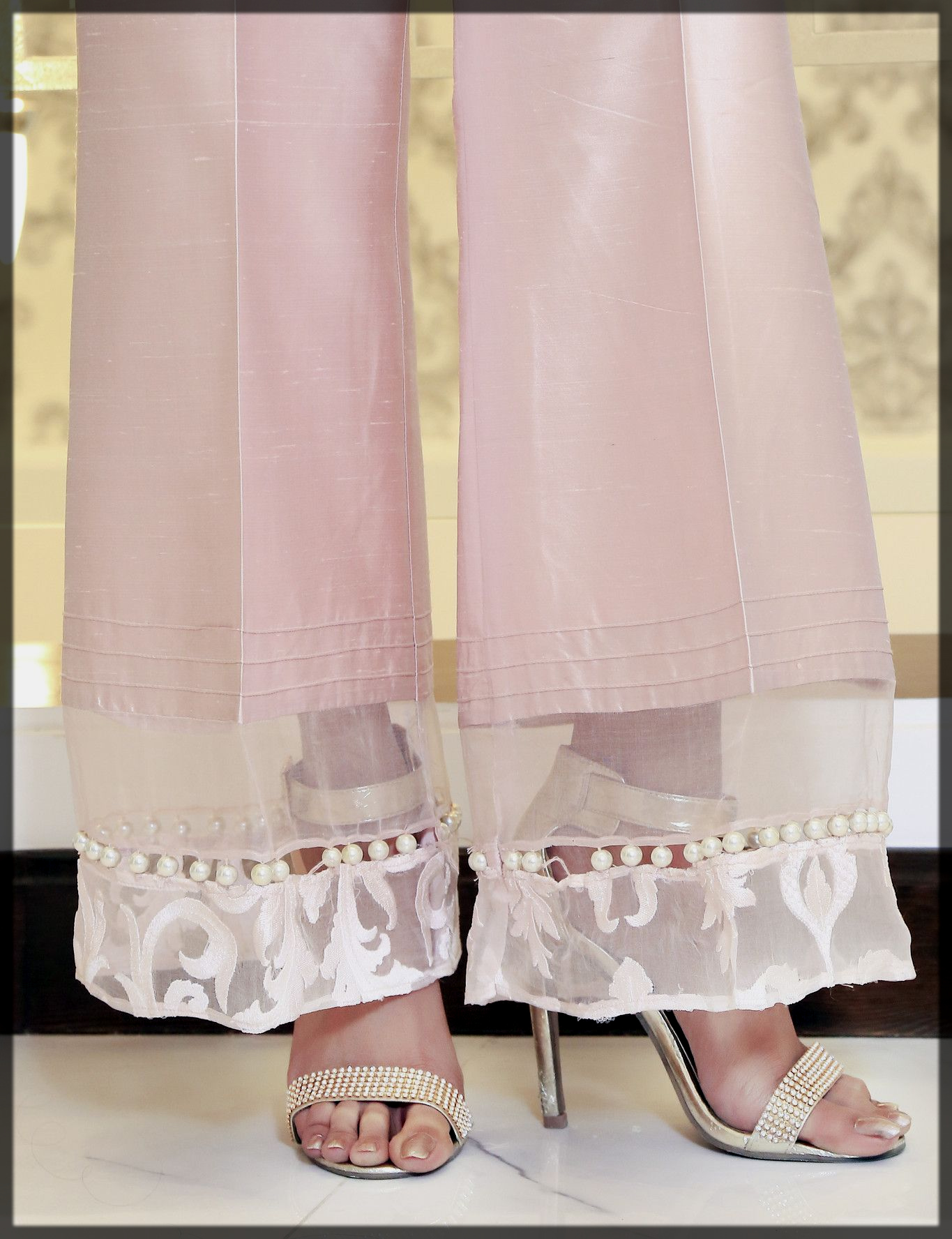 Pleated Trouser with Jali Style

If you want to make all of your looks jazzier and fabulous, at that point, design your trouser in a jali style. Jali style is the most alluring design that will update your plain trouser. All you need is to cut your Poncha into two parts, add pleats to it, and attach both parts with the jali style. Combine your jali trouser with the So Kamal kurta to get an elegant look.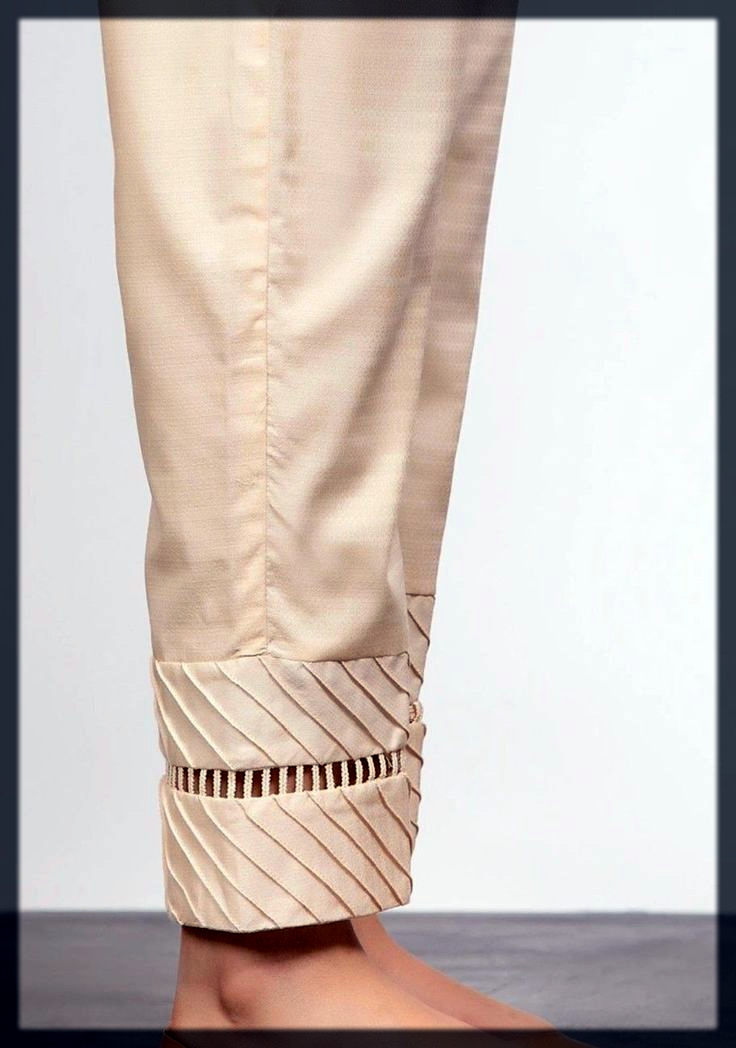 Bow Poncha Style with Pearls

Make the small bow and attach them to the Poncha. Further, add pearls on each bow to make your trouser more stylish and stunning. Pair it with the J. printed Kurti and get the awe-inspiring and noteworthy look. It is a perfect design that will add more attraction to your party look.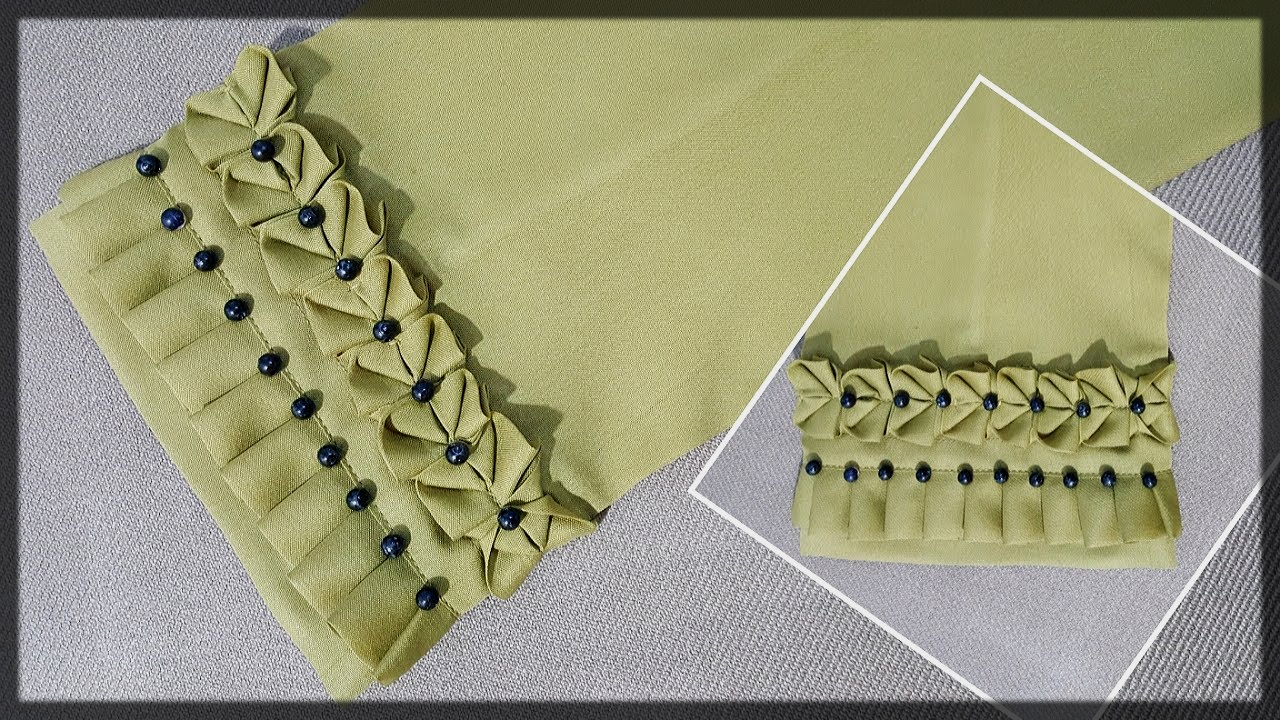 Criss-Cross Poncha Designs
If you are going to design your party wear trousers, then the following design is a good option. Also, pick this criss-cross style for your Poncha of the trouser. You can easily make this design or you can tell your tailor about it. It is one of the most stunning and decent styles that will make you look stylish.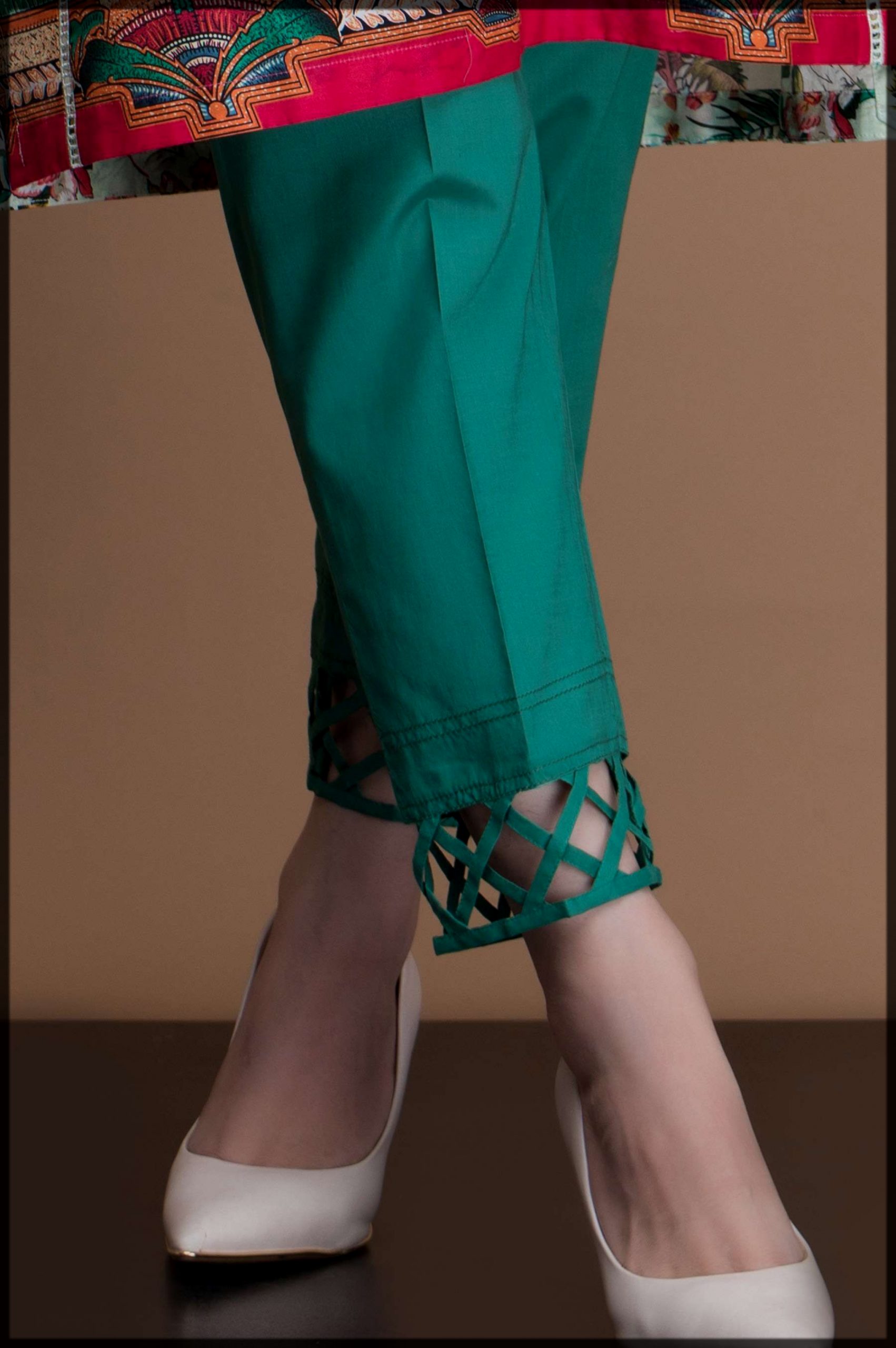 Trouser Border Designs with Loops

Teens prefer modest attires. Therefore, the teen's dresses are different from the women's. In the teen's category, you will get amazing and wonderful designs in the most striking shades. Look below at the most fantastic and appealing pajama Poncha style to help you get the perfect teen's look. You can combine this alluring trouser with a printed shirt for getting a superb look.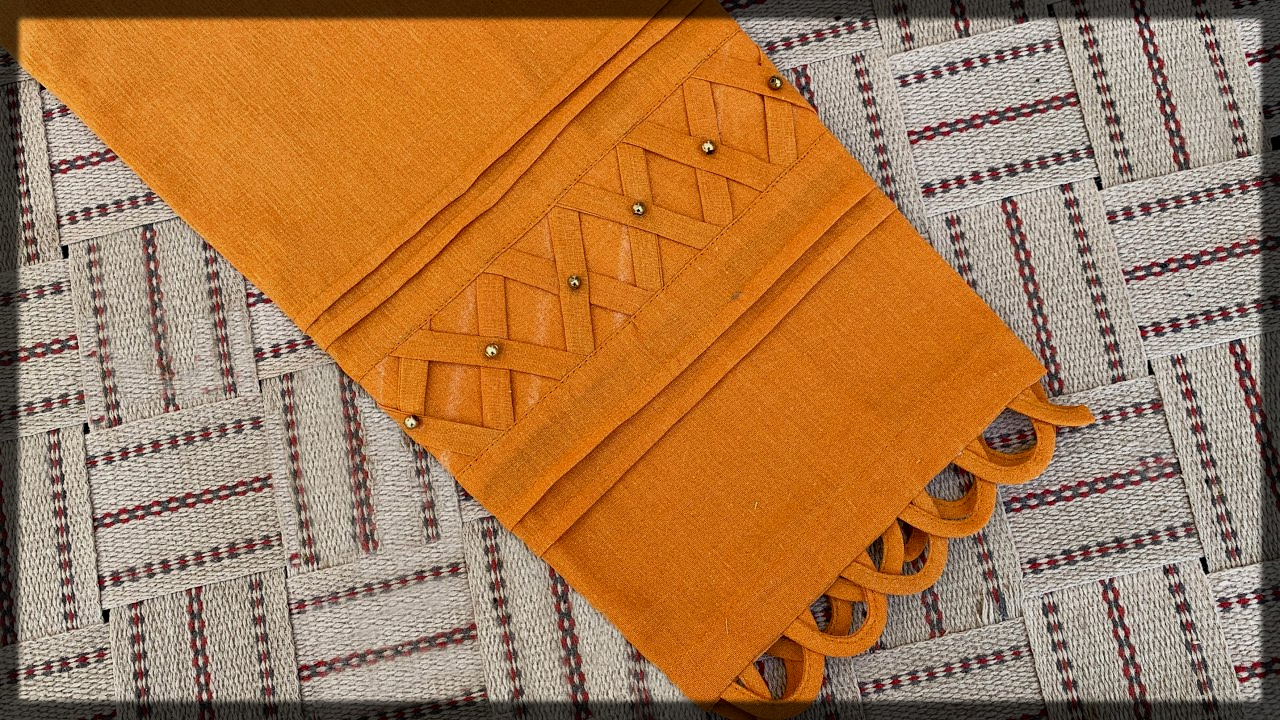 Ruffled Poncha Designs for Ladies
It is another most dashing and cool design for your wedding wear trouser. You can easily make this style on your own or your tailor will surely know how to make it. All you need is to add pleats on the top of Poncha. Add a contrasting lace in between ruffles to compliment the design.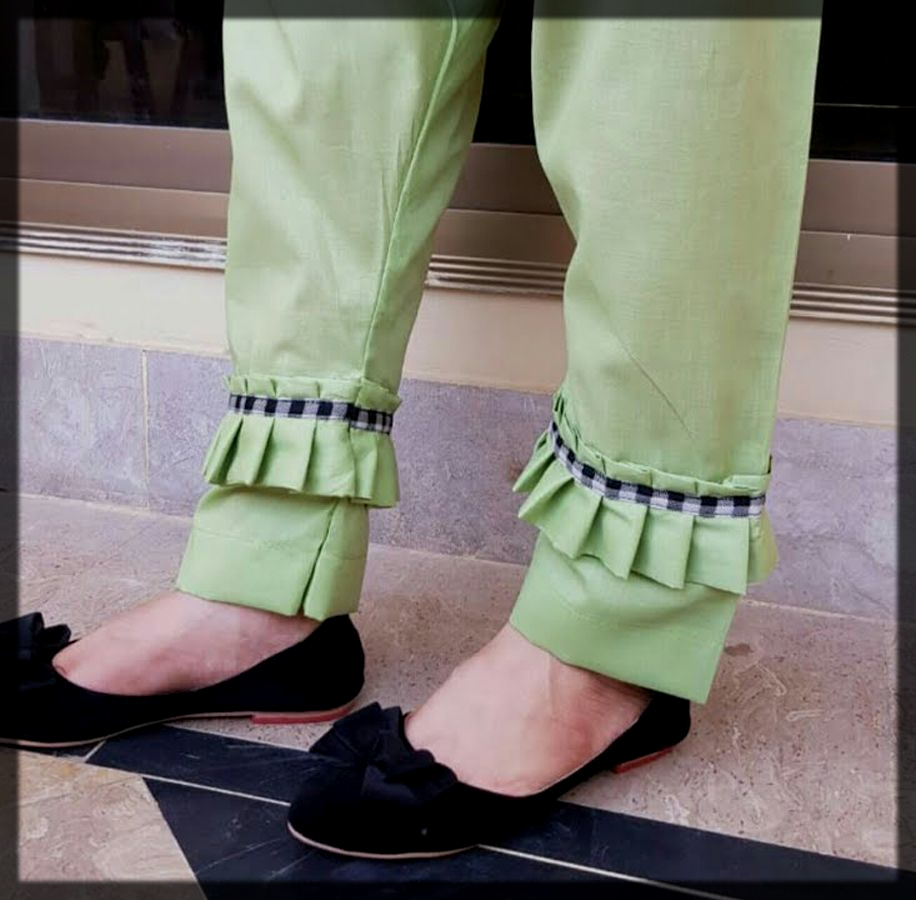 Kashmiri Pleated Poncha Designs with Buttons

Kashmiri design is in-trend these days. Women, usually youngsters, love to wear Kashmiri-style attire. You will get the Kashmiri shirt or trousers in the market in the most appealing designs. You can also design your Poncha in a Kashmiri style with buttons and lace.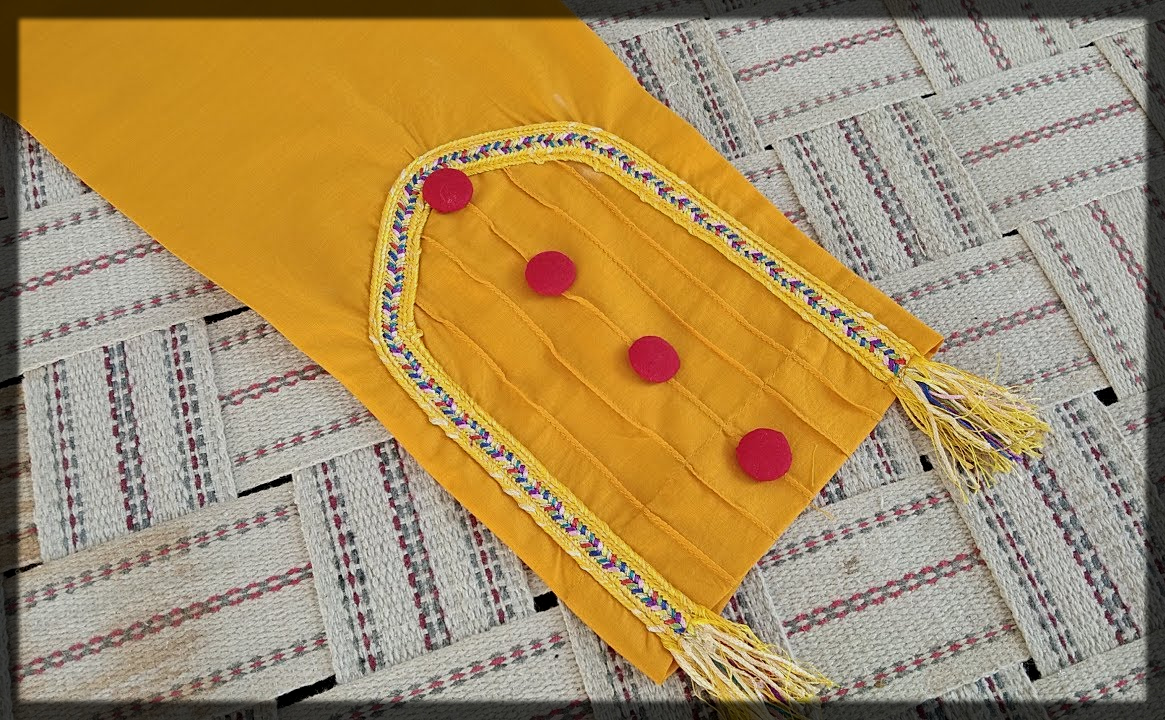 Poncha Designs with Lace and Pearls

For designing your pajama poncha like this, all you need is the tassel lace and pearls. Firstly, attach the tassel lace on the Poncha and then add the pearls on the lace, and your stylish and awe-inspiring trouser is complete. The latest kurta designs will also complement the trousers very well. Black shade always remains in trend. You can pair this trouser with any printed and embroidered dress. It will add grace and charm to the outlook of your personality.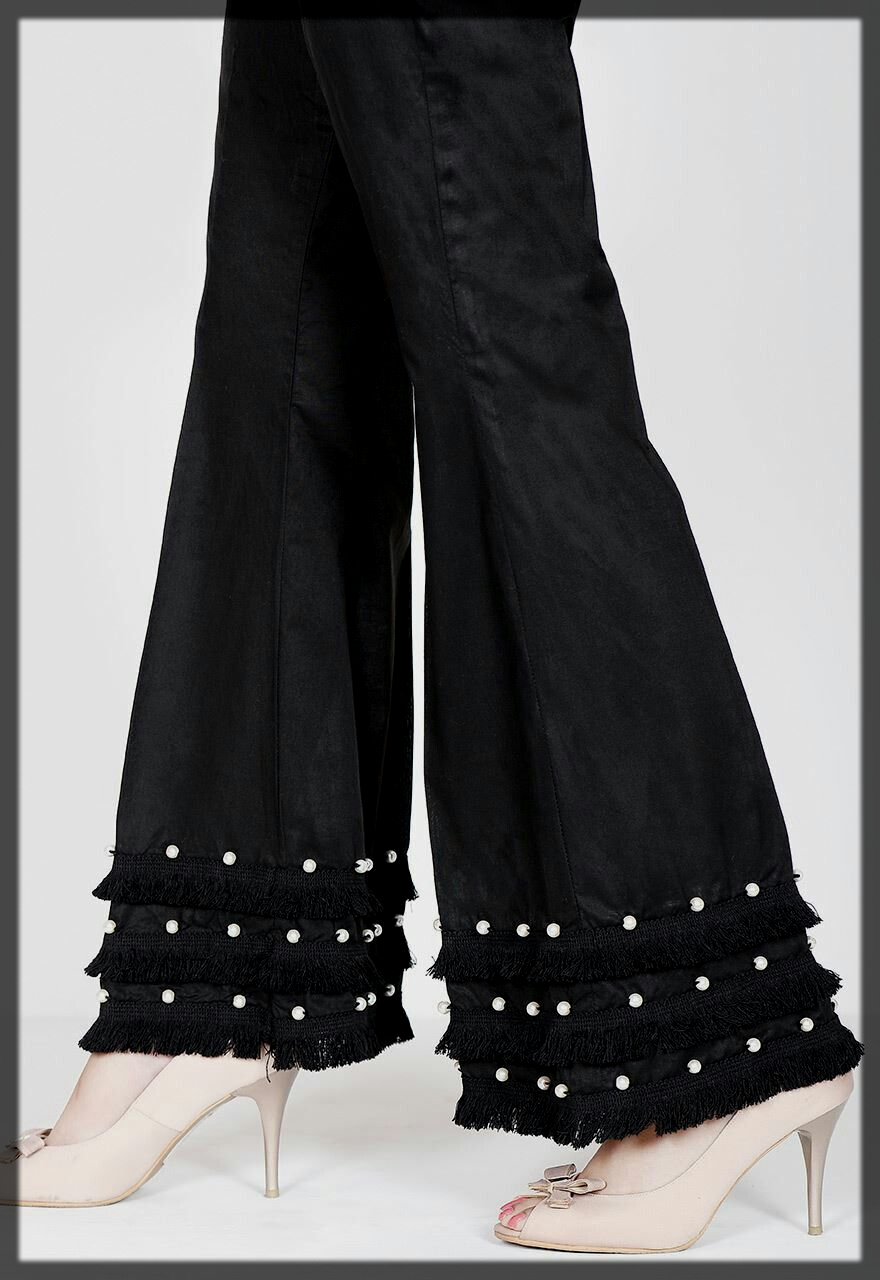 Vertical Button-Down Poncha Style
You may have seen this design in many events because it is preferred by many women. Here we have an elegant poncha design with a verticle button-down style. This design is very prevalent in women for party wear dresses. You can get your trouser stitched in this design for an modest look. The trouser should be well-fitted and designed to get this kind of look.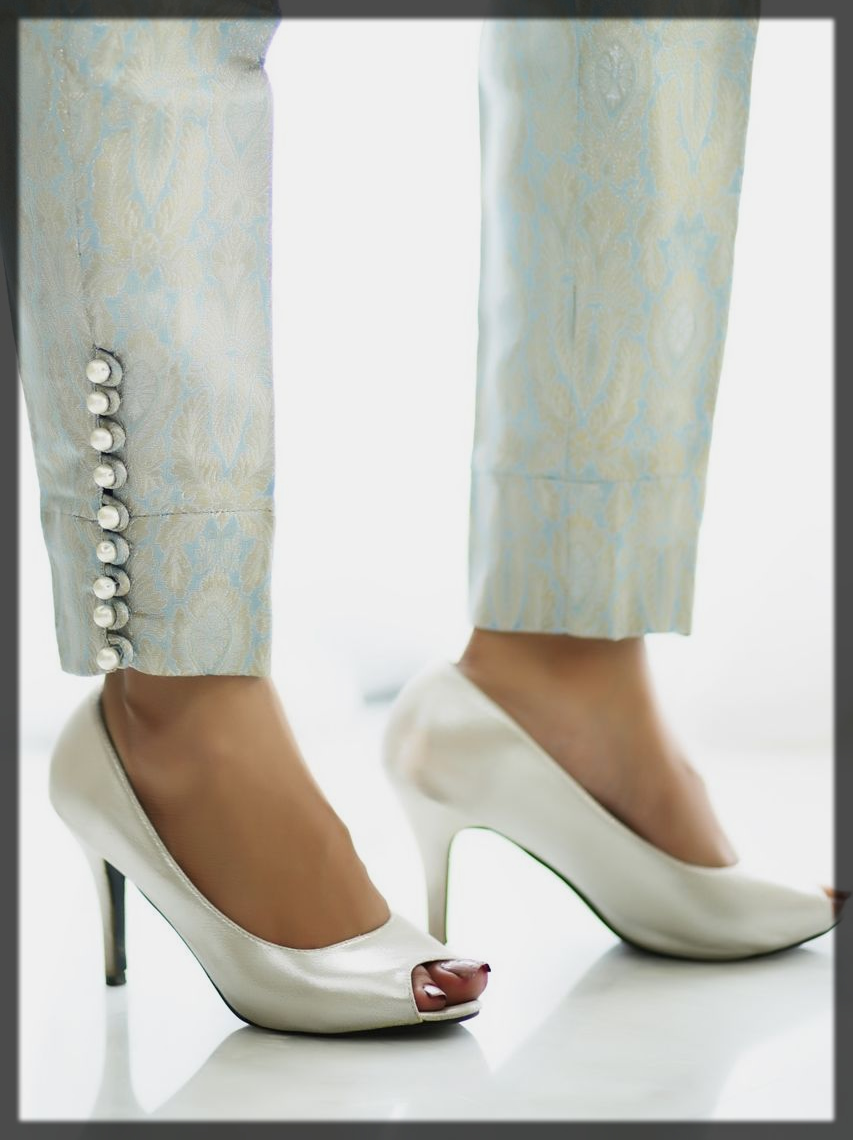 Trouser with Folded Pleats and Seerhi Lace

Pleating looks beautiful on shirt daman, sleeves, neckline, or even on poncha. Below we have a finely pleated poncha style. This delicately pleated poncha looks perfect with short Kurtis or short frocks. The design is simple yet it has a beautiful outlook. If you are going for this style, then choose the light color so that the design will appear prominent. Moreover, stitch your trouser in a well-fitted and Capri style for a better outlook. Also, explore the trendy sleeves designs here for your summer and winter dresses.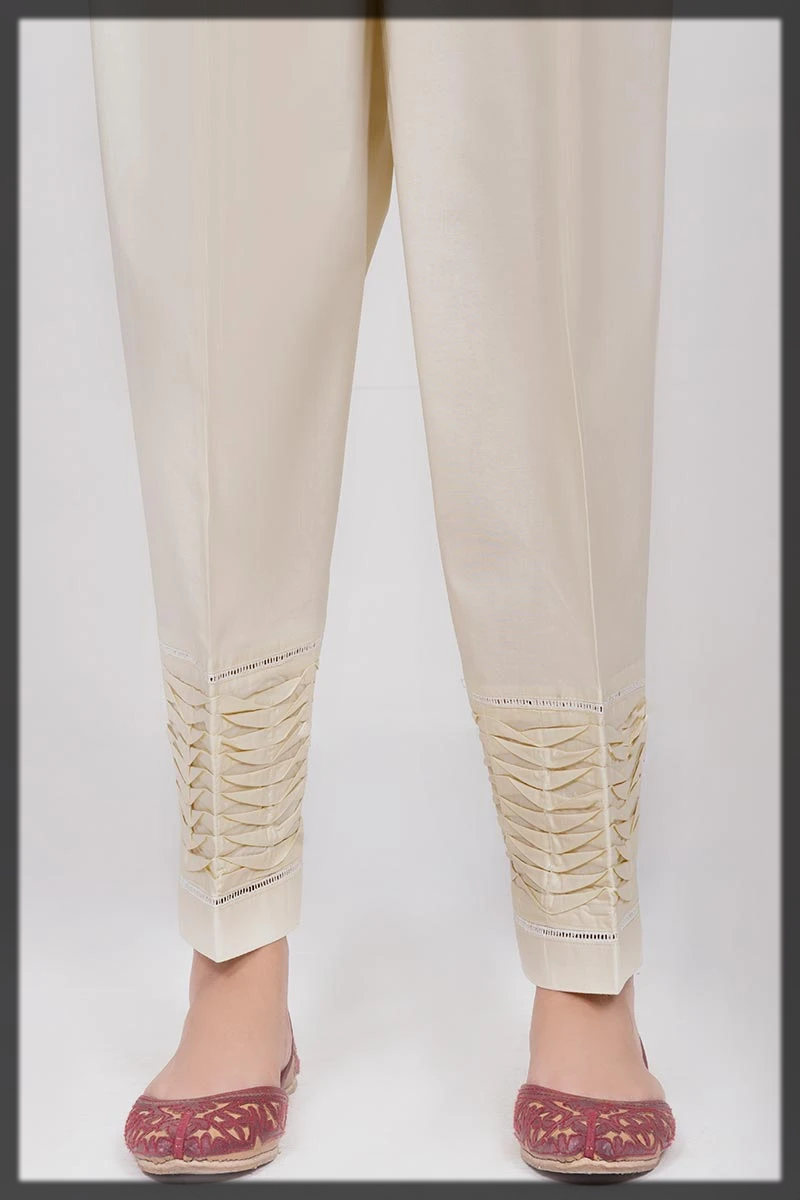 Criss-Cross Poncha with Hanging Tassels
When in doubt, opt for a criss-cross design. It is a very new and unique style. The edge of the trouser is sewed in a criss-cross style and the little tassels hang beneath it. This style is ultra-modern and your skin will show a little bit through the design. If you want to cover your skin then you can add some cloth and then stitch the criss-cross design above it. This will prevent the leg from showing off. But if you are OK with it, then just go ahead with the poncha style.
Front Open-Slit Trouser with Pearls

The open-slit shirts, sleeves, and trousers look very stylish and elegant. So, if you are a working woman, then this umbrella style trouser with slit is the perfect option for you. The little details and round buttons are enhancing the grace of the design. Moreover, you can pair this trouser with any length of shirt or short Kurti. For this design choose light colors or solid color fabric so that the design looks more prominent and visible.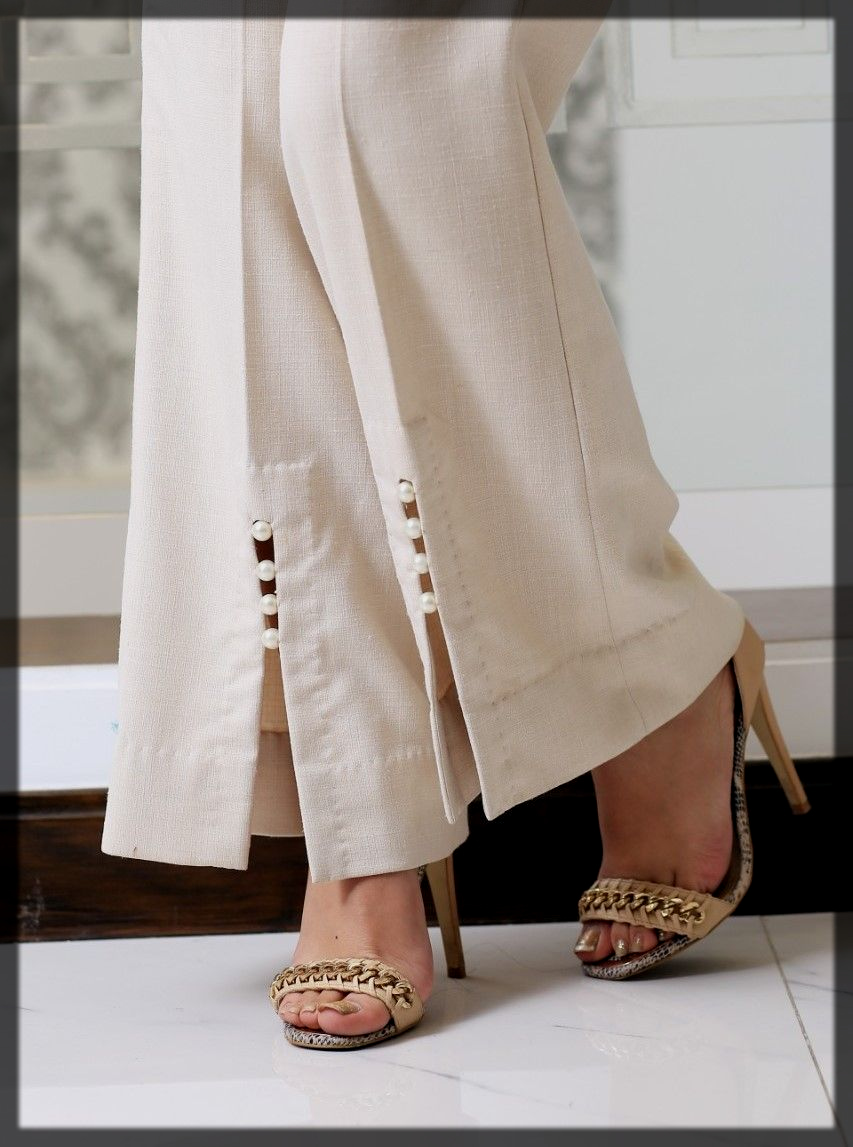 Some Attractive Bottom Styles for Pakistani Girls (Picture Gallery)

Get some more trendy and stylish pajama border designs that will help you make your trouser more stylish and alluring. Have a look below and get jazzier designs for making your trouser more pretty. If you are going to a casual party, try to wear an elegant design for a decent look.
While on the other hand, if you are going to a formal or wedding party, pair your outfit with some fancy trousers design. Take a look at all these latest designs and select the one that seems more suitable and appropriate. Although, all of them are up to the mark and perfect for you.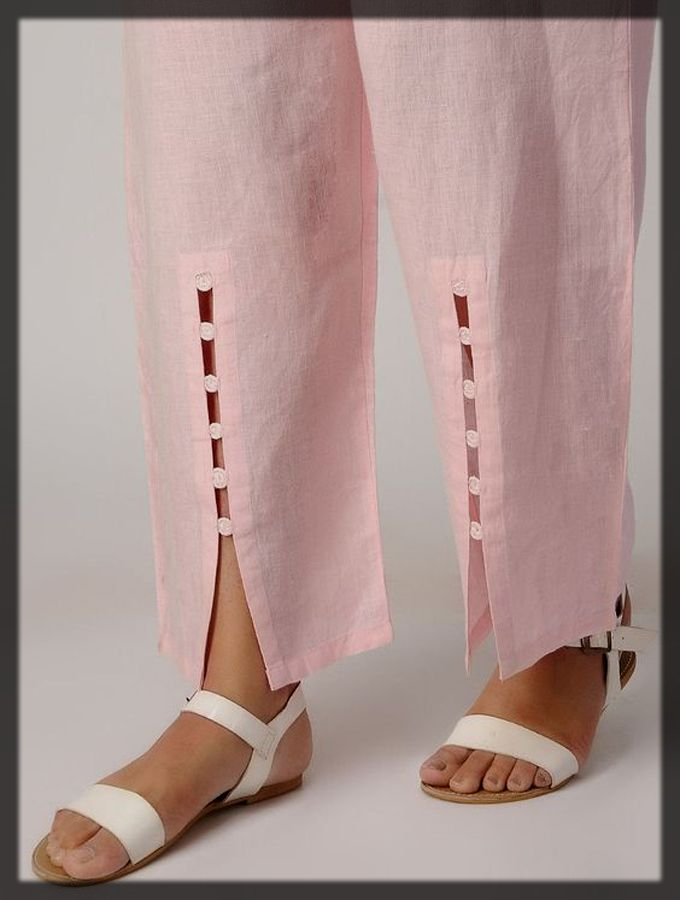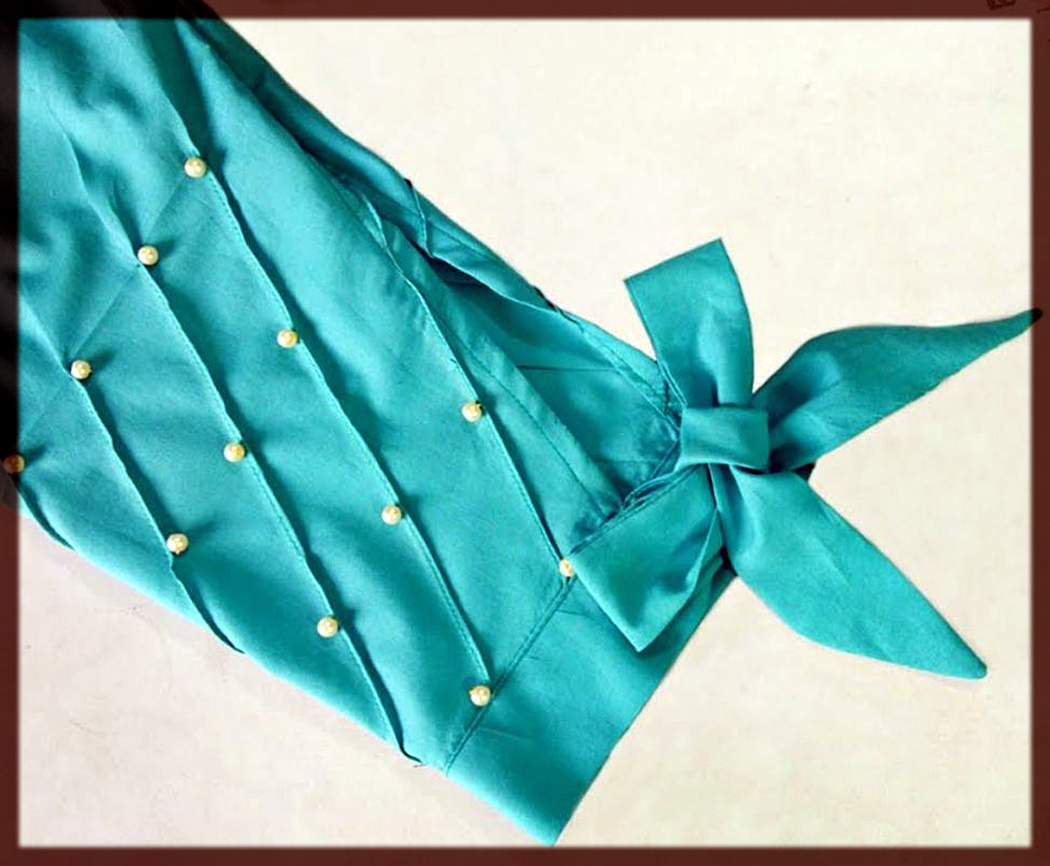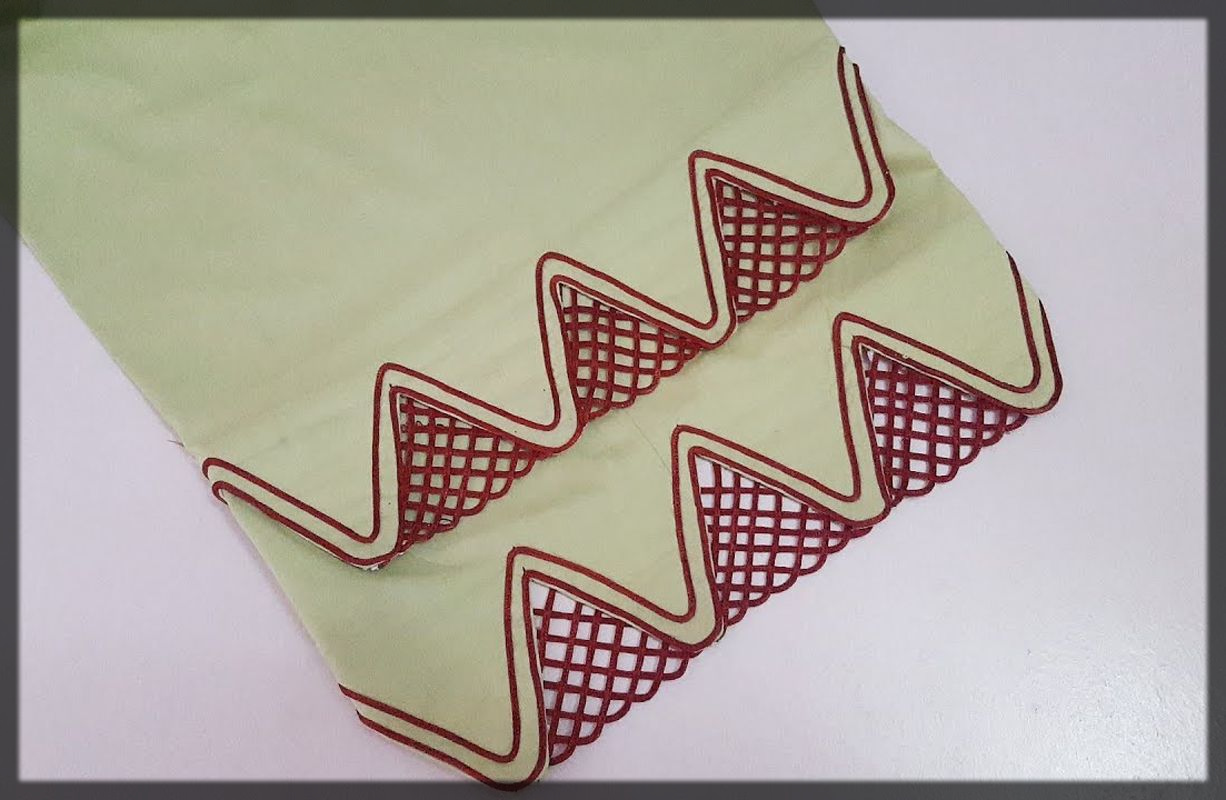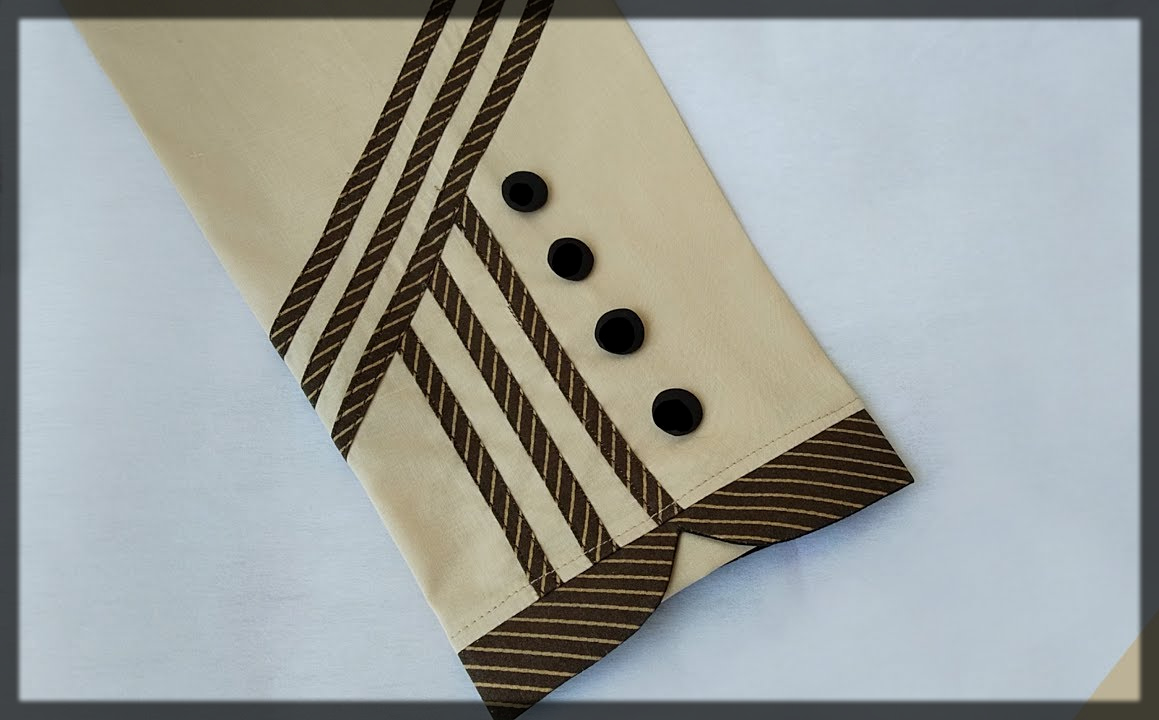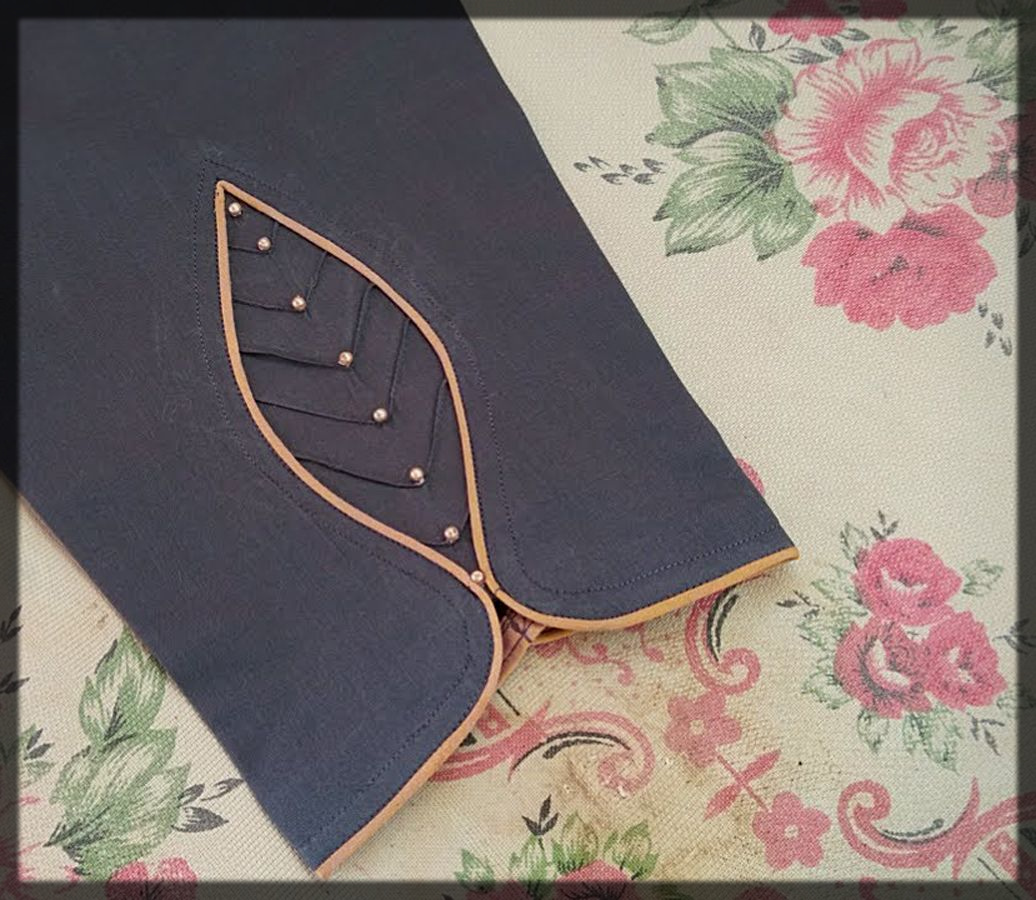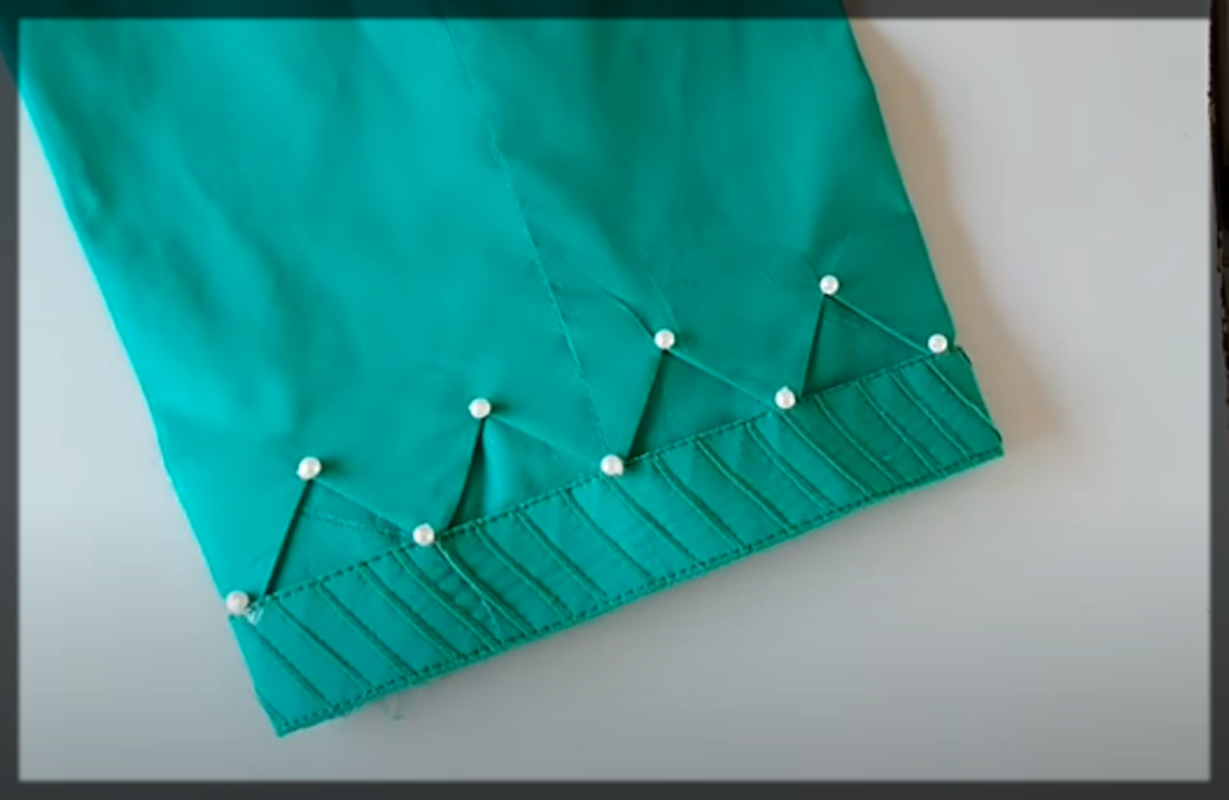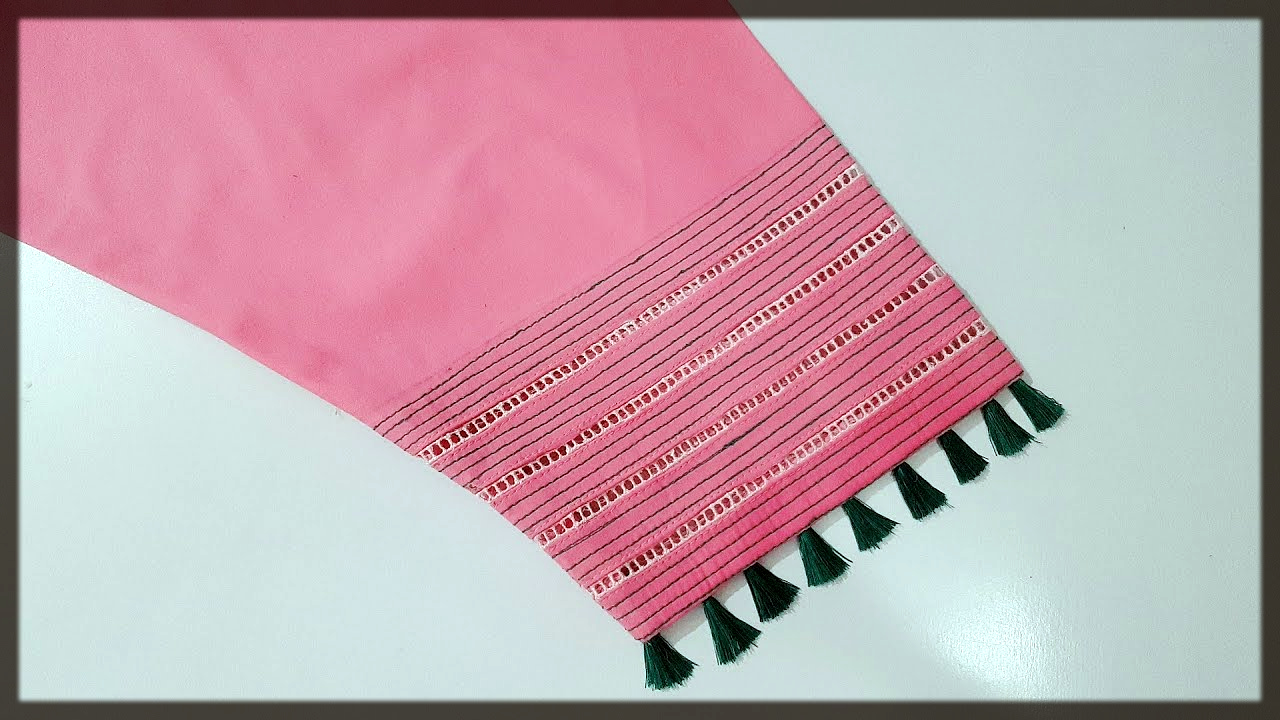 All these trouser Poncha designs are in-trend nowadays. So, you can pick any design and adorn your trouser. Further, add the pearls, laces, and ribbon to make your trouser more stunning. You can combine your plain shirt with any stylish trousers for getting the perfect and elegant look. Plus, never forget to wear classy footwear for a more striking and awe-inspiring look.