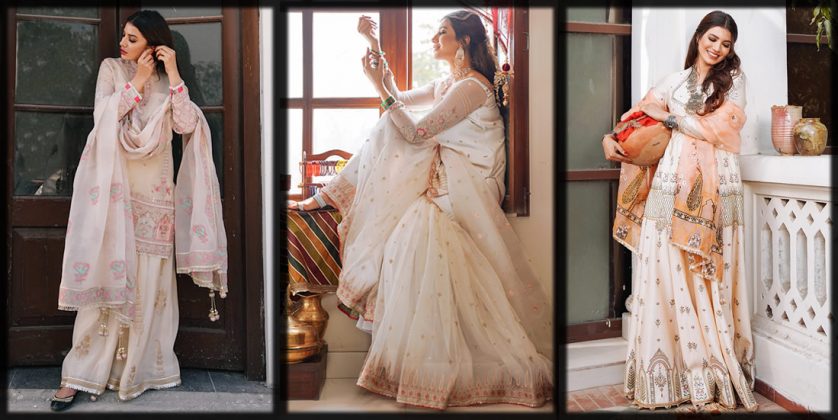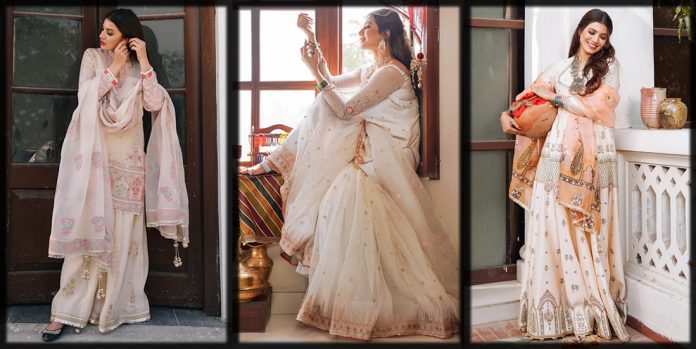 Eid is a prestigious and holy festival observed by the Muslim community twice a year. Besides making sweet dishes and inviting guests, people look for a formal eid outfit. Several clothing brands in Pakistan launch their exceptional eid assortment for the public. Here is the complete catalog of latest Mohsin Naveed Ranjha eid collection for you.
Women are a little curious about their outfits as well as about their children. Also, they have a slight fear of being observed and complimented by the critics. Therefore, they don't want to give a chance to the public around themselves to pass any negative comment. People always regret the chances they didn't take, and we do not want you to regret it.
Mohsin Naveed Ranjha stepped into the era to make people realize their missing traditions on Eid. Women rush towards the brands and pick the vibrant and heavily embroidered dresses. To some extent, we leave our cultural norms behind. In the following blog, you will see how beautifully Mohsin Naveed Ranjha revived the traditional outfits for women. Further, the prices of all the outfits are also mentioned for your ease.
Mohsin Naveed Ranjha Jugni Eid Collection for Women (New Arrivals)

Never stick to the same menu every time you do while eating. Even people desire to see several dishes on the table. Similarly, women prefer to see a couple of versatile clothing styles for themselves to stay modest and chic. Several clothing brands in Pakistan offer seasonal and occasional collections for both men and women.
Mohsin Naveed Ranjha is a famous designer in town who is renowned for his exquisite artwork. In the era of fashion and trends, no one remembers the norms of their culture. The famous designer has launched their luxury eid collection with the revival of Pakistani culture. Please take a while to discover the flaunting dress with great styles below.
Stylesnic always appreciates fashion and quality. We have a beautiful and latest eid collection of every distinctive brand. You can find all your favorite brands under one roof of our brand. So, explore and save your time for searching different brands online. 
About the Creative Designer and Brand History
The creative designer is a former member of PML(N). He started his career as a politician but ended as a famous designer. In early 2011, Mohsin Naveed Ranjha stepped into the fashion industry with magnificent clothing designs for both men and women. The apparel collection of the designer includes casual, formal, and bridal outfits for women.
The official store is operational in Gujranwala. After a few years of success, a small retail outlet became functional on the MM Alam Road in Lahore. You can explore the flaunting Mohsin Naveed Ranjha bridal collection to have an idea about the designer's artwork. For more knowledge, take a look at the article below and discover innovative eid outfits.
Ready-to-Wear Luxury Eid Ensembles Featuring Rabia Butt

The world is a ramp, and everyone walks on it with confidence. Undoubtedly, your style is eternal, and you have to coordinate with it perfectly. This could never be possible without an outfit that brings you confidence and grace. Therefore, MNR brings you an extensive portfolio of ready-to-wear Pakistani eid dresses that will elevate your look in the scorching sun.
Are you ready for the dramatic and ideal outfits? Please take a look at the breathtaking, innovative ensembles below. The rich quality of fabric and delicate embroidered patterns are making the outfits lavish and festive. Furthermore, the exquisite beauty with a touch of cultural ambiance will surely make you look different among the public at large.
Flowy Peach Peshwas for Girls
Peshwas is always welcomed by teens and young girls. Undoubtedly, the inspiring style brings a bundle of elegance to your personality. Therefore, modern women like to buy a flowy Peshwas style for their children. You can explore the peach ensemble likewise from Asim Jofa's luxury lawn collection. Well, below is a cotton net flowy peach Peshwas for you.
Please take a look at the following glamorous three-piece outfit. Rabia Butt looks stunning with the flowy peach cotton net Peshwas that has been decorated intricately. Further, the designer enhances the look of the dress with hand-knotted Resham motifs. It has a unique collar feature that is decorated with precious hand-work of dabka and Resham. Moreover, the outfit coordinates with an organza dupatta with Chatta Patti borders for a whole vibe.
Embellished Beige Embroidered Outfit for Eid
How do you survive the reality of everyday life? Do you know that fashion and style are essential for good survival? Yes, it would be best if you had a nice outfit that evokes fashion sense and grace. Therefore, we are bringing you an embellished beige embroidered outfit for Eid. You can get a well-decorative dress likewise from the Ansab Jahangir's eid collection as well. You will be overwhelmed with stunning color palettes and innovative designs. However, here we have a beautiful beige embroidered dress for you.
Please take a look at the glamorous three-piece ivory organza kurta below. The delicate collar kurta has an exquisite keyhole neckline design. Also, the neckline is enhanced with motif and tilla work along with Resham details for an elegant look. There are the same embroidered techniques of Resham and tilla work on the border and sleeves of the Kurta. The beautiful fusion of gota finishing with ivory silk looks perfect for girls. Further, it has a block printed khaadi dupatta with kirin work. Hence, it is an ideal outfit for Eid.
Light Peach Paper Silk Jacket Style Dress
Do you have a jacket-style dress in your closet? People will stare at you, an you will make it worth it. But, if you want this to happen, you need unusual magic with an illusion in your style. We are glad to say that we have such an astounding ensemble for you. Undoubtedly, you will catch positive eyes and will get a nice compliment if you opt for this dress.
Are you looking for a traditional outfit for Eid? If so, then go for the following inspirational dress. Rabia Butt looks stunning in the delicate tea pink kurta that is enhanced with handwork. Further, it has glamorous features of traditional Mughal miniature. The outfit is correctly finished with pure gota edges for a blazingly stunning Eid look.
White Cotton Net Gharara Outfit
Nothing can beat the ethnicity and grace of a gharara dress. Usually, the majority of women prefer such a style to wear at weddings. Even the brides look for a gharara outfit on their big day for a dazzling look. There is an immense variety of versatile styles of bridal gharara designs. For instance, please take a look at the following traditional dress for Eid.
Rabia Butt never fails to make stellar looks. Instead, she always inspires us with her attractive looks. Here she is wearing a minimal pristine gharara dress. The glamorous outfit has a fine spray on all over the shirt. Also, the designer enhances the look with a handworked jewel motif on the neckline. The illustrious organza dupatta with Booti spray and gotta work is all set to bring you an entire traditional look. Please give it a thought.
Contrasting White and Pink Eid Dress
Being a Pakistani, many women try to wear the national dress on the holy festivals. Luckily, Mohsin Naveed Ranjha's eid collection presents you with a marvelous shalwar kameez outfit for Eid. You might have seen a variety of shalwar designs that make you look different. Some women love to wear a straight style while others look for a flared one. However, we are presenting you with the most stylish Patiala shalwar below.
Classic shalwar kameez is also the top priority of Pakistani women. The model demonstrates the exquisite three-piece outfit for you. The following dress has a graceful design all over the shirt. Further, it has an elaborated neckline with Resham and tilla work. Also, it has similar embroidered designs on the border and sleeves. The outfit has an excessive poncha design with sequins and block prints. Moreover, it has an organza dupatta that is embellished with tassels and gotta work. Go for the easy breezy outfit below, and have a blissful journey of Eid.
Paper Silk Embroidered White Dress
White color has a unique grace and ethnicity. Therefore, women always bend towards the portfolio that shows significant white dresses. Fortunately, Mohsin Naveed Ranjha's Eid collection brings you staggering paper silk embroidered dresses. You can get more graceful dresses likewise from the Khaadi eid collection for women too.
Undoubtedly, an elaborated outfit can bring you the desired elegance that you deserve. Therefore, we are bringing you the stellar and artistic piece from the MNR's Eid collection. The following paper silk shirt comes with a decorative neckline and embroidered daman. Further, it is coordinated with a straight pant that is enhanced with gotta work. The embellished dupatta is completing the entire beauty of the dress.
Ivory Cotton Net Peshwas for Eid
In a world full of trends, women always want to stay classy. Undoubtedly, the outfit you wear will speak about your choice and personality. Plus, the right kind of outfit plays an important role in the entire look of a woman. Therefore, we advise everyone to pick the style and color that coordinates well with their complexion and personality. Here we have a flowy embroidered Peshwas for girls with fair complexion and sufficient height.
Signature artwork always creates a subtle look in the entire grace of the dress. For instance, you can see how beautifully Rabia Butt is carrying the signature three-piece attire. The dress is very delicately enhanced with block printing and Resham work. Further, it has a graceful, pure embroidered organza dupatta. Undoubtedly, the outfit is ideal for teens and young girls.
PRO TIP: Keep your hair open and combine Kunda-style earrings with the flowy Peshwas to complete your look. I hope it will get you the desired look.
Jacket Style Gharara Outfit for Girls
The joy of dressing is an art and women are famous for being an artist. Your expression of imagination will reveal your fashion sense and aesthetics. Do you want to put a positive impression on people around you? If so, then the following jacket-style gharara outfit will be the best choice. Please give a thought to the following unique outfit to stay distinctively.
Please give a thought to the following luxury ready-to-wear outfit. The model dons a splendid three-piece ivory net outfit so beautifully. The dress is decorated with graceful block prints and tilla work. Further, the fusion of Resham with marri creates an illusion in the ensemble. Hence, making the dress ideal for teens to wear on Eid.
Embroidered Ivory Self Jacquard Peshwas
Being trendy is not a sin but a blessing that makes you confident. You can be as beautiful outside as you are from inside if you opt for a classy outfit. In order to be irreplaceable, you must be different. Therefore, we have an iconic demonstration for you to stay unique. Check out the following self-jacquard ivory Peshwas for yourself.
You can make your eid look blazingly glamorous if you opt for the following self-jacquard karandi Peshwas. Look how beautifully Rabia Butt dons a flaunting ivory Peshwas. The outfit has extended floral embroidered patterns across the boundaries. Undoubtedly, the statement outfit will make you look progressively stunning. Plus, the unusual design will amp up your statement look on eid. Please give it a thought.
Mohsin Naveed Ranjha eid collection is a brilliant mix of traditional and modest styles. The fusion of tilla and hand-embroidered work has made an illusion in the outfits. Luckily, the clothes are available in abundance for the public. You need to go and grab the outfit that coordinates with your outlook and personality. Please give it a thought and have fun. Enjoy this year's holy festival with the Mohsin Naveed Ranjha eid collection.